In order to keep your customers around for longer, you will need to not only be aware of these effective customer retention strategies, but also use them on a daily basis.
The reasoning is quite simple: the customers that you already have will spend much more than the customers you want to have.
In fact, according to Marketing Metrics, existing customers have a 60-70% probability of buying more products and services, compared to just 5-20% for new visitors.
Even better, if you increase customer retention by just 5%, you can expect to increase profits by 25-95%.
If you aren't yet sold on keeping your current customers with effective customer retention strategies, let me throw some more numbers at you:
Obviously, customer retention is important. To help you boost your sales, let's look at the5 most important customer retention strategies you should implement today.
1. Get customer feedback
When it comes to keeping your customers around for longer, the best people to tell you how to do that are your actual customers.
That's right—if you want to know how to increase your customer retention, you should be getting feedback from your customers and visitors on a regular basis.
One of the best ways to get this feedback is to send surveys through your email service provider.
Your questions should include:
How easy it was to find your product
How likely they are to recommend your products/services to others
How they would rate their shopping experience
You can also ask other pointed questions, but you should make sure that there aren't too many questions. The sweet spot is about 3-5 questions per survey.
With this feedback, you can find out which parts of your website are working and which are not and fix those problems.
If you allow for open feedback, your customers will be able to expand on what they liked or didn't like about their experience.
2. Set and exceed customer expectations
If you promise your customers something you can't deliver, they will be disappointed with the result and likely not buy from you again.
That's why it's important to set realistic expectations for your customers and work hard to exceed those expectations.
For example, the people at Zappo's are experts at under-promising and over-delivering. Although they inform customers that their products will arrive in 4-5 business days, they actually ship their products overnight.
You can do something similar in your store. If you have a week-long delivery (or longer for dropshipping), inform the customers and work to decrease that time.
You can also exceed customer expectations in many ways, but it's important to set those expectations first.
3. Use your email marketing wisely
If you have an ecommerce store but don't have email marketing set up, you're leaving a lot of money on table.
In fact, you can't keep a customer that you don't have regular contact with, which is why email marketing is so important.
There are a few ways to use email marketing as one of your main customer retention strategies.
Having automated emails and adequate workflows will help you to get your customers at the right time without having to send manual or untargeted emails.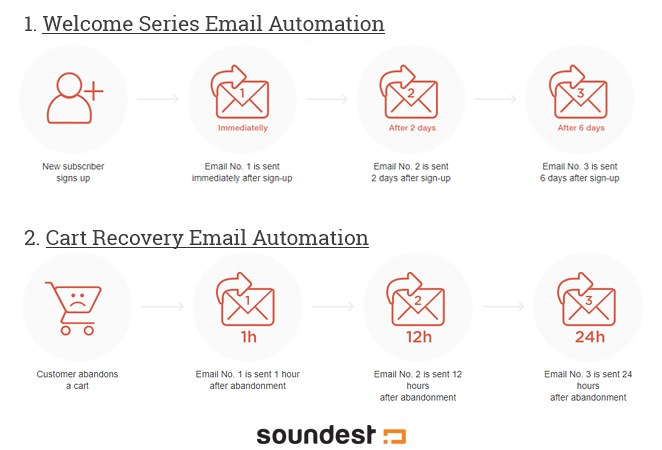 Upsell in your post-purchase emails
Right after your customer has made his or her purchase, you should be sending an email. In the email you should confirm the order, but you should also take the time to upsell or cross-sell other items.
Send birthday emails
Event-triggered emails are particularly important, as they allow you to send the right email at the right time. One of these is birthday emails.
Birthday emails have great open and conversion rates, meaning a simple happy birthday email (with an attractive offer or promotion) will lead to much better sales.
In fact, according to Omnisend data, birthday emails have a conversion rate 5 times higher than regular promotional emails.
Here's an example of a birthday email from Best Swimwear:
Send reactivation emails
Because you spent so much money to acquire your customers, you need to make sure you extend their customer lifetime value and keep them active.
That's why sending reactivation emails are so important.
Normally, you'd determine the time period that would signal an inactive customer based on your products or services. The purchasing cycle for a car dealer would be longer than someone selling kids' clothing.
When that time period is up, send a reactivation or reminder email that provides an incentive for the customer to purchase again.
4. Provide loyalty programs or rewards
Earning your customers' loyalty often includes a few moving parts, but one way to improve it is by offering loyalty programs or rewards.
With loyalty programs, you are essentially getting your customers to move up the ladder of customer loyalty, from a one-time buyer to a brand advocate.
We can steal something here from mobile and online games, such as Candy Crush Saga. In this game, they give points to players when they reach new levels, get recognition or other desirable behaviors.
These are "in-store" points only, so they can only be redeemed within the game. Here's an example of fashion shop Gilt's Insider rewards program.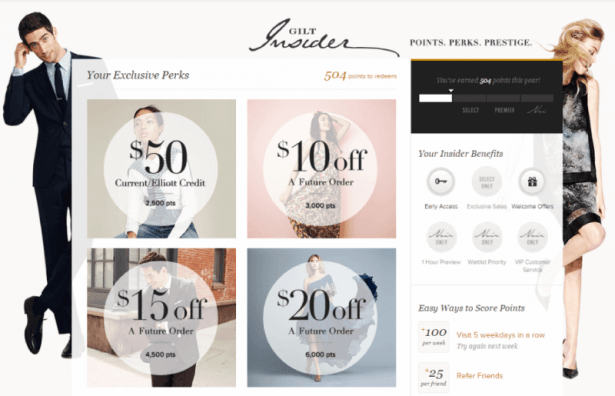 With ecommerce stores, you can offer brand points that the customer can use for discounts on your products, free shipping, early-bird pricing or even free products.
Your customers will love it and keep coming back for more.
You can have these programs without having a dedicated loyalty program. Instead, incorporate these benefits into your customer lifecycle. When a customer has purchased his 10th item, you can offer free shipping.
You can then expand that to a free (smaller) product or 50% off the next item if the customer has purchased 20 items, etc.
These rewards will ensure that your customers are moving forward at a desirable pace and increase their lifetime value.
5. Offer great customer support and service
Many people absolutely hate the idea of having to call customer support. This is normally because they have experienced slow, negative or inefficient customer support and are unwilling to be involved in that.
However, great customer support can help turn your regular customer into a loyal advocate. According to Zendesk, 62% of B2B and 42% of B2C customers bought more after a positive customer service experience.
For good customer service, you'll need fast and competent customer support. If someone sends you an email or message on your live chat, you need to make sure you're responding promptly.
Many customers prefer email or even to call, so it's important that you also have an email and phone number listed prominently on your ecommerce store.
Great customer retention strategies require dedication and commitment
These 5 customer retention strategies are crucial for making your customers happy. That in turn leads them to becoming your brand advocate and extending their lifetime value.
Beyond that, they'll also be important in helping you get new customers through referrals and great word-of-mouth.
However, no matter how great the advice is, if you don't implement these customer retention strategies strategically then it won't bring good results.
Beyond that, if you don't implement these consistently, then you'll experience failure.
Consistency in customer retention strategies means gathering the data to help you make your decisions, making your decisions and implementing the changes, then testing and refining these changes on a regular basis.
That will keep you on your toes, keeping your customers happy and improving their experiences while you increase your sales.
Related posts
Here are some related posts we think you'll enjoy:
Get a personal 1-on-1 demo (that will superpower your next campaign)!