Drive sales on autopilot with ecommerce-focused features
See Features
Reading Time:
10
minutes
While we all know that email marketing is a cost-effective marketing technique that delivers a good ROI, it can become a bit boring. After all, an average person gets tons of emails every day, not all of which are read.
That's why you need to learn how to create an interactive newsletter or an interactive email to make your emails stand out.
What is an interactive newsletter/email?
Any newsletter or email that contains interactive elements that allow readers to swipe, click, or tap to get fully immersed in the content. An interactive newsletter goes beyond plain text and images to include more engaging and interactive elements.
Interactive newsletters are more engaging and are bound to draw the attention of your subscribers. That's why smart brands include interactive content in their list of newsletter best practices.
However, it's not as easy to add interactive elements to emails as the platform itself has its limitations.
To address the limitations of email, Omnisend's email builder makes it easy to embed various content blocks into a template.
This essentially gives you unlimited opportunities to pursue all your interactive newsletter ideas. For example, you can add a Gift Box, a GIF, and practically any HTML feature.
If you're not sure how to create an interactive newsletter, then this post is for you.
In this post, you'll learn:
Why should you use interactive newsletters?
What are the types of interactive content?
Top interactive newsletter examples and ideas
So, let's get started.
Why should you use interactive newsletters?
Here are some of the reasons why you should use interactive emails and newsletters:
Improves email engagement rates
An interactive newsletter is much more engaging for the readers as they can interact with your content and explore the various features.
You can, for example, show product images that show additional product details when someone hovers over them. Or you can add a GIF that users can click on to view.
All these interactive elements ensure that people will take more time reading and interacting with your emails, improving your email engagement rate.
Makes your brand stand out
You may get hundreds of emails daily, but if you get one that's exceptionally engaging, you'll remember who sent that.
That's the beauty of an interactive newsletter or email—it makes your emails stand out and your brand memorable. If you send interactive emails regularly, your subscribers will open and interact with your emails more.
This, in turn, would make them remember your brand and improve your brand recognition and recall.
Interactive elements act as CTAs
Why add boring CTA links in plain text when you can add them to an image or another interactive element?
In an interactive newsletter, you can make your interactive elements your CTAs. For example, you can show product images and directly link them to product pages.
Here's an example of an interactive newsletter with product category images acting as CTAs.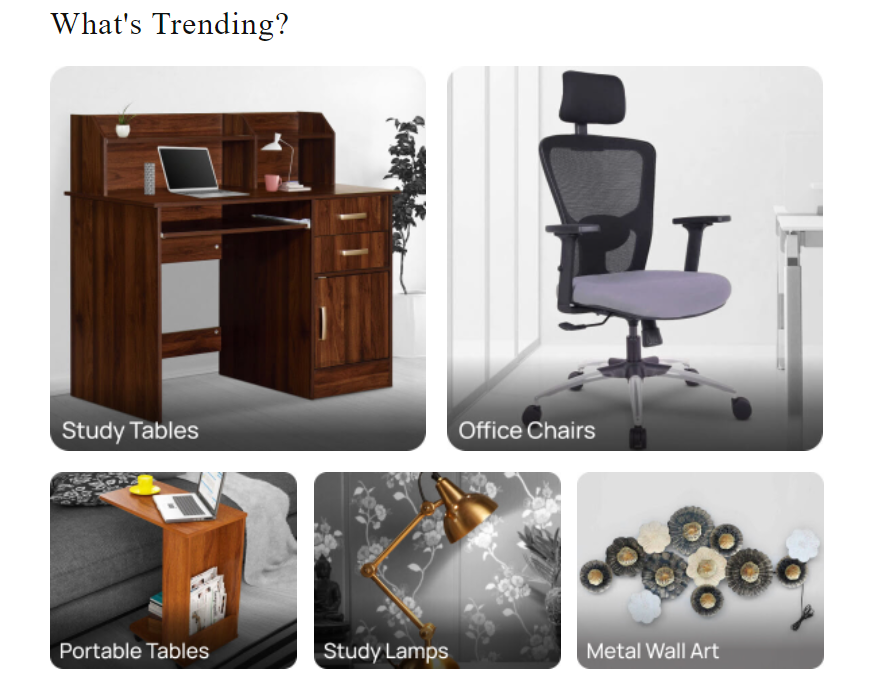 Using such CTAs in an interactive newsletter can get you more clicks and improve your click rates.
Improves overall email marketing ROI
As discussed, using an interactive newsletter drives a higher engagement and can also get you more clicks on your email CTAs.
This means that using an interactive newsletter can help your emails perform better and drive more people to your product pages and even drive more conversions.
This, in turn, improves your email marketing ROI and helps you achieve your targets.
Now that we've established that using an interactive newsletter is indeed good for business, let's understand how to make it interactive.
What are the types of interactive content?
In this section, we will discuss the various types of interactive content that you can use in an interactive newsletter.
Calculators/timers
Adding a countdown timer to your interactive newsletter is a great way to create a sense of urgency in your readers. Use it for counting down the hours till a limited-time offer lasts and encourage your readers to make use of that offer before it expires.
Here's an example of a countdown timer.
Another great interactive element to add to an interactive newsletter is a personalized calculator.
What's that?
Any tool that helps your email readers calculate some numbers that are of concern to them. This could be savings they can make by subscribing to your plans, some kind of score for their current performance, or anything else.
People love free tools that are useful and adding a calculator to an interactive newsletter will significantly boost your engagement rates.
Contests and games
The best type of interactive content to add to an interactive newsletter is a game or a contest.
These are fun, immediately draw your audience's attention, and encourage them to take action. You can further incentivize them by providing lucrative rewards for winning those contests or games.
One common game that brands use for their emails is a simple spinning wheel with lucrative discounts and offers. It makes people feel like they won a special, exclusive discount and encourages them to shop to redeem that discount or offer.
Omnisend provides several gamification options like scratch cards, lotteries, and wheels of fortune that you can add to an interactive newsletter or an interactive email.
Here's an example of a spinning wheel that you can add to your interactive newsletter using Omnisend.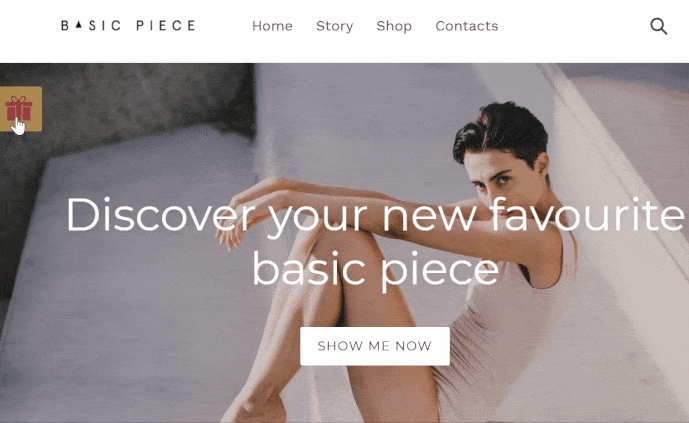 Quizzes
Quizzes work along the same lines as contests and make a great addition to an interactive newsletter.
However, unlike contests, the motivation to solve quizzes is simply to find the answer and not to win a reward. In that sense, quizzes are even more cost-effective, while also being engaging.
You can also use simple polls, as they work in the same manner and can make your interactive newsletter more engaging.
Surveys
Adding a survey to your interactive newsletter is a great way to collect customer feedback and insights while also engaging them.
The key to email surveys, however, is to keep them short and easy to fill. Don't expect people to spend a lot of time filling out your surveys.
If you do want to do long surveys once in a while, always provide an incentive like an exclusive discount code or gift coupon.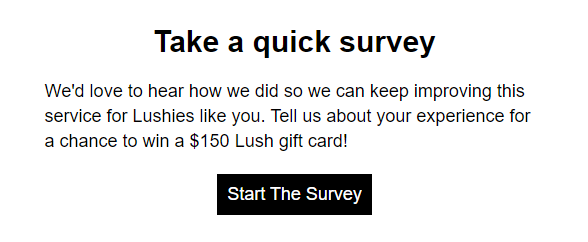 GIFs
GIFs are fun and entertaining and can be a great piece of content to add to your interactive newsletter.
You can either use these simply for entertainment or use the format to display several products quickly.
Want to know the best part?
Unlike videos, GIFs won't make your interactive newsletter slow to load and will solve the purpose as well.
When you add a GIF to your email template, it can serve plenty of purposes. For example, they can be a fun way to tell stories or feature new products, and appeal to your customers' emotions.
Here's an excellent example from the meditation app Headspace.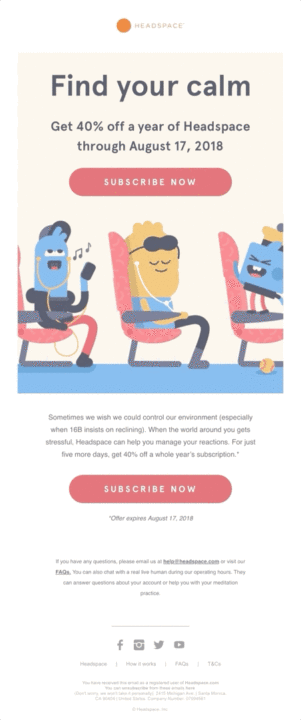 The Headspace brand is already known for being bright and cheerful. But ultimately, it is the animation that generates an emotional connection.
An image might convey the message well enough, but it would not be as relatable without seeing the contrast of movements the GIF provides.
After all, it showcases itself well with the calm main character contrasting their chaotic surroundings.
Interactive images and infographics
Interactive email images and infographics are the most common types of interactive content that brands use in their emails and newsletters.
These are not only good for making an email or newsletter look visually appealing but can also act as CTAs, as discussed earlier.
So, if you're not sure what type of content to add to an interactive newsletter, start with images to improve your newsletter design and take things from there.
Gift Box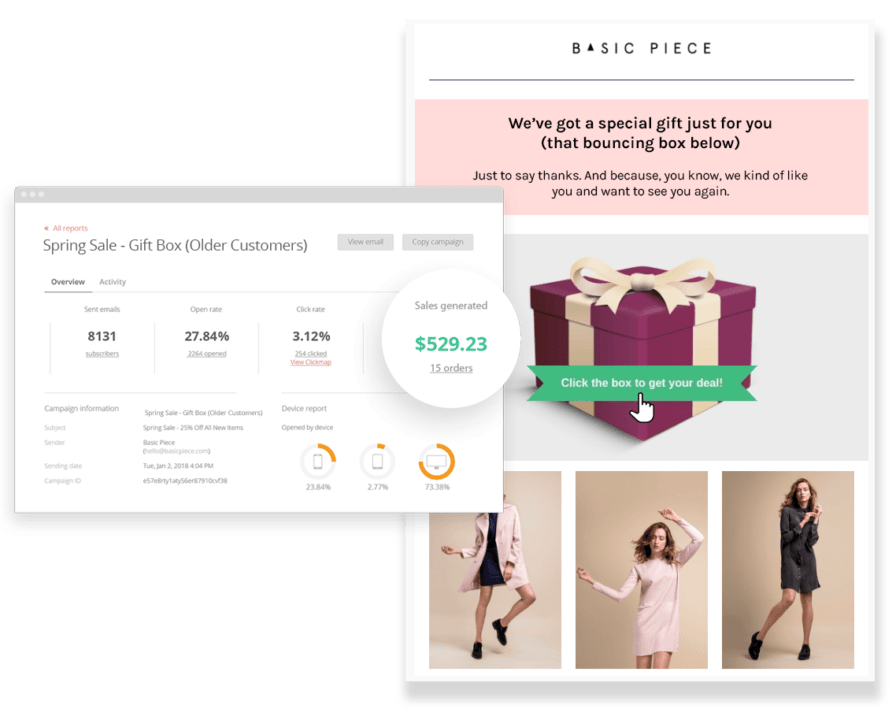 The Gift Box is an animated present that you can easily embed into your email newsletter. Just like a physical present, seeing a delicately wrapped box incites feelings of excitement over what's inside.
However, in this case, a simple click is all it would take to discover what's inside. Because it piques the recipient's curiosity, this simple piece of interactive content can easily get your click rates to skyrocket.
Other clickable elements
There are few better ways to increase click rates than to add interesting things to click on. When adding content blocks to your email newsletter, you're not limited to links and buttons.
You can embed several engaging elements in emails. This can range from a menu your customers can select from to a survey that they can engage with.
Quizzes are also excellent for boosting engagement. The personal care company Harry's created one for this very reason.
6 interactive newsletter examples and ideas
In this section, we will cover some of the best interactive newsletter ideas from real brands to inspire you. Get inspired by these interactive newsletter ideas and design your own interactive email newsletter to engage your audience.
Let's get started with our top interactive newsletter examples.
#1: The Holy Black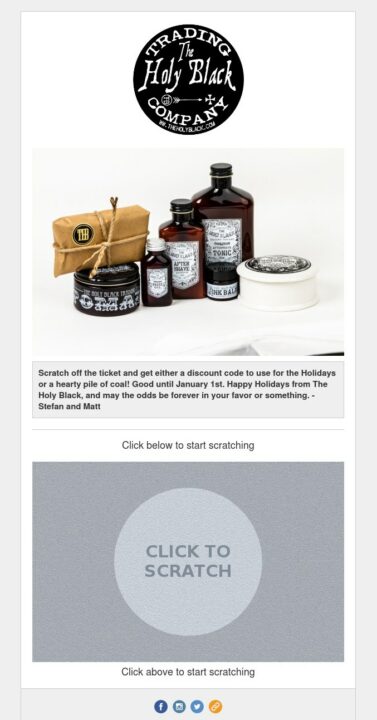 The Holy Black is a fast-growing online store that sells grooming and shaving products for men. Part of their email marketing has involved trying Scratch Cards several times.
In this template, The Holy Black used a high-quality image of the products and an invitation to win a discount code or a prize.
This online store has a healthy email list with engaged subscribers. The average click rate for newsletters is over 7%, and the conversion rate balances around 0.4-0.6%.
However, this email with a Scratch Card inside received a 14.64% click rate and a 0.8% conversion rate. This is one of the best interactive email examples that you can draw inspiration from.
#2. Wakefit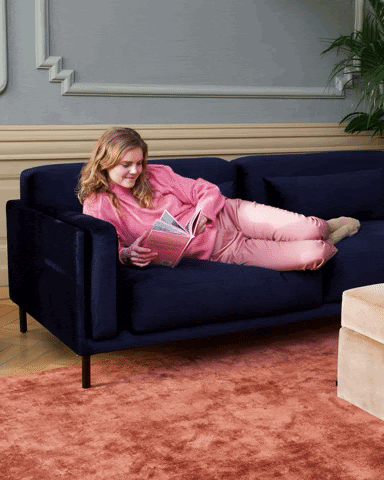 Wakefit is a mattress and furniture brand that sends weekly newsletters to its subscribers. They make their newsletters interactive by adding elements like GIFs and surveys.
The above GIF simply shows a girl relaxing on a comfy couch, creating a sense of comfort related to the brand's products.
At the end of their interactive newsletter, they also add a quick survey to get feedback on their newsletter and whether the readers liked it.
Not just that, they use other interactive elements like images and infographics to engage their audience.
While it works for them, you should try to keep things simple at first and don't add too many elements in your interactive newsletter. See what works for you and retain that, while also experimenting with something new.
#3: Bargain Bows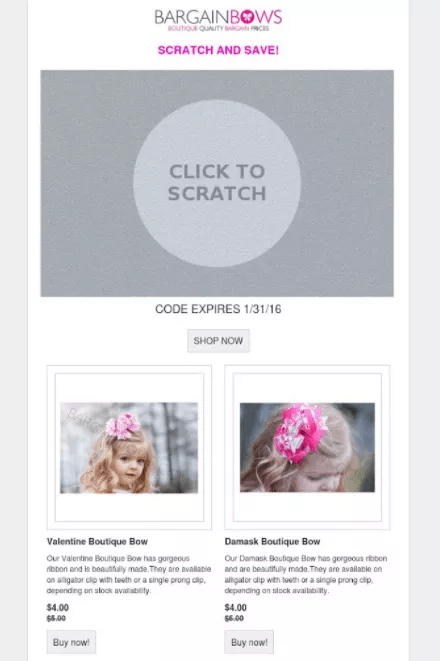 Bargain Bows sells accessories and apparel. It also has a great example of how Scratch Cards can be used within newsletters.
Bargain Bows email marketers opted to include a Scratch Card at the top of the template. This way, the subscriber could take two things from the email.
First, entertain themselves right away and get a discount. Second, they could use the discount for the personalized product recommendations showcased afterward.
This email had a six times bigger click rate and a 4.5 times greater conversion rate than average email campaigns sent by the online store.
#4: Cover Me Ponchos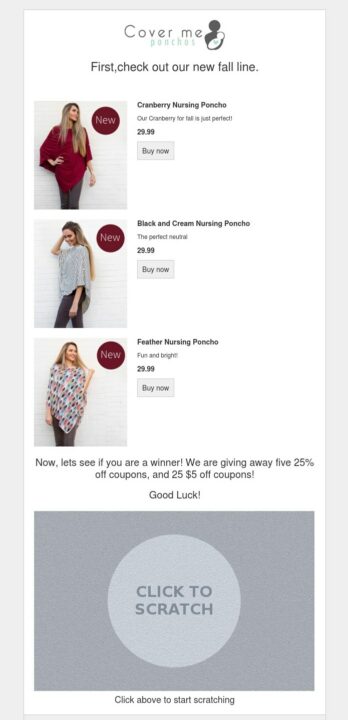 Cover Me Ponchos sells colorful ponchos. Their newsletters are spoken in the voice of the owner, Mariah, and most of the time present a clear, minimalistic design.
In this case, they chose a template layout opposite to The Bargain Bows'. First, a new fall line was introduced to subscribers, and then came the lottery for discounts.
This email had a 9.6% click rate and a four times greater conversion rate than average email campaigns sent by this store.
The number of recipients and the campaign results for Bargain Bows and Cover Me Ponchos are fairly similar. Thanks to this, it seems that there is not a large difference between layouts whether the scratch card or the product listing go first.
#5: Lou and Grey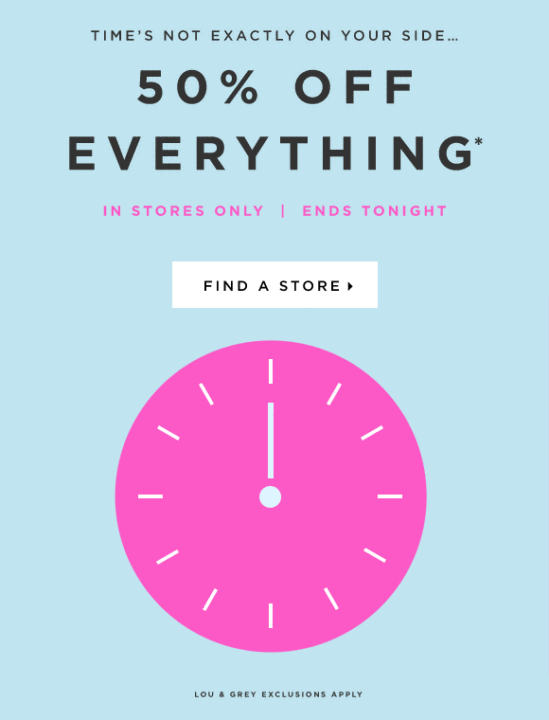 Lou and Grey used a different version of the classic countdown timer by showing a GIF of a moving clock.
This interactive newsletter clearly shows the urgency of the offer and mentions that it will end by midnight. The moving clock GIF further adds a sense of urgency and shows that the clock is ticking and the deal will expire soon.
Not just that, this is also a visually appealing interactive newsletter that is bound to draw everyone's attention and engage them.
#6: Street Fighterz
Street Fighterz sells apparel such as T-shirts and hoodies. The click and conversion rates for this store match the ecommerce email marketing average.
However, the following campaign stands out thanks to one interesting question—can you have too much of an interactive good thing?
Street Fighterz used two interactive elements—a video and a Scratch Card—in one email. Both usually boost click rates. However, this raises the question of how those clicks were distributed when the elements were next to each other in an email.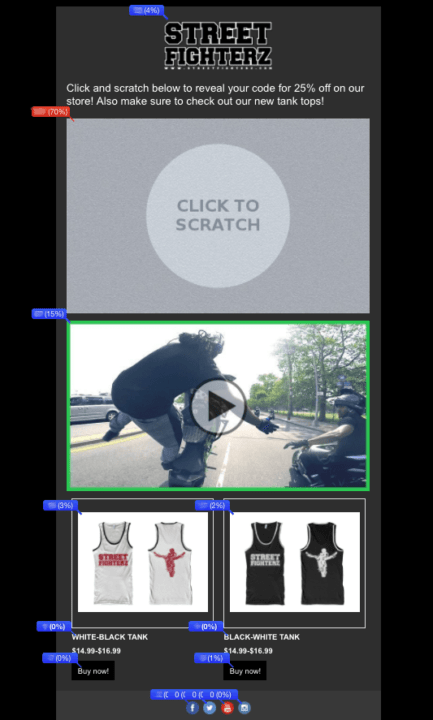 Omnisend provides clients with a detailed Click Map, so we can see the hot spots of subscribers' interest and what they clicked on most. Using this, we can examine how Street Fighterz's customers interacted with the email above.
Clearly, the Scratch Card received many more clicks (70%) than the video content block (15%). However, the video was still a magnet for clicks, getting more than the products.
This suggests that putting two highly clickable blocks right next to each other was not the best idea. They competed and did not receive as much attention as they could have alone.
This example showcases that it would be wise to use two different campaigns with these elements in the future. Separating these interactive elements could yield better results.
Omnisend provides numerous interactive elements that you can use for your interactive newsletters. Use Omnisend newsletter templates to make your job easier and quickly design interactive newsletters and emails.
Wrap Up
By now you'd have realized the benefits of using an interactive newsletter or an interactive email instead of plain text ones. An interactive newsletter is more engaging and can get you more leads and conversions.
Use the interactive email examples mentioned above to draw inspiration from, and design your next interactive newsletter. This post lists some of the best interactive newsletters ideas that include creative elements like scratch cards, gift boxes, and other clickable elements.
Also, check out these interactive email marketing examples to get your creative juices flowing for creating a unique interactive email design.
The decision to embed more engaging elements might be just what you need to boost your click rates. Ultimately, this will lead to a stimulation of revenue and the overall growth of your business.
Omnisend offers all the types of interactive content mentioned above to create unique interactive newsletter designs. So, start Omnisend for free to check out all that it offers and start creating high-converting interactive email newsletters.
Get a personal 1-on-1 Omnisend demo that will supercharge your next campaign!
Get My Demo