With the ROI for email marketing currently at an estimated $40 for each $1 spent, it's very important for ecommerce stores to build an email list.
With a bigger email list, you'll have more opportunities to sell your products to eager customers.
Deciding to build an email list is one thing, but actually seeing success can be quite hard for store owners. This is especially true since there are often so many other aspects to running an ecommerce store.
However, there are luckily many ways to build an email list. Even better, the 6 ways that we discuss below are very easy to implement and the results can be seen within a few short hours or days.
#1 Use the standard opt-in form
One of the first, and default ways, for you to build an email list is by having a standard opt-in form on your site.
Pretty much every Shopify site will have this opt-in form enabled, normally at the bottom or in the middle of the screen. As a store owner, you can disable this, but you really should only do that if you have another signup form available.
For other ecommerce platforms (like Woocommerce), it's important to include this in your website design. Instead of having a specific opt-in form, you can place a sticky sign up form on the bottom or side of the screen.
Here's an example of one of Omnisend's (previously Soundest) forms:

#2 Use a popup form
While the opt-in form is important, it is nonetheless still quite passive. You are hoping that your visitors will sign up to your newsletters by their own will.
Furthermore, you can't really gauge whether they're already interested in your brand. Instead, you should be using a popup form.
Popup forms are dynamic in nature. You can set them to pop up at certain times or for certain events.
For example, in our signup forms, there are options to show the popup after a certain amount of seconds, after the user visits a certain amount of pages, after a certain percentage scrolled, or when the user is getting ready to leave (exit-intent).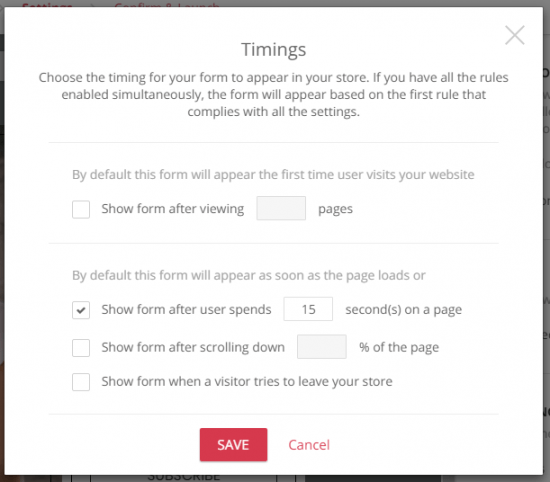 You can play around with these options, but when you get it right, you can help increase sign ups and let you build an email list.
#3 Incentivize your visitors to sign up
With the signup forms activated on your page, you need to determine exactly what incentive your users will have to sign up in the first place.
For that reason, it's a great idea to have some sort of incentive for your visitors. One common incentive is to offer a discount, sale or free shipping for a limited time.
You can also simply offer visitors access to your newsletter, like Shop Hereford below: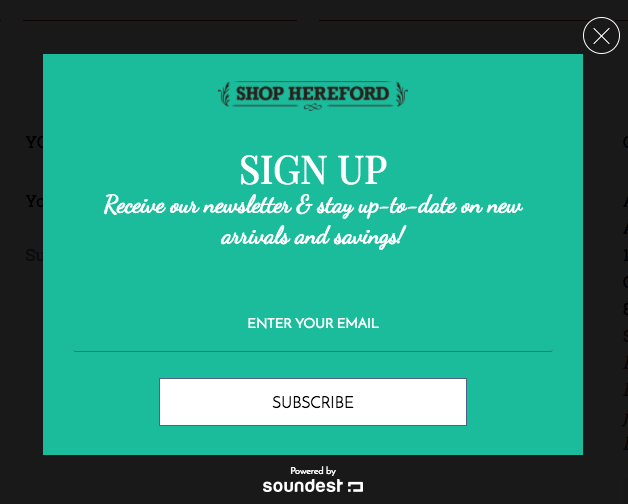 They are straightforward in their attempts to build an email list, and their visitors know exactly what to expect in their inboxes.
#4 Entertain visitors with an interactive signup form
In order to build an email list, you need to attract and engage your visitors. Sometimes, however, discounts and sales are not enough.
In those cases, it's a great idea to think outside of the box. There are now many interactive signup forms that are fun for visitors and effective for ecommerce store owners.
One of these is the Wheel of Fortune, a fun wheel that the visitor "spins" in order to get a prize. In order to spin the wheel, however, the visitor first has to sign up.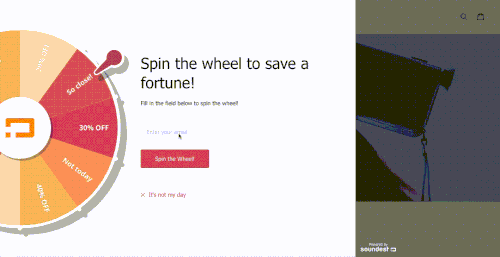 You can determine the prize as you wish, either as a specific amount or percentage discount.
Either way, it's a win-win. The visitor gets savings on their purchase, and you get to build your email list.
#5 Use a landing page
You can also build an email list outside of your home page. When you are running your marketing and advertising campaigns, you should be focusing on specific funnels to get your sales or subscribers.
For example, you can offer a limited time, major sale or a free plus shipping offer. Instead of sending them to your homepage (where they can get lost), you should instead send them to a landing page.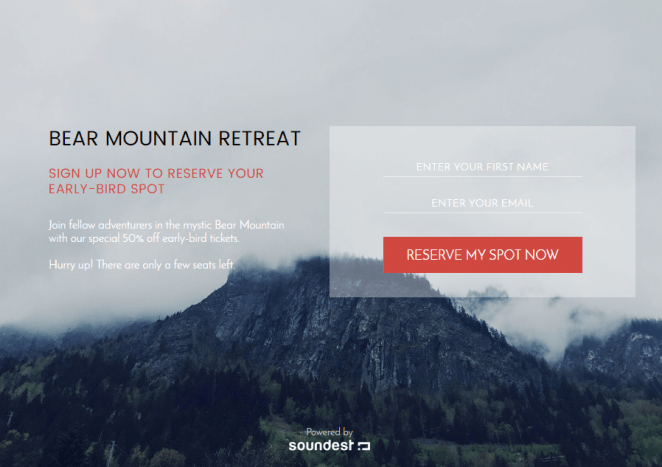 This landing page will have far fewer elements than your store pages, as it is intended for high conversions by focusing on one product only.
In order for your visitors to get that product or offering, they'll need to sign up. With adequate testing, you'll be able to improve your landing page's conversion rates, build your email list and boost your sales.
#6 Create a lead magnet
People are generally skeptical of new stores and normally quite reluctant to purchase anything the first time.
That's why the average conversion rate for many ecommerce stores is around 3%, which means that a full 97% of visitors will leave your store and most will never come back.
In order to avoid that, you can convert your visitors into subscribers—at no cost to them—with a lead magnet.
A lead magnet is a valuable resource—like a PDF guide, ebook, templates, stock images, etc.—that your visitors really want and one of the best ways to build an email list.
In order to get that resource, they will need to sign up for your newsletter and email campaigns.
One note, however: the lead magnet should be directly related to your niche. If you sell fidget spinners, the lead magnet shouldn't be a collection of 500+ cute cats.
Although your audience may enjoy both cat pictures and fidget spinners, the cats won't prime them for the sales pitch.
After you build an email list
Now that you've found successful ways to build an email list, the main question becomes: what do I do now?
You've got a nice, growing list of targeted users, so now it's up to you to build up your brand, create familiarity and loyalty, and then sell to them.
These are not simple things, and they do require a strategy. One thing is to look at your email marketing automation workflow and see if you've got everything in order: your welcome series, your cart abandonment series, etc.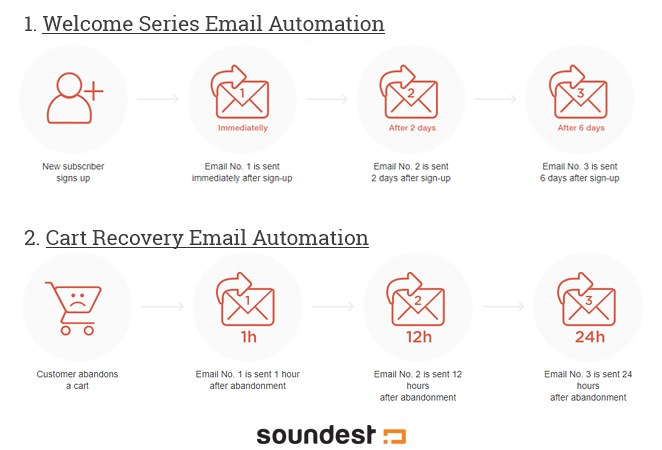 Maintaining your subscriber list will also mean sending out regular newsletters and other promotional offers.
The important thing here it is to have a specific strategy and to be consistent in your communications for both customer acquisition and customer retention.
Your subscribers will come to expect and welcome it, meaning your brand is growing in their perspective.
With a good, consistent brand and great products, you'll not only improve your sales, but you'll get lots of repeat customers.