The ABCs of Building a Brand Online
Popular
·
5
min read · Mar 02, 2017
Reading Time:
5
minutes
A strong business identity and recognition by customers is crucial for running a successful business. The way you build your brand will determine how your customers perceive your products, how they buy from you, whether they advocate your label, whether they are proud being your customers, and so on.
Therefore, having a strong brand online is a challenge and a dream for every business owner.
Last month I met an old friend of mine. We were sitting, drinking tea, and having the ladies' talk about a job and things. And I realized that the person sitting in front of me had so much knowledge about digital marketing and business branding that it would be a crime not to share it with our audience.
So here we go, ladies and gentlemen—an interview with Indrė Baltušė, a business communication strategy expert and cofounder of digital branding agency Imagine.lt.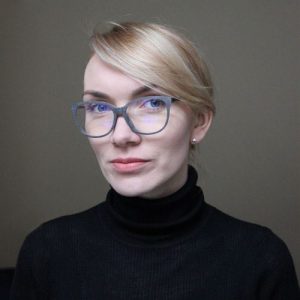 1. How should I start building my brand? When is the best time to do it?
Branding is a visual expression of your business identity. In other words, a design solution has to complement and strengthen your brand's character, exclusivity, and communication with your customers.

Four steps to build a brand online:
Branding starts from the moment you realize your business identity: who you are, what your competitive uniqueness is, what value you provide to your customers, a story behind your business and so on.

In the second step, you need to build your brand strategy. What means of communication are the best for your brand?

The third one—visual identity design: your logo (you can do it with Logaster), graphic elements, colors, fonts, and sketches of your banners, website, social media posts, etc.

The last but not least is creating your brand book. This set of rules determines how to use your logo and brand colors, what the fonts are, and so on. A brand book enables you to stay consistent when creating different promotional materials and your website design.
Speaking about the website design, it should have not only the logo, be also be user friendly to your customer. Think about the experience that your customer will have while visiting your store. The design should be in versatile harmony: fonts and colors, images, and tone of voice should go together. In branding, every detail matters.
2. How should I strengthen my brand if I already have had an online store for some time?
Always be critical to your store: whether it looks up to date, user friendly, and attractive.

All big players such as Facebook and Instagram continually update their interfaces. These companies are improving browsing experience and design and continue being interesting to the customers.

Thus my advice would be this: don't let your online store and your brand identity grow stale. Partly refresh them every several years.

In addition, bear in mind that a strong ecommerce solution does not mean the best aesthetic view. Visuals should go hand in hand with great functionality. At this point, I have one more piece of advice. If you are going to look for professional help, look for a digital branding specialist, not only graphic designers because graphic designers know a great deal about the beauty of the site, but they rarely have "know-how" of user experience on site. So once again, beauty and functionality should go hand in hand.

3. What are the main brand elements? How important is branding uniformity on different media channels (social media networks, email, etc.)?
The brand components are as follows:
Positioning/ your business identity

Name of your store/company

The main message

Slogan (optional)

Your company logo

Brand colors

Fonts

The rules, how these elements are used in promotional materials
The uniformity among different channels is not just important; it is crucial for your business communication.

If your brand will look similar on different media channels but not identical, your branding will not be effective. Your customers will not be able to identify you if every time you reach them with the message (no matter what: email, Facebook post, or banner), you use different colors, a different style, or different fonts. You have to strictly follow your brand book to shape good recognition and strong identity. If not, you will probably spend significantly more money to be noticed online.
4. What are the biggest issues for business in terms of brand building? How can I avoid them?
From my experience, online businesses do not take their identity as serving as a competitive advantage. They tend to position themselves in terms of price and user experience, and they are partly right. However, this is not their brand identity. All ecommerce participants compete in the particular dimensions.

As in brick-and-mortar stores, the online store should care about its uniqueness and exclusivity. This can be brought forth via unique marketing solutions.

Currently, we see exactly the opposite in the market. Online businesses do not invest in communication strategies, and they do not look for unique marketing solutions. They just randomly grab media channels and invest thousands of dollars into Google and Facebook Ads. This brings them new traffic but does not help brand recognition and customer retention.

This is the biggest mistake being made by online businesses in my opinion. If you have a clear brand identity, a well-understood target audience, and some unique (not especially expensive) marketing solutions, you won't need to waste so much money on random media channels and ads.
5. How should I make my customers understand my brand the way I want them to?
Your brand exclusivity might be hidden in one of the following aspects: your team, your specific communication or products in stock, customer service, business model, and so on. If you want your customers to understand these correctly, it is important to stay consistent, repeat your message, and to follow your brand book and overall brand ideology.

For example, you have an online store that sells products for kids. Every day, you likely post/send a new message to customers about new baby-buggies, toy sales, and so on. However, this kind of communication is short term. A long-term message and your brand positioning could be this—you have the largest stock of products for kids. Along with this core message might go the short-term marketing messages: "Today the biggest stock of products for kids fulfils with new baby buggies!" In addition to the content of the message, the consistent and uniform visual design is a must.
6. How do I know whether I need to strengthen my brand or whether it's time to re-brand?
Strengthening of the brand typically contains the update of color scheme, new fonts, a new website design, a change of style of graphics, and so on. This is not re-branding, and you probably will need some refreshments every several years. Meanwhile, re-branding is building a new brand from scratch: a new identity, a new name, a logo, and so forth.

For example, if Ebay.com suddenly decided to become a platform for businesses and not for physical merchants anymore, it would need re-branding because communication and values for business entities will be completely different compared with those of physical merchants.

Therefore, this is the answer. If you feel that your current business with its current values and target audience has come to an end, re-brand it and look for new qualities for your new business.

Takeaways and Final Tips
A strong brand must have its own identity—one true fundamental quality. Visual solutions strengthen your brand and build exclusivity. However, they are not your business identity. The identity lies in the strategy.

Always follow your brand book.

A brand will be strong if it has been built based on thinking about the customers: what they like and what they find nice and attractive to buy. A brand's strength does not rely on the business owner's personal taste.

If you are going to hire web design professionals, make sure that they have experience and knowledge about user experience and ecommerce solutions.
Don't be afraid to change your visuals and experiment. In the ecommerce field, you will understand what's working and what's not very quickly. Even if you have invested many resources into the website design and programming, but you see it is not working, do not waste your time and start working on the new version (sometimes it might be some minor changes). Changing it right now will cost you less than will doing so after investing in marketing, waiting, and then, after some time has passed, changing it anyway.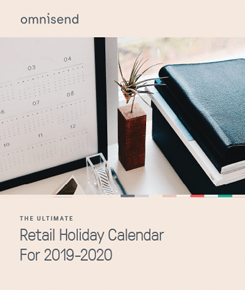 Download The Ultimate Retail Holiday Calendar for 2019-2020!
Don't miss the opportunity to get in touch with your customers.
Click here