Drive sales on autopilot with ecommerce-focused features
See Features
Reading Time:
10
minutes
With the ecommerce industry continuing to grow at an exponential rate, the number of tools, plugins, software, and platforms keeps rising too. This is great for those of us running ecommerce businesses – we have a wealth of time-saving and revenue-driving aids to choose from, right at our fingertips.
However, like so many aspects of modern life, having so much choice can be overwhelming and make it difficult to know what is best for our specific needs. Sure, there are plenty of articles presenting the best tools for email marketing, Shopify apps, etc., but very few that cover a wide range of vital tools for all areas of ecommerce.
In this article, we'll check out some of the most important tools to have in your ecommerce arsenal, starting from the platform for your store, to everyday marketing and analytics/reporting software. This is by no means an exhaustive list – the point here is to narrow down your choices to only those tools that are efficient, effective, and important for all ecommerce retailers.
The tools are grouped into four broad categories:
Ecommerce Store Platforms
Website Optimization
Marketing Tools
Analytics & Reporting Tools
So what are these must-have tools for serious ecommerce retailers looking to grow their business? Let's find out, starting with your most important choice – your ecommerce store platform.
Ecommerce Store Platforms
1. Shopify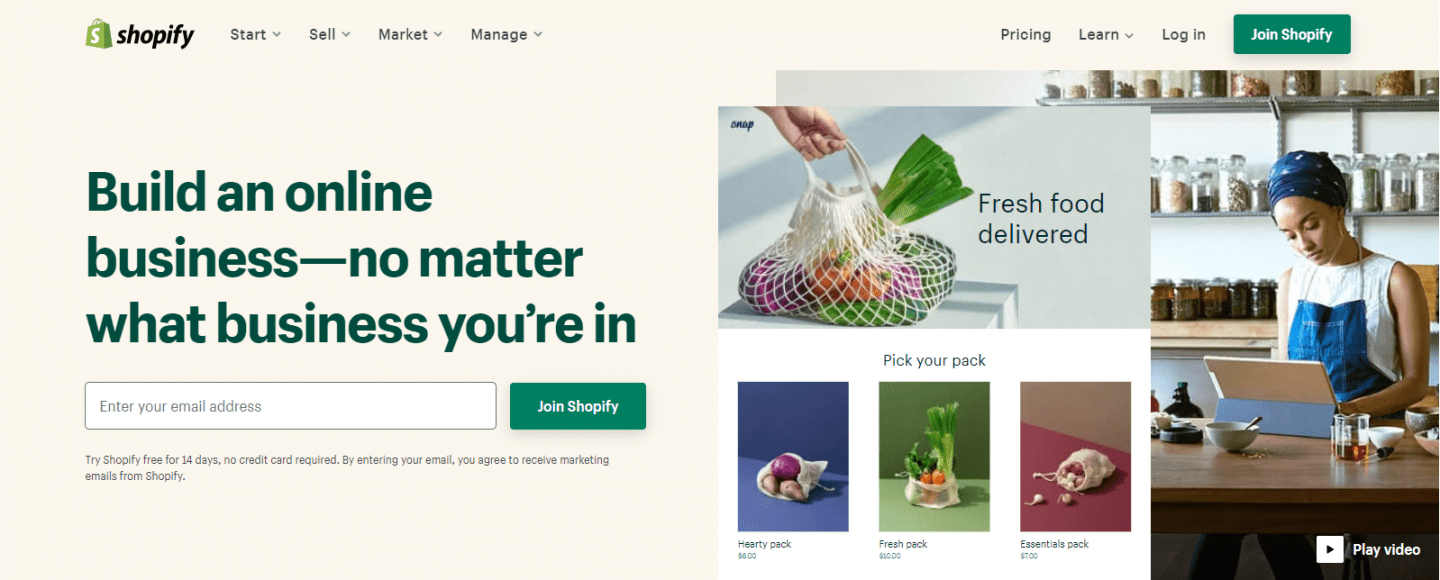 For most, your store platform is where it all begins, and for sheer out-of-the-box functionality and ease-of-use, it's hard to beat Shopify. Here, you can create your website and gain access to shopping cart software as well as a host of other features – it's a complete solution for all things ecommerce. Shopify doesn't require technical expertise to set up and it offers a variety of templates to help get you started. It's also incredibly scalable – there are apps and plugins to cover just about every conceivable need.
Shopify store with help of a developer can be customized with unique design solutions. Good example is a cute phones cases brand Burga.
2. WooCommerce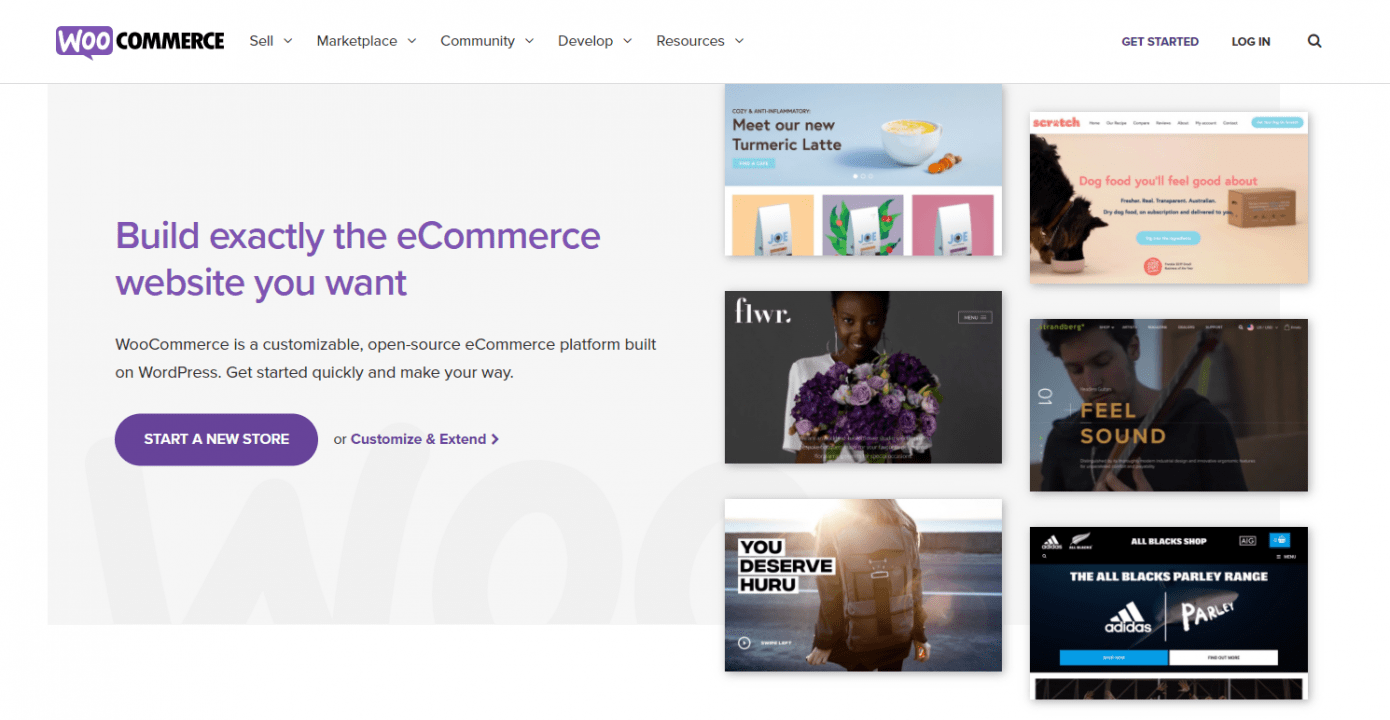 Alternatively, if you already have a WordPress website and are comfortable using it, you can add ecommerce compatibility by downloading the WooCommerce plugin. You'll be able to sell products, offer subscriptions, and perform any other ecommerce-related tasks with WooCommerce's endless extensions and integrations, making this a perfect way to monetize your existing website.
3. BigCommerce
BigCommerce is, like Shopify, another full-service ecommerce platform that comes loaded with features including a highly customizable website, SEO & analytics optimization, payment & inventory management, and much, much more. BigCommerce is a big player in the ecommerce industry with years of experience to draw upon, so if you're looking for top-notch security, lightning loading speeds, and 24/7 customer service, this is definitely a good option.
4. PinnacleCart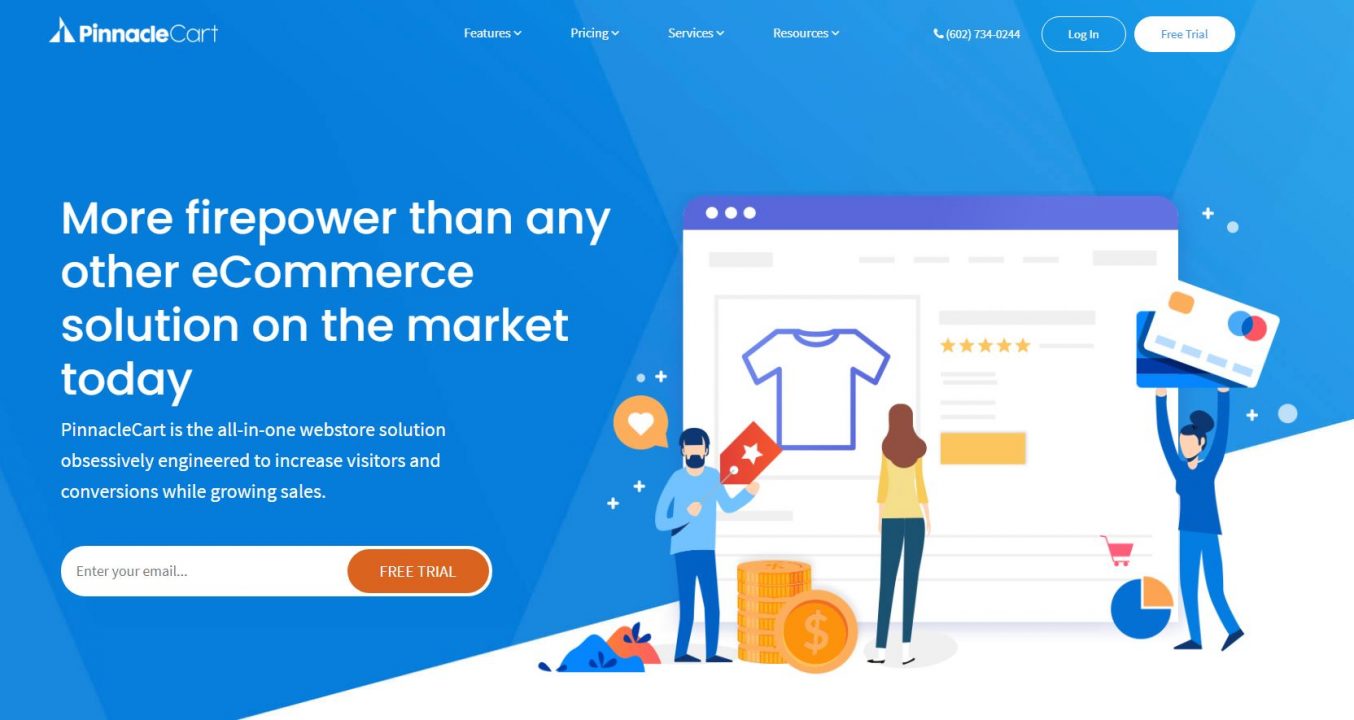 PinnacleCart is the all-in-one eCommerce platform that provides you with everything you need to grow your online business. Whether you're just getting started or an established brand, PinnacleCart is a marketing-focused solution that gives you the tools you need to build your online storefront. This innovative platform combines best in breed technology with a feature set specifically designed to increase visibility and grow top-line revenue.
Process & Website Optimization
So you've chosen your platform and your website is up and running, now it's time to optimize it to suit your precise business needs. There are several aspects to consider here, which we look at individually.
5. ShipStation for Shipping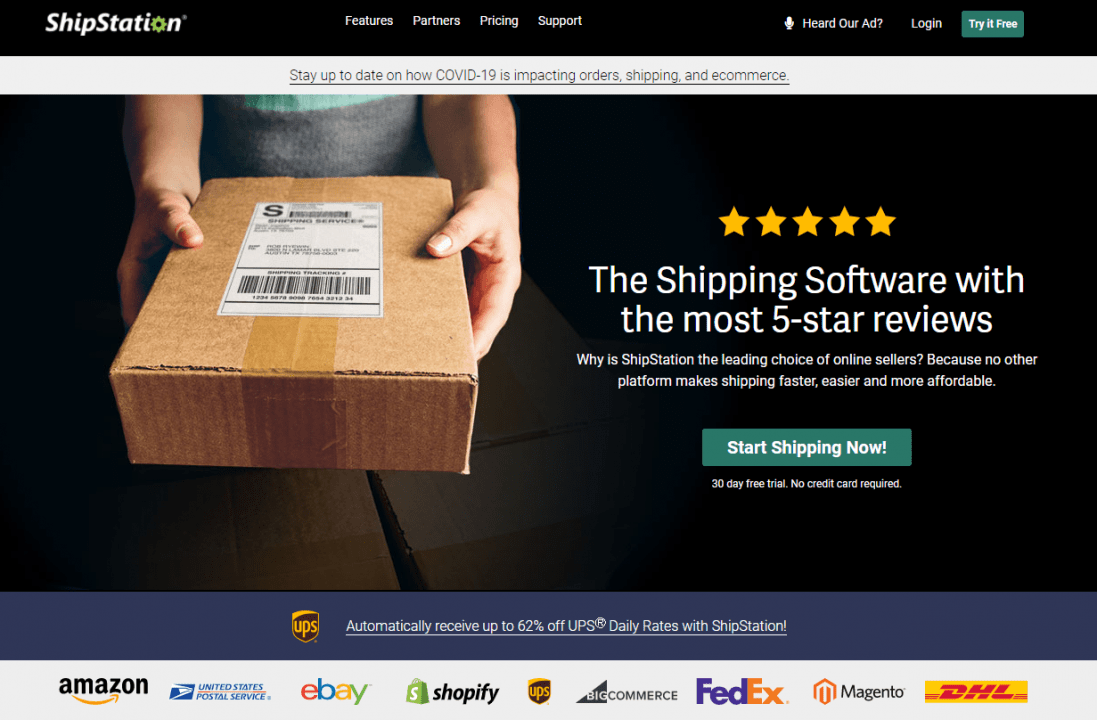 ShipStation makes order fulfillment a seamless and accurate process, integrating with all the major ecommerce platforms and marketplaces to become the ideal shipping solution for businesses of all sizes.
ShipStation's major benefit is its time-saving automation features – it imports all the orders from your ecommerce website and sorts them by priority. You can set different rules for specific orders, with all the necessary information pre-filled, so all you need to do is print the shipping label instead of dealing with each one manually. As far as shipping goes, it doesn't get much easier than that!
6. CartHook for Checkout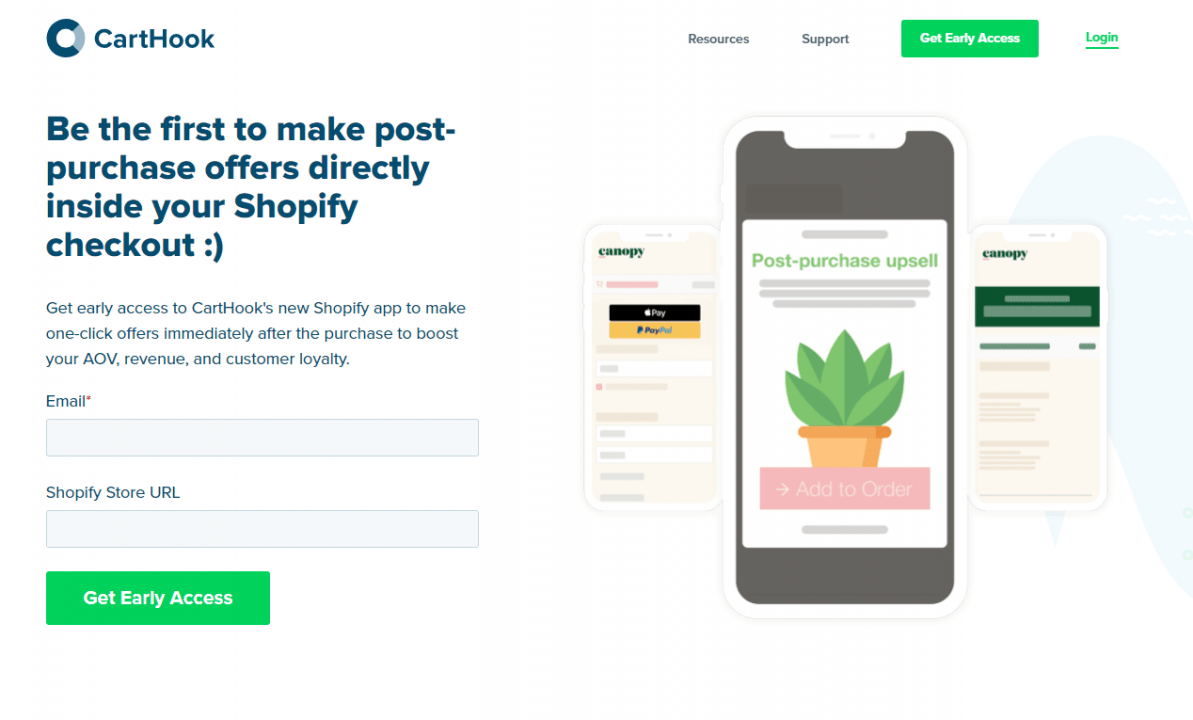 CartHook is a great tool for addressing one of the great problems that all retailers face – the dreaded shopping cart abandonment. With an average cart abandonment rate at around 70%, recapturing at least some of them with an effective abandoned cart strategy can really boost your revenue.
CartHook automatically captures an email address and the contents of the abandoned cart when website users have gone through the first checkout stage. If the purchase wasn't finalized within an hour, an automatic abandoned cart email series is triggered, with up to 3 emails included. With average recovery rates hovering around 20%, you're looking at an average of 9% increase in revenue with CartHook – excellent numbers for a single tool.
7. Gorgias for Customer Service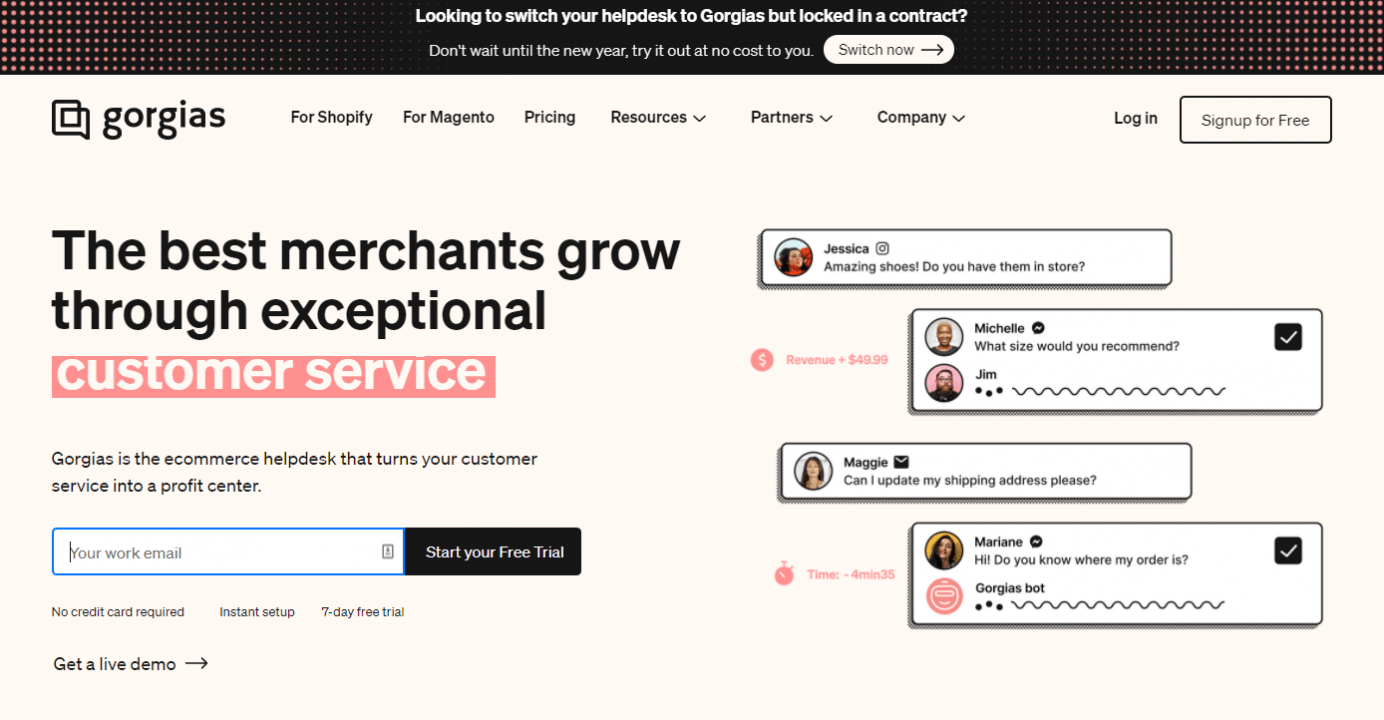 Gorgias is an incredibly useful app for delivering outstanding customer service, a vital aspect of ecommerce that all retailers should aspire to. Unfortunately, as we all know, there are only so many hours in a day so customer service is often (mistakenly) shunted down the priority list.
Gorgias aims to save your valuable time by automatically answering basic customer questions – no more repetitive manual responses! It allows you to manage all your communications from a single dashboard, giving you the option to automate the customer interactions of your choice. Gorgias also measures the impact your customer service has on your revenue and productivity, so you know exactly how well you're doing.
8. Nosto for Personalization and Product Recommendation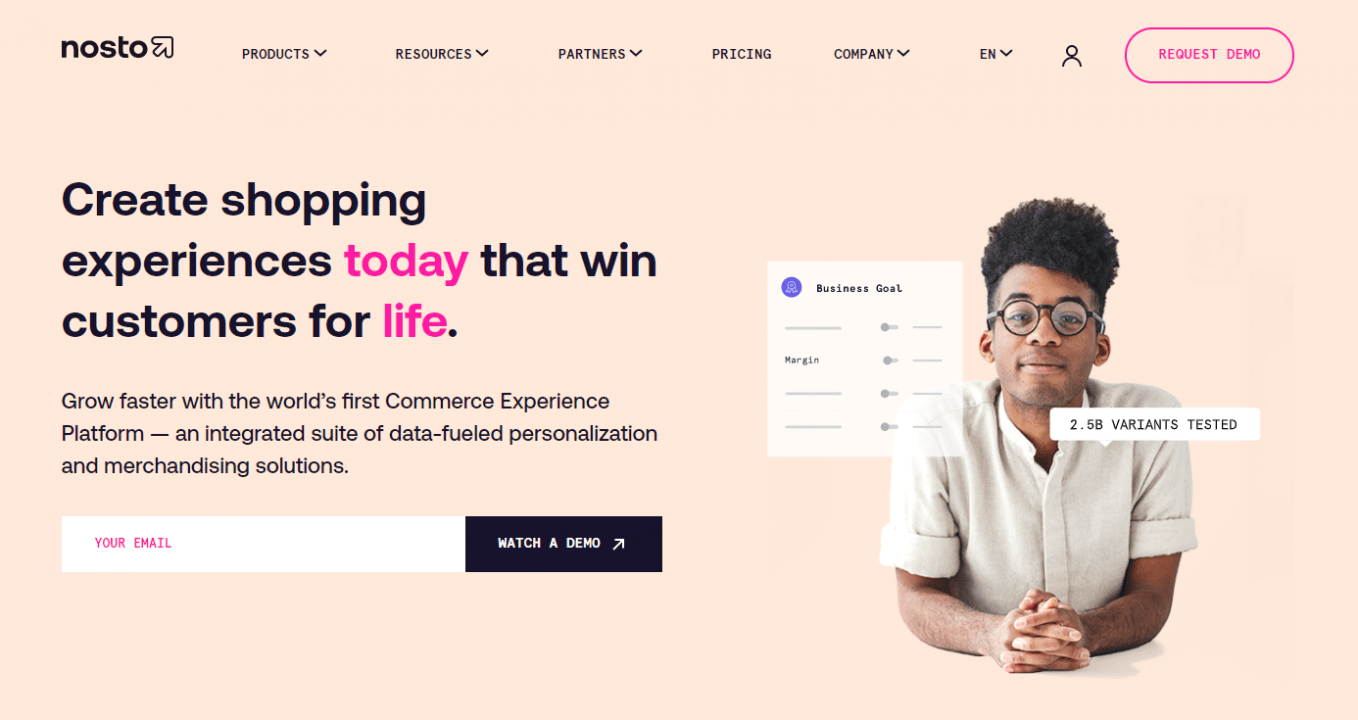 Nosto is best known for personalized product recommendations, but it has expanded to include content personalization, email product recommendations, popups, and customer insights. Nosto automatically predicts and delivers highly-relevant relevant shopping experiences in real-time to every individual customer, increasing customer engagement and therefore maximizing revenue.
Personalization is a big trend in ecommerce right now, with customers coming to expect tailor-made online shopping experiences, so this is definitely something to look at for your business. Nosto claims a 10-30% average increase in revenue when using their suite, so the results speak for themselves.
9. Optimizely for Optimization and A/B Testing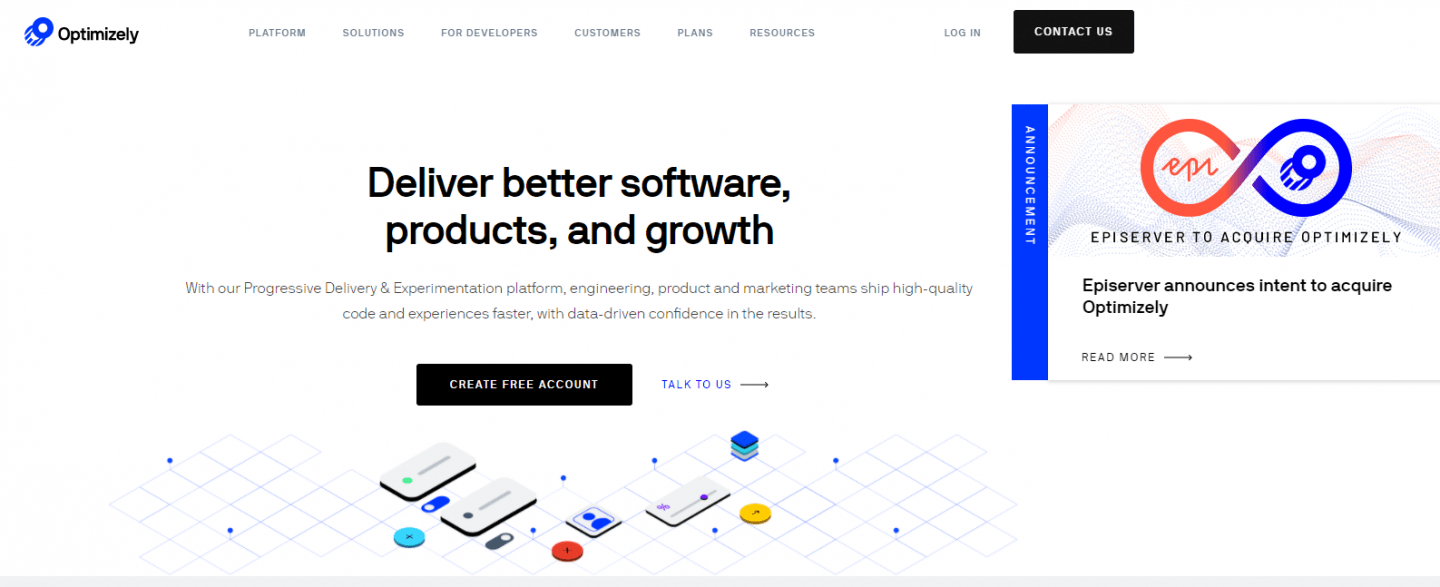 Optimizely is the best experimentation platform on the market for testing the impact of changes on your website. For example, you might want to know how people would react to a logo change, or a different font on your landing page.
Features mainly center around A/B testing, it claims to be the world's most powerful solution for A/B and multi-page front-end experimentation. However, you can also enjoy visual editing, multivariate testing, behavioral targeting and much more, along with full integration into the major analytics tools like Google Analytics. In short: if you need it testing, Optimizely will have you covered.
10. Yotpo for Generating Reviews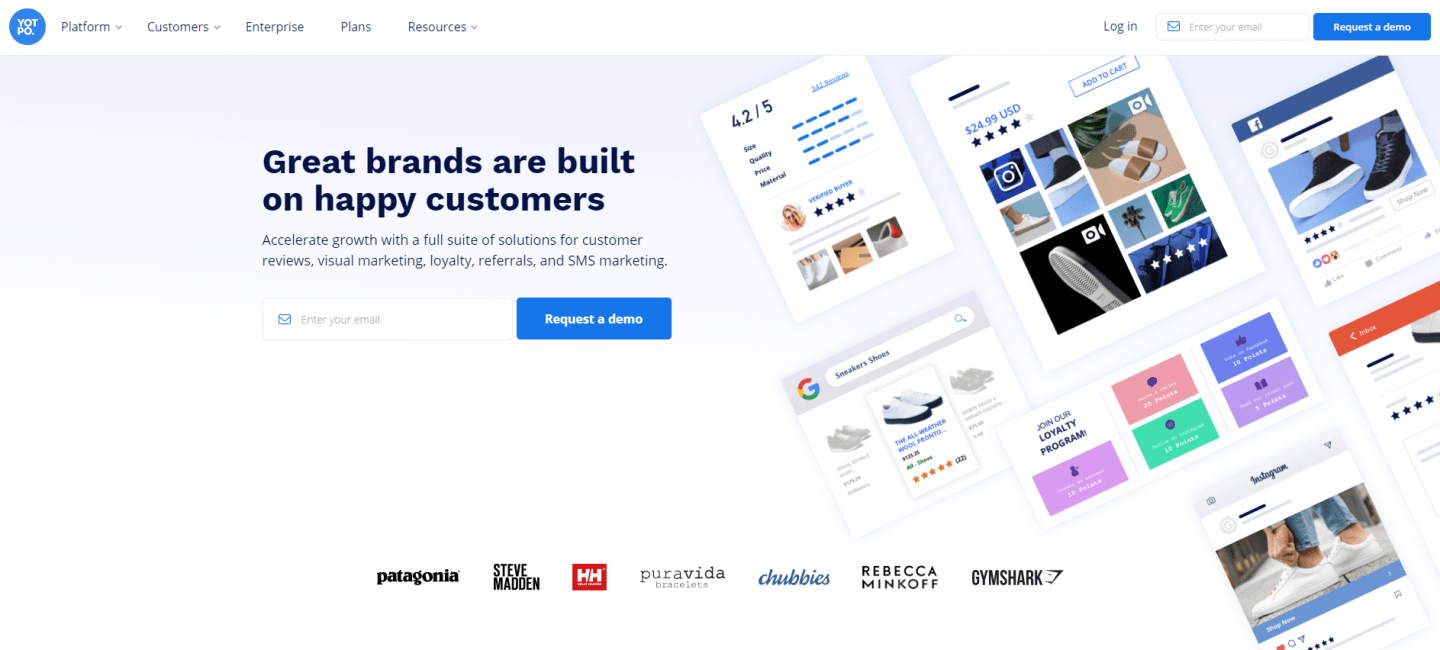 Yotpo reviews help you build social proof and trust in your site and products by making it easy for customers to leave reviews. With 70% of consumers trusting peer recommendations over professionally-written copy, outsourcing your marketing to your satisfied customers makes a lot of sense!
Yotpo is a platform that specifically addresses the need for user-generated content, helping marketers to find, curate, manage, and respond to all kinds of customer-created content related to your brand. With easy integrations to popular platforms like Facebook, Google, and Shopify, you'll be collecting positive reviews in no time, helped by Yotpo's intuitive algorithm which precisely identifies which products to request reviews for, at exactly the right time.
11. Veeqo for Inventory Management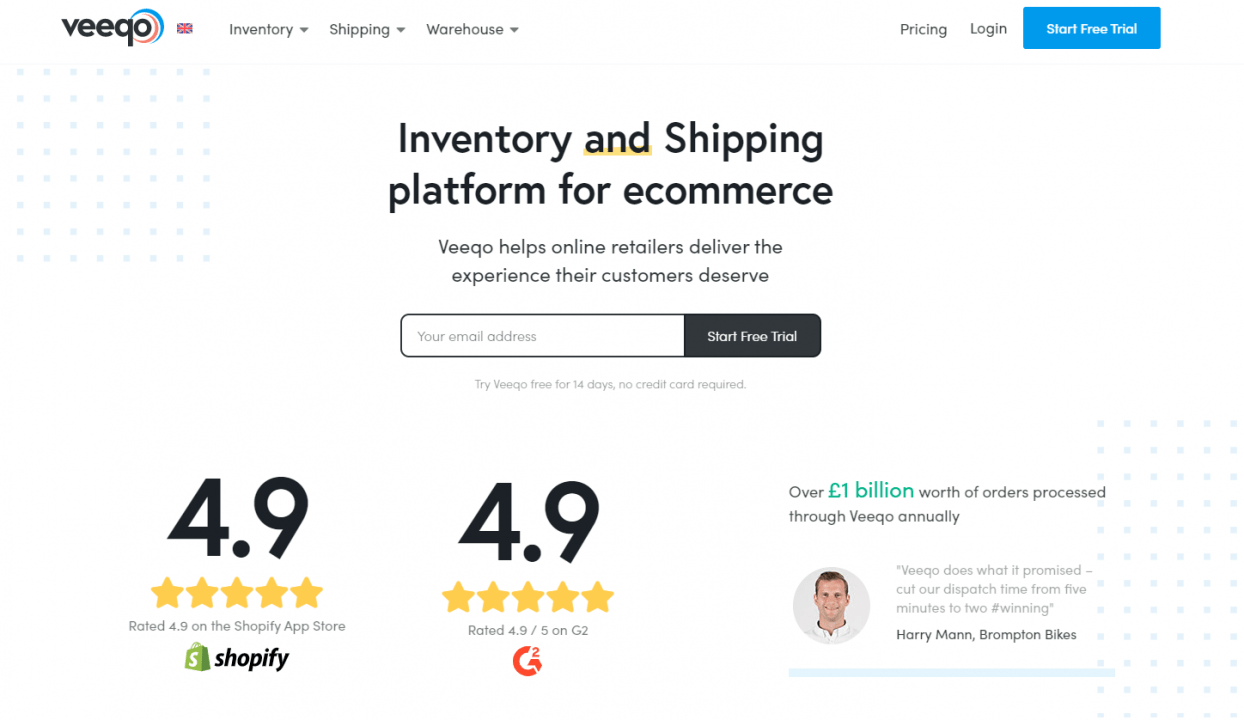 Veeqo centralizes the management of your inventory, orders, and shipping across all channels, bringing everything together in one convenient dashboard.
Everything inventory-related is at your fingertips, including purchasing from suppliers, shipping & tracking orders from any channel, managing warehouse operations, and reporting on the entire process with detailed analytics and reporting features.
You can easily buy from your suppliers, generate shipping labels for orders, and integrate with major accounting platforms like Xero and QuickBooks so you can keep a close eye on your numbers.
Marketing Tools
Now it's time to get marketing. Ideally, you want automated marketing features, audience segmentation, easy content creation, omnichannel options, detailed analytics, and an affordable price. Sounds a lot? You deserve the best, so consider some of these options.
12. Omnisend for Marketing Automation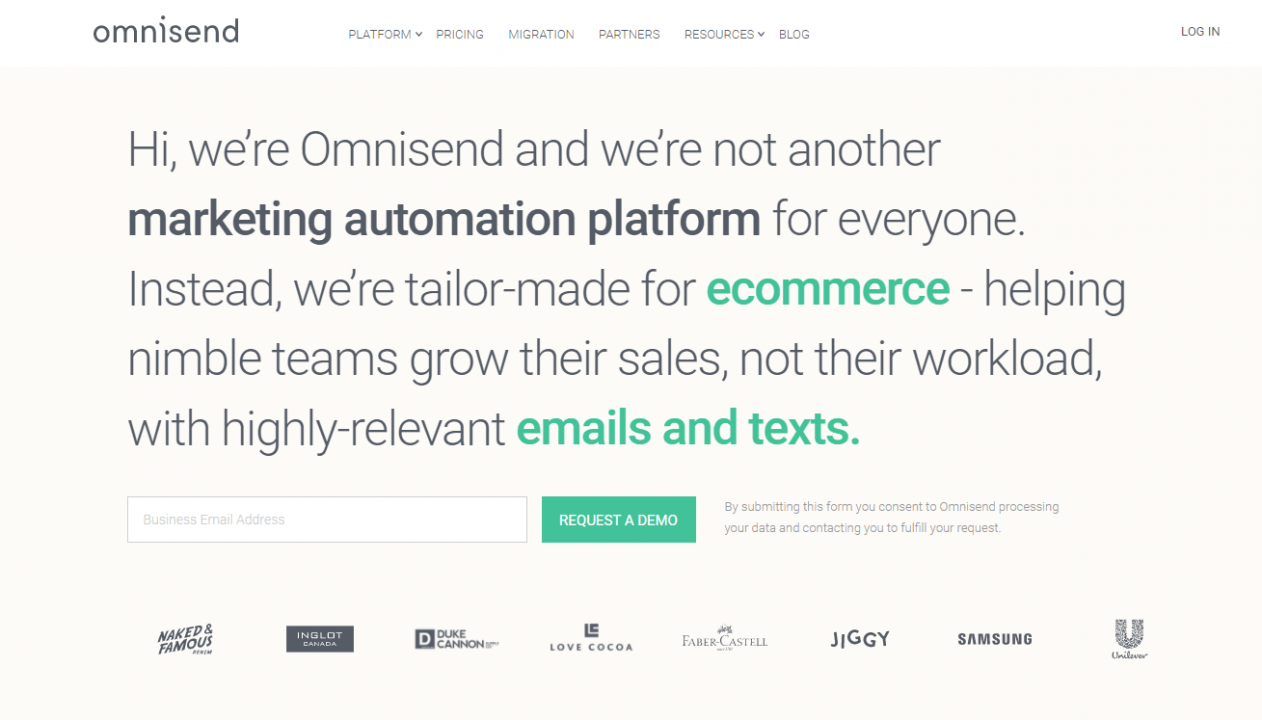 Omnisend excels in omnichannel marketing – which means that you can seamlessly connect several channels into the same automated workflow.
Rather than performing email, social, and SMS marketing separately, you can really save a lot of time doing it all in one place. However, this omnichannel focus does not mean that individual channels are any less powerful, Omnisend has an extremely powerful email marketing automation featuring an easy-to-use editor, loads of ecommerce-specific pre-built templates, and email capture options like landing pages, popups, and lead generation forms that you can use to build your own email list.
However, what really makes Omnisend stand out is sophisticated, but easily-applicable automation. Welcome series, cart abandonment workflows, birthday and special offer emails… Omnisend makes setting up and sending campaigns a breeze.
13. Ahrefs for SEO and Website Health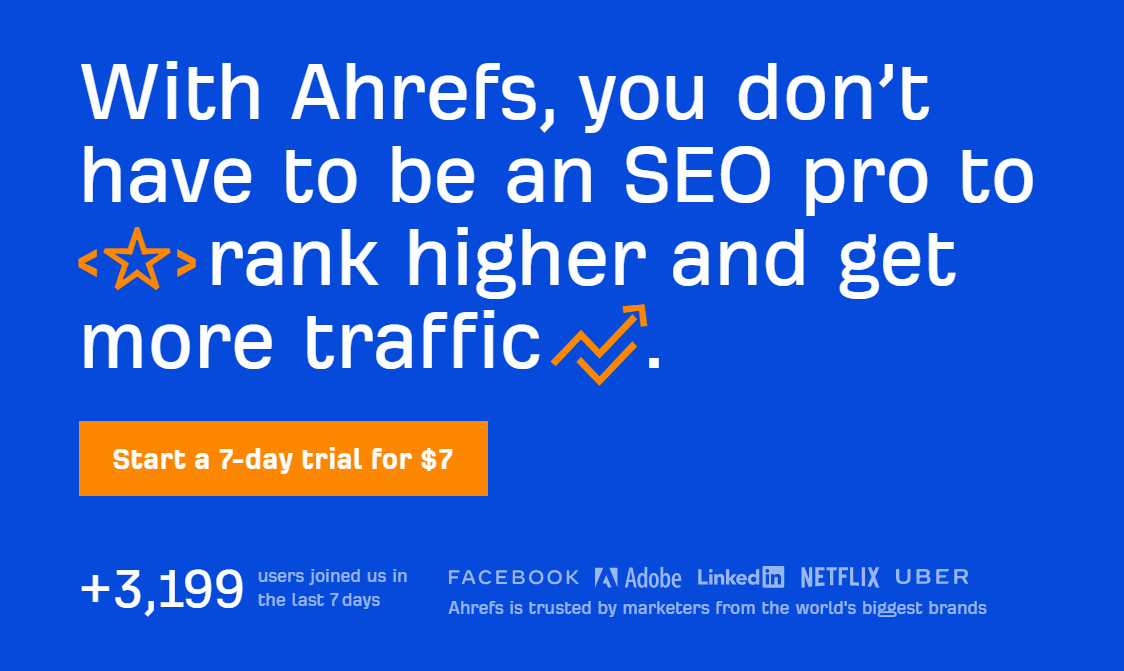 Ahrefs is a fantastic competitor research and SEO tool, boasting a bigger backlink index than any other tool. With Ahrefs, you can spy on your competitors' SEO strategies, their backlinks, keywords, and more.
This is invaluable data for understanding successful ecommerce strategies, and while it may lack more in-depth content analysis and link auditing, Ahrefs is a perfect allrounder for optimizing your website for search.
14. Buffer for Social Media Automation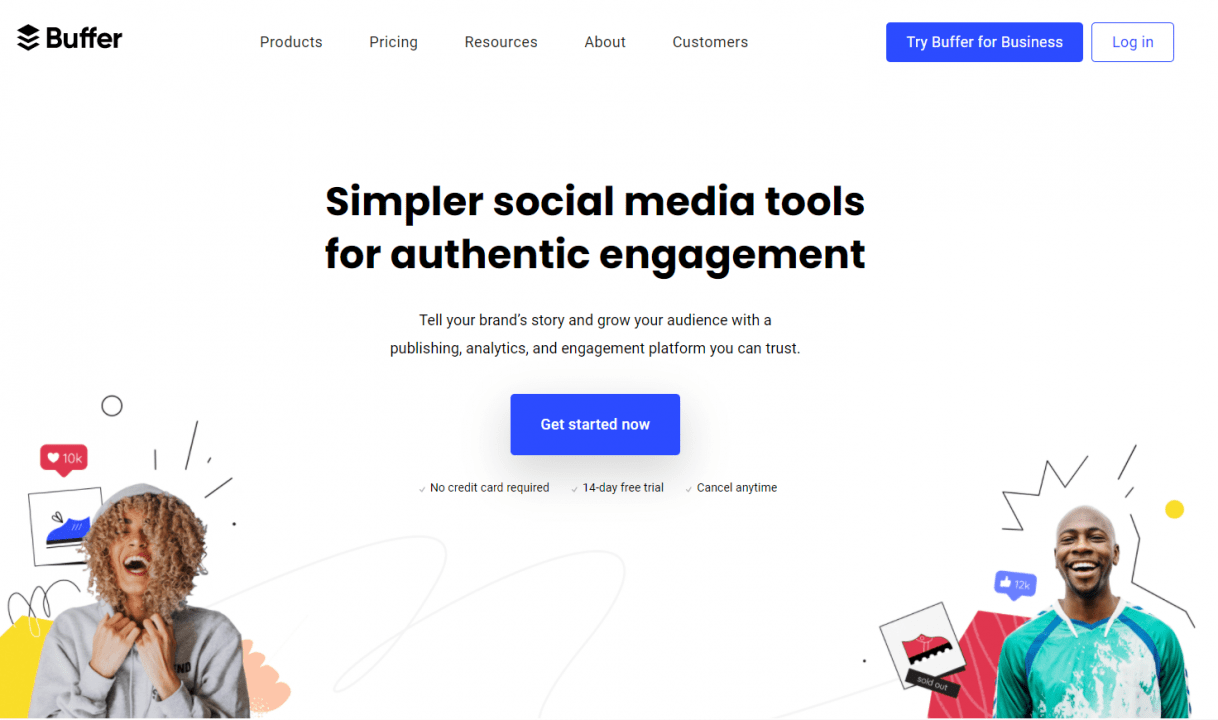 Buffer allows you to schedule posts and easily manage all social accounts from a single dashboard. You can also create attractive visuals with your posts, easily assign tasks and to team members, and integrate with other social apps including Zapier, Feedly, Pocket, and more.
Buffer has a clean and intuitive interface that makes content creation and sharing a breeze, with real-time analytics to keep a close eye on the performance of your posts.
15. ReferralCandy for Referral and Affiliate Marketing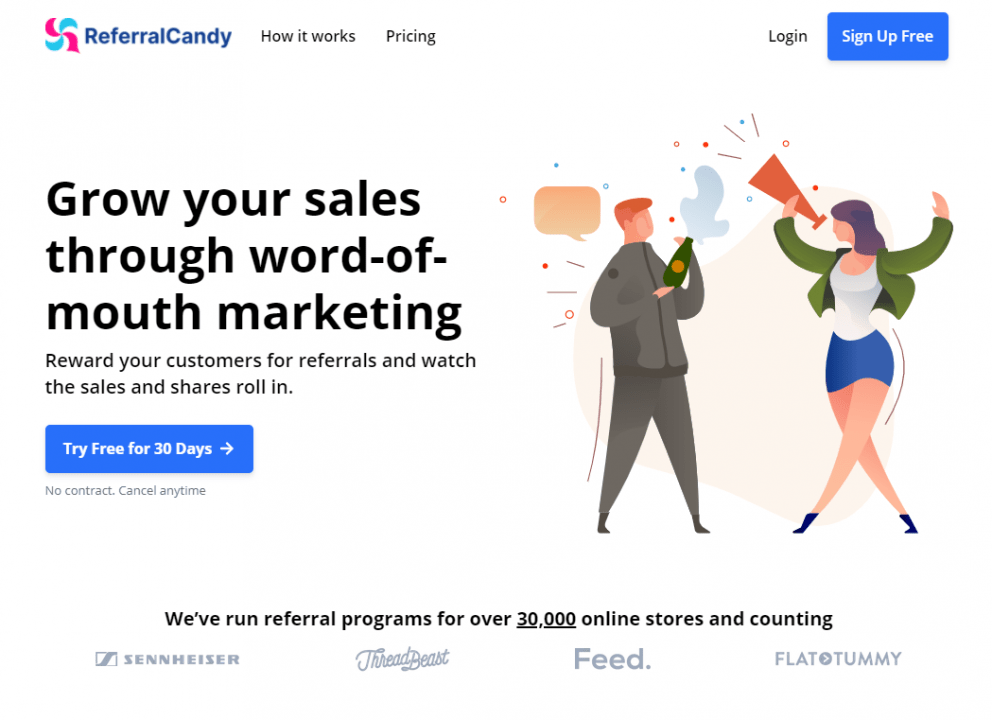 ReferralCandy offers a complete referral program for your business. With personal recommendations making an impact on up to 80% of purchases, so you should definitely consider utilizing this powerful marketing technique!
With ReferralCandy, you can choose from a range of rewards and incentives – for example, coupons, unique gifts, and cash rewards, which are paid out automatically when a referral is made. ReferralCandy is really easy to use and doesn't require any special technical knowledge, so you'll quickly be acquiring new customers and retaining existing ones via the power of word-of-mouth and customer loyalty.
Analytics & Reporting Tools
Congratulations! Everything is in place and running smoothly, your ecommerce store is fully optimized and your marketing efforts are paying off. Or are they?
In order to fully maximize the potential of your store, you need to know exactly what is working well, and what could use a little improvement. This is where analytics & reporting comes in – you'll be able to dive deep down into the data and make your adjustments accordingly. Let's check out some of the best all-round tools on the market.
16. Google Analytics for Site Metrics
Google Analytics is a free tool that allows you to track sessions, page views, users, time on page, bounce rates, conversions and other visitor behavior on your site. This powerful tool is a must-have for ecommerce retailers, and don't worry if you feel overwhelmed by all the information you are able to access – Google will give you free training so you can quickly master the basics.
You'll be able set up reports that run in real-time to help you identify problems or opportunities as they arise, and have access to a whole range of free features to help you understand your customers better.
17. Whatagraph for Reporting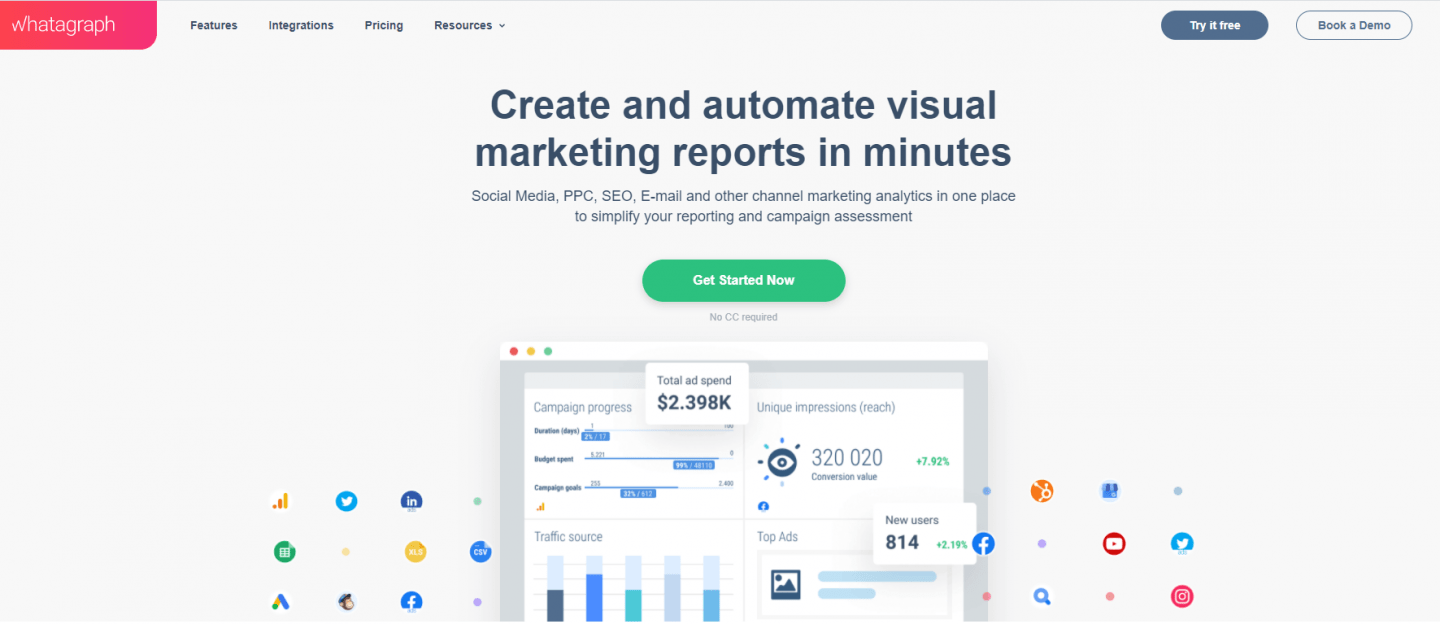 Whatagraph automatically creates visually attractive reports that make your data easy to understand and perfectly formatted for making presentations. Scheduled automatic reports save you time with prompt delivery to your inbox at a time of your choosing, putting your marketing performance in a clear light and allowing you to act upon it when and where it counts.
Whatagraph integrates seamlessly with Google Ads and Analytics, all the major social media platforms, and a range of other ecommerce-specific software, so all your performance data is easily accessible in one place, and their customer service is second-to-none. Consider Whatagraph as a high-end addition to Google Analytics, it is ideal for agencies and marketing teams.
18. Kissmetrics for Customer Journey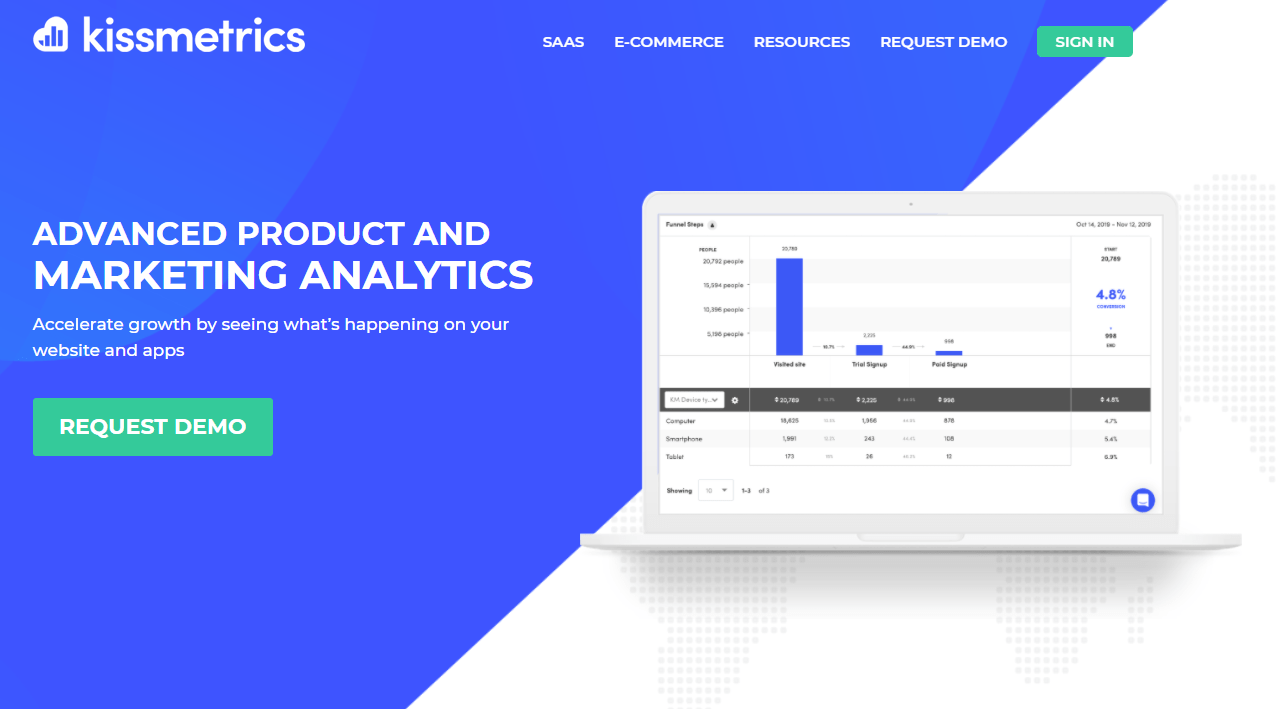 Kissmetrics is another tool that provides comprehensive data that you can leverage to identify weaknesses and opportunities and maximize the performance of all aspects of your business. Kissmetrics has a detailed, customized dashboard, giving you instant access to your most vital metrics while allowing you to visualize your checkout funnel with sales funnel reports.
But rather than offering impersonal metrics like bounce rate or time-on-site – the kind offered by Google Analytics – you'll be able to tie data to a real person and see their full customer journey across devices. This helps you to make informed business decisions based on actual user behavior, not just numbers. Kissmetrics is all about tracking the defining characteristics of each customer because customers are real people, not website sessions.
Final Thoughts
This list, while seemingly pretty comprehensive, barely scratches the surface of the sheer number of tools that you can choose from. However, we believe that those presented here are effective, efficient, easy-to-use, and great value for money, and so can be considered as 'essential' additions to your ecommerce toolbox, no matter what kind of business you have.
Did we miss any? Feel free to drop us a line and tell us all about your favorite essential ecommerce tools!
Get started with Omnisend today & drive sales on autopilot with pre-built automation workflows
Start Free Today