Don't you have an email list yet? Hurry now to build it and expand your online marketing in a rapid speed!
Don't leave your success run behind you, take all in your hands and handle it in the easiest and the best way!
Your website conversion rates can rise in the shortest time period with a nice email list. Start building it right now and see how your business glows.
Among all the known ways of building and enlarging an email list is the usage of popups. A beautifully constructed subscription popup can do real magic to your email list.
Especially if you know some useful tricks about proper triggering events and popup offers for subscription, you'll see the results in the shortest time period.
Get the best popup maker tool for your website and start creating beautiful and highly converting popups for your website. Having a rich email list won't be a dream for you if you have the right tool and know the essentials of creating clever popups for your website.
Let's check some very useful points with nice popup examples that will definitely boom your website conversion with a full email list.
Spinner Subscriptions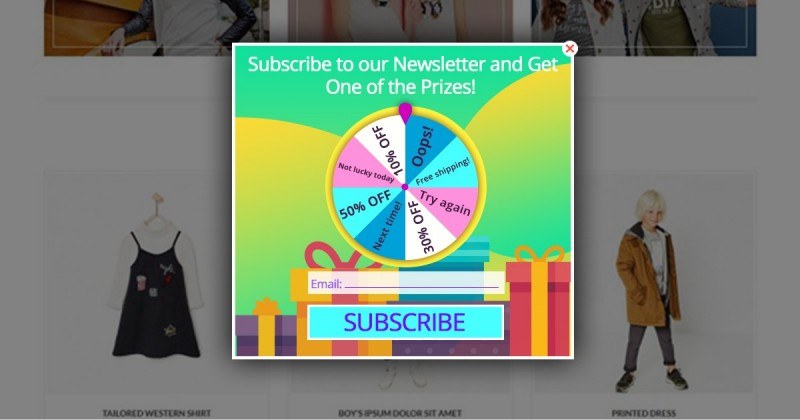 Offer subscriptions to your users via a spinner game. Make them feel like in a casino or in a game zone.
With a spinner element, that's so popular on the net now, you can get so many subscribers to your list that you never expected.
It's a proven fact that game-like offers are the most productive of all, in all cases. Visitors are more likely to fill a form, or click on some button when you show that offer via a game, rather than if they see a plain form.
So, when you're building a subscription popup for your site to collect subscribers and enlarge your email list, you'd better include a spinner element inside the popup. Include some sales, free prizes, etc. in your spinner wheel and let your users spin the wheel and get any of the prizes.
Add a subscription form along with the spinner, so the visitors will add their email, hit "Subscribe" then the wheel will spin and they'll get one of the prizes.
This way you will win more subscribers for your list, and convert more visitors as they will be excited to be a part of your service when such kind of cool offers are presented on your site.
It's all about winning their hearts.
Real Time Conversion
Want to entice a user? Offer something they would like in return of sharing their email address with you. In spite of having a worthy content on your site, you should always think about keeping your users engaged with you.
So the best way of doing that is periodically offering them some gifts, free items or discounts.
And what you think is the best way of displaying such offers? Popups, for sure.
There's no other more effective and attractive means or tools that would grab a user's attention faster than a popup.
But if you want more conversions and if you're suffering from bounce rates of your site, the best way of showing such offer is an Exit Intent popup.
Just at the very moment as the user tries to leave your site, a nicely engaging popup appears with a perfect offer that hardly anyone may reject.
We all love free gifts, don't we?
Exit Intent technology is getting more and more popular each day. This is now the strongest triggering event that brings more conversions than any other one. Popups simply convert users on a live basis, just bringing them back to your site with a cool offer when they are going to leave.
You may use the Soft or Aggressive modes for the exit intent popup. The Soft mode enables the popup when the mouse cursor navigates away from the site. And the Aggressive mode triggers the popup when the page is refreshed or when the user clicks on the "X" button to leave the site. It's up to you!
For exit intent pop up ideas check 30 Exit-Intent Popup Examples
If you offer a free eBook to your visitors asking them to sign up to your newsletter updates, this popup may perfectly work for your needs.
Video Courses in Popups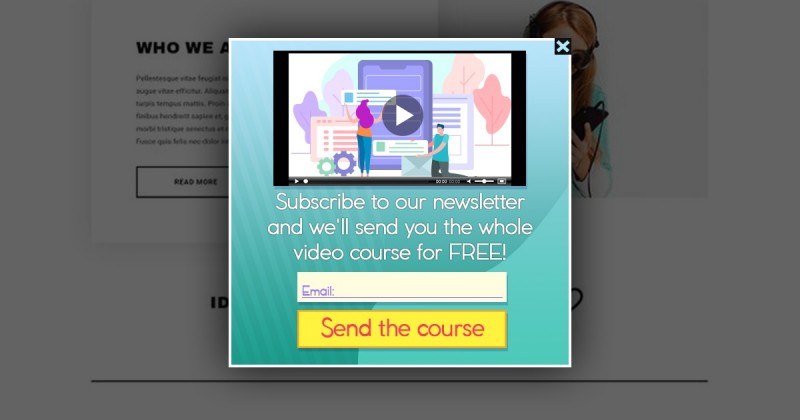 Video courses are very popular nowadays. No matter what subject, video tutorials are very spread among people all over the world. In this era of internet and lack of time, people are keen on finding the easiest ways to learn something without getting out of home.
No one has enough time to get out of the home, or the office to learn something, they prefer doing it online. This, of course saves a lot of time and money, as you don't have to get to the classes or pay the teacher for the classes. You simply get the courses on your computer and start learning on yourself.
So, if you have one of those websites that offer some kind of online remote courses on different subjects, you may need some tricks to keep your visitors engaged.
Of course, you care about the number of visitors on your site, and that's right, you should be caring.
Having a good email list will greatly help you to keep your audience always tuned and you'll never be lack of audience.
Here the popups come again. Subscription popup is what will help you to build a quality email list for the development of your site.
Just think about offering something to your visitors in return of subscription. What would they like the most on such a website? Of course a FREE video course! Ask them to enter their email address and send the course to their emails.
This will not only motivate the visitors for subscription but will also give you a chance of informing them about your periodical updates via newsletter.
Conclusion
To sum up we can conclude that email list is extra important for every website owner. It's the key to high conversion rates, more users and low bounce rates on your site. Put some efforts to build a quality email list and you'll never bother about conversion on your site or lack of the users.
The usage of subscription popups will perfectly help you in the process of building your email list. With the help of some tricks via popups you can collect a nice email list in a short time period.
Just remember about making appropriate and enticing offers to your users and don't forget about correct popup triggering events.