Drive sales on autopilot with ecommerce-focused features
See Features
Reading Time:
7
minutes
Updated on May, 2022.
As a digital marketer, keeping customers engaged with your brand is key for long-term sales. Building more personal relationships with your audience is one of the best customer retention strategies over the long term.
That being said, it isn't always easy to show existing customers how much you value them. A strong Customer Relationship Management (CRM) system will help you maximize your reactivation rate and avoid losing leads over time. Unfortunately, there's no way to eliminate the risk of losing customers. No matter how much you do to keep them interested, some leads will inevitably drift away.
If you're putting all your marketing efforts toward finding new customers, you're missing out on a potentially significant stream of revenue. Furthermore, retaining customers increases the average lifetime yield of each lead, feeding back into the value of customer acquisition.
With that in mind, it's important to build campaigns that account for the complete customer journey, including acquisition, retention, and reactivation. This mindset will help you optimize your strategies for maximum revenue and customer satisfaction.
If you're wondering how to win back inactive customers, you're in the right place. Let's take a look at some of the top customer reactivation strategies for digital marketers to be aware of.
Advantages of customer reactivation marketing
The idea behind database reactivation is simple—it's far cheaper to retain and reactivate a customer than it is to acquire a new one.
Inactive customers have already made a purchase and clearly have an interest in your brand and products. While they're no longer engaged, there's a good chance that others could be brought back to your brand with the right messaging. The main reason that existing customers are cheaper to sell to is that they're more likely to be convinced to make a purchase in the future.
Did you know how much money you're leaving on the table by ignoring past clients? Unfortunately, there's no shortcut to developing a more effective approach to customer reactivation—you'll need to make continual adjustments and consistently test your changes in order to improve your reactivation rate over time.
Reactivate customers via email
Email is currently the most effective tool for customer reactivation campaigns. Keep in mind that email marketing offers a variety of additional benefits along with strong performance in lapsed purchase campaigns.
Start with these three steps to put together your first customer reactivation workflow:
#1 Identify inactive customers
Creating the right audience segments is the first challenge you'll encounter when building database reactivation campaigns. Some brands may find longer delays to be more effective, while others may want to send the first reactivation email more quickly after the last engagement.
The right way to set up an email to inactive customers depends on your brand image as well as the typical cadence of your emails. Selling seasonal products is very different from selling clothes, accessories, or other items on a shorter sales cycle. The average timeframe might be 90 days, but you may want to wait as little as two weeks or as long as six months.

#2 Develop messaging for reactivation campaigns
No matter what interval you end up deciding on, the next step involves preparing a customer reactivation strategy. The right way to approach dormant leads will vary based on their history with your brand, including how long they've been inactive.
For example, you could start with a simple reactivation email after two or three months of ongoing inactivity. Inactive customers who were planning to come back in the future anyway and simply haven't had time to think about your products are more likely to respond to a basic reminder.
On the other hand, adding a discount or another small gift to your reactivation messages will likely lead to even better results. Balancing immediate margins with the long-term benefits of retention can be one of the most unpredictable aspects of setting up customer reactivation emails.
Keep in mind that you can leverage your gift to incentivize specific customer actions. For instance, you could provide a discount in exchange for existing customers taking a few minutes to complete an NPS survey. They'll get a good deal on your site, and you'll gather valuable information that will help you continue to optimize your user experience.
Inactive customers are primed for re-engagement with the right trigger, so even one or two straightforward messages will go a long way toward increasing your sales and lifetime customer value. Neglecting this segment of your audience is one of the biggest mistakes you can make as a digital marketer.
Depending on your business model, you may be interested in configuring simultaneous customer reactivation series to target segments of inactive customers at the same time. However, you may find that an automated customer reactivation campaign of three emails produces more reliable results. An automated workflow will enable you to consistently target dormant leads after an initial one-time setup.
#3 Test, test, test
Whether you're working on customer reactivation, retention, or acquisition, testing is one of the most powerful tools you have at your disposal. A quick test will replace your intuition with information and help you make more data-driven decisions when it comes to your campaign tactics.
On the other hand, failing to perform ongoing tests will make your decisions more subjective rather than being based on real customer behaviors. Even if you only test a minor difference between two variants, that distinction could be just enough to make the perfect impression on the right reader.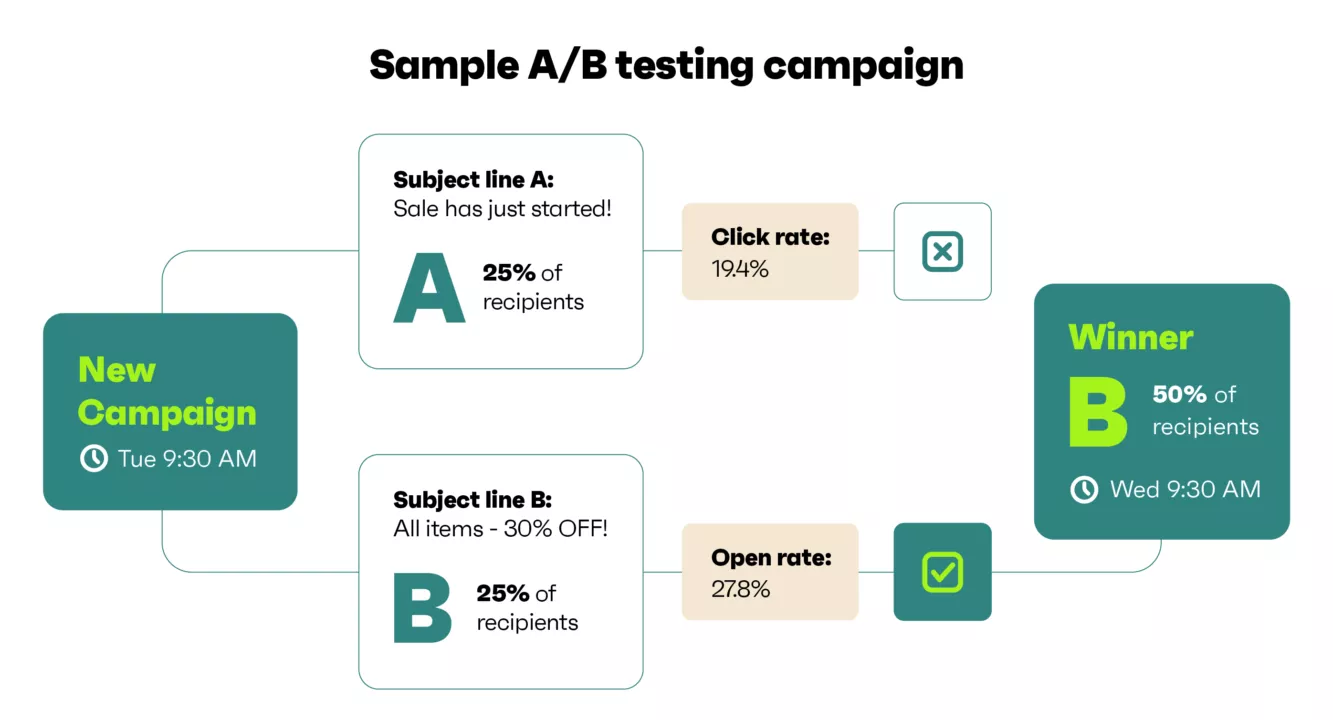 Tips for reactivation emails
While the most effective strategies may vary from one brand to another, there are some fundamental best practices that apply to customer reactivation campaigns in general. Start with these basic tips if you're looking for ways to optimize your approach to re-engagement:
After your sender name, subject lines are the next element that subscribers will see in their inbox. An email's subject line will have a dramatic impact on whether it's opened, and fewer opens means fewer customers reaching the body of your message. With that in mind, it's not an exaggeration to say that subject lines can make or break an entire campaign. Subject lines should always be tested and carefully edited before being used in a customer reactivation campaign.
Research from Return Path indicates that consumers are more likely to respond to discounts when they're framed in terms of dollars instead of a percentage, even if they're not actually saving any more money. For example, it's usually better to say that customers can save $20 instead of saying that they could save 25 percent on an $80 product.
Combining an expression such as "Come Back" and a "$ Discount" is the winning formula for a subject line.
While analytics are obviously vital for any digital marketing campaign, you should also keep in mind that consumers are most often persuaded by feelings rather than logic or reason. Your customer reactivation campaigns should build on your existing connection with the subscriber through a casual, personal tone that speaks directly to their emotions.
One email is better than nothing, but you'll need more than that to maximize the potential of your inactive customers. We typically recommend a series of three emails to get your campaign in front of as many leads as possible. You can be reasonably sure that an existing customer isn't interested if they don't respond to a full sequence of three messages.
Customer reactivation email examples
It might take you some time to perfectly dial in your reactivation campaigns, but the initial setup process is remarkably straightforward. A basic set of three re-engagement emails will bring back a surprising percentage of inactive subscribers and supplement your customer acquisition workflow.
These are just a few of the best database reactivation email examples we've seen over the last few years.
Doggyloot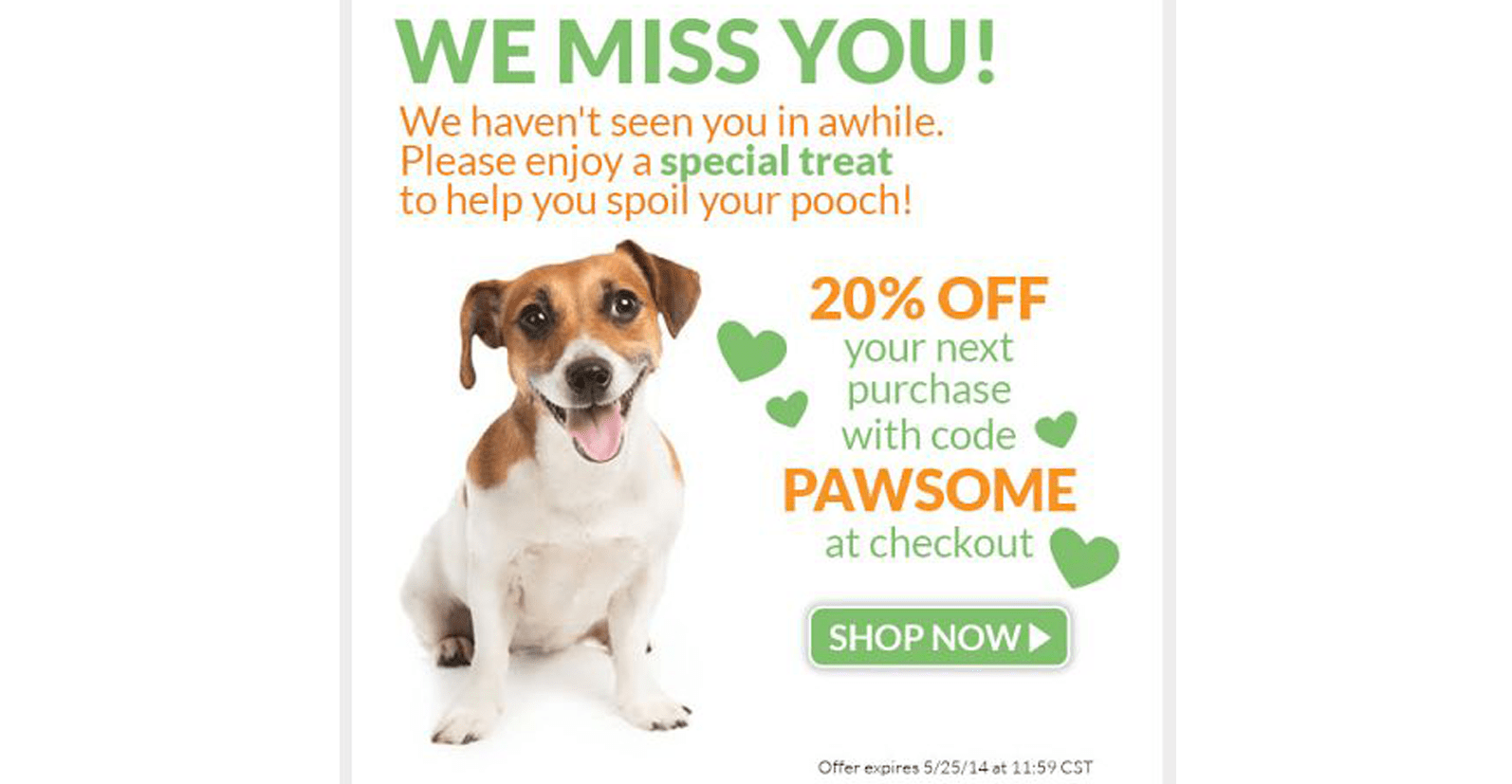 Doggyloot uses a concise, emotional hook at the top of the message combined with a clear offer to drive traffic and sales to their site. However, we would typically recommend writing the offer in terms of a dollar amount rather than a percent off.
JetBlue
This email's straightforward design gets right to the point. It's designed to filter leads depending on their future intent—some users may choose to unsubscribe entirely, while others may keep their subscription or change some of their email settings.
The main issue with this design is that the call to action is relatively inconspicuous, located at the bottom of the email in a normal-sized font. JetBlue may be able to generate more engagement with a clearer call-to-action button that would catch the reader's attention.
The Body Shop gives existing customers a chance to take advantage of exclusive offers either online or at their physical store. Notice that the calls to action are much clearer than they were in the last example from JetBlue.
On the other hand, this message falls flat when it comes to visual design. Unlike JetBlue, The Body Shop filled its reactivation email with far too many elements and different colors. This confusing layout detracts from some of the other strengths of the message—less is often more when consumers may only spend a few seconds reading each email in their inbox.
The bottom line
Inactive customers are among the most valuable leads for digital marketers, and there's no excuse to ignore this segment of your audience. Omnisend's intuitive email templating tool will help you put together beautiful customer reactivation campaigns while implementing some of the insights you took away from the examples above.
If you're new to reactivation marketing, don't hesitate to try out a variety of strategies and see what resonates with your unique audience. Before you leave, take a second to share your ideas with other readers if you already have experience with email reactivation campaigns!
About the Author:
Roland Pokornyik is the CEO of Chamaileon.io and EDMdesigner.com. His company helps people to create mobile-friendly email templates without writing a single line of code.
related features
Want more sales?
Omnisend has everything you need to succeed.
Start free now
No Credit Card needed.