Drive sales on autopilot with ecommerce-focused features
See Features
did you know
Omnisend customers automate 32% of their email conversions. Are you maximizing sales?
automate my sales
Reading Time:
10
minutes
Finding new customers is undeniably essential for every business. This is what will drive revenue generation. But for growth and sustainability, it's crucial to deliver experiences that foster customer loyalty.
As a company, you must learn how to retain customers and engage them in ways that encourage repeat purchases. You must also successfully cultivate brand affinity so that your customers are more likely to influence others to support you as well. The best way to achieve these goals is to employ a combination of proven customer retention strategies.
What is customer retention?
Customer retention is the ability to keep existing customers, or encourage new buyers beyond the initial purchase. Whereas customer acquisition focuses on finding new customers to grow the business, retention is about keeping those customers and turning them into repeat buyers.
The better your customer retention rate, the more stability you'll experience and the less pressure on constantly finding new customers to avoid losses. Acquisition and retention work together to grow your business and increase recurring revenue.
Of course, you'll only be able to improve if you measure customer retention to begin with. To calculate your customer retention rate in a given time period, take the number of customers you've acquired in that timeframe and subtract it from the number of total customers at the end of that timeframe. Divide that number by how many customers you had at the start, then multiply by 100.
Let's break it down:
You start January with 500 customers
Over the next three months, you acquire 400 customers, totalling 900
By the end of the quarter you have 800
In total, you've retained 300 new customers
Using the above formula, subtract 400 new customers from your total of 800, and divide that by the 500 customers you started with. Finally, multiply by 100. This gives a customer retention rate of 80%.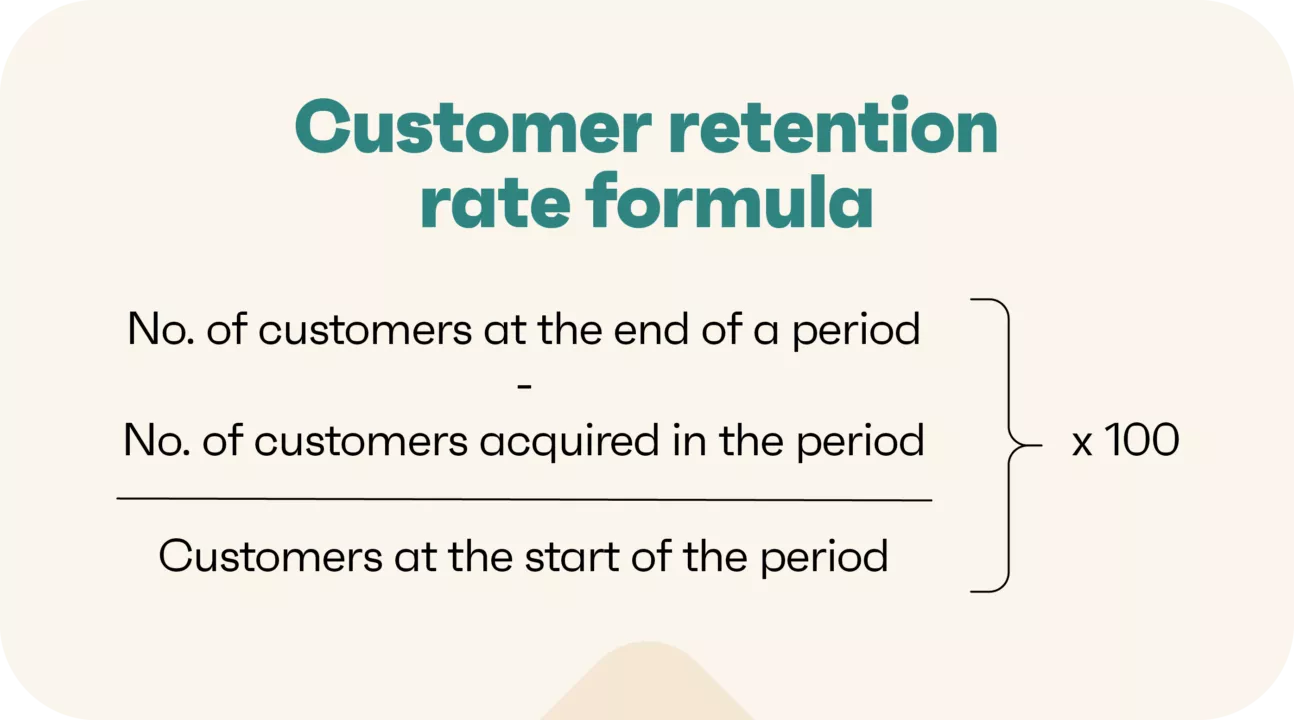 Customer retention strategies are policies and initiatives that nurture relationships with their customers. These initiatives are designed to encourage existing customers to purchase from you again, and prevent them from switching to other brands. Such a strategy can differ from one brand to the next, encompassing the customer journey, customer experience, loyalty programs, and support.
Ultimately, a successful customer retention strategy will promote customer loyalty and maximize customer lifetime value. This leads to sustainable profitability since retaining customers is cheaper for a company than acquiring new ones.
Why customer retention is important
Employing a well-planned customer retention program can grow your business and guarantee its long-term success. Here are some of the most valuable benefits of having loyal customers:
Higher revenue: according to KPMG's customer loyalty report, 46% of loyal customers will remain loyal after a bad experience, and 52% will buy from the business even if another company is cheaper and more convenient.
Lower business costs. By selling to existing customers again, you avoid the acquisition costs associated with finding new customers.
More effective customer acquisition. As much as 86% of your loyal customers will recommend your business to their networks and provide you with new leads that are fairly easy to convert.
To gain these benefits, however, you need to use the best customer retention strategies specifically intended for your audience.
What are customer retention strategies?
How to improve customer retention will be different for every business. You need to consider your industry, brand, and audience before employing ways to retain customers. Nevertheless, here are some proven-effective customer retention examples and strategies for retail and service businesses alike:
1. Use omnichannel marketing
As the use of personal devices, like phones and tablets, has risen, so has the need to incorporate them in your store and marketing. Omnichannel marketing incorporates different communication channels to reach your audience—you might send an email with a promotion and if it hasn't been opened after an hour, follow-up with an SMS.
In 2020, omnichannel campaigns had an 18.96% engagement rate compared to just 5.4% for single-channel campaigns. It's a similar story for order rates too: in 2021, omnichannel campaigns had a 494% higher order rate. This also translates into loyalty—omnichannel campaigns drove a 90% higher retention rate than single-channel campaigns.
Omnichannel campaigns put the customer at the center of the campaign, rather than the business. Unlike multichannel campaigns, which incorporate multiple channels but not in a cohesive way, omnichannel marketing uses each channel in a specific way that complements the others, enhancing the customer experience at the same time.
For example, an omnichannel campaign wouldn't just send the same message in an email and SMS. Instead, an SMS may be chosen for a time-sensitive message. Or an SMS may be sent to nudge a recipient who hasn't opened a specific email after a set period of time. In other words, the messages and channels are influenced by how the customer interacts with you.
Here's an example of an omnichannel birthday workflow: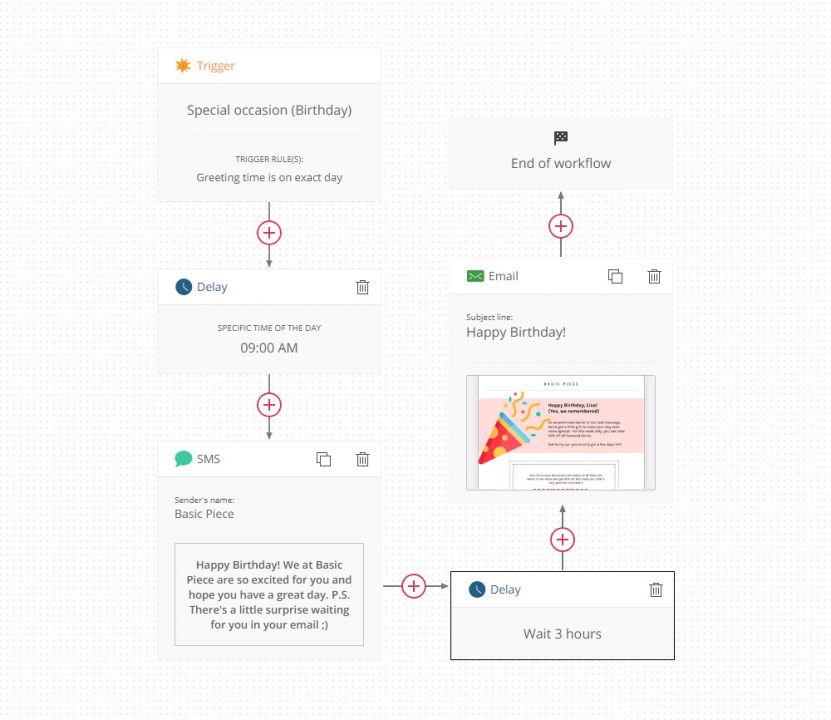 As you can see, there's more than one way to create an omnichannel campaign, and once it's set up it can run automatically in the background, bringing in new sales while you're focusing on other tasks.
2. Slash customer response times
You know why live chat is the top-rated customer service method?
Simple:
Because it's the fastest one.
In customer support, the speed of responses is critical, and this rule applies to every support channel you're using (email, live chat, phone, etc.). In fact, customer service is what keeps 56% of customers loyal to brands.
Consider these tips to speed up customer support:
Add a live chat function to your website
Live chat enables you to address customer apprehensions at the point of sale, helping to boost conversions. Beyond that, it enhances the customer experience and makes them more likely to come back to your company for their future purchases.
Here's a good example from UK's tech and appliances retailer, Currys: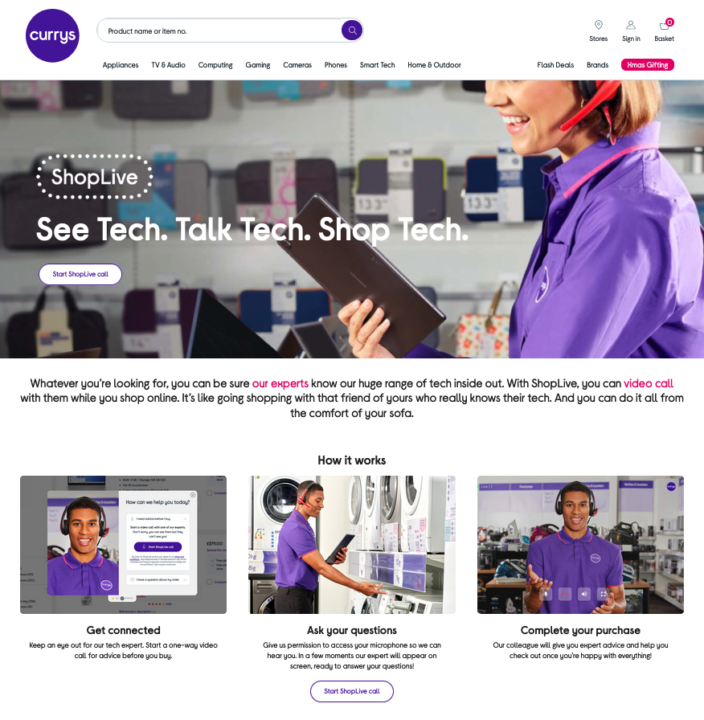 Currys takes live chat to the next level by allowing you to go on a video call with a product specialist and ask all your questions before you check out. This makes customer service not only more personal and human but also fast and very accessible.
Provide time estimates for problem resolution
Letting your customers know how long it might take to address their concerns helps manage their expectations. Doing this also gives you good opportunities to show that you fulfill your promises and that you're always on time.
Here's a good example from American adventure wear retailer, Huckberry: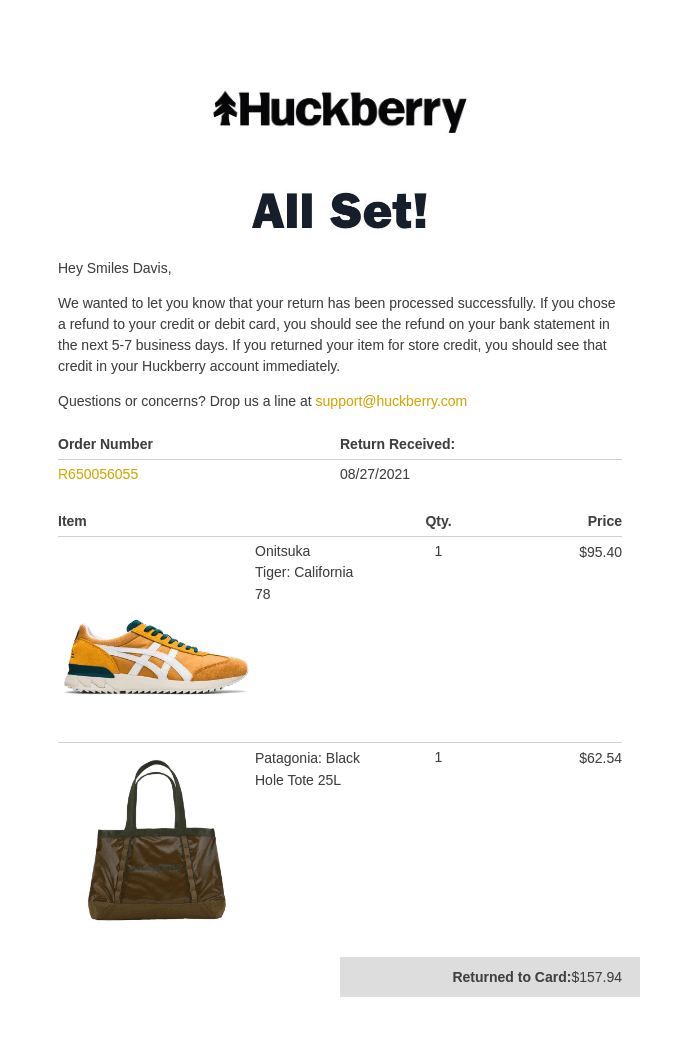 Huckberry sends out emails to manage customer expectations about when to expect refunds. Knowing that refunds can take up to seven business days puts customers' minds at ease and minimizes follow-up calls to support teams.
Automate as much as you can
Automation reduces your workload while giving your customers instant access to the information they seek. You can do this by publishing detailed self-help pages and using chatbots to help customers navigate through FAQs.
Here's a good example from American retail giant, Walmart: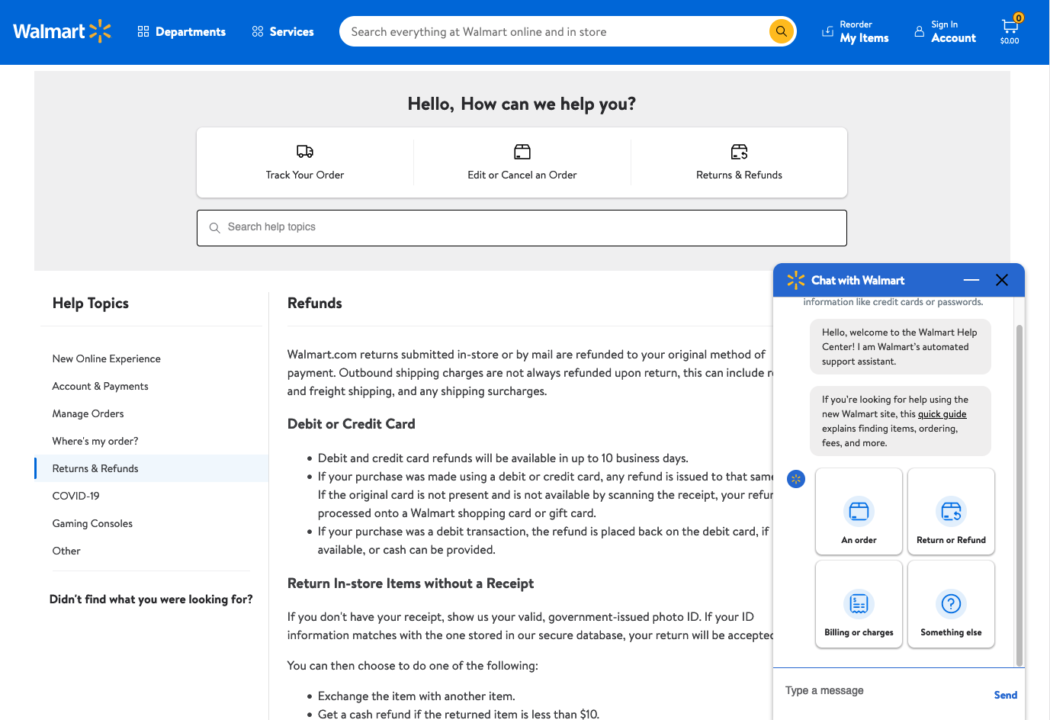 Walmart has organized an easy-to-understand FAQs on its website. For extra help, it uses a chatbot that determines what every customer needs and provides instant answers to their queries.
3. Deliver pleasant surprises
Emotions are the most significant drivers of loyalty. That's why 60% of customers use emotional language when describing their connection to their favorite brands, so this is a great approach for increasing customer retention.
Your business can generate positive emotions by surprising your buyers with exclusive gifts and special offers that enhance the customer experience. Consider these ideas:
Deliver handwritten notes. Customer service doesn't get more personal than a note written specifically for each customer creating good unpacking experience.
Send birthday gifts. Be the brand that makes your customer feel loved and appreciated on their special day.
Offer service upgrades. Treat loyal customers to special features that others would need to pay for.
Share their social media posts. Your customers feel recognized and appreciated when you unexpectedly repost their photos and stories on your brand accounts.
Invite them to exclusive events. Letting customers take part in limited-access sales and parties is an incredibly effective customer retention technique for your most valuable buyers.
Spalding does this very well through its MVP program where members receive birthday emails containing special discounts they can use within 30 days.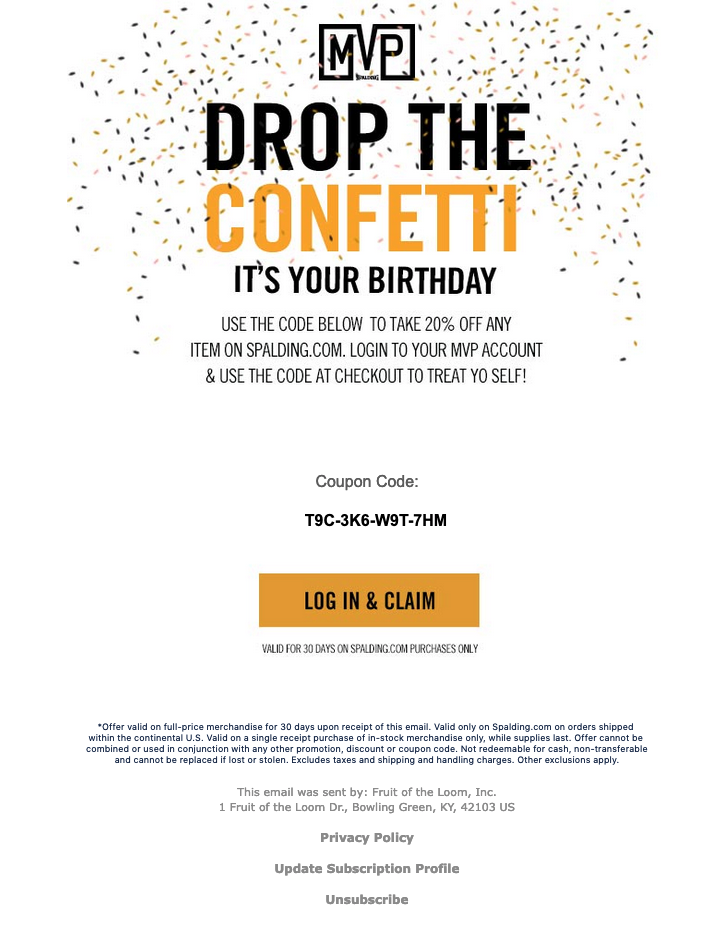 ‣ Learn more about how to increase customer retention by delighting your customers on their birthday: Birthday emails – Tips and best practices
4. Start a customer loyalty program
Enabling buyers to earn rebates or other forms of rewards for their purchases is one of the most effective ways to increase customer retention. In fact, 81% of shoppers say that customer loyalty programs encourage them to spend more on a brand.
When you start your own loyalty program, make it easy for your customers to join and give them several ways to earn points.
Here's an excellent example from clothing retailer Chubbies Shorts:
‣ Build an awesome loyalty program: 5 tips for building a successful customer loyalty program
Keep in mind, however, that you can't foster customer loyalty through a customer loyalty program alone. You need a customer retention plan involving a combination of strategies to get ahead of your competitors.
5. Share customer reviews
Trustworthiness is the top emotional factor that drives loyalty in 84% of customers. Among the most valuable trust signals are product reviews. Giving reviews prompts customers to reflect on their experiences with your brand and publishing them encourages other shoppers to buy.
Setting up a system for a consistent supply of genuine customer reviews is an excellent retention strategy for customers of ecommerce stores and even clients of service-oriented businesses. Among the best ways to do this is to set up automated workflows that send out review request emails for every purchase, which is also a great way for you routinely collect customer feedback.
Here's a good example from Target: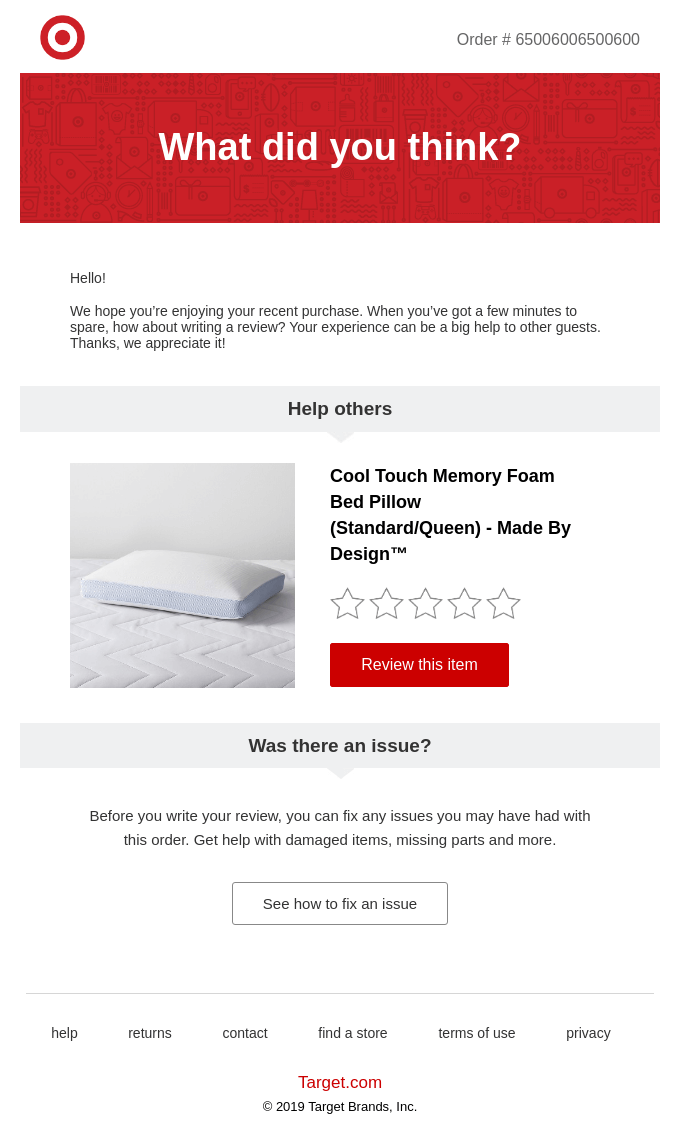 This email makes it easy to leave a review and the "Help others" header makes it clear that the review will be shared with other shoppers. Gathering customer feedback also gives the opportunity to resolve any issues the customer might have had with their shopping experience.
6. Send customer retention emails
Email marketing plays a critical role in customer retention programs because it is cost-efficient but delivers incredible results. In fact, research shows that email is the most popular platform for increasing customer retention.
Consider these types of retention-oriented email marketing campaigns for your brand:
Here's an example from Crate & Barrel containing product recommendations based on the recipient's purchase history. This makes customers more likely to complete a subsequent purchase.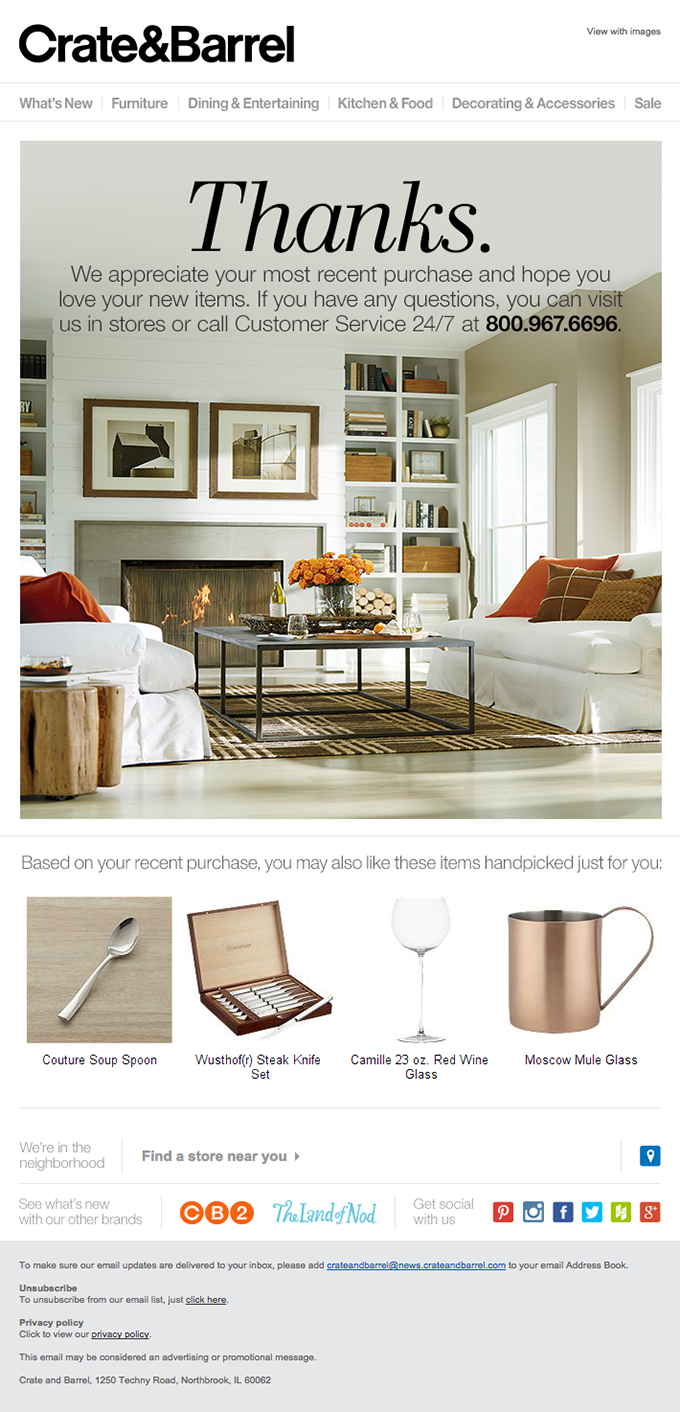 ‣ Discover how to use email campaigns for maximum business impact: Ultimate guide to email marketing
7. Personalize customer support interactions
Customers appreciate being recognized, especially during customer support interactions. They want you to know their purchase history and other relevant details that enable you to deliver personalized service.
To achieve this, give your support team access to all the data they need to deliver personalized service throughout the customer journey. Although privacy shouldn't be taken lightly, shoppers are generally open to businesses tracking and storing information that helps enhance the customer experience.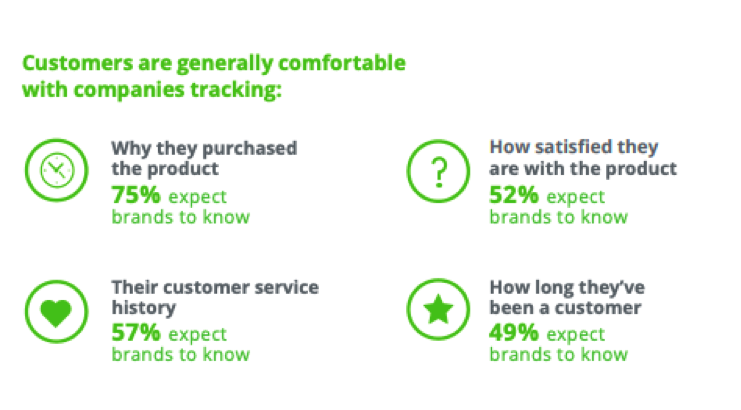 ‣ Discover the value of personalized service: How ecommerce personalization can increase customer loyalty and boost sales
8. Get feedback with email surveys
Customer satisfaction surveys are useful for getting an accurate picture of how happy your customers are with your service. The most efficient way to send out and receive such surveys is through email.
For maximum efficiency, set up an automated workflow to ask new and existing customers about recent interactions with your business. Send them out for customer service interactions, shopping experiences, etc.
Here's a good example from Dropbox: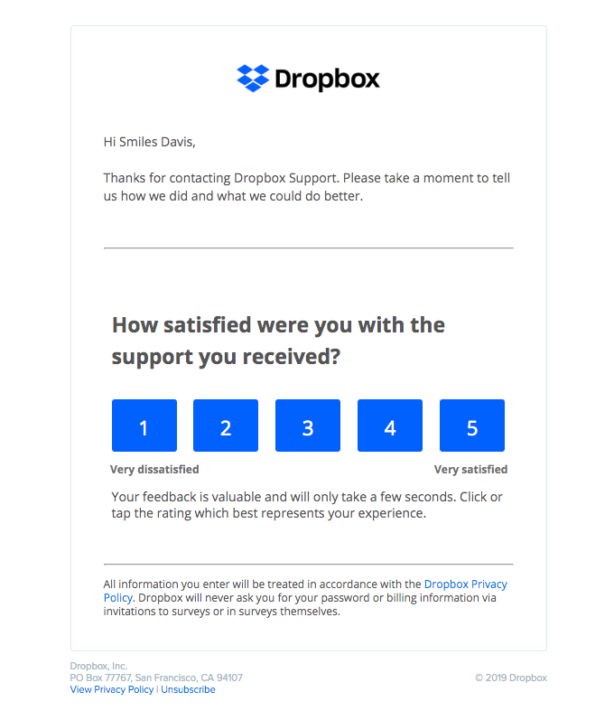 When trying to get feedback through email, make it easy to send responses. And when you receive them, make them count. Continue with what customers believe you're doing right and improve on things they may not have liked.
9. Learn from customers' complaints
No matter how well you run your business, you will inevitably receive complaints about your products and services. You might get these through direct calls to your company, feedback emails, or even social media comments. No matter where you receive them, treat them as valuable sources of insights to improve your brand.
Making your customers feel heard and letting them know that you exist to serve them is a crucial part of any client retention program. So, whenever you make changes to resolve an issue pointed out by a customer, be sure to let them know you appreciate their feedback and thank them for their contribution.
Here's an example of a business representative thanking a customer for pointing out an issue over social media: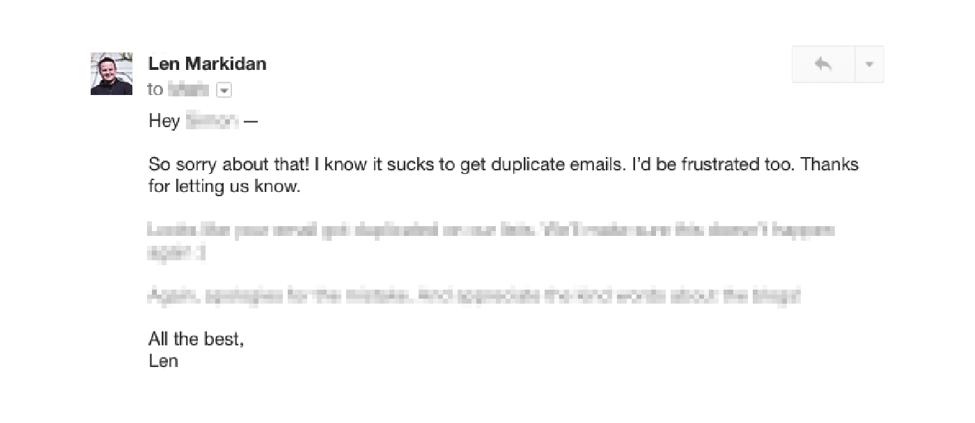 10. Create educational content
Provide relevant and valuable content to your customers. This keeps them engaged, highlights your helpfulness, and establishes you as an expert in your niche.
Consider making how-to articles and videos to explain how to use your products. You can also maintain a blog and email newsletter to discuss topics your customers care about.
When developing your content strategy, focus on educating customers at each stage of the buying process: awareness, consideration, and advocacy. Doing so will maximize engagement and help move them along the cycle.
Beardbrand is one of the most notable companies that has mastered content creation. Among the most important customer retention ideas you can learn from them is to create unique, valuable, and actionable content. Additionally, be consistent with your brand personality and customize content for every platform.
‣ Learn how to use email newsletters to drive traffic to your blog content: Email newsletters: best practices
11. Engage on social media
Recent data reveals that 64% of consumers want brands to connect with them and social media is the perfect platform to do so.
The best strategies to retain customers include robust social media campaigns that engage your followers and create a sense of community around your brand. This means sharing customer-generated content, responding to their comments, commenting on their posts, etc.
Premium nail products retailer Nailboo is a company that has mastered how to engage customers on social media. Check out this example on their Instagram page:
Nailboo asked for comments and responded when they got it. And, their reply was far from generic. It was a direct and personalized response to the follower using a tone that's recognizably on-brand.
Customer retention strategies: Summary
No matter the nature of your business, the best ways to retain customers involve providing excellent customer experiences across different channels.
This will enable you to focus on building relationships with your customers, paying attention to their needs and preferences, and finding ways to make them feel appreciated. Ultimately, your customer retention strategies are what will drive profits and sustain business growth.
Get started with Omnisend today & drive sales on autopilot with pre-built automation workflows
Start Free Today
related features
Want more sales?
Omnisend has everything you need to succeed.
Start free now
No Credit Card needed.