I'm obsessed with amazing popups.
Yeah, I know. Sounds weird. But I have excuses. I work for a popup solution provider.
As such I've witnessed first-hand how wonderful they are. Especially email popups.
But I'm not the only popup supporter. Countless studies attest to their powers.
One of the first experiments was run in 2012. At the time, Dan Zarrella shared how popups helped him double his subscription rate without increasing his bounce rate.
More recently, the Omnisend Lab Team was able to increase Organic Aromas newsletter signups by 150% using amazing popups.
Yes, opt-in popups are simply fantastic. As a popup fanatic, I track all the latest trends which can contribute to increasing their performance.
Today I'd like to share those who have had the biggest impact for our customers in the last months. 
Mobile popups
Earlier this year, Google caused a sensation by announcing they wouldn't tolerate intrusive mobile interstitials anymore. The timing wasn't ideal: mobile devices' share of Internet traffic is growing every day and this move put mobile popups at risk.
Fortunately, Google gave precise guidelines about what's acceptable:
Popups which are displayed on a landing page should not prevent the user from accessing the content on the page. In other words, you should make sure that your mobile popups don't take up more than 30% of the user's screen.

Popups displayed on the second page are still fine whatever their format
Almost one year after the announcement, webmasters have found effective strategies to cope with these new guidelines while increasing their email collection on mobile devices.
Strategy #1: use a CTA or a smaller popup
One of our customers, Platypus Shoes—one of Australia's largest shoes and apparel retailers—wanted to collect emails on mobile and was looking for an SEO-compliant way to do it.
They created a "CTA" popup where their visitors had to click a call-to-action to see the popup and displayed it on landing (and on subsequent pages of their website).
Turns out the test was a major success: they ended up collecting +144% more emails. What's interesting is that this kind of popup is totally fine for Google. Plus it's not intrusive. Everyone wins.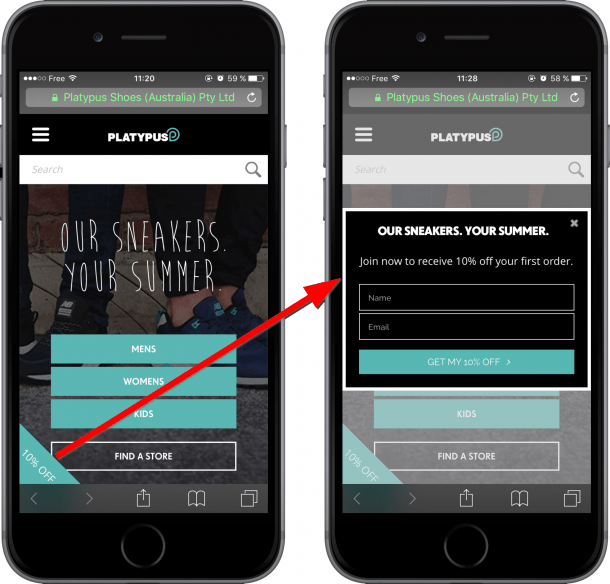 Some marketers chose a simpler option: they just shrank their popup size. That's what Dickies did: their mobile popup is so small it doesn't hide any important element of the website. Clever!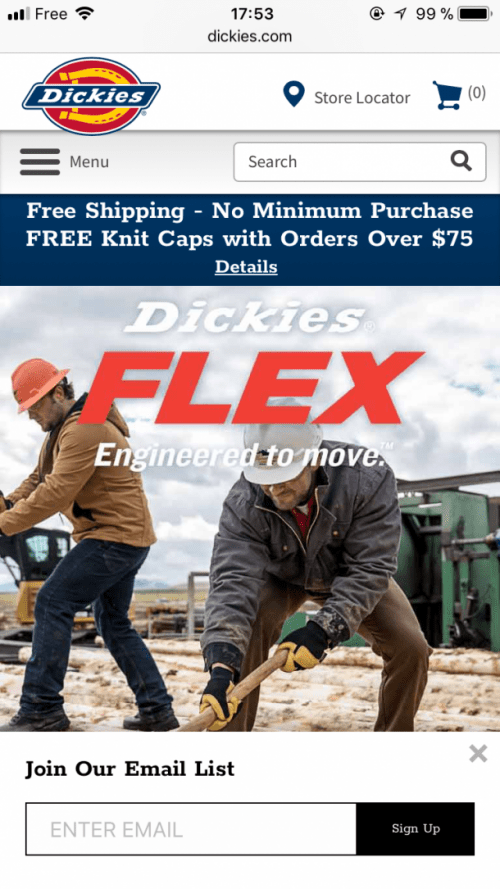 Strategy #2: Display on page 2
The second option if you don't want to edit your creative is to wait for the second page viewed to display the popup. That's what Cover-Up does.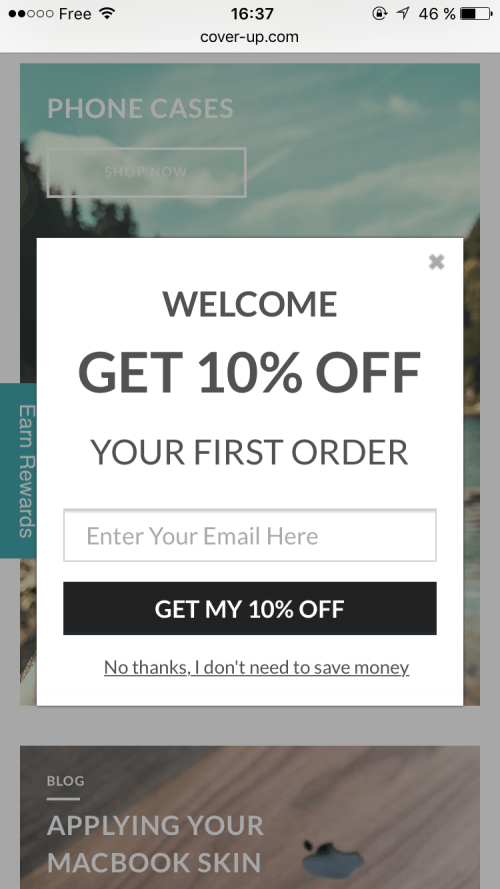 What solution works best between the two strategies?
One A/B test we ran with an online shoe retailer (I know what you might think, we're obsessed with popups and shoes) suggests that CTA popups work best (+49% more emails were collected to be precise).
Whatever the strategy you pick, one thing is sure: if you haven't adapted your popups to mobile, you need it to do it now.
Interactive popups
For a long time, engagement options were rather limited on popups. Marketers had to rely on a good copy and a strong design to attract subscribers.
A few years ago, some marketers introduced a Yes/No option to engage visitors and leverage micro-commitment techniques. That was step one for interactive popups.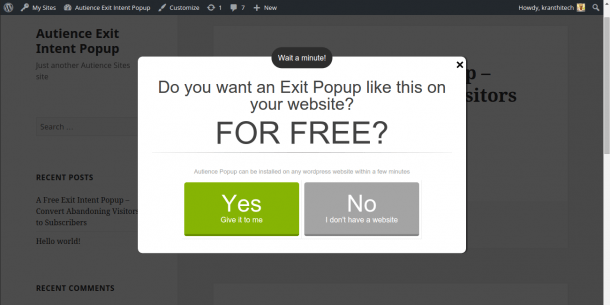 But in the last few months, new interactive engagement techniques have appeared.
One of the main examples is the Wheel of Fortune popup. Visitors are offered to spin a wheel of fortune before they sign up. That's quite an impressive development: Gamification is now part of popup marketing.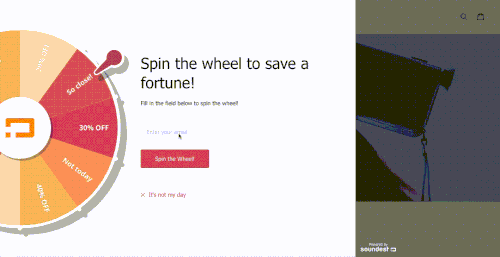 We also saw some marketers go further and make their popups responsive to user's' reactions. We particularly like this example from designer Minh Pham. Do you think a visitor could resist signing up? I don't.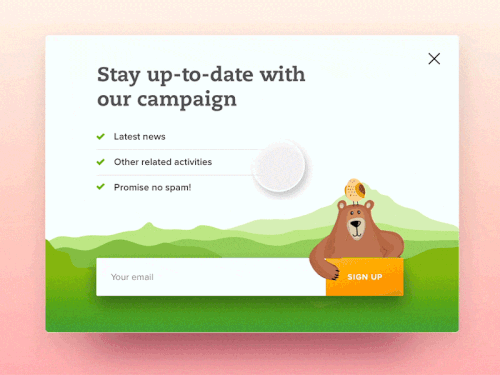 It's a bit early to judge the impact of these new interaction possibilities on the subscription rate of email popups. But one thing is sure: adding a touch of fun can't do any harm.
Contextual popups
Adding interactivity can be a good way to engage your customers. Adapting the content of the popup to the context is another one.
Context can be a lot of things. It can be simply the page the user is visiting. See for example how Mic.com is inviting their users to sign up. On an article about national politics, they mention Trump. Smart isn't it?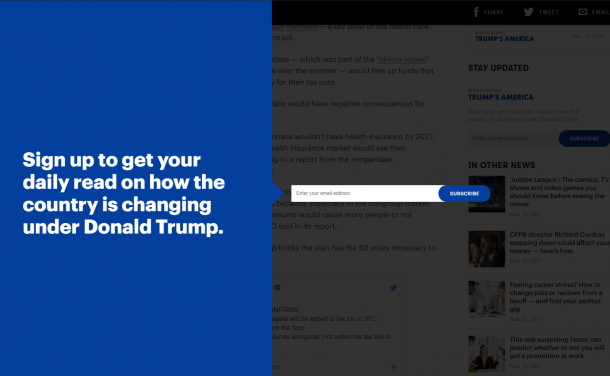 What if you could further adapt your opt-in popup to the page the visitor is on using metadata? That's exactly what some marketers have been doing on ecommerce websites.
See this popup? It's displayed on out-of-stock product pages on christydawn.com.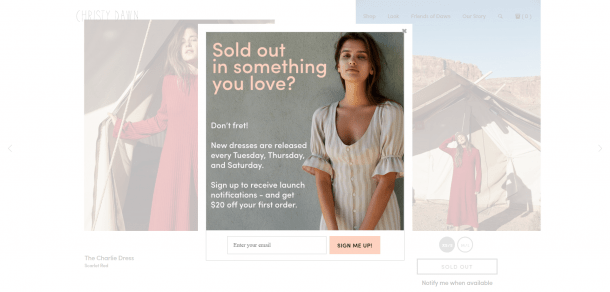 I love this example because it suggests "we're sorry, let us convince you to come back later".
Context can be a URL or metadata. It can also be the user context: how many pages he saw, what product she has in her cart, how far she is from getting free shipping, etc.
What could be better than a popup which displays exactly at the right time with the right message? This one for example is displayed when the user hasn't met the conditions for free shipping yet.
These techniques have an additional benefit: they create new opportunities to collect your visitors' opt-in.
Now you can display a popup when the user views a specific page, another one when the user matches specific conditions, etc., until the user converts.
More opportunities means more chances to convert.
Wrap-up
Popups were already a fantastic tool. These latest developments will make them even better.
Are you a popup fanatic yourself? Any trend we missed? Share your experience of popups in the comments!
About the author:
Today's post is written by Greg d'Aboville, head of Customer Success at WisePops, an intelligent popup solution.
Get your free copy of '5 Ecommerce Marketing Automation Case Studies' today.