With the internet becoming as saturated as it is, it can be difficult to break through the noise. Therefore, you need to learn how to empower your marketing efforts by making them stand out from the rest of the crowd.
From scrutinizing the competition for new business opportunities to allowing your target consumers to get a glimpse behind your brand, it is imperative that you enhance your reputation in-order to be found competitive online.
Further, what happens online today is directly impacting what takes place offline in relation to the success or failure of your business.  Use the following tips to improve your marketing and make your business more visible on and off the web.
3 Ways Your Business Can Stand Out from The Rest
Analyze the Competition
Analyzing your competitors is critical. It will enable you to build a more comprehensive marketing strategy. Additionally, it will ensure that the strategies you adopt trump those of your business rivals.
For example, when targeting organic search marketing results, use tools like Jaaxy, or more common, Google Analytics.  These tools will tell you how many people are likely to search for a term you are targeting.  Jaaxy also identifies which keyword phrases you will be more likely to rank for, based on what your competitors are or are not doing.  Those results can be carried over to other search engines, like Yahoo and Bing, as you build your online organic marketing campaign.
Learn from the mistakes your competitors are making and avoid them with your own campaigns in-order to yield the best returns on investment.  While you are doing this, you will find areas where your competitors are crushing it in the market place.  Consider mirroring their successes.
All of this sounds nice, but how does it work in a practical situation? Let's run down some actions you can take to better analyze your competition:
Look For Gaps –

The biggest pitfalls are the ones you don't see. When your competition is pitching, what type of tone do they use? If they are upbeat, it means they are confident, but if they are strict and by-the-books, then perhaps they don't try new things? Watch how they behave, and how their audience reacts.
Look at how they garner leads –

How quickly does your competition respond to messages on social media? Do they use promotional posts or free giveaways to get leads? Look at how these tactics work and use them in your own business.
What social media platforms are they using? –

If you see your competition on Facebook and Twitter, odds are you should be there as well. To that same point, if they aren't on Pinterest or Instagram, then your audience most likely isn't there either. This will help you better focus your efforts.
Perform Your Analysis –

The final step involves digging deeper into these things. Combine this with keyword analysis using tools like

SEMRush

and find out what keywords they are ranking for so you can compete.
Understand the Market
To better serve your intended customers, you need to provide something of value. This will build trust and they will keep coming back to you for more. To this end, you should use your business analytics data – as well as the insights you gleaned from researching the competitors – to create content that is of a high quality.
For example, you can create a buzz like Red Bull did when they had a stunt man freefall from space.  Within 30 minutes', it was all over the web.  They knew how to cause a stir and did so while educating participants about their brand. Sounds ambitious? You can always start with more financially humble plan.
HOT TIP: Accuranker, which is a rank tracking tool launched on Google Grump index. You can use it to understand fluctuations in the Google algorithm. This tool enables its customers the ability to sign up to receive notifications whenever there are significant fluctuations in rankings.
You should use this resource to understand your market, what they need, how they feel, as well as how they shop. To do this, start by building buyer personas. These are helpful profiles of your common customer. They give you a basis for how to approach certain marketing situations.
Consider these steps to building accurate and useable personas:
Look at your metrics to see how customers find and consume content to look for patterns.

Incorporate information into your opt-in forms that you could use to better understand your market.

Keep a log of your interactions with customers and study them to learn how they behave.

Compile this information into a few representations of your typical customer. Give them a story and outline what issues they have.

Refer to these every time you're planning a marketing campaign, and remember that your ultimate goal is to address the needs of your audience through the use of your product or service.
Then, capitalize on this knowledge to create positively impactful marketing campaigns that will draw them in, like moths to a light bulb.
Brand Yourself
The secret to branding is having a unique logo. Mascots and logs are some of the easiest ways to ensure that you are always remembered. They will, in addition, humanize your brand. In the long run, this is going to increase customer loyalty and trust thereby increasing sales and your bottom line ROI.
From robots like the Android logo to animals like the Frosties tiger, or even aliens at Reddit, logos are effective to empower marketing efforts on the ability to stand out. This is especially so when the logo has a face. It ensures that the logo appears more friendly and easier for people to identify and trust you.
Consider Geico insurance company, for example.  When they released their gecko, they were at the beginning of website creation frenzy based on these adorable commercials.  The audience got to know and love that little Geico gecko and still enjoy seeing him pop-up from time to time.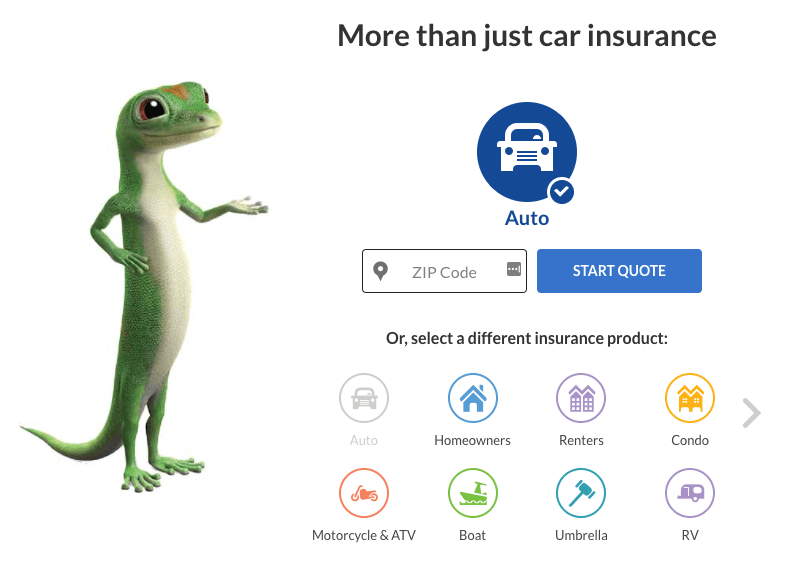 Ensure that you dedicate time, money, and energy into making it stand out in an extremely positive way.  Remember, when the logo is poorly designed, it will have profound repercussions on your business that are not likely to be positive.
Audiences use logos to try and understand your business. Therefore, you need to think about how you are going to integrate your core business values into it. Color choices and fonts should also dictate your marketing themes and business moves. Consequently, you cannot afford to overlook your branding.
Over and above everything else, remember that it is becoming increasingly more difficult to stand out from the rest of the crowd. However, you can achieve this by following the strategies presented above.
They will go a long way in making your brand easily identifiable while bringing in more untapped markets for you to connect with.
About the Author:
Owen Hunt is a freelance content marketer with a love for producing excellent, high-value content. You can find him online: @owenhuntwritin1