Drive sales on autopilot with ecommerce-focused features
See Features
One year later: iOS 15's impact on email marketing
Reading Time:
7
minutes
Ever since the iPhone's release in 2007, Apple innovations have impacted ecommerce and ecommerce marketing. Some of these were by design, such as launching Apple Pay, allowing easier mobile purchasing online and in the physical world. Others, like the ability to access email anywhere at any time, were not designed specifically for commerce but nonetheless accelerated email marketing's effectiveness for DTC brands.
Most recently, Apple has been taking direct aim at brand marketing strategies. In early 2021, Apple's iOS 14.5 update directly impacted social media marketing by allowing users to opt out of cross-device tracking. Brands like Facebook, which uses this type of data to deliver more relevant ads, estimate the restrictions will cost the company $10 billion in 2022.
In 2021, Apple announced it would release its iOS 15 software update, again taking aim at third-party marketing. The update included various "privacy protection" features for Apple users, including "Mail Privacy Protection." This feature, for users who opt-in, prevents companies from seeing whether subscribers opened their emails when using the Apple Mail app. Instead, an open rate of 100% would be reported, subsequently impacting how DTC marketers report on the success of their mail efforts.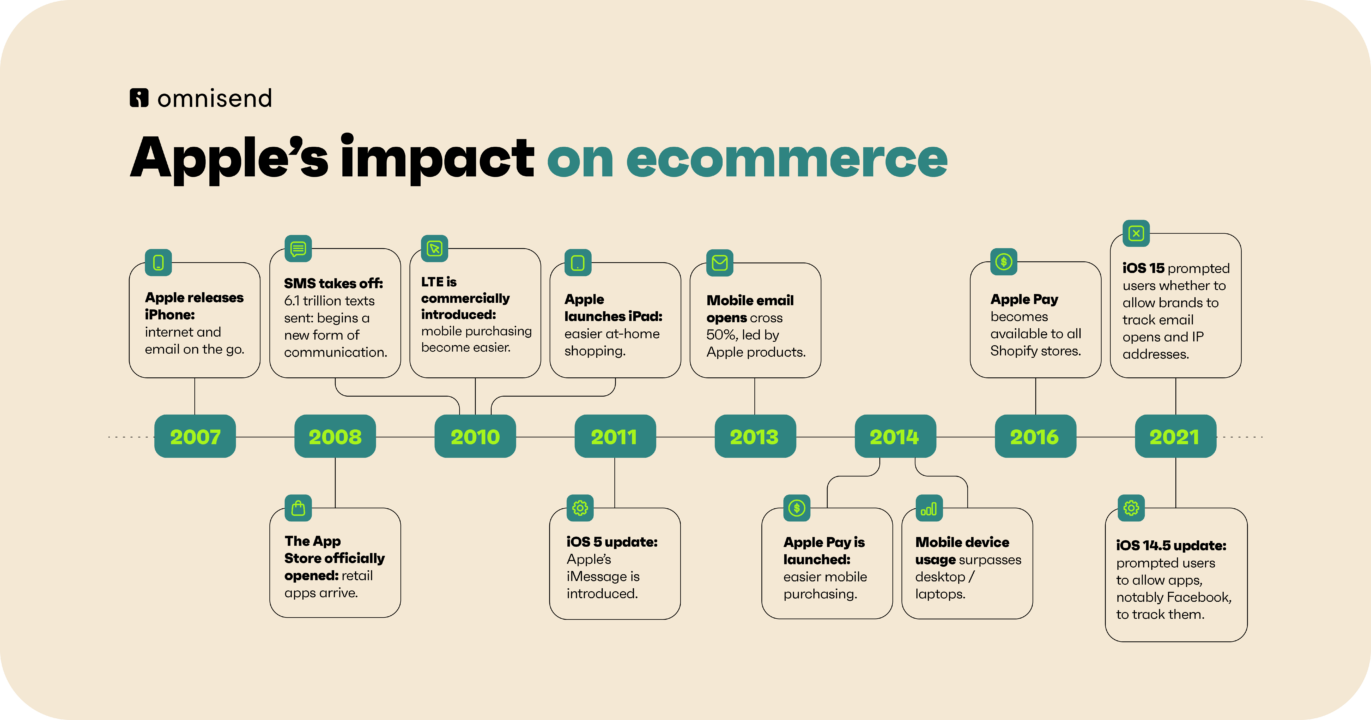 There was a lot of uncertainty about the impact this would have on longstanding, open-based email marketing strategies and KPIs, including AB subject line testing, list hygiene practices, engaged user retargeting segments, and open rate reporting.
One year has passed since the release and the question remains: what impact did iOS 15 have on email marketing?
This report will showcase the impact iOS 15 has had on ecommerce email marketing, and how ecommerce brands can respond to the post-iOS 15 "new normal."
Methodology
For this report, we analyzed 15 billion marketing emails sent by Omnisend customers from the iOS 15 release on September 20, 2021, to September 1, 2022. We also analyzed 20 billion emails sent before the update, dating back to 2019.
All emails analyzed were promotional campaigns (campaigns). These messages are manually sent by brands, such as promoting special offers, discounts, new products, and other promotional-style messages. Because automated messages are sent to individual users based on their behavior, they maintain open rates 80% higher than scheduled campaign emails and were therefore excluded from this analysis.
Key findings
iOS 15, released on September 20, 2021, had a significant impact on brands' email marketing open rate, open-based reporting, and open-based marketing strategies:
The average open rate for the 11 months following the release (starting in October of 2021) is 93.6% higher than during the same period the year before.
Open rates bucked seasonal trends and increased each month of Q4 2021.
Compared to the first nine months of the year, Q4 open rates:

Declined by 1.9% in 2019
Increased by 0.8% in 2020
Increased 59% in 2021 (post-iOS 15)

For the first eight months of the year, the average year-over-year open rate:

Increased by 21.8% from 2019 to 2020
Increased by 18.9% from 2020 to 2021
Increased by 93.5% from 2021 to 2022 (post-iOS 15)
As of October 1, 2022, open rates in the 11 months since the release are 93.6% higher than during the same period the year before.
Email marketing impact of Apple's iOS 15 update
When iOS 15 was released on September 20, 2021, open rates were impacted immediately. However, the adoption of any new software is gradual and was evident by looking at open rate changes in the following months.
Let's look at the differences in open rates over time.
The first four months post-iOS 15
In September of 2021, the month of the release, open rates ended at 14.2%. However, the first 20 days of the month saw an open rate of 13.6% while the final 10 days saw an open rate of 15.5%. This marks an increase of nearly 14% in just the first 10 days.
What happened throughout the rest of the year was an evident, gradual adoption. Open rates in October rose 21%, ending the month at 17.2%. November increased another 13%, ending the month with a 19.4% open rate. December closed the year up 14%, ending the month with a 22.1% open rate.
Was the Q4 increase a seasonal trend?
The answer is no. This same trend was not seen in either 2019 or 2020.
The average open rate in Q4 2021 was 59% greater than the year's first nine months. In 2020, the Q4 increase was only 0.8%. In 2019, there was a 2% decrease in the open rate. Comparing Q4 specifically, year-over-year open rates increased by 92.6% compared to Q4 2020. In 2020, they increased by only 24.2% compared to 2019.
Comparing the first eight months of the year
January 2022 marked three full months since iOS 15 was released, allowing plenty of time for user adoption. The question of what would be the lasting impact on open rates still remained. To answer this, we looked at the open rates for the first eight months and compared them year-over-year.
In 2019, the email open rate from January through August was 8.3%. In 2020, the open rate increased to 10.2%, a 21.8% lift year-over-year. In 2021, the open rate increased to 12.1%, an 18.9% lift year-over-year. In the first eight months of 2022 (post-iOS 15), open rates shot up to 23.4%, a 93.5% year-over-year uplift.
It's definitive: iOS 15 has significantly impacted email marketing open rates for ecommerce brands and the reliance on open rate, a primary email marketing metric, is a thing of the past. It's now up to brands to adjust their strategies.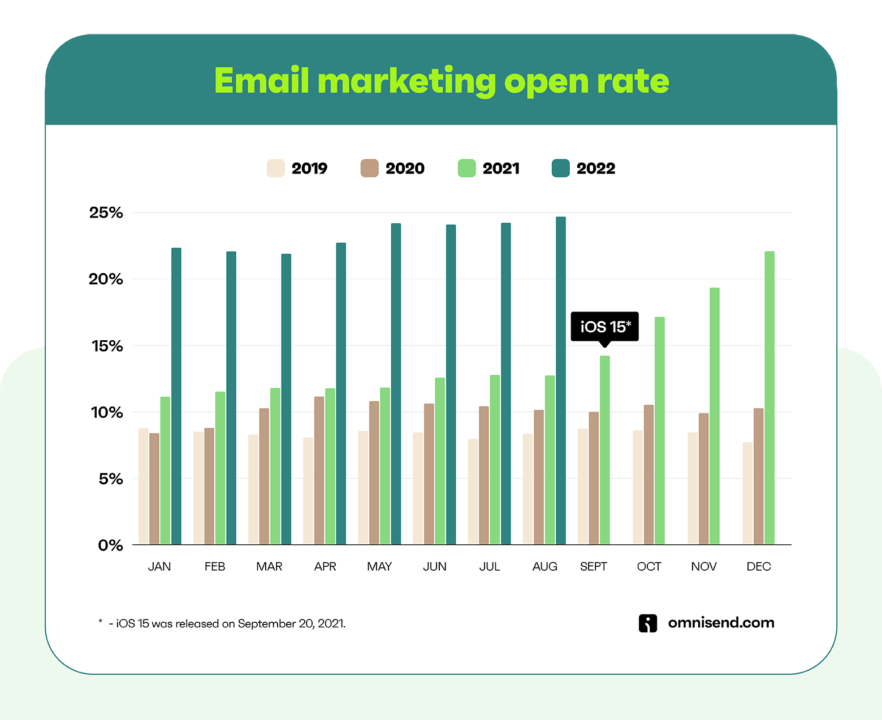 How ecommerce brands can adapt to iOS 15
Whether you are a brand who prepared for the changes and are looking to optimize your strategy or were waiting for evidence of the impact before making adjustments, here are five ways you can move away from an open-based email marketing strategy to an optimized engagement-based strategy.
Combine open and click activity to identify unengaged contacts. Sending emails, scheduled or automated, based on non-openers will no longer suffice. Combining click activity and open data is a smarter way of targeting. While the lack of opens will identify some inactive contacts, creating segments that include click-activity for Apple Mail users will provide more clarity as to who is and isn't engaging with your emails.
Optimize email subject lines and preheader text. Open rates may be inflated, but don't ignore the subject line. Continue to craft subject lines that influence subscribers to open. This includes using preheader text to provide more context and support the subject line. Emojis are a great way to add color and capture attention in both the subject line and the preheader.

For additional subject line help, you can use this free subject line tester tool to ensure yours are optimized.
AB testing criteria: Open rate has historically been the go-to KPI for subject line testing, but you can no longer rely solely on them. After all, the email's purpose is to drive action. Consider using click and sales activity to determine which messages perform better for achieving the actual goal: sales.
Use click activity inside of automated workflows. A common strategy with automated messaging is to trigger subsequent messages based on the open activity of the previous email, such as by resending an unopened welcome message. Instead, brands can trigger subsequent messages based on whether the previous message was clicked.

This strategy has even greater personalization benefits. By using click activity, brands can craft messages and flows based on the specific link clicked. For example, brands could send a second welcome series message centered around men's shoes for anyone who clicked on the men's shoes link in the original message while creating a separate path for those who clicked on women's dresses.
Incorporate SMS. In 2021, brands sent 45% more SMS than they did in the previous two years combined. Sends continue to increase in 2022. SMS is an effective and increasingly adopted channel to re-engage inactive subscribers, market to email unsubscribers, cut through inbox noise on high-volume email send days like Black Friday, send time-sensitive messages, and enhance the overall customer shopping experience.

This is especially true in automated workflows. Automated SMS converts 349% better than promotional SMS messages. Incorporate these into all email workflows, especially in the welcome, cart abandonment, and browse abandonment series.
iOS 15 and email marketing final thoughts
The results are clear. iOS 15 has changed the game for ecommerce email marketers by impacting the ways email marketers view open rates. Like all of the other Apple innovations, brands need to evolve to account for this new email marketing normal, where open rates are 93.6% higher than usual.
Evolving from an open-based strategy to a more engagement-based strategy is not a bad thing. In fact, the opposite is true. Paying more attention to users' actions will allow brands to send more relevant messages and create better customer experiences, ultimately leading to increased sales.
Key takeaways

Look beyond open rates as a metric and focus on what causes subscribers to open an email. Here are the main takeaways from the impact iOS 15 had on email marketing and how brands can apply them to increase their sales for the holiday season.
Open rates have increased nearly 94% in the 11 months following iOS 15's release. Brands should no longer use open rate alone as a primary reporting metric.
Combine open and click activity in your engagement segments. Don't rely on opens alone to identify unengaged contacts, as you will have false negatives.
Continue to optimize subject lines and preheader text to maximize opens. Use preheader text to support the subject line and convey additional information. Emojis and special characters in both can be appealing to email recipients. You can use this free tool to test the effectiveness of your subject lines.
Use click activity inside of your automated workflows. Send follow-up messages in a series based on whether users clicked on the original message and even what they clicked on. This allows you to send the most relevant message to your subscribers.
Segment your campaign emails. Segmentation allows you to deliver relevant emails. The more consistently relevant your emails are, the greater the likelihood of subscribers opening future emails.
Incorporate SMS into your marketing strategy. SMS continues to increase in adoption and utilization. Adding SMS allows brands to market to customers via a different opt-in channel and can be a great channel for re-engaging inactive email subscribers.
related features
Want more sales?
Omnisend has everything you need to succeed.
Start free now
No Credit Card needed.