In the final part of our series on low ecommerce sales, we'll be looking at the common ecommerce mistakes in your marketing that can negatively impact your sales.
Marketing can be difficult because it depends on so many factors. Not just the niche that you're in, but also the location of your audience, the time of day or year, your sales and promotions, and many other factors.
How you do your marketing can mean the difference between success and yet another ecommerce failure.

1. Introduction
If you haven't yet looked at Part 1: Your Website and Part 2: Your Products, I recommend you check that out before starting on this chapter.
After all, if your shop is suffering from low sales, it is most likely a combination of factors, rather than just a problem one area.
Today we're looking one of the most difficult parts of your ecommerce business: your marketing.
So let's begin this one with a story.
Imagine you've just opened up your own restaurant. For months you've perfected your recipes, designed your menus, the look of the restaurant, and all the elements in your store to create the perfect environment.
The big opening day comes and you stand at the door. You don't expect thousands to come, but you're probably thinking you might get hundreds of visitors.
You stand at the door and you wait. You check your watch and you wait some more.
Where are the people?
Finally, a young couple walks up to your store.
You've got your menu in hand, and you know the perfect place to seat and feed him. You can even guess what they're going to order.
But then the man opens his mouth and asks, "Can I use your bathroom?" You show him the way, he uses it and leaves.
So what just happened?
You didn't get a lot of visitors. True. But of the visitors you did get, they didn't buy anything from you.
So what really happened?
Simple: you didn't do your marketing right—in two ways. Do you know what they are?
If you don't know, then this section on common ecommerce marketing mistakes is just for you.
That's why today we'll look at the all-important ways you can make sure your shop is using proven marketing techniques to convert your visitors into buyers by looking at the 9 most common ecommerce marketing mistakes.
2. The wrong audience
One of the biggest reasons for the common "good traffic but no sales" problem is that you may have misunderstood who your real audience is.
Determining your audience incorrectly can lead to such a huge gap between the number of people visiting your site and the ones actually buying from you.
In order to make sure you're getting good sales, you have to first know who you're selling to.
A huge problem with many new ecommerce stores is that their ideal customer is whoever's willing to buy from them.
For that reason, they get confused in their website design, their product offerings and their marketing. They waste money for a few months, get low sales and and become another statistic when they close their shop within a few months.
In order to avoid that, you need to create a customer profile.
How to create a customer profile
In actuality, creating your customer profile can be a long or short process. Today, we'll do a quick overview to get you started on the right track.
Ask yourself:
How are the products supposed to be used, and how are they actually being used?
What are the income and education level of your ideal customer? What is his/her career and position?
What type of communication does the customer prefer? More casual or more professional/technical?
Where does your customer normally hang out?
How quickly does your customer buy? How much research does the customer do before buying?
Does the customer normally buy things online?
What other interests does your customer have? What are their hobbies, political affiliations, and dislikes? What other products/services do they currently enjoy?
How much does your customer value your products/services?
When you come up with your answers, don't just write down statistics.
Instead, create a story.
Not only is that more memorable, but you'll actually have a person in your mind when you're choosing your products, writing your product descriptions and doing your ads.
3. The wrong ads
One of the biggest reasons your store isn't getting sales could be that you're targeting the wrong people in your ads.
It's probably a given that you're using some sort of PPC (pay-per-click) ads to drive visitors to your stores.
SEO (Search Engine Optimization) is such a slow, long strategy that you would only see a trickle of visitors everyday, whereas as PPC can get you lots of visitors from day 1 for a price.
The most common and affordable PPC platform is Facebook Ads, which allows you to get your products in front of Facebook users for as little as $5 per day.
However, if you are getting clicks to your store but no one's buying, it could be that you're simply targeting the wrong people.
Targeting the wrong people, again, comes down to the main reason for many ecommerce store failure: lack of adequate research.
A great Facebook ad chooses its audience, not based on intuition or what the audience probably likes, but rather what other similar store audiences tend to like.
Facebook has a wealth of data on its users, and you can tap into that data with your ads–if you're willing to go deep enough.
Of course, it can also be quite confusing not just for the novice, but even for the experienced.
Luckily for you, there are lots of resources you can use to get started, like Oberlo's guide to Facebook ads for ecommerce.
Their video overview does a pretty good job as well, and I recommend you watch that in full:
4. No retargeting
If you don't know what retargeting is, then you're probably leaving lots of money on the table.
Retargeting is the means by which you can send ads to the people who've already visited your site.
Retargeter has a pretty simple but straightforward way to explain it: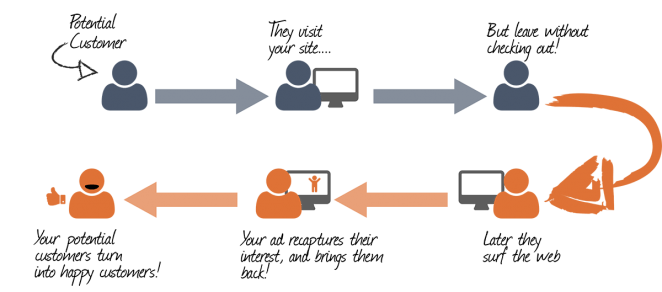 Why is retargeting important?
As you are probably aware, a good conversion rate ranges anywhere from about 2% to 4% for normal ecommerce stores.
If you're converting at a respectable 3%, that means that 97% of your visitors don't buy anything. Think about that.
They come to your site, look around, do some "window" shopping, and then leave, never to return again.
But if they came to your store once, that must mean that they saw something potentially interesting—just not interesting or compelling enough to buy it that day.
If you let them leave, you won't get a chance to sell to them again.
That's where retargeting comes in. If they leave your site, you can use PPC ads to put your products in front of the customers who have already visited your site.
This is great, razor-sharp marketing, as you already know that the user has some interest in your store.
Therefore, your retargeting can offer them something interesting, like a great discount, a free+shipping deal, or even a freebie to get them to come back.
If you want to see retargeting in action, visit any large or major SaaS company or online store, wait a few minutes and then check your Facebook news feed.
5. Lack of popups
Let's go back to our story about you opening up your restaurant.
Visitors came to your store, but they weren't really hungry. They just wanted to use the toilet, perhaps look around.
You let them, and then they left. But what if you could've gotten their contact information while they were still in your store?
That's where popups come in.
Popups allow you to send a message to your visitors while they're still on your website. This message should be some sort of offer in exchange for their email addresses, like a discount, free shipping, free resource, or enticing newsletter subscription.
You can set your popups to show your offer when the visitor has spent a certain amount of time on your site. However, the more popular popup is what's known as an exit-intent popup.
This is when the visitor is getting ready to leave your site, and your offer is your last chance to get the visitor's email address.
What you can do with that email address we'll discuss in the next section, but having popups is absolutely critical.
Otherwise, the 97% of people who don't buy anything from you will be gone forever and you won't have a chance to convince them again.
Popups don't have to be stale and boring either. In fact, you can set them to follow your brand identity, or show off your most appealing product.
Here's an example of some Omnisend (previously Soundest) customers using our popups and subscription forms on their sites:
One thing to remember, however, is to do everything in moderation. Don't set your popups to go off every 10 seconds, or even the first 20 seconds the user is on your site.
Just like a good sales rep at a brick and mortar store, you should only address the customer at crucial moments, like when they're intending on leaving.
Otherwise, you could become really annoying very quickly, and you won't ever be able to bring that visitor back to your store.
6. No live chat
If you've set your exit-intent popups, there's still possibly a long period where you're not really interacting with your customers.
Of course, you don't want to interrupt them, but every good waiter knows that you should be available whenever a customer needs you—and the customer should be aware that you're available.
What does that mean for ecommerce?
In order to be non-intrusive but still show your customer that you're available for any questions they may have, you can start implementing live chat on your website.
Live chat can be used as a small, non-intrusive message that sticks on the bottom right or left of your visitor's browser.
While they can have any message, it's best to be active rather than passive. A passive message would be something like, "Send me a message" or "Leave feedback."
However, in order to engage someone, you need to ask a question. You can make your live chat default question be, "How can I help you today?"
If your customer does have any questions, they can ask you directly while they're browsing.
And, of course, being the salesman that you are, you can help them through their questions, guide them to the right spot, incentivize them with a discount, or many other techniques to bring them closer to the buy.
Any way you slice it, live chat is important for any ecommerce store to have.
However, of course, in order to use live chat, you'll have to actually be 'live.'
You, or one of your staff, must be available on a consistent basis in order to answer your customers' questions.
You can determine this by seeing what are the busiest times for your website visitors, and make sure that you're available at that time.
If you find that a lot of customers have a lot of questions–first of all, great–then that means you'll have to get some extra help.
With greater engagement, you'll see a definite increase in your sales, if you've covered all the points made about your website and your products.
7. No funnels
Your marketing strategy must include what's known as sales funnels.
There are many types of sales funnels you can use, but the basic revolves around getting your customers from prospective buyers to repeat buyers.
This can be done, in general, with a marketing funnel and a sales funnel.
Marketing funnel
A marketing funnel is focused on getting your site visitors to first become subscribers and then become buyers.
In order to do that, you have to get users to come to your site and then offer them something in order to get their emails.
Audiencecops has a great visual that represents your marketing funnel.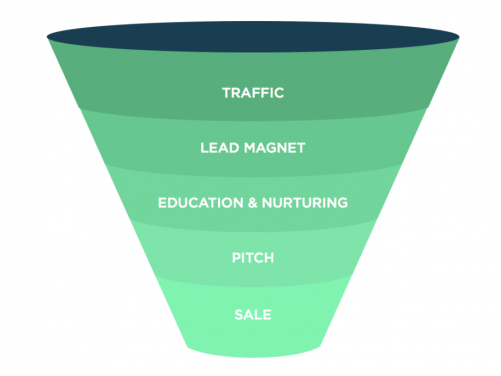 Once you have your traffic, you should be focused on offering them something great to pique their interest.
This can be a discount or, as with most marketing funnels, it can also be a free resource they'd love, like a PDF or course.
If you're selling dog products, you can create any number of educational materials that would interest your ideal customer.
Once you have their emails, you don't go straight for the pitch. Instead, you educate and nurture them over a series of emails, thereby building up your brand.
With your email marketing automation setup, you can have your email series automatically going out to your subscribers at the right time.
After that, you pitch them an enticing offer (usually a discount or sale of some sort) and get them to make that first purchase.
Sales funnel
The sales funnel is focused on getting your visitors to make a small purchase and gradually advance to larger-ticket item purchases.
Infodiagram has a good and simplified representation of the sales funnel.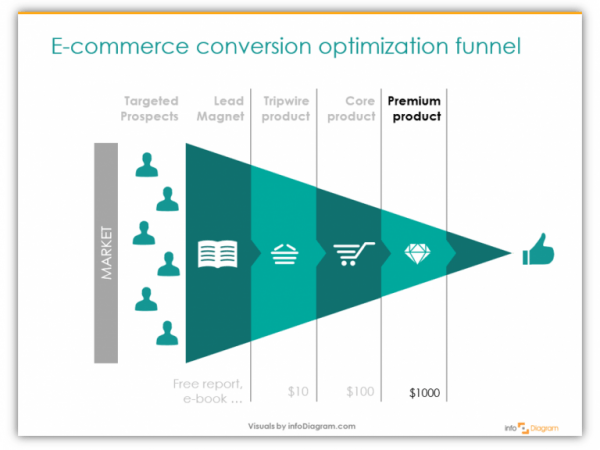 In general, you'd first go about it by offering them some enticing, usually low-priced offer. This can be done with a free+shipping offer, where your visitors only have to cover the cost of shipping.
Here, you can do the upsell at the same time or through your email marketing.
For step 1, you can offer smaller upsells while the customer is filling out the necessary information to get his free gift.
For example, if you're giving away a free t-shirt, you can offer them another t-shirt at half price, or a hat with the same image/theme.
Otherwise, you can follow a similar method here as with your marketing funnel, by nurturing your subscribing and turning him/her into a repeat buyer.
This can be done with more focus on sales and discounts, seeing as the initial purchase has already been made.
Obviously, you'll have to use a different email marketing strategy to get these customers to the second purchase.
8. No email marketing
One of the most famous marketing sayings is, "The money's in the list."
The list meaning, the email list. If you want to make real money online, you'll need to invest in grabbing your visitors' email addresses and growing your subscriber list.
But why email marketing?
According to the Harvard Business Review, keeping a customer is 5-25 times cheaper than acquiring a new one.
The reason is simple: a new customer is earlier in the buying journey, and they don't yet have a good relationship or engagement with your brand.
However, a customer who has already bought from you once (and enjoyed the experience) will be more likely to buy from you again. This is how you can extend the customer's lifetime value (LTV).
You should definitely consider your LTV and how you can make sure your customer reaches all the sections of your sales funnel.
If you get your customer and they buy from you and they never hear from you again, you are quite literally leaving money on the table.
In order to get them to keep coming back for more, you'll need to use email marketing.
Even more important than that, you also need to focus on the 97% of your visitors who won't buy from you the first time.
Are you just going to let them walk away? They were motivated enough to stop by your store, but are rarely enticed enough to buy the first time.
In order to convert that "window shopper" into a customer, you're going to have to build a relationship with them, engage and encite them, and then sell to them.
That takes time or a great offer, and you'll need email marketing for that. Not only that, but email marketing boasts a $40 ROI for each $1 spent – which far outdoes the other marketing channels.
Without email marketing, you only have 1 opportunity to sell to your visitors. With email marketing, you can get a second, third, fourth, fifth and more chances to convert them into buyers.
Mistakes with email marketing
Email marketing isn't just sending an email to your customers with a big button that says buy from me.
You have to be smarter than that. It's a game of seduction, really, and the rules are always changing.
First of all, you need to make sure you're building up awareness of your brand through your communications. Secondly, you need to focus on the value that your products bring, and not just on the products alone.
Why does this particular visitor need to buy this necklace from you now? What will she be missing out on if she doesn't? What's interesting about the offer?
There are other things to consider, such as open rates, click rates, sending emails at the right time of day and much more.
Sometimes if you send an email you might have low open rate because it could be too late, or too sunny, or too early. Even with the same content you might get better results with a better subject line, time of day, time of year and many other things.
Another thing is to make sure you have a good email marketing automation.
You don't really want to be sending an email manually to your visitors every time they sign up for something or buy something, but it's important to communicate with them within a certain amount of time.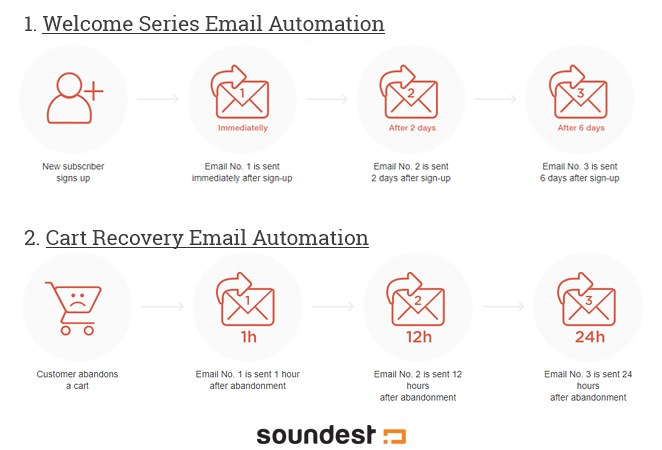 That's why you'll probably need a robust, but easy-to-use email marketing service like Omnisend. It will not only send your emails and set you up with great automation, but it also has a great amount of forms to get your visitors' emails in the first place.
Omnisend can help get you set up but won't weigh you down with too much stuff.
Whatever email marketing tool you do use, make sure you activate it and keep the communication with your subscribers going on for as long as possible.
9. No key metrics
It is very important that you measure everything related to your store as much as possible.
Most new ecommerce store owners tend to look just at how many visitors they received, how much they sold (if any), and the conversion rates.
But there is so much more you can (and should) find out about your visitors.
With the proper metrics set up, you can find out which pages are the most popular, how long your visitors are staying on a page or on your site, where they're dropping off, specific product add-to-carts, and so much more.
What you can measure, you can improve, and you should measure your ecommerce interactions as much as possible.
For metrics, Google Analytics is going to be your best bet. You can still glance at your platform's quick metrics, but for more in-depth information you'll need to use something more advanced.
What to measure in Google Analytics for your ecommerce store
While Google Analytics is powerful, it can also be overwhelming. However, with a little bit of research you can set up your analytics to track all the important events on your store.
These include the following most important ones.
A. Conversion rate
Under the Conversions category, click on Ecommerce. There you'll see the most important metrics that are needed for ecommerce analysis.
While checking your conversion rate is important, it's much more important for you to check for changes in your conversion rate.
To say that you have a 1.5% conversion rate may be good or bad depending on the niche and economic situation.
However, if you have a 1.5% conversion rate this month compared to a 1.2% last month, then that's great news. You're on the right track.
If your conversion rate change swings the other way, where before you had 2%, then you'll need to change something.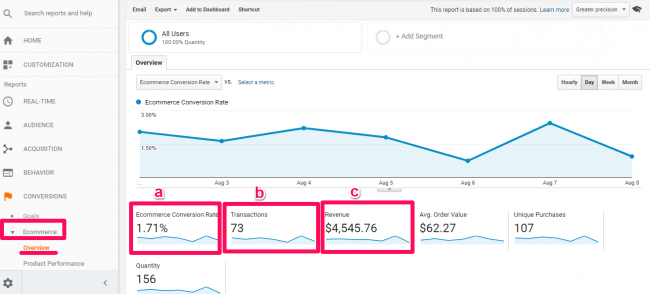 B. Transactions
Transactions here is important because it will show you the amount of transactions you've had for any specific period.
Of course, with Google Analytics, you can also track this for any time period (weekly, monthly, etc.). You can also compare two transactions to see the change; for example, today vs. yesterday, this Monday vs. last Monday, this month vs. last month, etc.
This helps you to see what direction you're heading in and if you'll need to make any changes.
C. Revenue
Of course, tracking transactions is good to see the number of orders coming in, but you'll also need to set the value of the orders and how much they are in total.
Therefore, when you check your revenues, you can see how much you've made for a specific time period and compare it to previous periods.
D. Product performance
This is a particularly important metric to track, as it goes into which products specifically are growing, declining or remaining steady.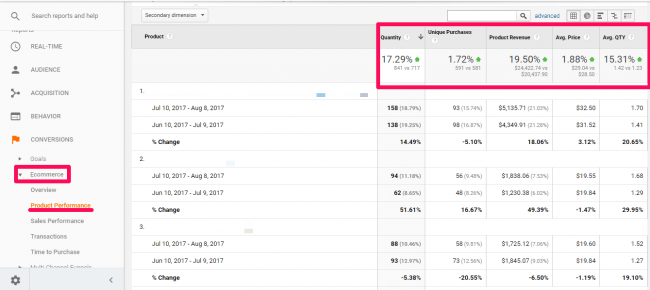 You can use this information to measure specific products and how they've changed over time. You can also use it to see whether new ideas or promotions are beneficial after an adequate amount of time.
E. Goals
You can set up your analytics to track various goals. These goals can include anything (for example, staying on the page for more than 3 minutes, etc.).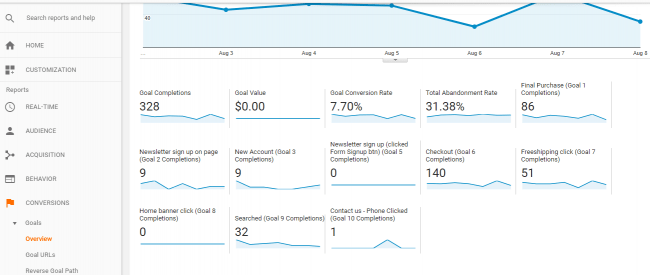 However, for ecommerce, it's a good idea to set up your goals according to your intended buyer's journey. This can include:
signing up for newsletters
clicking on free shipping or a discount offer
clicking on contact us
making a final purchase
F. Shopping Behavior Analysis
Google Analytics also has an option to set up Enhanced Ecommerce on your site.
This can show you a good amount of information, but one of the best is the Shopping Behavior Analysis.
Here you can see how your visitors are heading towards a purchase and how many are advancing or dropping off at each step.

In this example, you can see that of the nearly 15k who visited this store, only 2,005 (13.84%) went on to the product pages.
Of that amount, 177 (8.42%) went on to Add to Cart, and 152 (60.45%) went to checkout.
Finally, 68 visitors (38.16% of the ATC) completed transactions–a total conversion rate of less than half a percent.
(There are definitely some things that should be optimized for this store.)
G. Cart-to-detail and Buy-to-detail rates
Still in Enhanced Ecommerce, you can find out the rates of purchase and add-to-carts for each product based on how often they're viewed in detail.
This will help you to see what the products are that are being added to cart or being purchased after visitors view their product pages (detail views).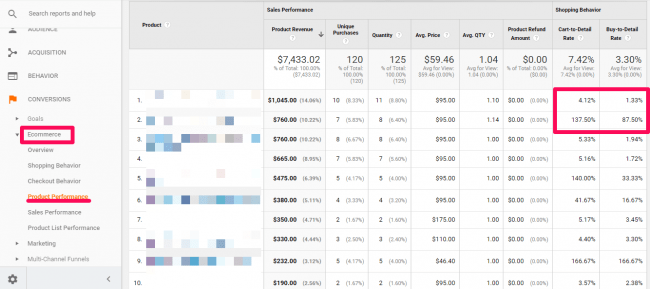 In this image, you can see that for product 1, only 4.12% of people add it to cart after viewing the product page, whereas 1.33% end up purchasing it after viewing the product page.
Product 2 fares much better (though with lower sales overall): 137.5% add to cart while 87.5% end up buying it after viewing the product page.
This information can help you to see which products are more appealing and which need better product pages.
10. No love in your store
To be honest, I wasn't really sure where to put this.
Is this a website issue, a product issue, or a marketing one? Frankly, it's all three, but even a fourth: a personal one.
You've gotta have some love for it.
Let me be clear: you don't have to love something in order to put love into something.
You don't have to love your products or even your niche in order to make sure that what you're offering to your visitors is well-built, well-crafted, and well-organized for maximum conversions.
It's easier if I love dogs if I want to sell dog products, but what's even more important is that I need to put in the work in order to sell my dog products.
You see, one thing that bothers me is the lack of preparation and work that I unfortunately see a lot of new ecommerce stores put in.
At some point in their lives, someone lied to them and told them that you can make a lot of money in ecommerce without doing much work.
Slap some pictures of products on your page, put a sale sign on it, advertise it on Facebook and watch the money rolling in.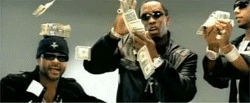 Unfortunately, that's just not business. At least, that's not a long-term business strategy.
That's a strategy based on providing the minimum viable value in order to make a sale and then hoping to scale that wobbly business model up until you earn millions in a few short weeks.
One easy question to ask yourself is: would you buy products from yourself?
Would you be enticed by this product image, or the price, or the product description?
Are your ads interesting? Is your subscription popup offer enough for you to sign up?
Good enough is never good enough, and if you've set up your shop and are seeing traffic but no sales, that means something is definitely not good enough.
A lack of ownership
If you build and sell tables, you would incorporate great research, design and functionality, materials, and promotion.
You would look at each part and make sure it's as good as you can possibly make it, then hope to learn more in the process of selling your own goods.
Selling online can often skip this feeling of ownership and accountability, and it's why many ecommerce stores spring up and crash in a matter of months.
Without any doubt, we can say this: if you haven't put the needed love and care into your store, then your customers definitely won't trust your brand enough to buy from you.
So, if you want to move on from only traffic to having sales and good conversions, you should look at your website, your products and your marketing and figure out what's working and what's not working.
With that, you'll be on the good path to learning, testing, refining and eventually making great sales.
Good luck!