The 13 Best Magento Abandoned Cart Extensions for 2018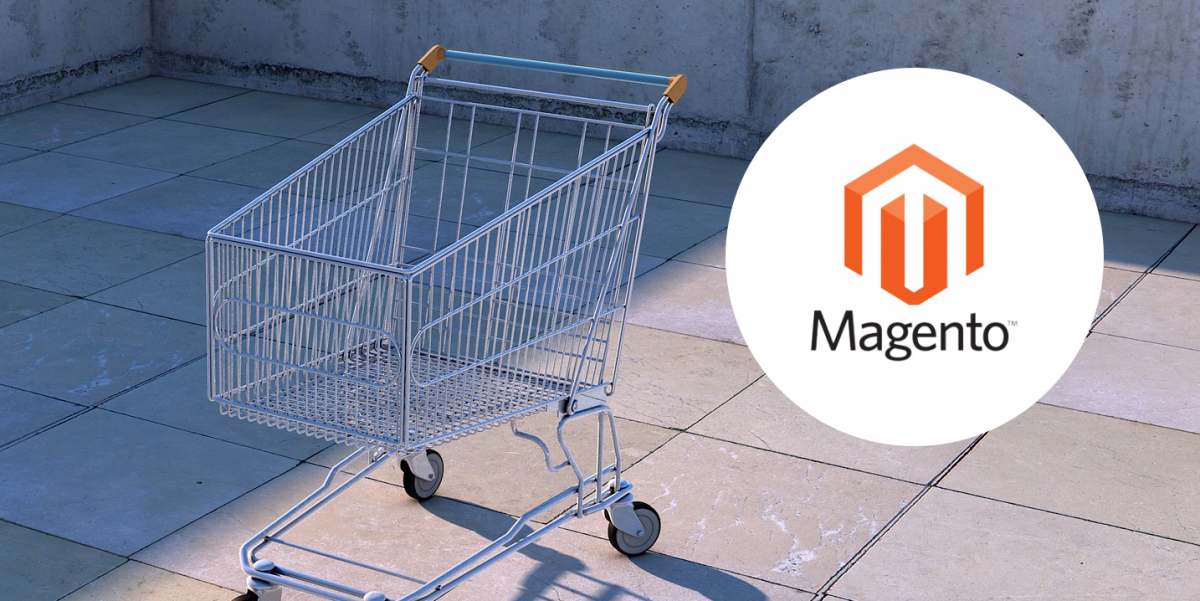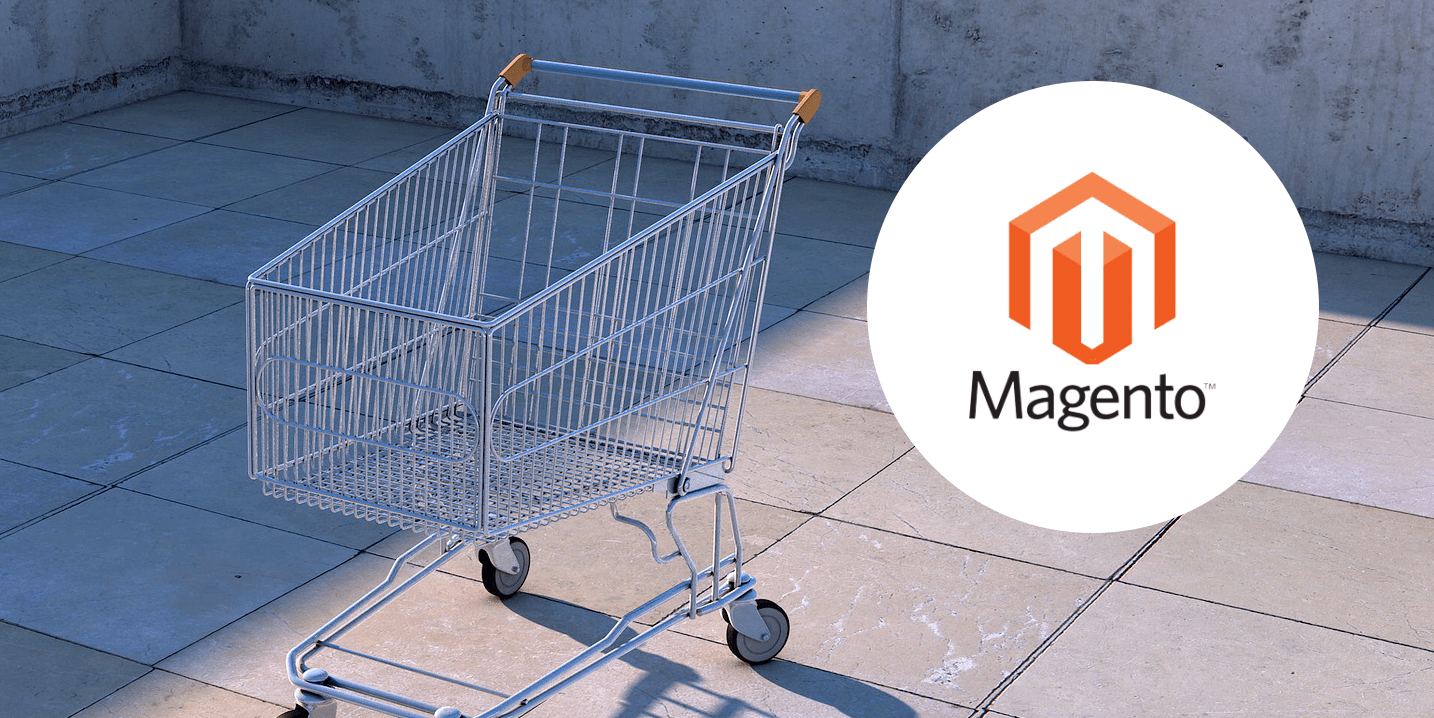 Reading Time:
11
minutes
Today we're going to look at the 13 best Magento abandoned cart extensions for 2018, based on quality of the extensions, its features, and of course price.
As you're probably well aware, 70% of online shoppers at one point or another abandon carts.
This trend is even more emphasized during the high shopping seasons, like Black Friday, where shoppers are more likely to bounce around from one store to the next looking for the best deal.
In those situations (and, well, always), it's important to have a great abandoned cart flow set in place to automatically remind shoppers about their waiting carts.
But to do that effectively on Magento, you need a great app that can send out beautiful, effective abandoned cart emails on schedule.
Let's look at the 13 best Magento abandoned cart extensions that can do that for you. Also, we have a list of the best Magento extensions.
[quote-box]
Magewares Abandoned Cart Email
Magewares Abandoned Cart Emails for Magento 2 allows you to set up and send reminder emails to shoppers who've abandoned their carts on your store.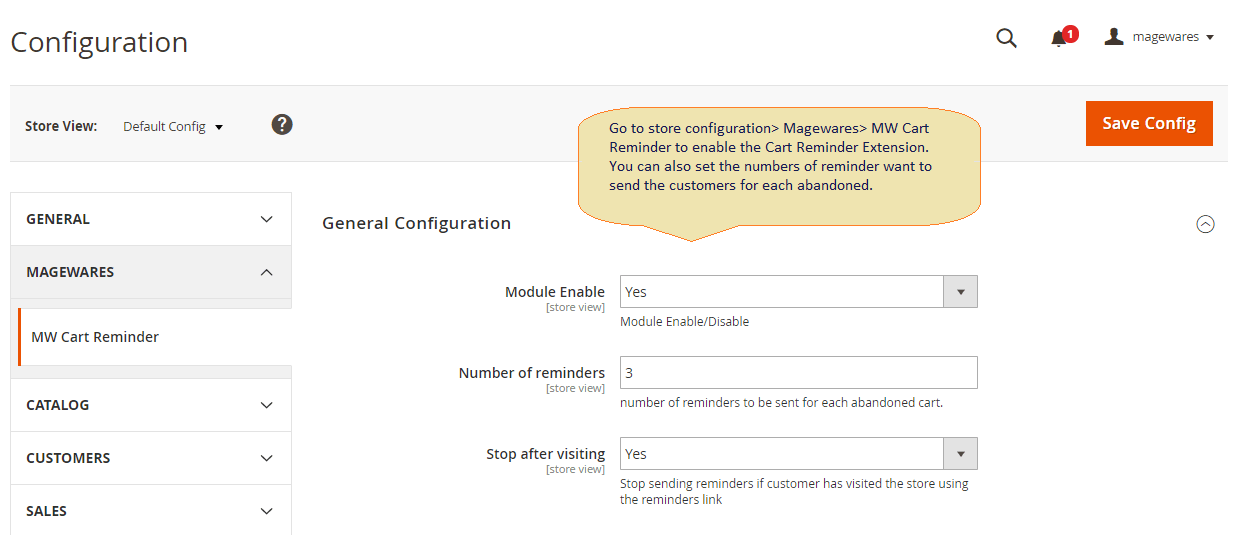 Pros:
Abandoned Cart Emails for Magento 2 has a lot of great things about it that can really help you send automated emails.
Specifically, this Magento extension will allow you to:
customize user-friendly email templates
send an unlimited number of follow up emails and cart reminders
generate coupons to incentivize buyers
create your own rules
This is only a small selection of the features in this Magento abandoned cart extension.
This extension also comes with free 3-month support.
Cons:
While the features list looks pretty good here, there's a lot of stuff that you'll have to be doing on your own end.
As you know, this is a standard extension, and you'll have to set up the backend by yourself, including sending emails from your server – which can really hurt your deliverability in the long run.
Besides that (which is an ongoing technical requirement), you only get 3 months of support for free.
If you want any more, then you'll have to pay more. How much?
For 6 months, that's an extra $100 (every 6 months), or an extra $150 every 12 months.
If you take the yearly support plus extension price, you'll end up paying $230 (roughly $20/month).
Compatibility: 2.1-2.2 Free plan: No
Paid plans: $79.00 one-time
MailChimp
The MailChimp extension helps connect your store to one of the most popular email marketing platforms.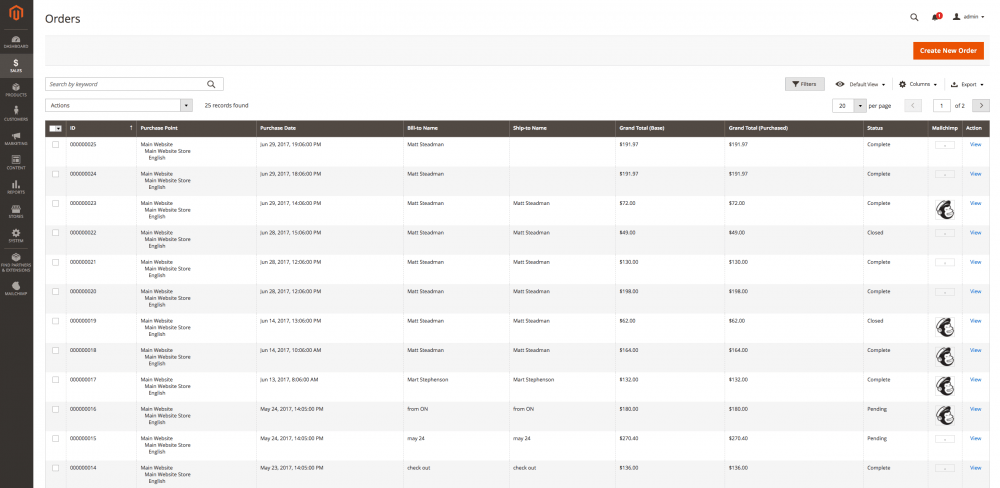 Pros:
Since it's an entire email marketing platform, the MailChimp Magento extension brings with it a whole suite of features.
These include the ability to:
sync your list and purchase data
create abandoned cart automated workflows
add in product recommendations
view reports to track your progress
And, of course, there's a whole lot more.
It's also great that they have a free plan that allows you to send 12,000 emails per month, as long as you have fewer than 2,000 subscribers.
Cons:
Unfortunately, MailChimp is usually troubled by inadequate customer support issues, and the Magento extensions seems to be no different.
Out of 12 reviews, 6 verified customers gave the extension a 1-star rating for various reasons. Here's a small sampling: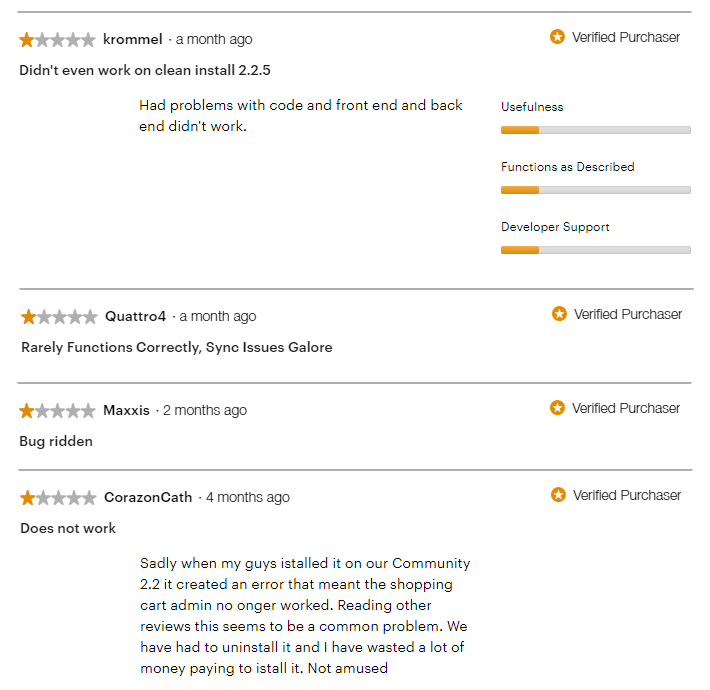 While the extension can have some other negatives (since it's a generic email marketing app not made specifically for ecommerce), it can present the average Magento customer with a lot of potential headaches.

Compatibility:1.6-2.2 Free plan: Yes
Paid plans: starting at $10
Remarkety
Remarkety is an email marketing automation platform that allows users to design, send and track marketing emails.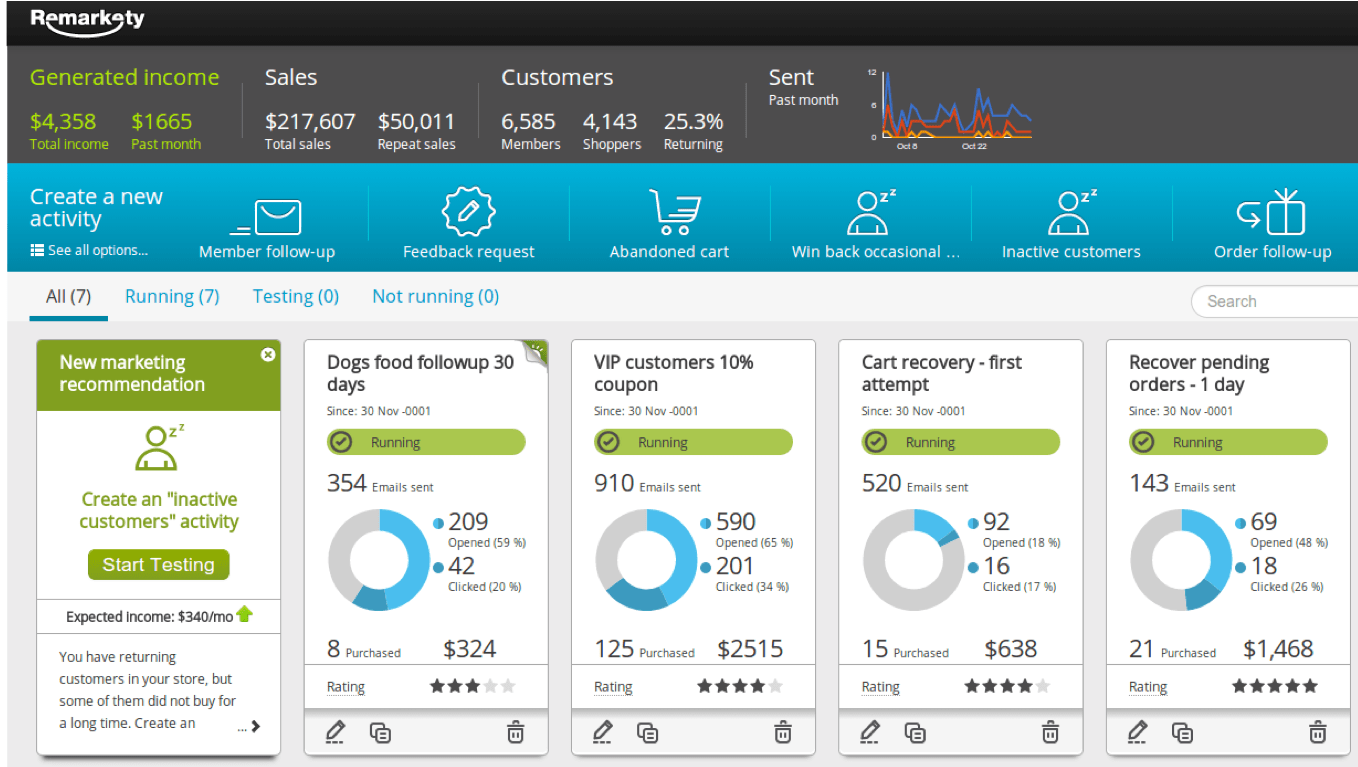 Pros:
As a marketing automation platform, similar to MailChimp above, the app brings with it a lot of extra capabilities beyond simply sending abandoned cart emails.
These features include:
cart abandonment workflows
A/B testing
rewards and loyalty programs
behavior segmentation
This is a small sampling of what the app has to offer, and it promises to provide a full set of features to fulfill most or all of your email marketing needs.
Cons:
However, that comes with a pretty big price tag.
While Remarkety's general plans can start at $25/month (according to their pricing page), if you have a Magento store you'll need to cough up at least $100/month.
Then for each additional 1,000 subscribers, you'll have to pay an extra $20 monthly. So, for example, if you have 10,000 contacts, you'll be paying at least $240/month.
Compatibility: 1.7-2.2 Free plan: No
Paid plans: starting at $100
Omnisend
Omnisend for Magento is an all-in-one ecommerce marketing automation platform dedicated to ecommerce.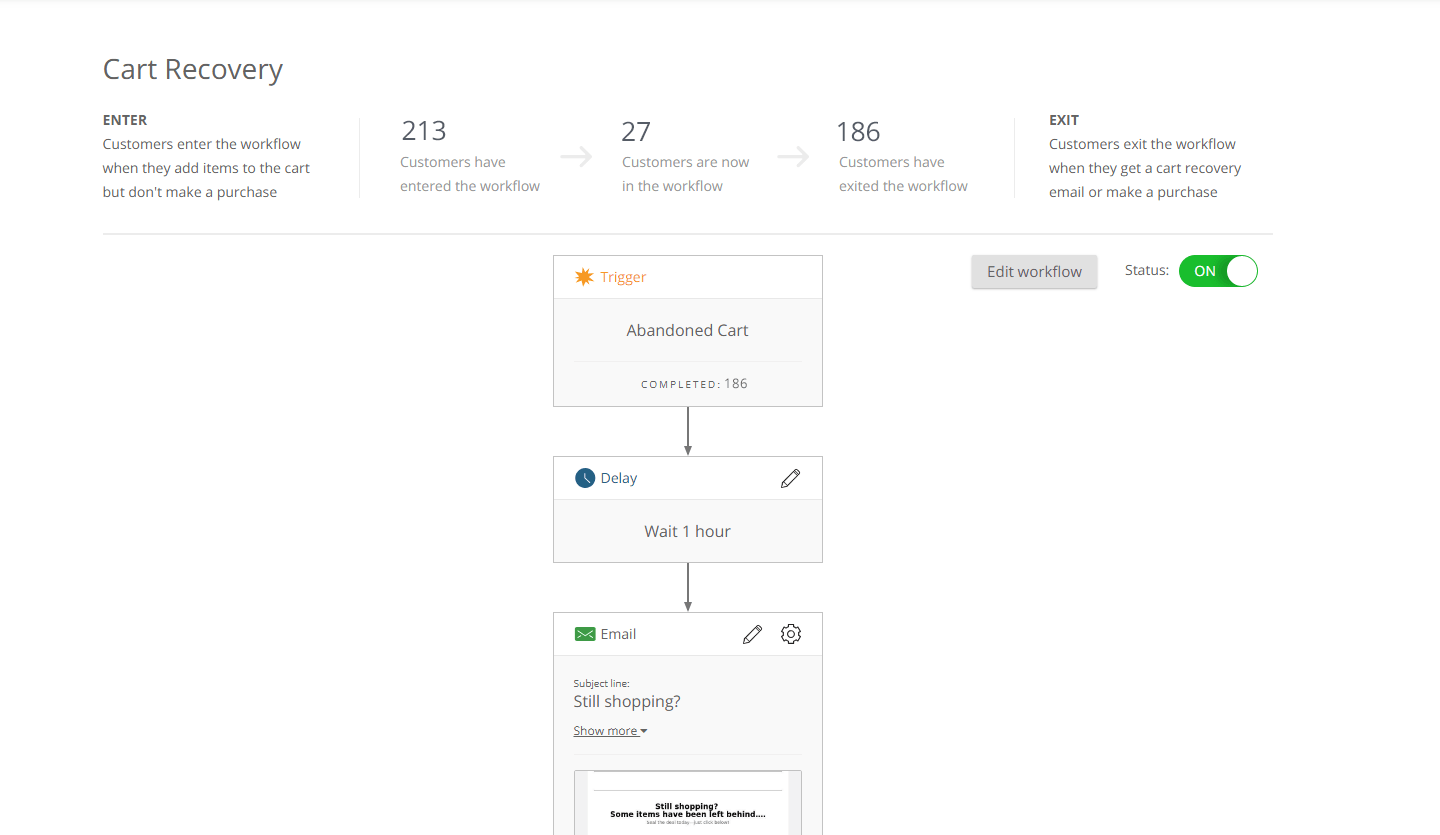 Pros:
When it comes to automated emails, such as abandoned cart automated emails, Omnsiend offers a lot of functions and flexibility.
You can set up an unlimited amount of emails in your abandoned cart workflow, although most marketers use either 1 or a series of 3 emails.
You can also:
track cart abandons every time
capture more abandons with Browse Abandonment and Product Abandonment workflows
track the most important pages, and peak abandons, with Live View website tracking
use predefined, prefilled cart abandonment templates, or create your own
use segmentation with advanced filters to supertarget visitors and customers
Omnisend is not just focused on abandoned cart, so it has a lot of other features that you'll probably find useful: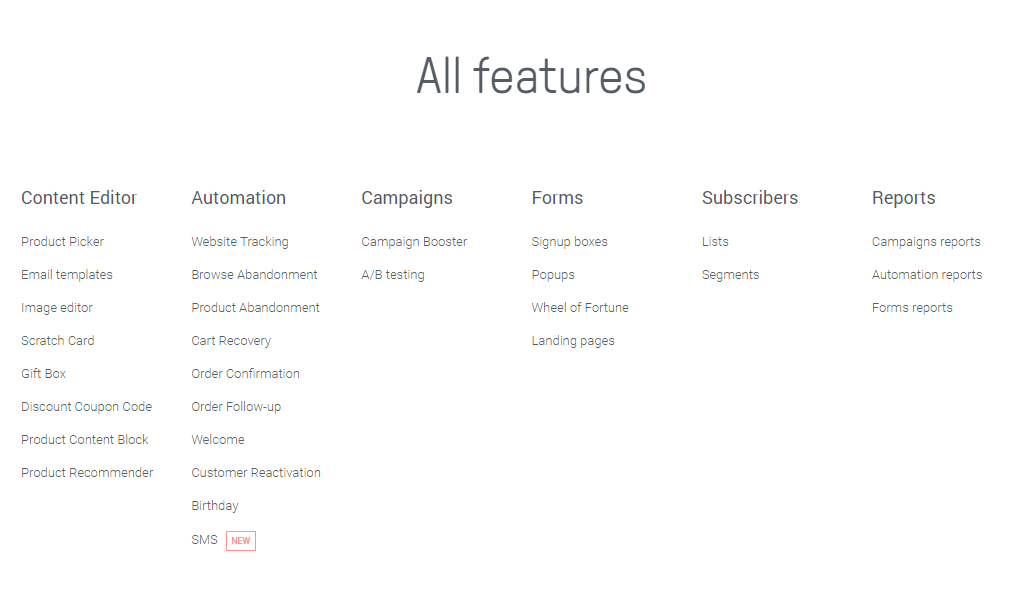 And that's perhaps the biggest pro: it allows you to cut down on the amount of separate apps you'll need, since it's an all-in-one solution for:
Cons:
One of the drawbacks of the platform is that there are certain limitations based on the plan that you're on.
Also, you're not able to copy automated emails if, for example, you want to create another cart abandonment workflow based on a specific segment.

Compatibility: 1.7-2.2 Free plan: Yes
Paid plans: starting at $16
Abandoned Cart Recapture
Recapture's Magento extension is an email marketing app that promises to be easy-to-use, as well as to set up.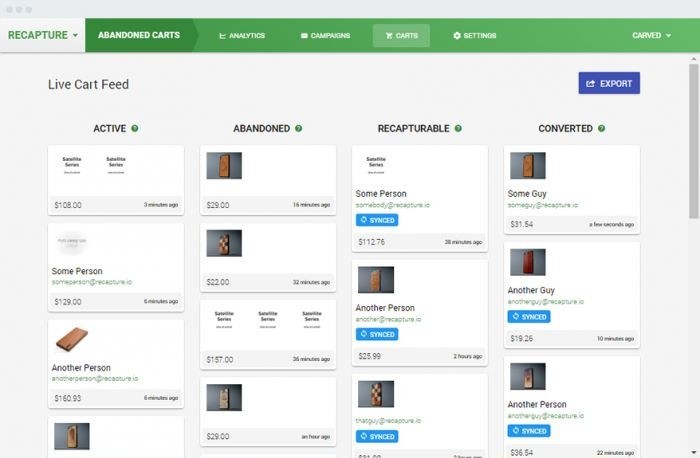 Pros:
Recapture does focus most of its attention on cart abandonment recovery, and its features reflect that focus:
responsive emails that look great on desktop and mobile
live shopping cart view
multi-language and multi-currency support
syncs well with MailChimp
Besides that, they have great analytics for various abandoned cart-related actions, such as cart abandon rate, recaptured revenue, most abandoned products, etc.
Cons:
There isn't a lot of information available about Recapture's performance in the field, with only one (5-star) review, and so deliverability and IP reputation are questions still hanging in the air.
Secondly, the app doesn't provide much else besides cart abandonment-related features: no segmentation, no other automation, no Facebook sync, etc.
Besides that, their price can become quite expensive if you have a lot of abandoned carts each monthly.
It starts at $49 for 2,000 emails/month, and $99 for 10,000 emails each month.
Compatibility: 1.5-2.2 Free plan: No
Paid plans: starts at $49
Amasty Abandoned Cart Email
Amasty's app is one that's dedicated specifically to abandoned cart emails.

Pros:
Since it's focused only on abandoned cart emails, it should be pretty easy to set up your abandoned cart emails and sending schedule.
You have the following features:
customize the size, color, currency, price, etc.
set up emails ending schedule
set up any rules you'd like
offer coupons to incentive customers to return to your store
You'll also be able to use Google Analytics to see the basic stats for any recovered abandoned carts.
Cons:
Compared to the other Magento extensions on this list, Amasty's app seems pretty limited.
It's great to be focused specifically on cart abandonment, but that will simply mean that Magento store owners will have to get additional, separate apps to fulfill the other important parts of their email marketing strategy.
Beyond that, the one-time fee (starting at $199/month) can be a bit pricey for stores starting out, especially when it's likely they'll need separate apps to fulfill their other needs.
Compatibility: 1.10-2.2 Free plan: No
Paid plans: $199 for Community, $499 for Enterprise, one-time
WEB4PRO Abandoned Cart
Another dedicated abandoned cart app, WEB4PRO's extension promises to help ecommerce stores on Magento to send reminder emails to shoppers.

Pros:
This focused app has a few important features to help your online store with cart abandons:
automation settings for notification emails
customizable email templates
generated links for each abandoned cart
one-click cart recovery
file attachment possibility
Besides that, it's also free.
Cons:
The popular saying goes, "You get what you pay for."
Here, you get a cart abandonment extension for free, but one that will require you to set up everything on the backend by yourself.
There are lots of deliverabilitiy problems when sending emails from your own server, and that will have to require its own creative solutions.
There are also a lot of apparent bugs in support requests, with the main problem being the app just not working.
Besides that, the app is only compatible up to Magento 1.9.3.
Compatibility: 1.7-1.9.3 Free plan: Yes
Paid plans: No
Abandoned Cart Alerts Pro
This Magento extension by Aitoc helps store owners recover lost sales with automated email alerts.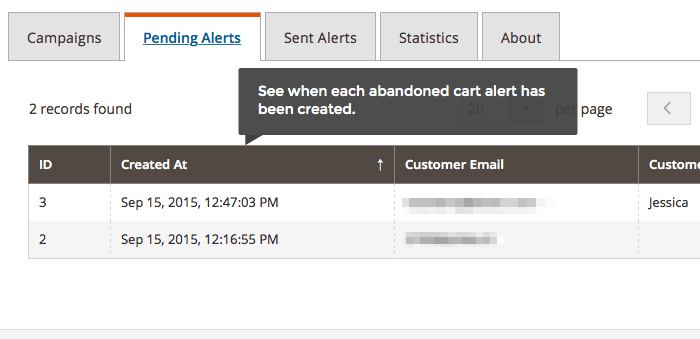 Pros:
This is a pretty standard, but good, Magento abandoned cart extension. It includes the ability to:
send messages to get customers to finish their purchases
send email alerts for anyone who left an email address
track your important cart recovery data
It also has the ability to edit text in emails, as well as add HTML or CSS.
Cons:
To be frank, this Magento abandoned cart app doesn't offer a lot.
If you don't know HTML/CSS, you'll have to hire someone to create good-looking emails for you to help you stay on brand.
The price isn't very reasonable for an app with such limited features.
Also – the same problem persists: you'll need to get additional apps to fill all the gaps left in your email marketing strategy.
Compatibility: 2.0-2.2 Free plan:
Paid plans: $149 one-time
EYEMAGIN HubSpot
The EYEMAGIN HubSpot integration allows you to connect your Magento store with HubSpot's CRM.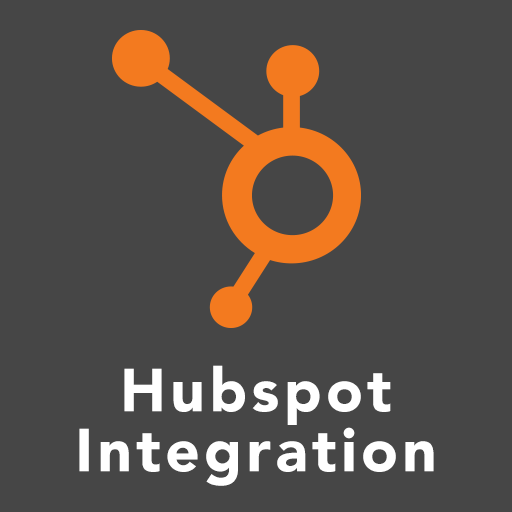 Pros:
HubSpot is one of the leading CRMs for different verticals. Nonetheless, if you're selling something at scale, HubSpot can be a great option.
Specifically, the EYEMAGIN Magento abandoned cart extension allows you to:
automate and personalize your abandon cart emails and nurturing flows
automate upsell, cross-sell and reorders
create highly targeted emails, campaigns and product launches
This is only some of the many things that HubSpot, as a more complete CRM, will allow your store to do.
Cons:
With all the features coming with a HubSpot account, you'll essentially be paying for a lot of things you probably won't be using—depending on your plan.
While HubSpot offers a Starter plan on its pricing page, with this Magento extension you'll have to pay $79.99/month after your 30-day trial ends.
Based on HubSpot's Starter plan, you'll have a limit of 5x emails per month—meaning you can only send 5 times as many emails as contacts that you have.
If you have 1,000 contacts, your limit will be 5,000 emails each month. If you have 10,000 contacts, your limit will be 50,000 emails.
The basic plan has a lot more limitations. If you want the "standard" plan, you'll have to cough up at least $800/month.
For newer ecommerce businesses, and even established, sustainable businesses, this is simply not practical.
Compatibility: 1.42-2.1 Free plan: Yes
Paid plans: starting at $79.99
Springbot
The Springbot Magento abandoned cart app helps ecommerce stores streamline their marketing automation, analysis and personalization.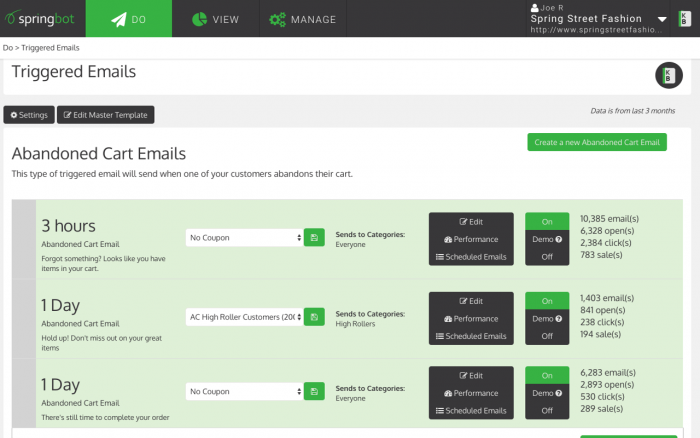 Pros:
Springbot integrates well with other marketing tools like MailChimp, AdRoll, and various social media channels.
The extension will help Magento store owners to:
set up abandoned cart emails
create welcome and post-purchase automated email workflows
use behavioral triggers to target specific shoppers performing certain actions
run dynamic and static ads on the web, social and mobile
As an all-in-one marketing package, it has an entire slew of features that will allow you to perform a lot of actions.
Cons:
Mainly, there are two big negatives here (depending on your business)
it's expensive
it has more features than you'll probably need
The price for their Starter plan comes in at $299 monthly, with the mid-range plan starting at $499 (for 10,000 contacts and 100,000 emails).
If you want the higher range, that'll put you back $899 each month.
The high monthly price you're paying is for a wide slew of features that you may not end up using.
Compatibility:1.4.2-2.2 Free plan: No
Paid plans: $299
Magenest Ultimate Follow Up Email & SMS
The Magenest extension will allow you to set up various follow up emails (including abandoned cart recovery) and SMS/text messages.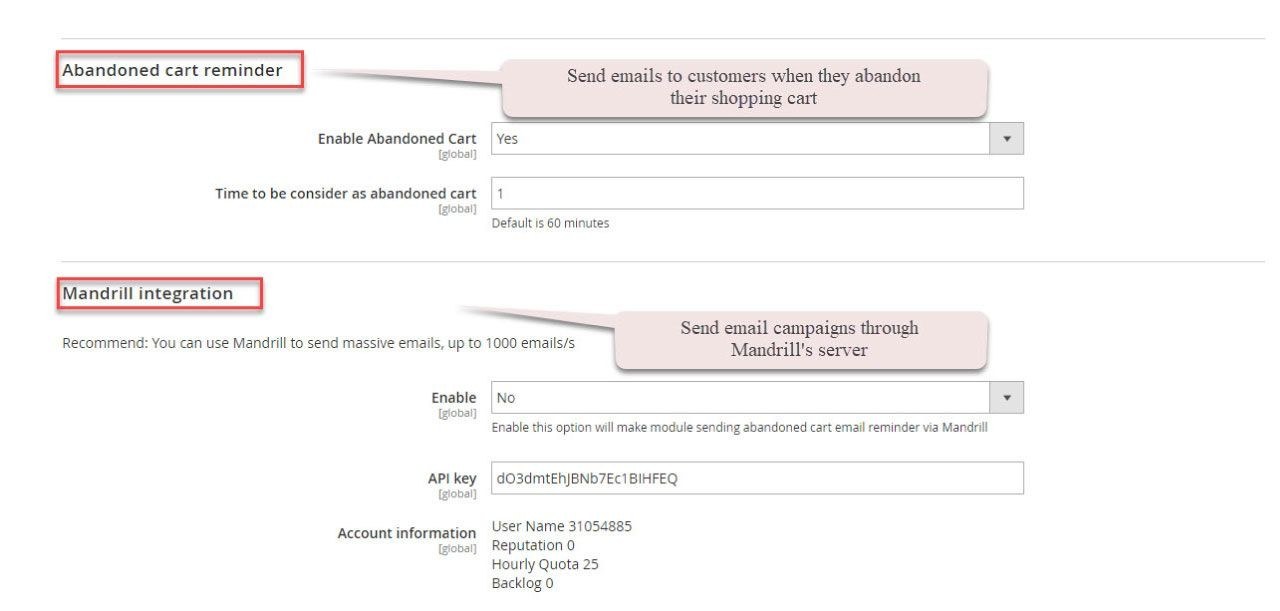 Pros:
Besides Omnisend, this is one of the only Magento abandoned cart extensions that will allow you to incorporate SMS/text messages into your abandoned cart recovery strategy.
Beyond that great aspect, the app also allows you to:
set coupon codes with time limits to entice customers to recover their abandoned carts
track the abandoned cart and cart recovery rates
suggest related products when customers make purchases
remind customers with either an email or SMS/text message
Cons:
You need other additional apps to actually do any of the above actions.
You'll need to get a MailChimp account and connect with Mandrill's API (Mandrill comes in at $20/month, while MailChimp has various plans, as noted above) for actually sending the emails.
For the SMS/text messaging feature, you'll need to connect with the Nexmo AP (roughly $0.05 per outbound message).

Compatibility: 1.7-2.2 Free plan:
Paid plans: one-time fee for Community at $149 and Enterprise at $449
Dotmailer
dotmailer (small 'd') is one of the leading email marketing platforms out there, helping Magento store owners with their email marketing strategy.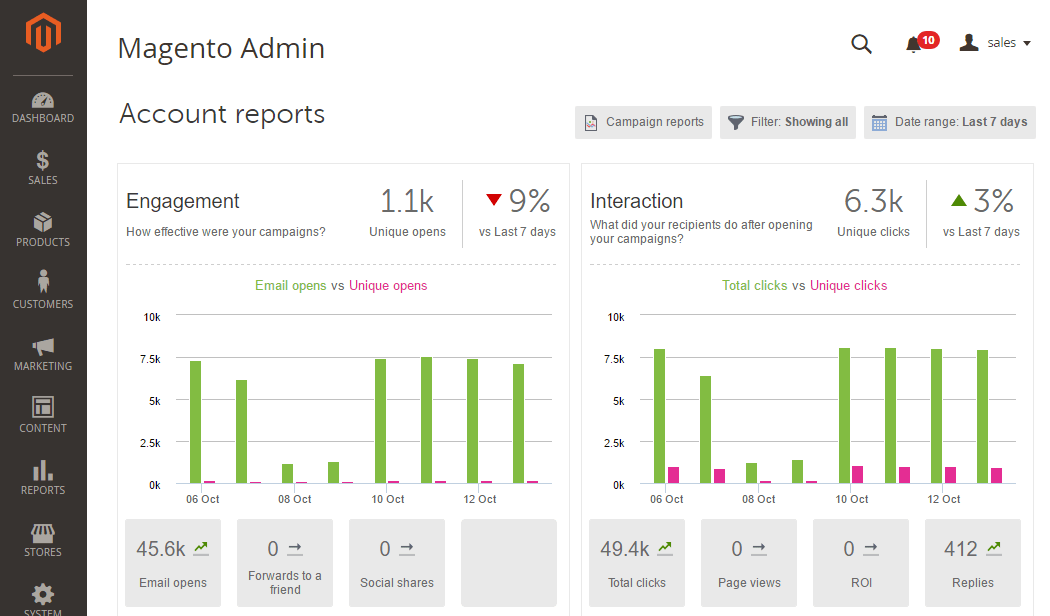 Pros:
As with the other email marketing platforms on this list, dotmailer has quite a lot of important features that ecommerce store owners will love:
data synchronization
drag-and-drop email campaigns
segmentation and data acquisition
automation program builder (including abandoned cart series)
dynamic personalized content
Cons:
Again, as with a lot of other full-service Magento extensions here, the price can be quite a barrier.
dotmailer plans start at a high $250 per month, which is quite hefty when all you want to do is send abandoned cart emails.
For 20,000 emails per month for their lowest-priced Pro plan, you'll have to pay $400/month. It goes up to $500 for the same amount of emails on the Enterprise plan.
Compatibility: 1.11.1-2.1 Free plan: No
Paid plans: starting at $250
Mageplaza Abandoned Cart Email
The Mageplaza Magenta abandoned cart email extension aims to help online businesses reduce their cart abandonment rate.

Pros:
This extension is pretty straightforward. It allows you to:
customize your contacts into email groups
create promotional vouchers automatically
track all sent abandoned cart emails
integrate with Google Analytics UTM
These are the major (or important) features that stand out on this focused Magento abandoned cart extensions.
It also has a one-time fee of $79, meaning you'll have to pay once and not worry about it again.
Cons:
Again, you get what you pay for.
Again, you'll have to send emails using your server, or connecting with third-party apps.
If you have completely fulfilled all other aspects of your email marketing and need to just fill in this abandoned cart app quickly, then this would be good for you.
But that seems like an extremely rare case.
You probably will need a full solution, and this isn't it.
So either get all the other additional apps, or go with one extension that can give you a good package of features without having to spend a fortune on it.
Compatibility: 2.1-2.2 Free plan: No
Paid plans: one-time $79
Well, that's our list of the 13 best Magento abandoned cart extensions available in 2018.
If you want to get the best solutions to improve your Magento 2 store, please check out more useful Magento 2 extensions that can help you effectively manage stores, create the better shopping experience for customers and increase sales.
Have you tried any of them out? Let us know in the comments below!
Start a free 14-day trial & drive sales on autopilot with pre-built automation workflows at Omnisend!
Start My Free Trial