Drive sales on autopilot with ecommerce-focused features
See Features
Reading Time:
11
minutes
Myth: Omnichannel and multichannel marketing are the same thing.
Reality: Not true! While both strategies involve using multiple channels to reach customers, there are important differences between them.
The key difference lies in the level of integration and coordination among the various channels used to engage with customers.
Multichannel marketing uses several channels to promote a product or service, but these channels may not be seamlessly integrated.
In contrast, omnichannel marketing is a holistic approach where the channels are interconnected and work synergistically to deliver a seamless customer experience.
With that said, these are different terms, and there are reasons why merchants and marketers might want to go with one over the other.
To help you choose the right approach for your business, we're giving you an in-depth rundown of the difference between omnichannel and multichannel marketing.
But before we dive in, let's lay out the definitions for each approach.
What is multichannel?
Multichannel is the marketing practice of using more than one media channel to communicate with customers and prospects. The channels can include TV, print, social media, email, billboards, display ads, and more.
However, these channels are not necessarily integrated with each other. For example, the content and style of your Facebook ad might be completely different from your promotional emails.
Since each channel functions separately, customers need to go to that specific channel to find the information they want.
How does multichannel marketing work?
It all starts with developing a marketing strategy based on in-depth research.
The goal here is to expand the brand's reach and maximize conversions by using multiple channels.
While marketers develop channel-specific marketing strategies, there is no attempt to integrate the strategies or the channels.
The typical steps involved in designing a multichannel marketing strategy include:
Identifying the target audience and creating a buyer persona
Selecting relevant channels to reach the target audience, such as:

Retail storefronts
Content marketing
Email marketing
Mobile marketing
Social media
Direct mail
PPC ads
Developing tailored marketing messages for each channel
Tracking the performance of each channel separately
Adjusting the strategy for each channel
What is omnichannel?
Like multichannel, omnichannel also involves multiple channels for customer engagement. In the case of the latter, however, all those marketing channels are integrated with each other in order to create a unified experience for the customer across the board.
In other words, with omnichannel, the customer can seamlessly move between channels on their journey with your brand. Whatever marketing material they see when they visit your website, Facebook page, brick-and-mortar store, or any other channel, will be unified around a single message or concept.
How does omnichannel marketing work?
Here are a few simple omnichannel marketing examples that might help paint a clearer picture:
A customer gets a text message about a promotion while shopping in-store
A shopper is retargeted on Instagram with the product they abandoned in their online shopping cart
A promotional email alerts subscribers to check their mailboxes for a physical postcard with discount coupons
As you can see from these examples, omnichannel marketing involves integrating multiple channels, all working in tandem to create a rich, consistent experience for your customers.
What's more, with an omnichannel marketing approach, you can also get a unified view of your customer interactions across multiple touchpoints.
Omnichannel vs. multichannel – what is the difference?
Even though omnichannel and multichannel seem similar on the surface, they have major differences that affect the way customers see your company.
The key difference between omnichannel and multichannel is the focal point of your marketing strategy.
Omnichannel marketing takes a customer-centric approach while using all available media channels.
Multichannel takes a product-centric approach while using more than one channel to promote the product or service.
Here's a quick cheat sheet: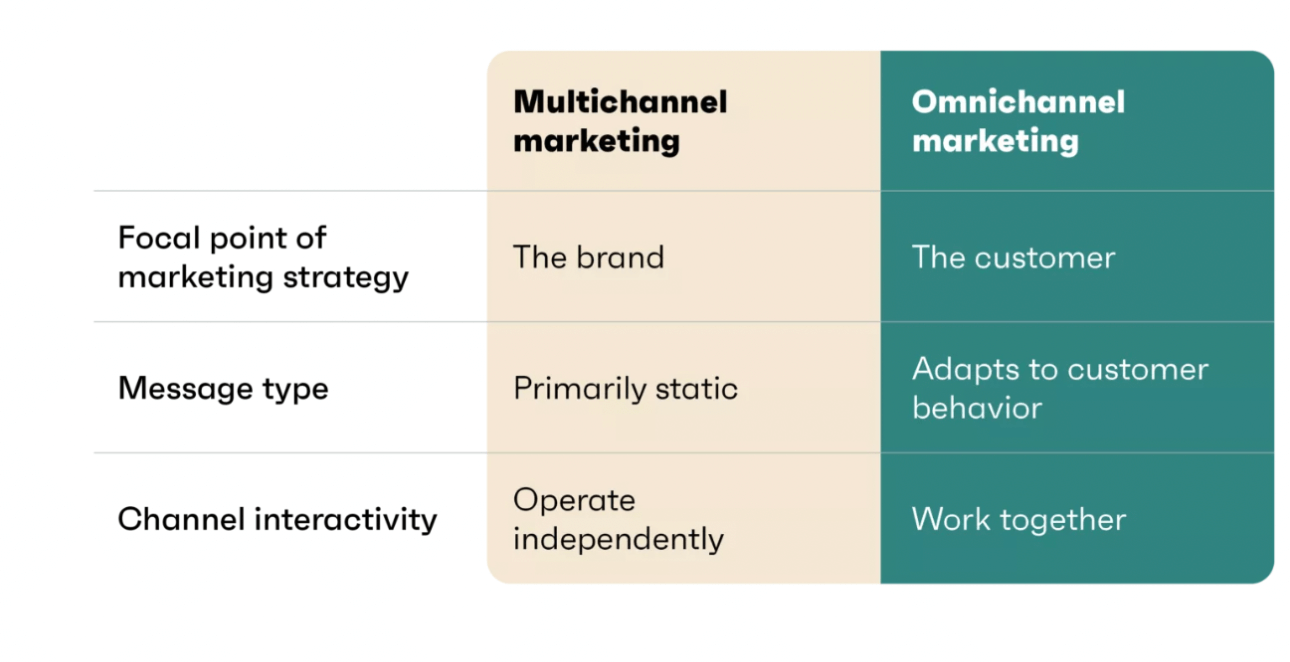 The video below does a great job of showing the differences between omnichannel vs multichannel marketing. It also tells you what scenarios each one is useful in.
In essence, omnichannel marketing has the customer at the center. The focus is on the needs of the customer, and the aim is to provide them with personalized messages across touchpoints to ensure a seamless, consistent experience.
This allows the customer to easily access information from any of the channels, which are all connected to each other.
For example, if a customer visits your Facebook page, they see the key message presented in a similar visual style to your website, online course or training, and email newsletter.
Or, if they contact your customer support via live chat and escalate their ticket to a phone call, they need not repeat the information they submitted via the chat.
This unity of channels centered around the customer is what separates omnichannel from multichannel, where channels like your storefront or social media pages can operate relatively independently and primarily serve the flexible marketing needs of your product or service.
The core principle behind adopting the omnichannel strategy is the understanding that customers like brand consistency, which, in turn, has the following benefits:
Customers see that you pay attention to small details.
They can trust your business since it provides a consistent experience.
They become loyal to a business that they trust.
Trust in a brand leads to more purchases, positive reviews, and recommendations
Get started with omnichannel marketing: drive more sales via email, SMS & push at Omnisend!
Start Free
If your brand lacks consistency, customers can begin to suspect that your business is unorganized.
When your channels are integrated and the style is consistent across channels, your customers can see that you care about giving them a unified experience.
In short, omnichannel revolves around consistency, while multichannel focuses on flexibility.
Multichannel vs. omnichannel examples
Apple's multichannel strategy
When it comes to multichannel, Apple is a great example of using this strategy to focus on the product. While the 'click and mortar' giant operates both physical and online stores, their retail store concept is seen as unique among retail companies.
Instead of focusing on in-store sales, iStores are, first and foremost, built to complement the company's ecommerce business, which accounts for most of Apple's total sales.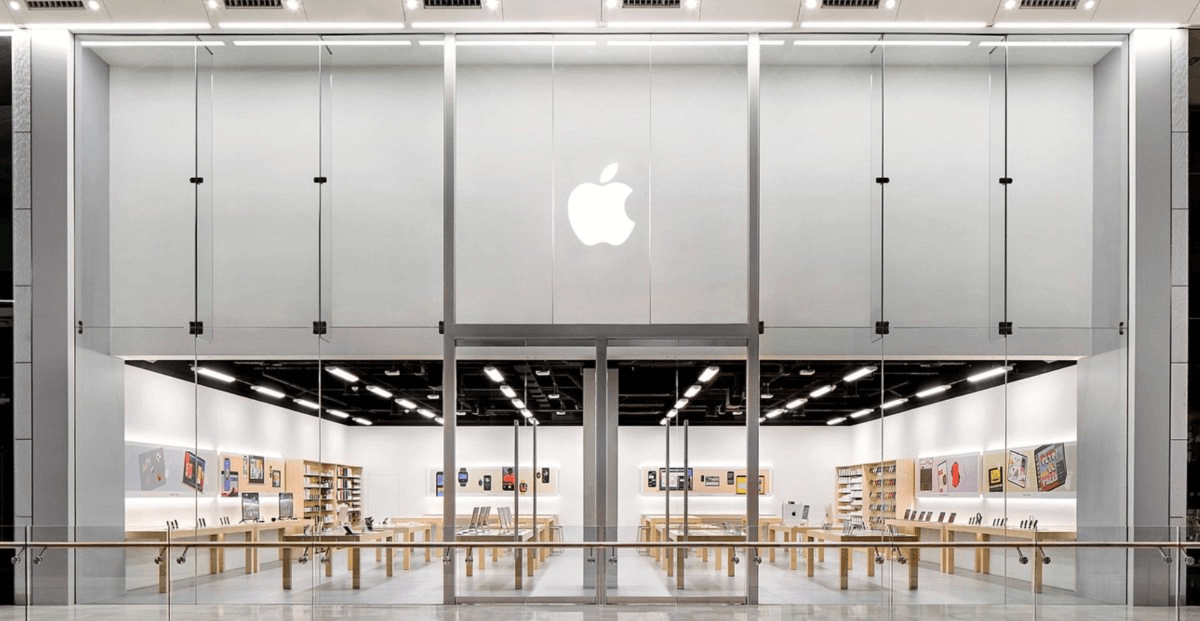 In this way, the tech giant's physical stores work as separate customer touchpoints that serve the big-picture Apple experience. As such, customers can visit iStores like galleries, without feeling obliged to buy Apple products on the spot.
Beyond using iStores for advertising, Apple uses additional channels and services to create demand for its hardware. These include the Apple TV+ streaming platform and the Apple News+ subscription service, as well as Music, which provide the company with extra revenue streams.
This gives Apple the flexibility to pursue different strategies across different marketing channels, which helps the company promote and sell its wide range of products to a diverse set of customers.
Amazon's omnichannel success
Amazon is everywhere, it's essential, and it's all about the customer. By putting the customer first, Amazon has shifted the entire ecommerce industry, forcing other marketers to follow their lead.
Today, many ecommerce businesses, including Amazon sellers, follow the user experience principles that have been introduced and mastered by the company. The ecommerce giant knows every customer who has ever purchased a product from them, and uses their data to provide a user experience that is both personalized and relevant at every single touchpoint.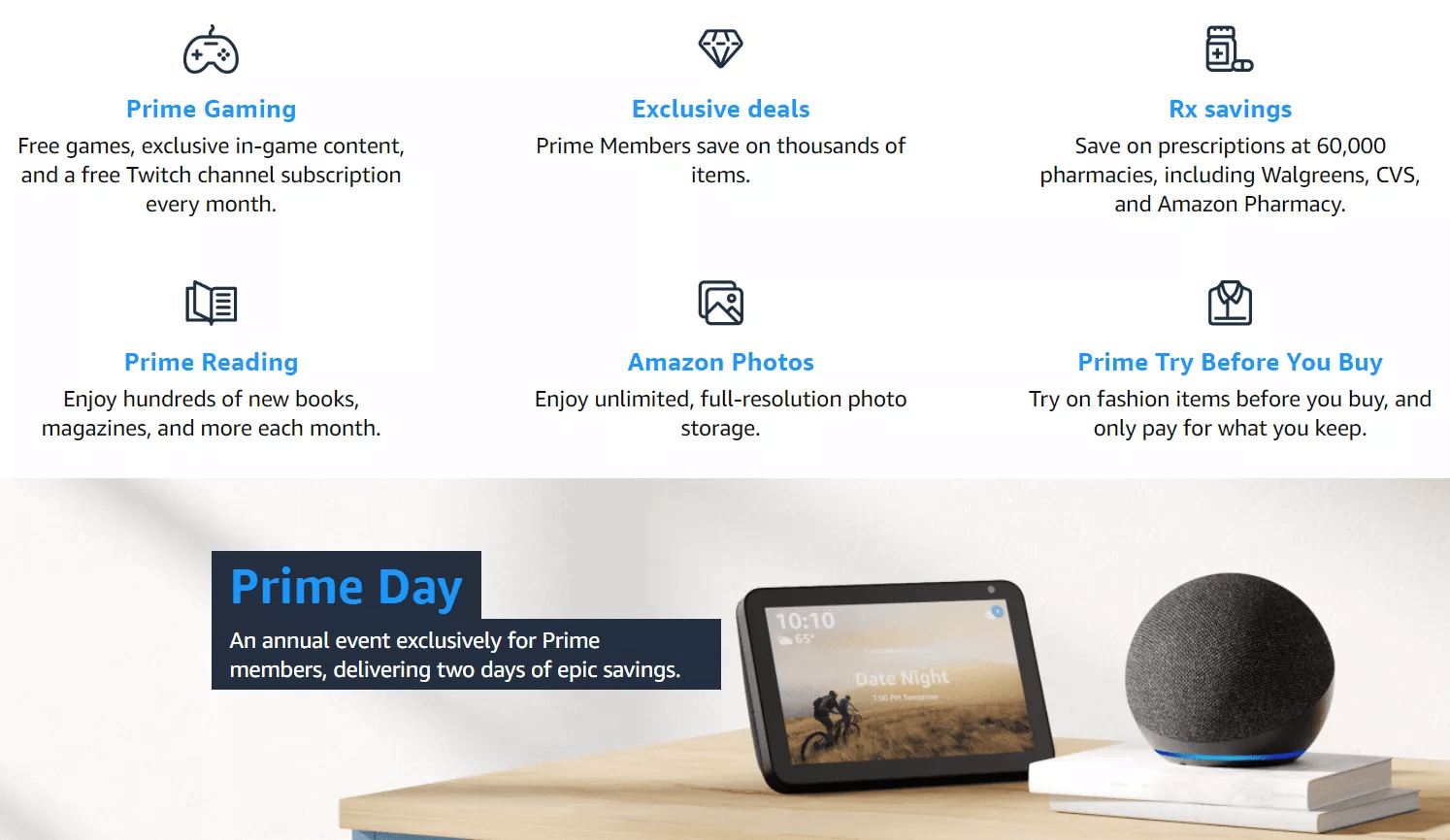 Amazon's omnichannel marketing strategy
From Amazon One-Click making the process of ordering products online a seamless experience, to Alexa enabling you to make your next purchase by voice, Amazon is the prime example of centering not only your marketing efforts, but also your entire business around the customer.
Amazon's success shows what omnichannel marketing is really about: it allows customers to connect with a brand through any of their channels. With each of these channels updating in function to the last experience the customer had, each touchpoint and channel creates one seamless journey.
Now, hundreds of millions of customers flock to Amazon because they know they will get a consistent experience that saves them time and money while providing exceptional customer service.
Amazon didn't invent omnichannel marketing, but they seized upon it when it mattered. As a result, omnichannel is now at the heart of the company's business model.
Walmart's omnichannel strategy
"Does Walmart use omnichannel marketing or multichannel marketing?"
A fair question, considering Walmart has been focusing on optimizing both its brick-and-mortar store and ecommerce strategies.
Even as it continues to strengthen its ecommerce capabilities, Walmart is investing in building strong digital relationships with customers.
In addition to launching additional online grocery pickup locations each year to make it convenient for online shoppers, Walmart continues to invest in developing its omnichannel marketing strategy across the world.
In Chile, for instance, the company invested $50 million in 2021 to improve their home delivery app and in Canada, $3.5 billion is being invested to optimize customer experience across channels.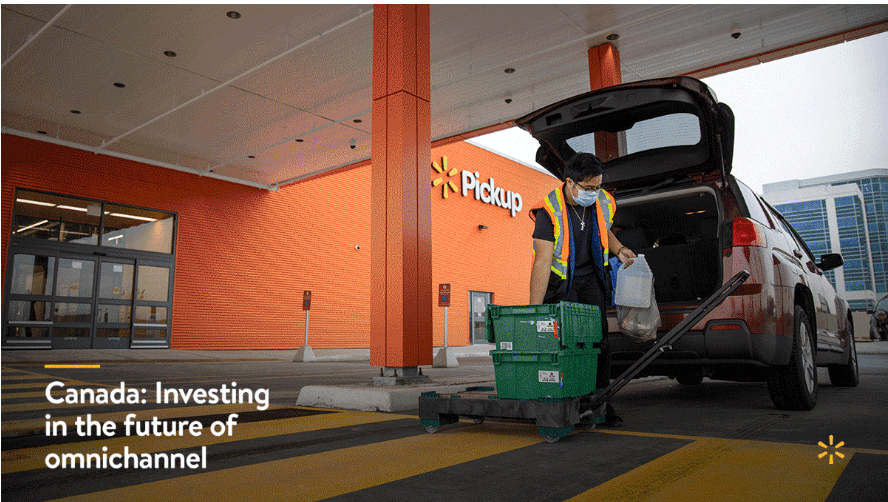 These include store renovations, pickup expansion, mobile technology, and more.
Beyond this, Walmart also has a strong social media presence, and it also invests in SEO and digital display ads.
In 2022, Walmart also ventured into the VR (virtual reality) world to offer the "view in your home" experience for its home décor and furniture items.
From consolidating its supply chain to enhancing customer experiences across channels, Walmart is confidently moving ahead with its omnichannel strategy.
Omnichannel vs multichannel: how to choose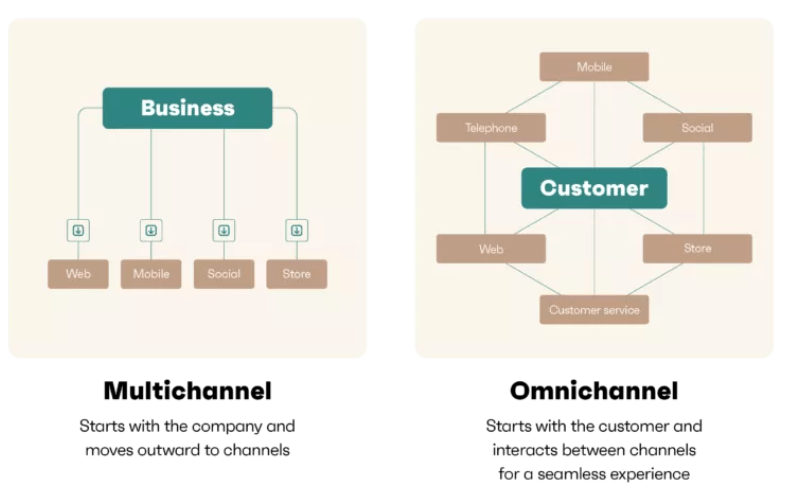 At first glance, going omnichannel, with its focus on unified branding and a seamless user experience, might seem like the natural choice. But it's not that simple.
Businesses of all types and sizes have found success with both approaches, so the key is making the right choice depending on the needs of your business.
When should you choose multichannel?
Multichannel can be a good option if you're short on resources and can't invest in a full omnichannel approach. Since omnichannel marketing requires more work to implement, you may feel that it's easier to stick with multichannel marketing because it can still bring good results.
The primary advantage of multichannel is that it offers flexibility by allowing every channel to function on its own. The stakeholders of each channel don't need to worry as much about communication and can focus on building up their channels.
However, this doesn't mean that going multichannel is cheap. You'll still need the right tech infrastructure to scale your multichannel operations, with marketing automation software playing a central role in the process to help you handle growth without sacrificing quality.
When should you choose omnichannel?
If done right, omnichannel marketing is a great option for businesses of all sizes, including smaller and growing ecommerce marketers.
While it's true that going omnichannel can be more resource-intensive in terms of investment and maintenance, the payoff of a successful omnichannel strategy is more than worth it. From smoother user experience and higher customer retention to better sales and greater brand loyalty, omnichannel is the way to go if you're prepared to do the work.
With a solid start on your marketing strategy, you can create a unified channel that helps buyers with their purchases while turning them into returning customers.
Once you decide on the right approach for your business, it's essential to find marketing software that allows you to implement it the right way.
As a marketing automation platform, Omnisend is built not just for ecommerce, but for brands that want to explore all that omnichannel provides.


B-Wear Sportswear effectively engages customers with Omnisend, showcasing the impact of omnichannel marketing through integrated SMS and email strategies. Results include SMS campaigns covering two years of Omnisend costs and a 66% conversion rate for the welcome series.


Read the complete case study and learn exactly how these numbers came to life.
Omnichannel vs. multichannel retail
Multichannel retail focuses on getting information to the customer. For example, multichannel retailers want to update their customers about an upcoming deal, so they have each channel inform the customers in hopes of them buying more from the business. This involves each channel creating its own message and getting it out to the customers.
After this, they see how customers react to the changes and adjust their channel accordingly. These changes depend on how the messages and deals affect the metrics of the channel. This can help them to adapt and improve their business based on the information that they collect.
On the other hand, omnichannel retail focuses on the customer and making them the center of the business. Businesses bring their employees together and inform them of the changes. This allows them to focus on keeping things consistent between channels as they apply changes to retail.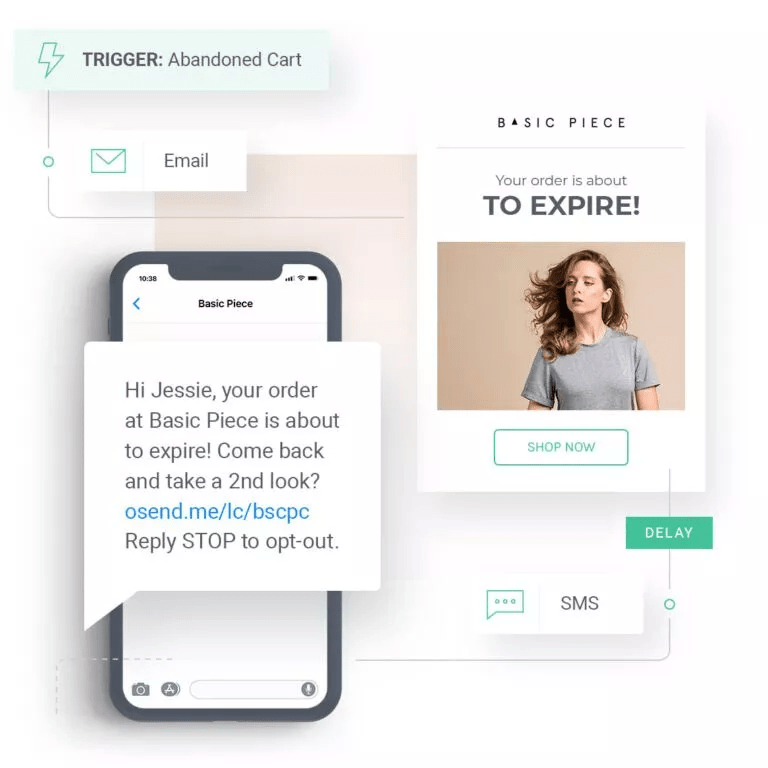 They can use different omnichannel marketing strategies to adjust their retail according to the needs of the customers. This includes the following tips and strategies, as shown in the link above:
Communicate with your workers.
Collect customer data and analyze it.
Send out targeted messages.
Constantly adapt.
By following these simple points, your business puts the customers at the center. You collect data about customers, send out targeted messages to increase metrics, and constantly adapt to their needs.
With this in mind, omnichannel retail can draw in more customers since it focuses on bringing them the products, content, and retail that they want.
Multichannel vs omnichannel ecommerce
If your business has an ecommerce presence, you need to give your customers ways to easily purchase your products. The easier it is for a customer to find your products and place an order, the more likely they are to buy from you again.
Our analysis of more than 135,000 campaigns from 2021 shows that ecommerce businesses that used three or more channels had a 494% higher order rate than those with single-channel strategies.
With omnichannel ecommerce, you can ensure customer interactions are interconnected, resulting in a seamless experience regardless of where or how they interact with your brand.
What are the benefits of omnichannel?
Omnichannel leverages multiple channels in a coordinated and consistent manner to offer these benefits:
Optimized customer experience:
Omnichannel marketing focuses on delivering a consistent experience for customers across all channels. This cohesive and personalized approach enhances customer experience.

Enhanced brand loyalty:
A seamless experience across channels can make your customers feel valued. According to Google's research, 73% of consumers who feel valued are willing to stay loyal to brands even if they increase prices.

Increased sales:
By enabling your customers to seamlessly transition between channels, omnichannel reduces friction in the buyer journey. This can lead to higher conversion rates as customers can easily complete their transactions on any channel of their choice.

For instance, Think With Google's case study shows that when fashion retailer Boohoo created a unified user experience by connecting their app and web, their revenue jumped by 25%.
Improved ROI:
With omnichannel marketing, you can allocate your marketing budget and resources more efficiently by focusing on channels that yield the best results.

With an omnichannel marketing platform, such as Omnisend, you can gain a 360-degree view of the performance and engagement metrics across channels. This helps you optimize resource allocation for maximum impact.
Competitive advantage:
In today's competitive landscape, it takes more than a good discount or a good product to ensure your customers choose you over your competitors.

In fact, a McKinsey study shows 90% of consumers in the US plan to continue switching brands in search of a differentiated experience.

Implementing an effective omnichannel marketing strategy sets your business apart from your competitors. It showcases your brand's commitment to meeting customer expectations and staying ahead in providing a seamless, integrated, and customer-centric experience.
Omnichannel vs multichannel customer service
Multichannel support allows customers to use different channels in separate interactions. In contrast, omnichannel customer service ensures a smooth support experience by integrating multiple channels.
This means customers can contact a live agent through their preferred channel, whether it's messaging, live chat, phone, social media, or email.
Alternatively, if a customer doesn't find the live chat helpful, the agent can switch to another channel, such as a phone call or video chat, without losing any information. All the customer's data is preserved and transferred, allowing for a seamless support experience without the need for redundancy.
This not only expedites issue resolution but also enhances overall customer satisfaction.
Multichannel vs omnichannel marketing: Wrap-up
Clearly, omnichannel is the norm rather than the exception with McKinsey's study showing that 3 out of 4 consumers engaging with brands on multiple channels.
So, is omnichannel better than multichannel?
While multichannel marketing still plays a role in expanding your brand's reach, the benefits of an integrated and coordinated omnichannel strategy are apparent.
Unlike the multichannel approach that yields short-term results, omnichannel can help you attain both quick wins and sustained growth in terms of customer engagement and sales.
And, the comprehensive insights you can gain from your omnichannel strategy allows you to make data-driven decisions, optimize resource allocation, and stay competitive.
Omnisend makes it a breeze for you to create a seamless experience for your customers across channels using email, SMS, push notifications, social media, and more.
Get started with Omnisend today & drive sales on autopilot with pre-built automation workflows
Start Free Today
related features
Want more sales?
Omnisend has everything you need to succeed.
Start free now
No Credit Card needed.