Experiencing sales slump? You are not alone. Summer months are always the slowest for ecommerce sites. But here is the bright side of the thing.
You can experiment new things with lower risk to spoil anything and prepare new strategies and marketing tricks for the new season.
One of those tricks that I'm offering you to try today is resending your most recent email campaign to those customers who have ignored the initial one. Believe it or not, but this action will increase your revenue through email marketing by up to 30% .
Why Is It Worth Resending Initial Campaign?
There are six clear reasons, why you should consider doing it.
Yet 8 out of 10 promotional newsletters are never opened.
Customers receive dozens of emails every day. If the average open rate of promotional newsletter is 18.8%, it means that 81.2% of emails are never opened. This is a fearsome number, isn't it?
The reasons for this are simple:
Customers fail to notice your email in their inboxes;

The subject line is not catchy enough and customers just skip it;

Customers stop being interested in your brand.
For the third point you should read about customer re-activation. But for the first two reasons, your email campaign is worth a second chance.
By resending your campaign, you get a second chance to approach your customers and

significantly improve your email campaign performance. Find the chart below.
It can be like

simplified A/B testing for subject lines

. You will better understand the types of subject lines that work for you.
For implementing A/B tests in email marketing, you need to have a big database of subscribers. Then you are able to make significant business insights. Otherwise, doing A/B test with some hundreds of subscribers will not benefit you much.
Resending

your campaign

does not require any additional time

.
Other email service providers give you an opportunity to resend email campaigns by creating segments of non-openers. In Omnisend we have a feature, very easy to use, and its is called a Campaign Booster. You can set up it just before sending your initial email campaign by writing an additional subject line for it.
You do not do any harm to your subscribers or to your sender's reputation.

Your customers will not notice this marketing trick, so they will not find it spammy.
Some time ago, Mouse2House, an office supply store in UK made an experiment by resending their newsletters to the non-openers. The results were great, they did not get a single negative response from a customer. Read more about this experiment.
The biggest benefit is growth in sales.

The Campaign Booster will increase revenue by up to 30%.
Let The Numbers Speak for Themselves
According to the experience of Omnisend – the absolute majority of all email opens occur in the first 48 hours. So, after two days from the initial campaign, you can change the subject line and resend your newsletter to customers who did not notice your email campaign the first time.
Omnisend's Campaign Booster sends the same email campaign once again 48 hours after the initial email campaign. However, this time a different subject line is used and recipients are only those prospective customers who have not opened your first email. Though, customer engagement with the boosted campaign is lower than with the original newsletter, overall engagement with an email campaign increases significantly.
Boosting email campaigns this way, our clients improve their click rate, on average, by 42.3%, and their conversion rate by 35%.
This means, that the same email campaign sent again for every 10,000 customers would bring, on average, 161 additional visits to your online store and about 6 additional purchases. See the chart below.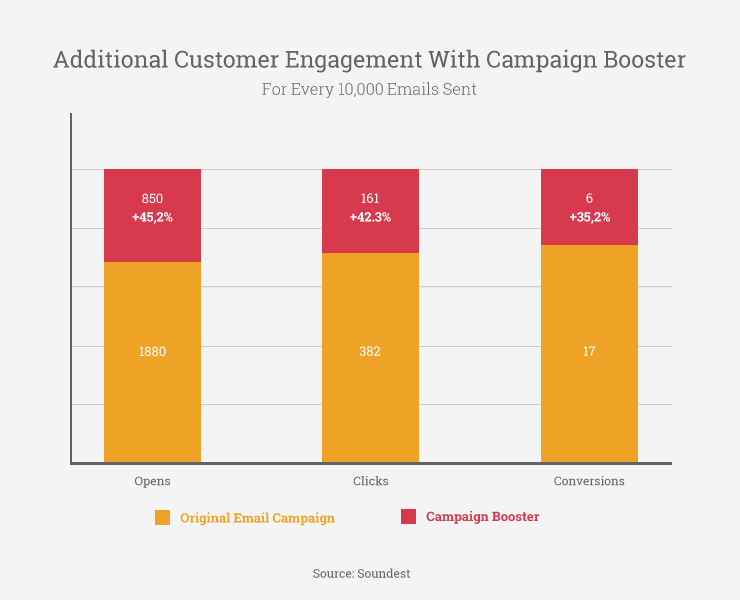 So my advice for you would be this: try to resend your email campaign, otherwise experiment with your email marketing and discover new sales and customer engagement opportunities during the summer. Because summer sales and Black Friday sales are just around the corner. Good luck!
For more interesting numbers about ecommerce email marketing check out our recent infographic.