Drive sales on autopilot with ecommerce-focused features
See Features
How to boost click-through rates with interactive scratch-off emails
Reading Time:
6
minutes
How would you like to increase your click-through rates by up to 60%? Did you know that adding interactive elements like a scratch-off lottery ticket or a gift box to your email marketing campaigns can do just that?
Adding these two awesome email marketing examples to your email campaigns can make your emails more fun and less predictable, bringing a whole new level of engagement and excitement for your subscribers—ultimately leading to increased sales.
Let's take closer look at how you can increase sales by incorporating these elements into your email marketing program.
Get started with Omnisend today & drive sales on autopilot with pre-built automation workflows
Start Free Today
The main benefits of scratch-off emails
Interactive content can positively affect peoples' engagement with your emails, making your brand more memorable and more visible in the inbox to your email subscribers. Scratch-off emails can help you with the following:
Increase your brand's inbox visibility
Differentiate your emails from your competitors
Provide a reason for subscribers to open your emails
Increase click-through rate (on average, it's about 60% more clicks)
Increase sales
Drive greater engagement and interaction
Convert more subscribers into sale leads
Interactive emails build anticipation, thus they draw in more customers
However, keep in mind that a single interactive email element won't create a dramatic shift in consumer behavior. If you don't combine it with smart customer segmentation, proper list hygiene, and email design best practices, the impact may be limited. By combining each of these elements you can effectively create an email marketing trump card to use when you need it most.
Tips for creating your first interactive email campaign
Interactive emails transform emails into a unique experience for your subscribers. In some cases, interactive emails can also be super convenient for subscribers when filling out a survey.
Interactive emails help marketers boost engagement rates and the likelihood that subscribers will take a desired action. Here we've added ways you can make your emails more interactive:
By adding GIFs or videos
Make your email look enticing and interactive by adding GIFs and videos. These not only add an extra element of delight to your email template. You may also use email templates to show off your products.
In fact, in-depth research by OptinMonster and Wyzowl reveals that 79% of consumers prefer watching gifs and videos rather than reading about them.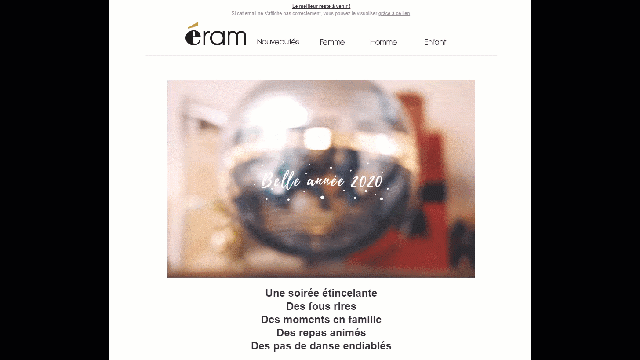 Add a survey or poll
Surveys and polls are an amazing way to encourage interaction between customers and marketers. It's also a great way to learn more about customers.
Typically, email marketers request subscribers to fill out a survey and offer them a clickable link that directs them to the survey. However, most viewers don't want to take additional steps.
In order to enhance engagement, consider making your emails more interactive by embedding a poll in your emails.
Gamify your emails
Gamifying your emails is a less common yet incredible technique that helps grab your subscribers attention. The fact is that people across all ages enjoy playing games.
So, what better to captivate your viewers than by adding games in your email marketing messages.
Create interactive images
Another amazing way to make your email more interactive is by adding interactive images. This way, subscribers can select various elements of the photo to trigger popup videos, animations, and additional information.
Interactive images are an excellent way to allow viewers to view product and service information via smartphone and laptops.
How do scratch-off emails work?
Scratch-off emails, or Scratch Card as we call it, is a flexible content block that can be incorporated into your usual email template. When email recipients open the email, they see a grey box with an invitation to "scratch" the boxed area — just like one might do with a scratch-off lottery ticket. The user scratches the card by clicking and dragging across the area, revealing the hidden offer that you've prepared for them.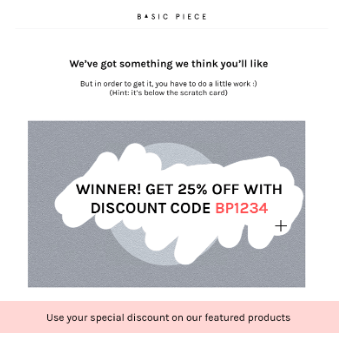 How can I use a scratch card?
Because this type of content is created to delight your audience and increase sales, focus on offering special deals and rewards to your customers when using Scratch Cards.
Flexible settings allow retailers to use this element in multiple ways. You can easily define the number or percentage of winners, set up different messaging, etc. Here are a couple of examples to ignite your imagination:
Announce a lottery with a defined number of winners and let your subscribers scratch for the prize – a discount, free shipping, something from your store as an addition to their purchase.
Send the same prize for all your audience (this tactic generates the best results).
Hide an inspiring quote that makes your subscribers smile, visit your store, and buy something for themselves.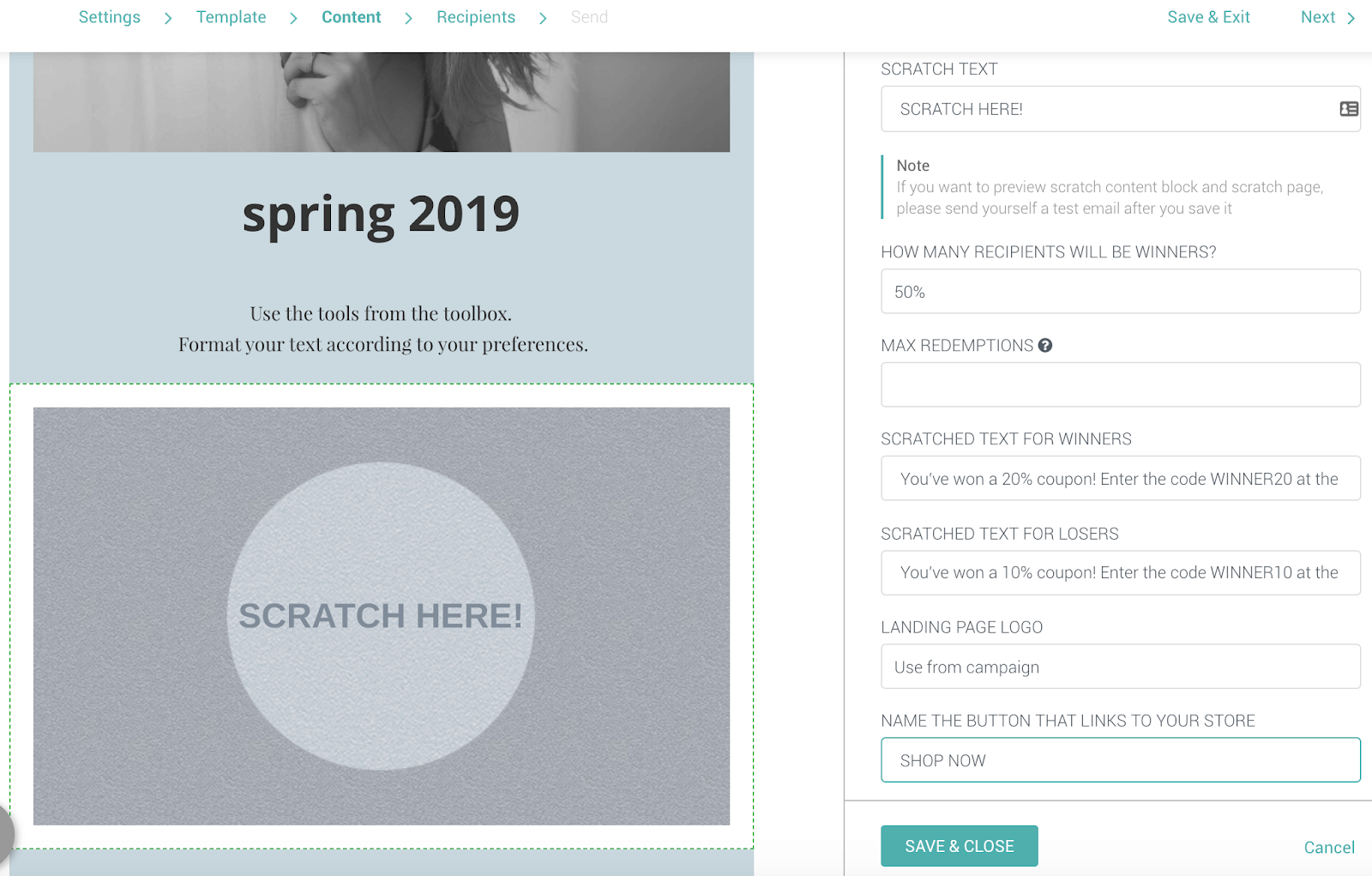 Tip: if you send a scratch card within your email campaign, don't forget to mention it in your email subject line. This will help you increase opens!
How to create a scratch-off email
It's time you learn how to add interactive elements to emails. You can enhance your business's gamification campaigns by following the instructions on creating a scratch-off email:
1. Begin a campaign and choose a template
To kick start your campaign, you need to choose templates that best meet your goals and objectives. Once you choose a template, it will determine the rest of your campaign creation process.
Omnisend allows customers to choose between a wide array of attractive templates pre-populated with coupon campaigns that you can write over. This intuitive and robust marketing tool helps ensure powerful results. Get inspiration for interactive email ideas by sifting through Omnisend's templates.
Here you can also find scratch card design templates on Omnisend. You may add your business name and logo and test as-is and then return to custom edits. Once you learn to use Omnisend's tools, you can use them to create interactive emails.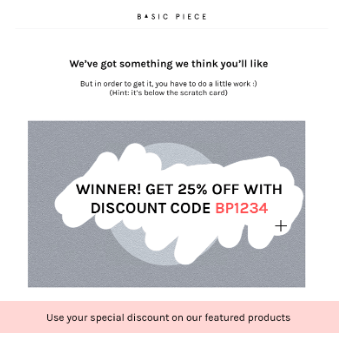 2. Select your scratch-off game criteria
Click on Omnisend's customization settings to switch them to a logo, game theme, gifs, engagement timing, game theme colors, game interface, text, codes, and play time to make digital scratch off cards.
Add interactive content to your email template to attract employees. Manage your campaign in the following ways:
Monitor the allotment of prizes
Manage different prize claims with individual winners
Create a killer scratch off email by venturing onto Omnisend.
Scratch-off email examples
1. Go Bahamas+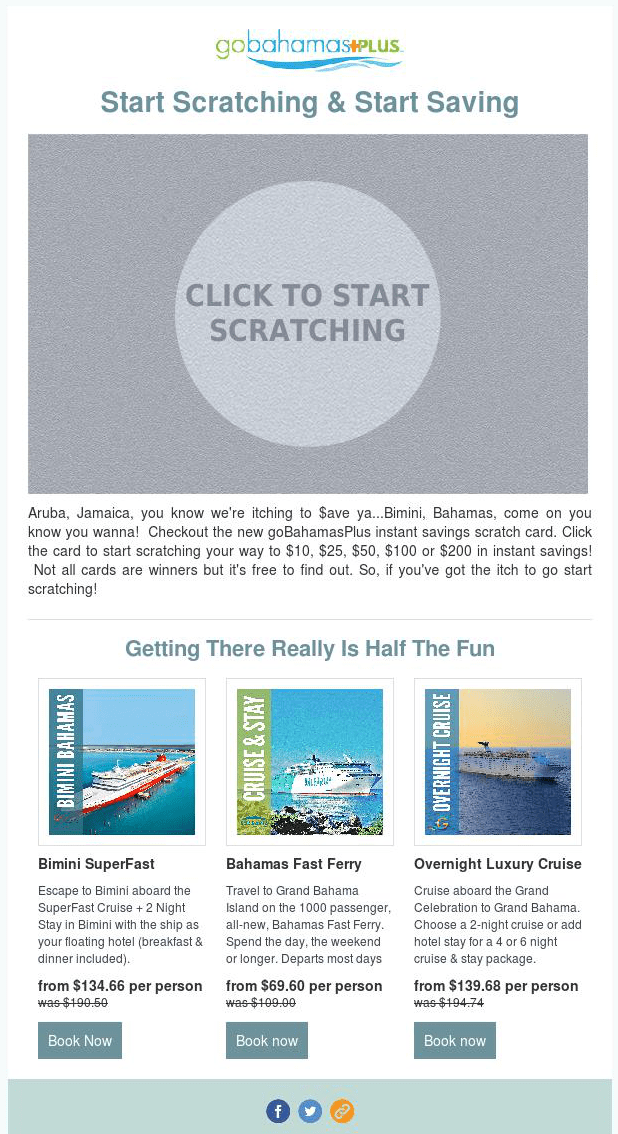 2. It's Hatched Handmade Crafts

A scratch-off email alternative
At Omnisend, you can find another great method of email gamification – the Gift Box. These have an effectiveness and functionality that is very similar to the Scratch Card. Gift Boxes allow you to offer an incentive to purchase in a more original way, and are a perfect add-on to welcome, anniversary, thank-you, and other special campaign emails.
See a few examples of a Gift Box emails below:
Mirror Mirror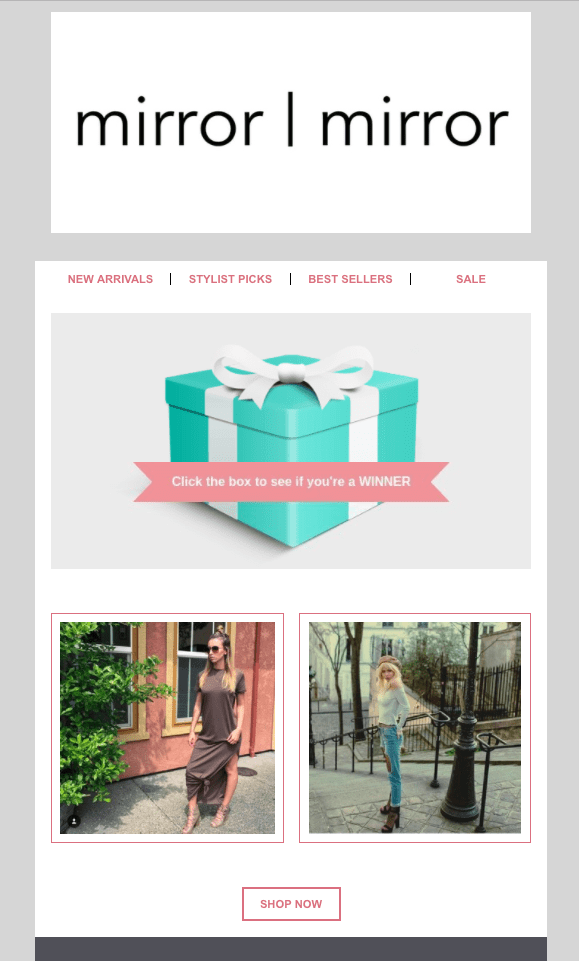 2. Wild Purpose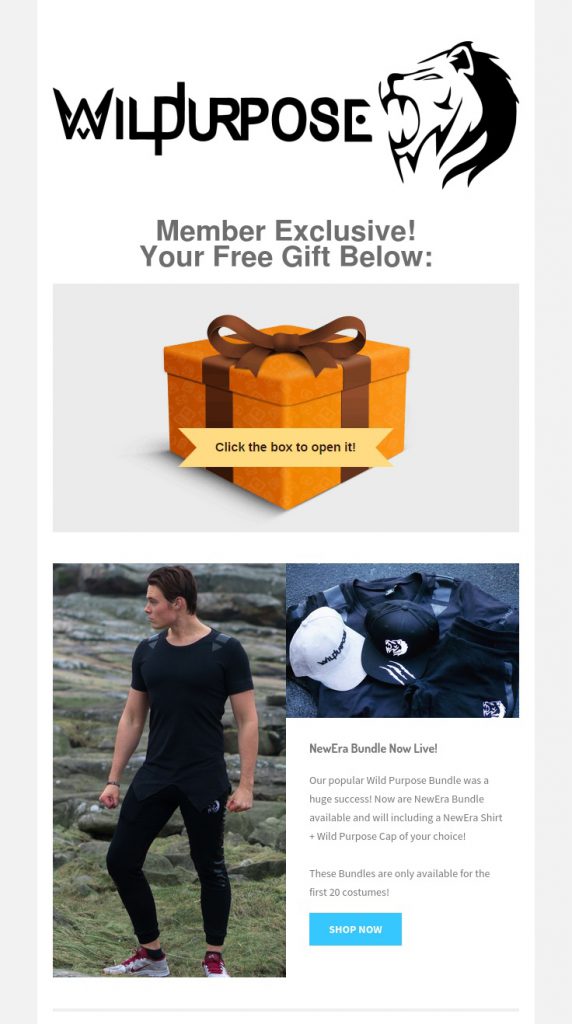 Setting up an email with interactive elements is as easy as everything else with Omnisend. However, as always, you're not alone! There's a step-by-step tutorial on how to set up and define the number of winners for a Scratch Card. If a Gift Box is more to your liking, you can find that tutorial here.
Join 70,000+ ecommerce brands building beautiful & engaging emails, quickly and easily.
Start Free Today
related features
Want more sales?
Omnisend has everything you need to succeed.
Start free now
No Credit Card needed.