6 Solutions for Contact List Building & Ecommerce Integrated with Omnisend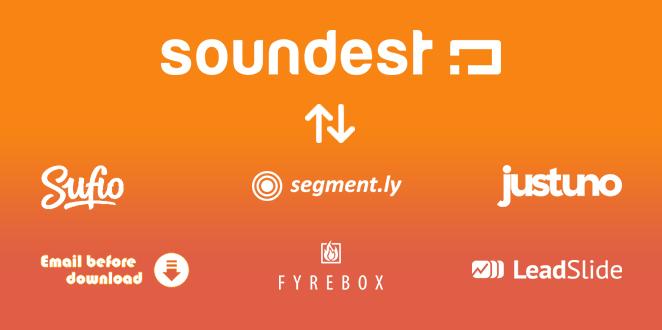 Reading Time:
5
minutes
The Omnisend team aims to provide our clients with the best experience in using multiple ecommerce solutions for their businesses.
For this reason, we have prepared a bunch of new integrations with tools that will enrich your business and help to grow your customer database for new email marketing activities.
Psst…don't forget to get your strategy in order first. Read here how to build an email list from scratch (an in-depth piece covering 9 proven methods).
6 New Integrations with Omnisend
FyreBox is an app for creating quizzes on your website and collecting emails for email marketing activities.

FyreBox offers you several fancy ways to entertain/ educate/ upsell/ engage with customers that have just visited your store. It also allows you to get their email addresses. These ways include:
Product selection quiz.

The quiz asks the customer a few questions and then takes them to the most suitable product page with the bright button "Add to Cart".

See the demo of this quiz.

Interactive competition quiz.

With this quiz you can test your customer knowledge and make them compete and win a prize. It helps you collect their contact information.

See the demo of this quiz.

Mini games: Word Search Puzzle and Hangman Game
The main benefits of this tool are the following:
Customers find quizzes entertaining and they actually engage with them. So you can upsell, educate customers, collect their data, etc.

It is easy to setup and use. All your new leads will be pushed to Omnisend contacts automatically. You may also push the data to your CRM system or to wherever you need it.

This tool provides built-in analytics with all the collected data.

It supports 9 different languages including English, Spanish, French, Arabic, Catalan, Gaelic, Russian, Hebrew, and Portuguese.
The tool is available for Shopify users. Get app now.
Learn how to integrate Fyrebox with Omnisend
Sufio is an app for sending automated invoices to your customers. From now on, you can add your invoice into a

"thank you"

email that can be sent with Omnisend.

Invoicing is necessary if you sell abroad or companies buy from your store. With Sufio, you can send the invoice by email and also include the link so it can be downloaded directly from your store.
The main benefits of this tool are the following:
It includes all required business information and is compliant with the local legislation of most countries.

It supports 20 languages including English, Spanish, German, French, Italian, Portuguese, Arabic, Chinese and the Scandinavian languages.

It supports stores that sell in multiple languages and multiple currencies.

It provides credit notes, delivery notes and cash receipts.

You can print and manage multiple invoices conveniently in one place, so it saves you time.

It will make you look a professional businessman and avoids troubles with your tax office.
Learn more about the benefits of invoicing
The tool is available for Shopify and Bigcommerce users.
Get the app for Shopify.
Get the app for Bigcommerce.
Learn how to integrate Sufio with Omnisend
Segment.ly is an app for displaying a targeted campaign for the right customer.
This tool provides many intelligent pop-ups and message top bars according to customer location, gender, language, purchase history, etc.
With segment.ly you can have:
Smart discount offers based on the cart amount

An introduction to new arrivals and sales using coupons

Pop-ups that collect your social media followers

Contextual welcome messages, limited offers, shipping arrangements, etc.

Subscription forms for collecting subscribers and pushing them automatically to Omnisend contacts.
This tool also provides different campaign scenarios: location-based and platform-based targeting, exit intent technology, and user behavior. This means that you can set different rules for different messages. In this way you can personalize your store and improve your customer browsing experience.
This tool is available for Shopify users. Get the app now.
Learn how to integrate Segment.ly with Omnisend
Email before Download is an app that helps you collect email addresses by offering downloadable materials.
The app is the perfect solution if you have just finished designing your "5 Must-haves this Summer" brochure and want to share it with your customers. With the few clicks you set up the campaign and start collecting new leads for your future newsletters.
The main benefits of Email before Download are the following:
It is easy to use and big files (up to 50MB) can be uploaded.

The downloadable file goes to your customer's inbox, so you avoid being cheated with fake email address.

It has different scenarios when to show your available offers.

It is a mobile-friendly solution

All new leads seamlessly integrate with your Omnisend contacts.
Tool is available for Shopify users. Get the app now.
Learn how to integrate this app with Omnisend
LeadSlide is another tool that can help you with contact list building for your marketing campaigns.

It provides:
Fully customizable pop-ups that capture leads and offer discounts to your customers.

Professional looking landing pages for highlighting your special products or marketing campaigns.
The benefits of this tool are the following:
You do not need coding skills to build your landing pages – building your product landing page is refreshingly easy.

It provides you with professional-looking templates and some fancy elements like Countdown Timer.

It is still young so you can have an impact on its development and maybe even have some special feature designed for you.
Tool is available for Shopify users. Get the app now.
Learn how to integrate LeadSlide with Omnisend.
Justuno is an app that will help you build your contact list for email marketing activities, improve your conversion rate and reduce cart abandonment by up to 30%. Sounds cool, doesn't it?
With Justuno you can set up cart recovery messages, collect social followers, discount offers, subscribe forms, shipping offers, and many more features.
All the messages above can be pop-ups or notification bars that stick to the top of a page and hang there during a customer's entire visit.
Features worth highlighting:
It has a comprehensive Pop up Editor and a wide palette of ready-made themes

It is mobile-friendly

No coding skills needed

There is the possibility to segment your audience

It provides exit intent technology

It integrates with social media

It provides real-time analytics

It works in any language
This app is available for Shopify and Bigcommerce users.
Get app on Shopify.
Get app on Bigcommerce.
Learn how to integrate Justuno with Omnisend
Learn how to convert website traffic into paying customers
That is all for today. Try these tools and grow your business day after day! Check out Omnisend for more new integrations.