We're very excited to announce that Omnisend has introduced a brand new email template to help you send amazing newsletters – Los Angeles.
Our users have been eagerly waiting for more templates, and we've been working hard to create a template that is both beautiful and functional. Los Angeles features a modern design that emphasizes a clean presentation with its prominent curves.
The overall look of Los Angeles' wavy lines lends itself well to feminine products in fashion and beauty. However, you can also alter the waves to achieve a more straightforward look with bold lines and angles.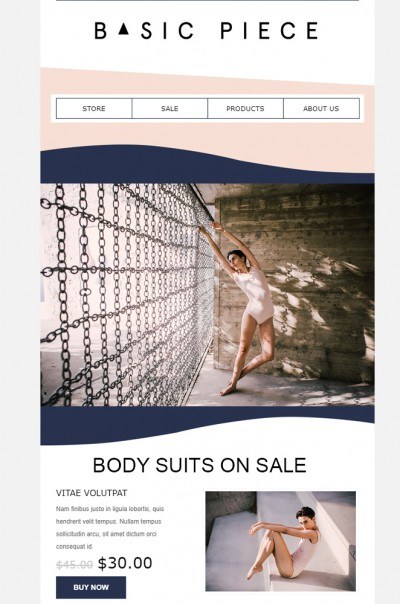 With Omnisend's customizable colors and fonts, you can change the look and feel of your email to suit your brand. That is one of the best parts of the new Los Angeles template – the ability to alter it as you wish.
Other platforms have templates that are much stricter in nature. Therefore, while you may find one you like, you cannot customize it to the degree of our new template.
In fact, that's what also makes it more creative—the ability and freedom to create your newsletter as you truly would like to see it.
This means that not only will you feel better about your own campaigns and communicate your brand your own way, but you'll also be able to speak more directly to your subscribers. In turn, you'll be able to surprise and delight your customers by more creatively communicating your brand.
The London, Atlanta and New York email template
Besides the new email template known as Los Angeles, Omnisend also has the London, Atlanta and New York templates.
Here is a quick overview of each and how to use them.
London
This is one of our first templates and is perfect for most newsletters and email campaigns.
London has a more standard layout that can be used for a wide variety of topics and content types, making it quite versatile.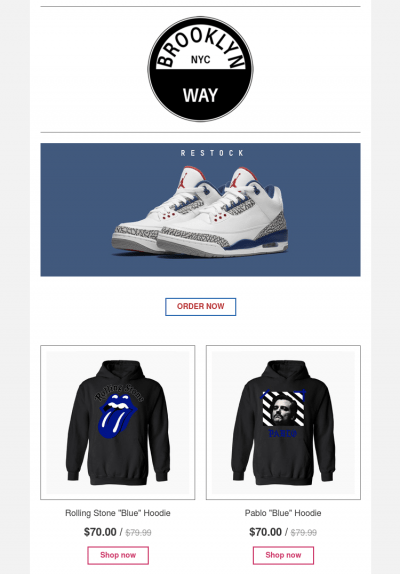 Atlanta
The Atlanta email template is a lighter, more minimalistic type of template that does away with borders and other standard details.
Instead, it provides a lot of room to breathe and experiment.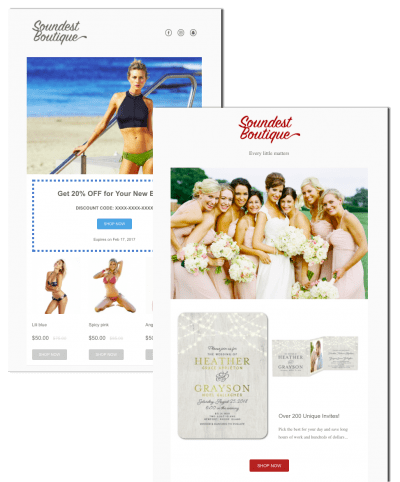 New York
New York goes for a bolder approach, with a strong style and character.
It is quite reminiscent of retro newspapers, and would do well with masculine type of products or content.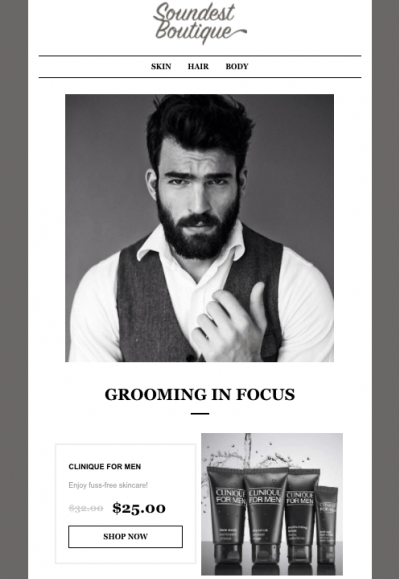 How to choose template and what to include
In order to build your next great newsletter or email campaign, you'll have to decide what template you want and how you'll be using it.
Usually, with a little bit of testing and playing around, you'll be able to see which templates work really well for your brand. Also, for inspiration, you can look over at these 10 newsletter examples for your next email campaign.
Determining what you should include in your template is another thing, which is why it's so helpful that Omnisend has a lot of features you can quickly drag-and-drop into your new campaign.
The three most popular and unique features we have in Omnisend include our Product Picker, Gift Box and Scratch Card.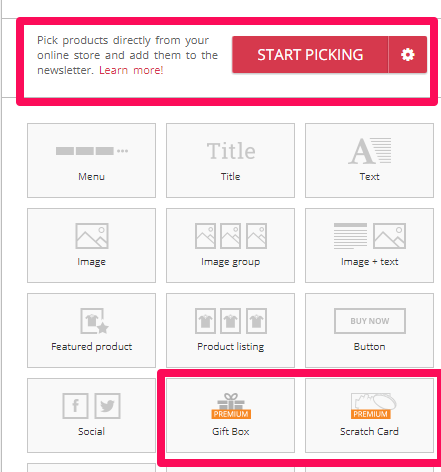 The Product Picker allows you to simply click on your products in your ecommerce store and it will be automatically added to your campaign (where you can adjust the order as you like).
The Gift Box will excite your subscribers by enticing them to click on a box in order to get their gift (usually a discount or offer), while the Scratch Card gets them to click and scratch to reveal their gift inside.
With so many options to not only choose a template but also what content to include, you'll see just how easy it can be to build a great, highly-converting email campaign.