By now we can already feel the gradual change in the seasons as the days are getting longer, meaning you'll need to start preparing your spring email campaigns.
Getting ready for the new season isn't something that's relevant just for shoe, clothing and home renovation brands. Instead, you can use effective spring email campaigns for virtually any niche.
After all, spring is a time for new starts, about planning for the year, and especially getting outside the home after the long winter hibernation. Therefore, if you can tap into the common spring themes, you can probably find a way to wake up your sales as well.
And just remember, there are some great spring holidays you need to be aware of in 2018:
International Women's Day (March 8)
St. Patrick's Day (March 17)
The official first day of spring (March 20)
April Fool's Day (April 1)
Earth Day (April 22)
And there are still plenty more.
So let's look at some great inspiring ideas for your spring email campaigns.
#1 Highlight the most "Spring-like" items in your store
Delight your subscribers on the first day of spring and invite them to shop for the most important or fashionable products for the new season. Tell them it's a great occasion for them to update their wardrobes, tool shed or other categories.
Have you seen the NordStrom newsletter? You can see how nicely the dresses are highlighted. The ladies in the newsletter seem gentle, youthful and fresh—just like spring. It is attractive, interesting and desirable.

#2 Send an International Women's Day email (March 8th)
Congratulate your subscribers (after you've segmented your women subscribers first) and remind them to spoil themselves.
Try to be more emotional, as this is a day to celebrate the political, economic and social achievements by women. The right image, an incentive or even a famous quote can come in handy.
These are the most popular woman-related quotes that are light and related to fashion:
"Give a girl the right shoes and she can conquer the world." – Marilyn Monroe

"Elegance is the only beauty that never fades." – Audrey Hepburn

"Beauty will save the world." – Fyodor Dostoevsky
However, you can also go for something a bit more meaningful by celebrating women, and doing so without any obvious promotional message:
"Well-behaved women seldom make history." – Laurel Thatcher Ulrich
"Always be a first-rate version of yourself, instead of a second-rate version of somebody else." – Judy Garland
This will be more related to building up your brand, rather than using the particular email to increase your sales.
In your business, you should always have a mix of long-term and short-term strategies and tactics.
But don't forget to add free shipping!
#3 Introduce top season trends and combinations
Combinations of clothing, shoes and accessories are trending at the moment.
People love it when someone offers stylish ready-made combinations. Use them! According to this season's trends, create combinations with your store products.
In this way you will create value for your customer as well as promote your products.
Since you have the combinations ready, you can use them in your emails and social media. You can also save them as a .pdf file or presentation, e.g. "Fashion guru tips", and publish them on your store.
Look, what nice products Silversands uses in their emails: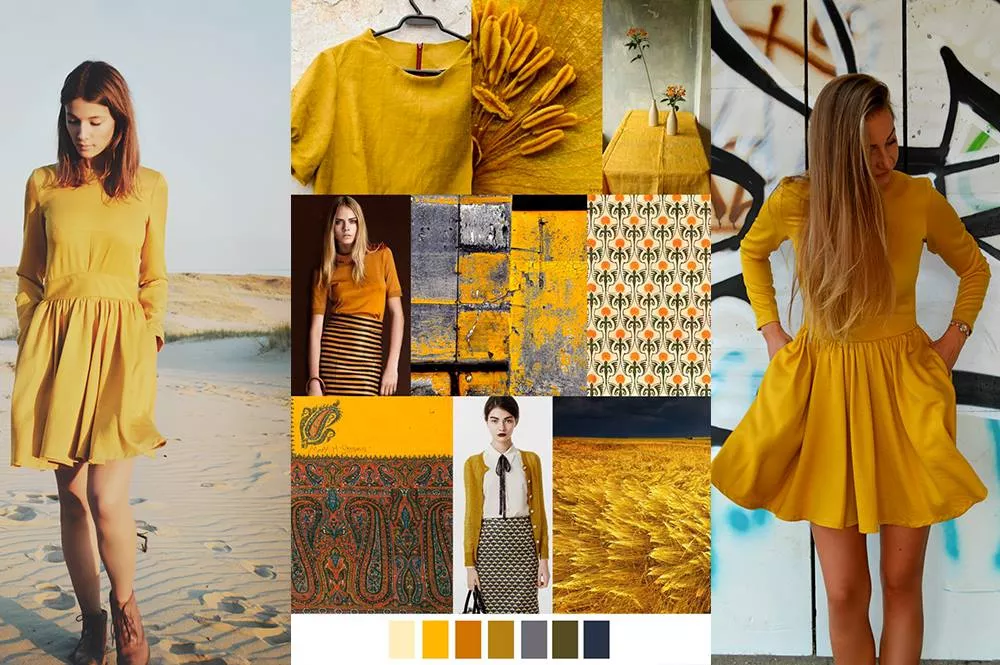 You can also look for an interesting interview with a "fashion guru" or celebrity talking about the season's trends. Embed this video on your site and write about it in your newsletter. We've written about how video effectively increases click rates earlier.
The purpose is to find more occasions to direct your subscriber to your website. A great example is the recent Asos.com newsletter.

#4 Organize a winter clearance or garage sale
Do you have leftover items you could sell to make room for new arrivals? Dedicate a week for a final sale, if you still haven't done it already. Consider sending campaigns of 2-3 emails.
Highlight the sale in the subject line and preheader. If you give discounts for all your goods, you already have a clear message ("all stock on sale").
However, if the sale is going to be only for particular items, how do you know which one to highlight? Show those items that generated the most interest in your store.
They will drive direct traffic to your online store and help customers discover less popular stuff.
#5 Entertain your subscribers with a lottery
Omnisend (previously Soundest) users can send a Scratch Card to their subscribers. It is an interactive email feature that doubles or even triples the click rate.
Scratch card ideas:
Announce a lottery with a defined number of winners and let your subscribers scratch for the prize—such as a discount, free shipping, or something from your store.
Hide an inspiring quote that makes your subscribers smile or visit your store and buy something for themselves.
You should try our unique Scratch Card. Keep in mind that the Omnisend 14-day Premium trial includes this feature:

As an alternative to Scratch Card, try our high-converting Gift Box.
The settings of the Gift Box enables you to control the number of giveaways that you want to share. If you are familiar with the Omnisend Scratch Card, a Gift Box setup will look the same.

#6 St. Patrick's Day spring email campaign
St. Patrick's Day is getting more and more commercial every year. Along with Ireland, all English speaking countries more or less celebrate this day by wearing green and organizing parties.
In the USA, 52.3% of the population celebrate St. Patrick's Day and in 2017 they spent $5.3 billion.
This is one more occasion in which you can send an email to your subscribers. If on the St. Valentine's Day people buy red items, on St. Patrick's Day green is king.
Just look at the chart below at what people do on St. Patrick's Day.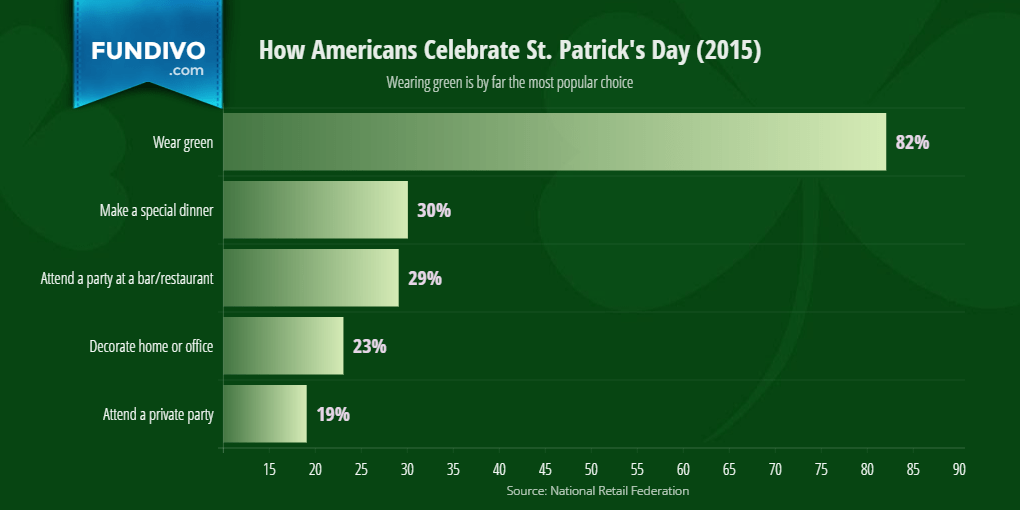 Source: Fundivo.com – St Patrick's Day statistics and trends
For a fresh-looking email design, you can also try one of Omnisend's many email backgrounds dedicated to St. Patrick's Day as well as our beautiful email templates.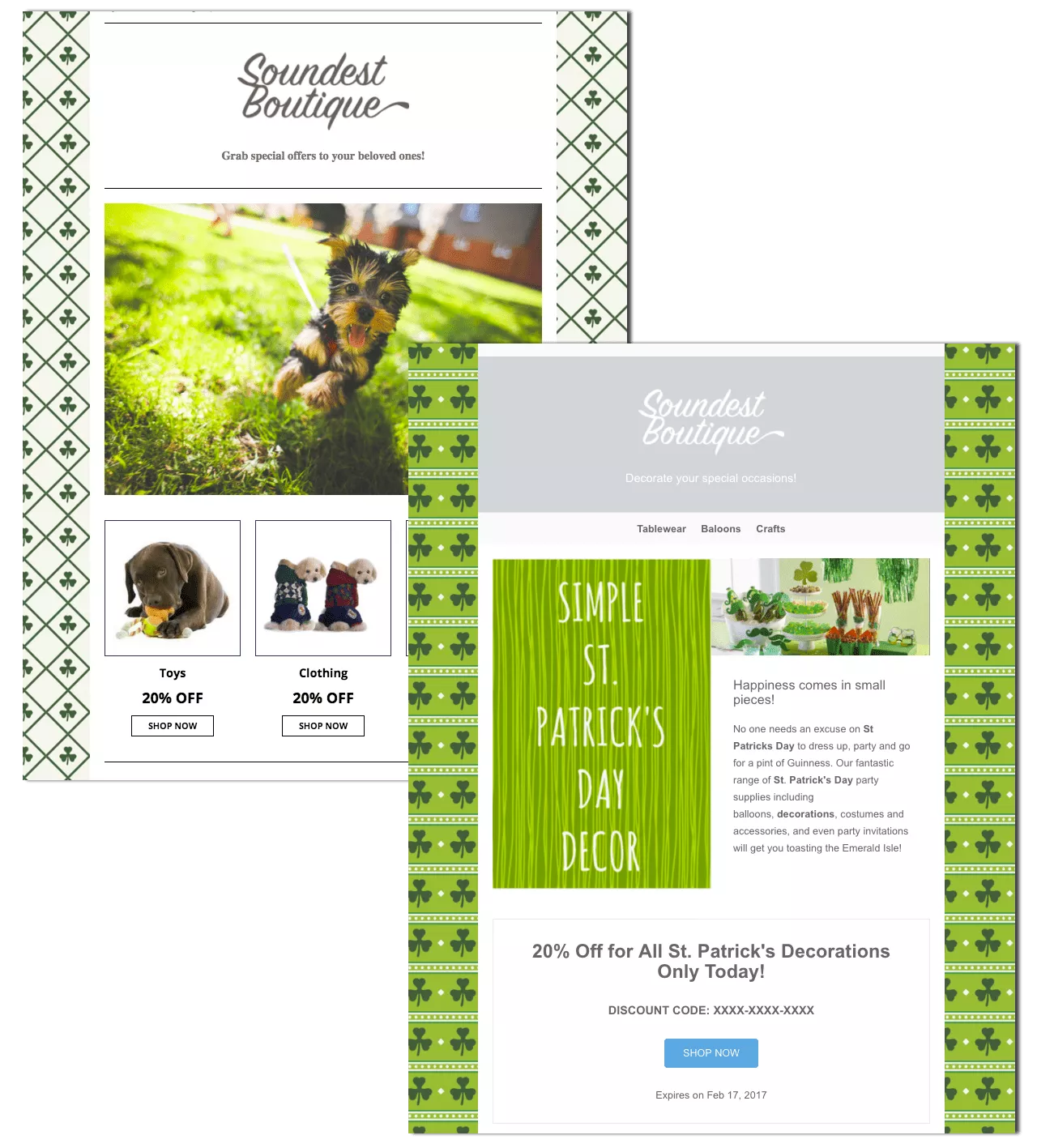 Bonus reminder
Update your signup pages and pop-ups. Change the colors and the copywriting, and this will help you boost new sign-ups for your spring email campaigns.