Summary of State Email Report 2017 by Litmus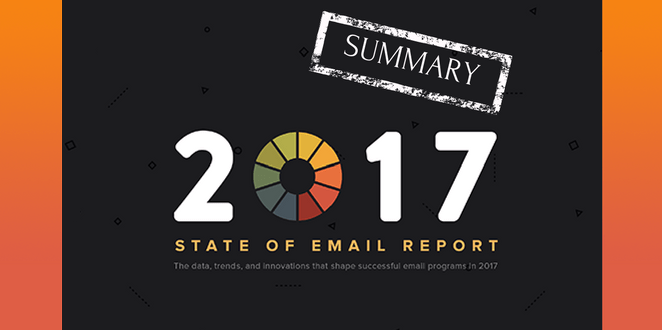 Reading Time:
7
minutes
A few weeks ago a leading figure in email world – Litmus – published its yearly State Email Report 2017. This huge comprehensive report reveals latest trends, changes in email policy and other important information that email marketers must know.
However, Litmus keeps a high professional level and though the language they use is simple, some technical information is difficult to understand for non-tech readers. That's why we are providing you with a summary of the State Email Marketing Report 2017 with the most important things you cannot miss out.
Chapter 1. New email clients, apps, and operating systems
This chapter reveals news about how your customers open emails, what email apps they use and what is important to bear in mind when sending email campaigns.
The biggest news is that new Apple operating system iOS 10 enables customers to delete pre-installed default apps, including the iOS Mail app. It means that iPhone users can freely switch the default app to their preferred email app and your distribution of email opens may shift away from the iOS 10 Mail app. Hopefully, it won't be an Outlook app and their experience to view the emails won't change dramatically.
Litmus advises:
Look for trends among your subscribers and be sure to stay on top of any major email client changes so you can better target your audience.
Get your free copy of 120+ Email Marketing Resources
Chapter 2. Email client updates, changes, and farewells
Most of the major email clients had updates in 2016, that will have a big impact for email design this year. These are the main changes introduced by Litmus:
Gmail started to support media queries and adjust content size to the screen size. In other words, more than 1 billion monthly Gmail users finally can enjoy responsive emails.

On the other hand, Yahoo! creates one of the most inexplicable choices in 2016. Yahoo! Mail Android app drops support for responsive design. It means that these users view desktop version of your emails on their mobile screens.

Windows 10 Mail (not Outlook) due to its flexibility to use Gmail, Yahoo!, AOL and even custom IMAP accounts without Microsoft account, has become incredibly accessible and takes #9 spot in the top 10 most popular email clients in 2016.
Litmus advises how to avoid quirks with Windows 10 Mail users:
Bearing in mind that some of your subscribers read your emails in Windows 10 Mail, try to be short with your subject line as well as preview text (up to 34 characters each).

Background images are not supported in Windows 10 Mail, so always include a fallback color. Omnisend users get fallbacks automatically.

Use a web-safe font such as Arial in your emails to prevent a fallback to Times New Roman. Read more how

Omnisend has solved issues with web-safe fonts

for different email clients.

This email client also does not support animated GIF images. This means that only the first frame of animation will be shown as a static image, so choose the first frame wisely.
Chapter 3. Email client market share
This is one of the most interesting chapters in the State Email Report 2017.
Litmus has tracked over 13 billion email opens in 2016. They have noticed these changes in the market:
iPhone, Gmail, and iPad remained the top three email clients

Android remained in the #4 position but dropped more than 2% along the way

Yahoo! Mail dropped from #7 to #8

Thunderbird lost the #10 spot to Windows Mail; then Windows Live Mail and Windows Mail flip- flopped to #10 and #9, respectively
See the chart below:
Mobile, webmail, and desktop trends
According to Litmus, mobile began and ended the year at 54%. Meanwhile, desktop began the year at 19% and dropped to 16% and webmail began the year at 27% and grew to 30%.
Email marketing trends go hand in hand with the web. The percentage of B2C brands using mobile-friendly email designs grew 88% over the past two years.
So the main idea is that "mobile isn't a nice to have any longer." It's a necessity, the absence of which causes opt-outs and spam complaints. "51% of customers have unsubscribed from a brand's emails because their emails or website didn't display or work well on their smartphone." – reports Litmus.
Litmus advises to use mobile-aware design
To avoid email design quirks with email clients that do not support mobile, Litmus suggests to design a single-column emails with large texts and well-spaced buttons. This way, your emails will look good on all devices and with all email clients. Follow these tips:
Think of "tapping" rather than clicking. The buttons should be at least 44px square.

Structure your email in single-column design. It will make your content easier to read for mobile openers.

Use large text to improve readability on mobile devices. Litmus recommends at least 14px for body text and 22px for headlines.

Changes in Gmail and Microsoft
In 2016, email opens in Gmail have grown, now covering 20% of all email opens. According to Litmus, this could be because companies are moving to cloud-based solutions from desktop email applications.
The same tendency is in Microsoft. In desktop, Outlook dropped from 7% to 6%. Meanwhile, Outlook.com grew from 2% to 5% throughout the year.
"Microsoft and Google continue to invest in cloud-based email solutions, and businesses seem to be following suit—moving away from installing Outlook on employee machines and using services like Office 365 and Google Apps instead."
– Justine Jordan, VP of Marketing at Litmus
Chapter 4. Email industry movers and shakers
This chapter discusses the major partnerships that will shape future email marketing.
Litmus has teamed up with Microsoft. They will work on email rendering bugs that Outlook has, identify issues and announce about fixes to the community. From now on, you may also report Outlook rendering and support bugs to the Litmus and Microsoft teams. Send HTML samples and screenshots to outlook@litmus.com.

Microsoft bought LinkedIn. Some changes might be implemented into LinkedIn very soon. Litmus names the following:

LinkedIn messaging could be replaced by Outlook 365.

LinkedIn contacts could integrate into the Outlook address book.

Improved experience of LinkedIn and protect from spam.

Verizon acquired Yahoo and AOL. It seems they are going to standardize these two platforms on a single email rendering engine and consolidate some backend operations. So the user experience should be improved.
Litmus advises to watch your email open metrics as market share may shift
The changes might be initiated by Apple's iOS 10 allowing users to delete default Apple apps and Verizon strengthening their Yahoo and AOL's email rendering.
The new patent to manage non-authorized emails has been registered. Spacey and Brunetti came up with the idea to establish the whitelist that lets in emails from approved senders and turns all other emails away. This solution should help protecting inboxes from non-authorized email senders and numerous promotional messages. It seems like a huge change in email world.
Chapter 5. Spam, deliverability, and security
Litmus reports that "consumers' definition of spam is changing, and email marketers must change their practices accordingly.[…] Any unwanted or poor email experience can count as spam."
"Whether an email user reports an email as spam is now affected by more than just by the content of the email itself. It's also affected by the mobile app or web landing page experience, as well as the person's recent experiences with the brand in other channels."
– Jordan Cohen, Fluent's Chief Marketing Officer
Litmus provides you with checklist for avoiding spam complaints and unsubscribes
Improve your permissioning to ensure that the consent to opt-in to your email program is strong

Send relevant emails at a good cadence

Create mobile-friendly emails

Create mobile-friendly landing page experiences

Make opting out easy to avoid frustrating subscribers

Don't send emails to subscribers who have just had poor customer experiences

Maintain your subscribers' interest
Changes in international legal requirements for 2017
Your email marketing activities should comply with international laws where your subscribers are opening your emails, not where your company is based or where you are sending from. If you are based in the U.S. but your subscribers are from Canada, you have to comply with the regulations in Canada, in particular, CAN-SPAM and CASL.
Litmus provides you with tips to follow:
Only send emails to people who've opted-in to receiving your messages. Keep records of those consents.

Include a working unsubscribe link in your emails.

Make sure your subscribers can easily identify you as the sender. Include your brand's name within the mailing and choose a distinct from-name.

Allow subscribers to easily get in touch with you. Include a valid postal address and contact email address in each mailing and make sure your reply-to email is working.

Be honest. Don't hide the commercial character of your email and never use false or misleading subject lines or content.
In 2017, email marketers will have to pay special attention to these two regulations:
General Data Protection Regulation (GDPR): The EU's new privacy law was adopted in spring 2016 and aims to bring order to a patchwork of privacy rules across the EU. This regulation will go into effect May 25, 2018.

The Canadian Anti-Spam Law (CASL) has been around since 2014. However, certain provisions on private right of action will take effect July 1, 2017. Don't miss them.
For more details check out the State of Email Report 2017 by Litmus, Page 59.
Chapter 6. Email marketing trends
Simply put, "from delivering relevant, personalized experiences to automating your email workflow, here's what will become table stakes in the next few years."
In particular:
Automate your email workflows to be relevant and save time

Start creating email templates and using them for your routine email campaigns. Change the copy, some design elements, but keep the critical elements: brand colours, logo, etc. You will save a lot of time.

Drive relevant, contextual, delightful emails. To truly engage your subscribers and make your email stand out, you must surprise and delight them with personalized, relevant campaigns. It can be live content (

videos

or counters), gamification (

Gift Box

) or interactivity (

Scratch Card

).
So this is about it. We strongly recommend to read the full version of Litmus Report 2017.
Let's make email better!