Using Video in Email Marketing Can Double Your Customer Engagement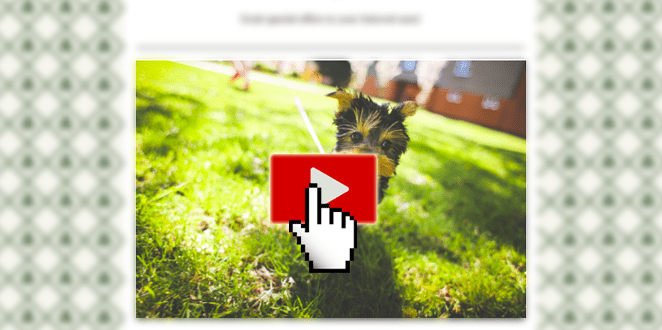 Reading Time:
5
minutes
"Interactive content" has become a buzz words in recent years. Ad agencies and marketing teams are looking for innovative solutions every day.
Although, using videos in the newsletters will not surprise anyone, still there are thousands of online stores that haven't tried it and are not yet reaping the fruits of their labor.
Recently I have analyzed how an interactive Scratch Card element influences the email campaign performance. There are clients that improved their click rates two, three, and even four times! Let's see how videos in the emails can affect your overall newsletter performance.
General Results of the Email with Video Performance in the Last Twelve Months
In different marketing blogs, you can find different data about the effectiveness of videos in newsletters. The difference in numbers is so big that it's hard to understand which of those numbers are true.
For this blog post, I use the Omnisend data from the last twelve months (March, 2016 – February, 2017). More than 400 different online stores have sent over 2,000 email campaigns with video element inside the email.
So, what are the general results?
The average open rate of email campaigns with video is 18.9% and it matches the average promotional email open rate (18.8%, Omnisend, 2016). This seems right because the content does not influence the email open rate. The main influencer for this number is the subject line.
This result is terrific because, when the open rates match, we can better compare the rest of email campaign success indicators – click rate and conversion rate of the emails.
So, the average click rate of promotional emails with videos is 8.98%. Do you often receive such a great click rate? Our data shows that the average click rate of small ecommerce companies reaches 3.82%. It means that the video doubles the average click rate of your email campaign!
See the chart below: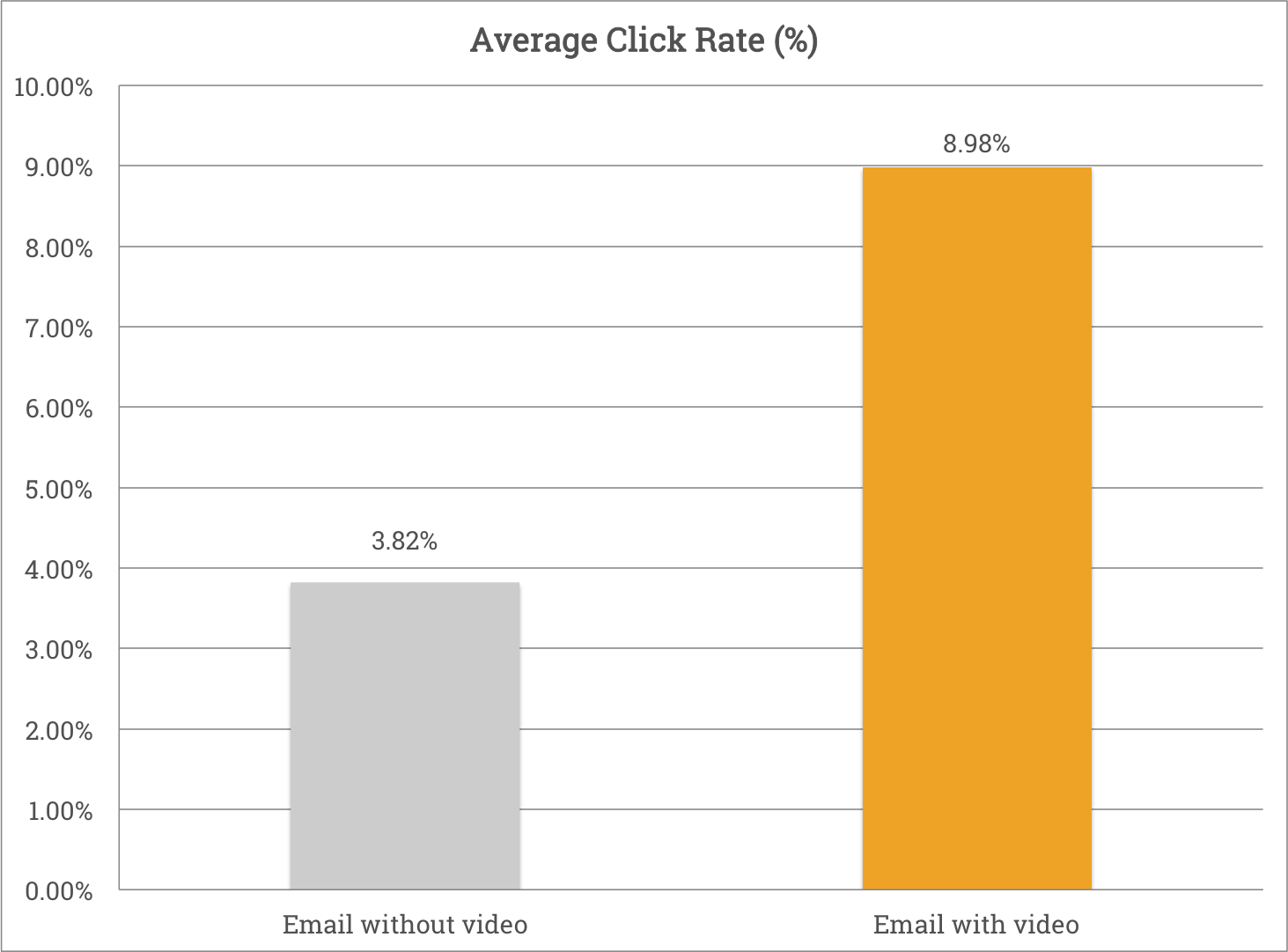 [inlinetweet hashtags="smallbiz" handle="Omnisend]Does the bigger email reader engagement mean better conversion rate? Hell, yes, it does![/inlinetweet] The average conversion rate of emails with videos is 0.39%. Meanwhile, a promotional email without any interactive elements is only 0.17%.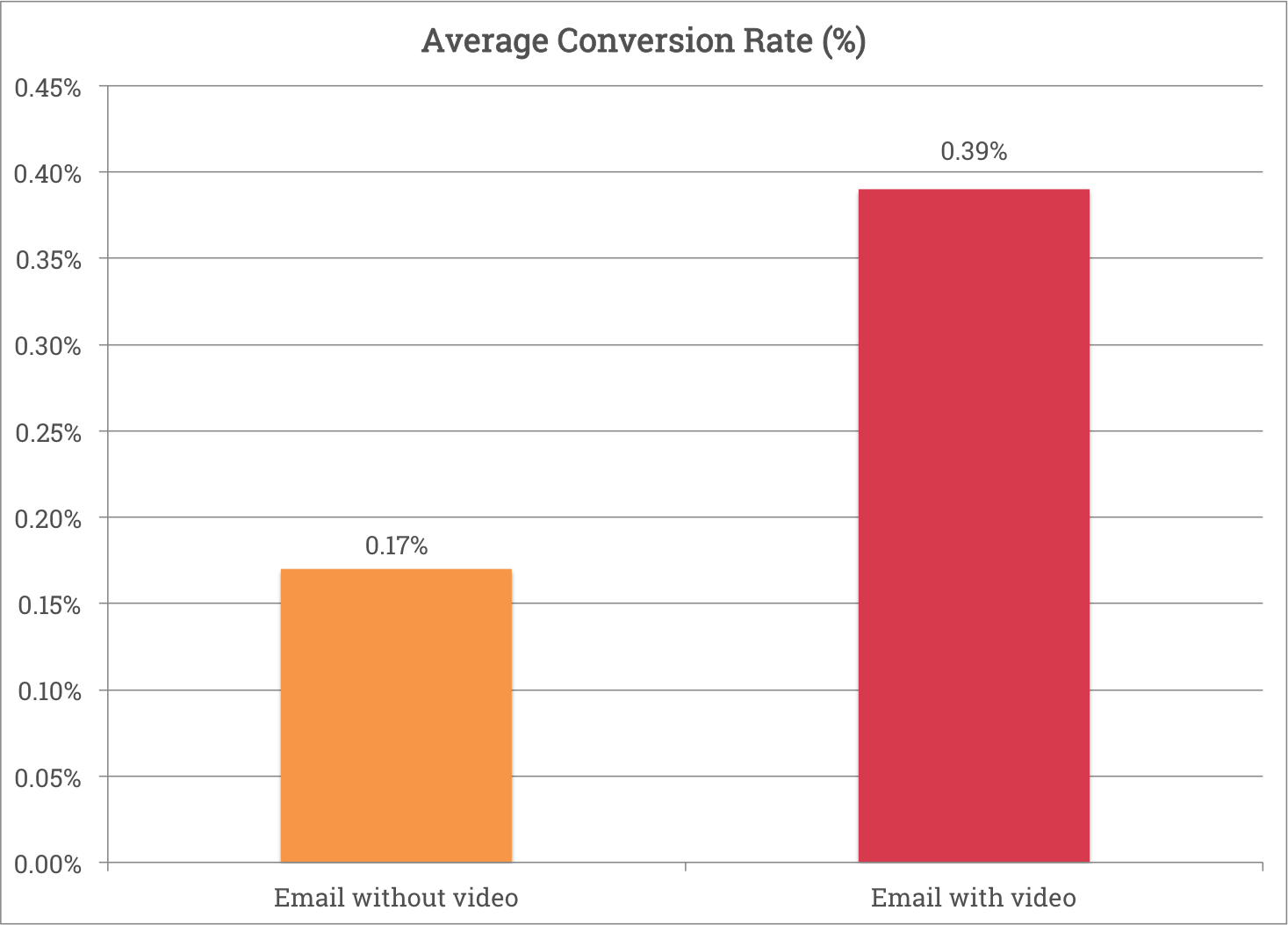 Now to avoid talking only average numbers, let's see some particular examples.
Get your free copy of 120+ Email Marketing Resources
Case Studies of Using Video in Emails
Example #1. Evolve GT Skateboards
This online store sends great email marketing campaigns every week. It seems that these guys have their email marketing strategy and provide great benefits to their subscribers. I'm saying so because they have a healthy engagement rate and great conversion.
Evolve GT has made an introductory video about their newest skateboard. It's a short 44 second video with the main perks of new product. See the video here.
Now, let's see a Click Map report of one of the campaigns.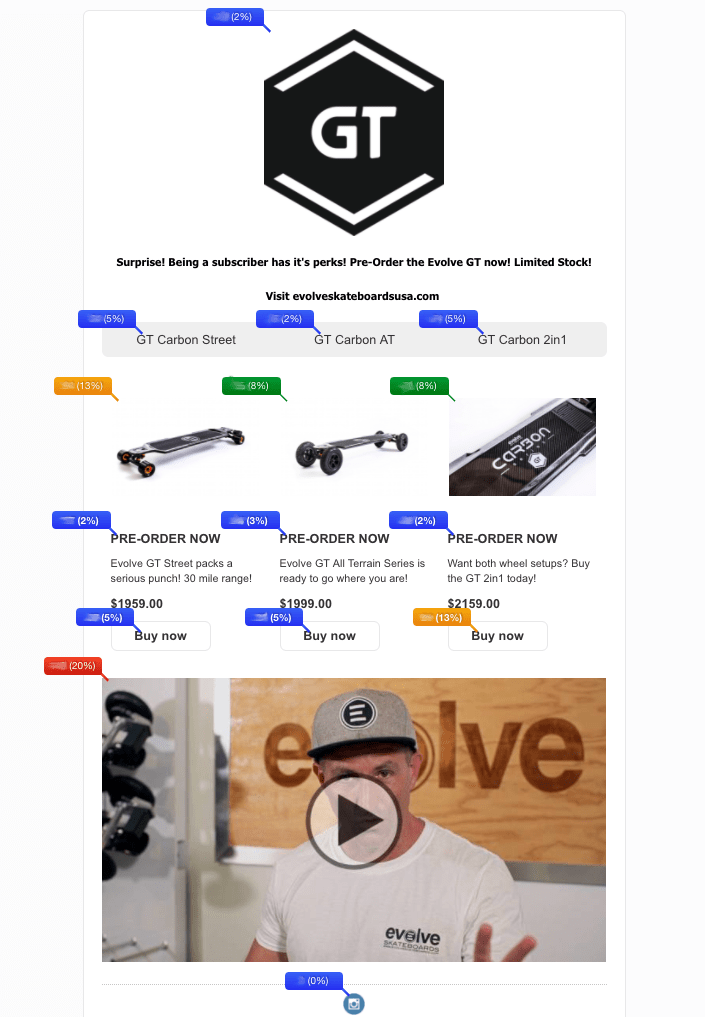 20% of all clicks were made on the video. After watching the announcement about new product, they want it even more. This email ended up with 1.85% conversion rate. For a promotional email, it's huge!
Video Marketing enables you to showcase your product better and provide the most interesting and promotional information about it right away. It helps your customers make a decision.
Example #2. DOOG
Another example is an online store that sells an outdoor gear for dog owners. They have sent a short funny video from the latest product photoshoot. It seems that they are having fun and transmit that emotion to subscribers.
Although, the video does not communicate any direct promotional message, it helps to make an emotional connection with the brand.
See how it looks in the email:



You can see the video here.
Tips and Ideas for the Videos in Your Email
There are no strict rules on what video you should use in your emails. However, think about what content would promote your products and make customers want to purchase at your store.
If you still have no clue, use some of these ideas:
Demo of the products that are in sale.
A look book from new collection.
Your branding video.
Ideas about what to do with the bought items. For example, if you sell clothing/accessories, for your holiday campaign, you can add a video of eight ways to wrap up your Christmas presents.
Professional lectures about the beauty can perfectly fit, if you sell skin care products.
Training courses, makeup lessons.
Videos, such as "How do we make this?", introducing your story. Customers will love to look behind the scene.
Video blogs.
Customer testimonials, unboxing videos. If you have a video of your customers talking about your brand, add it for sure! The positive feedback makes the customer feel safe and to make a purchase.
As you can see, you can use many types of videos created by you or someone else, that perfectly fits your topic and can encourage your subscribers to purchase.
Note: Currently, due to email clients' differences, it is impossible to successfully show the video directly in the email. In your email, only an image of the video or animated GIF can be shown and linked to the other source with video. So, if your video is published on Youtube, your subscribers will be linked to Youtube.com to watch it. The tip that comes to my mind is to embed your video to your store and link it directly to your store. This way, you will lead your email subscribers to your store, not to Youtube.
How Should I Add the Video?
Some of the email service providers, including Omnisend, provide video embedding and setup right in the content editor. You can add video to your campaign seamlessly, just like image or product element.
Key Takeaways
Subscribers react positively to any interactive element (videos, scratch cards or gift boxes) on the emails.
Video and other interactive elements in your email campaigns usually result in significantly higher customer engagement. Averagely, it doubles the click rate as well as number of orders.
There are many different video types that can be included into the email, starting from new product announcement, ending up with gift wrapping ideas found on the Youtube.
Adding video is as easy as anything else in the Content Editor, so your experiment with using video in the newsletter won't take any longer than a usual bulk email campaign.