Silver Street Jewellers is a family-owned business, selling affordable, beautiful, and ethically-sourced gemstone jewelry.
Over the past 15 years, owners Marie and Wes, along with CEO Laura Greenshields, have evolved the business model to meet customer demands, first from operating a brick-and-mortar location to exclusively doing trade shows and pop-up stores across the country—attracting thousands of people over a single weekend.
Like many small business owners, the idea of following consumers online was hovering over them for some time—but the time to make the move was never quite right. After all, they were busy traveling, weren't overly familiar with online marketing strategies, and business was going well.
Then everything changed.
Making the sudden move from offline to online
As COVID-19 emerged and mass gathering were outlawed, their business model, and sales, had come to a standstill. That was the tipping point for online expansion and it was time to act.
Luckily, prior to the pandemic, the brand was collecting customer information for sending both postal mail and email informing their audience about upcoming shows in their city. They had the data, but not the tools.
There is a natural learning curve with digital marketing, and, as Laura mentioned, suddenly moving from offline to online made them feel like they had to be experts in all channels and their nuances. It was a daunting task. But having used Mailchimp to send announcement emails they had a baseline to work from.
"We knew that to be successful at ecommerce we would need more capabilities than Mailchimp had to offer," says Laura Greenshields.
After some research, they had a clear vision of what kind of tool they needed to be successful:
SMS for instantly reaching their customers.
An easy-to-learn platform.
An all-in-one solution for easy maintenance of all their marketing actions.
A strong and easy integration with Shopify.
Having built their ecommerce store on Shopify, they knew they needed a company with strong integration. They discovered Omnisend and found it to be a sophisticated tool that checked all of their boxes, without the hefty price tag. As they dug in, their team found it easy to use—starting their journey into ecommerce marketing automation.
"Overall, it has been easier than I thought."
The first ecommerce steps to re-engage with the audience
Email + SMS campaigns
Wes did research and discovered text messages have high response rates and were "relatively new" in the digital marketing industry. He knew they had great potential, and having already been collecting this data from their customers, they saw an immediate opportunity—hence the requirement from their new marketing provider.
They needed to turn their offline awareness into online awareness. They started with Omnisend by sending text messages saying:
"Hi! This is Wes from Silver Street. Since we won't be doing any Gem Shows in SK soon… The show is now online! Click here to be taken to our new website: osend1.com/XXX."
"SMS is powerful because you can see a huge traffic jump immediately after you send an SMS campaign," says Laura. Of course, many visitors leave without staying longer, but they still interact with your brand and it's important to stay on the top of customers' minds."
Silver Street also combined channels by using SMS to drive awareness for their email campaigns:
"Hey, check your email. Just sent you some awesome coupons!"
These initial email campaigns generated great results—a nearly 25% click-through rate and a $0.07 revenue-per-email (RPE). These helped them to re-engage with customers, generate online awareness, and drive sales.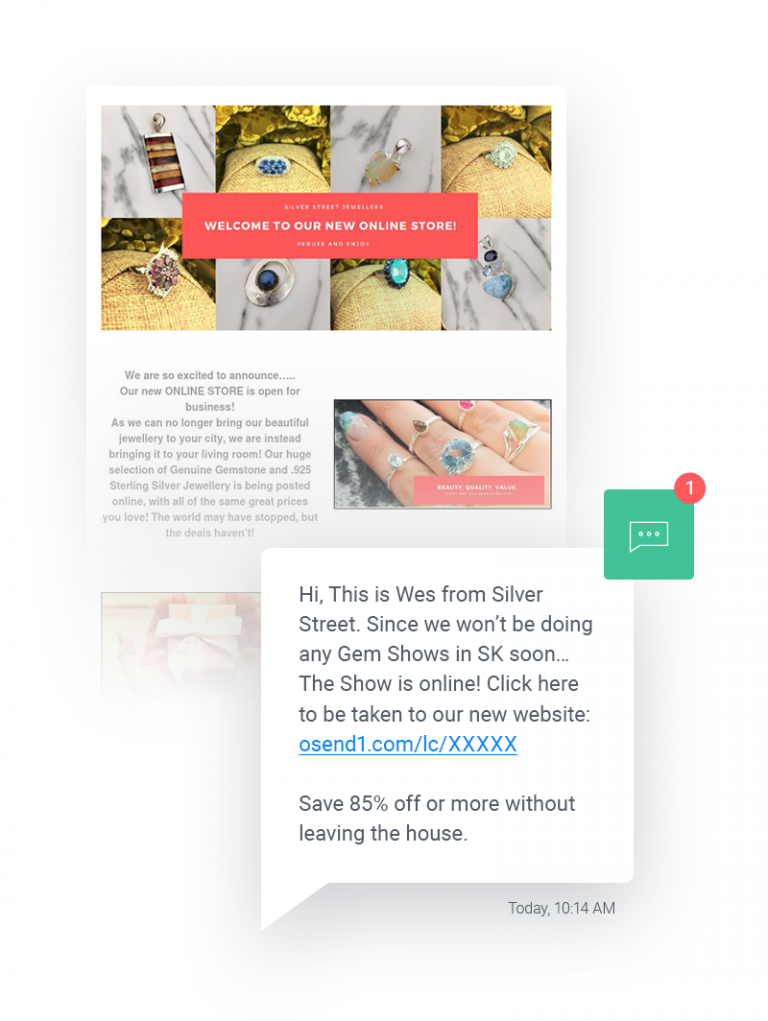 The true gem of marketing automation
Another immediate goal for the company was to implement their marketing automation programs, and they moved quickly.
They launched an automated welcome email, as well as cart, product, and browse abandonment messages—all of which are performing extremely well.
When asked why they decided to begin automating messages and why they chose these four to start with, Laura was confident:
A welcome email is a must-have tool for every business. And tackling cart abandonment seemed like the low hanging fruit. Product and browse abandonment seemed like natural add-ons.
Laura Greenshields
CEO of Silver Street Jewellers
She added that while she doesn't want to have all communication automated, not to convert already engaged customers would be a lost opportunity—and she was right.
These automated messages are generating 38% of their email revenue, with some messages boasting RPE numbers in excess of $4 while accounting for less than 3% of their total email sends.

Results that shine
By combining email and SMS campaigns and quickly setting up a few marketing automation workflows, they saw 100% month-over-month growth. In the first few months of selling online, they generated $100K, with nearly $60K coming from email marketing—paying for a year's worth of Omnisend in only the first two weeks.
Consider the impact each of these messages plays into their omnichannel success: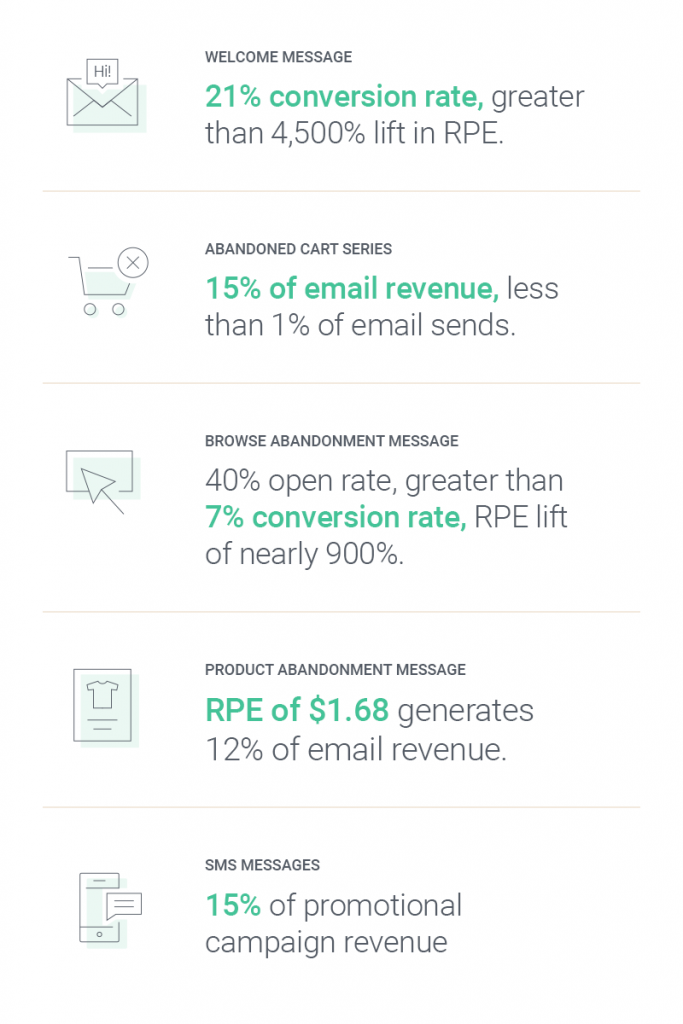 On the results, Laura had to say, "Although it's still a fraction of what we had before, it's a fraction in cost as well. But the increase in online sales is very rapid." Before adding, a little light-heartedly, "To my calculations, if we keep that momentum every month, by this time in 2021, I will be a billionaire."
Looking at these results, she may be right.
Finding the silver lining
Silver Street Jewellers made a massive step toward a successful online business in a very short period of time—and they're only getting started.
Email marketing is now the primary source of revenue for them, but they know they are just scraping the surface with other channels. They are now using Omnisend's Facebook Ads audience sync to retarget customers on Facebook, further contributing to their $100K in sales.
The post-pandemic world will never be the same, and neither will their business—but in a positive way. Because of their online success they are presented with some new, exciting opportunities.
They are now considering reducing the number of in-person shows (which is great for family-time), improving the website, and expanding into new markets previously not possible.
I guess it's true: Every piece of jewelry does tell a story—and what an amazing story it is.