Drive sales on autopilot with ecommerce-focused features
See Features
did you know
Omnisend customers automate 32% of their email conversions. Are you maximizing sales?
automate my sales
Reading Time:
13
minutes
Many merchants tend to turn to Klaviyo for their email marketing needs because they believe the myth that "to earn a lot from email marketing, you need to spend a lot on email marketing."
However, Klaviyo's steep pricing, spotty deliverability rates, and somewhat lackluster support can often turn users away. Luckily, when it comes to email marketing for online merchants, there are a plethora of Klaviyo alternatives out there.
These Klaviyo alternatives — and especially the number one alternative, Omnisend — easily busts that myth by providing even better features with much, much lower pricing.
We've compiled the 6 best Klaviyo email marketing alternatives if facing those Klaviyo drawbacks is no longer your jam.
But before we get started, we need to talk about Klaviyo so you can understand how I've reviewed each tool:
Klaviyo: an overview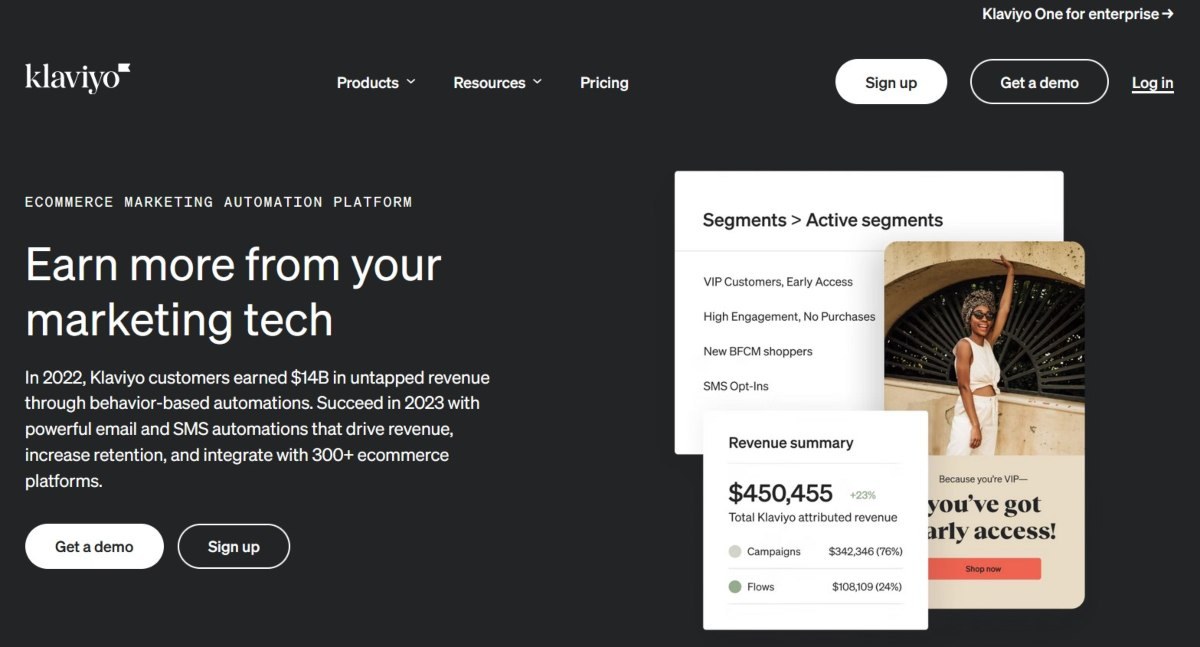 All in all, Klaviyo is a very complete tool. As with many email marketing tools today, Klaviyo offers a suite of marketing automation features, including email campaigns, text messages, automated workflows, email capture and popups, advanced segmentation, and more.
When creating campaigns, Klaviyo has a drag-and-drop interface that allows you to build emails easily. While the builder is, overall, user-friendly, there are some questionable elements. Adding products and customizing the email is pretty easy, though.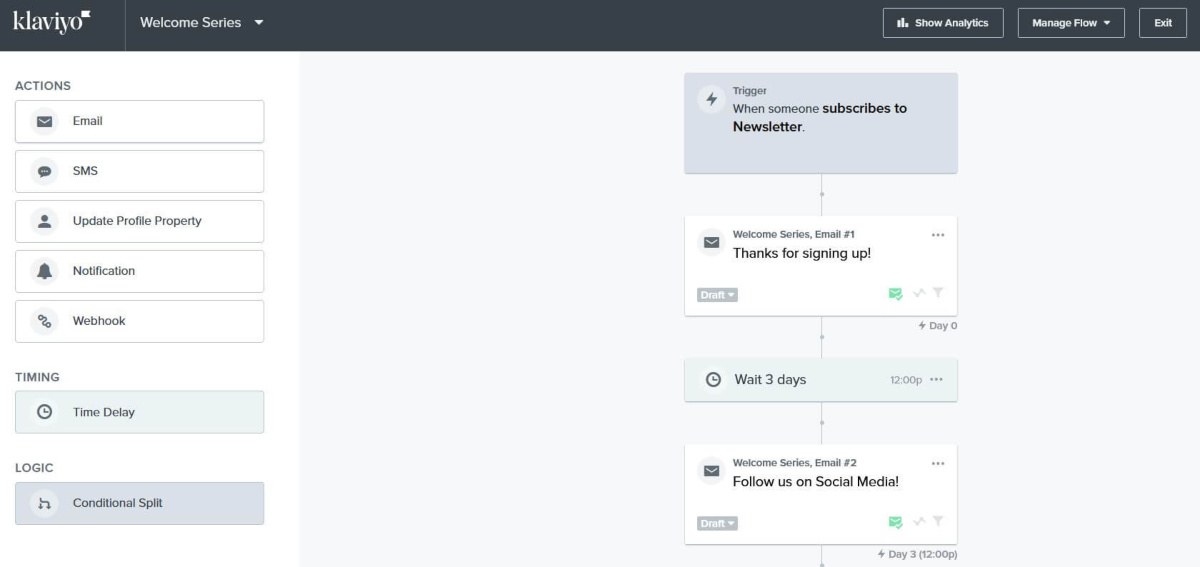 Klaviyo email automation is where this tool shines: the platform proposes different kinds of flows to experiment with when you're just getting started: for example, your welcome series and browse abandonment flows.
You can automate a certain email template every time you get a new subscriber. This helps new users get an idea of where they should start.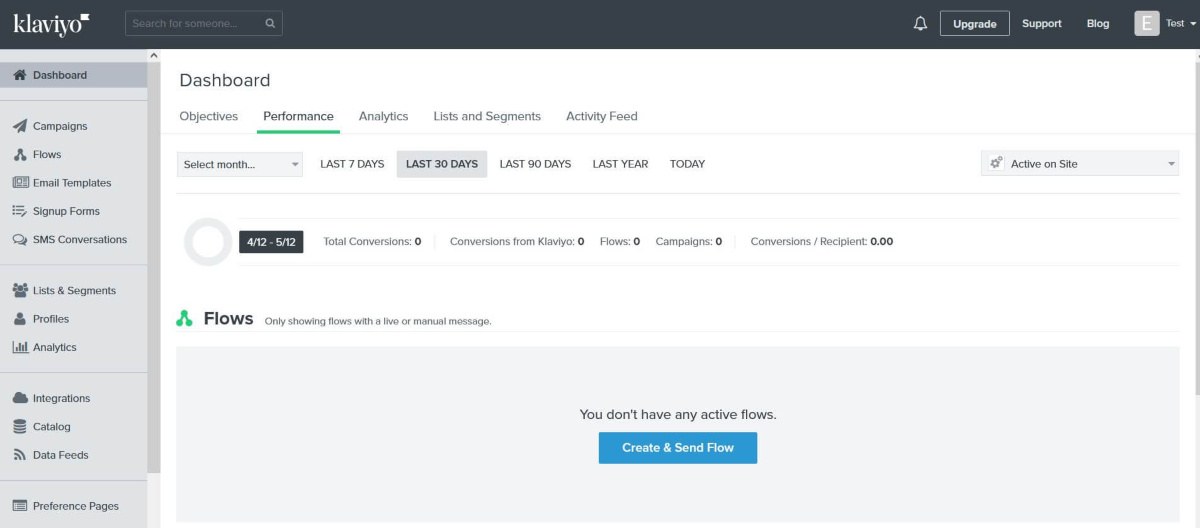 With the ability to create detailed automated flows and precise segmentation, there are tons of things Klaviyo can do.
Klaviyo pricing:
When you look at Klaviyo reviews across the web, if there's one thing that turns more people away from the platform than anything else, it's the Klaviyo pricing plans. Klaviyo is by and large the most expensive tool on this list, and its pricing can be tricky to work with.
Klaviyo offers a free plan up to 250 contacts and 500 email sends per month, with imposed Klaviyo branding. If you're really just getting started, it can work well. However, scaling with Klaviyo can get expensive quickly.
At 1001 subscribers, Klaviyo jumps to $45 per month, and at 2501, it's $70/month.
You can expect your subscription to go up by $10-15 for every 500 subscribers you add up to 3000 contacts. After 3000 contacts, the price goes up every 1500 subscribers, but by then, you're already paying $80 per month.
Klaviyo's pricing plan exists only for email marketing. When you add SMS into the mix, Klaviyo adds on more depending on how many SMS messages you want to send. For example, if you had 2500 contacts, and you wanted to send only 1250 of them one SMS campaign per month, your Klaviyo pricing would look more like this: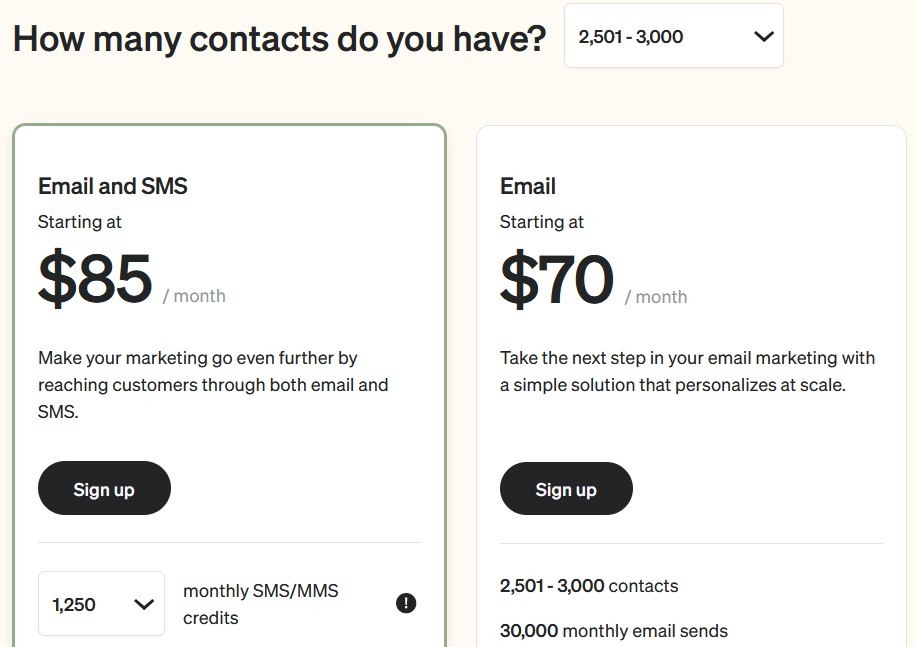 Regardless, Klaviyo's pricing might put this tool out of your budget.
But never fear. There are a few great Klaviyo alternatives you can use that won't put too much strain on your wallet.
Klaviyo support:
Starting February 1, 2023, Klaviyo has discontinued its unlimited email support for free users. This means that if you're on their free plan, you'll no longer have the luxury of reaching out to their support team directly for help after you pass your first 60 days as a free customer.
Instead, you'll have to dive into the depths of their extensive knowledge base, browsing through hundreds of articles to find the answers you're looking for. This can be extremely frustrating, especially when you're in a hurry or facing a critical issue.
Unfortunately, this isn't the only drawback to Klaviyo's support. There have been complaints from Klaviyo users that their support team takes breaks during busy ecommerce dates like Black Friday and the Holidays, which can leave people hanging in those crucial moments.
As a result, Klaviyo's new support policy may not be the best news for either their free users, or merchants who tend to rely on seasonal sales to make ends meet. With that said, there are multiple Klaviyo alternatives that have their customer support in order.
6 Klaviyo alternatives to boost your email marketing (without breaking the bank)
1. Omnisend: Best for ecommerce
G2 user rating: 4.5 out of 5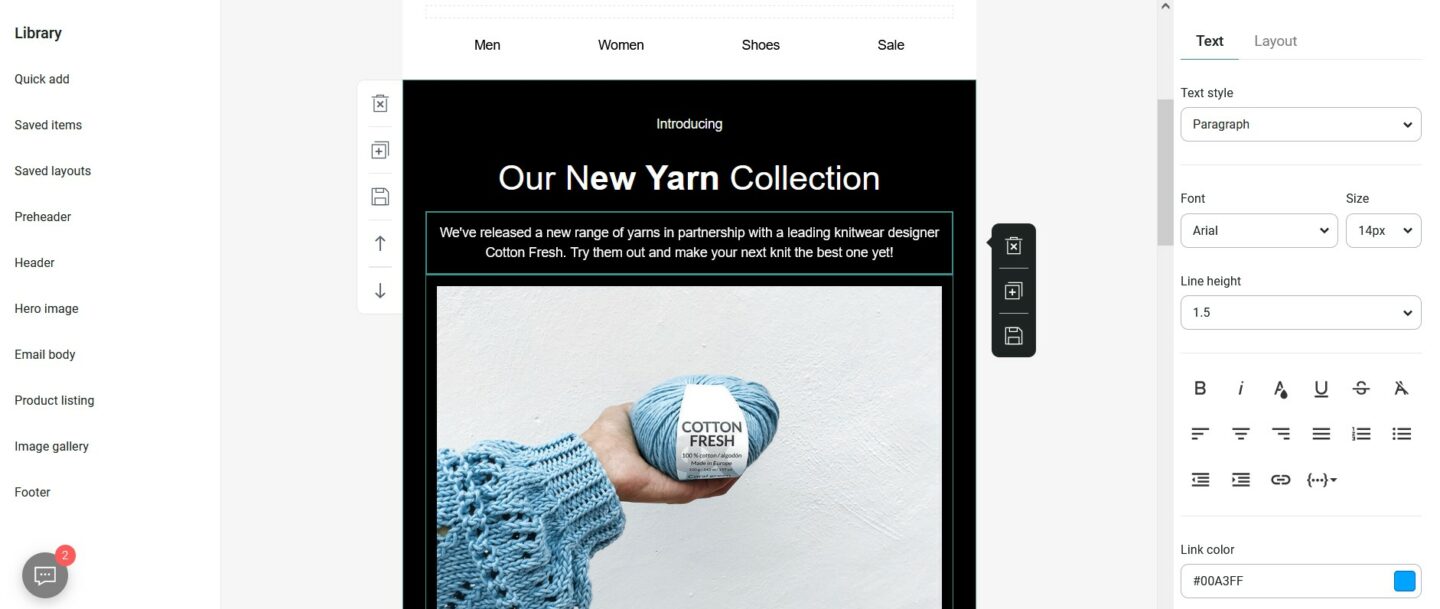 Omnisend is an all-in-one email and marketing automation suite. It lets online merchants create email campaigns in minutes, build complex automation flows, and precisely target their subscribers with smart segmentation.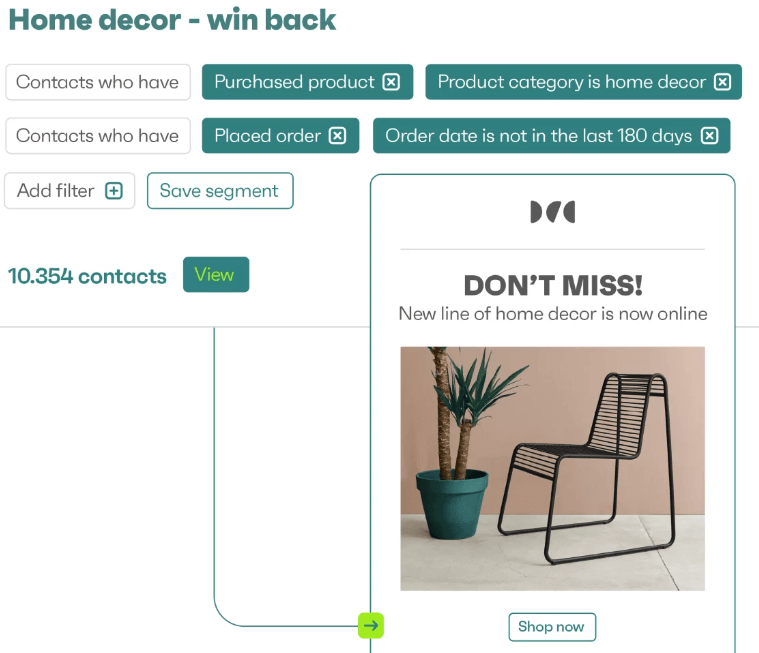 Omnisend is unique in the channels that it includes in its workflows. You can add SMS messages to a campaign to pack an extra punch, or add Facebook and Google retargeting ads to provide your customers with a truly omnichannel experience.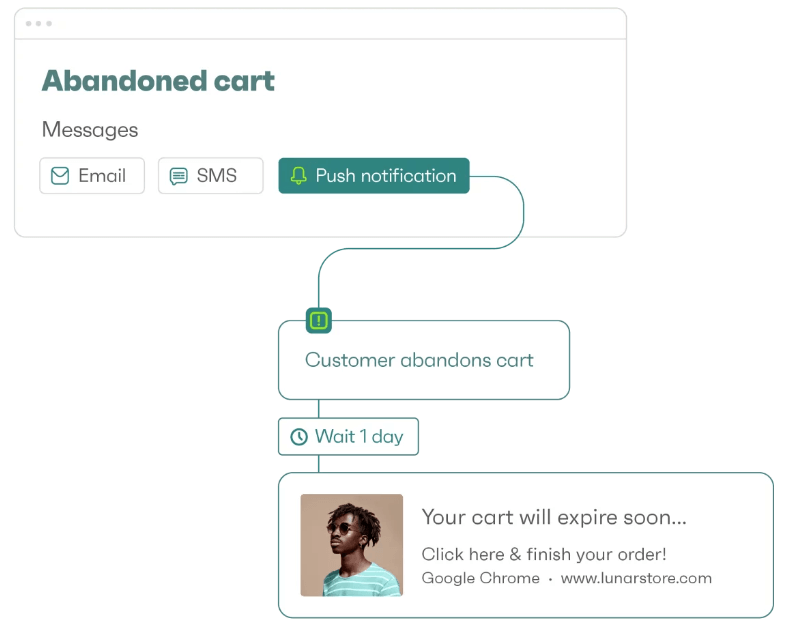 Omnisend is also the only tool in this list that offers Wheel of Fortune, a dynamic gamification element for building your email list, which only spins when an email address is entered.
Another area where Omnisend is the best Klaviyo alternative — multistore accounts. On Klaviyo, you need to have separate Klaviyo accounts for each store you're running. That means for businesses with more than one store, you'll need to duplicate templates and workflows, and duplicate work on third-party tools for each account.
Omnisend solves that problem by offering multistore accounts. These let you access all of your brands from a single Omnisend account. That means no more duplicating your work on different accounts for all your stores.
Omnisend pricing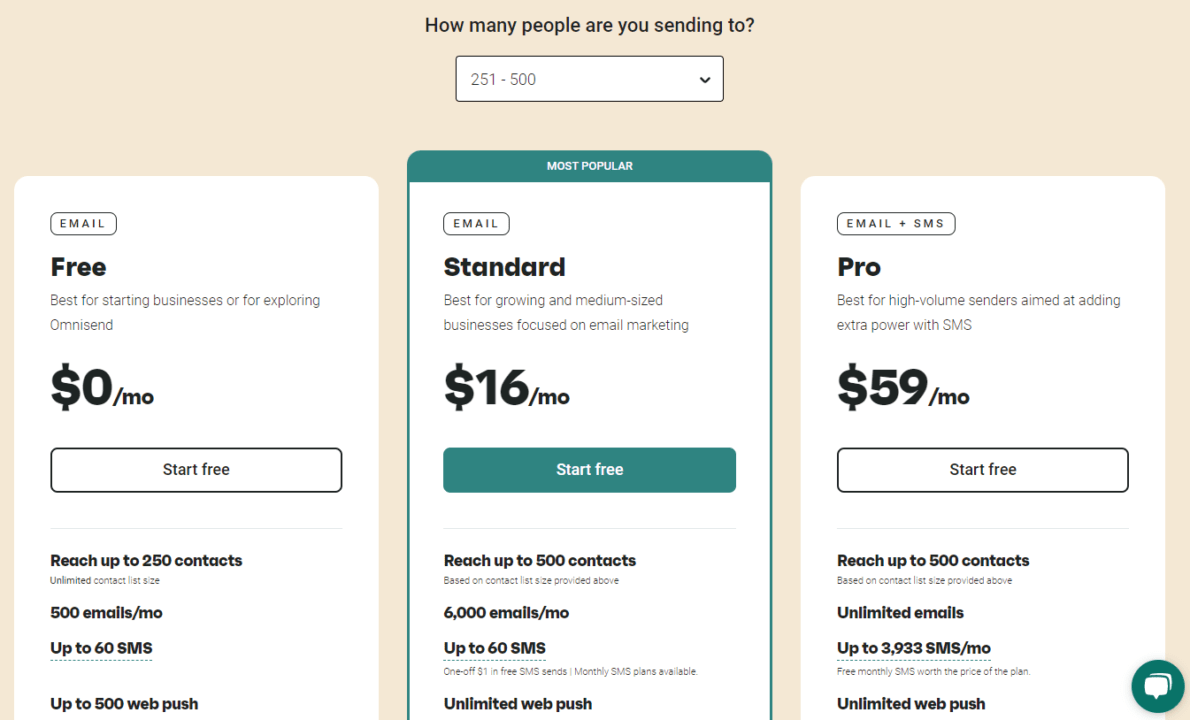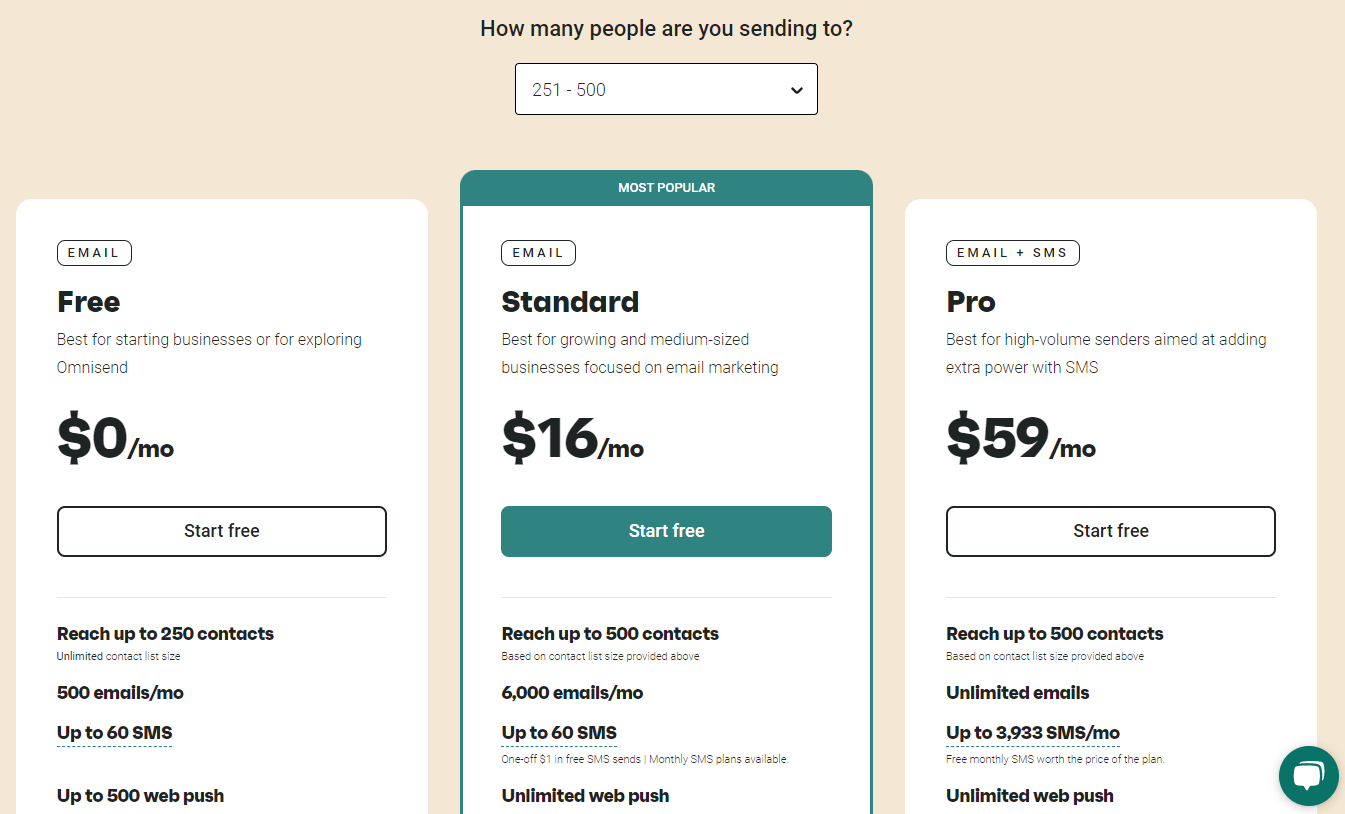 As a Klaviyo alternative, it doesn't get better than Omnisend. Able to do everything Klaviyo can do, and more, Omnisend is a fraction of the price. It offers a free plan with full automation and segmentation features, free SMS credits, and up to 500 emails.
Like most other email marketing automation tools, this alternative to Klaviyo offers their plans based on the amount of contacts you have.
And what if you don't have a lot of subscribers but want to send more than 500 emails monthly? You can actually get the Standard plan for only $16 per month for 500 contacts. By the way, you don't actually pay the $60 per month until you hit 3,500+ contacts.
The Standard Plan, Omnisend's first tier, starts off at $16 per month for up to 6,000 emails sent. This plan is for those who want to do more with SMS and email marketing automation without restrictions. Plus, you can add modules to customize your plan.
The Pro plan starts at $59 per month. It's geared towards marketers who are interested in using personalization in their campaigns and free SMS marketing credits.
All these factors combined make Omnisend the best Klaviyo alternative on the market.
After the switch to Omnisend, SM Global Shop's automated emails now drive nearly 50% of all email marketing revenue while making only 5% of email sends.
Read the SM Global Shop success story
2. Mailchimp: Best for email marketing beginners
G2 user rating: 4.3 out of 5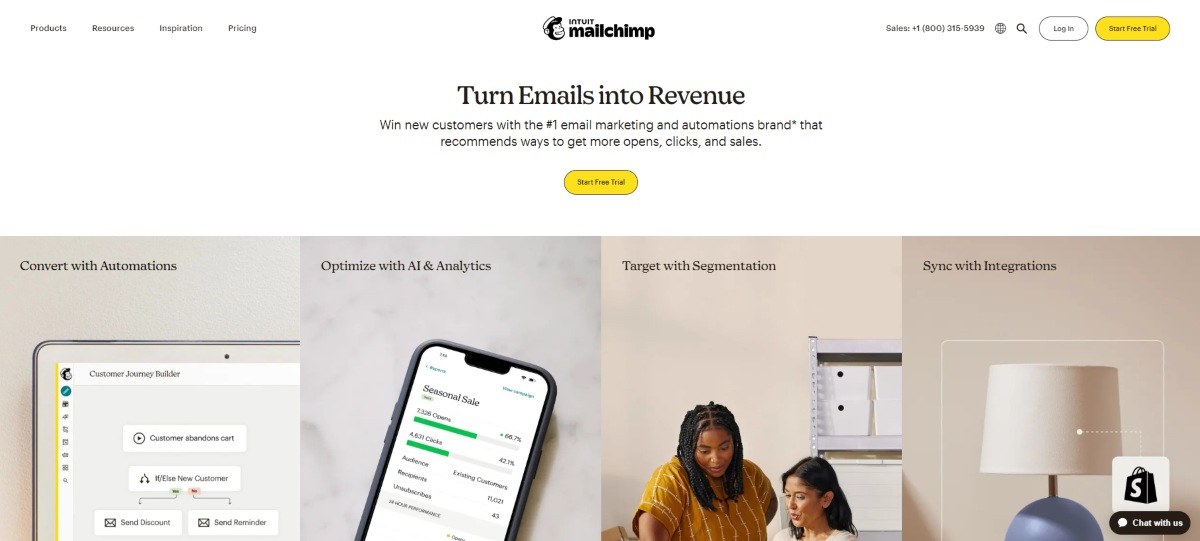 Is Klaviyo or MailChimp better for ecommerce marketing? MailChimp is often touted as a standard in email marketing, and it's one of the better Klaviyo competitors around. It's true that in terms of user-friendliness, MailChimp does well with a visual editor and clear tutorials to help you figure out how to use their features.
MailChimp's emails are easy to create and customize with an easy-to-use visual editor. They also offer unusual channel integrations. These include adding Instagram ads to the usual Google and Facebook ads we see with automation tools.
Their ecommerce marketing automation also gets the job done and helps you create a robust email contacts list. All in all, Mailchimp acts as your one-stop-shop marketing platform.
It offers a fantastic set of email template editing tools. With the help of MailChimp, you can create elegant and compelling emails that match your brand's voice and image. In addition, it allows you to publish your own online store where you can market, advertise, and sell your products.
Sometimes, you have to click in a few unexpected places to navigate MailChimp. Thankfully, there are plenty of tutorials to guide you. Apart from that, Mailchimp allows you to utilize robust CRM software, audience segmentation tools, and automations on the basis of properties, segments, and tags.
As a Klaviyo or Constant Contact alternative, MailChimp will certainly get the job done, but you might just be surprised at how much you end up paying for the tool.
MailChimp pricing
By far the award for the most confusing pricing plan goes to MailChimp. While it's still a far cheaper alternative to Klaviyo, a big pain point for users is simply not understanding how much they'll end up paying.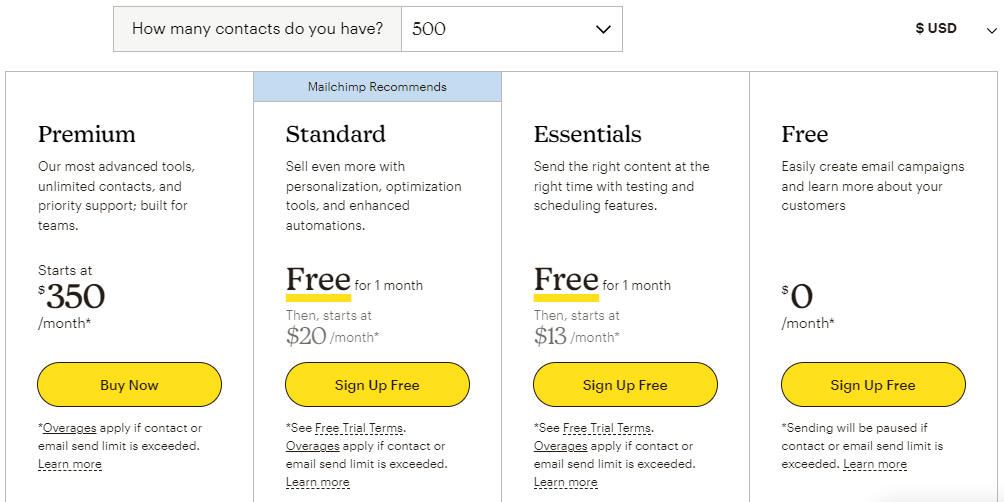 This seems straightforward at first glance. However, the prices noted here are the amounts you pay per month for just the plan itself. After that, you have to factor in the number of subscribers you have.
That $13/month plan is only $13 if you have 500 subscribers. Granted, it only kicks up by $10 for each 1000 subscribers you add, so scaling is easier than Klaviyo, but it's still a bit frustrating when you consider that MailChimp's free plan is supposed to include up to 2000 subscribers.
If you're on the Premium plan, scaling becomes a bit pricier. The tiers are still only $5, but they vary wildly:
2500 to 5000 subscribers: $40 + $349 Premium Plan subscription per month

5000

to 10,000 subscribers: $70 + $349

Premium

Plan subscription per month
10,000 to 15,000 subscribers: $100 + $399

Premium

Plan subscription per month
There is zero consistency with MailChimp pricing. With that said, when it comes down to Klaviyo vs Mailchimp, they're still far and away cheaper, if you're not on Mailchimp's Premium plan.
3. ActiveCampaign: Best for B2B businesses
G2 user rating: 4.5 out of 5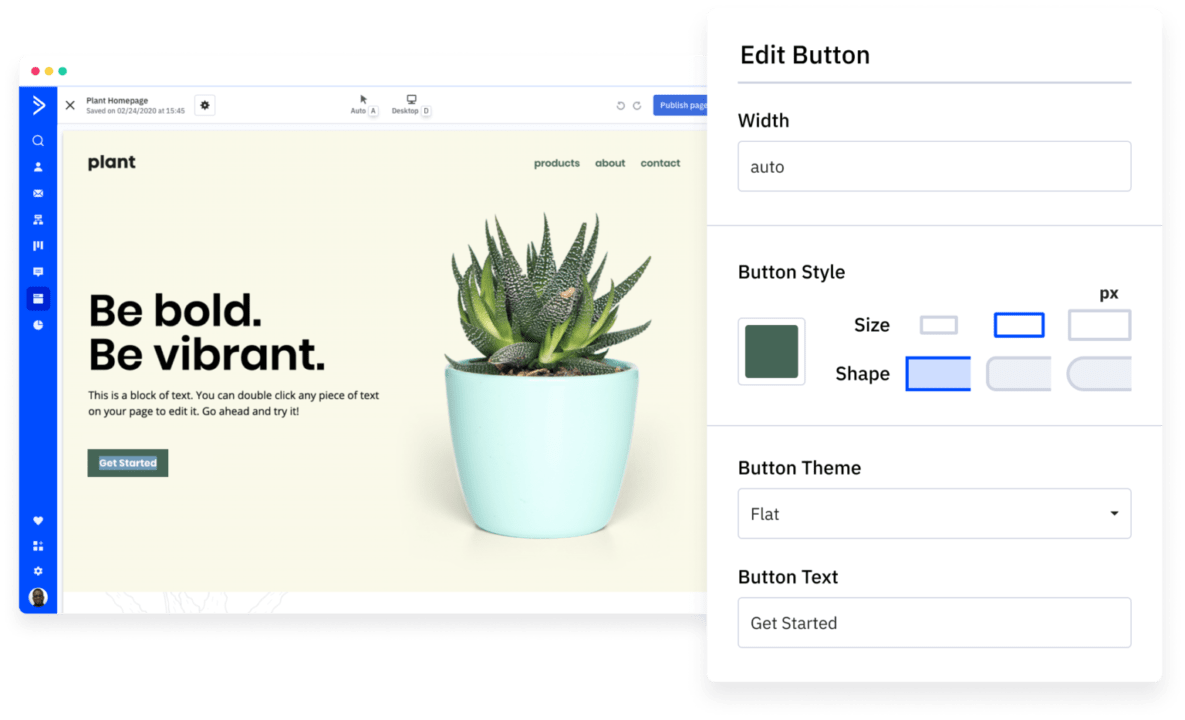 There is no denying that ActiveCampaign is a very powerful email marketing tool and an excellent alternative to Klaviyo. However, unlike many tools in this list, ActiveCampaign has the look and feel of a CRM as opposed to an email marketing tool.
You feel this right from onboarding. Where other tools encourage you to create your first campaign and connect your online store, ActiveCampaign prompts you to add a contact list.
One of the most beneficial things about ActiveCampaign is that it works well if you have multiple domains to manage. As you don't directly connect one domain to ActiveCampaign, you can choose which domain to assign your campaigns to.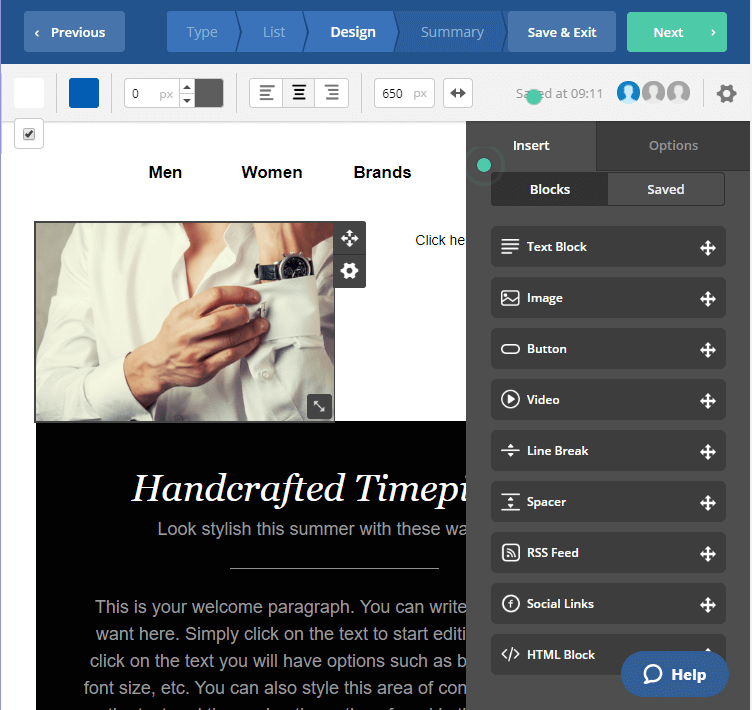 ActiveCampaign joins MailChimp and Omnisend in the best email campaign builders shortlist, and integrates with a variety of ecommerce platforms. Plus, this email automation software allows you to choose between hundreds of free, eye catching email templates to get started.
However, ActiveCampaign comes with a pretty steep learning curve. If you're a seasoned marketer with technical knowledge, you shouldn't have a problem. But it's not the most user-friendly tool I've tested.
Overall, comparing Klaviyo vs. ActiveCampaign, both have most of the same features. However, you'll have to plan time to get the tool down.
ActiveCampaign pricing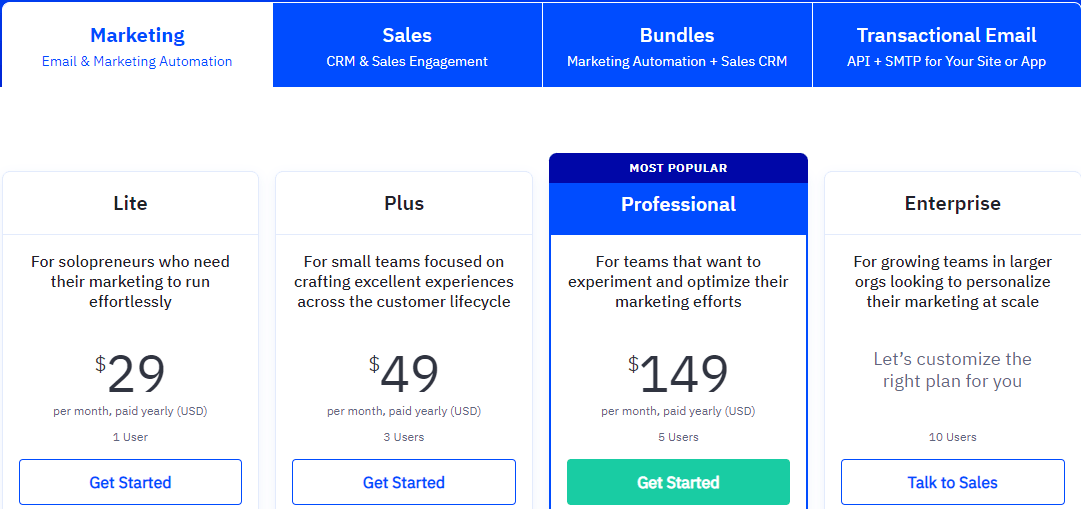 First off, ActiveCampaign is pretty generous when it comes to sending limits. You get unlimited sending for up to a whopping 250,000 contacts, which means you can focus on growing your list without worrying about hitting any unexpected sending caps.
Their second-tier plan is Plus, which has all the essential email marketing features. With Plus, you'll get access to cool stuff like an SMS add-on, landing pages, ecommerce integrations, lead scoring, and automation maps for $49 per month. It's a solid choice for anyone looking to step up their email marketing game.
But what if you need even more features? That's where the Professional plan comes in. At $149 per month, there's a noticeable price jump compared to Plus, but for a good reason. The Professional plan brings CRM and sales automation features to the table, helping you streamline your sales process and manage your customer relationships like a pro.
4. Drip: Best for marketers & small businesses
G2 user rating: 4.4 out of 5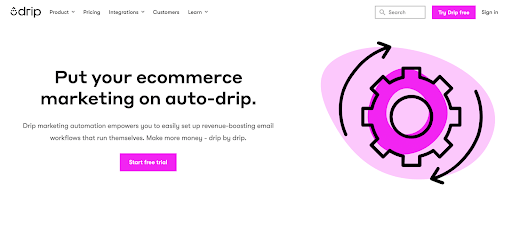 Drip jumps right in with a very visual interface. With the focus immediately on workflows, Drip proposes a plethora of potential automations to start off with.
Drip's visual editor leaves a bit to be desired when compared to other email marketing tools in this list. Unlike most other campaign builders that work based on blocks, emails in Drip are divided into the header, message, and footer, without a whole lot of room to customize in between.
One thing that I do like about Drip is their visual workflow display: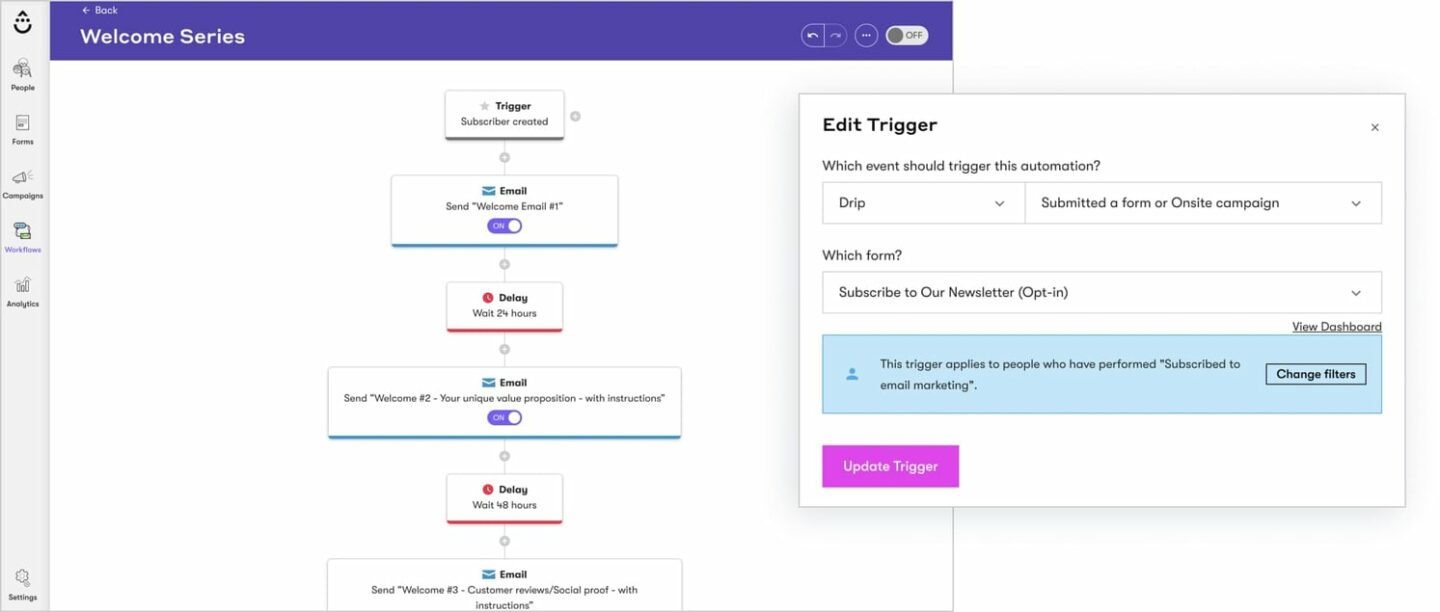 I like that it's color-coded and you see a clear funnel of communication, which I feel is easier to understand at a glance.
Drip's email builder is not only easy-to-use but also allows you to access high-quality templates, top-selling products, abandoned cart URLS, and liquid templating.
Plus, you can curate contact lists in this email marketing tool. But ultimately, everything in Drip seems geared toward people who are really just starting out with email marketing and automation.
Drip doesn't offer many of the features other email marketing tools do, but it does offer the potential to have a third party provide it for you. For example, you can't create landing pages in Drip, but you can integrate other tools like UnBounce and Instapage to get the job done.
So comparing Klaviyo vs. Drip feature by feature, Drip may not measure up as the equivalent alternative to Klaviyo.
However, if you just need some basic things and don't mind integrating (and paying extra for) third parties for the rest, it might work for you.
Drip pricing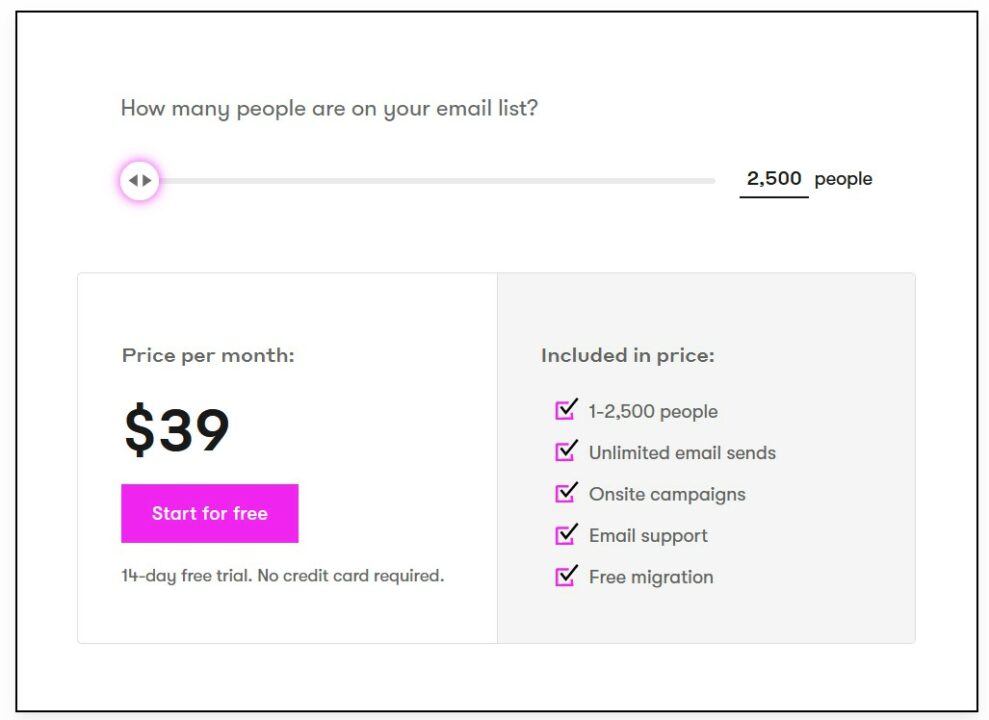 Drip's pricing is based on the number of subscribers you have. It seems like the plan and features don't vary between plans, and it's purely based on the subscriber count.
The Basic plan covers up to 2500 subscribers for $39, and anything more than that can be calculated for monthly cost via a site calculator.
5. SmartrMail: Best for basic marketing
G2 user rating: 4.8 out of 5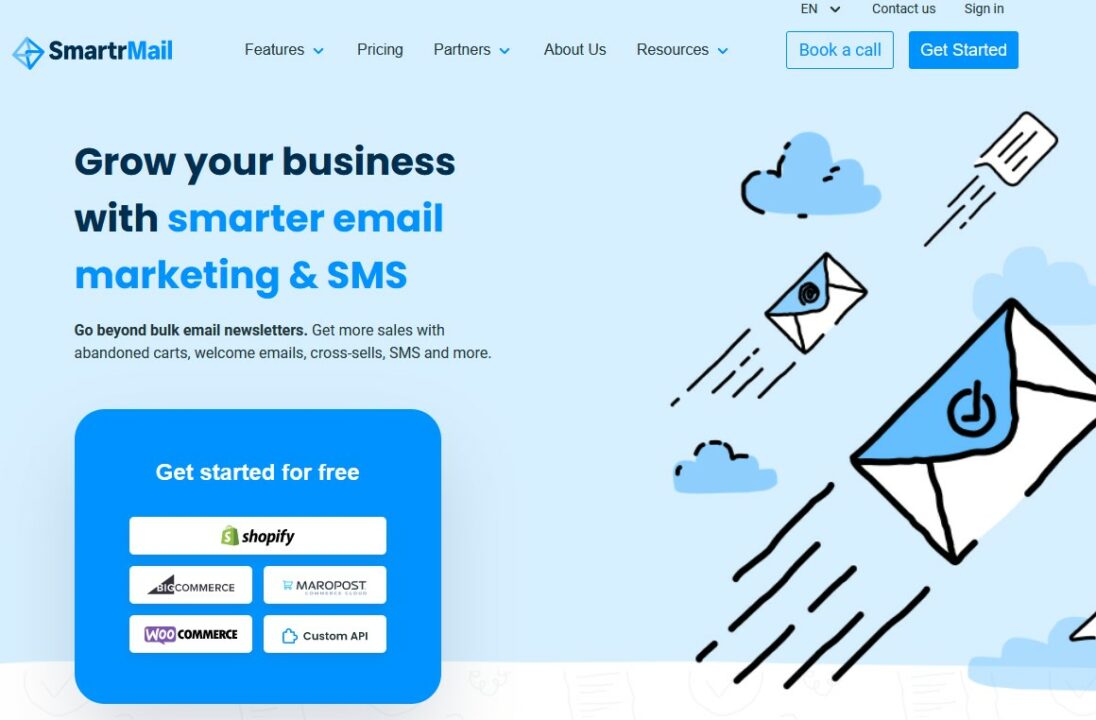 The first impression that I get from SmartrMail is that it's definitely geared towards those who just need a bit of marketing automation and emails, without any of the fancy bells and whistles. It gives you the ability to send basic automated email sequences and create simple popups for email capture.
What's interesting about SmartrMail is that they propose different auto-updating segments for your email lists, like customers, one-time customers, loyal customers, and at-risk customers. Plus, multiple users can share a calendar, notes, and tasks to ensure effective collaboration.
You can also create your own segments based on profile data, campaign and shopping behavior.
Unlike other Klaviyo alternatives, SmartrMail is purely an email marketing tool. There is no integration with Google retargeting, no landing pages, no SMS marketing. But if email is all you need, this might be enough.
SmartrMail pricing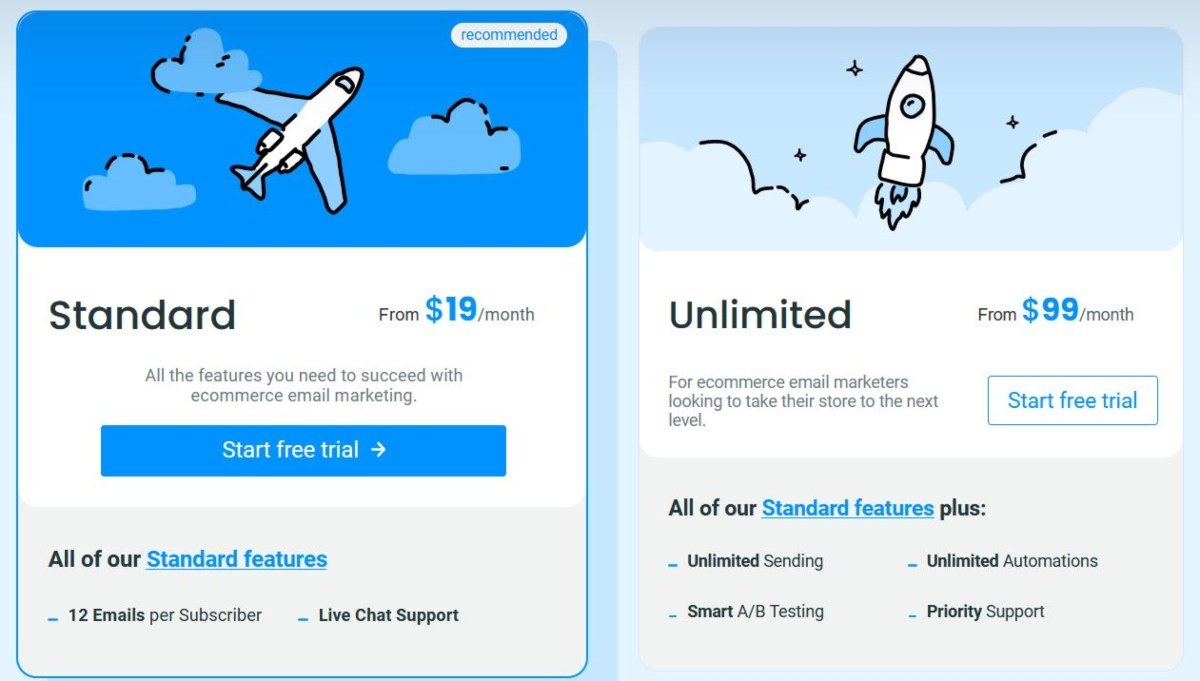 SmartrMail doesn't offer a free plan, but you can test any plan for 15 days for free. Their pricing system is based on which of their features you'd like, but some are recommended for certain subscriber counts.
With that said, their pricing scales hard and quick: $19 per month for a Standard plan, and then the price jumps to $99 per month for the Unlimited plan.
6. SendinBlue: Best for agencies & large businesses
G2 user rating: 4.5 out of 5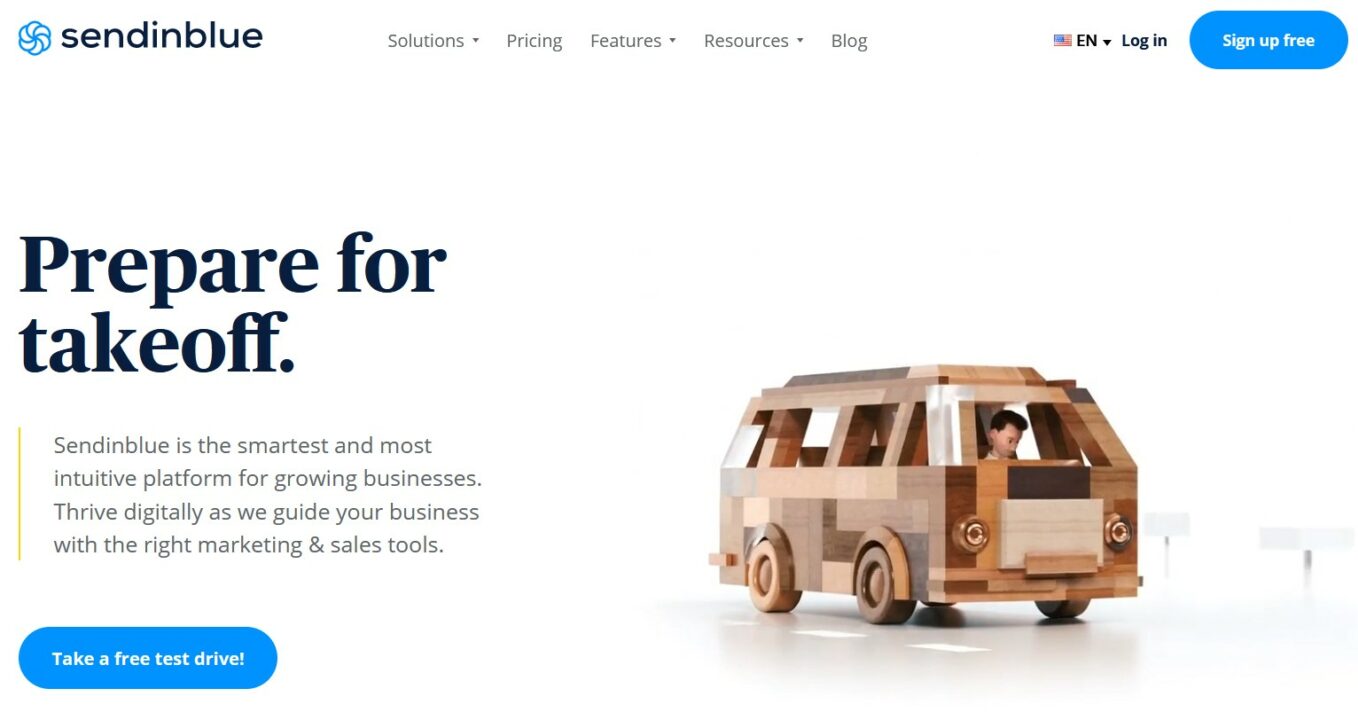 SendinBlue is a Klaviyo alternative that offers automated email and SMS campaigns for those who are looking for something simple yet effective. Their email builder, while a bit limited, is one of the better visual builders in this list.
They also offer SMS touches with your subscribers, something that only Omnisend and ActiveCampaign do, and MailChimp does for certain countries.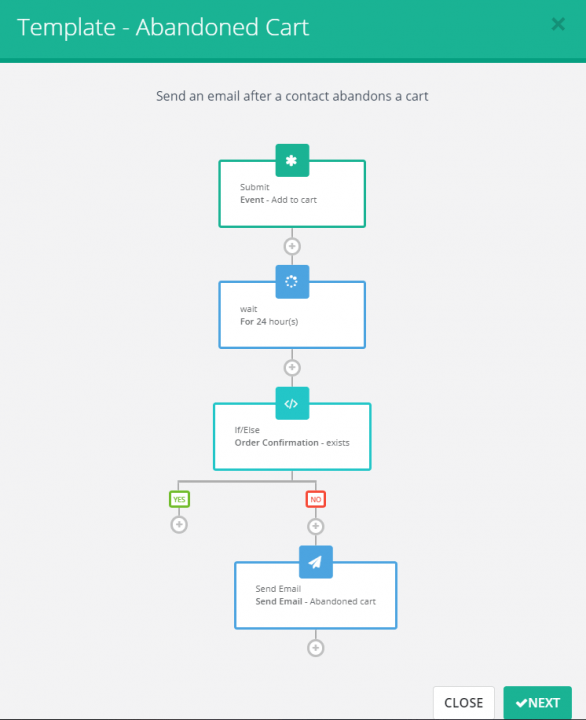 This marketing platform also offers several kinds of workflows based on user behavior that can inspire merchants to create different automated flows. Again, the flow is very visual, which is great for seeing exactly how your automation funnel is laid out.
SendinBlue allows users to access a drag-and-drop editor, a templates gallery, A/B testing, email client testing, and custom signup forms with a drag-and-drop builder.
As a Klaviyo alternative, SendinBlue can work if you don't need anything too fancy. But if you need to scale quickly, you might want to turn to another Klaviyo alternative in this list.
SendinBlue pricing

SendinBlue, unlike most other email marketing tools, base their pricing not on subscriber count, but off of how many emails are sent per month. They do offer a free plan for up to 300 email sends per day. As there's no contact limit, you can have 300,000 contacts if you wanted, as long as you're only sending 300 per day.
For their pricing, they start off their Starter plan at $25 per month for 40,000 email sends where the daily sending limit is lifted. From there, you go to the Business plan at 120,000 email sends for $66 per month, and the Enterprise plan with custom pricing.
While this way of pricing seems interesting at first glance, it may be a bit more confusing. Say you want to send your 9000 subscribers about 7 emails per month (with wiggle room for your automated emails). You would easily hit the 40,000 emails per month in the Starter plan.
But if you have a lot of subscribers and only need to contact them so often, this might work out for you.
💡 Check out the detailed Omnisend vs Brevo (previously Sendinblue) comparison to make the right choice.
Best Klaviyo alternatives: a quick summary
I've set up a few quick references based on each Klaviyo alternative's key features. I've rated the platforms based on features and pricing, as well as their user ratings and reviews on the popular review platform G2.
Regardless of how you want to go about your email marketing efforts, choosing the right tool is critical to your success. By weighing the pros and cons of each of the many tools out there, you can choose the right email marketing app for your ecommerce store.
While every tool may not be for you, plenty of Klaviyo alternatives won't cost you so much per month for the same great features.
Ready to switch? Use discount code READY4BETTER and get 30% off your first 3 months
Start Free Today
related features
Want more sales?
Omnisend has everything you need to succeed.
Start free now
No Credit Card needed.