Drive sales on autopilot with ecommerce-focused features
See Features
Reading Time:
10
minutes
Mailchimp casts a large shadow over the world of email marketing. With a 70% market share, it's known and used by businesses of all types and sizes.
As a result, many online merchants believe that if you're looking for an email marketing platform that's affordable, ecommerce-friendly, and easy to use, Mailchimp is the obvious choice.
But is that actually true? Recent years have seen:
Multiple price hikes—including a 15% price increase for legacy customers in December 2022
A public breakup with Shopify due to Mailchimp's "poor merchant experience" and a refusal to comply with Shopify's data usage rules (they reconciled in late 2021, more than 2.5 years later)
Satisfaction scores from Shopify users dropping to a mere 3.5 out of 5
This raises three questions: has Mailchimp been monkeying around too much? Is now the time to look for an alternative? Can Omnisend go toe-to-toe with the king of email marketing platforms in terms of pricing and user experience?
Let's find out, in our feature-by-feature Mailchimp vs Omnisend comparison.
If you'd prefer to watch a comparison instead of reading it, check out this video:
Who is each platform built for?
Mailchimp is a generic email marketing platform, designed to be used by almost anyone. It can do most of the things you'd expect it to but it doesn't have specialist tools to help users with more specific needs. Primarily targeting small businesses, Mailchimp may not scale with your company's growth in the way you need it to.
Omnisend, on the other hand, is built for ecommerce users. In addition to the usual features required of an email marketing tool, it also has tools designed specifically for building an audience and increasing sales, such as a product picker that lets you pull products from your store (instead of manually inserting images and URLs) and native discount codes.
Omnisend also has advanced, real-time reporting and analytics to help users better understand their audience.
Start free & drive sales on autopilot with platform built for ecommerce!
Start free today
Round 1: What's inside Mailchimp and Omnisend?
Both Mailchimp and Omnisend include email templates and a drag-and-drop composer. But there are two vital differences: the first is that Mailchimp's pre-built templates are very basic visually, and the limited options can cause frustration if you want to create something more advanced.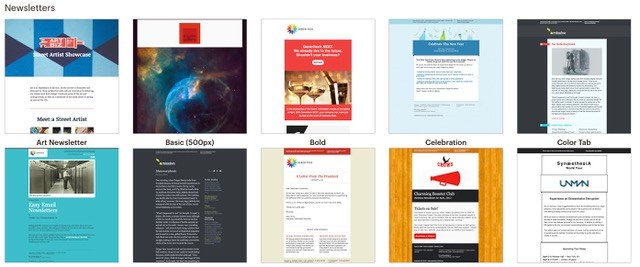 The second difference is that Mailchimp restricts the majority of its templates to its paid plans, leaving users of the free plan with a very limited number.
In comparison, Omnisend provides professionally-made templates to all users, even on the free plan. Plus, Omnisend's native integration allows you to pull products directly from your online store, offer smart product recommendations, as well as automatically include discount codes within the emails.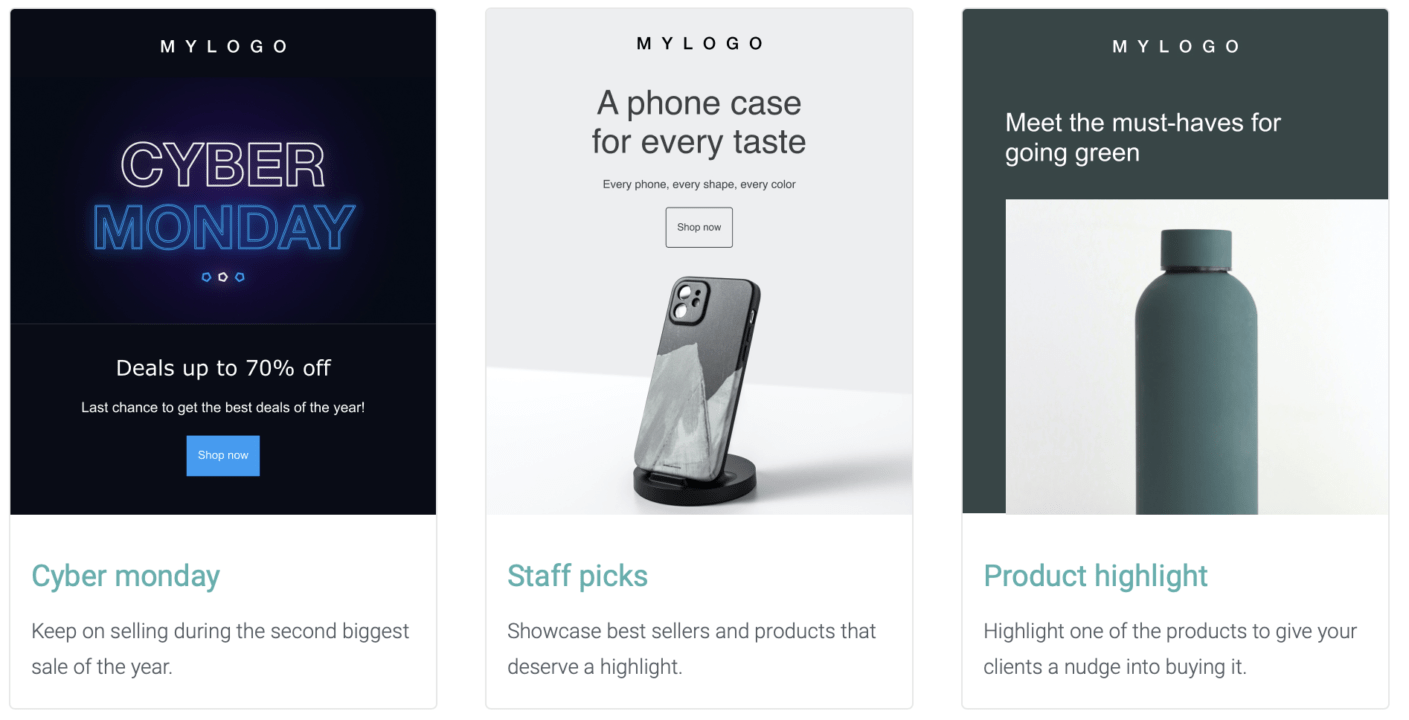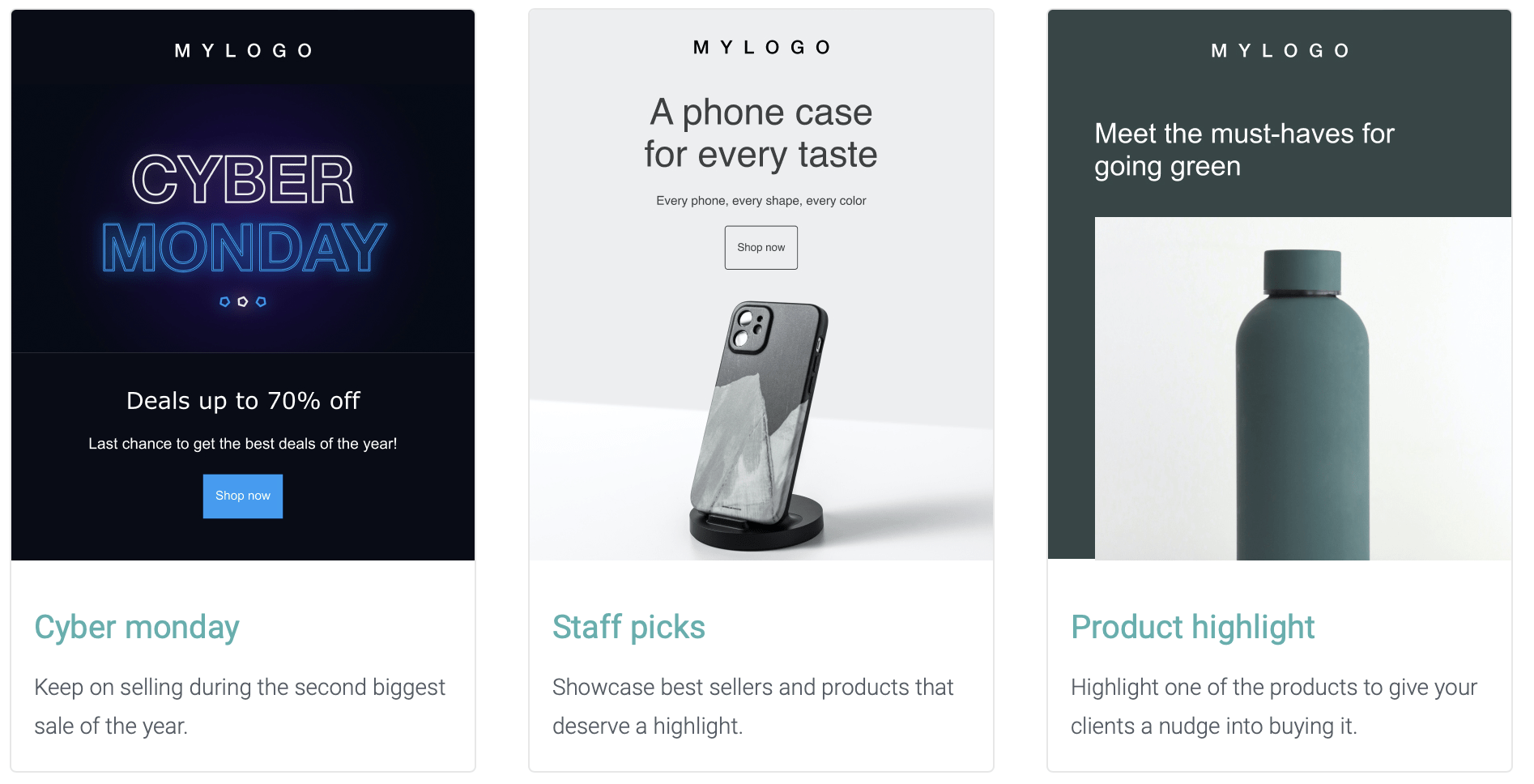 And while both platforms allow you to create your own templates, only Omnisend allows you to save individual blocks to easily reuse in future campaigns.
Omnisend's Email Builder can also automatically pull your branding from your store and add it to your emails—this includes your logo, brand colors, font, and social media links. You can even see these elements applied to templates in the template library.
Mailchimp vs Omnisend round 1 winner: Omnisend
Round 2: List building and email capture—which tool builds better subscriber lists?
Omnisend and Mailchimp both offer forms and landing pages to help you grow your list size.
Forms can be used in multiple ways, including:
Embedded on specific pages of your site
Pop-ups that appear after a certain amount of time or when the visitor is about to leave
Small sign-up boxes added to the header, footer, or inline of content such as blog posts

Mailchimp and Omnisend both also offer landing pages. They're customizable with templates and a drag-and-drop builder, and are an effective way of obtaining email addresses.
Omnisend has pre-built themed templates to let you get a quick start. So if you want to build a form for birthdays, Black Friday, or back-to-school promotions, just pick a themed template and you're on your way.
And that's not all—just like with your emails, you're able to customize your forms to have your brand's colors and fonts.
Omnisend also stands out with its gamification forms, like Wheel of Fortune. Not only is it a great way to catch your visitors' attention, but dynamic forms like this are proven to be more effective than even exit-intent popups for email subscriptions.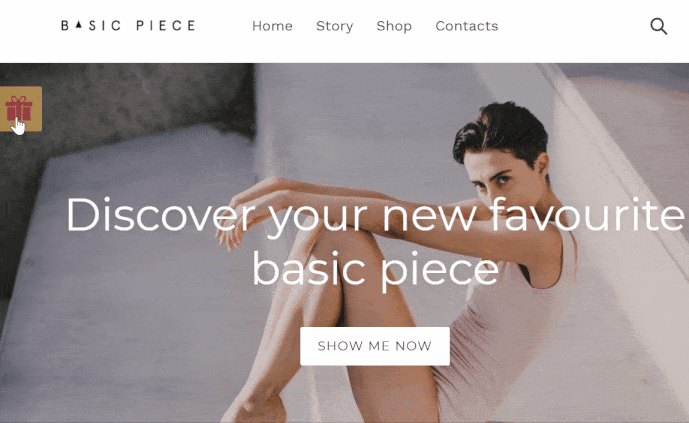 Omnisend vs Mailchimp round 2 winner: Omnisend
Round 3: Segmentation—which tool offers better targeting?
As your list grows, it's important to be able to put different members into different groups. This is known as segmentation and it allows you to send relevant information to your audience—and avoid sending messages they don't need, like recommending a product they've already purchased from you. Segmented email marketing campaigns see a 23% higher open rate, so it's worth implementing if you haven't already.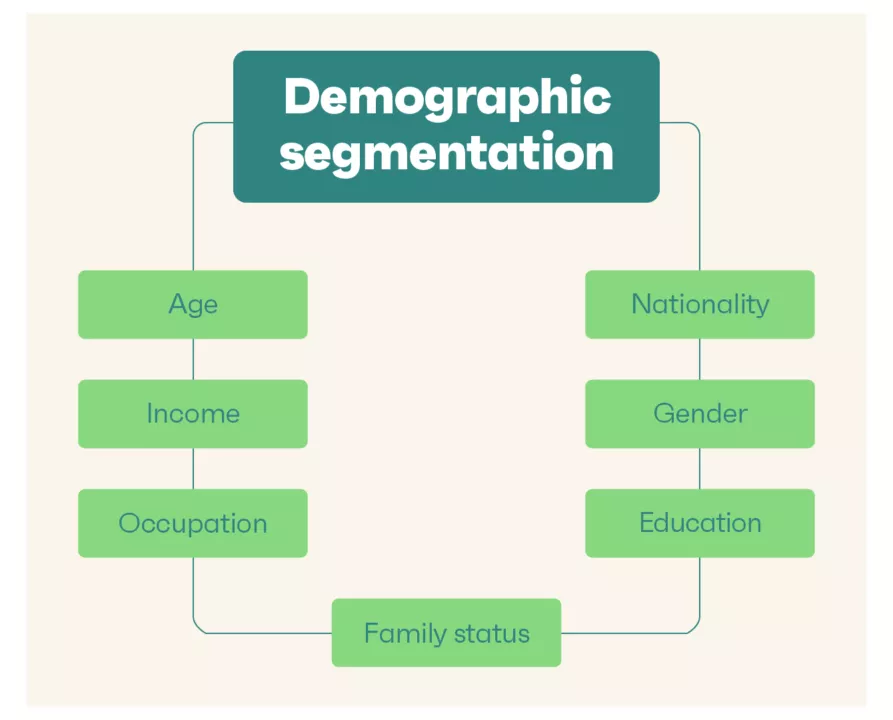 Both Omnisend and Mailchimp offer segmentation based on:
Profile data: language, location, age, income, gender, education, occupation etc
Campaign activity: whether the person has opened your emails, clicked certain links, or shown interest in particular campaigns
Purchases: products they've viewed, purchased, or abandoned from their cart
Omnisend offers the most flexible segment builder in the ecommerce industry, allowing you to use up to 500 data points in your segments. You can also have an unlimited number of segments. And, of course, there's a library of pre-built segments for you to choose from if you don't want to build from scratch yet.
Omnisend vs Mailchimp round 3 winner: Omnisend
Round 4: Integrations—which tool has more?
Omnisend integrates with over 130 trusted technology partners and has a dedicated app market. There are integrations for everything from advertising and customer support to back-in-stock alerts and reviews.
As the email marketing platform with the largest market share though, it's no surprise that Mailchimp offers more in this category. It claims to integrate with more than 300 apps and web services, so regardless of what tool you're using, there's a good chance it already integrates with Mailchimp.
Mailchimp vs Omnisend round 4 winner: Mailchimp
Round 5: Automation—which tool will save you more time?
Automations empower you to scale your business further, faster. Instead of having to manually send every message, you can automate them.
Best of all, you can create a series of advanced workflows that send specific messages when an action is taken (or not taken, like leaving the store without completing a purchase). This puts your sales on autopilot and reminders, follow-ups, and even retargeting ads all happen whether you're at your computer or fast asleep.
While Mailchimp does offer automation, it's limited to basic actions. The interface also makes it difficult to understand everything that's happening at a glance. You can see the emails and their trigger in the journey: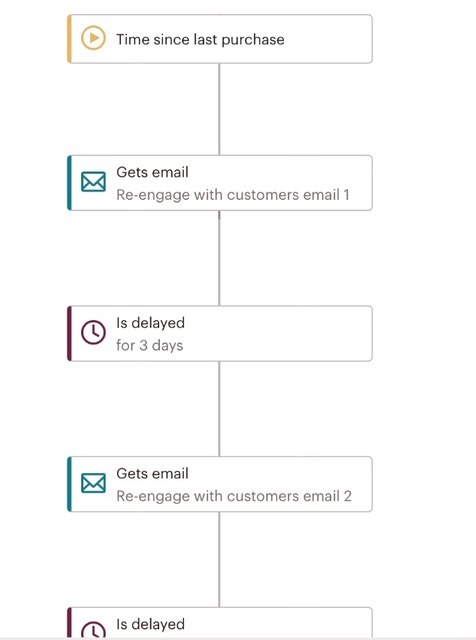 In comparison, Omnisend offers more advanced automation and the visual interface shows a clearer breakdown: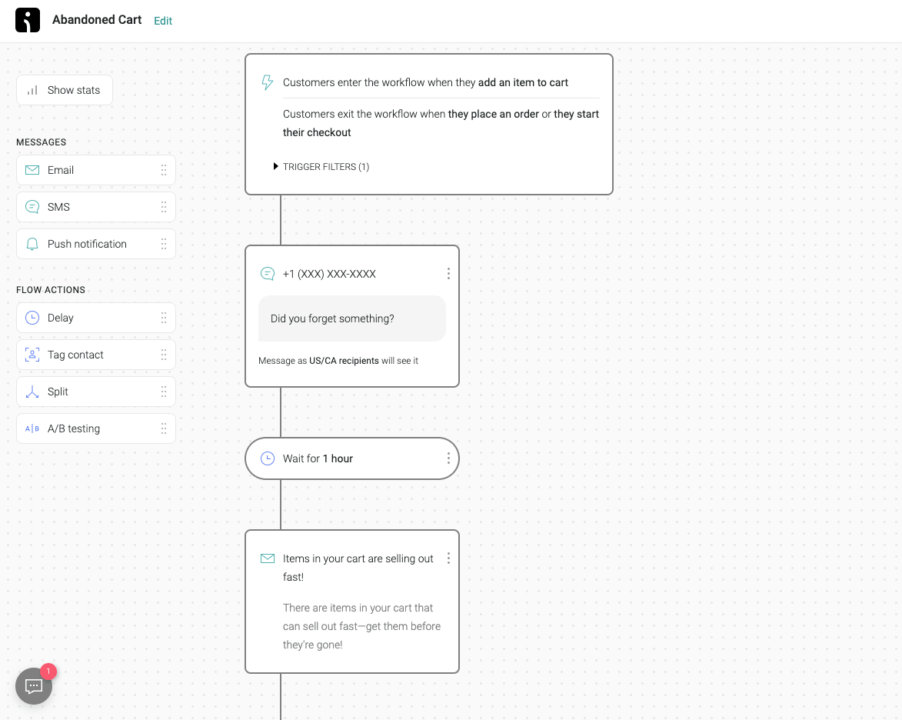 You can see whether an SMS or email is being sent, how many recipients are in each stage of the workflow, as well as where your delays are.
Because Omnisend is an omnichannel platform, its automation allows you to incorporate additional channels than just email, such as Facebook Messenger, SMS, and push notifications. Omnisend even suggests which channel to use in each automation sequence.

With this functionality, you can create an advanced workflow using the channels that your audience engages with the most, without the need to break everything into different sequences. You can also use conditional splits to tailor your workflow around your customers' demographics, engagement, and shopping behavior.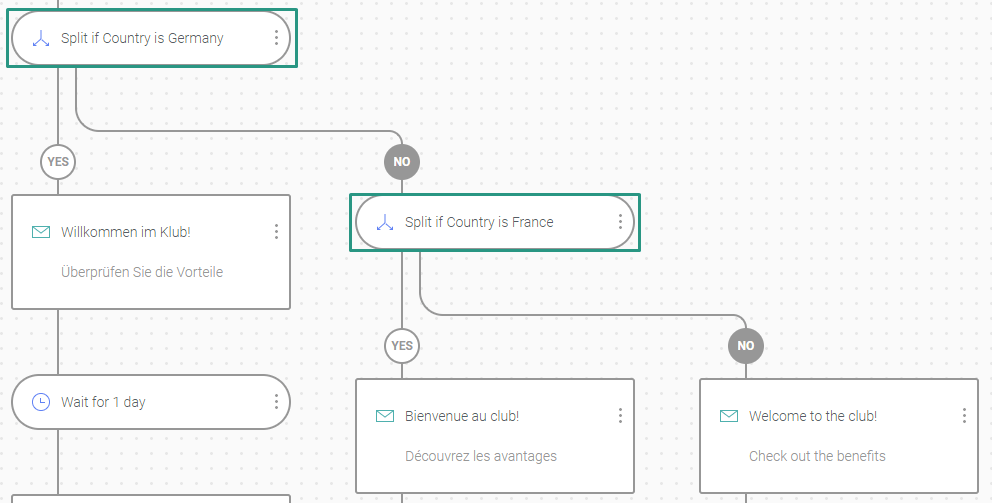 Omnisend offers up to 10 conditional splits per workflow, which not only simplifies the process but also allows you to hyper target your messages. To create something similar in Mailchimp, you'd need to make several workflows.
Omnisend's automation features include custom events, send time optimization, post-purchase transactional emails, workflows, splits and A/B testing, even on the free plan.
Omnisend vs Mailchimp round 5 winner: Omnisend
Get started with Omnisend today & drive sales on autopilot with pre-built automation workflows
Start Free Today
Round 6: Channels—which company has more?
Although they're email marketing platforms, Mailchimp and Omnisend both offer additional channels so you can reach people in other ways.
Aside from email, users of either platform have the ability to sync their audience list with their Facebook and Google ad accounts. This is an effective way to keep your ad costs down while increasing sales—instead of running ads to a cold audience and trying to generate interest, the syncing allows you to run retargeting ads, which show relevant products to people who have already been on your site. You can show them products they've looked at, left in their cart, or similar items to what they've viewed.
However, it's worth noting that while Mailchimp allows Facebook and Instagram ads to be run from any of its plans, retargeting is limited to its higher tiers, Standard and Premium. Pricing for Standard starts at $20 per month for 500 contacts but is based on how many subscribers you have, shooting up to $100 for 5,000 contacts. Premium starts at $350 per month for 500 contacts.
In comparison, Omnisend offers retargeting ads on all of its tiers, including the free plan. And unlike Mailchimp, Omnisend natively allows users to send SMS and push notifications as part of their campaigns. When you're reading to use a paid plan, Omnisend starts at just $16 per month for up to 500 contacts.
Mailchimp vs Omnisend round 6 winner: Omnisend
Round 7: Customer support—which company offers better?
Many people believe that getting great customer support from a SaaS email marketing platform is as likely as finding a needle in a haystack. Especially if you're on a free plan. Unfortunately, in Mailchimp's case, it's more true than not.
Users of Mailchimp's free plan have email support for the first 30 days, then they'll have to rely on the guides and tutorials. While this does mean the information they need is likely available, it's also time-consuming and can require a lot of digging to find the appropriate articles.
Ongoing email support begins with the Essentials plan, which also includes live chat. Once on a paid plan, Mailchimp's customer support is 24/7 and the team can communicate in English, Spanish or French. Phone support is only available on the Premium plan, which starts at $299 per month.
So, what about Omnisend? Surprisingly, it actually bucks the lackluster support trend that is prevalent among ESPs. Omnisend reviews often mention its support: it offers 24/7 customer support on each plan including the free tier, so every customer is able to talk to a human when they need assistance. And the average response time is under three minutes.
Omnisend vs Mailchimp round 7 winner: Omnisend
Round 8: Pricing—which tool provides the best value for price?
Does great email marketing really have to cost you an arm and a leg? Previously, both Omnisend and Mailchimp users would answer with a resounding 'no' to that question. Both were champions of affordable email marketing, with there being little price difference between the two.
But now, multiple price hikes later (including the most recent increases in late 2022), Mailchimp is no longer one of the most affordable options for email marketing.
Controversially, Mailchimp now considers unsubscribed contacts the same as active contacts—meaning if you had a list with 1,000 active subscribers and 500 people who had previously unsubscribed, Mailchimp would bill you as having 1,500 people in your list. Considering that Mailchimp's pricing is based on the number of contacts you have, this can make a significant difference to your monthly bill.
Mailchimp has four tiers: Free, Essentials, Standard, and Premium.
There's significant overlap in pricing between each tier, so what you'll really pay depends on how big your audience is. Mailchimp offers a pricing calculator to let you know exactly what it would cost you, and its features do mean it can offer good value for money.
You'll want to pay attention to the features of each tier too, because although the Essentials plan unlocks powerful features like pre-built templates and A/B testing, it still limits you to just three audiences and restricted automated workflows.
If your business is new then Mailchimp's free plan may appeal because it's more generous than some of its competitors, but be aware of its limitations:
No A/B testing
No dynamic content
No send time optimization
One audience and one automated email
Limited access to email and landing page templates
After 30 days, customer support is restricted to guides and tutorials
Omnisend has three tiers: Free, Standard, and Pro. Like Mailchimp, there's a pricing calculator to help you figure out the exact costs, and the monthly pricing works out as follows: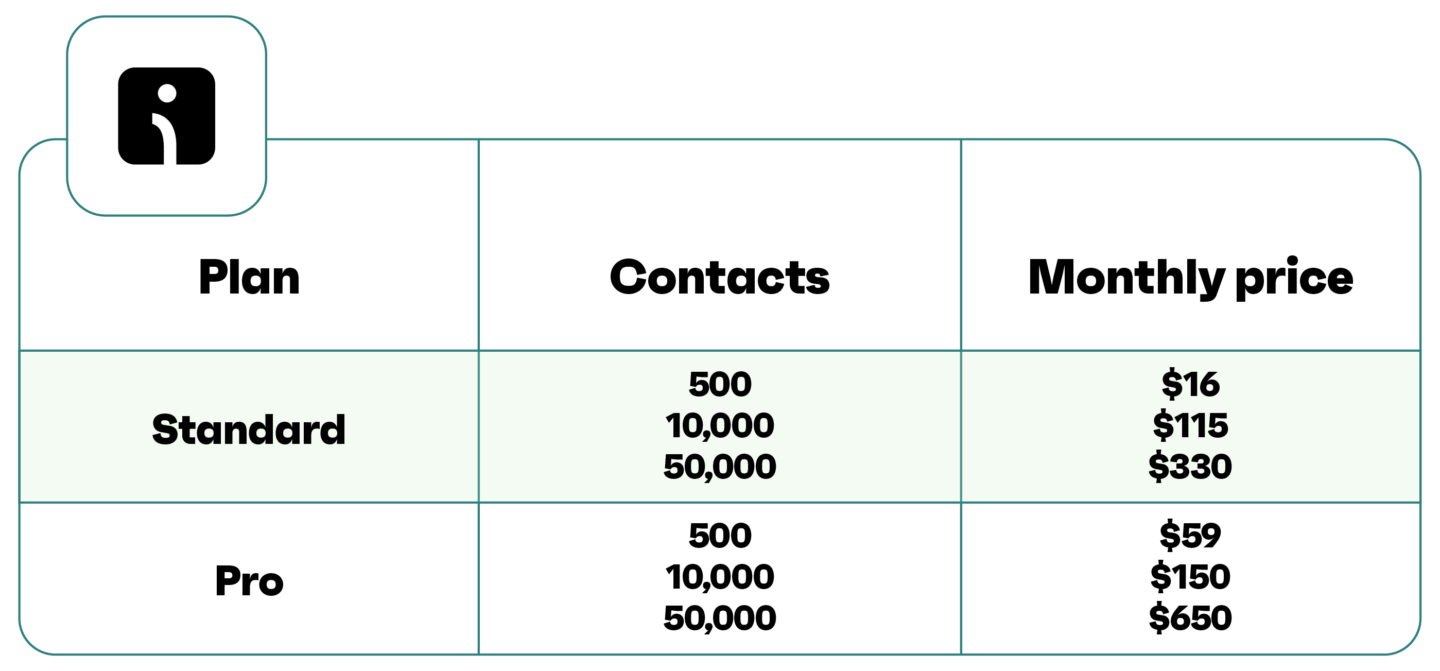 The biggest difference between the two platforms is that the Omnisend free plan still offers all the features. You'll have professional-looking templates, pre-built automations, audience segmentation, performance reports, A/B testing, and email support.
The free plan allows you to send SMS and push notifications, create custom workflows, and use dynamic sign-up forms. There is no restriction on features, making it an ideal plan for new and smaller businesses.
Mailchimp vs Omnisend round 8 winner: Omnisend
Verdict
This comparison shows that every tool is different, so making a choice from an Omnisend vs Mailchimp comparison comes down to which one suits your needs the best. Your email marketing strategy is important, so although you can migrate to Omnisend from another platform, it's always easier to pick the most appropriate one from the start.
Mailchimp may be the best for people who only want basic features, whereas Omnisend is built to help ecommerce stores scale and increase their revenue with better email marketing ROI. The key takeaways from each round are:
Omnisend is built for ecommerce stores and offers more features for marketers
Omnisend offers gamified forms, slightly nudging Mailchimp out for best pick
Omnisend has stronger segmentation
Mailchimp has more integrations
Omnisend's automation is far more sophisticated and easier to use than Mailchimp's
Omnisend offers more channels
Both offer 24/7 support on the higher tiers, but Mailchimp doesn't offer ongoing email support on its free plan
Pricing depends on what features you want and how many subscribers you have, but Mailchimp has recently increased its prices and now charges even for unsubscribed contacts
Get started with Omnisend today & drive sales on autopilot with pre-built automation workflows
Start Free Today
related features
Want more sales?
Omnisend has everything you need to succeed.
Start free now
No Credit Card needed.