Drive sales on autopilot with ecommerce-focused features
See Features
Reading Time:
12
minutes
What's the best way to go about email marketing? If you think that it involves using an automation tool, you're on the right track.
With close to 500,000 active users, Brevo (formerly Sendinblue) is considered the best tool for the purpose.
But is that really so?
The fact is, there are many Brevo alternatives that are cheaper and better, and marketers are beginning to realize that.
Simply Google "Is Brevo the best" and see how many results show up.
Given the growing usage of email, the search for the best and cheapest Brevo alternative is justified. It is estimated that by 2024, there will be close to 4.5 billion email users and you can reach them using such platforms.
But what is Brevo?
Brevo (formerly Sendinblue) is one of the most well-known email marketing platforms out there.
The tool offers a robust email builder and campaign manager, transactional email management, high-volume sending capabilities, and send time optimization to ensure that your emails are sent out at the best times.
And by incorporating other marketing automation features into email marketing, Brevo truly stands out from the pack.
But is Brevo the right choice for everyone?
Well, not really.
There is a wide range of Brevo alternatives that offer diverse features to ramp up your email marketing efforts.
An efficient email marketing solution will align perfectly with your needs, expectations, and budget.
What does Brevo have to offer?
Here's a quick rundown of the pros and cons of using Brevo.
Pros
A suite of powerful features including email automation, email templates, email tracking, as well as behavioral targeting tools, and diverse customization options.
Several pricing plans to suit different budgets.
A drag-and-drop email builder that's very easy to use even for beginners.
Excellent customer support offered in six languages.
Top-notch email segmentation capabilities.
Cons
A very narrow range of features in the Free and Lite plans, such as lack of email automation and A/B testing.
A cluttered interface with a myriad of features that can be overwhelming for new users.
The lack of an 'undo' function.
The templates are a bit limiting in terms of design and variety.
There's a limit on the daily email send in the free plan of 300 emails/day
Brevo alternatives: an overview
Before we take a deep dive into the best Brevo (formerly Sendinblue) alternatives, here's a quick overview of each one.
| | | | | |
| --- | --- | --- | --- | --- |
| Alternative | Best for | Free plan | Paid plans | Extra marketing features |
| Omnisend | E-commerce businesses | Yes | From $16/mo | SMS marketing, push notifications, Google & Facebook custom audiences, landing pages, popups |
| AWeber | Very large template library | Yes | From $12.50/mo | Landing pages, mobile optimization, signup forms, web push notifications |
| Constant Contact | User-friendly interface | No | From $12/mo | SMS marketing, social posting, surveys, landing pages, polls |
| Mailchimp | Email marketing beginners | Yes | From $9.33/mo | Signup forms, custom domains and landing pages, social posts |
| Klaviyo | Data science and machine learning features | Yes | From $20/mo | SMS marketing, social ads, signup forms and popups, website visitor tracking |
G2 rating: 4.5 out of 5
Omnisend free plan
One great thing about both Omnisend and Brevo is they both offer free plans.
However, the inclusions differ greatly.
While Brevo's free plan supports unlimited contacts and 300 emails per day, Omnisend enables you to send 500 emails per month and reach up to 250 contacts. But Omnisend also gives you up to 500 web push notifications and 60 SMS.
Omnisend's free version also bags brownie points because users get access to all the features offered in paid plans, including a template library, automated workflows, audience segmentation, and 24/7 customer support.
On the other hand, Brevo's free plan users miss out on lots of advanced features.
Omnisend email marketing features
Some email marketing features you'll find in both tools are drag-and-drop editors, customizable email templates, and powerful list-building features.
That said, Omnisend has more advanced email marketing tools, including pre-built automation workflows, smart segmentation, and personalization features.
Another aspect that makes Omnisend one of the best Brevo alternatives is its brand-new email builder. Loaded with features, this email builder has an especially great reputation for its ecommerce-focused tools such as discount blocks and Product Recommender.
Using Omnisend, you can also access all your brands from a single account, eliminating the need for duplicating work and managing multiple accounts.
The tool also allows for international SMS which is a big plus, since most email marketing tools are limited to only a few countries.
Unlike Brevo, Omnisend also offers real-time automatic updates and customer lifecycle-based segmentation. Sometimes, the targeting process can be a bit complicated, but thankfully, there are tutorials to guide you.
Channels used
Both Omnisend and Brevo are great tools for those looking to leverage omnichannel marketing. Users can create consistent messaging across multiple channels, including email, SMS, push notifications, social media, and more.
Paid plans comparison
Just like Brevo, Omnisend's pricing plans largely draw from the number of contacts you want to send emails to.
For instance, on the Standard plan, having up to 500 contacts will cost you $16 a month. On the other hand, 10,000 contacts on the same plan will cost you $115 per month. This means that even small businesses with a short email list can access the features of high-tier plans.
The tool's Pro plan starts at $59 per month.
Unlike most other marketing automation platforms, Brevo bases its pricing on the number of emails sent per month, instead of subscriber count, which there is no limit on. So, if you don't want to send out a lot of emails but have a huge customer base, Brevo might be the better option.
Get started with Omnisend today & drive sales on autopilot with pre-built automation workflows
Start Free Today
Customer support
Omnisend's award-winning customer support makes it one of the most sought-after Brevo alternatives. Users under all plans, including the free one, get 24/7 live support.
Covering all time zones, the Omnisend support team has an average response time of under five minutes.
As if that weren't enough, clients that pay over $400 per month enjoy the support of a dedicated Customer Success Manager.
Brevo also offers email support across its plans. Customers under the Enterprise Plan get a dedicated account manager. However, some users complain of long response times.
G2 rating: 4.2 out of 5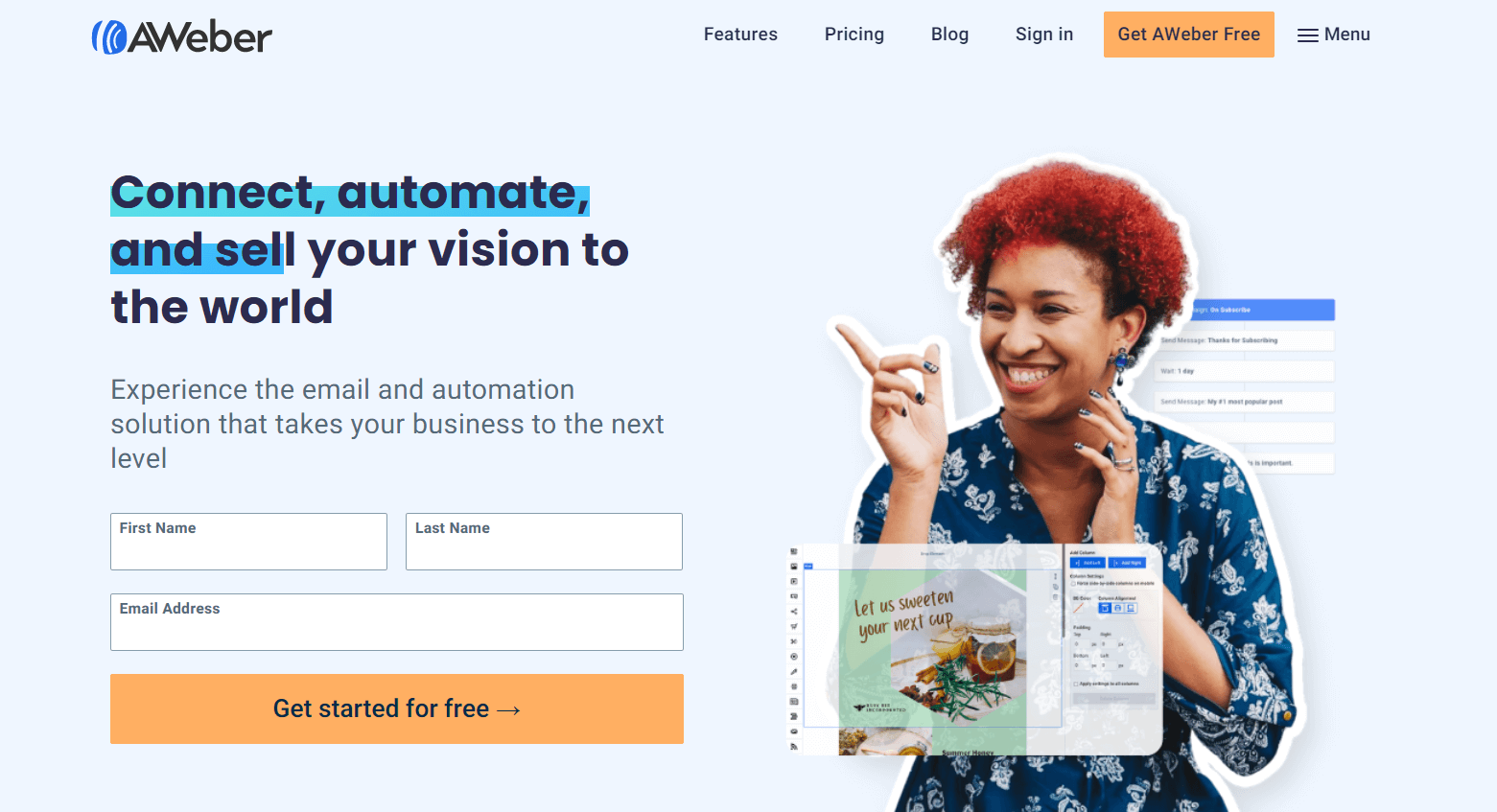 AWeber free plan
AWeber's free plan was only introduced in 2020, and allows up to 500 subscribers and 3,000 emails per month.
Even the tool's free plan gives you basic access to most of its features—advanced analytics, split testing, and behavioral automation being some of the things you'll miss out on.
AWeber email marketing features
AWeber's extensive library of pre-built email templates is where it really shines. Moreover, it allows users to design professional graphics on Canva and drag them into their email.
It also has a Smart Designer which lets you create branded templates automatically. All you have to do is paste your website's URL.
AWeber has powerful tools to set up effective email autoresponders, helping marketers save time.
However, it may not measure up as the equivalent alternative to Brevo when it comes to contact segmentation.
Sure, you can create segments based on the contents of any field or user activity in your database. But the option to send emails to several segments at once is missing.
That said, AWeber probably takes the trophy when it comes to integrations—offering more than 750 of them.
All in all, AWeber is a great Brevo (formerly Sendinblue) alternative if your requirements are mostly limited to email marketing only.
Channels used
One of the major drawbacks of using AWeber for email marketing is that it doesn't offer multichannel tools. Instead, users will need additional integrations.
In contrast, Brevo is an all-in-one CRM suite that makes SMS marketing, Facebook ads, WhatsApp marketing, transaction emails, etc. a breeze.
Paid plans comparison
AWeber's cheapest paid plan starts at $12.5 per month for up to 500 subscribers. For more subscribers, you'll have to pay more money. The Unlimited plan is an exception on this front and is fixed at a price of $899 per month, irrespective of the size of your contact list.
It is important to note that paid users under the Lite plan can only have one email list and access to very basic templates. So, the only difference between the Free and Lite Plan is that the latter offers three landing pages instead of one and provides 24/7 support.
Customer support
One reason why online merchants opt for AWeber is its excellent customer support.
Unlike many other platforms, this Brevo alternative offers live chat, email, as well as telephone support. There is also a very elaborate online knowledge base and video tutorials for those who are more comfortable with self-troubleshooting.
Just like Brevo, AWeber comes with personalized account management for its top-tier plan users.
G2 rating: 4.2 out of 5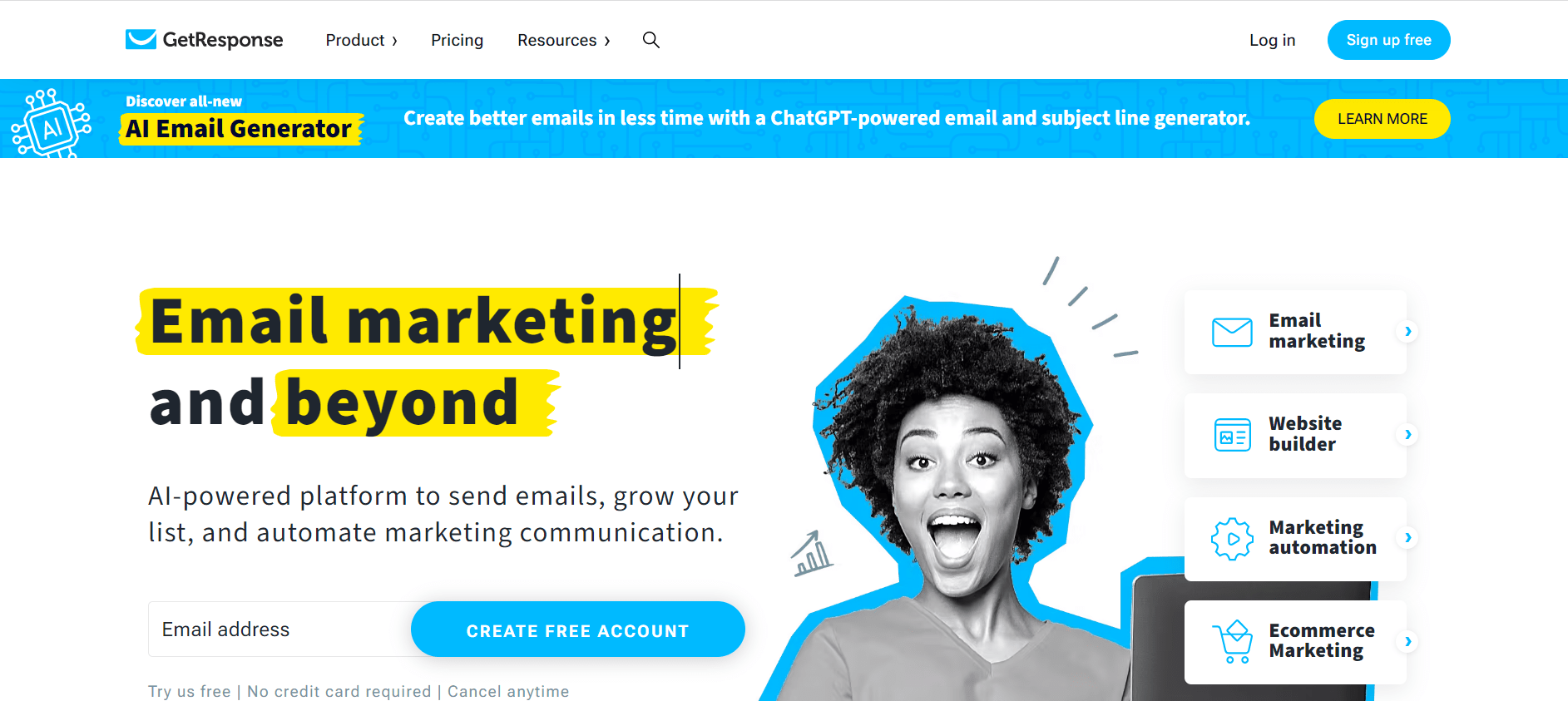 GetResponse free plan
GetResponse offers a free plan which allows up to 500 subscribers and 2,500 monthly emails. In contrast, Brevo's 300 emails/day limit and unlimited contacts are a lot more generous.
The platform's free version also allows users to use and test premium features for up to 30 days.
Although some important features such as A/B testing, scheduling, and ecommerce tracking are missing in the free plan, it's still a good place to start.
GetResponse email marketing features
Apart from being a strong email marketing automation platform, this Brevo alternative also offers access to landing page builders and a webinar software.
For businesses looking to improve conversions, GetResponse comes with features such as transactional emails, shoppable pages for ecommerce, countdown timers, and pre-built automation flows.
Audience segmentation with GetResponse is just as easy. You can divide contacts by customer purchases, order history, and site behavior.
Unfortunately, many of GetResponse's key features only come with its high-tier plans. Sending transactional emails will require a paid add-on and SMS marketing is missing in its core plans.
Channels used
GetResponse supports many different communication channels including landing pages, webinars, forms, surveys, SMS, as well as social platforms.
Paid plans comparison
GetResponse offers four paid plans, all geared towards different needs and budgets.
Its Email Marketing plan starts at $19/month, the Marketing Automation plan starts at $59/month, the Ecommerce Marketing plan starts at $119/month, and its MAX plan is for businesses with advanced needs, and offers custom pricing.
Prices across all plans increase with a growing contact list.
One factor that sets this Brevo alternative apart is its special discounted plans for charities and NGOs.
Customer support
With GetResponse, you can expect 24/7 customer support via live chat and email, and email support is available in eight different languages.
The tool also offers ample support in the form of a knowledge base, webinars, guides, and documentation.
G2 rating: 4.0 out of 5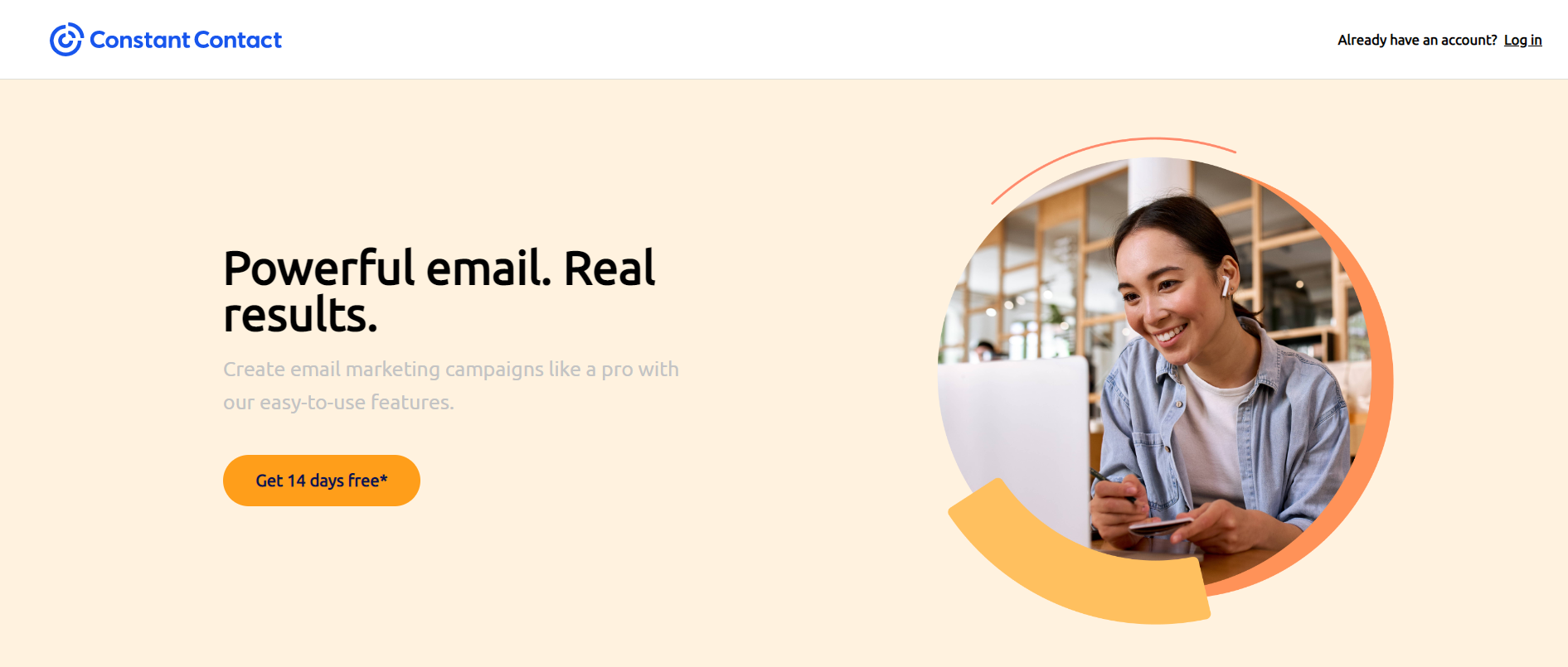 Constant Contact free plan
Constant Contact doesn't offer a free plan, but it allows users to test any plan for free for 15 days. And might we add—its 30-day money-back guarantee is pretty generous!
Constant Contact email marketing features
Constant Contact is a great Brevo alternative if you're a beginner looking to ease into the world of email marketing.
Right from the time you create an account, the platform will guide you to create your first campaign.
For marketers pressed for time, there are several customizable templates on offer. However, some users claim that they're not up to the mark in terms of design and style.
One area where Constant Contact fails to compete with Brevo is automation. While it does have email automation, it doesn't allow merchants to design their own automation workflows. This is only possible under its Premium plan, which can be quite expensive for small businesses.
Some Constant Contact features that only a few Brevo competitors sport, however, are event management, appointment scheduling, and digital product downloads.
Channels used
Constant Contact makes it possible for you to integrate your social accounts, reach new audiences, and grow your business. Recently, it also launched a tool for SMS marketing—a feature you can add to your Core or Plus plan.
Furthermore, you can easily create surveys, events, ads, as well as landing pages using this powerful Brevo alternative.
Paid plans comparison
Compared to other Brevo competitors, Constant Contact ranks pretty low on the affordability scale.
Although the base plan starts at just $12 per month, the price increases sharply as your contact list expands—$30 per month for 1,000 contacts, $80 per month for 5,000 subscribers, and so forth.
Monthly email sends are 10x your contact list, whereas Brevo charges by the email.
The Standard and Premium plans of Constant Contact start at $35 and $80 a month respectively and have a 12x contact tier allowance when it comes to email sends.
Ultimately, when we compare Constant Contact vs Brevo by pricing, the latter emerges as the obvious winner.
Customer support
What makes Constant Contact a great Brevo alternative is that it offers several ways to get a hold of a customer agent for assistance.
There's live chat, phone support, as well as email assistance. Its Standard and Premium plans come with onboarding calls, which can be really valuable for new users.
The platform features a fairly extensive knowledge base, and a lively community forum with insightful discussions.
The only drawback?
Live chat and phone support aren't available on Sundays, which can lead to delays.
G2 rating: 4.3 out of 5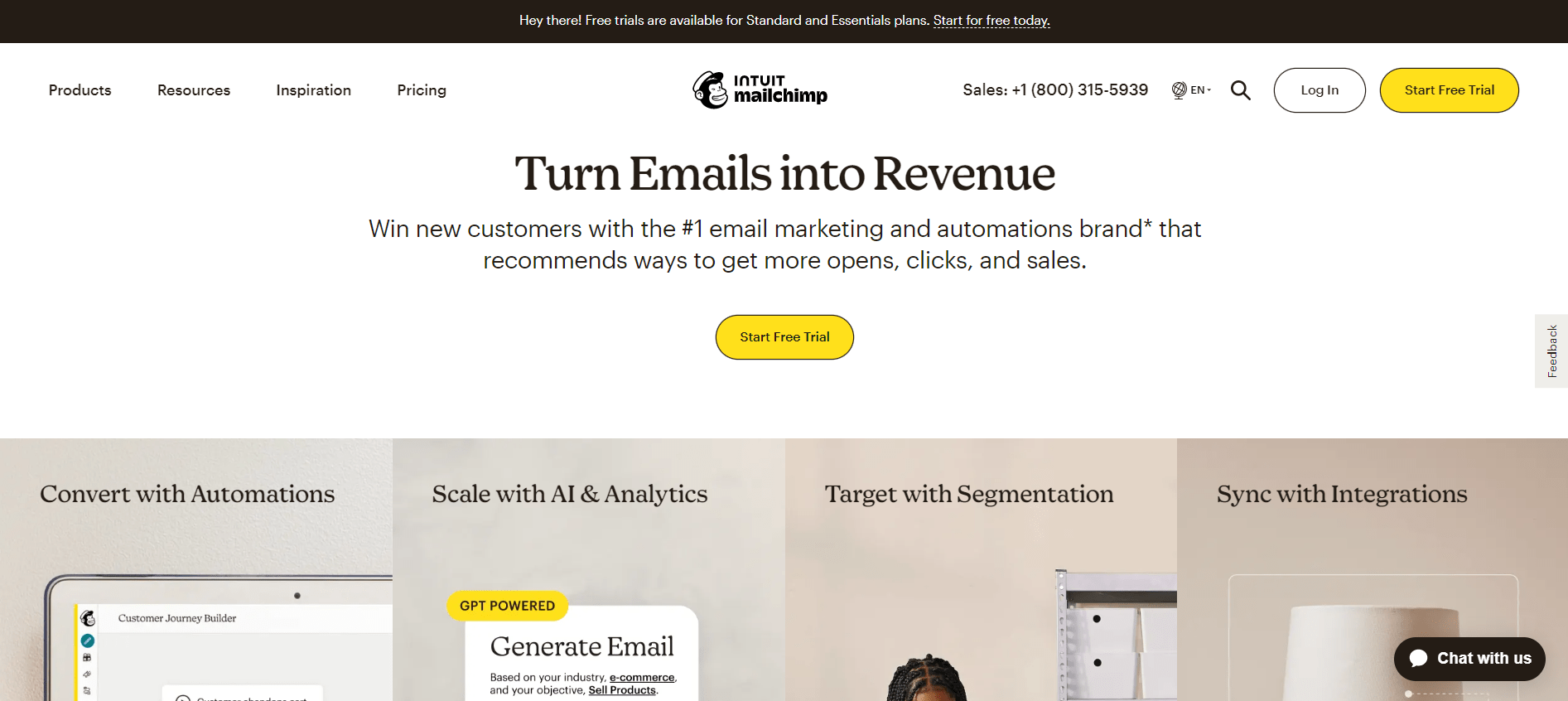 Mailchimp free plan
Mailchimp's free plan allows adding up to 500 contacts and sending 1,000 emails per month. Although the plan used to be a lot more generous, it covers some great features even today, including smart design and content tools, and multichannel tools to grow your business from one place.
Although Mailchimp's free version comes with some templates, Brevo is a lot more liberal on this front and includes all templates for free.
The good thing about Mailchimp?
You can try out all plans except the Premium one for free for up to 30 days, which is a lot more than most other tools provide.
Mailchimp email marketing features
Mailchimp is undoubtedly a great Brevo (formerly Sendinblue) alternative if you're in pursuit of professional-looking customizable email templates. Its email template editing tools are some of the best in town and the tool also supports more advanced users with the capability to write their own HTML code with its custom builder.
Another aspect worth praising is its clean visual report dashboard that will give you real-time updates on critical performance metrics.
Moreover, Mailchimp boasts advanced AI capabilities. These can help you get ideas for newsletters, copy, and design, and write engaging emails faster by means of simple prompts.
This Brevo competitor, however, falls short when it comes to sophisticated audience segmentation. That said, its sheer simplicity makes up for this drawback and is perfect for customers that only require the basics.
Channels used
One reason why Mailchimp is one of the best Brevo alternatives is its built-in CRM.
Moreover, whether you want to sync customer data, automate workflows, or track performance metrics, Mailchimp has integrations that can assist you with your goals. It's a powerful one-stop-shop marketing platform.
Paid plans comparison
Although Mailchimp's pricing plans are flexible, they can also be extremely confusing.
First off, you can either opt for a monthly plan or choose to pay as you go. With the latter, you swap monthly recurring charges for email credits. This is geared towards merchants that send emails infrequently.
Things get complicated when you realize that Mailchimp's monthly plans are based on both contact counts and email-sending limits. Furthermore, the contact count includes non-subscribed and unsubscribed contacts, which can increase bills substantially.
While Mailchimp isn't the most expensive Brevo alternative, it definitely has steep pricing when compared to many tools in the market.
For instance, Mailchimp's Essential plan starts at $147.80 per month if you have 20,000 subscribers. Brevo's Starter plan would cost $25 per month for the same number of subscribers.
Customer support
Mailchimp's customer support is typically well-regarded by its users. It's included in all its plans, although the free version only comes with email support for 30 days—users are limited to guides and tutorials after that.
In terms of responsiveness though, Brevo is a lot quicker. Another downside of Mailchimp is that phone support is only available to Premium users.
G2 rating: 4.6 out of 5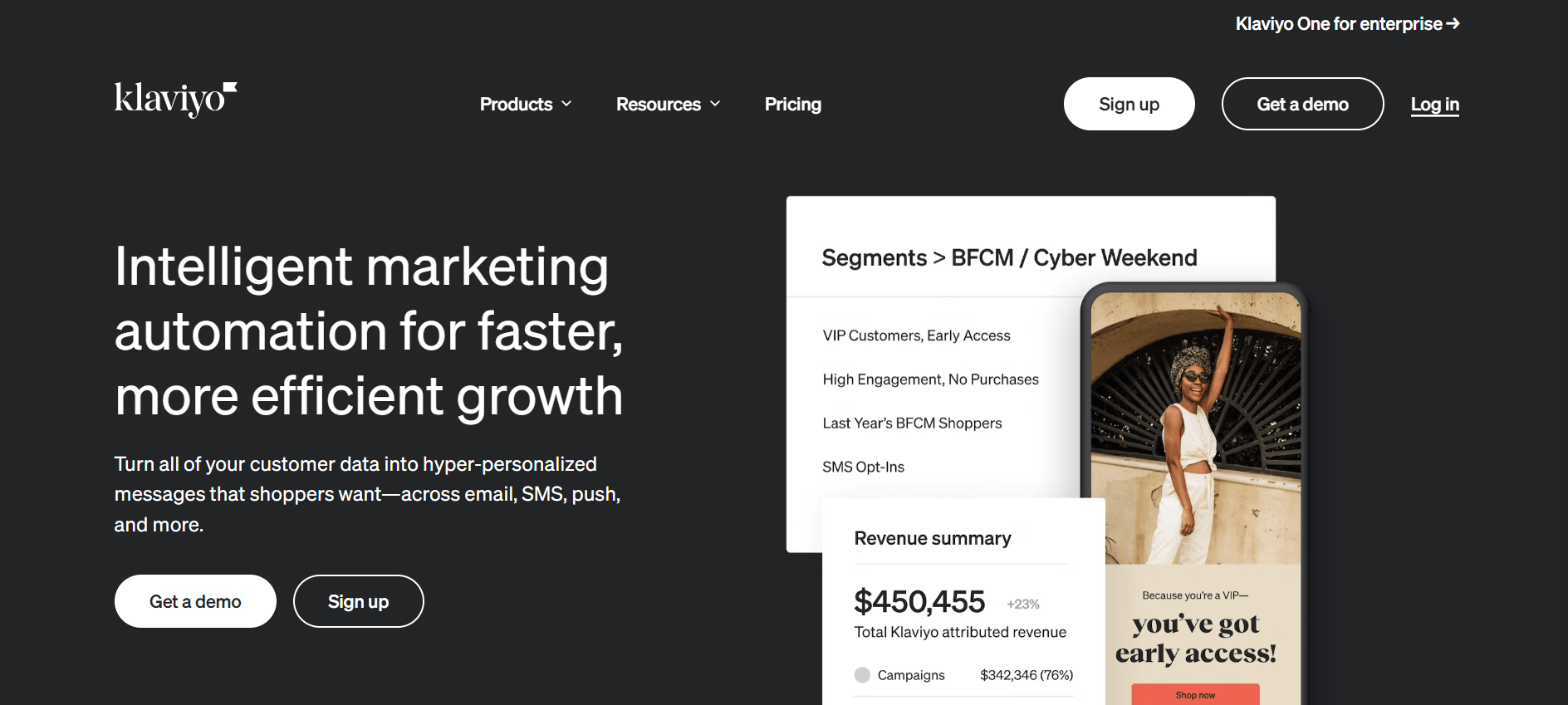 Klaviyo free plan
Klaviyo's free version allows 500 email sends every month, as well as 150 free SMS credits.
One advantage of Klaviyo's free plan is its inclusion of some advanced features, such as email personalization, segmentation, and automated A/B testing.
In terms of the number of email sends and contacts allowed, Brevo is more generous. However, if accessing more features is your priority, Klaviyo makes for a great Brevo alternative.
Klaviyo email marketing features
Klaviyo makes email building straightforward—thanks to its user-friendly drag-and-drop interface. You can also upload your brand font and colors on the system to maintain a consistent branding across your emails.
Klaviyo stands out as one of the best email automation tools amongst Brevo competitors too. For starters, you can automate a particular email template each time you win a new subscriber. This gives new users a fair idea of where to start.
It also comes equipped with the ability to create complex automated flows and segmentation.
Channels used
Klaviyo supports the execution of marketing plans for several channels, including email, SMS messages, social advertising, signup forms, and popups.
This Brevo alternative also allows users to unlock powerful growth marketing possibilities by means of its many integrations.
Paid plans comparison
Klaviyo is pretty expensive when compared to most Brevo competitors, and its plans are a bit tricky to comprehend.
Apart from the free plan, it offers two plans—one for just email, starting at $20 per month, and one for both email and SMS, starting at $35 a month. Moreover, the prices increase steeply when the need to accommodate more contacts arises.
For instance, if you have 20,000 contacts, the two plans cost $400 and $415 per month respectively. Brevo's prices are starkly different, and a lot more viable for small businesses.
Customer support
Klaviyo doesn't have a great reputation for customer support. According to some users, they're not as responsive and are often unsure about some technicalities themselves.
Moreover, those on the free plan only have access to email support for 60 days, and then they're limited to Klaviyo's articles, webinars, and forum.
Best Brevo alternatives: final thoughts
There you have them, the best Brevo (formerly Sendinblue) alternatives you can consider to take your email marketing efforts to the next level.
Still unsure of which tool to pick?
Start by closely assessing your business needs, goals, and budgets. And always remember to think about the long-term.
Also consider whether you want a tool solely for email marketing, or if you're looking for a more complete platform. While AWeber might be a great fit for the former, tools such as Mailchimp are more thorough.
And if you have an ecommerce store, you'll be missing out if you don't give Omnisend a try.
Grow your email marketing ROI with Omnisend's suite of powerful tools.
Start for free
related features
Want more sales?
Omnisend has everything you need to succeed.
Start free now
No Credit Card needed.