Rob Lin admits that his reason for abandoning brick and mortar in 2012 might come across as flippant to some. After about a dozen years, the owner and founder of Divatress grew bored.
The expanse of ecommerce, on the other hand, was alluring. So much to learn and do. Lots of potential. So he made the full transition to selling wigs, braids, and black hair care products online.
Lin's entrepreneurial spirit and eagerness to evolve has recently led him into a newer marketing frontier that some merchants are hesitant to enter: SMS, commonly known as text messaging.
After eight months of collecting phone numbers—from a customer base that skews female ages 25 to 55—Divatress' SMS subscriber list stands at nearly 70,000. The channel is bringing in extra revenue through one-off promotions as well as reinforcements within targeted marketing automations.
At this point, I can't imagine a world without SMS marketing. It's really taken off. Our SMS subscribers are growing much faster than email subscribers. SMS is just becoming more and more important for us and it's definitely not going anywhere.
Rob Lin
Owner and Founder of Divatress
SMS is only one slice of the pie. That, combined with Omnisend's email campaigns and automations, powers about 20% of the company's revenue.
Shopify reveals bigger marketing opportunities
Divatress made its online debut a few years before Lin decided to shutter his three physical locations. He opened up shop with the ecommerce platform Magento, and used basic Mailchimp email functions to tout the company's competitively priced products, customer service and quick delivery.
A move to Shopify 10 years later would shake up operations in more ways than one.
First, Lin migrated Divatress to the platform, along with the Black Hairspray brand he had purchased from a competitor. He quickly became cognizant of Shopify's capabilities and how a different marketing platform could take him further.
Research led to Omnisend. Lin was impressed by SMS and web push notification features, for starters. He viewed SMS as the vehicle for adapting to customers' changing preferences and habits.
The final selling point was Omnisend's easy integration with Shopify.
"It's been no looking back since the switch," Lin says. "Omnisend has been so much more powerful."
Twelve months after adopting Omnisend, Divatress has experienced close to 20% year-over-year business growth. A lot of that has to do with favorable market conditions. But Lin attributes approximately 11% of that growth solely because of the automations he enacted with Omnisend.
Effect of automations is 'ginormous'
As much as Lin itched to try SMS, he started with promotional campaigns and then eased into creating automations. He credits his dedicated customer success manager (CSM) for providing guidance through every step.
Divatress is a company of 15, with Lin and two others handling marketing. He considers automations a game-changer with "ginormous" impact. About 12% of Divatress marketing messages are triggered by an automated workflow. They make up 54% of Omnisend-driven revenue.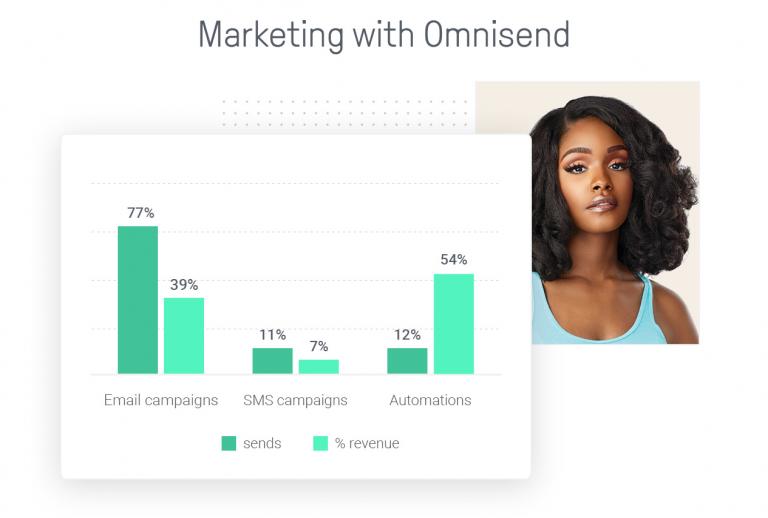 The top-performing series targets customers who add items to the shopping cart and leave without a purchase. The abandoned cart workflow was the first automation Lin and his CSM designed, based on the assumption it had the best potential for spurring higher-volume sales.
The series averages a 29% conversion rate, accounting for 28% of all platform-generated revenue. Yet they total only 5% of all marketing sends.
The workflow operates like so:
An email is sent about an hour after the cart is abandoned
A second email is sent 10 hours later if there is no activity
A third communication is sent 24 hours later—either an SMS or web push notification, dependent on customer subscription—accompanied by one final email
SMS and push volume is much smaller than emails, but they still contribute to sales.
Take web push notifications. Nearly everyone who clicks on it—98%—makes a purchase. The average revenue per notification is 1,151% greater than Divatress' typical revenue per promotional email.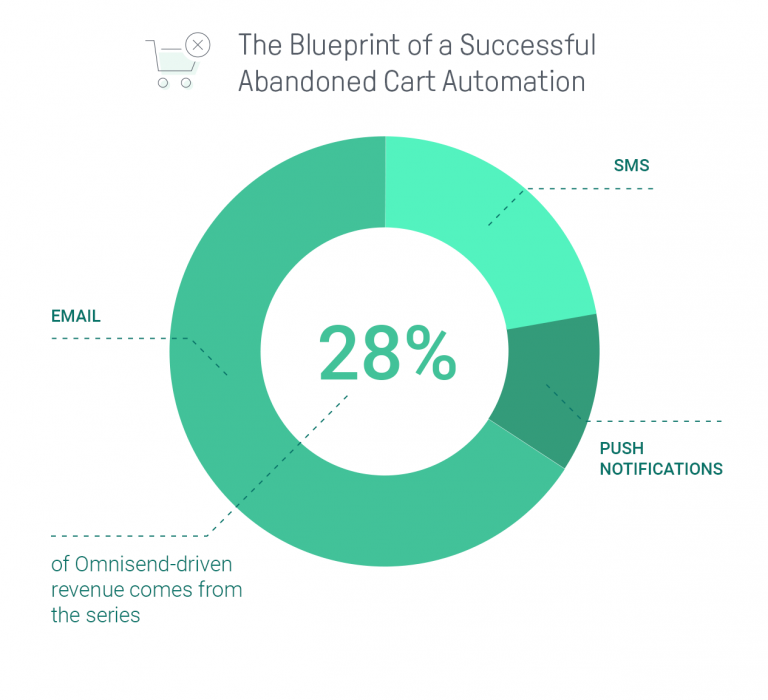 Here's how other automations perform:
The two-part product abandonment series nets a 17% rate for both conversions and yearly revenue
The first email of a two-message welcome series converts at 11% and has a revenue-per-email of $7.53
SMS: A complement to email campaigns
SMS has a distinct role in influencing cart abandoners to commit. But its prime job is boosting Divatress promotions.
Texts accompany every email blast that advertises a special campaign or sale. Nearly 13,000 subscribers receive only the SMS; they left the email address field blank when responding to the website pop-up.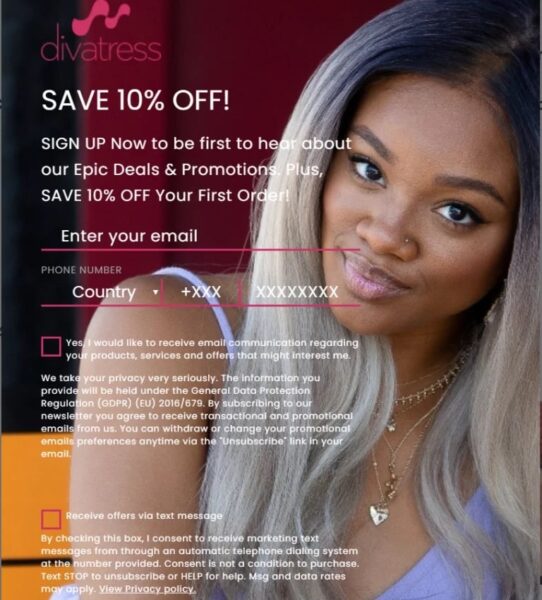 Lin is thrilled with the pop-up's performance, and even more so with SMS itself.
For example, a higher percentage of SMS subscribers click through to the website than email users—8% versus 3%. And some of those clicks lead to purchases. Over the first year, SMS campaigns drove $123,000 in sales.
"Even if you do the bare minimum with setting up automation, it's a super-easy win," he says when encouraging fellow merchants to give SMS a try. "But really, there's no reason not to bring SMS to work alongside email campaigns."
Empowering a time-constrained staff
Lin willingly pronounces his love for Omnisend, with good reason.
Sales are growing with new channels of communication. He has a clean and reliable email list, despite initial qualms about discarding inactive or dead addresses.
The platform is easy to use and doesn't require much to train someone. Maximizing time is critical to a business suffering from a labor shortage.
"In the last year we've had such a difficult time hiring people. We've been running so thin all over," Lin says. "Omnisend's automations have helped us so much. They can help anyone, especially the small and medium companies that I'm sure are in a very similar situation."