Cristie Besu, a Registered Nurse and Certified Sports Nutritionist, started Eat Me Guilt Free to provide a healthy, protein-rich snack free from the clutches of unhealthy foods and ingredients.
Eat Me Guilt Free's main products currently include delicious brownies, cookies, blondies, protein bread, and protein tortillas. In essence, customers get all the benefits of a delicious snack without having to worry about ingesting low-quality ingredients.
While Eat Me Guilt Free started humbly in Besu's kitchen, the packaged consumer goods brand now has a large team of bakers to meet the demands of a growing company. Eat Me Guilt Free wholesales its products to retailers like the Vitamin Shop and other grocers, while Individual customers can purchase their products directly online.
The brand's quickly scaling direct-to-consumer ecommerce sales channel and its desire to grow its subscriber base is the primary reason why the marketing team needs a reliable email service provider.
The reporting and tools Mailchimp lacked
Eat Me Guilt Free was using Mailchimp as their email provider, but as they grew, it became clear Mailchimp would not be able to support their growing business.
For example, they wanted a tool that made it easier to grow subscriber lists, segment those lists, and reach subscribers with diversified and focused messages. With Mailchimp, they found it challenging to create varying types of emails.
The marketing team also needed a way to track overall performance but were faced limitations with what Mailchimp provided. Finally, when Mailchimp terminated its relationship with Shopify, it became clear to Eat Me Guilt Free that they needed to find an email provider that could easily integrate with Shopify and provide the necessary tools for growth.
A seamless Shopify integration and rich email marketing features
The priority for the marketing team was to find an email platform that integrated well with Shopify. The team researched ten different email marketing platforms and narrowed down the list to three top contenders. After even more review, the team decided Omnisend was the best fit for their needs.
It was essential for us because the integration makes it way easier to do things like segment lists, find groups of customers that haven't ordered in the last 30 days, and more. Since Omnisend connects easily to Shopify, it's possible to find detailed and relevant customer information.
— Genesis Rose, Growth Marketing Manager at Eat Me Guilt Free
Rose said the onboarding process at Omnisend, guided by Heather, their dedicated customer success manager (CSM), was smooth. Heather helped the team utilize Omnisend to accomplish its number one goal—to drive ecommerce sales through improved email marketing. They immediately went to work on growing their email list, segmenting their subscriber list, and setting up behavior-based automated messages.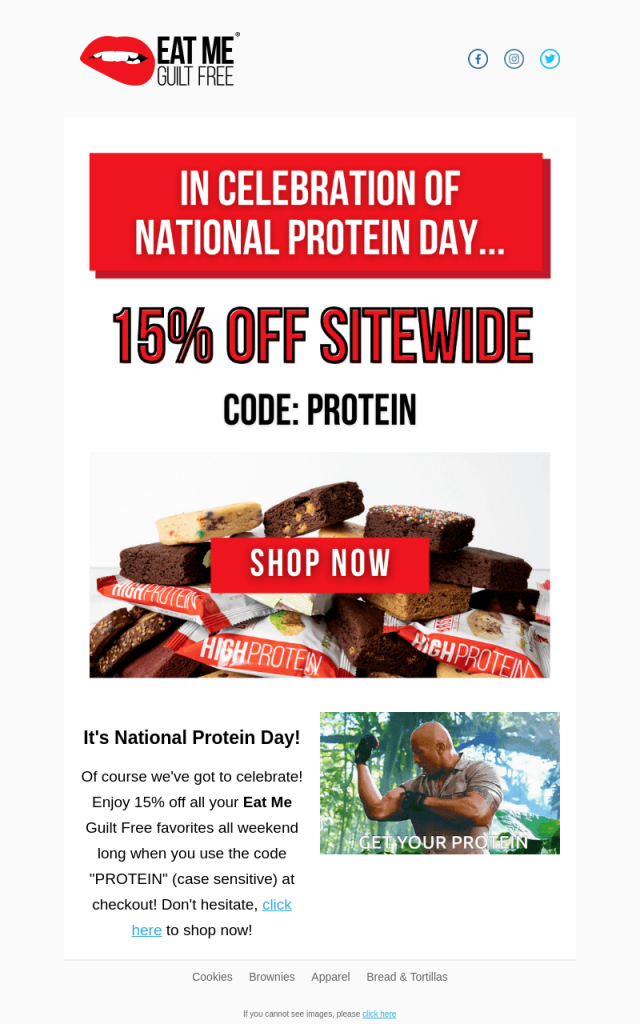 Omnisend tools such as targeted landing pages, opt-in giveaways, a website footer sign-up, and a check-out subscriber box help Eat Me Guilt Free continue building its large subscriber list.
Eat Me Guilt Free also uses Omnisend to build its VIP program, support gifting, and create targeted automated emails that yield results. Eat Me Guilt Free set up multiple automated messaging workflows, including abandoned cart, reactivation, product reviews, and cross-sell automations, to name a few.
The marketing team has also been impressed with Omnisend's innovation and commitment to improving the platform over time, especially in terms of offering better analytics.
"The analytics that Omnisend provides, such as its heat maps on campaigns that show you where people are clicking and converting and where subscribers are falling off, are so helpful. We use that data to improve each new layer of our marketing plan and to improve emails so that we can grow our business."
The ongoing personal relationship between the customer success manager and the Eat Me Guilt Free team has been invaluable. Most recently, their CSM reached out to the marketing team at Eat Me Guilt Free and suggested they use SMS as a complement to email.
Eat Me Guilt Free jumped on the opportunity, sending two email campaigns and placing a subscription banner on the website to acquire SMS subscribers.
Eat Me Guilt Free has experienced tremendous success with SMS marketing and uses it to support VIP members, foster more customer engagement with promotional teasers, and offer exclusive sales sent directly to subscribers' phones.
Increased subscriber count and email marketing revenue with marketing automation
With the help of Omnisend, Eat Me Guilt Free has grown its subscriber base significantly, captured insights that help the team create higher converting emails, and optimize its email messages to increase sales.
Here are some of the most impressive results Eat Me Guilt Free has seen with Omnisend:
Increase in email subscribers. Using Omnisend's list growth tools, Eat Me Guilt Free saw a 900% increase in subscribers in one month alone.
Higher conversion rates for promotional messages. First-send promotional email messages see a conversion rate of 17.7%, a figure 173% better than the average promotional email conversion rate for ecommerce businesses in 2020.
Increased sales with automated booster sends (remails). Automated booster emails sent to email non-openers account for 12% of all promotional email revenue and experience a conversion rate of 13.2%.
Behavior-based automated messages have been a significant factor in helping Eat Me Guilt Free increase its email marketing sales. The company sees high open, click-to-open rate (CTOR), and conversion rates for specific automation campaigns with these messages.
Here are the most notable automation results:
Automated messages generate 19.5% of all email revenue, yet account for only 1.3% of all email sends.
Overall, automated messages see a 40.7% open rate, a 14.4% CTOR, a 39.7% conversion rate, and a revenue-per-email (RPE) of $1.42.
Eat Me Guilt Free sends these automated messages and sees incredible following results:

Type of Automation
Open Rate
CTOR
Conversion Rate
RPE Lift over Promo Campaigns
Cart abandonment messages
36%
18%
48%
3001%
Post-purchase automation
55%
8%
11%
258%
Lapsed-purchaser automation
26%
13%
74%
1723%
Automated VIP messages
57%
20.5%
65.3%
4159%
Cross-sell automation
33%
9%
83%
1913%
Product review messages
39%
23%
19%
1520%
Though Eat Me Guilt Free's SMS program is still relatively young, they see early success and consumer adoption with the channel. Since adding SMS to its marketing communication strategy, the company sees an average of over 100 new SMS subscribers each week and is currently generating a 35% click-through rate with messages sent.
Like their customers, Eat Me Guilt Free is getting the best of both worlds. They continue to see impressive results by using Omnisend's rich features, including its Shopify integration, advanced analytics, high-level segmentation, automation flow, and various subscriber opt-in options.
Looking forward, Rose and the rest of the Eat Me Guilt Free team look forward to using Omnisend to build its SMS outreach efforts and grow its subscription base.