(Updated May 11th, 2018). Every time someone says that email is dead, we just roll our eyes and show the statistics: email marketing's return on investment is much higher than any other marketing channel (including social and display advertising) and reaches up to 4000% (every $1 spent returns $40).
Usually, this fact becomes a reason why they start looking at this marketing channel from a different perspective. From meh and dead it starts looking more like a gold mine.
However, it's important to understand that just by doing some email marketing, online business will not reach such impressive results.
Email marketing (just like any other type of marketing) needs to be efficient and high-quality.
Marketers need come up with an action plan and start implementing it. Online businesses can send newsletters, abandoned cart emails, follow-ups, customer reactivation emails, etc. And eventually, these different types of emails will drive you to success.
Today, we will focus more on just one ingredient of email marketing: newsletters, show you 10 ecommerce newsletter examples with tips, best practices, and some inspiration.
Omnisend can help you create beautiful and efficient newsletters. Connect your store today to get your 14-day free Pro trial.
Newsletter Example #1: Announcing your new store to all your contacts
The owners of That Ring Shop recently emailed their very first newsletter. The message is clear: Our online store is now open. Come visit us!
They introduce their primary categories—such as designs for women and men—and then introduce an offer exclusively for subscribers. This is a good practice: subscribers can see the benefits of belonging to That Ring Shop's club.
A clean design, high-resolution photos, and plenty of white space make this newsletter look elegant and professional.
Newsletter Example #2: Welcoming new subscribers
Farfetch is a daily sender, and it's worth subscribing to their newsletter to see how they generate ideas every day. And after you do that, you'll get a greeting (a.k.a. welcome email) with several suggestions.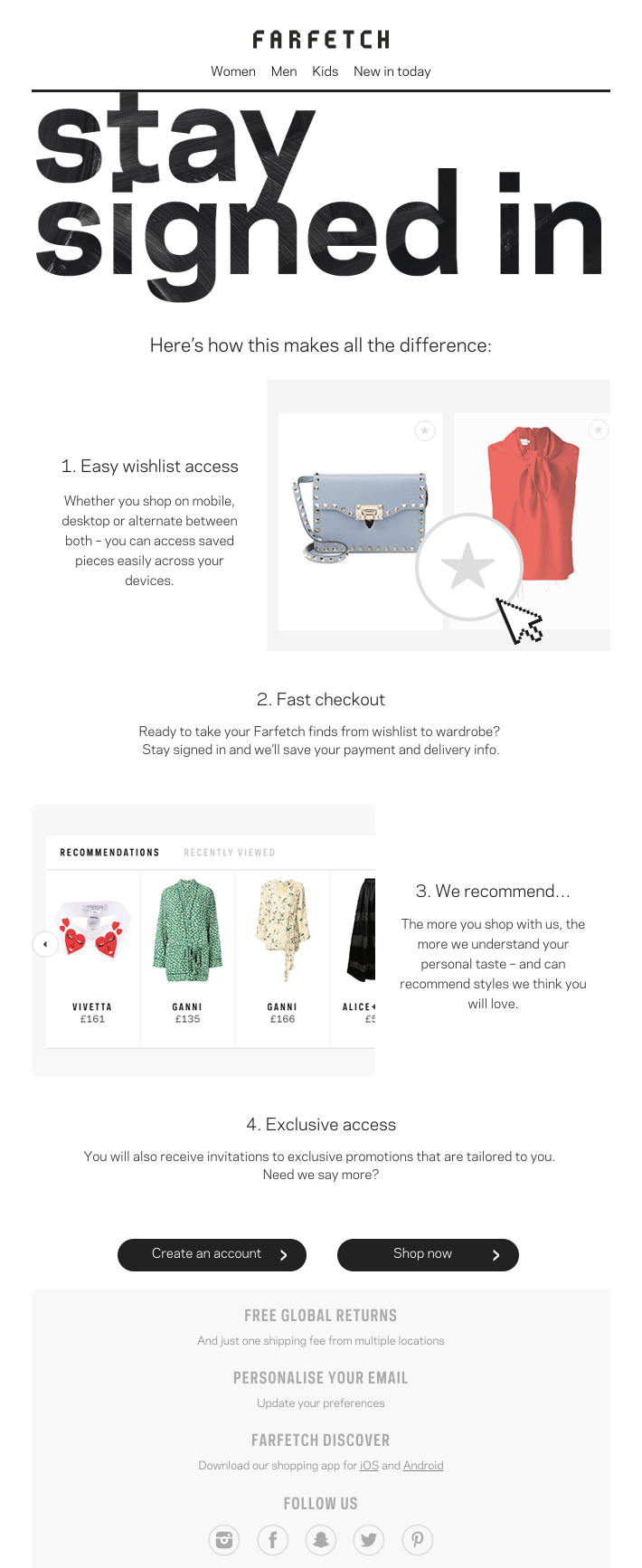 Newsletter Example #3: Making a short-and-sweet knockout offer!
This is an example of flash, stock cleaning, and other kinds of sales.
Pick one nice photo, write an offer subscriber will not be able to resist, and add a big button linking to your store. Simple as that! See how Crocs does it.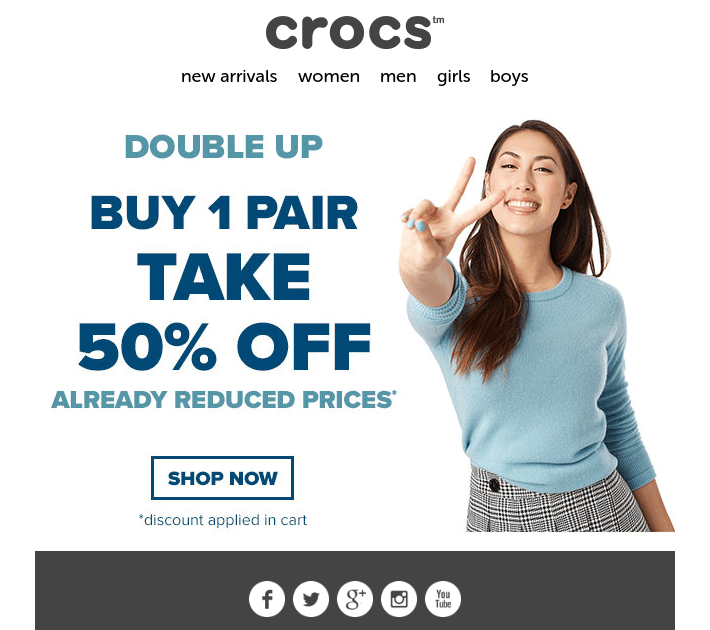 Newsletter Example #4: Highlighting season essentials
Highlight the must-have items of the season. You may send this type of message four to twelve times a year, depending on the nature of your items.
You could focus on individual products or categories or create sets and ensembles for each season.
The example below mixes the essentials. The focus is on J.W. Anderson's Dusty Rose bag, but the newsletter also reveals some products from the new collection.
Get your free copy of '5 Ecommerce Marketing Automation Case Studies' today.
Newsletter Example #5: Offering a scratch card
This kind of campaign will surprise and entertain your subscribers. Scratch card, a unique Omnisend feature, encourages readers to click on your newsletter and participate in the lottery.
Reader curiosity doubles your click rates!
Here is an example from Bargain Bows.
This email had a click rate that was six times higher than usual and a conversion rate that was 4.5 times higher than the average campaign sent by this online business.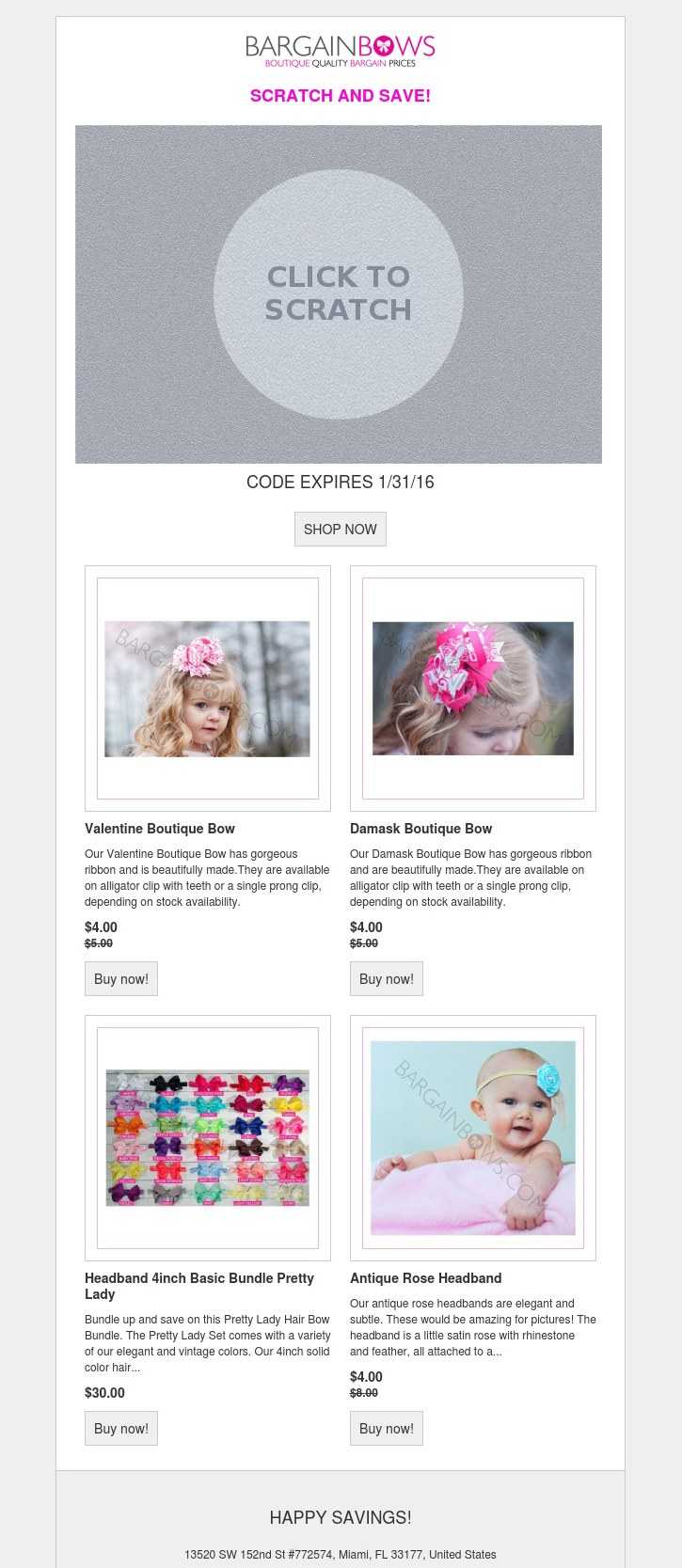 As an alternative to Scratch Card, you can also use the Gift Box, an animated image which is waiting to be clicked.
After a subscriber/customer does it, a message (with a coupon or another reward) appears on the screen.
Gamification is definitely a tactic you should give a try. Our tests (and clients' results) show that they can increase the click-through rates 2x, sometimes even more.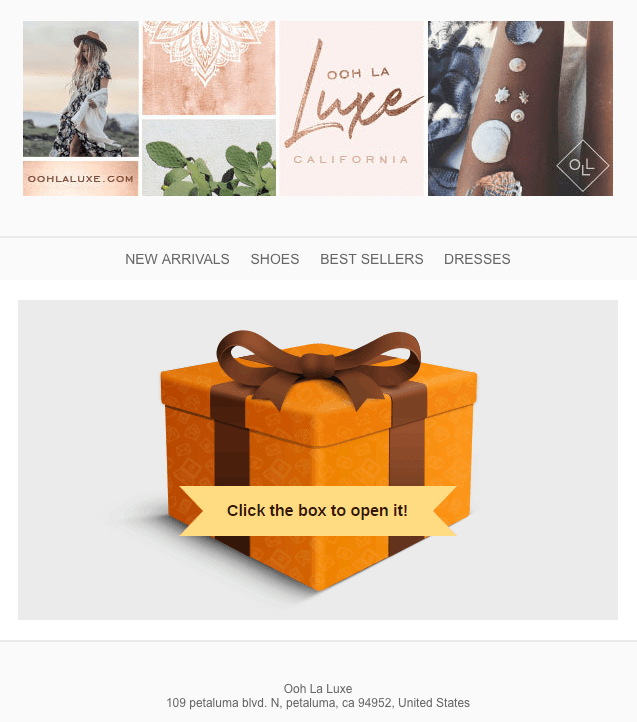 Send interactive emails with Scratch Card and Gift Box. All possible with Omnisend. Connect your store today to get your 14-day free Pro trial.
Newsletter Example #6: Announcing a special occasion
Every country has its occasions to celebrate, regardless of whether they are major holidays or some smaller ones. Just to name a few: Memorial Day, July 4th, Halloween, Black Friday, etc.
What do buyers usually expect during those occasions? Discounts, of course!
And these are the perfect moments for online businesses to increase sales. Don't miss the opportunity.
Here's an email from Sincera celebrating Mother's day and offering a 20% discount for all products.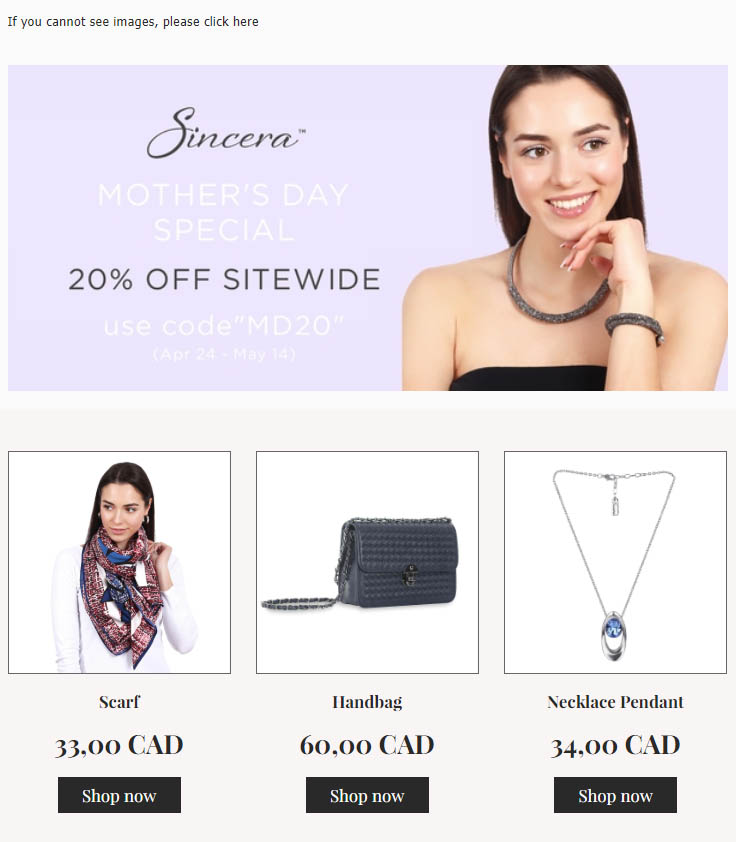 Almost any event is a good peg for a marketing campaign, so don't be afraid to use them for your marketing purposes. Even unusual events can work:
The first day of winter
The last day of summer, etc.
Newsletter Example #7: Highlighting top sellers and new products
This example is pretty similar to #4 but more flexible, as you can send it independently of seasonal changes.
You may also create a series of emails with different categories highlighted: top shoes, top dresses, and more.
See below how beautiful the newsletter from Avenue 32 is!
Newsletter Example #8: Offering discount codes
There's always room for a discount in an email. If you decided to give subscriber/customer a good offer, make sure it's visible at the top of the email.
This is the 21st century and people are always in a hurry, you have very little time to draw their attention, that's why put your best offers and content at the top, just like Brooklyn Way did it.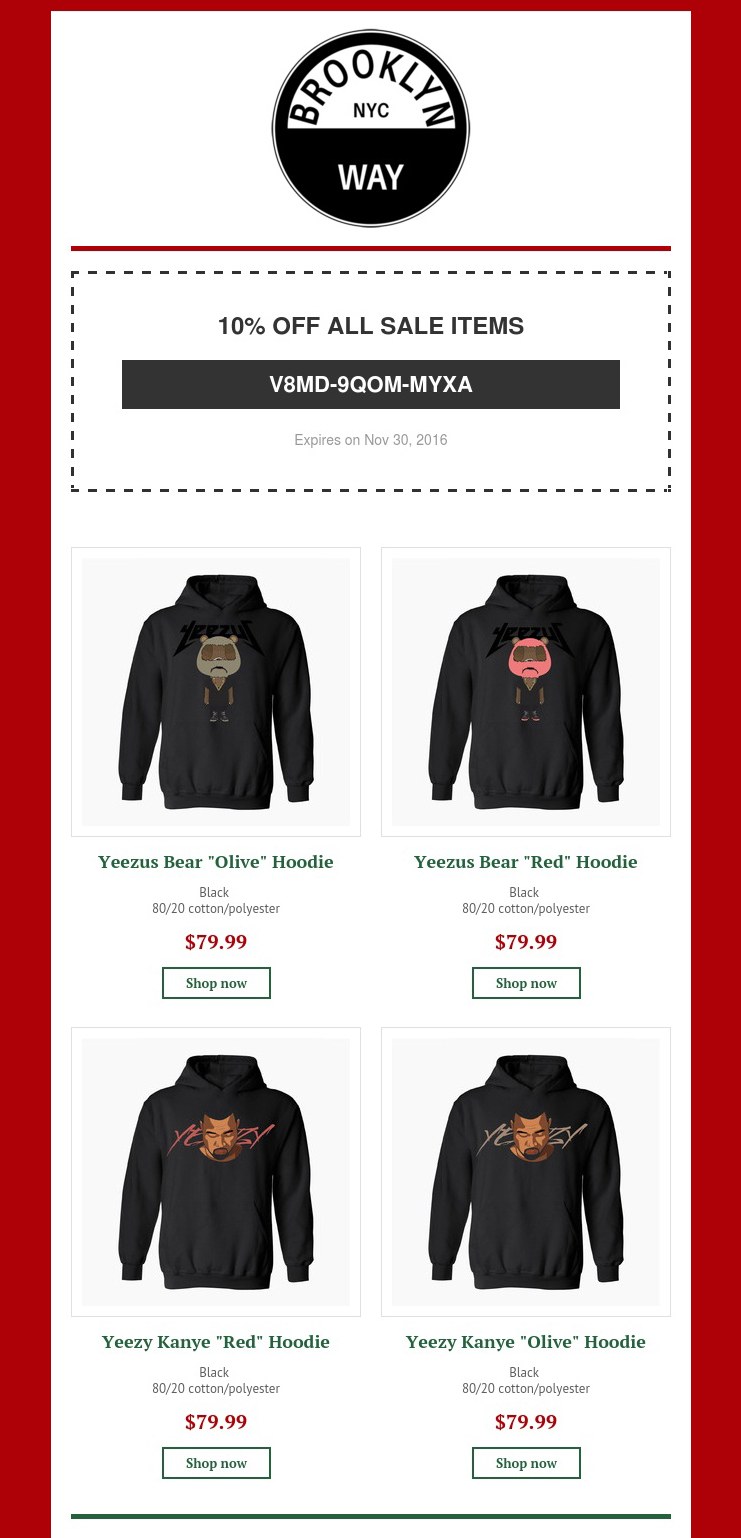 Newsletter Example #9: Listing your products
A long list of products does not make for the most enticing message. However, if you do it with taste and good design, like Farfetch, your email can look brilliant.
The most important thing in a product list is to put them into different sections, repeat your call-to-action button, and include the hero image/main message at the top of the email.

Newsletter Example #10: Including a video
Research also tells us that videos generate better click rates and greater brand interaction.
Try covering different topics—tell viewers about your products or a new collection, for example, or share ideas on how to wrap presents or how to use one of your products.
Look around and you'll find plenty of ideas.
Brooklyn Way has included a video from Youtube about the new sneakers that the shop highlights at the top of the newsletter.
Before you start embedding Youtube videos right in the email, hold on. There are some technical nuances you should be aware of.
Video players do not work in emails as they do on regular websites. Inbox providers and email programs do not support that.
So the solution that we are offering is to use animated GIFs imitating a video player. After a visitor clicks Play, he/she will be redirected to the Youtube video or other page and will watch it there.
To make things easier and faster, Omnisend has developed a content block for your email newsletters which automatically downloads the first seconds of the video, turns it into a GIF and adds a Play button.
All you need to do is paste a link to he Youtube video.
Ecommerce Newsletter Examples: Final words
Our compilation of 10 ecommerce newsletter examples has come to an end. We hope that you found some inspiration for your next ecommerce email marketing campaign.
If you enjoyed this post and would like to receive more relevant tips, enter your email below to subscribe. Additionally, you'll get a few bonuses in the email.
Get a personal 1-on-1 demo (that will superpower your next campaign)!