Drive sales on autopilot with ecommerce-focused features
See Features
Reading Time:
13
minutes
When it comes to branding, consistency is your biggest asset. Product packaging, promotional emails, social media ads—everything should be in line with your unique brand identity.
Consumers often need to engage with a new brand several times before being prepared to make their first purchase. Without consistency, your leads won't be able to form a clear image of your brand.
While other channels are critical for successful digital marketing, email is still on top when it comes to overall return on investment. Retailers and DTC marketers should pay close attention to their email branding in order to generate both short-term results and long-term engagement.
Whether you're using minimalist templates or bold, eclectic designs, consistent branding needs to be part of your ongoing newsletter strategy.
Omnisend offers a deep collection of free email templates to fit nearly any marketing context. Start Omnisend for free today to see how Omnisend can take your promotional emails to the next level.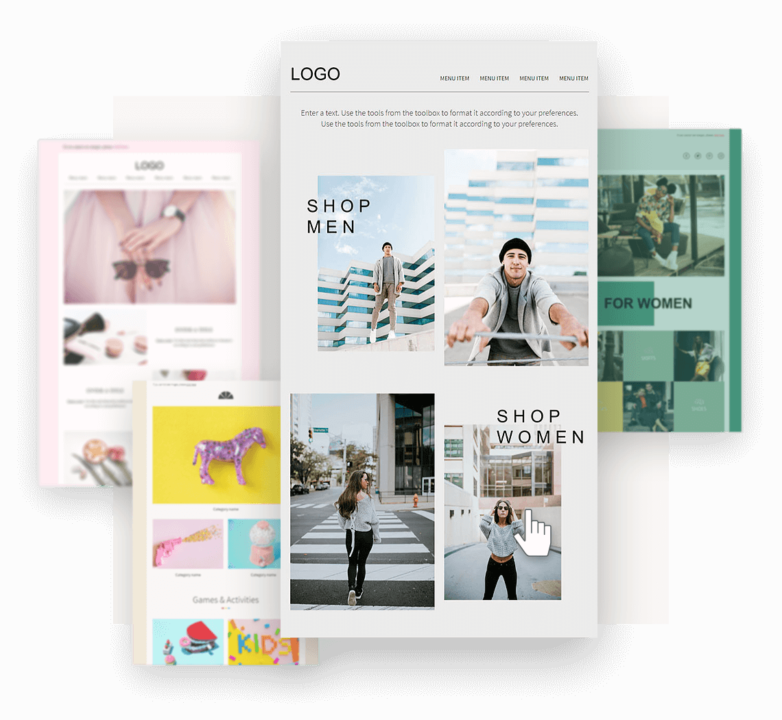 Along with consistent design, you should also look for an email newsletter template provider that offers technical support, straightforward customization tools, and other email marketing features.
Let's take a look at some of the best ways to find email newsletter templates for ecommerce in 2021.
1. Marketplaces vs. in-house free newsletter templates
If you're looking for HTML email newsletter templates, there are literally hundreds of providers with huge template collections to fit your branding needs. You should know a few things before diving into those template-rich collections.
Newsletter templates are available from two different types of providers:
Email marketing service providers that offer templates along with other email marketing services
Standalone template marketplaces where customers can buy or download standalone HTML email newsletter templates.
These providers don't offer any other email marketing services, so you'll need to find another tool to send your ready-made emails.
Both sources offer access to free newsletter templates, but there are some important differences to take into consideration when looking for an email template provider.
The perks of standalone email newsletter templates:
Template marketplaces usually provide a larger selection. With a bigger collection of templates, you're more likely to find something that matches your ideal design.
If you get your email newsletter templates from a standalone marketplace, you can easily migrate from one email service provider to another while continuing to use the same templates.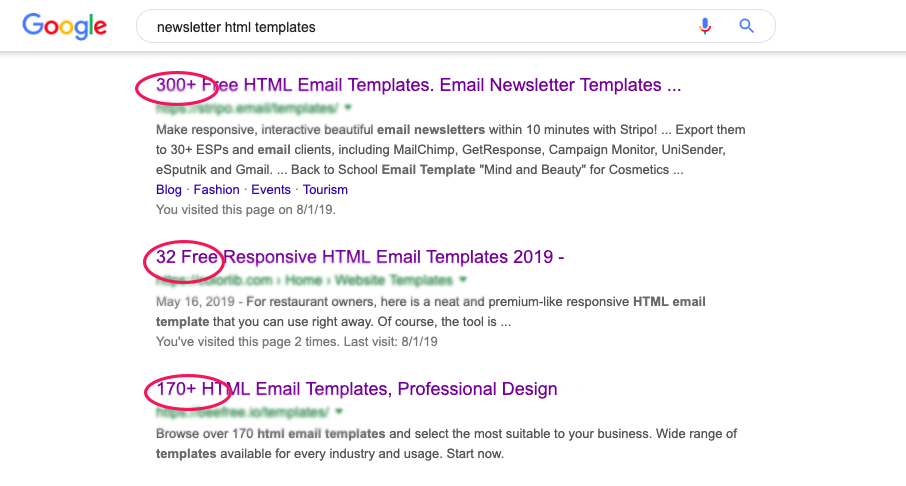 The perks of using templates from a native ESP email builder:
Native ecommerce newsletter templates tend to be easier to work with. If you're using a marketplace template, you'll likely need to work on two different tools—your ESP email builder and a separate newsletter design studio. With a native ESP template, everything you need is in one place.
While ESPs usually offer a smaller selection, they also provide ongoing updates to keep your emails working well with top email clients. As a result, your emails will always be optimized automatically, and you won't have to test them or keep up with email client updates on your own.
Email marketing tools offer additional features that streamline the process of building your newsletter. Product pickers, discount codes, and engagement boosters are designed to make life easier for ecommerce email marketers.
In-house email builders are much more efficient when it comes to designing multiple emails.
Building emails through your email service provider unlocks new opportunities for marketing automation.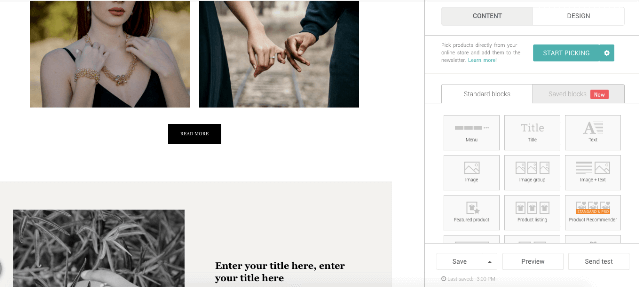 All in all, standalone HTML templates offer greater flexibility along with independence from any particular email service provider.
On the other hand, you should consider using your email service provider's native templates and email builder if you're setting up automated workflows.
If you're already using a specific free newsletter template, you can always look for a native email template that offers similar design elements.
2. Omnisend email templates
A newsletter app like Omnisend offers pre-built free ecommerce newsletter templates to save you time and help you create a professional newsletter. You can tailor these templates to your needs by customizing the color scheme, adding extra content, moving elements around, and more.
With the new Brand Assets feature, your branding—including your logo, colors and fonts—will automatically get imported into your newsletter templates, making the work that much easier.
You can start with a few of the best newsletter templates for ecommerce: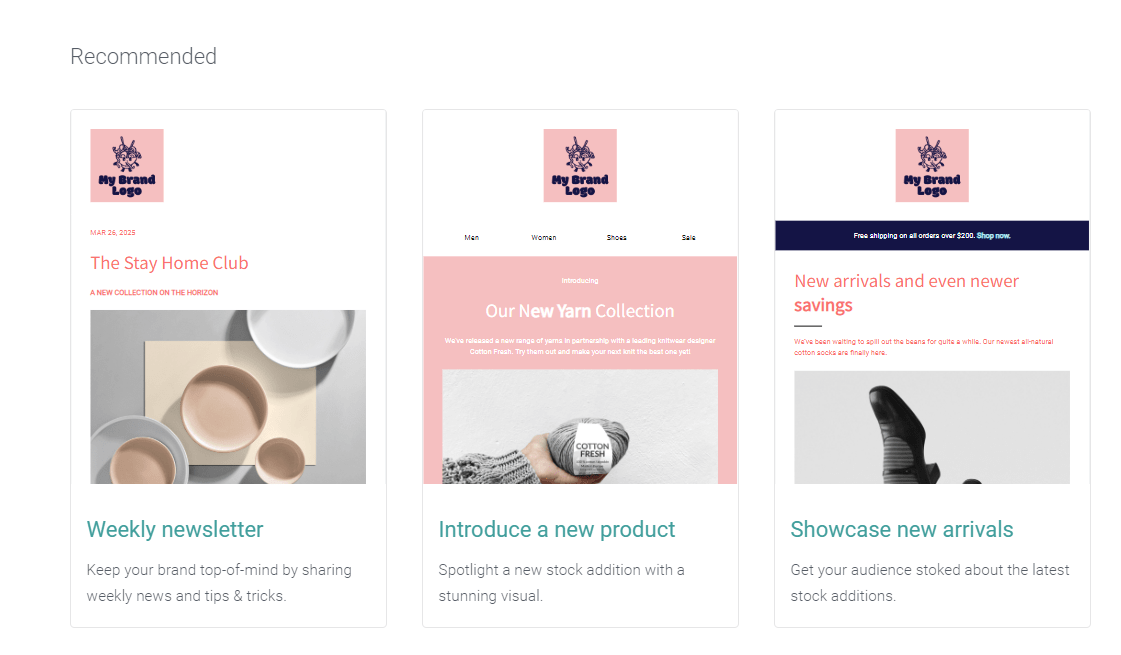 Omnisend also makes it easy to customize the template's layout depending on the purpose of your email. One design might be best for showcasing new products, while another one may be better suited for flash sales or exclusive promotions.
Using a single template and customizing it for each type of message makes it easy to get different looks while maintaining a consistent style. You get real control over your newsletter design.
Themed templates
You can always go with ready-made templates if you want to save time on customization. These templates are prepared by professional designers, so it's easy to look good without investing any extra effort.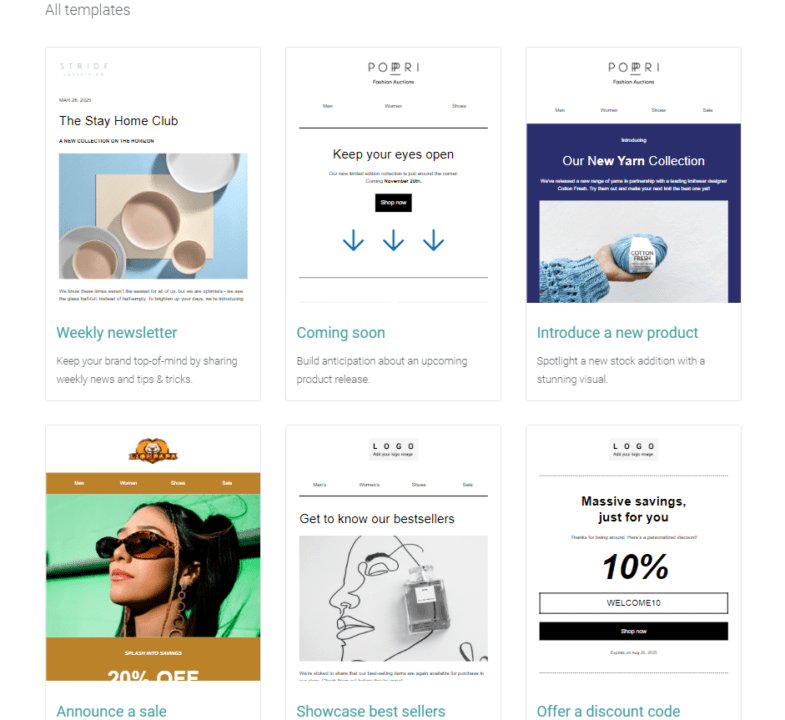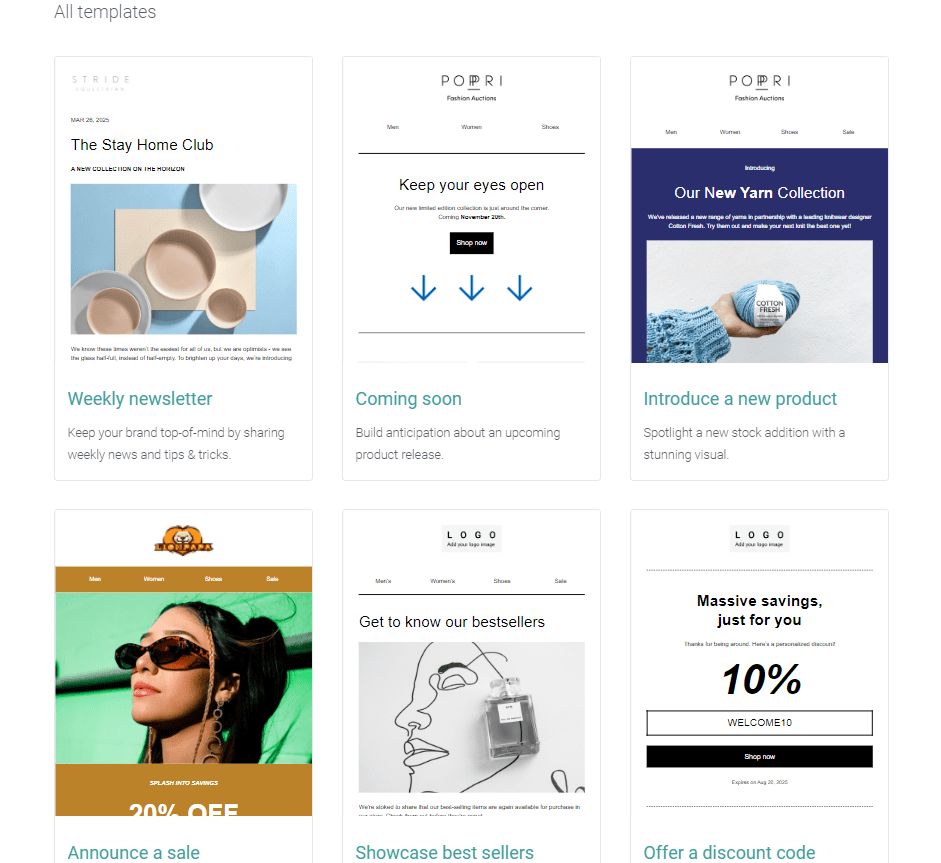 With a ready-made template, all you need to do is to add your logo, content, and contact details. These ready-mades are based on our standard templates, so you can still edit the newsletter design any way you want.
Check out the example below to see how our clients adopt our themed templates to their needs: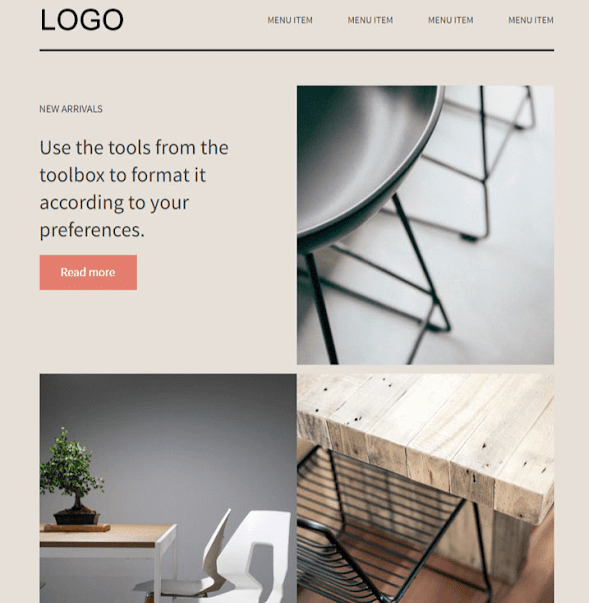 Actual email campaigns sent by our clients: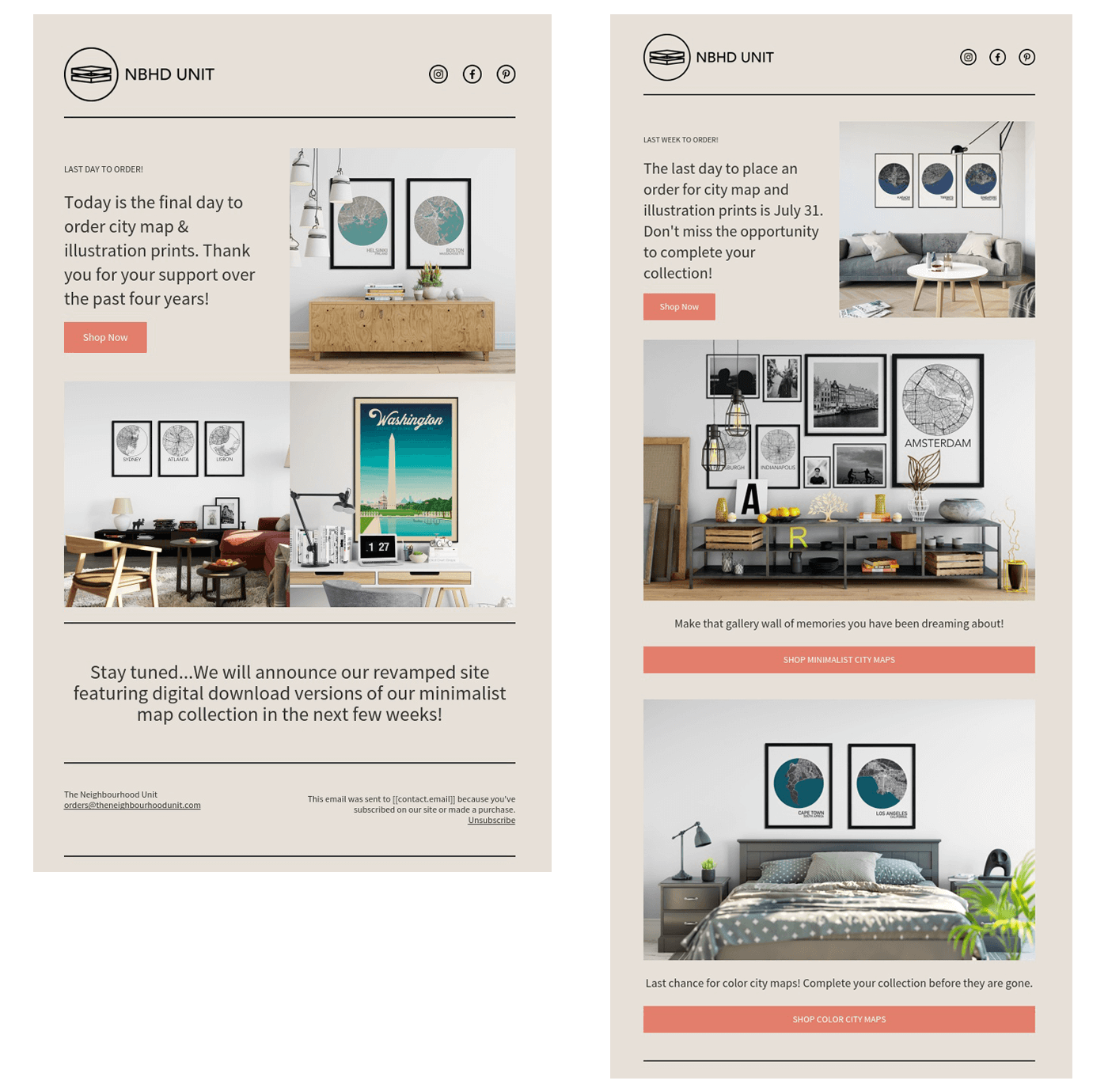 The same basic newsletter design can be adjusted to fit every aspect of your email workflow, from regular newsletter messages to automated messages.
It has never been easier to customize emails for every situation without sacrificing your consistent brand image.
3. Other email template providers
While Omnisend offers an incredible selection of templates, you can also access email templates from a number of other providers. These are just a few of the best options if you're looking for high-quality free templates.
1. Litmus
Litmus is an email marketing service provider that offers a variety of tools including automation, email building, and integrations with numerous third-party providers.
Prices start at $99 per month or $79 when paid annually, but you don't need a premium subscription to access Litmus' library of templates.
Litmus provides templates for most common campaigns including welcome emails, announcement emails, and thank you emails. The abandoned cart message below is a perfect example of their straightforward approach to newsletter design.
Unfortunately, there are only 40 templates in total, so the selection isn't particularly deep compared to some of the other options we've seen.
2. BEE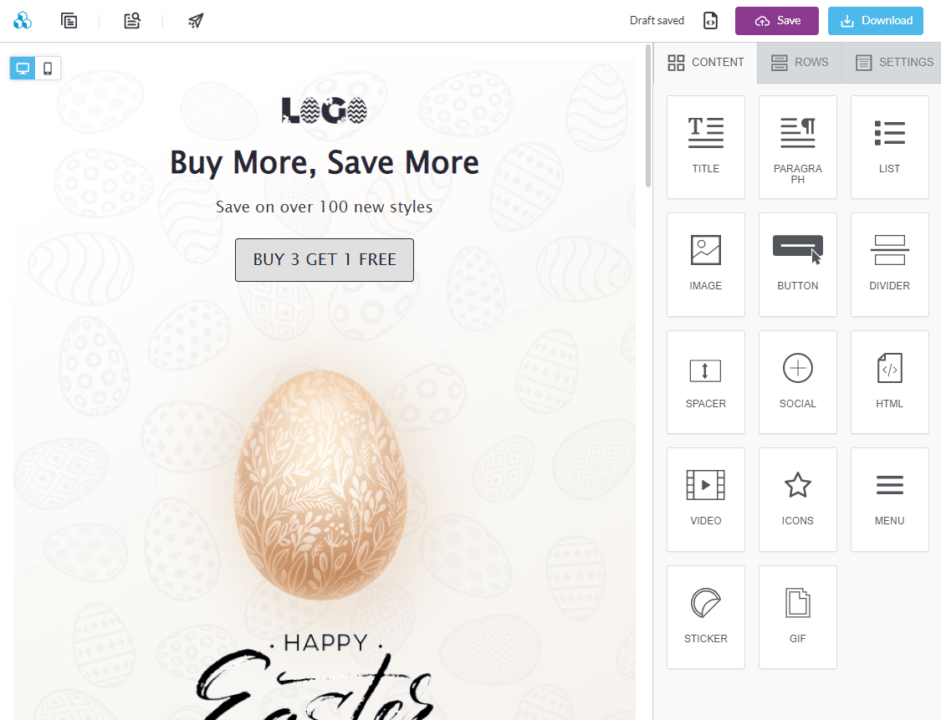 BEE is a simple yet robust design tool that's intended to help marketers build professional emails and landing pages.
Like Litmus, BEE gives all users free newsletter templates while offering more advanced features in premium plans, which start at $15 per month or $12.50 when paid annually.
Whether you're looking for email or landing page templates, BEE is sure to have a newsletter design that meets your needs.
While some templates are restricted to paying members, you can still access hundreds of designs without a premium subscription. Templates can be categorized based on the industry, season, and purpose of the email.
Don't forget to check BEE again when you're looking for landing page templates.
3. Venngage
Venngage is another digital design service that offers both free and premium features.
Free users can use some of their templates, but premium and custom templates are only available with premium subscriptions which start at $19 per user per month.
While Venngage doesn't offer the same focus on email templates, many of their designs could be seamlessly integrated into a promotional message. Template categories include everything from charts and infographics to e-books and white papers.
Any of the designs below would work well in the context of a marketing email.
4. The key elements of email design
While each email contains unique content, basic design elements stay the same across different types of messages. All ecommerce emails should have high-quality visuals, a clear structure, bold call-to-action (CTA) buttons, and appealing copywriting. Let's take a closer look at the fundamentals of email design.
Layout
The right layout for your next marketing email depends on what you want to communicate. A single-column layout with a hero image is best for messages with a specific focus.
For example, you might want a clear centerfold to highlight a top-performing product for a major promotion.
On the other hand, a multi-column layout is better for displaying multiple products or different types of content. No matter what kind of a template you're looking for, these basic newsletter tips will help you find the perfect design:
Pick a simple layout with no more than three columns. Templates with four or more columns won't look as good on mobile devices.

Don't add too much content to each email. Remember that images and other elements will be displayed in one narrow column on mobile devices. With most emails being opened on smartphones and tablets, you simply can't afford to neglect these users in 2021.

Use lines and spacing to clearly define the visual structure of each message. Most email users aren't looking to read paragraphs of text—they want to quickly scan the message and find the information that's relevant to them.
This Stay Fitz campaign features clearly structured email: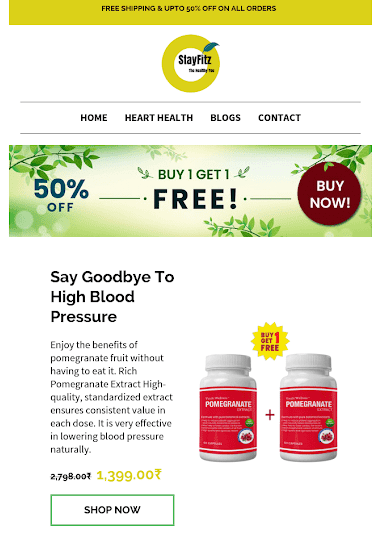 Visuals
Visual elements are crucial for breaking up text and making your emails more interesting. High-quality logos and images will also contribute to your brand's style and credibility.
Furthermore, clear product images with a variety of angles are more likely to convince a customer to make a purchase. Don't underestimate the impact that upgraded product images could have on your overall sales.
Contemporary DTC brands use images that reveal texture, consistency, and scale, making it easier for visitors to visualize the product they're getting. They also leverage luxury packaging to make the shipment more visually appealing.
Every detail matters—make sure to pay decent attention to your visuals.
These ideas will help you improve the visual design of your email campaigns:
Use a high-resolution logo with a transparent background.

Make photos, buttons, and other key elements the focus of each email.

Give each element enough space to avoid cluttering the email's design. Leaving some information out is usually better than overloading the message and losing the reader's attention.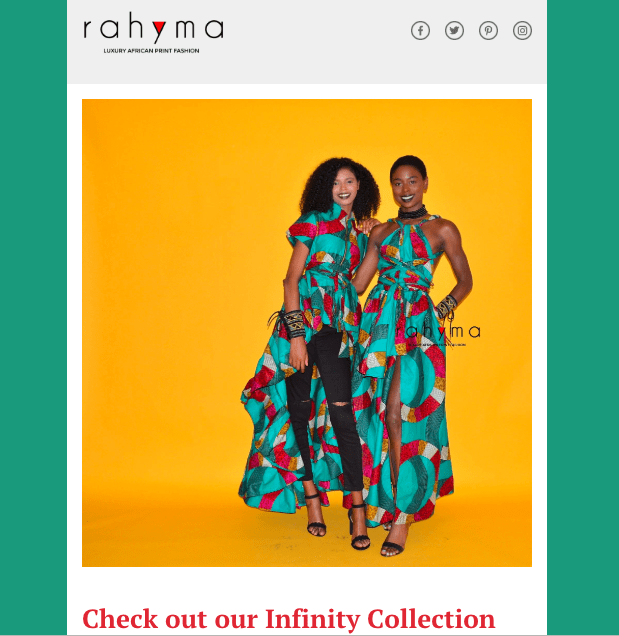 Call to action
The call to action is the most important element of each email. This is true whether you want readers to buy a product, sign up for an event, or simply read a post on your blog.
With that in mind, your email should be centered around the CTA along with any other critical elements. Customers won't know where to click without a clearly focused visual design that emphasizes the call to action.
Using images as CTA buttons is one of the most common email marketing mistakes we've seen. Far too many retailers turn images into buttons without adding any text or other visual elements. Email clients often block images, so customers may not see the email content at all.
This approach will also hurt your text-to-image ratio, which is a key factor in determining your email deliverability.
The simplest way to make your CTA button stand out is to leave some empty space around it. We also recommend using a color that fits with your overall theme while differing from the main colors in your email.
See a few examples below:
1. Supply Place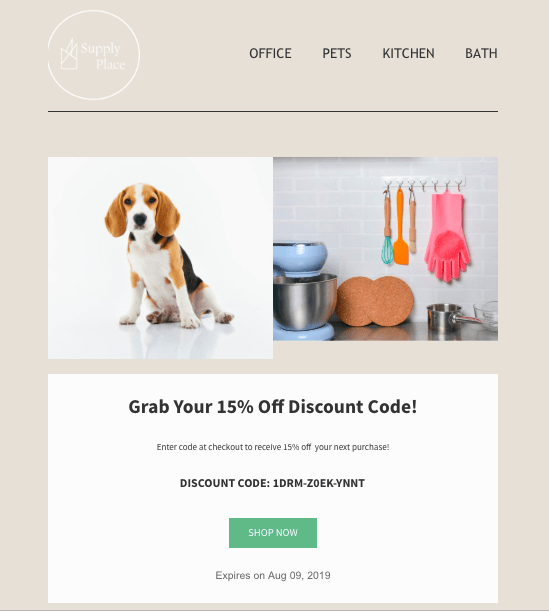 2. Shamrock Shirts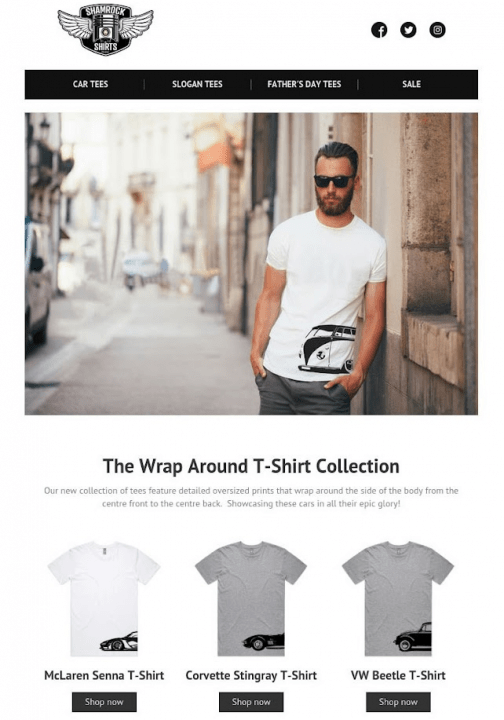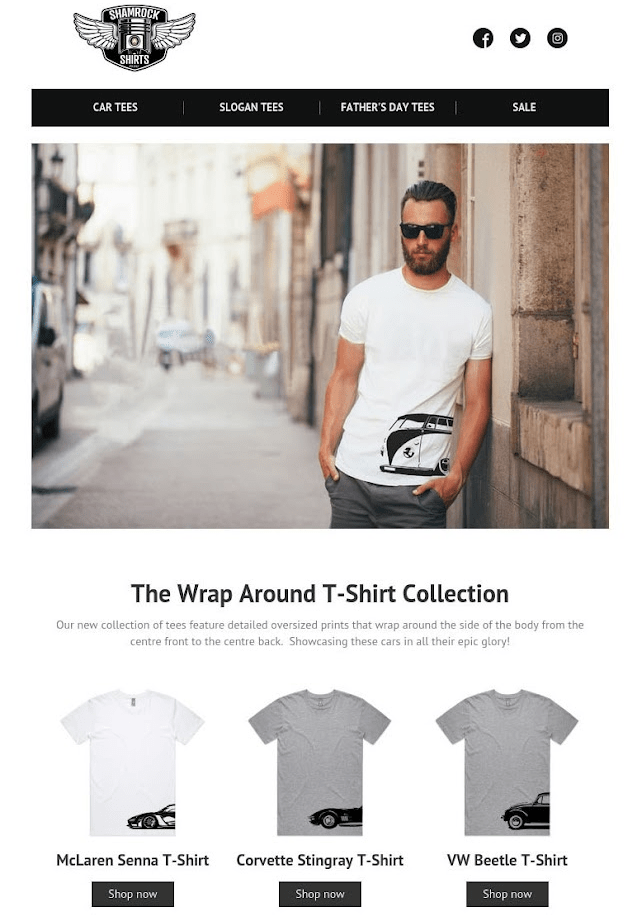 Text
While long stretches of text might make sense in certain situations, this is more the exception than the rule. Promotional ecommerce emails stick to short and appealing copywriting while eliminating any unnecessary text.
With that being said, it's important that each email you send contains relatively equal amounts of text and images. Our deliverability experts suggest that 50/50 is an ideal text-to-image ratio for most emails.
An image-heavy message is more likely to be flagged as spam, which may damage your email deliverability.
Image blockers are one more reason to include your key message and call to action in written text. Readers should understand the main idea as soon as they open your email—even if they can't see the accompanying images.
The optimal font size is about 14 to 16 for the email body. Headings should obviously be bigger—usually, somewhere between 22 and 42 depending on the way the message is designed.
And don't forget to use email-safe fonts that won't cause any display issues.
5. Addressing pain points
We've picked up on a few recurring pain points through conversations with our clients. Two of the common issues are a lack of high-quality images and poor product listing formats that make emails less visually appealing.
Fortunately, you can address both of these issues with a few simple strategies
Optimizing product listings
When adding product listings to your emails, make sure that each one is the same size style.
Blurry, dark, or unclear images should be replaced with custom product photos—miniature studios are a surprisingly good investment for brands that want to upgrade their product images.
Product descriptions should be aligned with images, buttons, and other visual elements.
This rule of thumb will help you create more professional product listings like those in the example below.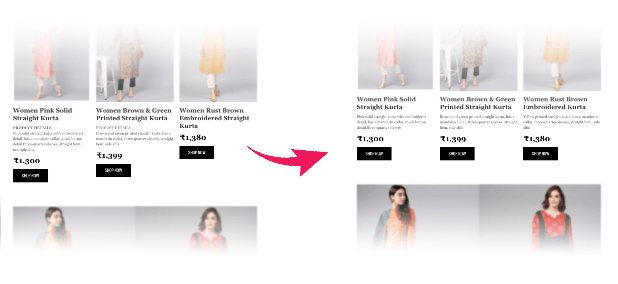 Keep in mind that you don't have to use standard product listing templates to create a powerful design—unconventional layouts can be highly effective.
1. Product GIFs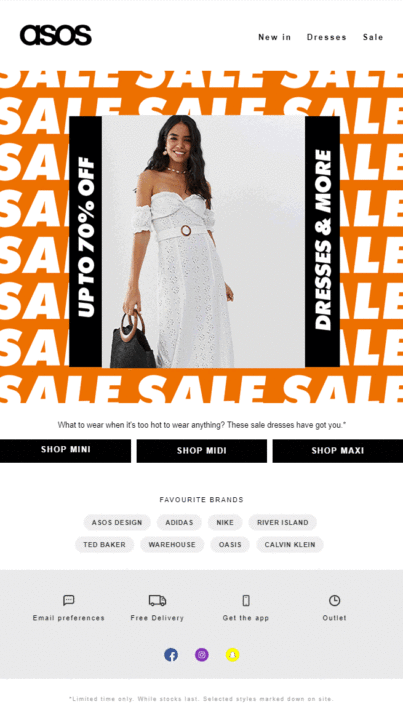 2. Product Mosaics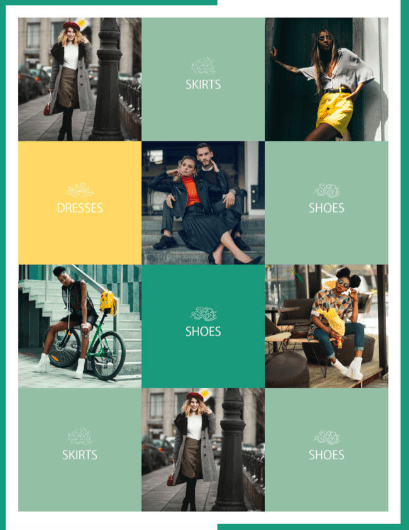 2. Low-quality images
Startups and other new businesses often struggle to find high-quality images. While larger companies are able to invest in photoshoots or even dedicated studios, small businesses may have to look for innovative alternatives.
Typography is a great way to replace imagery without losing any brand appeal. Typographic imagery can be highly professional and communicate valuable information about your brand's unique style.
Check out some great examples below.
1. Tire Adventure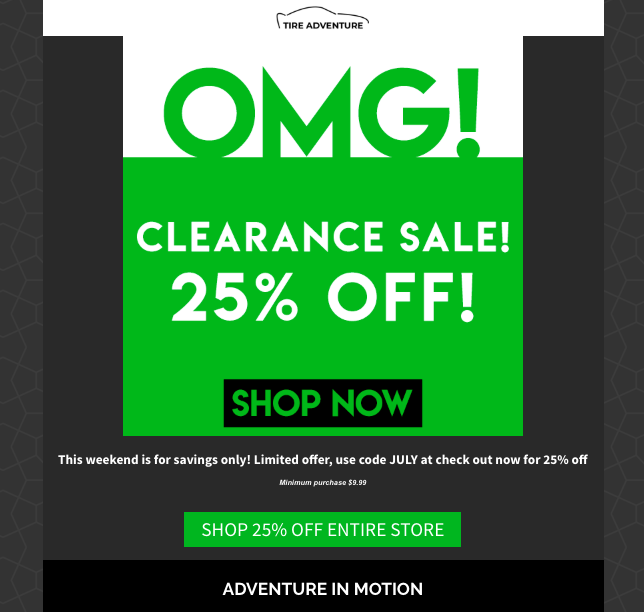 2. OPP France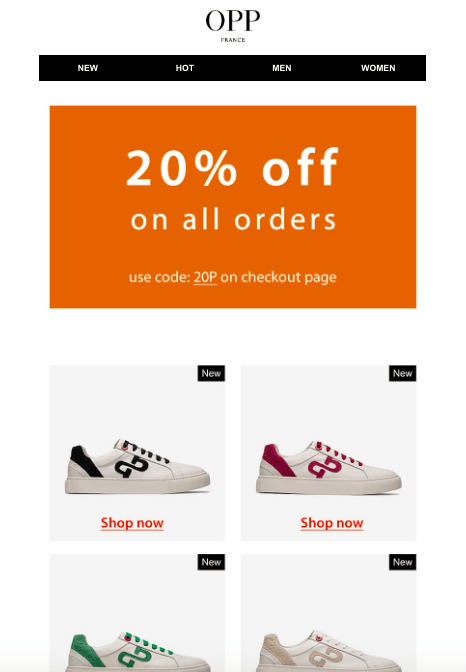 3. Stitched Leather Loafer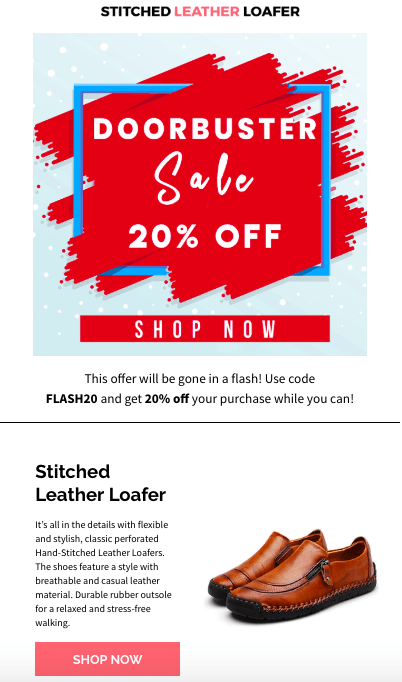 Tools like Canva and Appy Pie Design can help you create powerful images if you don't have experience in graphic design.
6. Boosting email engagement
The way readers engage with your emails depends on a variety of factors. Some of these can't be controlled. For example, there's nothing you can do to prevent customers from being in a bad mood when they happen to see your message.
On the other hand, you can influence their engagement by making tweaks to your email design.
Identifying the design choices that resonate with your audience requires ongoing testing and development. While this process can be time-consuming and never brings unambiguous results, it can still help you optimize your approach over time.
Check out the following ideas for even more newsletter tips to improve your campaign engagement.
1. Videos
Video is one of the most effective elements when it comes to email engagement. Adding video to your emails can immediately double your campaign performance.
Video content offers a number of important opportunities for brand development:
Tell your brand's story
Generate social proof through unboxing videos
Introduce new arrivals or collections
Preview your upcoming products
Explain product features and benefits through video demos
In short, video should definitely be involved in your next campaign. Take a look at these examples for some video inspiration.
1. Barista uses a video in place of a hero image.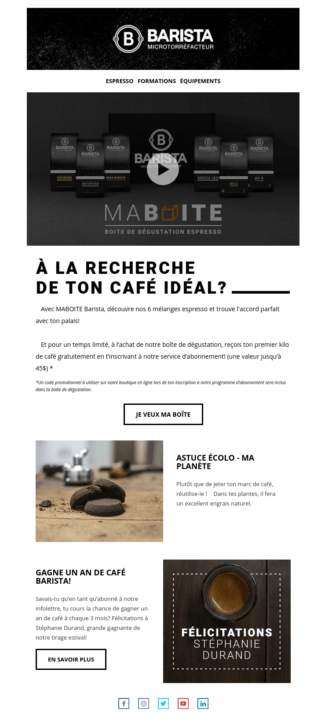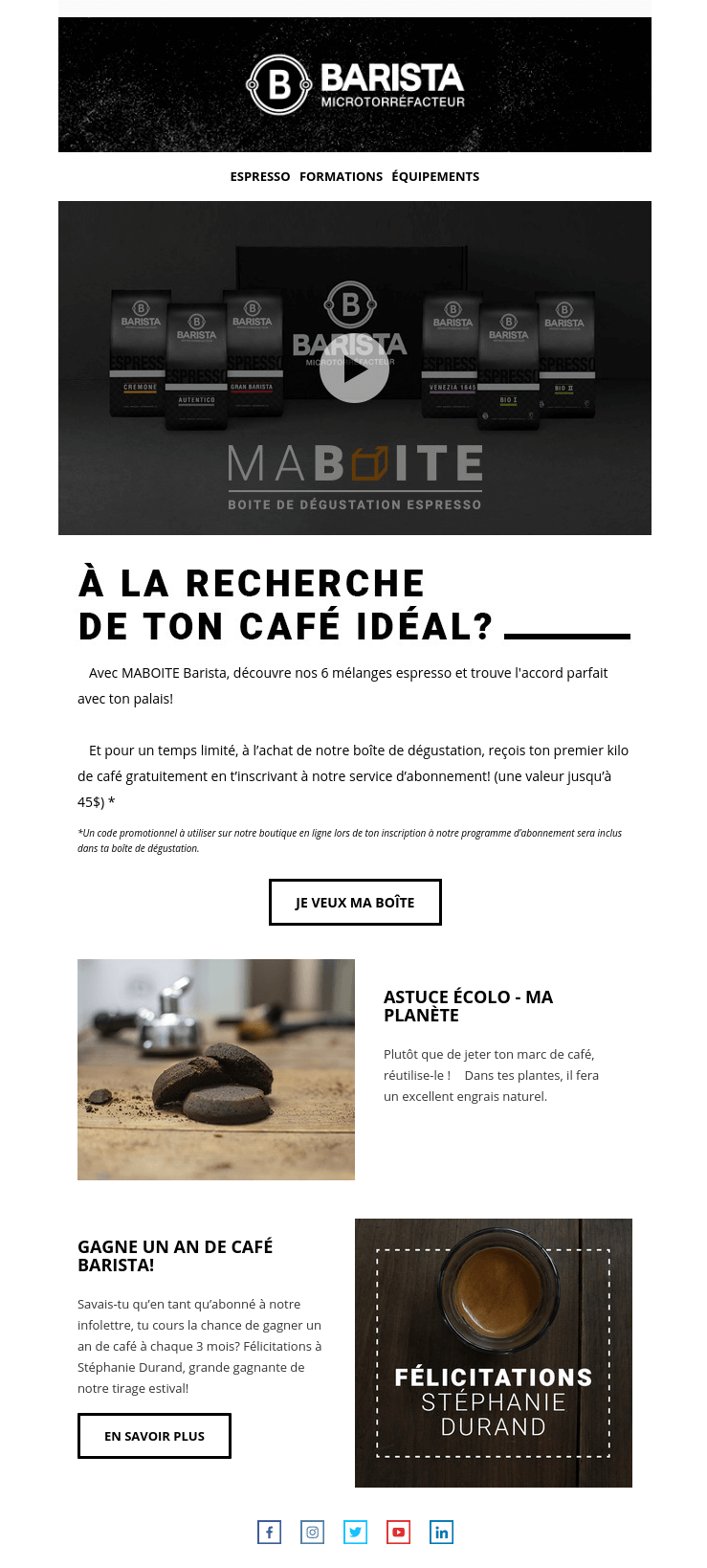 2. Brooklyn Way starts with a hero image followed by a more in-depth video review.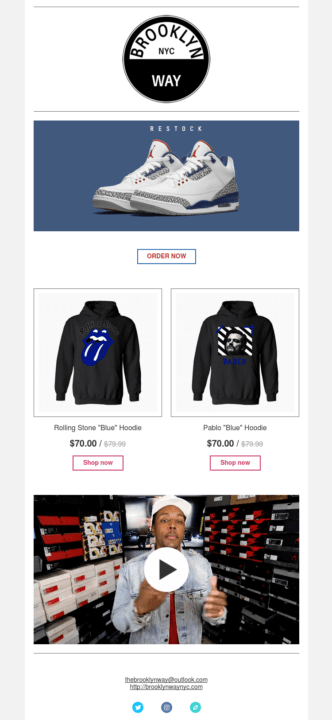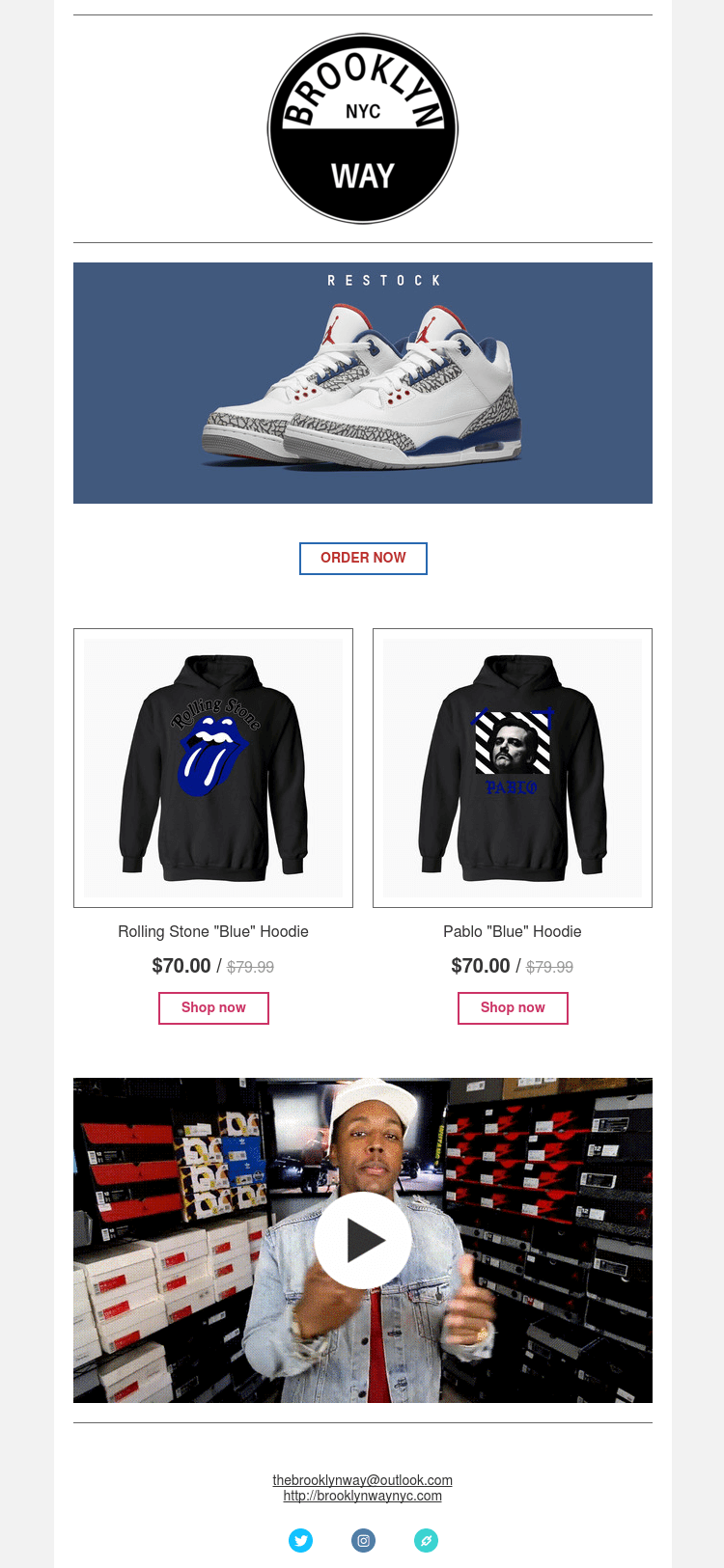 2. Promotional codes
You can always use a simple discount coupon element for hot promotional emails. This is a straightforward option that lets customers know exactly what they're getting.
Discounts are most effective when you provide a particularly enticing deal. If you're selling a popular product for the lowest price ever, there's no reason to hide that information.
On the other hand, a routine discount code won't perform as well for a less valuable offer.


3. Countdown timer
Emails with a countdown timer will give readers FOMO and drive traffic immediately. Three hours is the optimal length for a flash sale in terms of both transactions and transaction-to-click rate.
Tools like Motionmailapp.com make it easy to add countdown timers to promotional emails.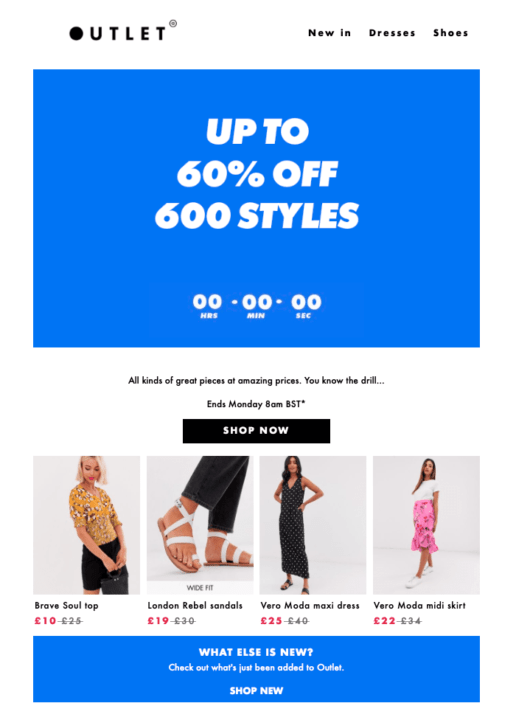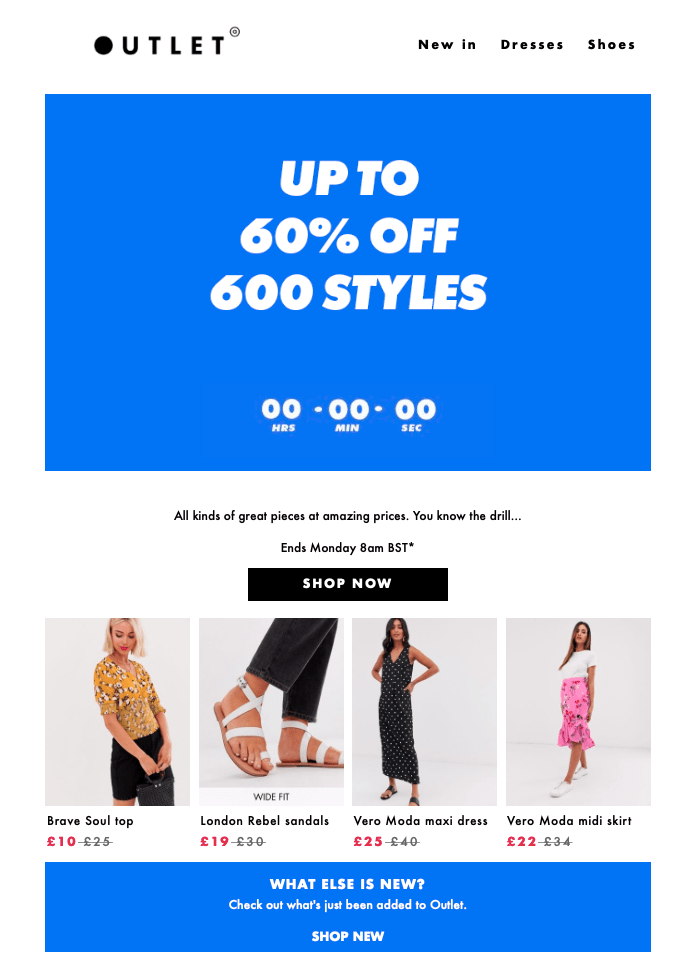 These are just a few of the best ways to make your emails more interactive, engaging, and memorable. Make sure to A/B test different CTAs to see which strategies connect with your audience.
7. The best newsletter templates for ecommerce
1. Store opening
That Ring Shop recently emailed their very first newsletter to announce the opening of their online store.
After introducing their products, they introduce an exclusive offer for early customers. Readers immediately see the benefits of their subscription and have an extra incentive to browse the online store.
With high-resolution photos and plenty of white space, the clean design perfectly complements the brand's luxury image.

2. Seasonal offers
Seasonal offers vary from one industry to another, but most brands should consider running holiday campaigns for the weekend from Black Friday to Cyber Monday.
Some brands simply discount individual products while others offer exclusive products or bundles to match the season.
The Need Supply Co. example below focuses on J.W. Anderson's Dusty Rose bag before revealing some highlights from the new collection.

3. Product listings
It can be tough to turn a long list of products into an enticing message. Fortunately, there are some easy ways to make product emails more appealing:
Start with a hero image
Group products into categories or sections
Repeat the call to action


4. Straightforward offers
If you have a good offer, the corresponding email should always get right to the point.
Pick one nice photo, put together some copies, and show them where to click. Simple as that!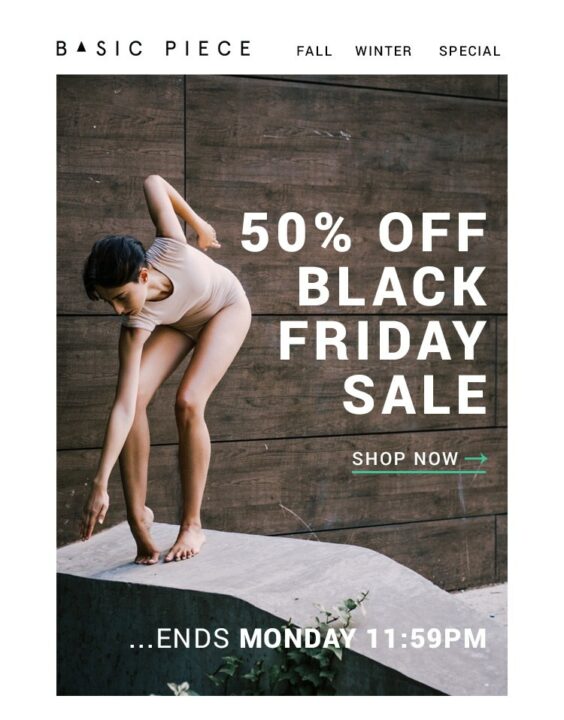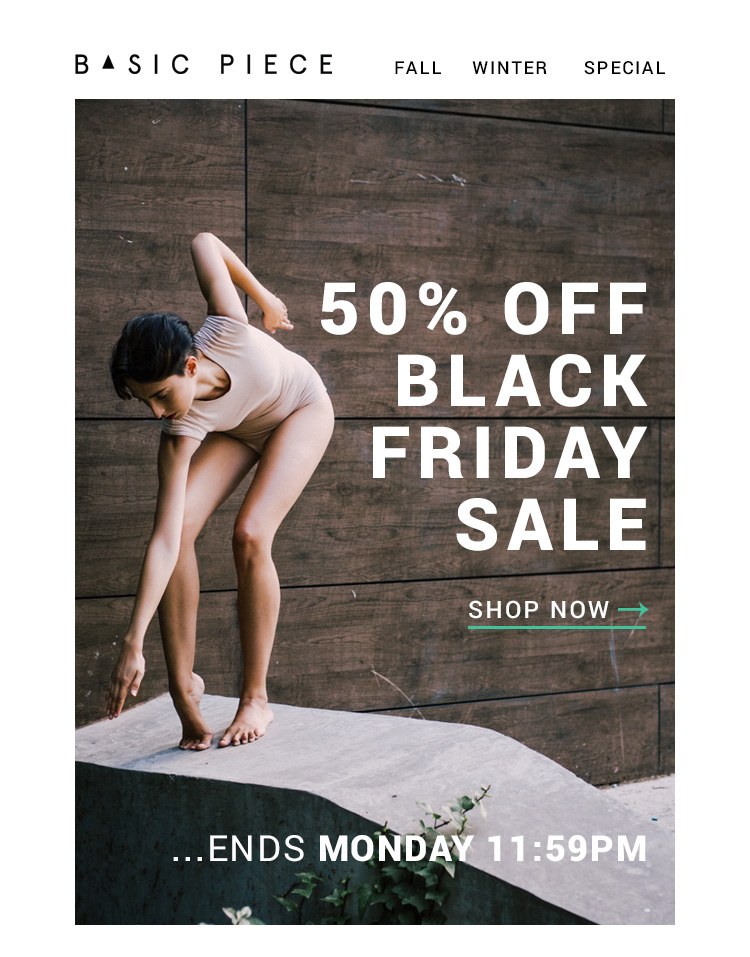 5. Text-based emails
Images and visual design are even more important for emails with lots of text. Making messages too long is a common mistake—consumers respond better to emails they can digest quickly.
Take a look at this example from Clove & Twine. While there are several paragraphs of text, they use images, white space, and headings to break up the design.
Clove & Twine combines great imagery with the advantages of buying corporate gifts early.

Wrap up
Ecommerce newsletter templates are a great way to begin building your email campaigns. It's great to customize something that's pre-made for ease of use to get started quickly.
However, there will come a time when it's time to create your own templates, or perhaps even use a pre-made newsletter template as your jumping-off point.
Along the way, you might create email blocks that you'll want to keep using again and again.
Luckily, Omnisend offers the best of both worlds. Not only are there tons of templates that are 100% customizable, but you can save the blocks you've created yourself, which can then be dragged and dropped into new emails for easy replication.
You can also use the Omnisend content editor to design and save your own templates, which makes future newsletter creation that much easier!
Want to get started with your own newsletter templates? Start Omnisend for free, upgrade anytime.
Get started with Omnisend today & drive sales on autopilot with pre-built automation workflows
Start Free Today
related features
Want more sales?
Omnisend has everything you need to succeed.
Start free now
No Credit Card needed.