Simple, stylish and inspirational—that's how Frithjof Solheim characterizes Amundsen Sports' marketing tone and voice.
Solheim and his team often found it cumbersome to design promotional emails that align with that persona. Too much effort was spent manipulating Mailchimp templates with CSS and HTML.
So the outdoor apparel brand abandoned the email service provider in favor of Omnisend. Solheim, whose role as Ecommerce Responsible involves building email templates and workflows, says they can now create "super clean" drag-and-drop emails without much fuss.
Such ease—of portraying their company vibe—has opened the door to an advanced level of customizing automations. It all helps the company cement sales.
Mailchimp and other platforms, like Klaviyo, also have the opportunities to build templates using blocks. But after some research, Omnisend scored highest. The template building was a big part of why we chose Omnisend.
Frithjof Solheim
Ecommerce Responsible at Amundsen Sports
Creating a top-performing order confirmation automation
Amundsen Sports was founded in 2010 by a relative of Roald Amundsen, the first to reach the South Pole in 1911. The Norwegian explorer is the inspiration for the company's outdoor clothing—quality sportswear for anyone who wants to enjoy nature as it is.
Products are carried by various retailers across Europe and an office was established in Boulder, Colo., in 2017 to foster U.S. expansion. The marketing team drums up interest through avenues such as Google and Facebook ads, Instagram, and YouTube.
However, email marketing is "one of our—if not our most—effective marketing efforts," Solheim says. "So we needed to be able to work much more efficiently. We needed to build templates easier and create newsletters that look great. We felt like Omnisend was a good solution for our products."
A second pain point motivated them to look elsewhere—severe limitations for customizing order confirmations.
"In my opinion, that's one of the most important emails that goes out from a company. It's the first message you get after purchase," Solheim says.
Mailchimp lacked an easy-to-use, customizable order receipt solution. It was a crucial missing piece, which left them relying on the built-in order confirmation email of their ecommerce platform, WooCommerce. Solheim could neither style it nor directly track performance metrics.
Omnisend provides access to all of the things previously missing. Now, the confirmation email tops all other automations in making money.
It's one simple email that:
Accounts for 2.4% of email sends but 16.7% of Omnisend-attributed yearly revenue
Has a  conversion rate of 32%, meaning almost one in three people who click on a link within the email makes another purchase
Generates a  revenue-per-email (RPE) that is 9.5 times higher  than the RPE of promotional emails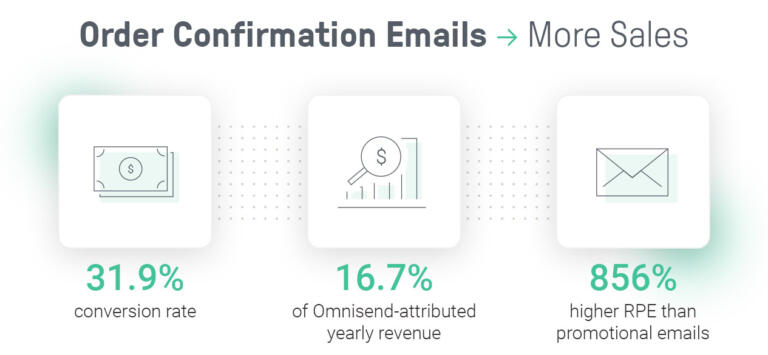 Customers return to primarily buy accessories and cheaper products. Solheim is a bit surprised by how many people make subsequent purchases when clicking on a basic bar with the words "Shop Amundsen."
Maybe, he muses, they appreciate that the email isn't pushing another product within the order confirmation, so are more likely to take another look.
"It's good to see," Solheim adds. "It just tells us to build more automations, because the automation is working very well."
An intuitive platform for building automations
When switching to Omnisend in March 2021, Solheim implemented two other automations that are now part of the standard lineup. Using the Mailchimp predecessors as the base, he designed a welcome automation, along with another meant to recapture those who abandon a shopping cart.
He finds the workflows to be more intuitive and easier to build in Omnisend.
"And we have a lot more options, like segmentation," he explains. "It's much more visual. It's easier to switch out templates."
The three automations trigger  29.4% of Omnisend-driven sales. They make up just 3.6% of sends.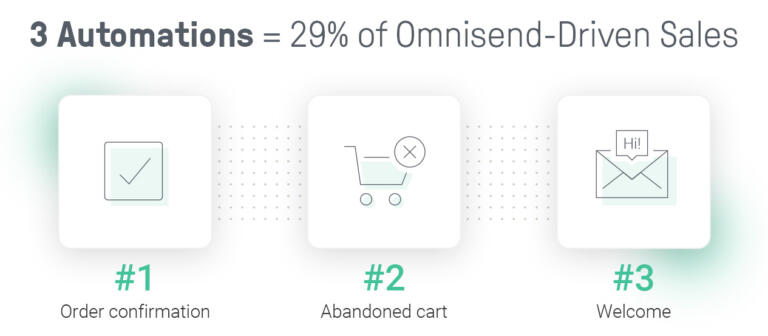 Solheim thinks their overall simplicity in design, as well as messaging that resonates, influences purchase behavior.
Take the abandoned cart email, for example. It features a photo of someone enjoying nature, accompanied by a few sentences that assert the importance of spending time outdoors.
Its conversion rate is 57%. In other words, more than half of recipients who click through to the website from this one email—which doesn't include a discount—make a purchase. It also:
Has an  RPE lift of 1,598% over promotional emails
Accounts for  10.8% of Omnisend revenue, with 0.9% of sends
Beyond the three automations constantly operating in the background, Amundsen Sports has a product abandonment workflow waiting in the wings. It's resurrected when a higher-end product could benefit from further explanation—extra information to help nudge those on the fence toward a purchase.
Going further with promotions
A hefty amount of Omnisend sales stem from promotional campaigns—70.6% of annual sales.
Oftentimes, the email is initially sent to a segment of subscribers who engage with the brand through higher click-through rates. It is then sent later to the remainder of the subscribers. Sometimes the messaging is different.
The technique began as a tactic for establishing a good email reputation. It continued as a way to distribute traffic more evenly on the website. Solheim concedes spacing apart delivery times may not be necessary, but he doesn't want to risk slowing down the site and causing a poor user experience.
The Amundsen team is leveraging Omnisend beyond standard email campaigns to boost promotions. Solheim is testing whether he can attain greater mileage out of the company's subscriber list.
With Omnisend, he is syncing the U.S. customer segment into Facebook, which thereby provides retargeted advertising.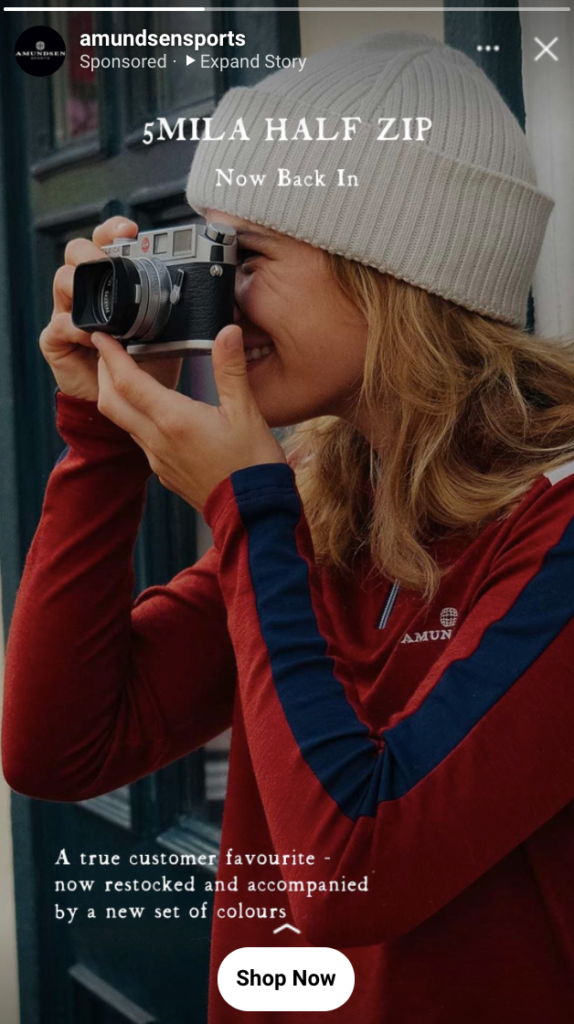 The experiment is young. But so far, the audience sync is driving a  click-through rate that is two times higher than that of website visitors, as well as Facebook and Instagram followers.
Why Omnisend?
Solheim thinks back to the struggles of Mailchimp and the ensuing research that introduced him to other providers like Klaviyo. Omnisend emerged as the right choice for its efficiency and ease of use.
"For us, the very, very important thing is the visual experience of the brand. The digital experience," he says. "It's super important that we could build the templates as we want with the drag and drop, and also use custom CSS if we want to build some custom looks. Overall, Omnisend is easier to work with."