Drive sales on autopilot with ecommerce-focused features
See Features
Reading Time:
6
minutes
If you're not sending post-purchase emails to your customers, you're missing out. For example, did you know that the order confirmation email has the biggest open and click-through rates in the ecommerce industry?
The post-purchase email is so important because it keeps the conversation with customers going and can increase LTV.
If you're using WooCommerce you may have already noticed that it can be tricky to create email campaigns, and the basic designs may not be to your liking. This guide will show you different types of WooCommerce post-purchase emails, plus how to design and send your own.
In this post:
What is a WooCommerce post-purchase email?
A WooCommerce post-purchase email is an email, or series of emails, that you send to customers after they make a purchase from your WooCommerce store.
Although it's possible to send a single post-purchase email, creating a series of messages can provide a better customer experience. For example, you could confirm the order, offer similar products or accessories to use with the item they purchased, and share tips on getting the most out of the product.
Types of WooCommerce post-purchase emails
1. Order confirmation email
An order confirmation email is the email a customer receives after making a purchase. It confirms their purchase details and gives an opportunity for you to make a good first impression. You can share helpful details about the item as well as include upsell or cross-sell products to increase the order value.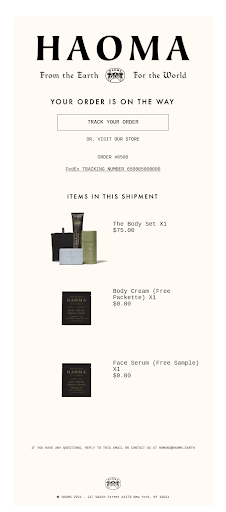 2. Thank-you email
A thank-you email expresses your gratitude for an action, e.g. signing up for your newsletter or making a purchase. In the below example, Paravel thanks customers for sharing their products on social media and "for making us a part of your travels this summer."
3. Shipping confirmation email
A shipping confirmation email lets your customers know that their item has been dispatched. Some, like the example from Holo Taco below, include the option to track the package. Buyers won't worry about their order once they know the product is on its way, and the ability to track it can help them make any necessary arrangements for its arrival.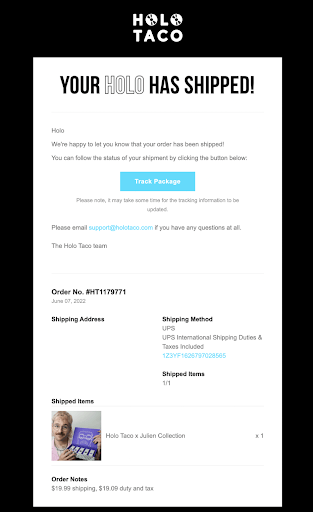 4. Educational email
Once your customer has bought their item, it can be helpful to give them tips on getting the most out of it. That's what educational emails are for. From how to pair clothing, to Beardbrand's tips on white beards below, these emails are powerful ways to build authority and help your customers.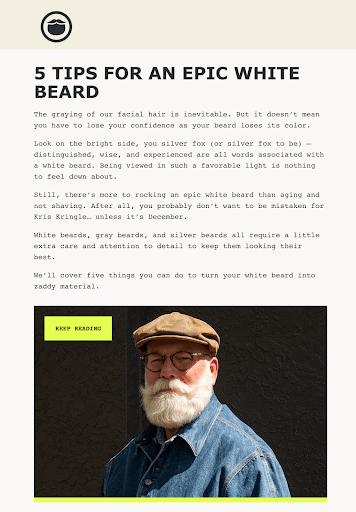 5. Cross-sell or marketing email
Once someone has purchased from you, if the experience was positive there's a good chance they would want to buy from you again. A marketing email, such as TOMS' below, offers exclusive discounts. A cross-sell or upsell email would offer relevant products based on their behavior.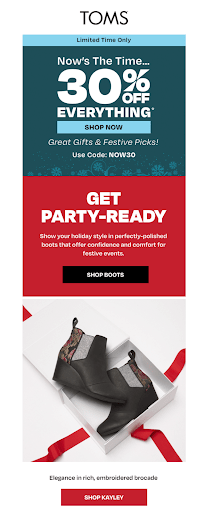 Benefits of sending after-purchase email automation
WooCommerce post-purchase emails can serve different goals, which is why it can make sense to split them over a series of messages. This avoids overloading your buyers by cramming everything into one email, and sending multiple emails is a good way of keeping in touch. They'll see you in their inbox more than once, which helps to increase awareness of your brand.
There is no specific formula for the number of emails to send, but a handful is a good starting point. Here are some ideas to get the ball rolling:
Keep the conversation going. Ask a question to encourage your customers to respond.
Give post-purchase order info. Order confirmation, shipping confirmation, care tips—this email is to give order-related information.
Ask for customer feedback. Ask them to leave a review, or to let you know how their experience was so you can make any necessary improvements.
Promote related or additional products. This email would have upsells or cross-sells, where you make product recommendations based on their purchase history.
Share useful order-related resources. Offer care tips or information to help them get the most out of their new purchase.
How to send a WooCommerce post-purchase email
WooCommerce allows you to send post-purchase emails from it if you wish. However, by default they're text-only and offer limited customization, so we recommend using an email marketing plugin for more control and stronger emails. For this tutorial, we're going to use the Omnisend plugin, one of the top-rated plugins available for WooCommerce.
Before we dive in, this is a comprehensive video that takes you through building automation workflows, including how they work:
Step 1: Install Omnisend plugin for WooCommerce
To begin, head over to the Plugins page in your WordPress admin dashboard, select "Add New" and search for the "Omnisend for WordPress" plugin. Select "Install now" and once it's done, select the "Activate" button.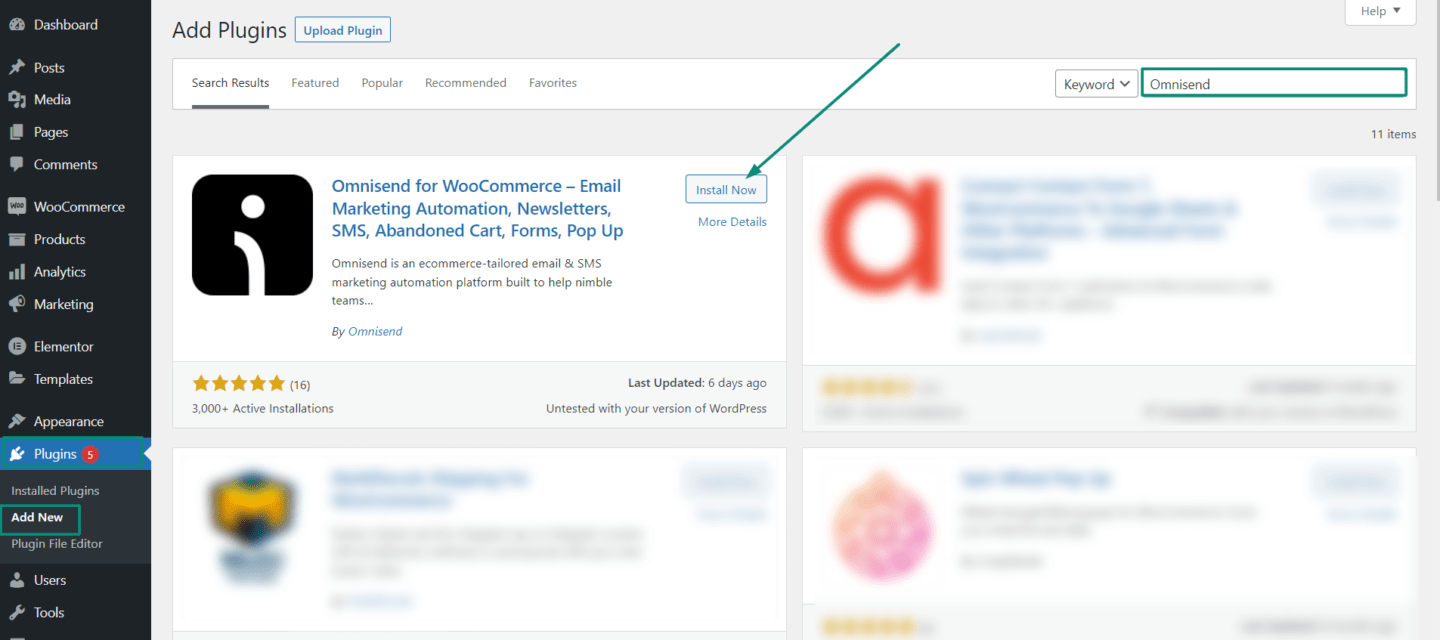 Go to the Omnisend plugin settings page, and click "Connect your account" as shown below. If you need to create an account first, you can click "Create new account" instead.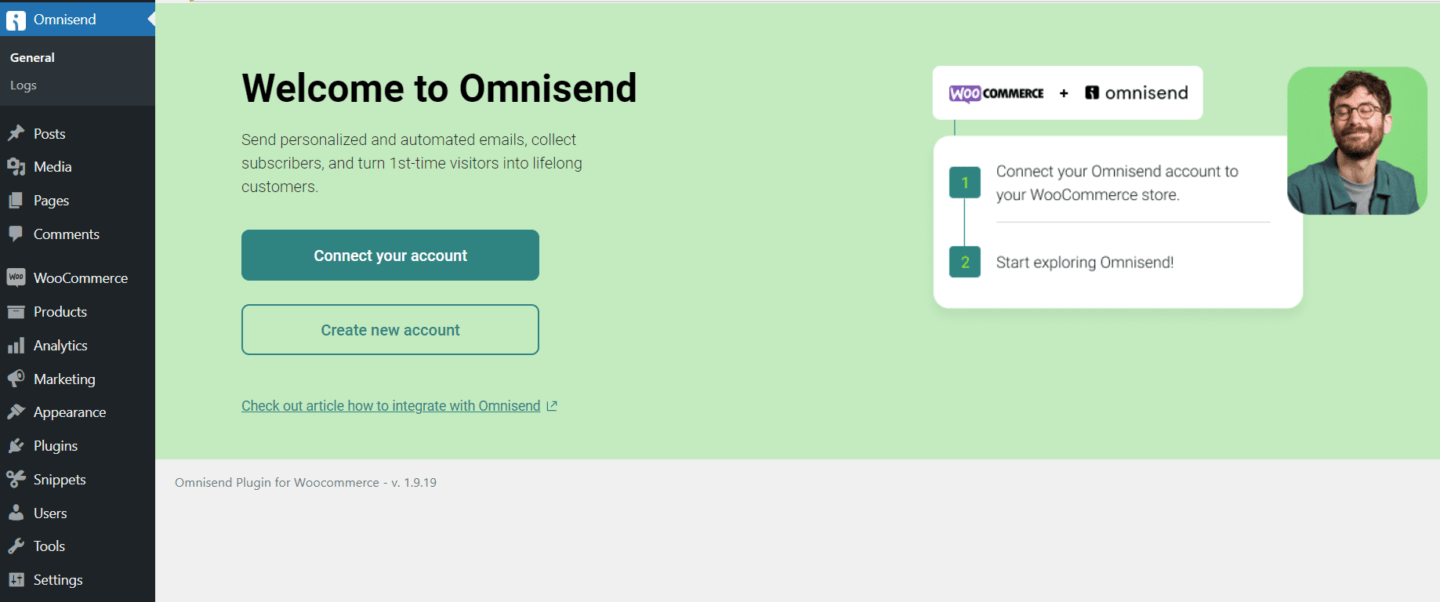 When you click "Connect your account" you'll see the following popup, and need to click "Approve":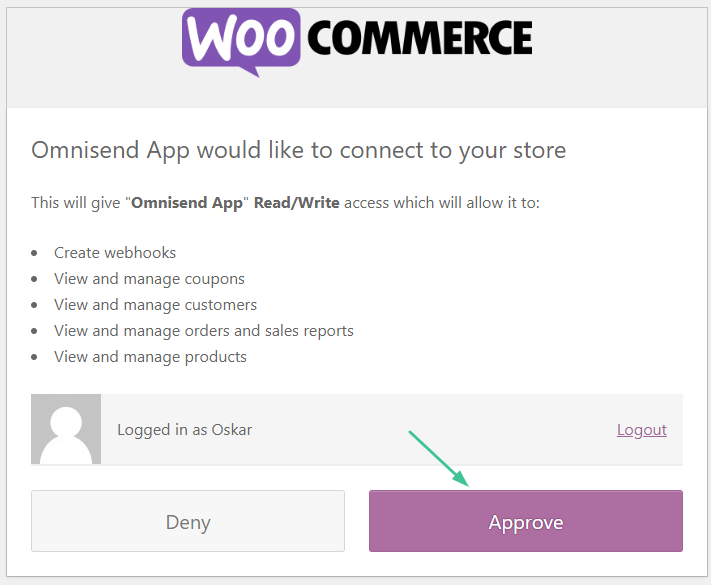 That's all there is to it. Now it's time to build the workflow.
Step 2: Create a post-purchase automation workflow
Now that your account is active, it's time to build your WooCommerce post-purchase emails workflow.
Begin by selecting "Automation" from the main menu and then "Post Purchase." You'll see other workflow types available, which you can look into later. For now, let's stick with a post-purchase series.
Once you've selected "Post Purchase" you can choose "Customize workflow" in the "Cross Sell" box: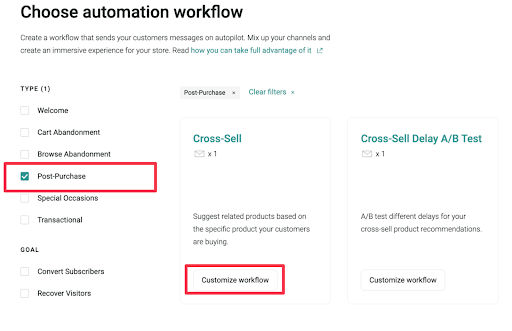 Step 3: Customize the workflow
As a first step, edit the trigger for entering this workflow and sending the email. You can set this up so that an email is sent if any product is purchased, not just a selected product: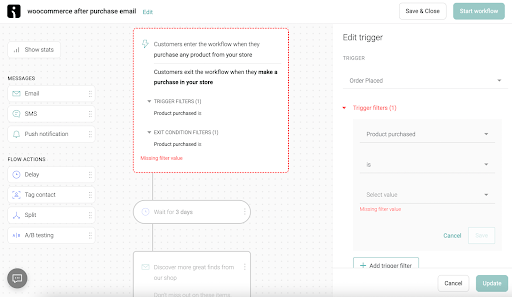 Once the trigger is set to your liking, you can choose the delay—this is the period between when they make a purchase and when the first email arrives. By default it's set to three days, but you can set it to anything you like. You can also experiment with different delays to discover if your audience has a preference.
Step 4: Design the email
After setting the delay, it's time to edit the email. You can also set your subject line here—our free subject line tester will give you a score, plus tips to improve the score and a preview for both desktop and mobile devices. Set the preheader and sender name from this box as well.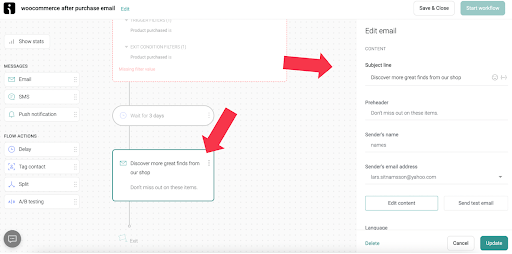 Once you've set those details, click the "Edit content" button and you'll be taken to the email editor. This is where you customize your email to your liking. The email builder is drag and drop, so it's incredibly easy to use. And because Omnisend has been built for ecommerce, there are handy features to help you—like easily adding discount codes or pulling products directly from your store.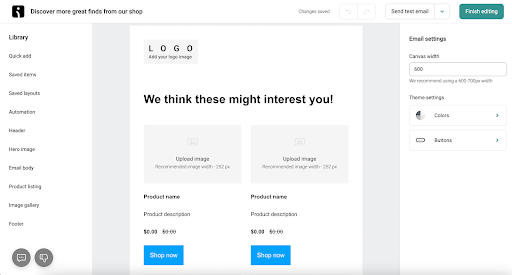 Once it's finished, click the green "Finish editing" button to complete the design, and then save your progress in the workflow editor page.
Your first WooCommerce post-purchase email is done—now it's time to send yourself a test email to check how it looks, and then you're ready to send it to your buyers.
WooCommerce post-purchase email: final tips
Sending post-purchase emails is a powerful way to develop deeper relationships with your customers, and can increase customer LTV as well. While it's possible to send just one post-purchase email, there are benefits to sending a series instead—you increase the touchpoints with your customers and can focus on one thing per email, like recommending a different product or requesting a review.
Check out the Omnisend blog for more tips and information on email marketing. For some help getting started, we recommend the following:
related features
Want more sales?
Omnisend has everything you need to succeed.
Start free now
No Credit Card needed.