Drive sales on autopilot with ecommerce-focused features
See Features
How to send high-performing WooCommerce confirmation emails and post-purchase messages
Reading Time:
8
minutes
Have you ever purchased something from an online store and not received an order confirmation email? Think about how this uncertainty impacted your experience with the brand.
Customers want to be kept in the loop at every stage of the buying process. This far-too-common occurrence can have a devastating impact on the quality of your customer experience—so much so that it might be enough to convince them not to order from you again. As such, sending order confirmation emails after customers make a purchase is an absolute must for WooCommerce store owners.
In light of that, here we'll discuss not only how to send an email after a shopper makes an order on your WooCommerce site but also explore the many benefits of sending post-purchase emails that will keep customers coming back time and time again.
The benefits of sending emails after WooCommerce orders
Clear and quick communication is essential when customers have spent their hard-earned money on something you sell. Aside from removing feelings of uncertainty, there are other benefits to sending well-written post-purchase emails—creatively deployed, they can be used for:
Cross- and up-selling other products and services
Asking for customer feedback
Sending useful resources to help the customer make the most out of their purchase
Providing shipping and tracking info
Thinking outside the box about the holistic customer journey is vital to creating a successful purchase experience. Your relationship with the customer doesn't end when they click "pay now," and your post-purchase email content needs to reflect this.
The limitations of using default WooCommerce emails
Although the benefits of sending transactional emails to customers are plentiful (including high click and conversion rates), WooCommerce's default email customization options aren't. Unfortunately, WooCommerce limits you to sending plain text email confirmations only after new orders. While these messages are essential, WooCommerce templates don't empower you to take advantage of all the benefits that come with sending a series of post-purchase emails to your customers.
Luckily, there's a solution, using one of the best WooCommerce plugins available.
Omnisend and WooCommerce: a match made in heaven
Omnisend is an omnichannel marketing platform with a WooCommerce plugin that provides all the tools you need to create effective email, SMS, and automated workflow campaigns for your ecommerce business.
You can create and send various customized emails using our pre-built templates, with options catered to every step of the customer journey—making it easy to craft engaging post-purchase emails, daily promotional messages, welcome emails, browse abandonment messages, and abandoned cart email notifications. From first-time website visitors to long-term customers, we've got you covered, using a simple, easy-to-use interface with a drag-and-drop builder and no complex messing around with PHP or HTML.
It's also incredibly simple to offer customers discount codes and to ask for their feedback. In short, Omnisend comes with everything you might want when creating high-quality, high-performing order follow-up emails.
Omnisend enables you to collect whatever customer info you want with its customizable forms. With this data to hand, you can utilize Omnisend's advanced segmentation to create automated and laser-targeted workflows. This helps ensure you create and send content tailored to each customer's needs and convert them into repeat buyers.
To summarize, here's a quick rundown of Omnisend's core functionality:
Omnichannel marketing—send emails, SMS messages, and web push notifications from one centralized platform
Wide variety of customizable templates and a drag-and-drop editor to create custom emails
Workflow and marketing automation
Create custom opt-in forms to collect customer emails
Robust reporting and analytics (e.g., tracking sales performance across all marketing channels, comparing metrics between campaigns, etc.)
Integration with common payment gateways, including PayPal
Let's dive into how to integrate Omnisend with your WooCommerce store.
Integrating Omnisend with WooCommerce
Integrating Omnisend with WooCommerce is simple. You just have to follow a few easy steps:
1.Register and create your Omnisend account.
2. Navigate to your WordPress admin dashboard and find the Plugins page. Search for the 'Omnisend for WooCommerce' plugin and click install. Once installed, activate the plugin.

3. In a separate tab, log into your Omnisend account. Navigate to the 'Connected Store' page and select WooCommerce. You'll be prompted to enter your store URL.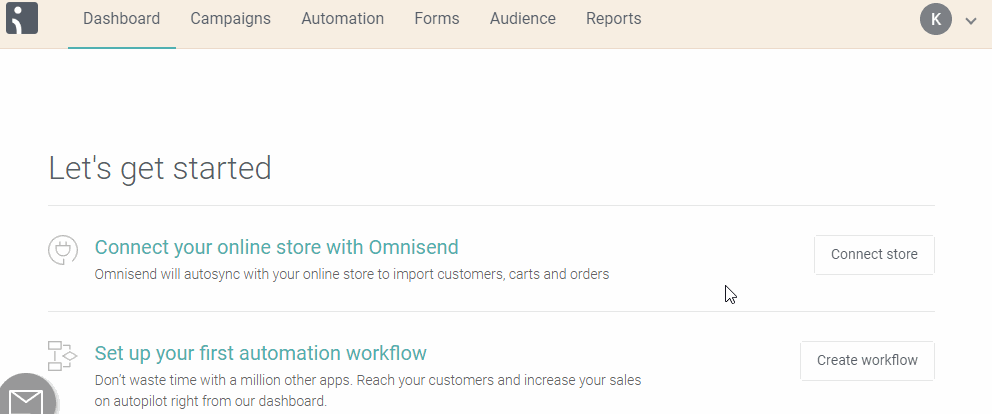 4. Copy the API key
5. Go back to your WordPress dashboard. In the Omnisend plugin, find the field that asks for the API key. Enter it and click 'save' to save changes.

That's it! Now, Omnisend will automatically start syncing with all your WooCommerce data, including your contacts, products, orders, and so on.
Please note: The initial synchronization process may take up to 24 hours.
Switching From Sending Default WooCommerce Confirmation Emails to Omnisend
Now that you've set up Omnisend, you can create beautiful and sophisticated new order confirmation workflows. However, Omnisend doesn't automatically replace any of the pre-programmed emails set up inside your WooCommerce store. As such, you'll need to disable these WooCommerce automations and enable them in Omnisend instead.
How to set up Omnisend emails after an order is placed: step-by-step
Now that you've laid the groundwork for sending new order emails from Omnisend, here's how to configure the necessary automated workflow:
Step 1: set up the automation
To create an Omnisend workflow, click on the Automations tab, followed by the "Create workflow" option on the list. The default trigger is set to Order Placed > Order Status > Order Paid. If you need to send a confirmation email immediately, set the trigger to "Order Placed."
You can also edit this email setting more granularly by changing the trigger filters to only send your email to orders with specific tags. This enables you to tailor your messaging to specific segments of your audience to better engage with them. For instance, you could target your automation based on a customer's profile data, such as their country, gender, order details, previous canceled orders, etc.
Step 2: adding a delay
With the delay block, you can set a value from "immediately" to several months. For order confirmation emails, it's recommended to either use the immediate setting or avoid this block altogether.

Step 3: creating the message
When you send an order confirmation, you can add new content blocks to the message. Here the information specified is filled automatically when the email is sent to a particular customer. For example, information about what was purchased, order notes, billing, and shipping information, to name a few.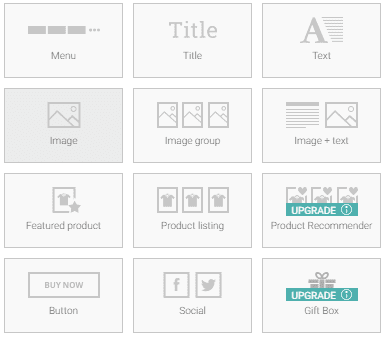 Different types of order emails you can send
Now that you're up and running with Omnisend, let's return to making the best use of the different post-purchase email types we mentioned earlier:
Cross- and up-selling
Post-order emails are an excellent opportunity for cross- and up-selling. This is your chance to propose similar or complementary items to the one the customer has just purchased.
For example, you might be able to sell a tie alongside a shirt or suggest scatter cushions to go with a recently bought throw. Cross-selling and up-selling aren't to be underestimated. Cross-sell emails generate a 30% open rate and a near 10% conversion rate.
Ask for customer feedback
Asking for feedback (and listening when it's provided) is crucial to improving what your brand has to offer. Requesting customer input via a short survey in a post-purchase email is one of the quickest and easiest ways of getting an insight into what customers really think. With Omnisend's workflow builder, you can add messages in your workflow that send customers a coupon code if they respond to your request for feedback—the perfect little incentive to get their attention!
Ecommerce businesses using Omnisend see a 37% open rate, 23% click rate, and a 10% conversion rate. Read the full report here.
Pro Tip: As many as 50% of online shoppers believe their feedback isn't heard by anyone who can act upon it. So, in response to their feedback, send an email thanking them for their insight and explain how you're taking their comments on board.
Alternatively, you can encourage customers to provide feedback by leaving a review on your site. Providing that your shoppers write glowing testimonials, this doubles as social proof, which works wonders for boosting your credibility and, ultimately, your conversion rate.
Onboarding / sending useful resources
Does your company sell products that come with a learning curve, advanced features, or special care instructions? After a customer places an order, consider sending an email providing additional information they need to hit the ground running with their new purchase. This is great for enhancing your customer experience and ensuring consumers enjoy everything your product has to offer.
For example, you might:
outline steps the customer needs to take to maximize the products' features
send care instructions or a downloadable checklist
provide a link to the FAQ or customer service section of your website
invite customers to set up a new account
provide links to a community forum or social network pages
For instance, if you sell yarn, why not include a creative knitting tutorial? If you sell slow cookers, you might throw in some of your favorite recipes. Get creative! There are plenty of ways to provide customers extra value in your post-order emails.
Shipping info
Once a customer has successfully purchased a product, they'll want to know more about the shipping process. Using Omnisend (with WooCommerce's default order states), you can tell customers when they can expect to receive their item(s) and send tracking information along with email updates when their item is:
dispatched (processing order)
on-hold (order on-hold)
delivered (completed order)
This is a quick and straightforward way of reassuring customers you've acknowledged their order, and it's on its way.
Integrating with SMS
With Omnisend, you no longer need to look simply to email as the default way to engage with your customers. Omnisend enables you to send quick and simple order confirmations directly to their phones via SMS messages.
The benefit of using SMS for such notifications is that texts are short, quick to digest, and frequently checked. Most of us carry our phones with us wherever we go, so we're more likely to notice an SMS message and take stock of it there and then. As such, SMS messages are incredibly handy for sending order confirmations that include tracking info. With just a few taps, the consumer can check their parcel's status and enjoy the much-needed reassurance that their order is on its way.
Best practices for sending WooCommerce post-order emails
As you go about writing your first post-order emails, here are a few best practices to follow:
Segment your list. Use Omnisend's segmentation feature to help you personalize your emails.
Use an engaging subject line. Email subject lines should refer to the customer's recent purchase and indicate whether you're offering a special promotion, discount codes, or requesting feedback.
Ask for feedback. Take a customer-centric approach by asking for feedback regarding the product, shipping, packaging, communication, or other aspects of the customer experience.
Be brief. Follow-up emails should be quick and informative. Remove any filler content and make it clear in the email heading what message you're trying to put across.
Automate the process. Don't forget to make use of Omnisend's automation features to cut down your workload.
Are you ready to start using Omnisend for your WooCommerce confirmation emails?
Sending follow-up emails for your WooCommerce orders is so much more than a formality. It's the perfect opportunity to keep customers in the loop, cross-sell your products, move them further along your marketing funnel, and request customer feedback.
With WooCommerce's native features, follow-up emails are limited. By using Omnisend to customize and personalize these messages, you're able to harness the power of automation to launch a more effective email marketing strategy and increase sales.
Get started with Omnisend today & drive sales on autopilot with pre-built automation workflows
Start Free Today