When Allison Caufield joined FiGPiN one year ago, the company that creates and sells collectible pins was on the verge of a major transformation. The arrival of COVID-19 created serious challenges for their business.
FiGPiN (a derivation of figurine plus pin) incorporates a unique back piece that allows the pin to become a standalone figurine. FiGPiN has officially licensed many collectible superstars including characters from Star Wars, Marvel, Disney, and popular anime shows.
FiGPiNS, composed of hard enamel, are of museum quality and delivered in collector boxes. And for the true collector, every FiGPiN is engraved with its own serial number, which unlocks collector points through the FiGPiN App.
FiGPiN's sales traditionally occurred by way of both small specialty shops and major retailers, including Target and Walmart. The company had not capitalized on the possibilities of FiGPiN.com, nor did it employ an email marketing program. The arrival of COVID changed all of that.
Building a digital presence with a one-person marketing team
Caufield, the new senior marketing manager, was ready to change the company's stance on digital marketing. She tapped her ecommerce and direct-to-consumer expertise to beef up the website and add an email marketing program.
"I started using Constant Contact for our list of more than 20,000 customers, but the Constant Contact solution didn't do a lot of the segmentation I wanted," she said. "We have all these different licenses, so I wanted to be very specific with our marketing."
Caufield knew of email marketing's immense potential in driving sales and increasing customer satisfaction, but she had limited bandwidth for adding new channels. Caufield is a one-person marketing team. She does everything digital marketing-related, from strategic planning and managing the marketing calendar, to copywriting, sending email promotions, and social media maintenance.
"I wanted a solution that allowed me to set up more automation because I am very busy," she said. "I convinced our leadership that we needed a new system—one that would let me employ more automations and segment our list based on what they'd previously purchased."
Omnisend was the solution. It was fast and easy to integrate with Shopify, import their contact list from Constant Contact, and segment their list. As the solo marketer, Caufield also appreciated the help from their dedicated customer success manager (CSM) in designing a sending warm-up plan, further honing their list of core contacts, and getting their first marketing email sent.
Welcome and engage—automatically.
FiGPiN has new character releases every week, so Caufield's first move with Omnisend was automating a weekly email announcing them to the appropriate contact list. She also devised an email for the company's sales representative to notify wholesalers of upcoming product releases.
From there, Caufield and her Omnisend CSM set up a three-part welcome series.
"The first email lets them know that they are part of the inner circle now," says Caufield. "And then the next few take them through the FiGPiN story. They give the customer some background on what it means to be a part of the FiGPiN community, explain where the name comes from, and prompts them to check out the best sellers and FiGPiN exclusives on our website."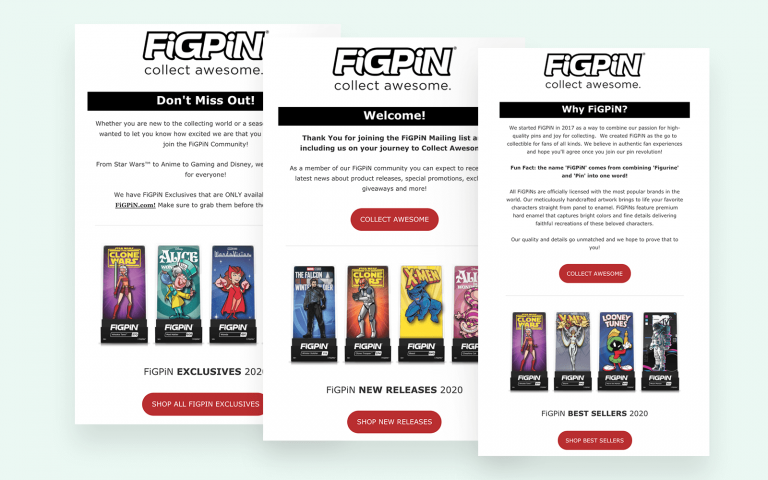 The best thing about the series for Caufield? It's fully automated and its performance is amazing. The three-part welcome series has a 63% open rate, a 27% click-to-open rate, and a 22% conversion rate. It accounts for 3.2% of total email revenue and has an average revenue per email (RPE) of $4.17.
For FiGPiN, the welcome series was just the beginning. Compared to promotional messages, FiGPiN's automated emails have an average of 34% higher open rates, 105% higher conversion rates, and 216% higher RPE.
Overall, automated messages provide 24% of our email revenue, but they're only about 9% of our total email sends.
Allison Caufield
Senior Marketing Manager at FiGPiN
Here are some of FiGPiN's other automated message successes:
The abandoned cart message generates an open rate of 36.2%, a CTOR of 14.9%, an astounding conversion rate of 87%, and an RPE of $7.44. This message accounts for 9.6% of total email revenue and less than 2% of email sends.
Their open rate for their product abandonment messages is even higher at 37.1%. The CTOR is 11.4%, the conversion rate is 66.7% and the RPE is $2.86. These messages contribute 11% of total email revenue with less than 5% of their email sends.
FiGPiN's two-part lapsed purchaser series invites customers who haven't purchased a product after some amount of time to come back and shop. The open rate of 24.9% is accompanied by a CTOR of 10.8%, and a conversion rate of 21.6%—making each purchaser a repeat customer.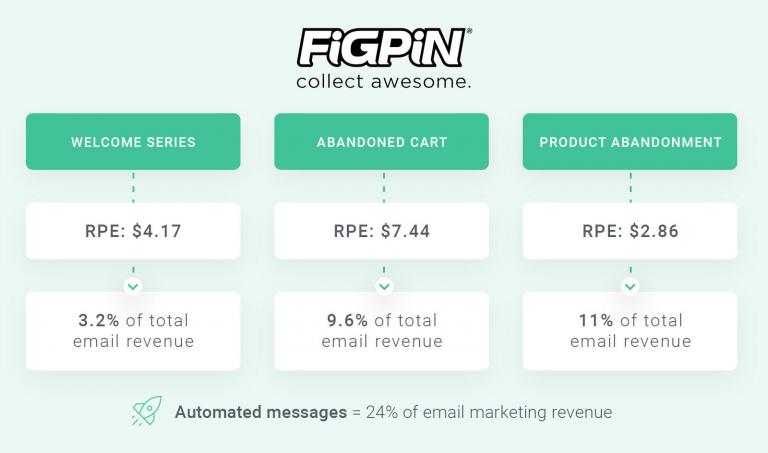 Of course, automated messages wouldn't be nearly as successful without strong list growth. FiGPiN has continued growing its email list with an Omnisend pop-up. But unlike most retailers, FiGPiN doesn't feature a discount. The lure is being among the first to hear about new releases.
The strategy seems to be working. The FOMO (fear of missing out) pop-up message is generating roughly 1,000 new email subscribers per month.
"It's possible that we would get more signups with a discount, but we really believe in the value of each FiGPiN," says Caufield.
Automating increased revenue: check. What's next for FiGPiN?
Now that Caufield has the automation running smoothly, she'd love to incorporate thought leadership content that keeps her audience engaged and feeling like a valued part of the FiGPiN community.
"I'd like to send emails that aren't just for selling. Something like '10 Reasons to Collect FiGPiNS' or 'FiGPiN Artists' Pick of the Month.' I want to give back to the fans," she said.
In the meantime, Caufield says she and her dedicated Omnisend customer success manager will continue to work together to develop and refine their email marketing strategy.