Drive sales on autopilot with ecommerce-focused features
See Features
Reading Time:
13
minutes
Email segmentation is the most powerful way to get the biggest ROI out of your marketing efforts. Though it might seem complicated, it's actually quite easy to use.
In this article, we're going to go over:
What email segmentation is
Why you should segment your contacts
Email segmentation vs. email personalization
Email tagging
Practical email marketing segmentation techniques that you can implement today
By the end of this article, you'll be segmenting your subscriber list like a pro (and getting more revenue to boot).
What is email segmentation?
Email segmentation is when you split up your email subscribers into smaller lists based on a variety of criteria. This is mainly used to personalize email messages as we can send more relevant messages to smaller groups.

Advanced segmentation can be by any criteria you choose: demographics, geographic location, purchase behavior, campaign behavior, tagged mail messages, etc.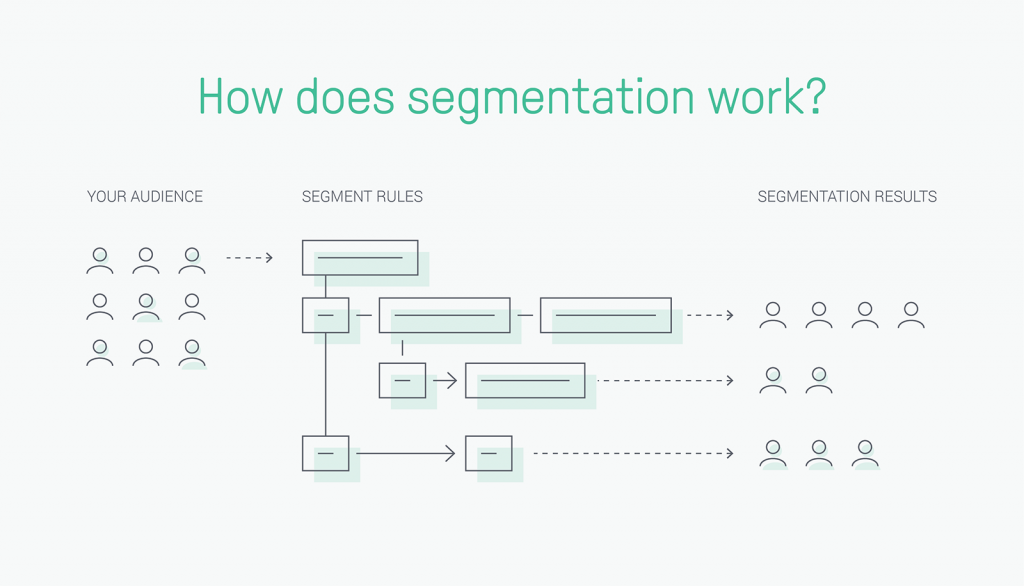 As long as you have data on it, you can segment your lists for it.
Why segment my contacts?
Long story short? Blasting your subscriber list with the same tired message doesn't work.
Think about it—your email list is made up of individuals, each with their own motivations, interests, shopping habits, etc. They are all unique, and they expect a personalized experience.
So why would you send the same generic message to all of them indiscriminately?
When you use email segmentation properly, three things typically happen:
Increased campaign engagement: It's common sense really. When you send a message that's more pertinent to a customer, they're more likely to interact with it. By reducing the amount of subscribers in your segment, you can tailor your messages to better respond to your customer's needs.
Improved customer loyalty and retention: In responding specifically to your customer's needs, you improve their image of your brand. By personalizing their experience, you show your customer that they matter to you. This helps you create a more profound connection with your customers.
Less unsubscribes and spam: When you follow email list segmentation best practices your message will always be relevant. Relevant messages are less likely to come off as spammy and unwanted- because you're giving the customer exactly what they want. This improves your deliverability and domain trust reputation with fewer email campaigns sent to spam.
Email segmentation allows you to deliver a better overall customer experience. When you can do that, your customer will reward you for it.
Drive sales on autopilot with custom segments at Omnisend.
Start for free
Email segmentation and email personalization
The main purpose of email segmentation is to send more personalized emails. Personalized email marketing is a must for marketers today, and we don't just mean putting a customer's name in the subject line and email (although this is useful too).
Personalizing emails means using your data to create a unique connection based on addressing a customer's specific needs and wants, which is achieved by sending only the right content at exactly the right time. Email segmentation makes this task easier by separating your list into small groups that have certain things in common.
For more info on how to personalize emails, let's look at a few email personalization best practices:
Leverage browsing and purchase history: email personalization stats show that customers are 2.6x more likely to buy items that are recommended based on their purchase history, so provide personalized recommendations in your emails. These are unique to each customer and are generated based on their previous browsing and purchase behavior.
Send automated emails: These are sent automatically, based on predetermined triggers, and include things like welcome emails sent after sign up; cart abandonment emails when a customer leaves the store with items in their cart; and birthday emails to offer gifts on a customer's special day.
Keep your content light and friendly: Formal copy is a turn-off, avoid specialized language, and don't be afraid to show off your sense of humor. In short, talk to your customer as if they were a friend who you want the best for.
What is a segmented email campaign?
A segmented email campaign can be either focused on achieving a particular aim for a certain segment (for example, turning as many one-time purchasers into repeat customers as possible) or have an overall goal (promotional, new products, etc.) with unique messaging that's best suited for each segment.
Let's take a closer look at that first example of segmented campaigns, converting first-time purchasers into loyal customers. This kind of segmented campaign isn't as complicated to set up and execute as you might imagine, check out the segmentation rules below:

You're sending targeted emails to customers that have very recently purchased (within the last 3 days) so your brand and shopping experience are still fresh in their memory. A segmented campaign aimed at keeping these new customers in the loop and encouraging the next purchase might include things like:
An introduction to your loyalty program if you have one
An introduction to your online community and an invitation to share feedback on social media using your hashtags
A request to leave a review, which are very useful for other customers as well as for your review marketing efforts. You can also sweeten the deal by offering a discount for a next purchase in exchange for the review
Links to your blog for information and tips on how to use and take care of the products they recently purchased
A simple "thank you for your purchase and welcome to our community!"
This is just one of many possible types of segmented email campaigns, the options are limitless! Simply identify the segments/areas that could benefit from some personal attention, set up your rules, and reach out to them with targeted emails.
How to use email segmentation strategy
To help you identify the relative value and performance of your various segments, it's good to engage in customer lifecycle marketing. This can help your all-important customer retention by allowing you to:
Clearly see who you need to re-engage with and why
Prioritize your retention tactics to start from those with the highest impact
Choose the right type of retention strategy for each of your customers
By personalizing marketing messages as your customers move throughout the different stages of their lifecycle, you'll be able to nurture and engage your customers at exactly the right times and with exactly the right offers. This will ultimately lead to more repeat purchases and higher customer lifetime value!
This way you can send targeted segmented campaigns to those that bring the most value, and win customers back before they fall into the lapsed lifecycle stage. Let's take a quick look at each stage:
Cherish: These are your most recent and loyal customers, those who are most likely to come back for more. Aim to provide a warm, positive post-purchase experience to these customers and give extra rewards to your most valuable repeat customers to make them feel special.
Nurture: These are customers that fall between your most recent customers and those who have gone cold. You could set your segmentation rules for customers who have purchased between 30-60 days ago and target these high potential customers with content and offers that keep your brand fresh in the mind and nudge them to re-engage.
Reactivate: These 'at risk' customers are about to fall into the 'inactive users' stage and urgently need to be reactivated. Consider the customer value here, 'can't lose' customers are those who used to be loyal but have drifted away—these need to be prioritized. Let these customers know that they are really missed and entice them back with a special gesture (discount, free shipping, personal letter from founder, etc.).
Deprioritize: As the name suggests, the last stage should not take up too much of your time. These inactive users are those that haven't returned to shop for the longest time, so your efforts in creating special marketing campaigns are more likely to be in vain.
Every ecommerce business is different and each will have its own unique email segmentation strategy, but this is a great starting point for beginners who are looking to improve their customer retention.
Email tagging
Email tags are labels that help you to organize your contacts, usually made of a few words that describe their behaviors and interests.
Omnisend generates a variety of tags automatically, such as where the contact signed up, store platform, etc, but you can also assign custom tags to help you categorize your contacts more precisely.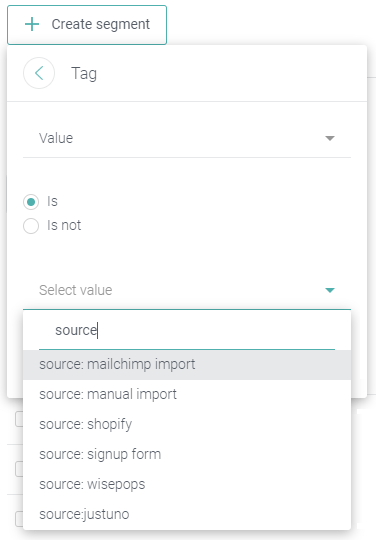 For example, customers can be tagged by the products they purchase, pages they browse, links they click, blog articles they read, devices they use, location, demographics, and much more.
These tags build up to give you a great picture of each individual customer and allow you to segment with great accuracy—search for and segment customers with a certain tag, multiple tags of a similar category, or even those without a specific email tag.
With tagged mail messages, you can record the ways that subscribers interacted with your emails. You can apply an email tag to all of those that clicked a link about your latest product, giving you an insight into their interests. The next time around, you can send focused emails to this group only, giving more information and special offers about the product.
Make sure that your email marketing platform enables email tagging for easier and better segmentation of your contacts.
5 advanced email marketing segmentation techniques for hyper-targeted campaigns
When it comes to prioritization, a lot of our ecommerce marketers know how to segment an email list. But when it comes to creating more advanced email marketing segmentation techniques for practical use cases, many marketers lack inspiration.
So I've put together 7 of the most practical segments you can create for your online store, with an example of exactly how you can create them yourself.
First, from your dashboard, go to Audience in the top navigation bar. Then go to Saved Segments, then click on the Create New Segment button on the right of the screen.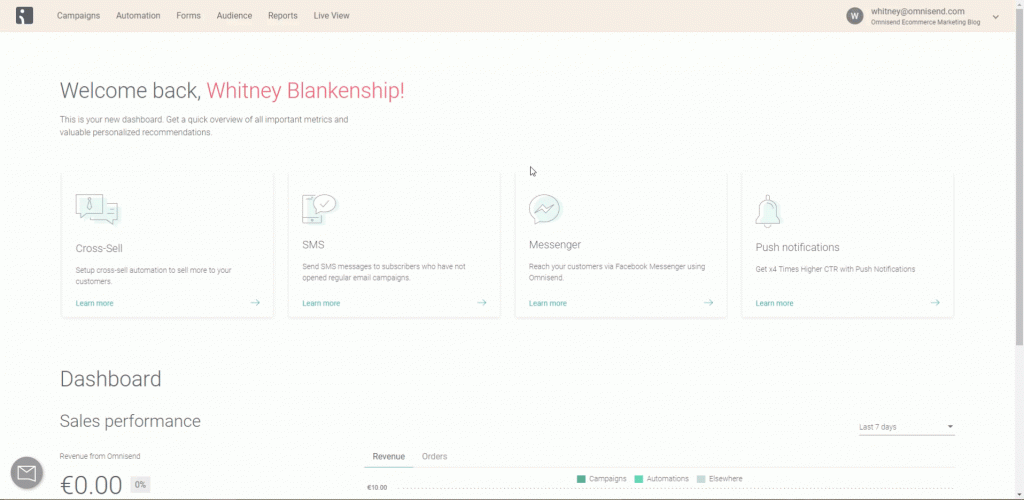 From this point, you'll be ready to create these awesome new segments for your ecommerce store.
#1. Segmenting by sign up source
Why:
Separating subscribers into segments by their sign up source might seem redundant. However, this allows you to do a few things.
First, you can see which one of your sign up forms brings in the most subscribers. Second, you can create different offers across those forms and see which of those offers resonate the most with your customers.
How:
This is where you luck out. When you use Omnisend, your subscribers are automatically tagged with their source, whether they sign up organically, or they are imported from a file. From this point, you can layer segments on top of this initial segment to get even more precise targeting (more on that later).
What to send:
What's interesting about this segment is that you can really tailor your offers to different customers. Instead of starting personalization with your first messages, you can really launch into personalized offers from their first browsing session by targeting your sign up forms, popups, and landing pages to appear to customers interested in certain things.
For example, say you have a sale category on your site. There are customers that will come to your site and directly head for clearance. You might want to hit those customers who are deal-sensitive with a popup after a few seconds to sign up for your newsletter with an extra discount as an incentive.
However, you have other customers that will check out new arrivals and begin looking at your shipping prices. For those customers, you can tailor an offer for free shipping on their first order to sweeten the deal.
From sign up, they'll already be segmented, so you can automate workflows to send them the codes they'll need to redeem their incentives for their first purchase.
This is just one way you can start personalizing earlier and offer your customers a truly custom experience.
#2. Segmenting for customers who purchased in the last 30 days
Why:
A repeat customer has a 60-70% chance of converting– which means that those who have already purchased from you should be a top priority.
Why does that happen?
Because convincing a customer to purchase the first time means laying groundwork for a lot of trust in your store. As long as you've followed through on what you promised them, they'll have that trust reinforced.
So why not pull them back in while that great experience is still fresh?
How: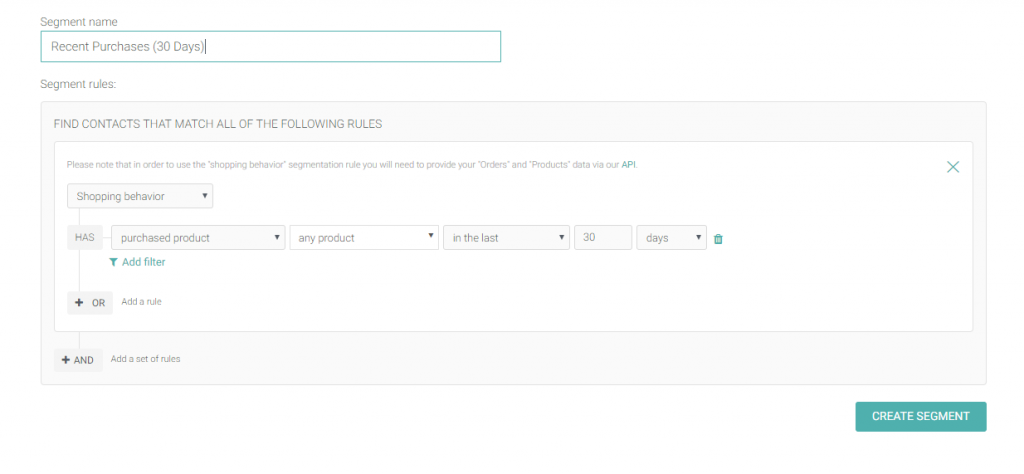 In the Omnisend app, add a new segment:
In Select a Rule Based On choose "Shopping Behavior"
In Select Criteria, choose "purchased product"
In Any Time, choose "In the last," and add "30" days
You can target this even further by choosing exactly which kinds of products the customer would have had to purchase. This way, you can cross sell even better if you offer a variety of different products.
What to send:
With a customer that's just recently purchased, there's quite a bit you can do. For example, if you haven't already sent a request for a review of the products they bought, this is a great opportunity.
Any followup you send should include personalized product recommendations for items that would compliment what they've already purchased. The more personalized they are, the better it will work.
If you can't segment for personalized recommendations, you can always opt for best sellers that tend to work well with your different segments.
#3. Segmenting for customers who haven't purchased in the last 90 days
Why:
So we've talked about the customers who've recently purchased, but what about those who have fallen off the radar?
We know that repeat customers are your most valuable customers. These customers have proven that they're interested in your products, or they were at one time. If they showed interest at one time, they can do it again.
You've just got to find what will be enough to bring them back.
How: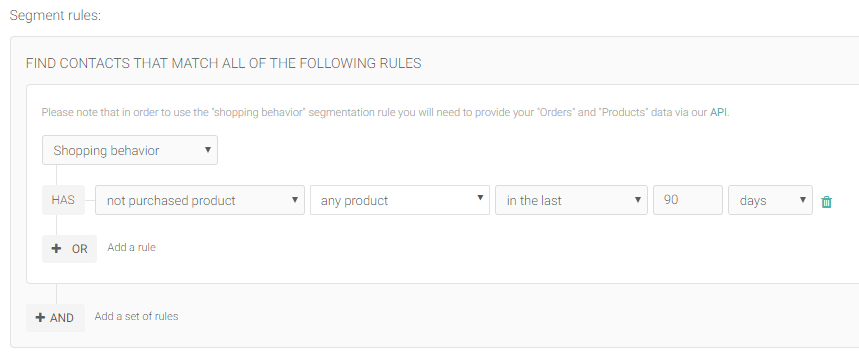 Just like with the previous segment:
In Select a Rule Based On choose "Shopping Behavior"
In Select Criteria, choose "purchased product"
In Any Time, choose "In the last," and add "90" days
From here, you can begin a great reactivation workflow to bring them back into the fold.
What to send:
Sometimes, all it takes is a little incentive to bring someone back to an online store. A great reactivation series can be the perfect workflow to bring back an inactive customer.
For example, if you were using lead magnets on your store, like the latest Fall Lookbook for your Autumn apparel, offer that lead magnet as a freebie for your inactive customers. Perhaps a little inspiration is all that's needed.
That would be a great lead in your reactivation series. You could always follow that up with a limited-time offer for a discount, free shipping, or a free gift with purchase. This will help create urgency for your customer to react, and if nothing else, it's sure to get a few click throughs and bring your customer back to your store.
Regardless of how well your reactivation campaigns go, clean your list of customers that have not been active for a year or more, meaning they haven't even opened your emails in that time frame. This will improve your deliverability, and increase the overall quality of your contacts.
#4. Segmenting for signups that haven't purchased in 30 days
Why:
Unlike customers that haven't purchased in 30 days, these are subscribers that have never purchased from you. Obviously, you want to give it time for your welcome automations to work their magic, but you can't win them all.
This is why you should set up a segment for 30 days after the initial sign up.
This will give you an opportunity to give those subscribers an extra push and transform them into first time buyers.
This will make it easier for you to reconvert them later, once you've wow'ed them with your amazing service and products, of course.
How: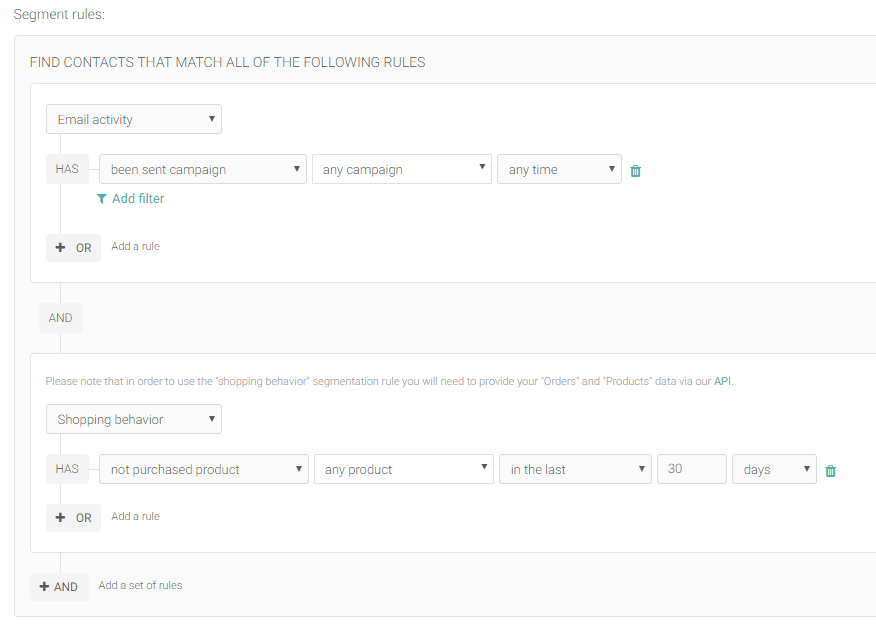 When you set up this segment, it will be a bit more involved than some of the others.
In Select a Rule Based On choose "Email Activity"
In Select Criteria, choose "been sent campaign"
In campaign, select your welcome series
In Any Time, choose "In the last," and add "30" days
Then you want to click on And to add a set of rules:
In Select a Rule Based On choose "Shopping Behavior"
In Select Criteria, choose "not purchased product"
In Any Time, choose "In the last," and add "30" days
This will make sure that you segment only those who have already gone through your welcome series in the last 30 days but haven't purchased. It shouldn't scoop up regular customers who haven't purchased in a month, nor customers who've also received the welcome campaign but have already purchased.
What to send:
These customers weren't swayed by your welcome campaign. They are obstinate in the face of your initial incentives. It's time to break out a better deal than the one you previously offered.
Because they were interested enough to sign up. They were interested enough to hand over personal information so you can contact them with your best deals. It's time to rise to the occasion.
Treat these customers like a reactivation campaign. Try different offers to see what sticks the best with them. You can start off in a 3-message series with a look at best-selling product recommendations, but definitely follow up with an offer your customer won't be able to refuse.
#5. Segmenting for top order value
Why:
In terms of demographic, this is the crème de la crème. These are your absolute best, highest spending customers, and you want to keep them around.
So how do you keep the best customers coming back? Rewards. Show your customers that you appreciate them with rewards, gifts, and incentives to keep shopping with you.
The idea is to make it far more advantageous to shop with you over the competition.
How: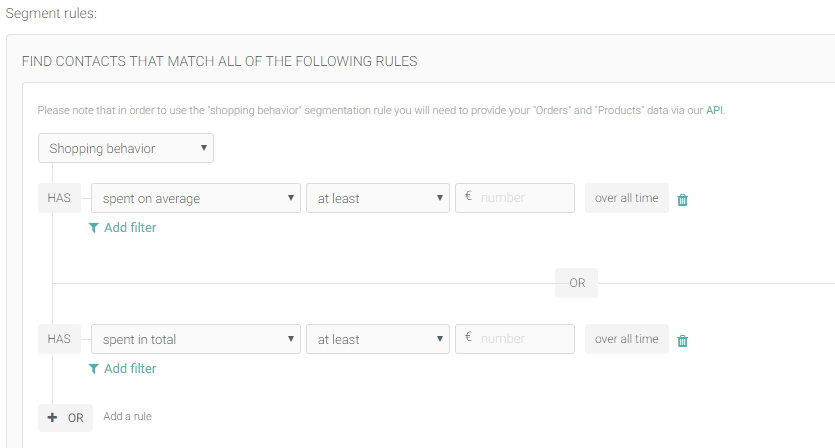 There are two different ways you can segment for this depending on what you want to target.
In Select a Rule Based On choose "Shopping Behavior"
In Select Criteria, choose "spent on average"
Set a currency amount to segment customers
You can do it via average spend, or total lifetime spend by swapping out "spent on average" with "spent in total" if you want to target lifetime purchase amount. Both have value to you: a customer may not spend a lot on average, but they might make a lot more purchases overall.
What to send:
These are you VIP customers, and you should treat them that way. Spoil them with insider looks, prereleases of new products, special rewards, gifts, or anything you want.
The goal is to make these customers feel special and keep them incentivized to shop with you.
Email segmentation: Wrap up
Ecommerce segmentation is too easy and effective to go without using it. While it can seem complex at first, using the right tool to segment your list can make all the difference.
Regardless of the way you use email marketing segmentation to split up your subscribers, whether it be via email tagging or any of the email marketing segmentation techniques described above, it's all about sending the most relevant message to your customers for a personalized email experience.
We know that's what customers expect from retailers today, and when you give the customer what they want, they'll reward you for it!
What are your best email segments? Got any advanced segmentation that tips I missed? Let me know below!
Build effective campaigns with Omnisend's advanced segmentation features!
Start Free Today
related features
Want more sales?
Omnisend has everything you need to succeed.
Start free now
No Credit Card needed.