Drive sales on autopilot with ecommerce-focused features
See Features
did you know
Omnisend customers automate 32% of their email conversions. Are you maximizing sales?
automate my sales
Reading Time:
11
minutes
Eight out of 10 customers expect welcome emails after they sign up for a mailing list.
That's a huge untapped opportunity to approach your new subscribers who've just confirmed their interest.
Because these subscribers are interested in you, they're more likely to read the welcome email—making them the ideal opportunity to create a strong first impression.
Your welcome email can be split over a sequence, sharing your brand's story, values, and products.
In this article, we'll look at:
What is a welcome email?
A welcome email is the first interaction a subscriber has with your new business after they confirm an interest in you. The main goal of a welcome message is to confirm a new registration and welcome a new subscriber aboard.
One of the biggest advantages of a welcome email is that it ensures a consistent experience for newcomers to your brand. Every newsletter subscriber will receive the same message and, because it's automated, the email is sent as soon as they sign-up. You'll always know every new subscriber has received a message, without the need to manually send one each day.
Greg Zakowicz, Omnisend's Senior Ecommerce Expert, explains more in his video "Welcome email series: tips & best practices":
Why are welcome emails important?
Welcome emails stand out for multiple reasons:
Customers expect them: 74% of email subscribers expect to receive a welcome email just after subscribing to a new newsletter. This alone should make it a fundamental part of your email marketing strategy.
High open rates: Welcome emails have an average open rate of 30.45%. That's a 202% lift over usual email campaigns.
Create credibility: Many customers don't trust newly discovered brands. A well-crafted welcome email can help warm up new members faster and push them further through the sales funnel.
Higher conversion rates: The average conversion rate (51.94%) is higher than the vast majority of other automated emails sent by ecommerce businesses.
More customer touchpoints: many brands invite new subscribers to follow them on social media, or to respond with their questions.
Explore our expert-led email marketing courses and tutorials and get the knowledge you need to grow and manage your list.
Welcome email examples
Pipcorn — Short, friendly email with a discount
Baking Steel — Product description and recipes
Omnisend — Actionable email guiding readers through the next setup steps
reMarkable — Brief story of the brand
Airbnb — Simple instructions to get started
Away — Shares the brand story and values
Modkat — Friendly email that shares the brand mission
To'ak Chocolate — Longer email with the brand's story and team photo
Death Wish Coffee — Product-focused with a prominent discount and shop CTAs
Allbirds — Clear brand values
Drive sales on autopilot with pre-built welcome emails
Save time with templates and use automation to send welcome emails to each new subscriber.
1. Pipcorn — Short, friendly email with a discount
Type: Promotional
Subject line: Welcome to Pipcorn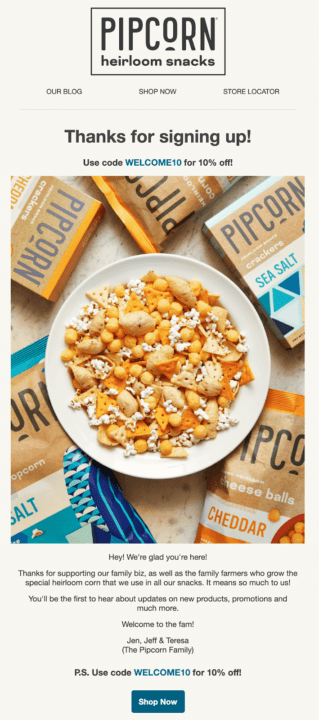 Snack brand Pipcorn uses its welcome email to do a few things. First, the headline welcomes new subscribers to "the Pipcorn Fam", which is a nice personal touch. There's then a 15% discount code, which is repeated at the end of the email above a CTA button. Finally, the email mentions that it's a family business and what subscribers can expect from the emails.
Features:
Bright visuals
High quality product images
Discount code
Brief insight into the business
"Shop now" CTA
Pipcorn is one of the top Shopify stores, making up to $5 million a year. See more top Shopify stores and why they're succeeding.
2. Baking Steel — Product description and recipes
Type: Promotional
Subject line: 🍕 🎉 Welcome to the Baking Steel Family!

Baking Steel's welcome email introduces new subscribers to the brand. There's a brief mention of the mission—"to bring your dream pizza to life right inside your home kitchen"—followed by the benefit of using Baking Steel's products. For those looking for some inspiration, there's a CTA to follow a recipe, as well as a CTA to make a purchase from the shop.
Features:
Plenty of images
Details of the brand
Explanation of why people should use the product
Recipe to help people use the product immediately
CTA to visit the shop
Each welcome series by Baking Steel earns between $10 and $15. Here's what the brand is doing right: Baking Steel email marketing strategy
3. Omnisend — Actionable email guiding readers through the next setup steps
Type: Get started
Subject line: Welcome to Omnisend! 🎉 Getting started is easy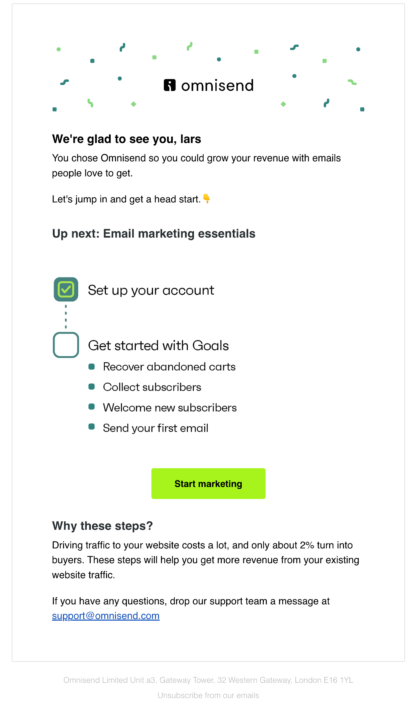 Omnisend's email opens with the recipient's first name and an acknowledgement of what they're looking for: "grow your revenue with emails people love to get." The welcome email then gets straight into showing what the next steps are and, crucially, why those steps are so important. There's also a very clear, branded CTA.
Features:
Personalization with the subscriber's first name
White space to focus attention on the text
Effective use of imagery to show the completed step and what's next
Clear CTA
Explanation of why the next steps are so important, reducing friction
4. reMarkable — Brief story of the brand
Type: Thank you
Subject line: Thank you for signing up

This next welcome email example, from reMarkable, is primarily thanking subscribers for signing up, but it goes beyond that too. It explains the brand's story from its beginnings in 2017 and its adoption by people who want to improve the way they work.
The email then shares the benefits of the latest product and directs readers to its FAQ, to follow the brand on Instagram, or to visit the blog to read more. There are no discount codes here, which helps to create a premium feel.
Features:
Strong imagery and color
Promotes the product in a subtle manner
The email is clear despite having a lot of information
Raises awareness of its social profiles
Directs additional traffic to the blog
5. Airbnb — Simple steps to onboard subscribers
Type: Get started
Subject line: How does Airbnb work?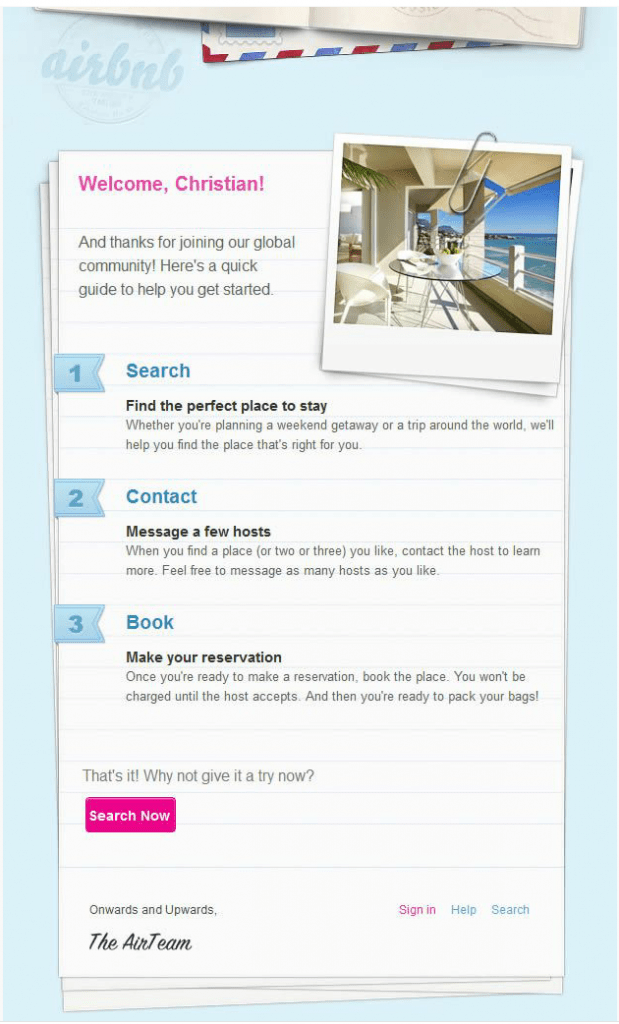 Airbnb's email cleverly uses imagery that suggests travel, and informs the reader of the three simple steps required to use the service.
The use of 1, 2, 3 steps is an ideal way to communicate more than one thing to a subscriber without overwhelming them, and simultaneously encourages them to use the service immediately.
Features:
Themed visuals
Thanks the recipient and informs them they're part of a "global community"
Personalization with recipient's first name
Simple steps to onboard new customers
Single CTA to get started
6. Away – Combining brand story with promotion
Type: Promotional
Subject line: We're Away. Let's meet up.

Away's welcome email is a beautiful example of how to introduce both the brand and the product.
The email opens with a glimpse into the brand's beliefs, then succinctly explains what makes the product unique before ending with a 100-day free trial.
Features:
Simple and elegant design
Combines brand story with product promotion
Concise overview of why the product is great
Offers a free trial
Clear CTAs
7. Modkat — offer a special deal
Type: Promotional
Subject line: MEOW From Modkat – 10% Off

Modkat's email is straightforward, welcoming the new subscriber, briefly introducing the mission of the brand, and offering a deal with a clear CTA button. Alongside the discount, there's mention of a money-back guarantee if the buyer doesn't love the product after a month.
Modkat's email also includes four pictures of cats—because they know the reader loves cats!—and has a quick request to follow the brand on Instagram.
Features:
Mentions the brand mission
Has relevant images
Offers a discount code
Encourages following the brand on social media
Makes purchasing easier with a money-back guarantee
8. To'ak Chocolate — Longer email with the brand's story
Type: Brand intro
Subject line: It all started in a rainforest… 🌿

Compared to many other welcome emails, To'ak breaks convention in two immediate ways: the email is quite long, and aside from an opening team photo, is entirely text.
To'ak Chocolate is a luxury product and the brand is important: customers buy into the mission. As a luxury product, To'ak doesn't offer discounts, so the welcome email focuses on why the work is so important before finishing with a simple CTA to explore the products.
Features:
Brand-focused
High-quality team photo
No photos in the body or any colors, just text on a white background
Emphasizes the mission of the brand
Ends with a simple, subtle CTA


"Our automated welcome series allows us to share our brand story with anyone who subscribes, which helps us communicate the uniqueness of our brand. We tell the story from the founder's perspective, the farmer's perspective, and from other voices… Email automation makes it possible, for a small team like ours, to show customers that we care about building a connection."
James Le Compte, CEO at To'ak Chocolate
To'ak's welcome email has a 47% open rate and 18% conversion rate. Read the full case study here.
9. Death Wish Coffee — Product-focused with a prominent discount
Type: Promotional
Subject line: Fresh to Death

Proving that there are many different ways to build an effective email, this example from Death Wish Coffee is the opposite of To'ak's email: bold, bright, and focused on the product.
The email opens with a prominent offer of a 10% discount, followed by a yellow CTA, a review, and four different shop categories to let new subscribers know Death Wish Coffee sells every type of coffee you could ever want.
Features:
Bold, bright colors
Offers a discount
Includes a customer review
Has multiple invitations to view the shop
A short description of the product
10. Allbirds — Clear brand values
Type: Brand intro
Subject line: Welcome to the Flock

Allbirds' welcome email is all about the brand values. We learn about its manufacturing process producing less waste and pollution, the shoes being made with sustainability in mind, and still managing to have a design customers love.
The emphasis on nature continues as the email mentions Mother Nature, and readers see that Allbirds is where "sustainability meets style."
Features:
Strong emphasis on brand values and mission
CTA to browse the shop
Simple pastel colors
An invitation to follow Allbirds on Instagram
30-day money-back guarantee
Best welcome email templates
As the previous welcome email examples show, you have a lot of options when it comes to building your own. But if you're not sure how to start, don't worry: the following templates will have you up and running in no time. Each one is from Omnisend and is completely customizable. If you don't have an Omnisend account yet, you can sign up for free here.
The "Weekly Newsletter" template
This template is simple and clean in design. It has a prominent place for your brand logo followed by your latest news, while the image and text box are ideal for sharing your most popular blog posts.
Welcome email template with a discount
This template is ideal for a product-focused email. There's not only a large discount block, but also a menu area for readers to easily find specific products.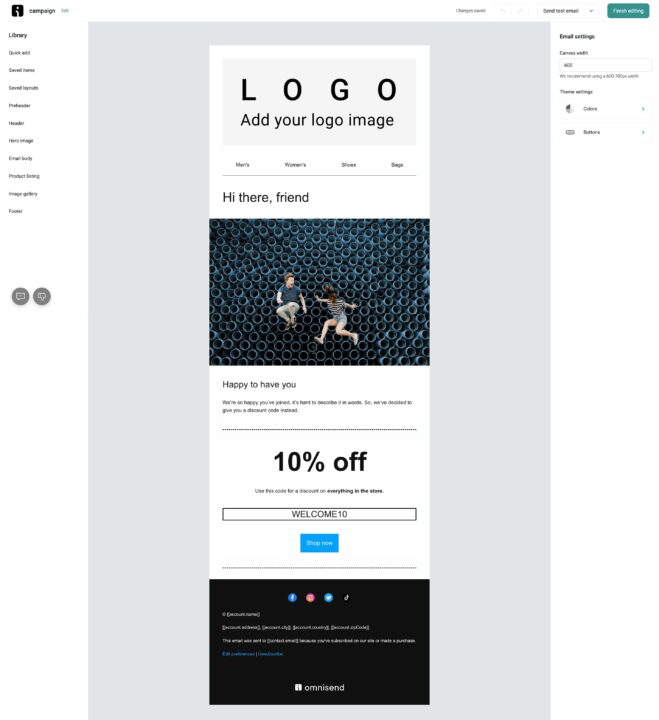 Text-only welcome email template
This template is similar to To'ak Chocolate's email, as it's entirely text except for the header area. This makes it ideal to communicate your mission, brand story, or other important information without the distraction of images and bright colors.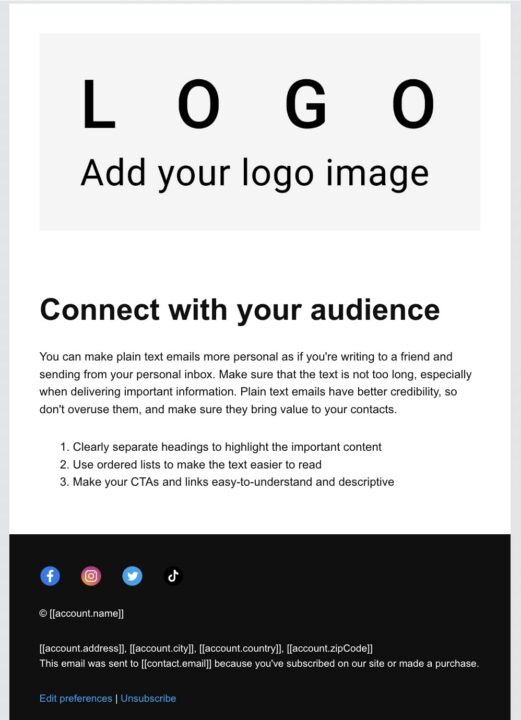 Need more templates? Omnisend has dozens of email templates for any kind of message, whatever your brand. Each one is available on all of our plans and easily customized.
Subject lines for welcome emails
Once you've designed your email, you need to make sure it has a captivating subject line. Remember, readers won't see your design unless the subject line is good enough to catch their attention and make them want to open the email. Here are some examples of subject lines proven to work:
Welcome to [brand name]. Here's what to do next.
You're in the club!
Hi Karolina! Thanks for subscribing!
Welcome to [brand name]! Get 20% off your first order!
Let's get you started right!
Welcome to the club! ❤️
Thanks for signing up!
Welcome to the A-List!
It all started [brand background]
We are [brand name]. Let's meet up!
Dive deeper:
The best times to send welcome emails
Your welcome email should be sent soon after someone completes an email capture form to join your list.
It's important to send the email shortly after they subscribe otherwise they may forget about you, become busy with another task or, if they signed up just before going to bed, they may even fall asleep before your email arrives. So, with all that in mind, send it immediately or within a few minutes.
In this newsletter example below, we see the first welcome email goes out immediately. The second in the three-part series goes out after a day's delay, and the last one goes out after three days: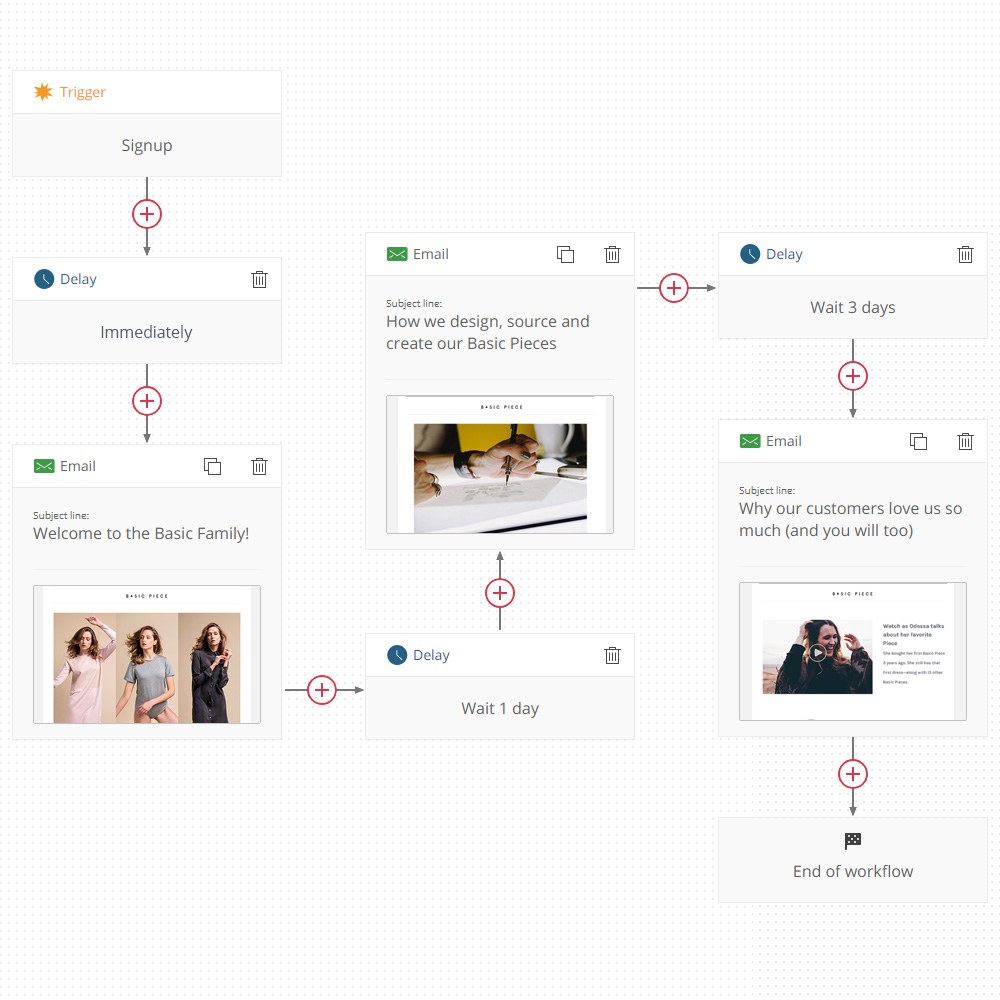 How many emails to use in a welcome series
There isn't one magic formula for how many emails to send in a welcome series—some brands send one or two, others send a lot more. However, the best ones make their point quickly and give their subscribers the information that's relevant and desired.
We recommend a welcome flow has the following three emails:
The first email: greets them, thanks them for the signup, and quickly establishes your brand
The second email: presents a behind-the-scenes look at your brand, your products or yourself
The third email: shows off your happy existing customers (using, for example, rave reviews from your social media) and presents a discount
But remember, these aren't fixed rules. It's always worth experimenting to see what works the best for your brand with your audience. B-Wear's welcome series has only two emails, but it enjoys a 66% conversion rate and revenue-per-email of $2.37.
Welcome email examples: key takeaways
The humble welcome email can immediately help to build customer loyalty, as well as increase your sales and revenue. You can send either a single email or automate a short series, and the welcome email examples above demonstrate how creative and varied they can be.
Keep these six tips in mind to help you craft the most effective welcome email:
Introduce yourself. Tell your story. Showcase your products and offers. Give your new subscribers a reason to feel good for joining.
Use a clear design. Whether your welcome email is to introduce your brand or make an immediate sale, stick to a clear structure. If you have a CTA, make sure it's bright and noticeable. Email design is really important for converting subscribers into buyers.
High-quality images only. Images can be beneficial, but only if they're of good quality. Grainy, pixelated pictures look amateur and may harm your reputation. If you can't produce your own, consider stock photos or text-only emails.
Incentive matters. No matter if it's free shipping or a small discount for first-time users, an incentive helps new subscribers become customers. If you don't offer discounts, consider alternative ways to encourage your audience to try your product or service.
Try a series. Although a single welcome email can be effective, a longer series of emails perform better. The extra touchpoints with recipients help to build brand recognition, which can develop trust. And you can enjoy higher conversion rates too.
Be polite. You can stay professional while also friendly and human. Being helpful goes a long way to establishing positive emotions with your brand, and don't forget to choose your preferred way to end an email.
Welcome emails can generate great results in a short amount of time and are a must-have tool in your marketing toolkit, but you'll need a great marketing automation platform to get started.
If you have doubts about the best automated welcome email, CTAs or workflow structure, check out the pre-built welcome email template options at Omnisend that work right out of the box.
Get started with Omnisend today & drive sales on autopilot with pre-built automation workflows
Start Free Today
related features
Want more sales?
Omnisend has everything you need to succeed.
Start free now
No Credit Card needed.