Drive sales on autopilot with ecommerce-focused features
See Features
did you know
Omnisend customers automate 32% of their email conversions. Are you maximizing sales?
automate my sales
Reading Time:
10
minutes
8 out of 10 customers expect to receive welcome emails after they sign up for a mailing list.
I think we can agree—that's a huge untapped opportunity to approach your new subscribers who've just confirmed that they are into you. In fact, welcome emails are one of the best email marketing examples.
If you still don't send these emails because of whatever reason, you should definitely get on board and start introducing your brand with these well-performing welcome messages.
But let's first things go first.
What is a welcome email?
A welcome email is the first interaction your business has with your new subscriber after he/she confirms having an interest in you. The main goal of this welcome message is to confirm a new registration and welcome a new subscriber aboard. This is one type of automation workflows.
You should send this email when your site's visitor submits the signup form for your newsletter. Usually, retailers use an automated workflow so they don't miss welcoming anyone and sending a "thank you for signing up" email.
To automate your welcome messages, you will need to find a marketing automation platform that provides such a workflow.
For a proper introduction of your brand, you can choose one email or a series of 3–5 welcome emails to send. At Omnisend, we see that a series of three emails generates better results. They can bring you more than twice higher engagement rates, as well as higher revenue.
Further below, we also look at some welcome series email examples, as well as some welcome email best practices.
Why are welcome emails important? (backed by data)
Many different reasons make a welcome email stand out from our entire digital marketing toolkit.
First of all, the data shows that it's worth sending. 74% of email subscribers expect to receive a welcome email just after subscribing to a new newsletter. This alone should make it a fundamental part of your email marketing strategy.
This high interest also reflects in the email engagement numbers. Welcome emails have an average open rate of 30.69%. That's a 202% lift over the usual email campaign.
New subscribers tend to read the welcome message and even buy when incentivized by them. The average conversion rate (51.94%) overcomes the vast majority of other automated emails sent by ecommerce businesses.
Apart from those numbers, a welcome email reveals many opportunities to approach your new subscribers. So what else can you achieve with that?
The 6 main benefits of welcome emails in ecommerce
By sending a welcome email, you increase the credibility of your brand. Many customers don't trust newly discovered brands. A welcome email (with a well-crafted message) can help warm up new members faster and push them further through the sales funnel.
A welcome email is a great tool for storytelling. It can help you tell your brand story, reveal some interesting facts, a key selling proposition, or a "behind the scenes" look.
Many retailers often include an incentive to buy with their welcome message: some small discounts or free shipping for the first purchase. The high conversion rate of these messages shows that these are the best welcome emails that customers love.
Welcome emails also help to get more touchpoints with new subscribers. Brands invite new subscribers to follow them on social media, or respond to a survey with their personal data and complement their customer profile.
Sending a welcome email is a brilliant opportunity to showcase your products, to introduce your brand with your best offers and product categories.
It's also your chance to show appreciation to your customer and send a "thank you for joining our mailing list" email. Check out this article 12 Thank You Email Templates and Examples for Ecommerce.
As you can see, there are many goals that welcome email can help you to achieve. Of course, you should prioritize your goals and not try to achieve all of them with a single email.
Let's look at some great welcome email examples and how retailers employ welcome emails in their marketing strategies.
Start using Omnisend for free & drive sales on autopilot with pre-built welcome email templates!
Start free
The 7 best welcome email examples
#1. Use clear 1-2-3 steps to onboard
It's always easier to absorb information when it is clearly structured. 1-2-3 steps are a good solution when you have more than one thing to say or want to encourage a newbie to take certain actions. A great example is the Airbnb welcome email.
Please note that you should only use one Call-To-Action button on the page if you want it to be effective.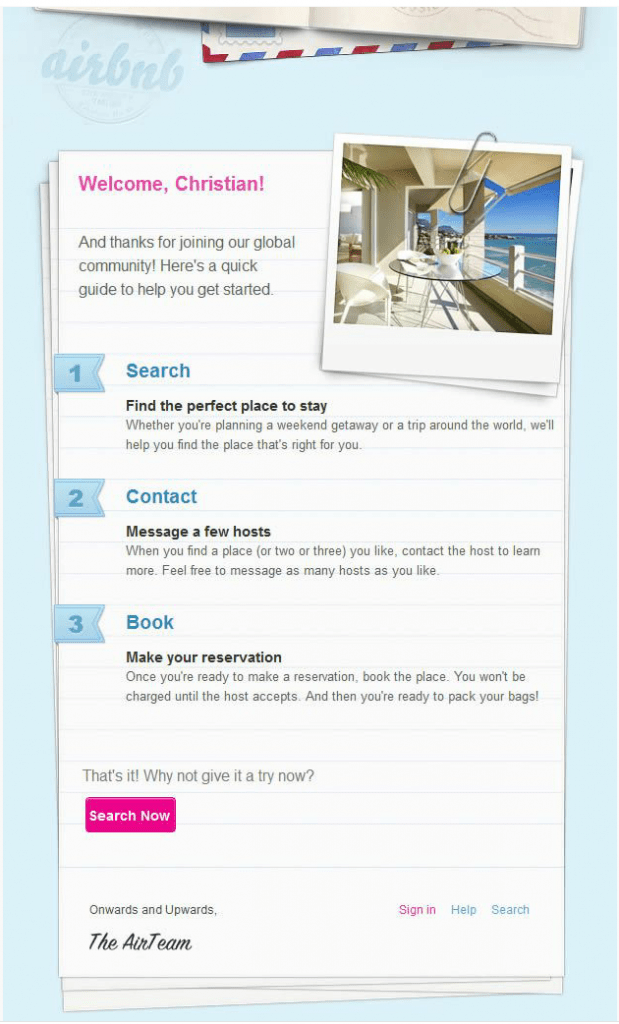 A structured email list could be used also as a way to introduce the benefits of becoming a member of your community. In addition to that, Michaels asks to fill the survey about personal interests and demographic data. It will definitely help when segmenting your customers and organizing personalized campaigns.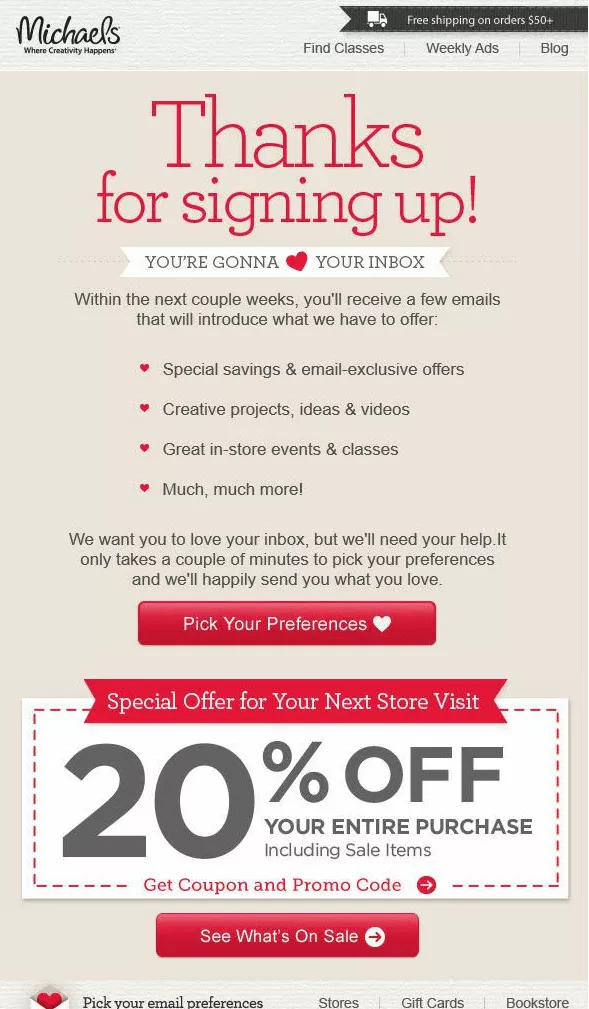 I also like this example from Vente-Privee.
I find it a little bit too overwhelming with different kinds of information (a search field, and too much information about the delivery voucher).
However, I like their welcome greeting message and the way they introduce the benefits of becoming a member of their community.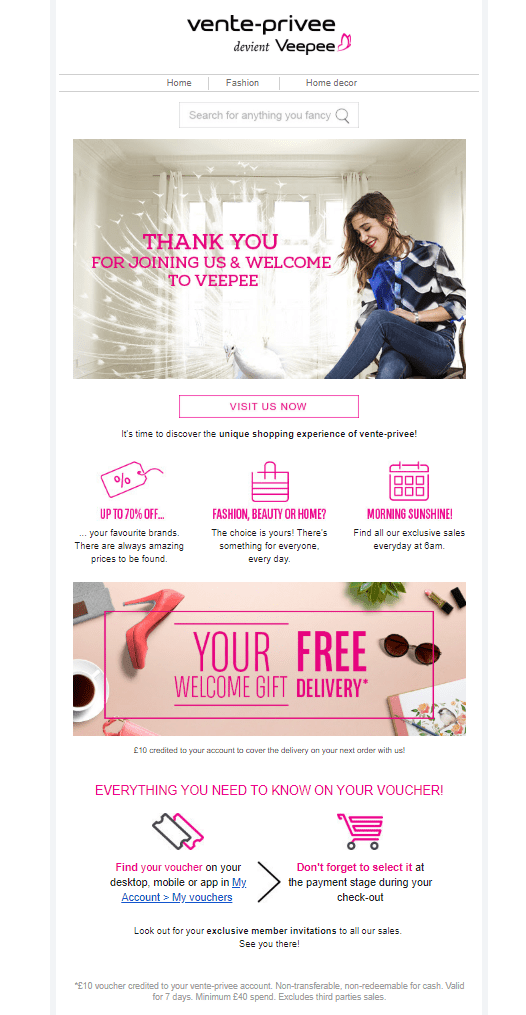 #2. Tell your story
Storytelling in marketing is as old as marketing itself. A fascinating brand story is exactly what seals the deal when customers are choosing from a few alternatives.
A welcome email is a perfect media to tell your story, and introduce your values or key selling proposition.
One of the most beautiful examples of how to introduce a brand and the product itself is this welcome email from AWAY.
First of all, this brand briefly introduces the team's beliefs, then point by point explains why their product is unique and offers a free trial at the end.

#3. Offer a deal
By offering a discount or some sort of incentive, you can create goodwill between your business and your new engaged subscribers. It often breaks the ice for the first purchase.
For example, the Modkat goes straightforward, the email welcomes the new subscriber, briefly introduces the mission of the brand and offers a deal with a clear CTA button.

Never underestimate the CTA button.
When you have an almost perfect welcome email design, it is time to look once again at the CTA button. Does it clearly reflect what you expect your recipients to do? Is it bright and in a convenient click position? Do not place the call-to-action button at the very end of your email – it should be visible on the screen without the need to scroll. Make it short, simple and bright.
Designing an effective CTA is an art, but you definitely can test various options and discover which ones work for you. A great way to do this would be to use a tool like Rebrandly URL Shortener to create custom, trackable, short URLs to add to your CTA buttons. That way, you can compare the click data for each button and see what's working best.
#4. Showcase your products with eye-catching images
A welcome email shouldn't be shy or modest. It's your chance to introduce yourself to interested subscribers the best you can.
So use your trump cards: beautiful images of happy customers, your most popular products, free returns warranty, etc.
This is an example of how Crocs showcases its products: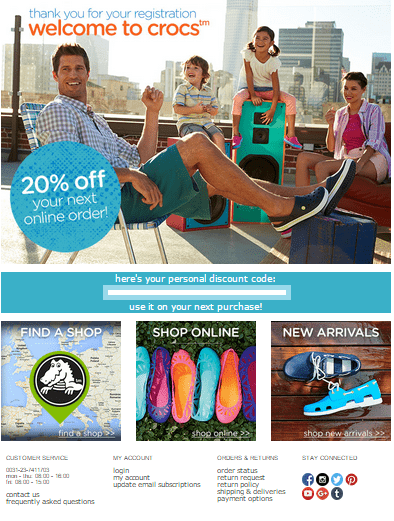 #5. Send a welcome email series
How many emails should be in the welcome series? Data shows that a series of three welcome emails generates 90% more orders than a single welcome email. But this number can be even higher if you know what to say to your new subscriber.
Moreover, by on-boarding your new subscribers with three or more ecommerce welcome emails, you can add more information about your brand. Approaching your customers more than once will help you to create and reinforce a solid first impression and boost your sales.
See how welcome series emails look in the example below: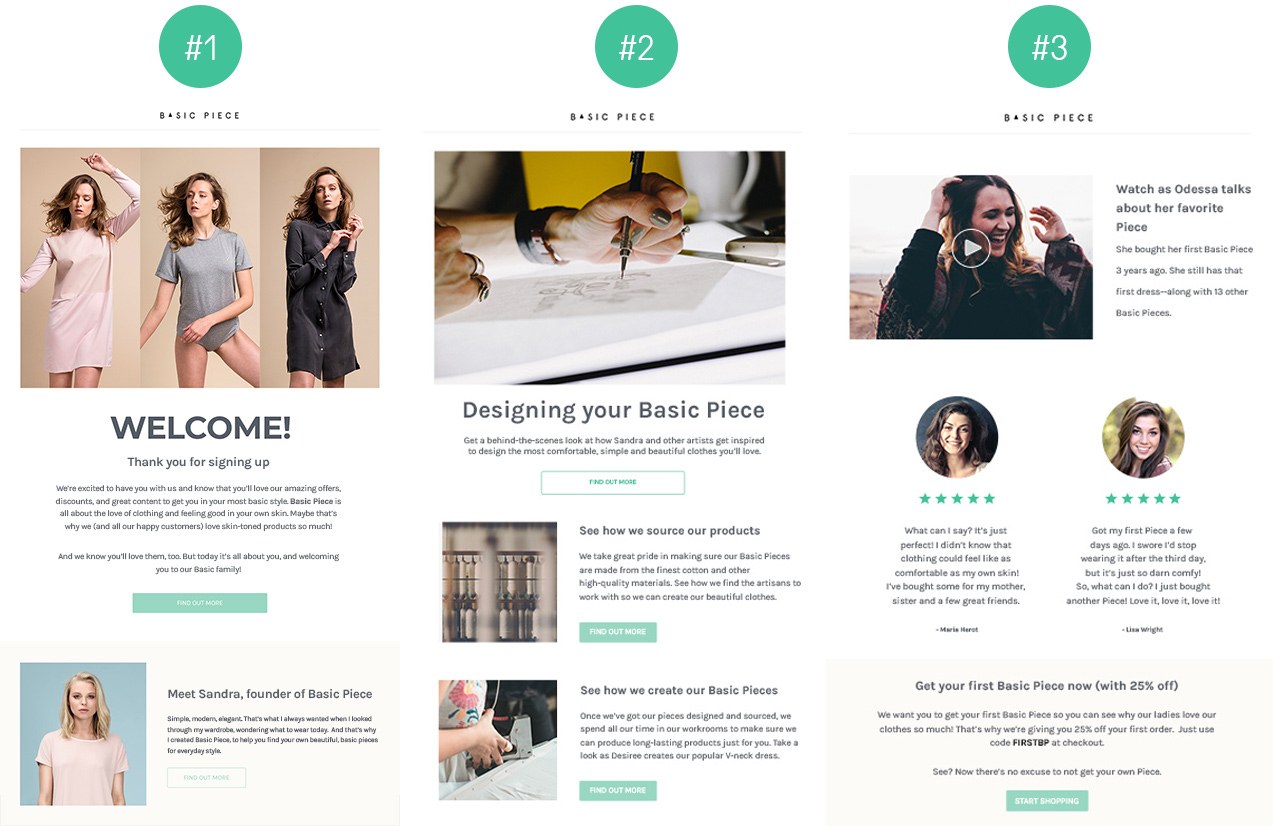 The first email in the welcome email sequence is a general welcome to the subscriber, and briefly introduces the benefits of joining the community. Also, we can see a photo of the founder and her short quote which makes the email more personal.
The second email tells the story about the brand and how the products are being produced. It shows some details "behind the scenes'.
In this example, the third email is for social proof and the discount for the first purchase. The discount might be introduced even earlier, in the first email.
The whole welcome email sequence is sent within four days of the signup. There are no strict rules of welcome email copy or structure. Mostly, it's a matter of testing and finding what works best for your brand.
The 10 welcome email subject lines you can steal today
For welcome emails, you don't necessarily have to look for a unique subject line. Most often, merchants use "thank you for subscribing" text, or simply – "welcome to [brand name]!".
However, I checked my inbox where I subscribe to hundreds of brands and came up with a list of 10 subject lines that are simple yet effective.
Welcome to [brand name]. Here's what to do next.
Welcome to the A-List!
Welcome to [brand name]! Enjoy £10 off your next order
You're in. Welcome to the family.
Hi Karolina! Thanks for subscribing!
Welcome to [brand name]! Get 20% off your first order!
✨ Welcome to [brand name] – here's 15% off
Welcome to the club! ❤️
Welcome! Thanks for signing up!
We are [brand name]. Let's meet up!
Don't be afraid of using an emoji in your subject line. This small icon helps you get noticed.
The best time to send welcome emails
For many marketers, the question of what the best timing to deliver welcome emails is can be a bit confusing. When speaking of sending campaign emails in general, the answer is much clearer.
We analyzed billions of our customers' emails to discover the best time to send emails. What we discovered was that:
The beginning of the month has better results
Thursday was the best day of the week to send email
Emails sent at 8am had the best open rates, but 5pm had better click rates
This is certainly useful for one-off campaigns. But, when talking about the welcome email series, we're talking about automated messages sent out after someone signs up.
The welcome email best practices here are pretty clear: soon after someone from The welcome email best practices here are pretty clear: soon after someone from email capture forms signs up to your list, you should deliver that welcome email.
The tricky part here is simple: send your email too soon after the customer has signed up, and they may miss it. This is because they're still on your website or other shops, and may just be too busy.
However, if you send it too late after signup, then they may have already forgotten about you. Either that, or you'll face the same problem as before: they could be busy, either at work or at school. It's even possible that they're asleep if they signed up at night.
Based on that, the optimal timing to deliver your automated welcome email is one hour after signup. This provides the best gap, seeing as the subscriber will likely still be online (not sleeping), but still enough time that they're probably no longer on your site.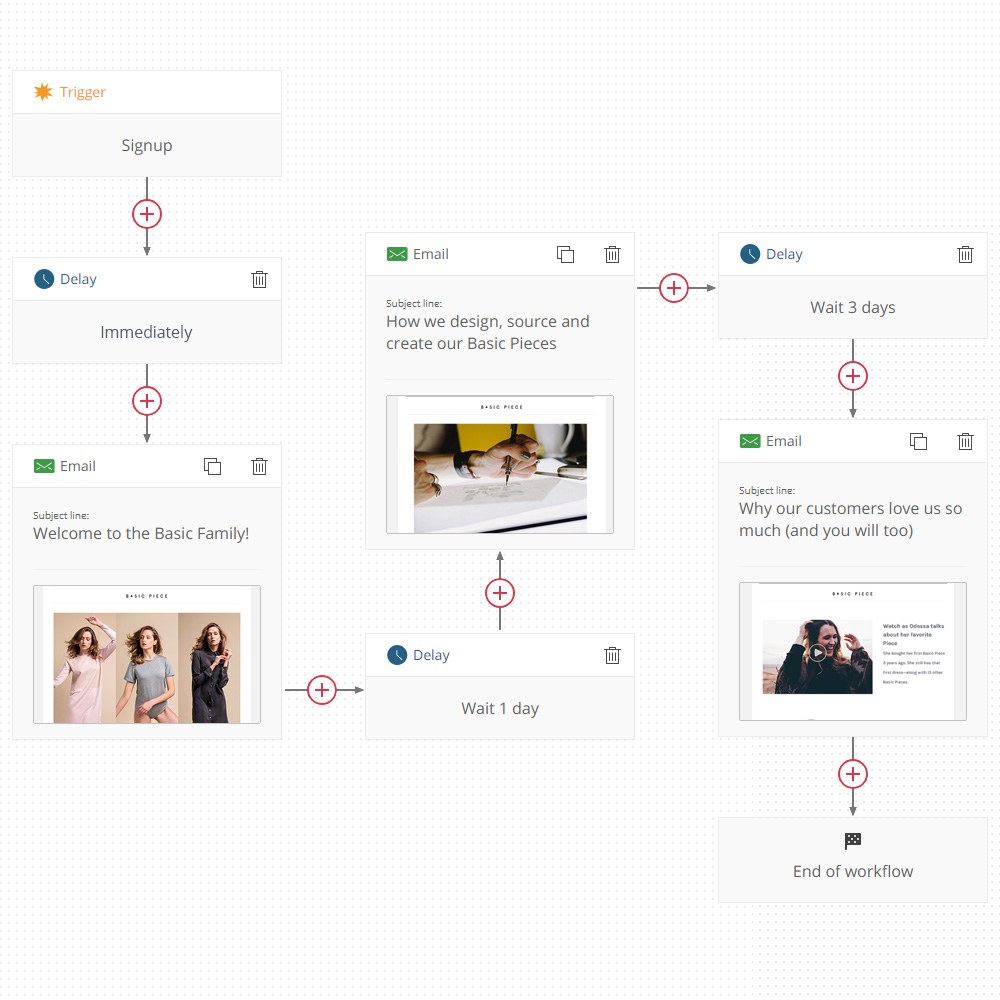 In this example above, we see the first welcome email goes out after 1 hour. The second in the three-part series goes out a day later, and the last one goes out after 3 days.
You can adopt the same timing to deliver your welcome emails and adapt as necessary for your brand.
How many emails to use in a welcome series
In the image above, we showed you an example welcome series that includes three emails. However, there are many options. You can send out a single welcome email—which doesn't really qualify it for a 'series—or you can send two, four, or more.
However, the best welcome series emails are those that make their point quickly and concisely. This is why we recommend a welcome email flow of only three emails:
The first email truly welcomes them, thanks them for the signup, and quickly establishes your brand
The second can present a behind-the-scenes look at your brand, your products or yourself
In the last email, you show off your happy existing customers (using, for example, rave reviews from your social media) and present a discount
Earlier, we went in-depth about the three-email series and noted that it is the highest-converting series. You can use this as your go-to welcome email template.
However, you can certainly cut this welcome email sequence to just the first and last emails. Those are essentially the most fundamental for any welcome email flow: the initial welcome email, and an enticing offer to buy.
However, there's another category of welcome emails: the welcome back email. Essentially, this email is sent whenever comes back to you brand after a certain (longer than average) time has elapsed.
In that case, if they should log in or buy from you, it's a good idea to send them a welcome back email as well. Again, one hour seems fine for this welcome message.
Key takeaways:
Introduce yourself the best way you can. Tell your story. Showcase your products and offers. Give your new subscribers that "good decision to join" feeling.
Whatever your key goal of the automated welcome email is, you should stick to a clear structure and bright CTA button. Email design is really important for converting subscribers into buyers.
Support your email with high-quality images. Only good imagery will create the right effect.
Incentive matters. No matter if it's free shipping or a small discount for first-time users, it helps "the hot lead" to convert.
Consider sending a series of welcome emails. Altogether they perform better than a single email. Both in terms of order rate as well as brand awareness-raising.
Be polite to your customers and choose your prefered way to end an email.
Trust me, welcome email automation generates great results and is a must-have tool in your marketing toolkit, but you'll need a great marketing automation platform to get started. The best part of the welcome email series is that you can see your results in a short period of time.
If you have doubts about the best automated welcome email, CTAs or workflow structure, check out pre-built welcome email template options at Omnisend. Here you can even find a few different automated workflows that will work for you out of the box.
Start free & drive sales on autopilot with pre-built welcome email templates!
Start free today