"I wanted to spread the joy and relaxation puzzles brought me while reinventing the humble jigsaw puzzle and supporting emerging female artists," says Kaylin Marcotte, Founder and CEO of JIGGY Puzzles.
Like many young professionals, Kaylin was looking for a way to unwind from day-to-day stress. Having grown up loving puzzles, she turned back to them to relax and meditate after long days at the office. What she didn't love, however, was the often-boring stock photography many puzzle brands offered.
As an avid art lover, she wanted a puzzle that was going to look great after it was finished: a puzzle that would be worth framing in her home. Thus, JIGGY was born.
Launched in November 2019, JIGGY is a DTC brand that produces and sells beautiful artwork by emerging female artists in the form of the classic jigsaw puzzle—"art in pieces," as Kaylin calls it.
How to launch a brand and accelerate growth with a small team
In the beginning, JIGGY's growth was organic, targeting coastal millennial women where Kaylin's network reached. In mid-December 2019, JIGGY was featured on the Today Show, which exploded that demographic across a variety of age ranges and locations. With that boom, JIGGY had to find a way to scale their brand storytelling and maximize sales with very few resources.
"The relationship with our customer is so important, the tone, the content. It's so precious to me. With email being an organic relationship-building tool, I've always felt it's a privilege to have that proximity, that conversation.
"I've always felt strongly about email as a relationship builder and using it to create that customer experience. Our product is more or less self-explanatory, but our brand storytelling and values are important: how we work with artists, and what their stories are. The welcome series is so important for that."
Easy-to-set up automation workflows that build customer relationships
As a brand new startup with a small team, JIGGY's email marketing strategy is completely run by Kaylin herself. She needed an email marketing provider that was simple enough to use yet robust enough to easily automate messages that tell the brand story and maximize sales.
Luckily for Kaylin, she was no stranger to email providers. Having tried four different ones, such as Mailchimp, while working at theSkimm, she knew what she needed to accomplish her goals.
And because of her experience with those other providers, Kaylin chose Omnisend for its ease of use, reporting, features, and price.
For such a one-woman show, it's really served my needs. Omnisend is there when I need it without being something I have to check constantly.
Kaylin Marcotte
Founder and CEO of JIGGY Puzzles
Kaylin went to work implementing a well-written, three-part welcome series, two-part cart abandonment workflow, and an Omnisend email acquisition pop-up. And, despite launching amidst a worldwide pandemic, the results have been nothing short of amazing.
The capture: A simple popup with an incentive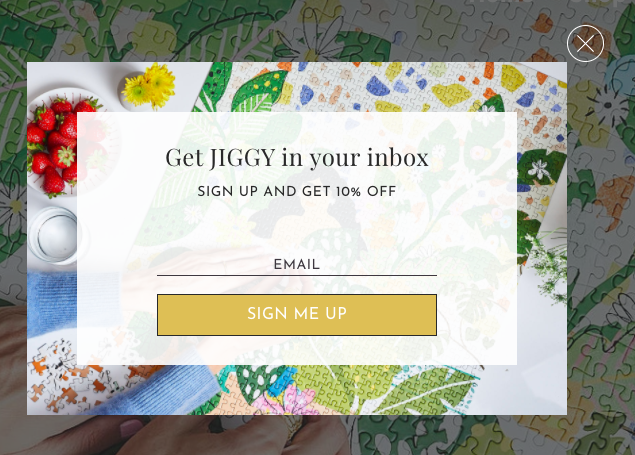 As a new business, it is essential for JIGGY to continuously grow their email database. By using Omnisend's built-in pop-up builder, they were able to do just that.
By offering a first-time discount in a beautifully customized pop-up, JIGGY saw a 4.44% sign up rate. Not only did this contribute to list growth, but each submission triggered the first email in their three-part welcome series.
Even though the pop-up advertises an initial discount, for JIGGY the welcome email isn't just about securing the first purchase—it's about building that initial relationship with their customers through brand storytelling.
JIGGY opted for a three-part welcome series to best tell that story, and it's clear through engagement and revenue, their customers are eager to know more.
The welcome series: Automating revenue with the brand story
For JIGGY, the welcome series isn't just about securing the first purchase, it's about introducing their customers to their brand and the story behind it.
JIGGY illustrates this beautifully with their 3-part welcome series that draws the customer into their story and illustrates how the brand is giving back and supporting emerging female artists.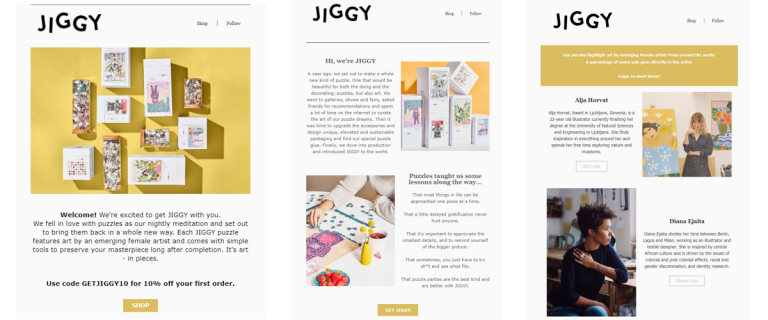 As to why they intently focus on storytelling in all three messages, Kaylin says, "We don't take for granted that people have seen the full storytelling.
Customers might take any number of journeys to get to us, so messages two and three are still important for making sure they get that story. Landing in an inbox is such an intimate relationship. Being able to build that relationship directly, it's too important not to tell the story."
The results: The automated welcome series generates 64% of their total email revenue and receives a revenue per email (RPE) 318% greater than those of their promotional campaigns.
After seeing the numbers, it's hard to disagree.
Recovering lost sales with automated cart abandonment
Like every online retailer, JIGGY knows that not all customers will complete their order after placing an item in their shopping cart.
But with consumers so close to a purchase Kaylin knew that implementing cart abandonment messages was a perfect way to recapture some of those lost sales—especially after the success with the welcome series.
Jiggy used the built-in Shopify-Omnisend connector and quickly implemented a friendly, two-message abandoned cart series. Message one sends two-hours post-abandonment and the second sends one-day post-abandonment.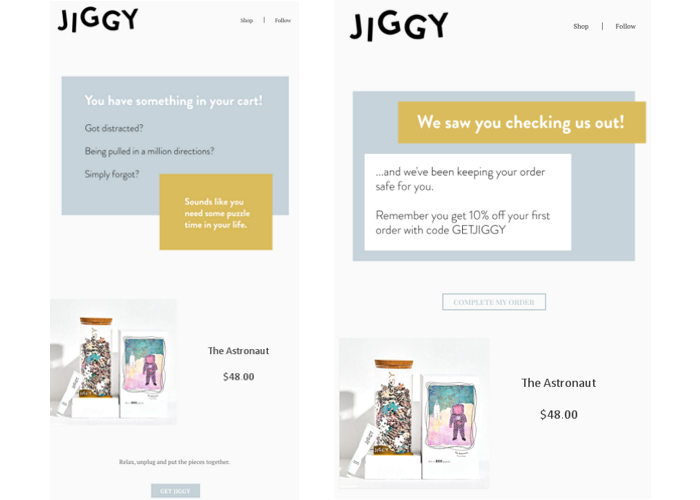 While, based on how often items sell out, it may not appear that many people who cart products fail to complete their purchase, the cart abandonment messages do generate considerable engagement and effectively recaptures lost sales.
The results: The two-part automated abandoned cart series experiences open rates greater than 60% compared to their standard promotional campaigns, generates an RPE lift of 158% compared to their promotional messages, and accounts for 5% of their total email revenue.
Fitting all the pieces together
After implementing only two automated message series, the welcome series and cart abandonment workflows combine to generate a whopping 69% of their total email revenue—with only five messages. Talk about maximizing your resources!
According to Kaylin, the focus, for now, is keeping up with the high-demand during a worldwide lockdown. However, once things have calmed, she looks to create more relevant messaging using Omnisend's segmentation tools.
She also expressed interest in using segmentation to determine which personality types best respond to which kinds of artists so she can deliver more relevant promotional email campaigns.
In the meantime, Kaylin plans on continuing to let the automated emails do their job. The best part for Kaylin is that since these messages are automated, she can focus on doing what she enjoys most—telling her story and growing her business.