Naked & Famous Denim needed an easy-to-use ecommerce platform to reach its fans. They got that, and so much more.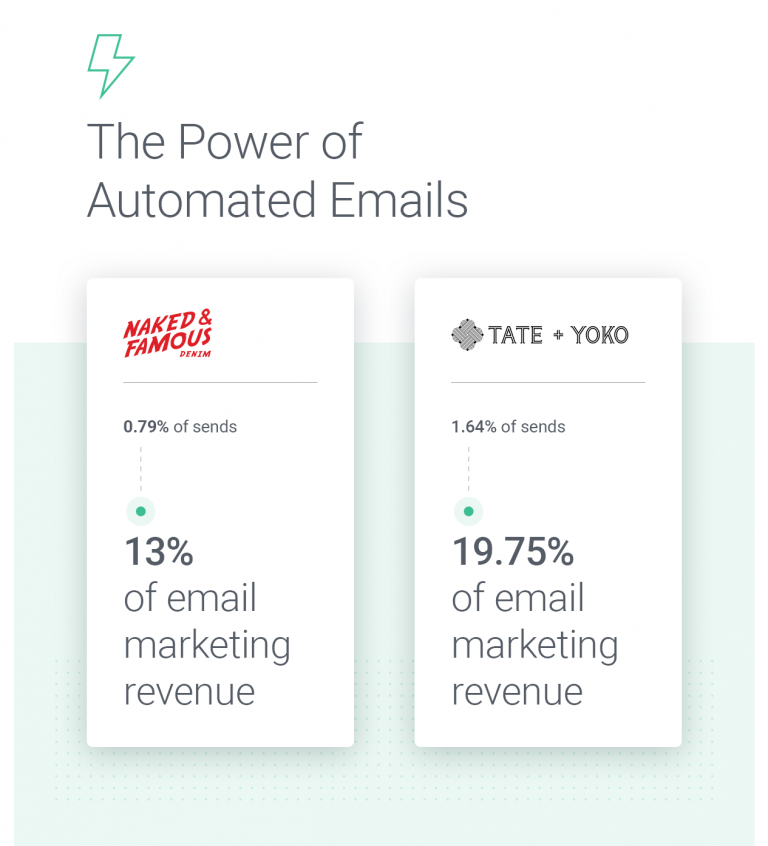 Here's the story of how they went from struggling with email marketing challenges to making a more robust system work in their favor.
The right tools for the "giant denim nerd"
Bahzad Trinos calls himself a "giant denim nerd," so much so that his official title at Naked & Famous Denim is Chief Denim Otaku (translation: one with intense interest). He's obsessed with fabric, its history, how it's made, and the way it ages.
This passion propels his deep involvement across company operations, from designing its high-quality, raw denim collection, to steering and executing branding and promotional efforts.
He's strapped for time. Tools need to function efficiently.
An easy-to-use ecommerce marketing platform ranks at the top of the list. The company doesn't utilize conventional marketing like paid advertising to distinguish itself from heritage jean brands. Rather, direct communications are the go-to for building rapport with a community that appreciates the unwashed and untreated fabric of moldable raw denim.
Trinos believes email marketing is one of his most powerful marketing initiatives, which also include dabbling in social media, conducting frequent live streams, and interacting on raw denim message boards.
"The only platform where you control 100% of your audience is through your email marketing," he said, lamenting that social media in particular is increasingly a pricey pay-to-play environment. "When I send out an email, I know that everybody on that email list, who wants that email, gets that email."
So when email provider Mailchimp became more laborious to use, Trinos decided it was time for a switch.
The new provider would have to be a foolproof platform with more expansive automation capabilities, as well as one requiring minimal effort to send general company and product announcements.
Moving from Mailchimp to a more sophisticated solution
A little more than a decade ago, the three-person Naked & Famous team was hard at work building a store for multi-brand denim products in Montreal, Canada—literally.
After the regular workday of wholesale dealings, they wielded sledgehammers and crowbars to renovate a space that would become Tate + Yoko. It opened in 2011 and features Naked & Famous apparel, plus brands from Canada, the United States, and the epicenter of raw denim, Japan.
They erected an online presence around the same time, and subsequently leapt into email marketing. Trinos calls those days a "trial by fire, blood, sweat and tears."
Mailchimp was the cost-effective choice for spreading the word about their own collection and the vintage-driven craftsmanship behind it. But selecting the cheap plan ultimately became a burden. A lackluster customer service experience characterized by tickets and user-based help forums left him wanting better support.
Mailchimp's divorce from Shopify was the final straw. Trinos worried a third-party connector would eventually fail and unravel their progress. He found a savior in Omnisend. It natively connects to Shopify without reliance on an outside app.
And by working with a dedicated customer success manager, the headaches are gone. Trinos receives timely responses to questions and any unique issues that arise.
Direct access to the experts
Trinos credits Omnisend for cultivating his email marketing strategy. For one, he consistently heeds the tips highlighted in Omnisend's customer-directed emails.
They are experts in that realm, so why not take from that? They see the trial and error from all their consumers. They know what works, they know what doesn't work, they know what might work for me.
Bahzad Trinos
Chief Denim Otaku at Naked & Famous Denim
More so, he relies on the advice of his customer success manager who "has some really clever ideas on how to make a marketing campaign or an automation really work."
She was instrumental in establishing Naked & Famous' first automated workflow. By questioning Trinos to understand the company and his goals, they developed a custom three-part abandoned cart series.
The tailored approach is working. Combined, the abandoned cart series has generated a more than 4400% lift in revenue per email (RPE) over stand-alone campaigns, at an average $5.76. The conversion rate for the series is 38%, with the third message converting at 60%.
The series inspired a version for Tate + Yoko as well. They account for only 0.65% of all store-branded sends—whether automated or not—but spur 14% of all email-driven revenue.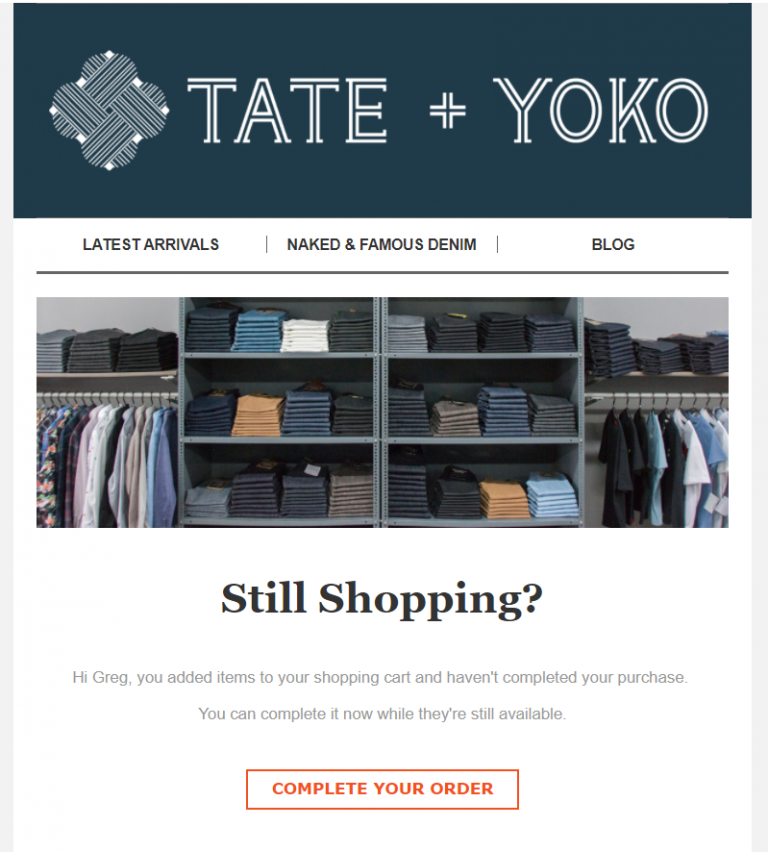 Other automated emails are also contributing toward strengthening sales:
A three-part series to lure back lapsed purchasers nets an average 16% conversion rate, with the RPE lift ranging from 580% to 793%, depending on the message
The welcome email open rate of 60% is complemented by an RPE lift of 314%
Trinos has experienced similar success with promoting Tate + Yoko and the multitude of brands it carries:
Automations see a 24% conversion rate, a 654% lift over regular marketing campaigns, and account for nearly 20% of email revenue with less than 2% of total email sends.
Campaigns that include resending an email when the original goes unopened—called a "booster"—contributed 7.47% of total revenue among marketing campaigns
Greater comfort for the customer
Raw denim's exclusivity and uniqueness lend itself to a lot of questions. What's the right size? How do you wash them? Wait, do you wash them?
"We're selling people very complicated pants," Trinos said. "I understand that in our world it's not always so easy for the customer, so we very much pride ourselves on being as accessible to them as possible."
The last thing Trinos wants is an intimidating atmosphere reeking of an arrogant sales staff. That goes for the Naked & Famous flagship store in New York City as well as the company's digital existence.
He devised a customer feedback email to elevate comfort-enhancing efforts. The communication provided a chance for customers to voice opinions on their shopping experiences.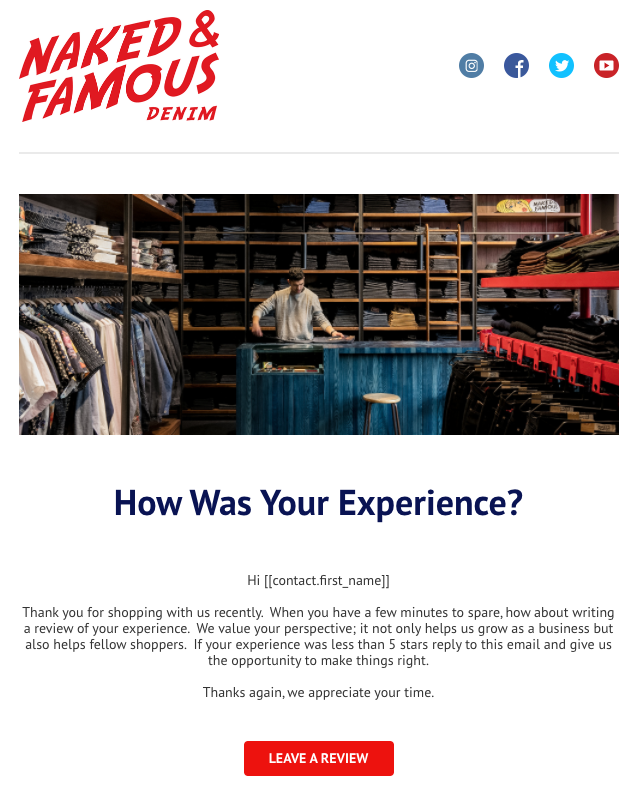 The benefits are two-fold:
Improvement: The Naked & Famous team is discovering aspects that might need adjusting for a better customer experience.
Financial reward: An incentive included in the message spurred sales.
The customer feedback email resulted in nearly $7,000 in sales—which computes to a 20% conversion rate—and an RPE of $4.19, a 3190% improvement over promotional email campaigns. That equates to 7% of all email-derived revenue with only 0.25% of email sends.
Raising awareness with less effort
Trinos stated that he is not interested in taking a deep dive into "a lot of the nitty-gritty when it comes to email marketing."
That's why Omnisend serves him well. The platform makes it easy to send basic email campaigns and devise non-complicated automations. He likes that he can quickly program parameters to identify customers of a certain spending threshold, saving him from painstaking manual calculations. Plus, personalized customer support guides him along the way.
It all adds up to relieving Trinos' schedule, so he has more time for the collaborations and creative activities that will further boost the Naked & Famous brand.
"If I got hit by a bus tomorrow and God forbid something happens to me, the company will continue on. We've got a great automation strategy. Whoever takes over my place will be able to get into that system and know exactly how it works because it's a very user-friendly system."