Drive sales on autopilot with ecommerce-focused features
See Features
Reading Time:
4
minutes
There is nothing more frustrating for a shopper than to find that a product they want to purchase is out of stock. This creates the potential for them to turn their search to another online store—costing you sales.
Providing back in stock alerts as part of your ecommerce marketing plan can keep the customer engaged and even cause them to delay their purchase in hopes it will soon be back in stock with your store.
But just offering back in stock alerts doesn't mean you're maximizing your sales potential or creating a better customer shopping experience. Today we'll look at seven ways to make the most of your back in stock marketing to increase sales and deliver a shopping experience that equals that of today's sophisticated retailers.
1. Grow your subscriber file by adding an email opt-in
Most back in stock alert forms only collect the customer's email address for the purpose of notifying them when a product is back in stock. Take advantage of having their attention and ask them to opt in to your email list at the same time. Customers of ours who employ this tactic tend to see a significant list growth which ultimately increases revenue.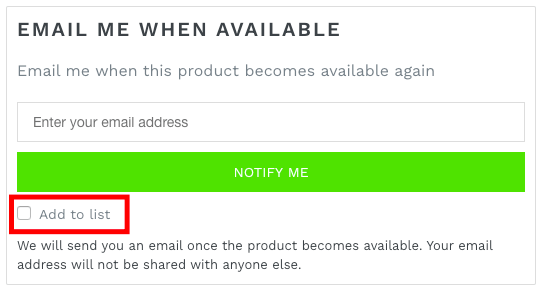 2. Send alerts via your email provider
It is important that you establish your brand and one of the ways to achieve this is to make sure the emails you send come from your domain. Most back in stock apps send out emails from their own domain, which may confuse the customer.
Another benefit of using an advanced ecommerce email provider like Omnisend is you'll have the option to use a multitude of features to improve the performance of your back in stock campaigns.
3. Enable signups for anonymous users
Some stores restrict features only to logged-in users. Many users will simply leave your site if forced to log in to access a feature. By giving anonymous users the option to sign up for the back in stock alerts, you will maximize your opportunity to increase engagement and sales.
4. Enable targeted ad campaigns based on back in stock subscription activity
If you're like most retailers, Facebook and Instagram ads play a big part in your marketing plan. By integrating your back in stock app with Facebook Pixel, you can run highly relevant ads targeting your back in stock subscribers. If your emails have a 20% click-through rate, this is a very effective way to reach the remaining 80%.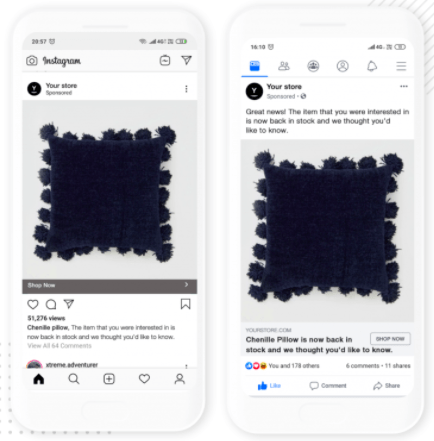 5. Only allow signup on specific products
The last thing you want to do is disappoint your customers. To avoid that, make sure you only show the back in stock alert form on products that you are going to restock. For discontinued products or those you decide to not restock, deactivate the button to set right expectations for your customers. You have the option to capture back in stock alert subscriptions at both a product level and at a variant level—be sure to choose the right one for each scenario.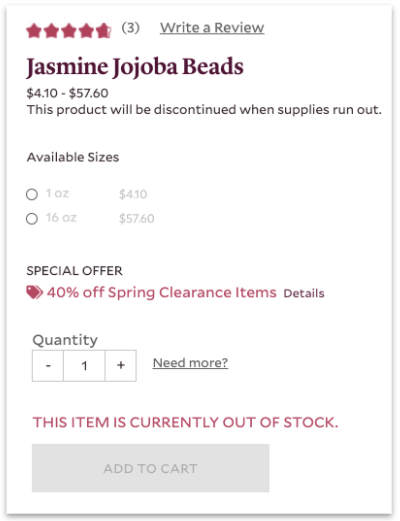 6. Manage minimum quantity thresholds
Make sure that small increases in inventory, like when a single return is processed, don't trigger a large batch of alerts. By setting a minimum inventory level threshold, you will prevent alerts from being sent when only small amounts of inventory comes in. Some stores may find it helpful to set thresholds at a product level, not just at a store level.
7. Use advanced logic to send alerts
Receiving a back in stock alert only to find out it's sold out again can be frustrating! Instead of sending a notification to everyone who subscribed to receive an alert, determine the number of eligible recipients based on the quantity restocked. This can help to ensure that the product will still be in stock when the customer responds to the alert. This also helps ensure that you have a set of customers you can alert later when you add additional inventory.
---
Even though the majority of ecommerce brands have discovered back in stock marketing, you can still stay a step ahead of the competition with these advanced tactics. Keeping up with demand for your best products will always be a challenge, but making the most of your back in stock opportunity can increase sales and separate you from the competition.
This guest post is provided by SWYM.
Signup to Omnisend today and learn how you can automate your marketing!
Start Free Today
related features
Want more sales?
Omnisend has everything you need to succeed.
Start free now
No Credit Card needed.