Focusing on the German and international streetwear scene, Reternity creates its products "in a lengthy, inspiring development process" that combines "simple, creative styles in a powerful and timeless way." That's how Moritz Kruse, Head of Email Marketing at Reternity, describes the brand and what makes it special for its customers.
Since their products are produced in Europe, Reternity believes that their clothing will appeal to younger audiences interested in streetwear and who value high quality. Because of this focus—and its younger audience—it's important for them to be able to communicate with their customers in a way that's consistent and continuous, but not annoying.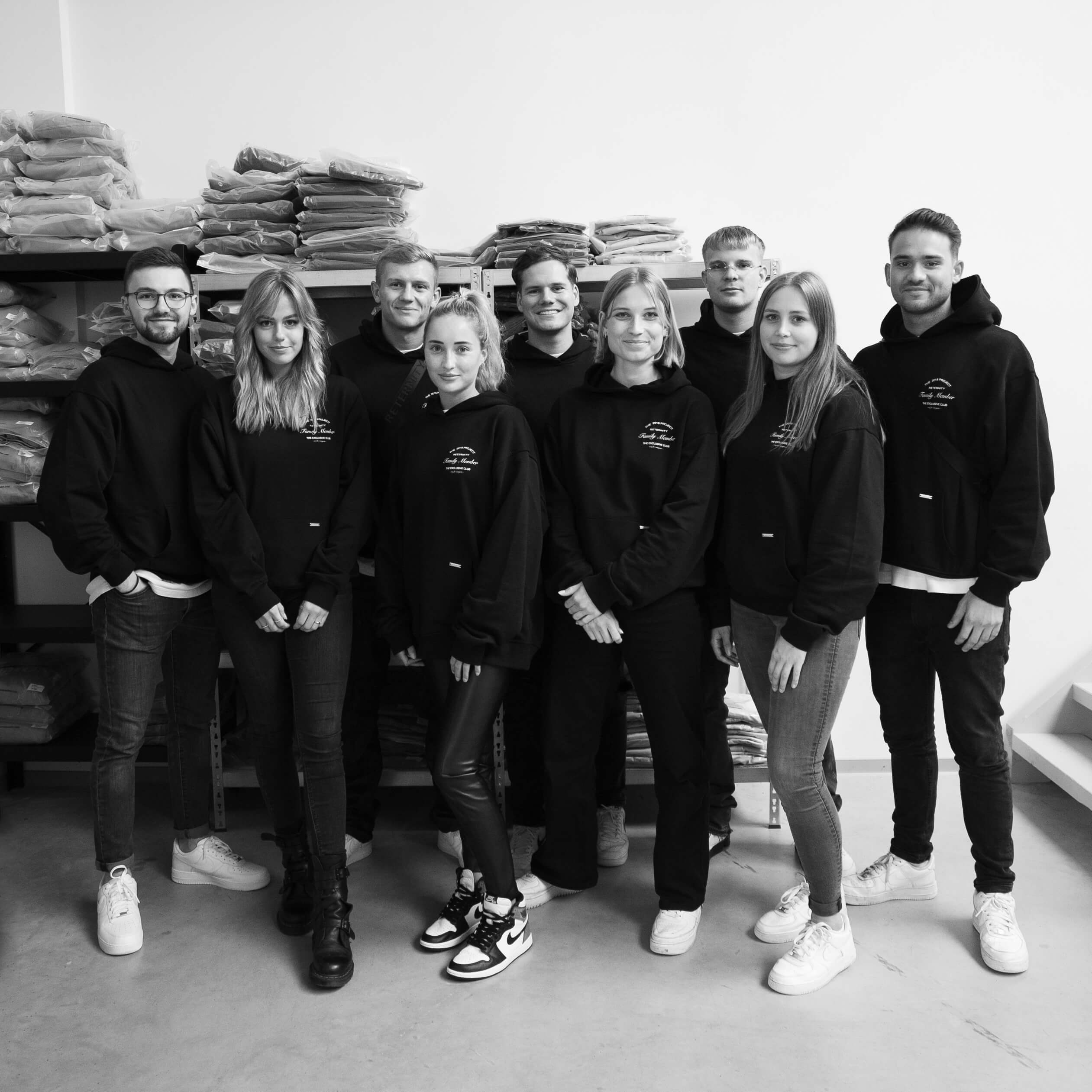 For this reason, they experiment a lot. They rely heavily on automation workflows like the abandoned cart, welcome and birthday series. They're also testing multiple channels, like SMS and push notifications, to see how their customers respond.
So far, it's going very well, especially their automation and omnichannel workflows, which brings on average a 2600% higher revenue-per-email (RPE) than regular one-off promotional campaigns (while only making up 8.6% of email sends). Their abandoned cart series alone, which combines email and SMS, brings in 33x higher RPE.
But this wasn't always the case. Before coming to Omnisend, the German clothing brand was frustrated by the limitations of its email service provider. Reternity was referred to Omnisend by a business partner, and Omnisend customer, who convinced them that for their Shopify store, Omnisend was the best solution.
We were previously at Mailchimp. But we weren't really satisfied there, and that's why started looking around for other providers. Klaviyo was also in the running at the time, but we decided on Omnisend because we were, and still are, very convinced of Omnisend's strong connection to Shopify.
Moritz Kruse
Head of Email Marketing at Reternity
When evaluating the choices, they realized they needed an email marketing service that could adapt quickly to their needs for experimentation and speed:
"For us as a startup, it was important that our partner can react flexibly to changes and external circumstances, just like we do. We are very excited about the features Omnisend offers us and how quickly they can respond to our concerns."
Recovering lost sales with a 5-part abandoned cart workflow
Pretty quickly, Reternity discovered that automation workflows are the most effective part of their email marketing strategy.
"With the workflows, we have the opportunity to retain customers in the long term and provide them with an exciting buying experience… Automations also take the pressure off us to think permanently about campaigns."
Overall, email marketing accounts for roughly 25% of the brand's total revenue. Of that, automation makes up 53% of their email revenue while only comprising 8.6% of emails sent.
By far, their most successful automation is the abandoned cart workflow, which consists of up to four emails and an SMS—depending on user behavior.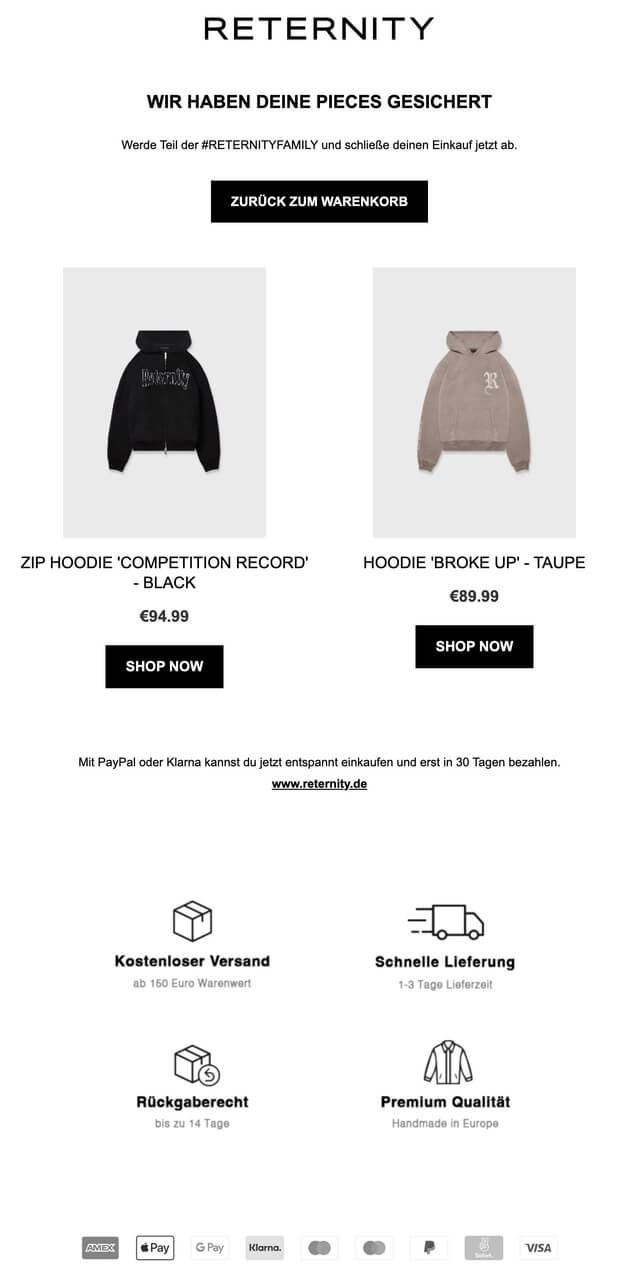 All shoppers that abandoned their shopping carts receive a series of three emails sent over one day. If a shopper doesn't click on a link in the third email, they are removed from the workflow. However, if they do, they receive a fourth email.
If they open the fourth email, they stop receiving messages; if they didn't open the email, they get an SMS with a final offer. If at any point a shopper makes a purchase, they stop receiving abandoned cart messages completely.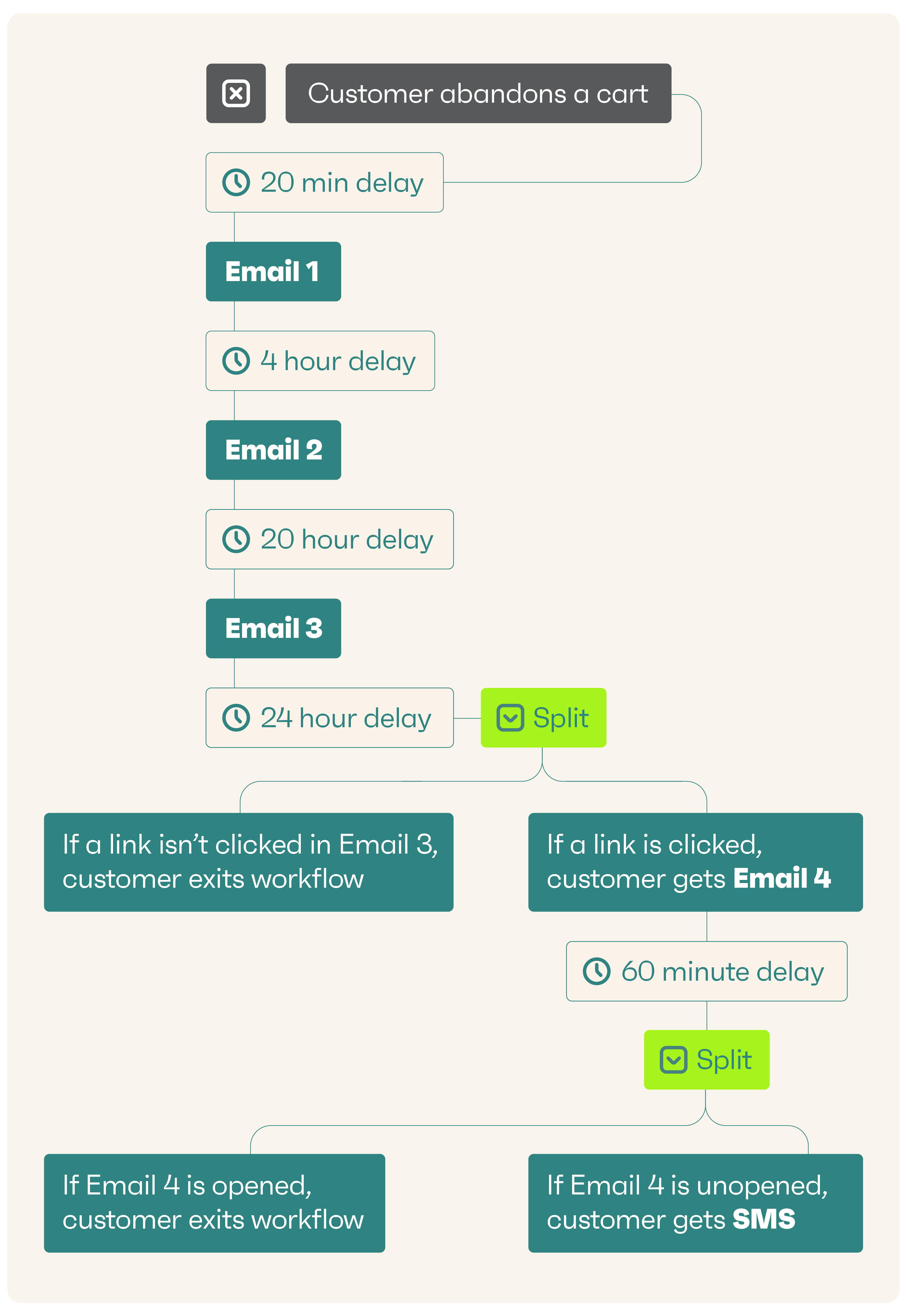 Their abandoned cart automation brings Reternity a 3372% lift in revenue-per-email (compared to manual campaigns), an amazing 62.53% open rate, and a strong 10.7% click rate (or 17.15% click-to-open rate).
"With the help of multi-stage workflows, we are able to respond flexibly to customers' actions," Kruse says. "This means that customers only receive emails that are of interest to them based on their defined stage and that are intended to bring them to the conclusion of the purchase journey."
The birthday message that delights (and sells)
Besides the sales they've generated with their abandoned cart series, Reternity has seen good success with their automated birthday email. These emails have a 65% open rate and 18% click rate (29% click-through), resulting in a 2,027% boost in revenue-per-email compared to campaigns.
This is helped by the fact that they rarely give out discounts:
"Birthdays are always a special day in a person's life. We simply wish our customers a happy birthday and offer a discount to treat themselves. Because we rarely discount, and it is, of course, a special day for them, we generate sales."
How Reternity uses GIFs to build their brand
While automations bring the best results, Reternity finds campaigns crucial to promote their new collections.
Campaigns help them talk about and show the benefits of their new products, including a chance to win early access to new product lines. But they also use them to "strengthen the sense of community… by sending user-generated content that is less promotional than our automations. This allows us to manage the image of the brand and the company."
For Reternity, branding is also a crucial element. That's why they've turned more and more to using GIFs, which allow them to fit a lot of information about the brand into a small space. The brand liberally uses GIFs throughout their website:
This is especially true for their emails: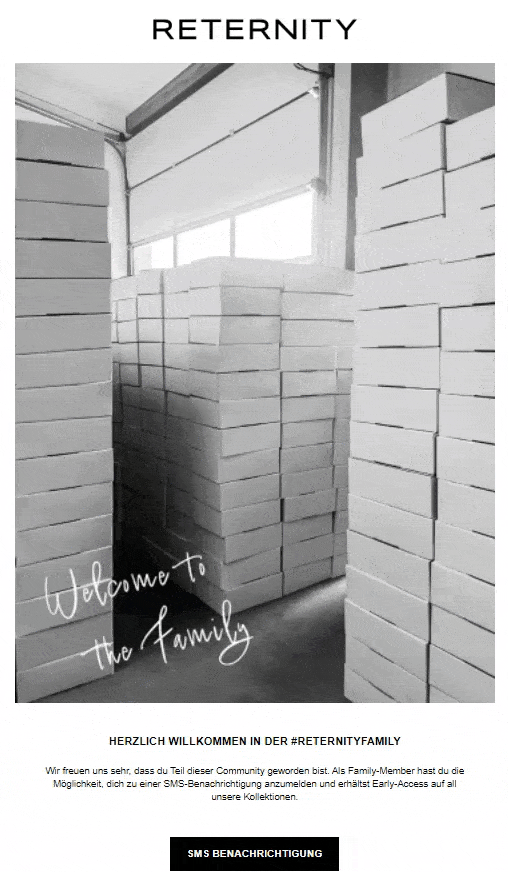 "Our emails are characterized by the fact that the look and feel is very clean and minimalistic. GIFs allow us to maintain this impression without cluttering our email."
The result? They're seeing significantly better click rates when using GIFs, achieving an uplift of about 6% over emails without GIFs.
Experimenting with more channels
With their main automation workflows they're generating 53.8% of their sales from only 8.6% of their emails. Their top three workflows—abandoned cart, welcome, and birthday—alone bring in 44% of Omnisend-driven sales.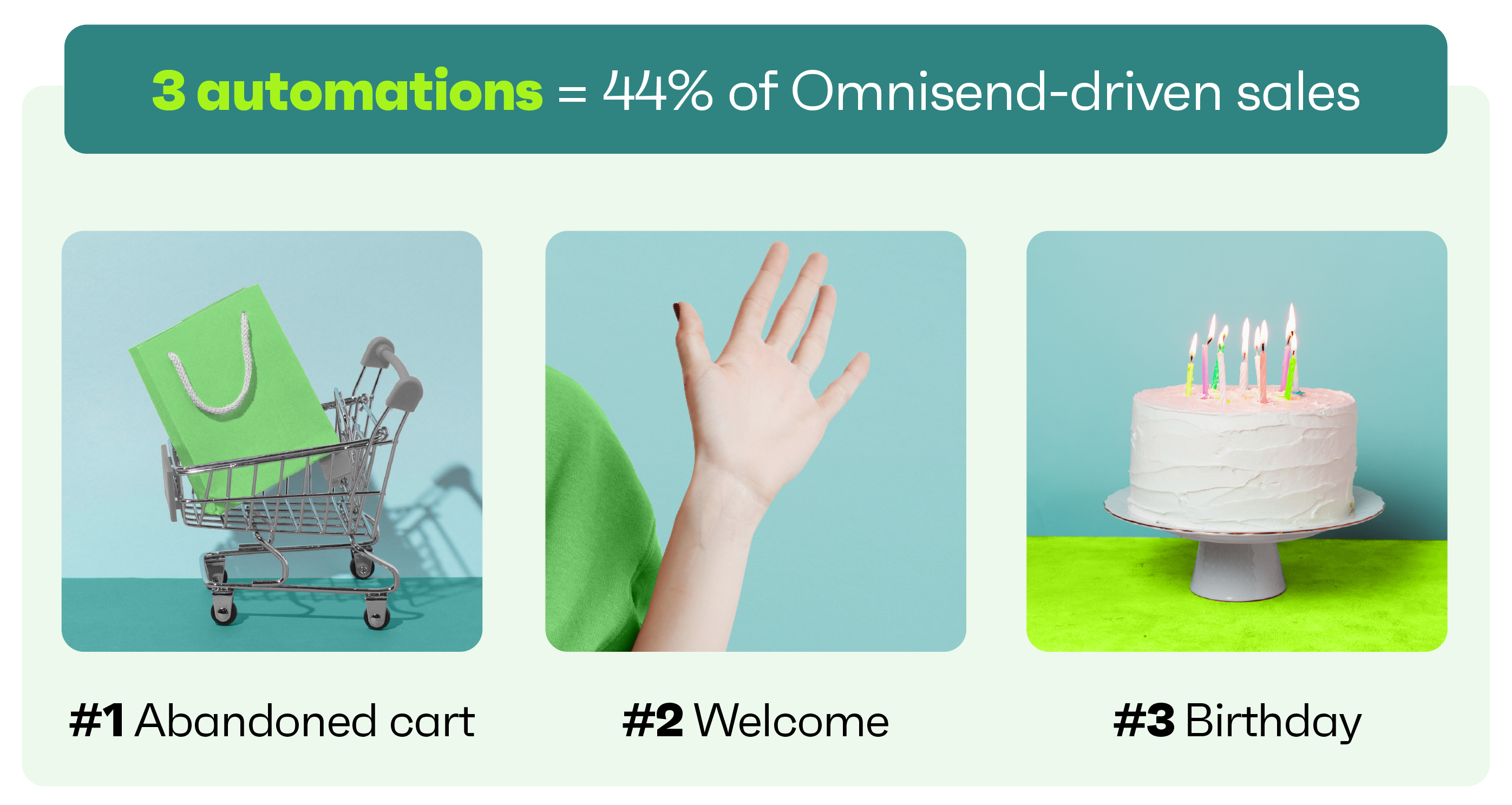 According to Kruse, Reternity will continue experimenting with different ways to talk to their customers.
SMS is proving to be a goldmine, and they're currently leaning hard into that channel. They're constantly collecting new mobile numbers and sending an SMS to all their recipients for each new collection.
"For us, this channel is definitely a lever that we want to expand in the future. We think that the SMS always stands out very well from the mass of emails and we can reach our customers through it."
They've also started trialing push notifications, and while they have a relatively small group of subscribers for push messages, they've seen strong open rates of 76%. "This shows that this channel has great potential, which we want to further expand in the future."
With the success of its automation and omnichannel strategy, Reternity is looking to keep the momentum going. They aim to push into the omnichannel direction even more, combining different channels, like WhatsApp and a Discord group, with their email, SMS and push to offer their users better ways to interact with them.
This consistent and continuous, modern-day communication is what makes Reternity special to its customers.
Increase sales, not your workload — get your revenue-driving workflows up and running in minutes.