Drive sales on autopilot with ecommerce-focused features
See Features
Reading Time:
8
minutes
Why are email marketing courses so popular? That's because email marketing offers numerous benefits for businesses.
Email marketing can help boost sales, enhance customer engagement, create brand awareness, acquire new customers, reward customer loyalty, and so much more.
That's probably why marketers are still actively investing in this age-old marketing technique.
In fact, email marketing revenue is expected to hit almost $11 billion by the end of 2023.
In this post, we'll list some of the best email marketing courses available for those looking to learn more about this digital marketing strategy.
Important things you need to know about email marketing
The very first email was sent in 1971. Despite being more than 50 years old, email marketing is now used more than ever before.
In fact, email marketing was the top-performing marketing channel in 2022.
A successful email marketing campaign has many components. Some of the email marketing metrics that you must keep an eye on to ensure success are:
Clickthrough Rate: It is the percentage of email recipients who clicked on one or more links sent in an email.
Conversion Rate: This refers to the percentage of recipients who clicked on a link in an email and completed a desired action, such as making a purchase, subscribing to a newsletter, etc.
Open Rate: It is the percentage of recipients who open an email.
Bounce Rate: The percentage of emails sent that were not successfully delivered is referred to as the bounce rate.
ROI: Email marketing ROI is the net profit you generate from an email marketing campaign.
Email marketing is one of the most effective and efficient marketing techniques.
Did you know that email marketing ROI was nearly 40:1? That is, for every $1 you spend, you get a return of $40.
Besides ROI, the other benefits of email marketing are:
It allows you to send personalized messages that resonate with your target audience.
Sending targeted emails can help widen your reach when promoting your business, products, or services.
Email marketing is cost-effective, delivering a higher ROI than other marketing channels.
It can enhance customer engagement, boost sales, and help grow your business.
Using email marketing to promote events, offers, and discounts helps drive traffic to your website.
By providing valuable content and insights, email marketing can help you establish yourself as an authority in your space.
There is a lot to learn about email marketing. If you want to learn email marketing and how to implement a successful email marketing campaign, we bring to you some of the best email marketing courses available in the market.
Best email marketing courses
With a lot of metrics to keep track of, email marketing may seem confusing. However, there are many email marketing courses that can simplify things for you.
Here are our recommendations for the best email marketing courses out there.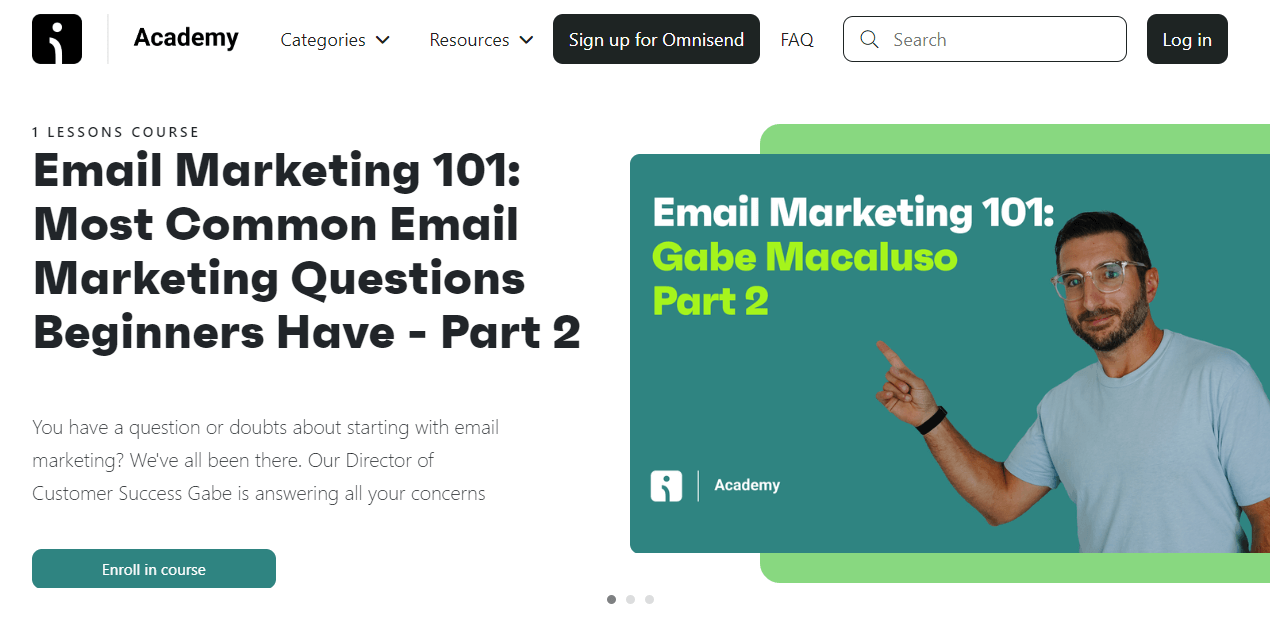 Omnisend Academy's email marketing course covers a wide range of topics including email design, list building, automation, and reporting.
Taught by experts, the course is self-paced and is designed for both beginners and advanced email specialists, for in-house marketers and email marketing agencies. The course also teaches you how to use Omnisend's features to create automated and targeted campaigns, and how to measure their performance and improve ROI.
When you sign up for Omnisend Academy, you get lifetime access to all the resources for email marketing for ecommerce. All the educational material is prepared by experts in-house, and are constantly updated to keep up with the changing and evolving marketing landscape.
Pros
Covers a wide range of topics on email marketing
Taught by experts
All email marketing courses are free
Cons
Not many advanced level courses, but that may change in the future
Pricing
Want to enhance your email marketing skills for free?


Get access to free email marketing courses by joining the Omnisend Academy.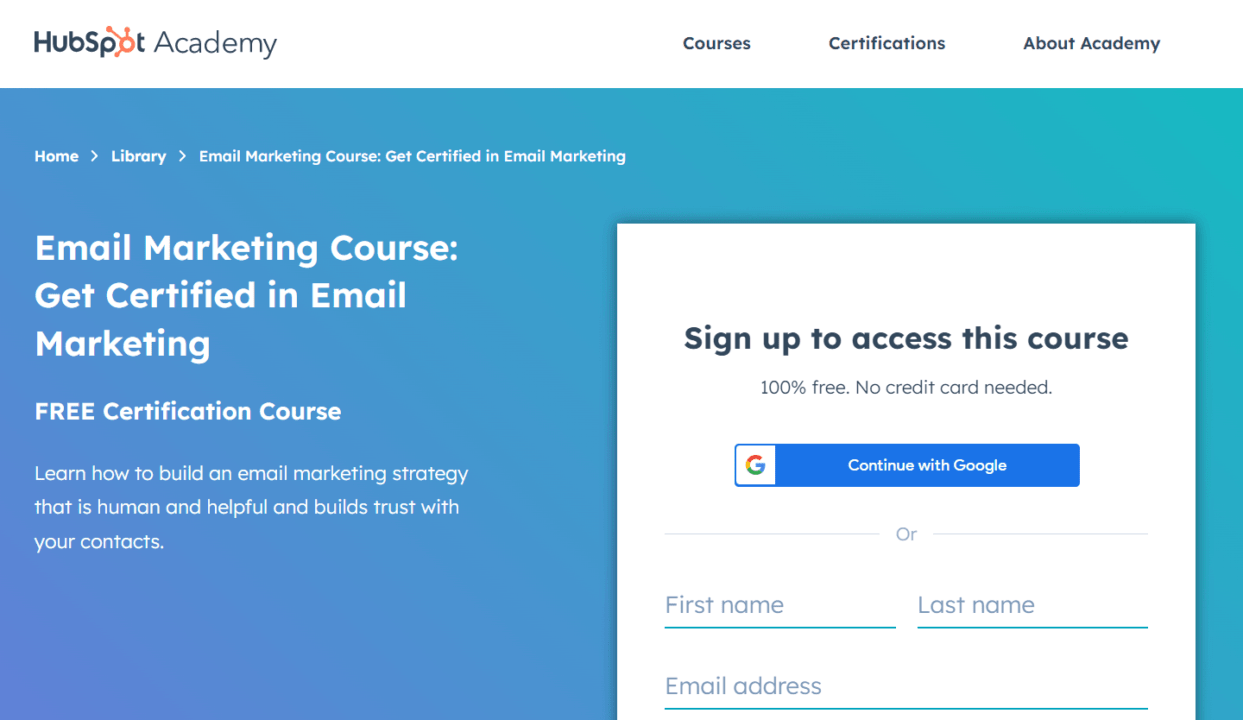 The email marketing courses from HubSpot Academy are also good. The courses are quite comprehensive covering a wide range of topics, from the basics of email marketing to advanced tactics and strategies.
Hubspot Academy's certification course in email marketing is free and can be completed at your own pace.
Once you have completed the course you need to appear for an exam. On passing the exam you will be awarded a certificate and you can embed the certification badge on your website. You can also link your badge to your LinkedIn or Upwork profile.
Pros
Well-structured course
No fee
Available in 5 languages
Cons
The provide theoretical knowledge, but lack practical value.
Pricing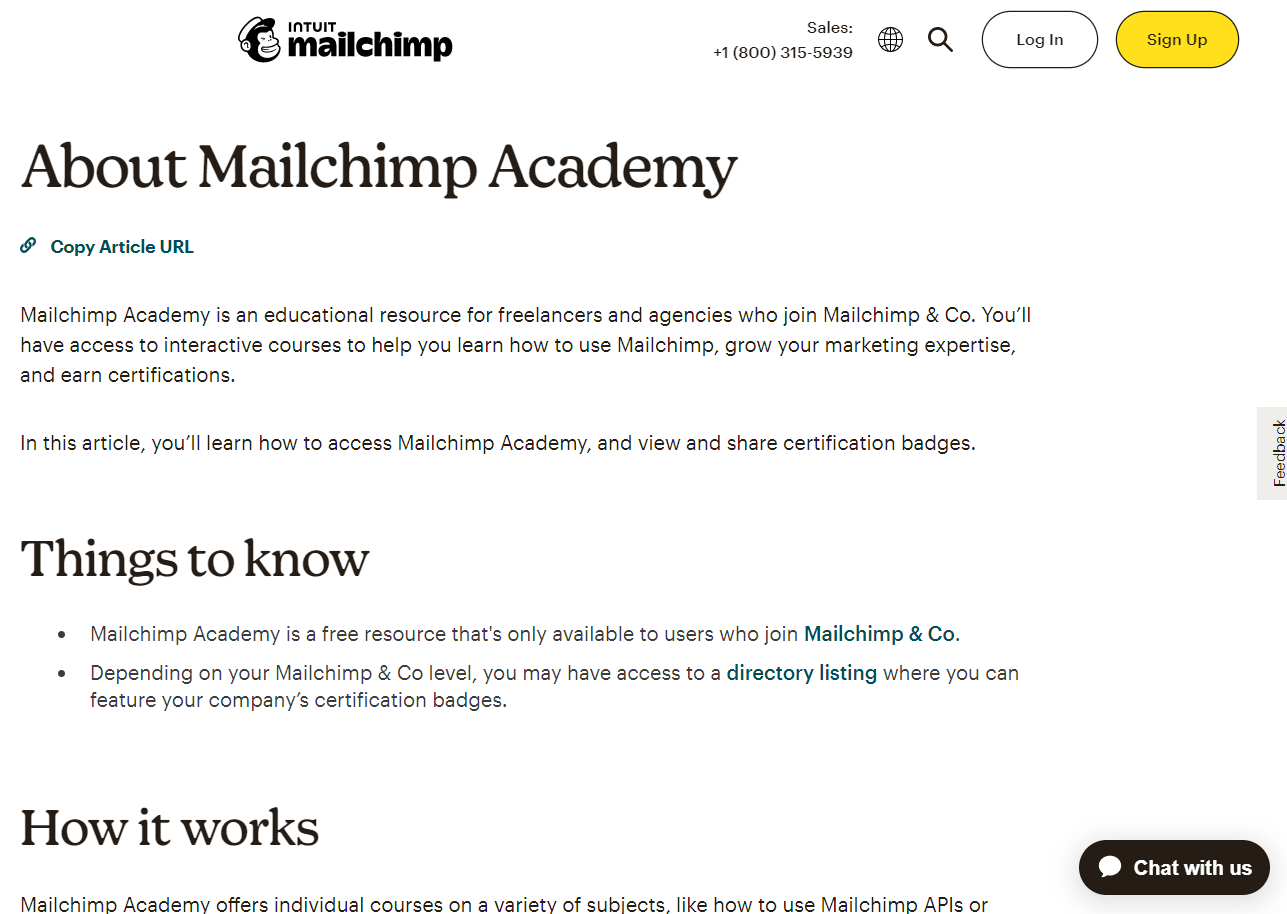 If you are already using Mailchimp for your email marketing campaigns, then this email marketing course is a great option for you.
Mailchimp's free email marketing course is designed for beginners and covers everything from building an email list to creating and executing campaigns. You will, however, need to be a member of the Mailchimp & Co program to access this course.
The course is self-paced and provides email marketing certification free on completion.
It is also possible to earn multiple certifications, such as email marketing certification, email marketing automation certification, and Mailchimp certification through different email marketing courses by Mailchimp.
Pros
Interactive courses
Offers certification badges that can be shared on other platforms
Focuses on the Mailchimp platform and so it is a good choice for Mailchimp users
Cons
Accessible only to members of the Mailchimp & Co program.
Pricing
Free, only if you are a Mailchimp & Co member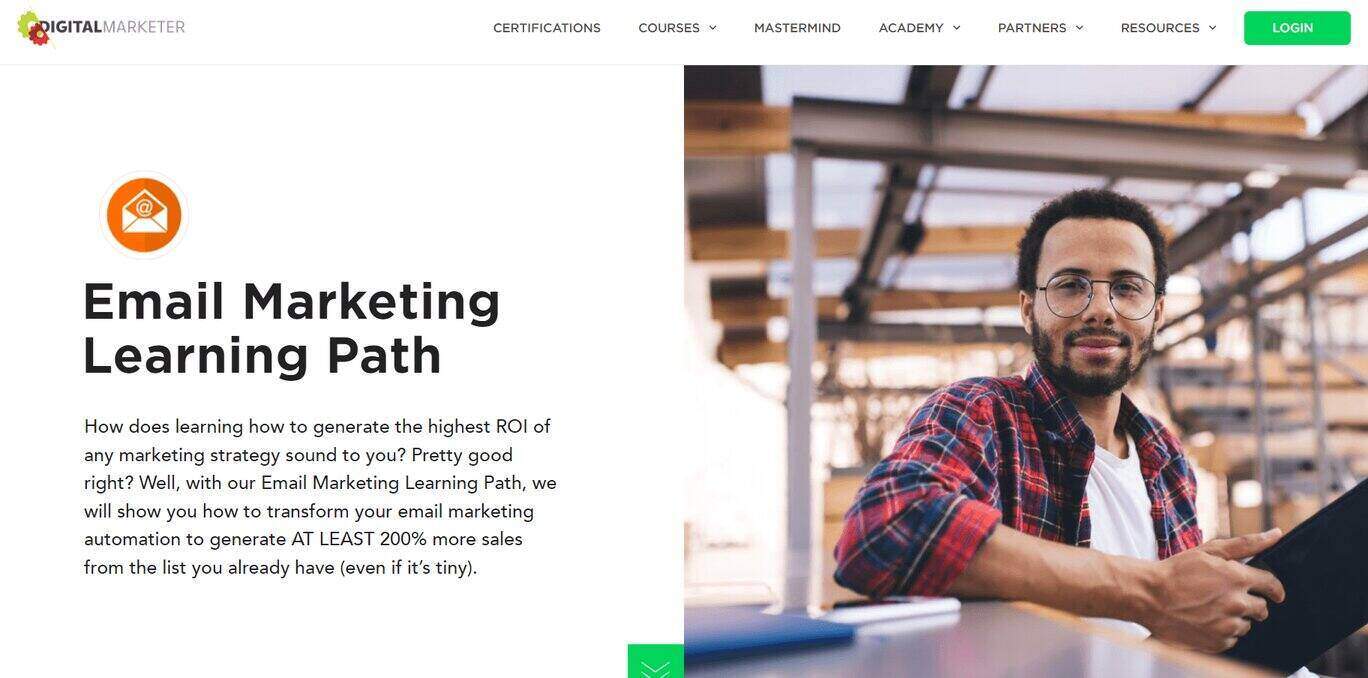 There are many companies offering ecommerce courses and email marketing courses in the market. However, if you are looking for comprehensive digital marketing courses, then DigitalMarketer is a great choice.
Their email marketing course helps you learn advanced email marketing strategies and get certified as an Email Marketing Specialist. The course is well-structured and detailed, offering several practical email marketing examples.
Pros
Well-structured and detailed course
Great for those who want to enhance their email marketing skills
Provides a certificate as an Email Marketing Specialist
Cons
May not be suitable for beginners
Expensive
Pricing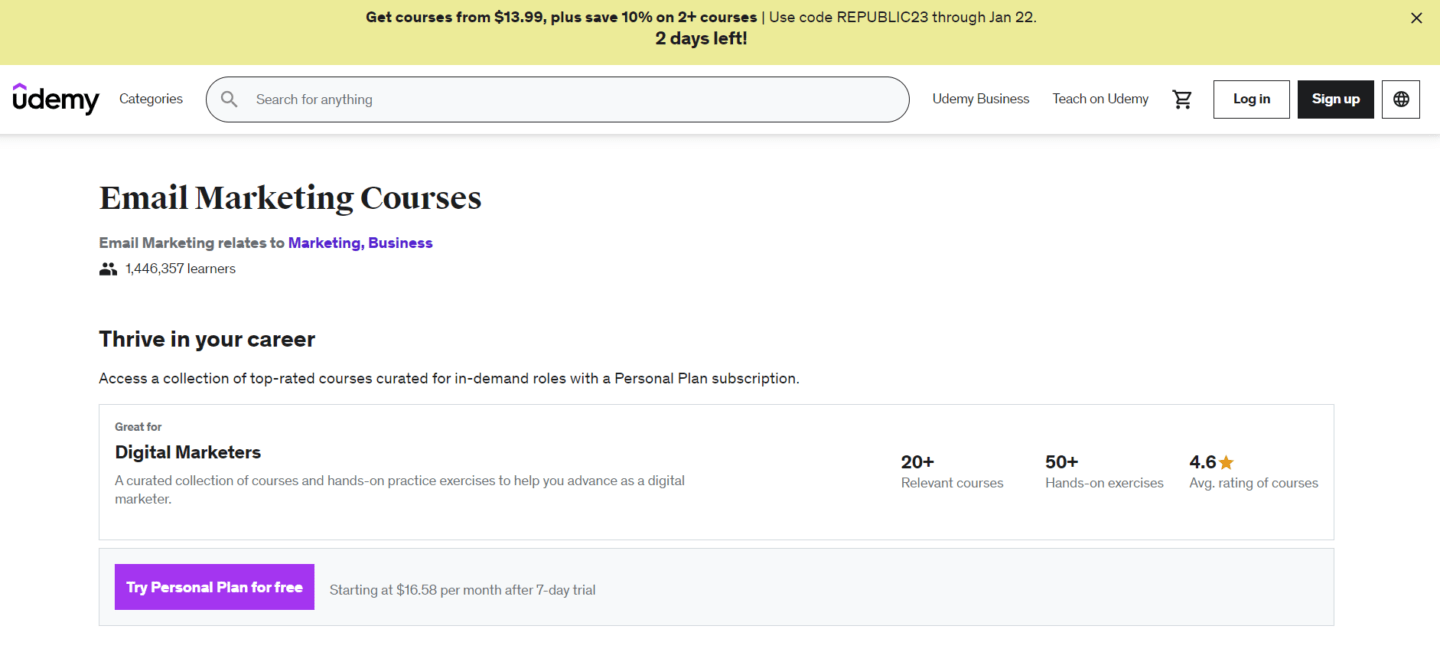 If you are more of a visual learner, you must check out email marketing courses from Udemy.
The courses are to the point, making them perfect for people who don't have a lot of free time.
There are multiple email marketing courses available, for both beginners and advanced levels. Industry experts conduct the courses, covering a variety of topics from automation to email marketing for ecommerce.
Pros
Affordable courses
Lifetime access
Paid courses provide certification on completion
Cons
Depends on instructors for course creation, which can impact the quality of the course.
Pricing
Differs according to the email marketing course you choose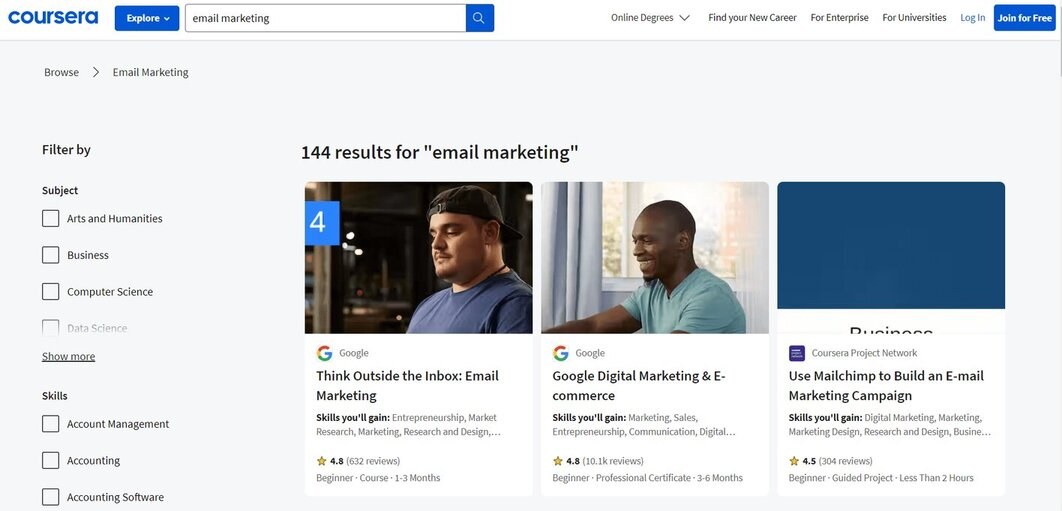 Coursera is an online education platform that offers many email marketing courses from various Universities.
The platform offers a wide range of courses, both free and paid. The email marketing courses cover various aspects of email marketing, and some of them are a part of a specialization or a degree program.
Pros
Affordable prices
Learn online or offline, depending on your convenience
Offers a wide variety of topics
Cons
Not the best option for beginners, as most courses require you to have some prior knowledge of email marketing.
Pricing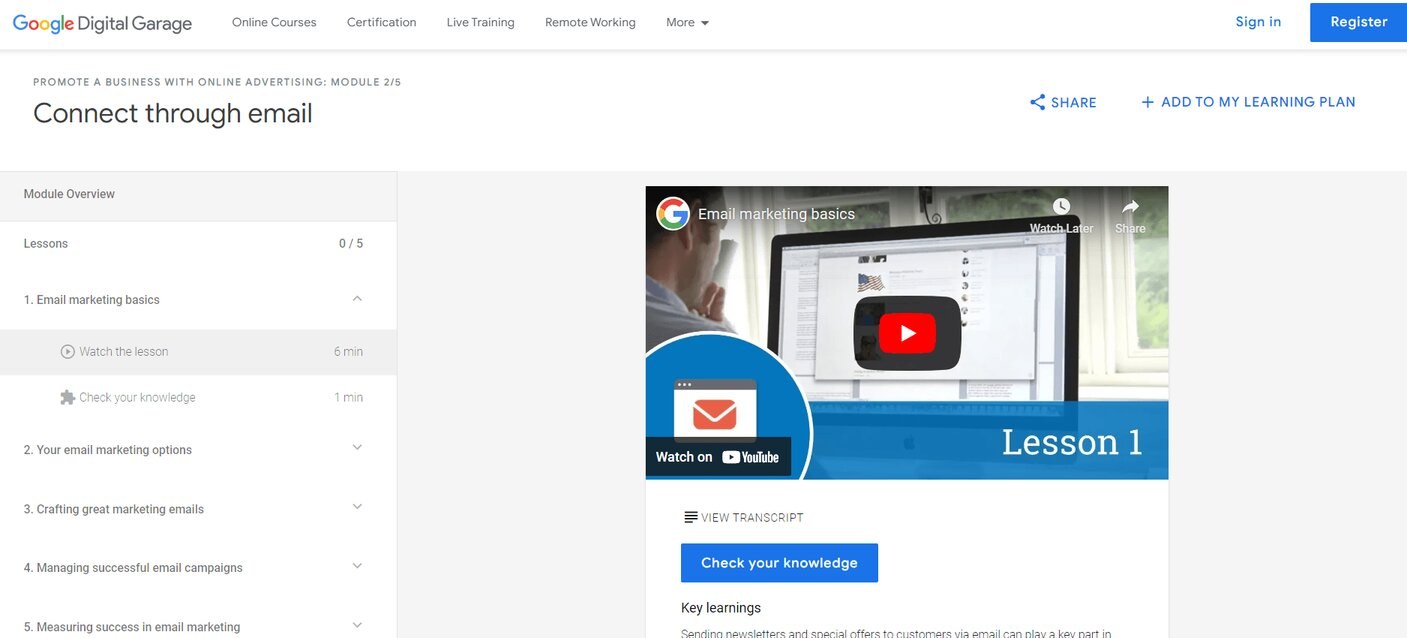 Google Digital Garage is a non-profit organization and so all the email marketing courses offered by them are free.
If you are absolutely new to email marketing, then the Email Marketing Basics course by Google Digital Garage is a great starting point.
It covers the fundamentals of email marketing and includes topics like building an email list, creating effective campaigns, and measuring the results of your email marketing efforts.
The course is self-paced and offers certification upon completion.
Pros
Free courses
Suitable for beginners
Flexible hours
Cons
Not for advanced level digital marketing professionals
Pricing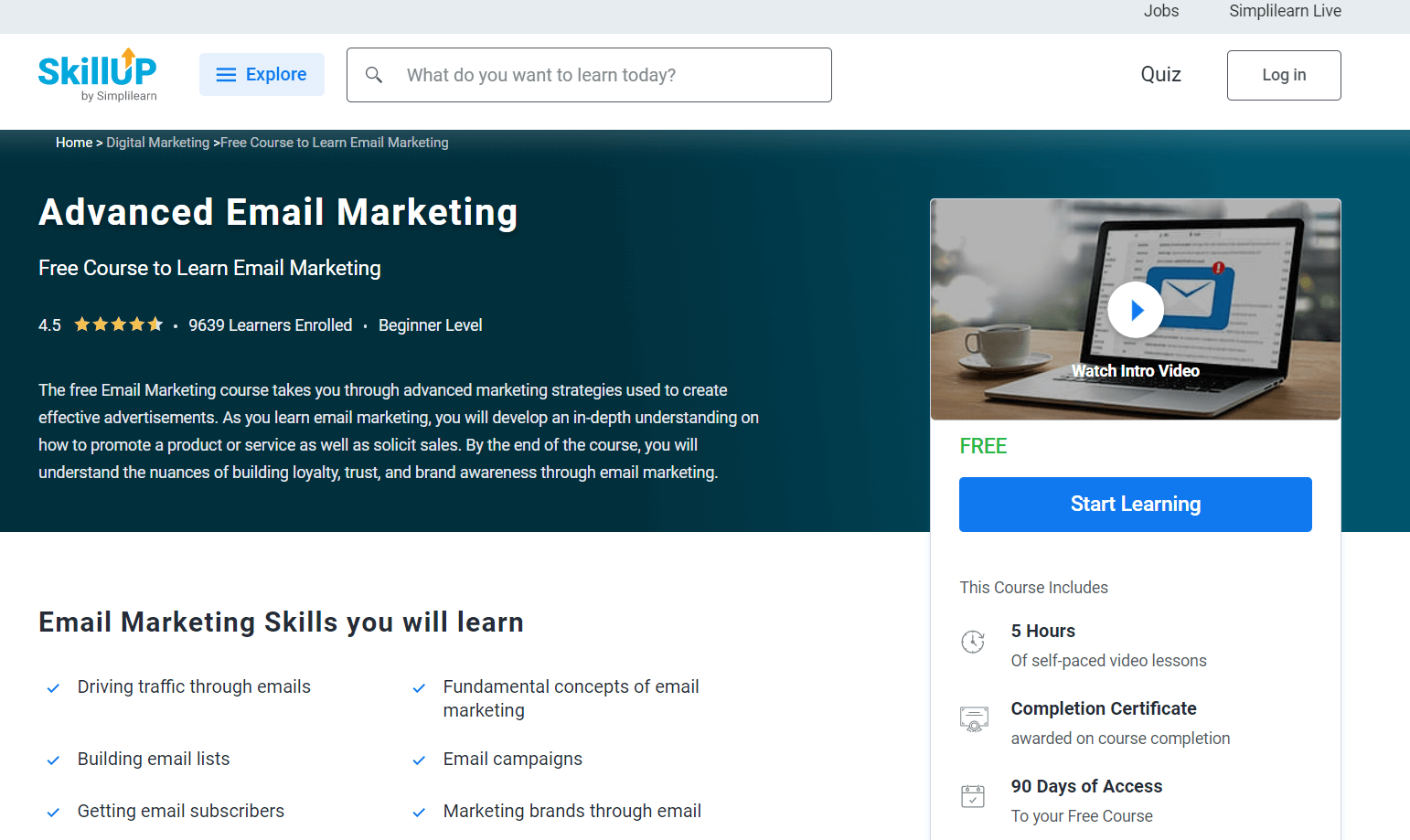 If you are an experienced digital marketer and want to enhance your email marketing skills, then this course is for you. It is an advanced email marketing course that helps you build on what you learned in your beginner course.
It skips straight past the basics and moves right into the more advanced aspects of email marketing. If you are a beginner, it's best to start with a more basic course first.
Pros
Self-paced course
Certificate awarded on course completion
High-quality course taught by industry experts
Cons
Not suitable for beginners
Pricing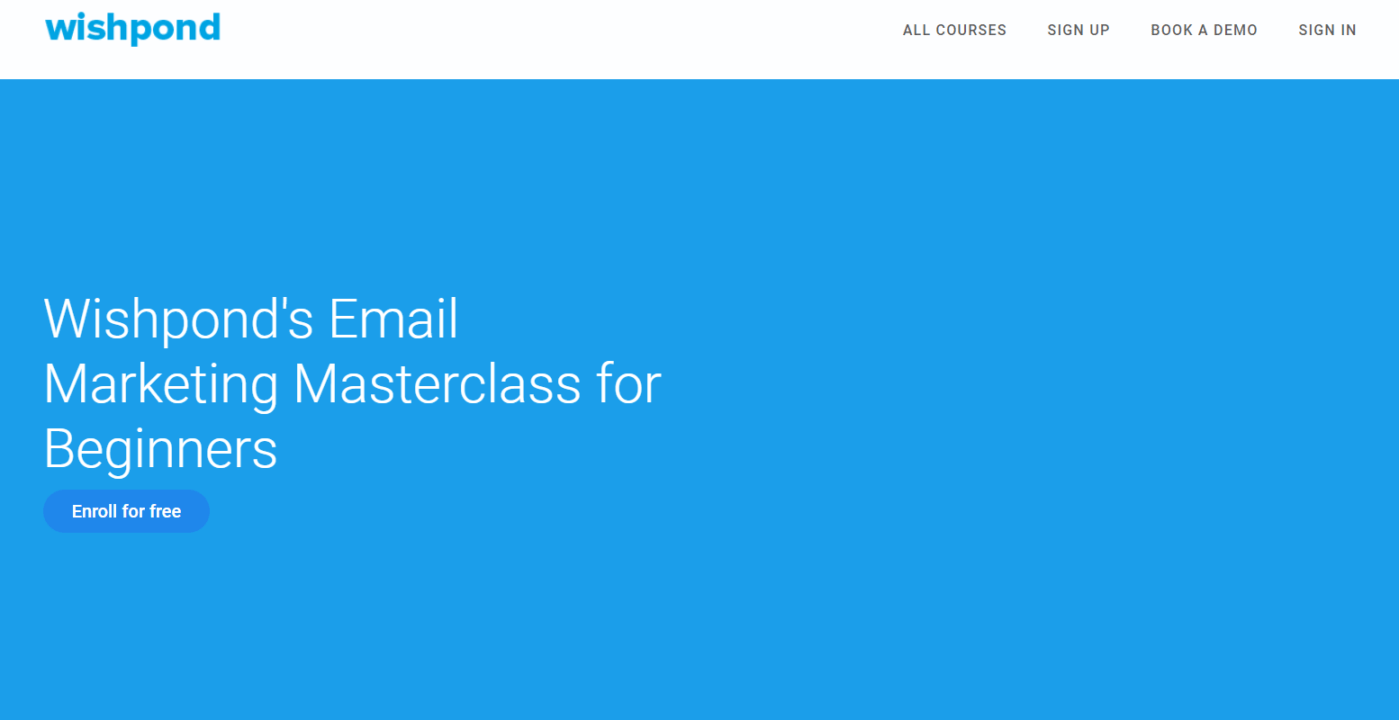 The Wishpond Email Marketing Masterclass is another great option for beginners.
Taught by experts, the course covers a variety of topics, such types of email campaigns, common email marketing mistakes, creating an email marketing funnel, growing your email list, and more.
If you are new to email marketing, this course can help you build a solid foundation. The course does not bombard you with information but allows you to learn at your own pace. The best part is that the course is free.
Pros
Great option for beginners
Email marketing free course
Short and precise 30-minute course
Cons
Does not provide certification
Pricing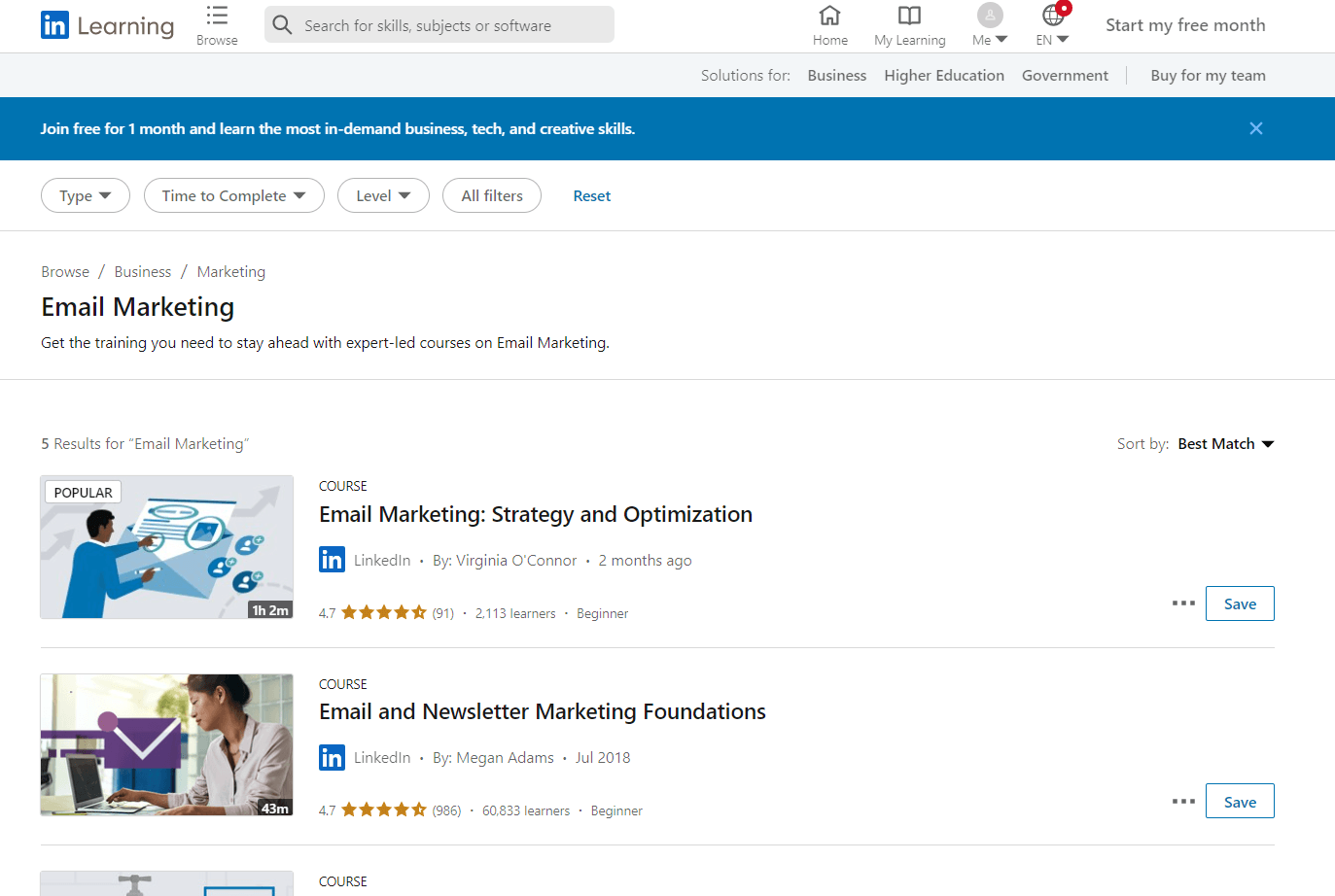 LinkedIn is synonymous with all things career-related. LinkedIn Learning, with over 16,000 courses, is a great place for professionals to enhance their skills.
If you are looking for something at an intermediate level, the "Email Marketing: Strategy and Optimization" course is a great choice.
This email marketing course is taught by experts from the University of California. It is ideal for marketers who have a basic idea of email marketing, and want to take the next step.
The course also tackles topics like design, optimization, and delivery strategies in detail.
Of course, there are many other email marketing courses available on the LinkedIn Learning platform that you could choose from.
Pros
Affordable email marketing courses
Wide selection of videos and courses
Suitable for all types of learners
Cons
Some content is a little outdated
Pricing
Depends on the course you choose. The Email Marketing: Strategy and Optimization course costs $29.99.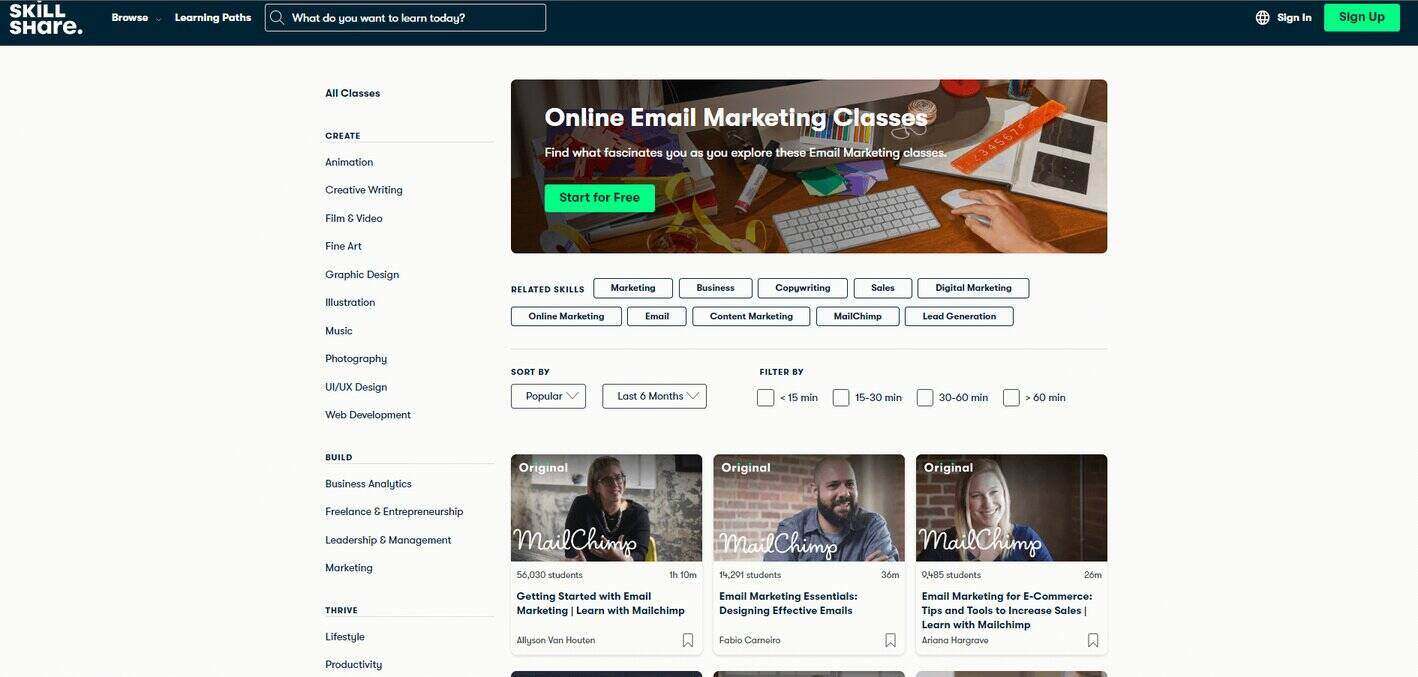 Skillshare is the go-to platform for most people when it comes to online courses. If you are looking for great email marketing courses, you will not be disappointed.
If you are an absolute beginner, consider enrolling in the Email Marketing Essentials course. It not only focuses on the basics of email marketing but also dives into how to write effective emails.
If you have compiled a substantial email list and are wondering what to write, this course is ideal to learn the details of writing impactful emails.
Another advantage of this course is that it is only 30 minutes long. So it is a good addition to other email marketing courses that you may enroll in, on this platform.
You will need to create a Skillshare account to access this course.
Pros
7-day free trial
A wide array of email marketing courses covering various topics, from beginner level to advanced.
One of the best email marketing classes taught by experts
Short but informative email marketing classes
Cons
Does not provide certification
The annual subscription fee is expensive
Pricing
Differs from course to course. The Email Marketing Essentials course is free during the 7-day trial and then costs $14.
Wrapping up
For modern-day marketers and business owners, email marketing is a valuable skill to master. Consider taking email marketing courses to enhance your skills and achieve better results with your email marketing campaigns.
Ready to amp up your email marketing skills? Enroll for the Omnisend Academy email marketing courses.
Boost sales and drive revenue with email marketing and the Omnisend email marketing platform
Start Free Today
related features
Want more sales?
Omnisend has everything you need to succeed.
Start free now
No Credit Card needed.