Drive sales on autopilot with ecommerce-focused features
See Features
Reading Time:
5
minutes
All businesses want to make money. That's a basic truth.
But great businesses want to build strong, beneficial customer relationships while making money.
In that regard, it's important for businesses to keep a finger on the pulse of their customers, their preferences and needs. And those needs change over time.
Certain holidays, such as Mother's Day or Father's Day, can be difficult for some customers who have experienced loss or other challenges, especially as a result of the pandemic. Allowing customers to opt out of holiday-themed marketing emails can prevent unintentional distress and strengthen the business-customer relationship.
Research shows that 91% of consumers react positively to holiday email opt-outs, and 81% of customers are more likely to make a purchase after receiving the option to opt out. So, not only is the the ethical thing to do, but it's also a smart business strategy.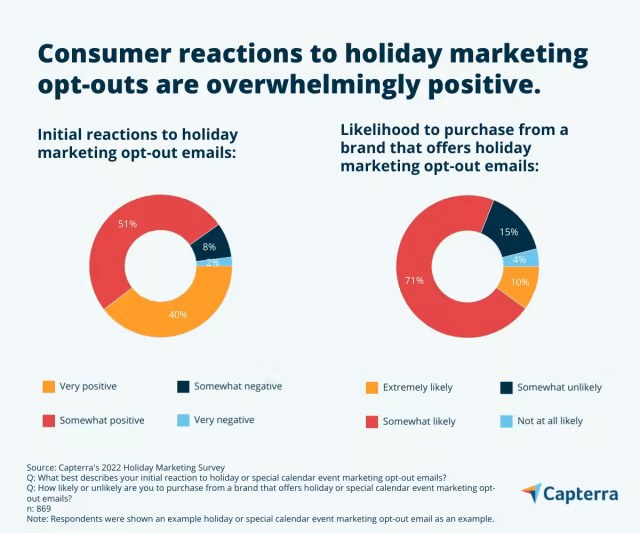 But what's the best way to handle sensitive topics in general? And how can you do this practically? We'll be answering those questions today — you can either catch the quick summary in this video, or read further to get more in-depth details:
Understanding the sensitive days
There are a few holidays throughout the year that can be a joyous occasion for some, but also be a sensitive topic for others.
Mother's and Father's Day are two of the most obvious, since they are close to feelings of grief related to the Covid-19 pandemic.
However, negative reactions to certain holidays aren't only related to grief. This can also be for other days that the customers feel are irrelevant, like Valentine's Day or Christmas.
In fact, according to Capterra's report, the top holiday that causes unsubscribers is back to school: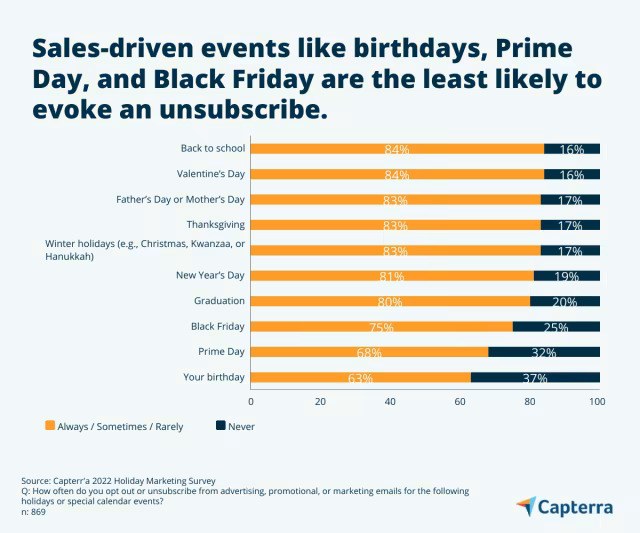 Regular promotional or sales holidays, however, rarely lead people to unsubscribe.
You may consider asking your customers if they would like to opt out of receiving emails for the following:
Back to school
Valentine's Day
Mother's or Father's Day
Thanksgiving
Christmas/Kwanzaa/Hanukkah/other winter holidays
You can do this with a preference management page that allows customers to opt in or opt out of receiving holiday-related content. This approach can help businesses tailor their campaigns to specific audiences and avoid causing any unintended distress.
This approach uses segmentation so that you can easily distinguish customers based on their preferences.
Pro tip: To implement these strategies, businesses should use automation tools, offer clear and concise options, and regularly update and review their customer preferences. We recommend sending out holiday opt out emails every year. This can also be a great occasion to get feedback from customers to make their email campaigns more engaging.
Holiday email opt outs with Omnisend
Omnisend helps make it easy to send out holiday opt-out emails and manage those preferences.
Let's look at how you can do this step-by-step.
#1 Create a landing page
While it may seem like you should create your holiday opt-out email first — that's actually not true. Instead, you won't collect the opt-out in your email. Inside your email, you'll send them to a special landing page, and that's where the opt-outs are collected (it's the same way that unsubscribes work).
So the first step is to create that landing page.
With Omnisend, that's pretty simple to do, since we have landing page templates that you can launch in one click, as-is, or edit in a few minutes.
Remember to keep it short and sweet, and remind customers that they're only opting out of this specific holiday — not all offers.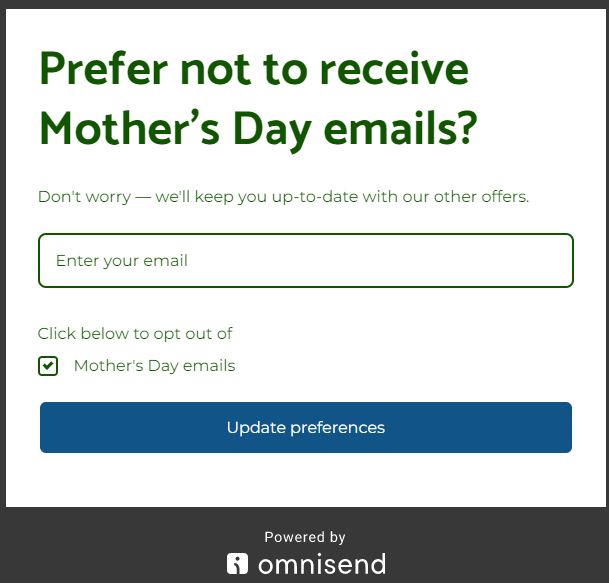 Be sure to also include a checkbox on the landing page to let customers opt out of receiving Mother's Day communications.
If you want, you can go more in-depth with your preference management page, like the example below: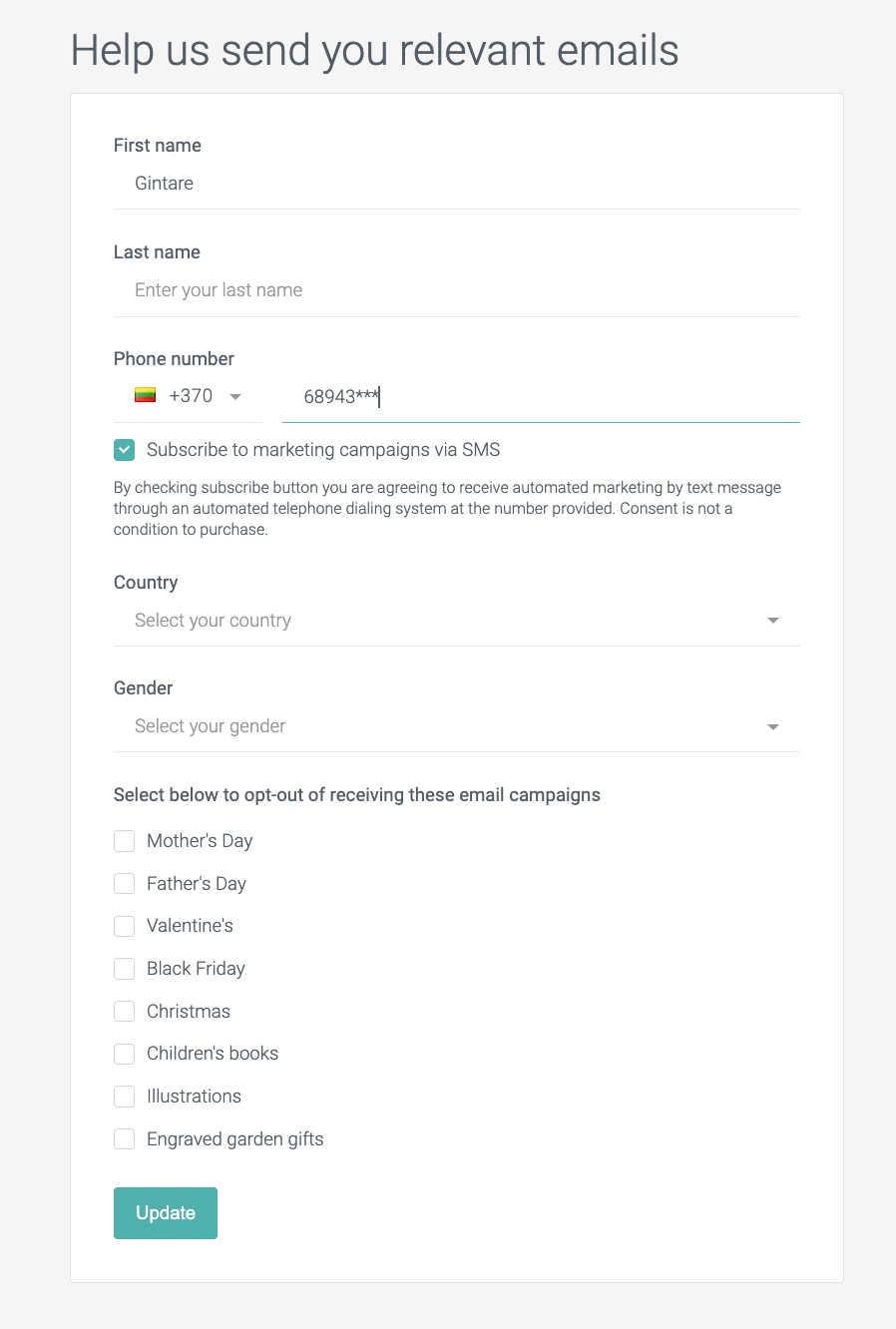 #2 Add a custom property or special tag
You can add a custom property or special tag to store your customers' preferences, including whether they opted out of your Mother's Day communications.
In Omnisend, simply click on the opt-out checkbox, head over to the settings on the right side of the page, and add a name for the tag in the "Custom property name" box: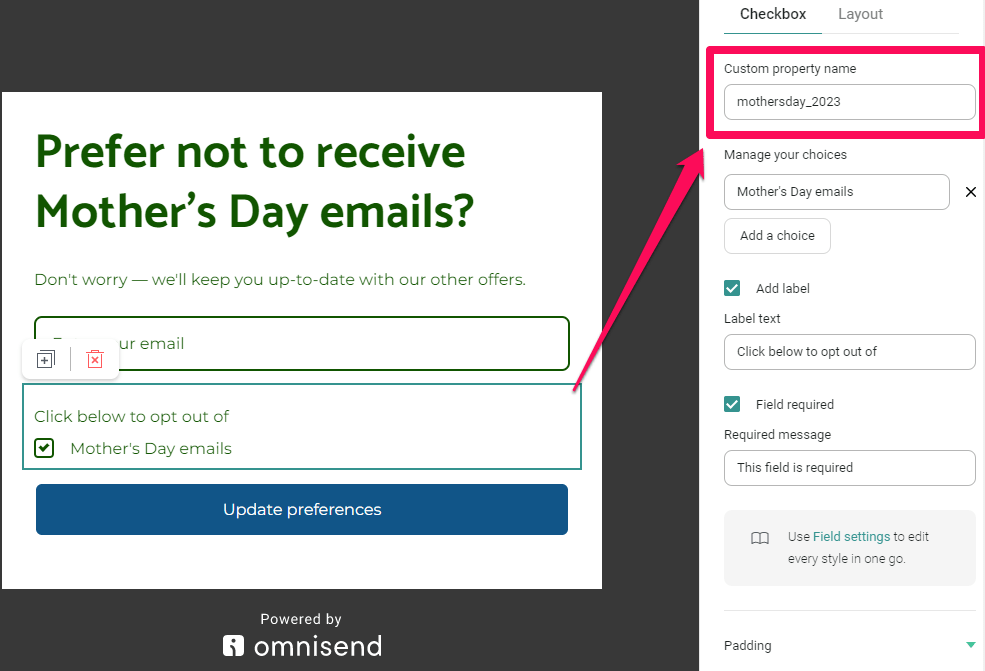 You can also add a tag to the entire form by going to Behavior > Audience management > Tags.
This will allow you to track and segment your customers based on their preferences.
#3 Add the landing page link to your opt out emails
When you save and enable your landing page, you'll get the public link. Add the landing page URL to your email campaigns, along with a call-to-action button, to encourage subscribers to update their preferences.
Again, you can keep your email short and sweet, as in the example below: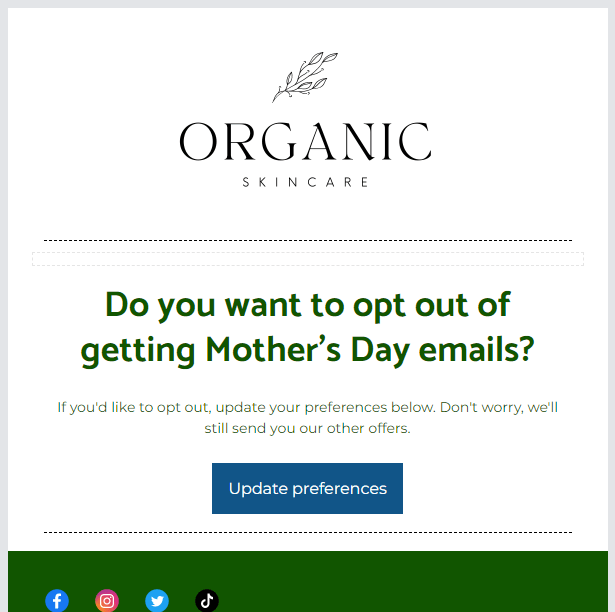 Remember to add the link to the landing page you created in Step 1 to the CTA button "Update preferences."
Here's another email example from Hallmark:
#4 Create a segment
Once you've sent out the email and collected all the data, create a segment based on the custom property or tag assigned to each subscriber.

Use the segment to exclude customers who opted-out of Mother's Day communications from receiving those specific emails.
#5 Review regularly
Regularly review and update your email preference landing page to ensure that it remains relevant and meets the evolving needs of your customers.
You should do yearly holiday opt out emails in order to maintain an updated list of opted out and opted in subscribers.
By following these steps, you'll be able to collect your customers' preferences and tailor your email campaigns to their specific needs and interests, which can ultimately lead to higher engagement rates and better results for your email marketing efforts.
Wrap up
By respecting customers' preferences and needs, businesses can create more effective and sensitive email marketing campaigns.
Opt-out options are essential, not only for Mother's or Father's Day but also for other holidays where your subscribers may be distressed, annoyed or have other negative reactions.
The holiday opt out email, which is preference management, is essentially a practical way to keep your finger on the pulse of your audience.
Not only will you cater to their needs, but these campaigns can help build brand loyalty and generate more sales, because they show that you care about your customers.
Check our beautiful and easily editable newsletter templates for your holiday newsletters:
related features
Want more sales?
Omnisend has everything you need to succeed.
Start free now
No Credit Card needed.