Drive sales on autopilot with ecommerce-focused features
See Features
New Signup Forms on Omnisend + 10 Ideas for Using Popups Wisely [Part 1]
Reading Time:
5
minutes
We've just gotten started on our ambitious development plan, "What's next", where we introduce new Omnisend features every month.
So here we go with our latest improvements – the new Signup Box and Popups are ready to use! These are some of the best signup forms to increase conversions.
Take a look at what we've created for you.
What's New?
Great new design
We're excited to present you with four new, exciting signup forms you can start using in your online stores today.
Check them out below. And, luckily, you don't have to just choose one.
You can combine them on your store, as long as they fit your brand and style!
Robo: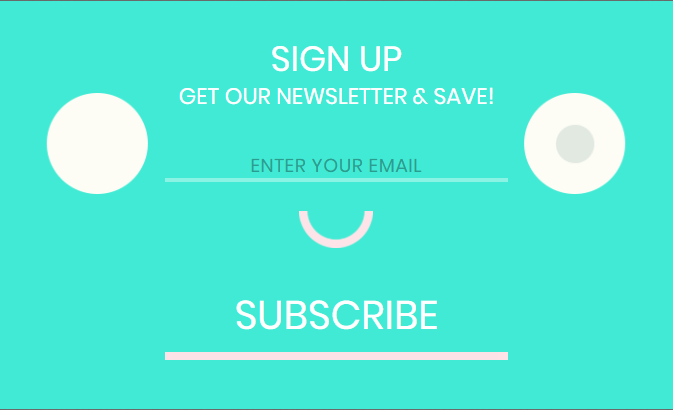 Ethno:

Hummingbird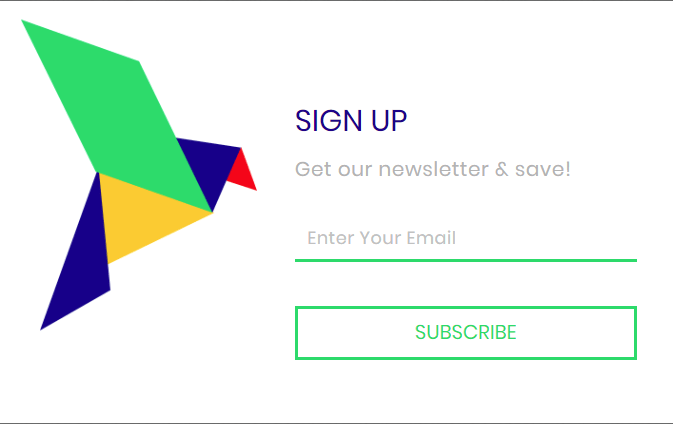 Foghorn: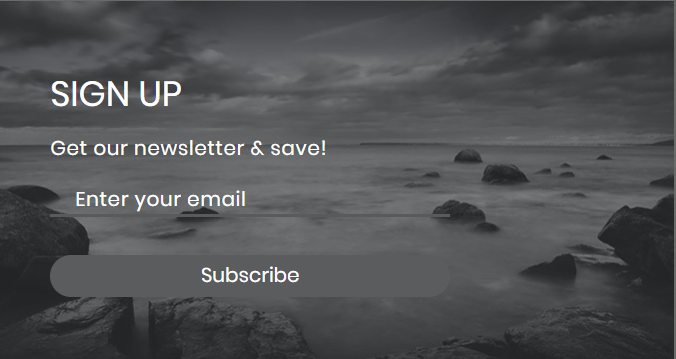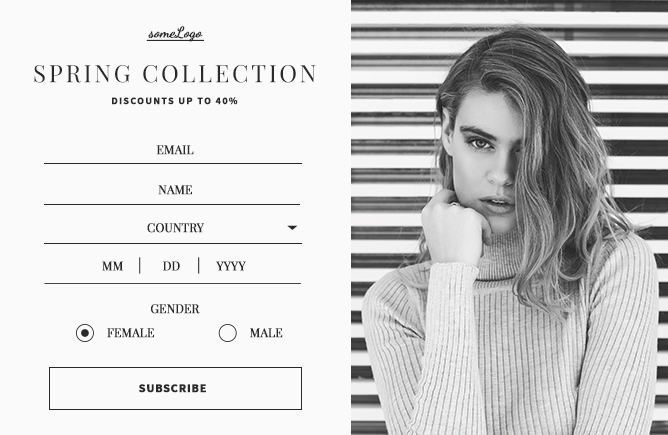 Design and Content:
Remember, all signup forms (Signup Box and Popups) on Omnisend are mobile-friendly and regularly have new looks. You can use them with or without images and logos. A wide variety of layouts, colors, and fonts make them bold and sexy!
The Signup Boxes and Popups have many predefined copy versions, in 11 languages! So you'll be able to pick one and make it live in about a minute – no customization necessary.
Furthermore, the coupon code has become optional: you can choose whether or not to use it. Instead, Premium plan users can now get the benefit of including additional fields on the signup form.
Rules and targeting:
The forms have additional rules and extra targeting. This means that you'll be able to display multiple popups at a time for different visitors! To see how to do it, read the 10 tips below.
Users on the Free plan—good news! Popups are included in your plan. You can have up to three active forms at a time.

Reports:
Omnisend will provide you with reports showing how your forms perform. If you have some forms activated, you can already see the reports. For the present, you can see the number of views, number of signups, and conversion rate.
So you get more value at no extra cost!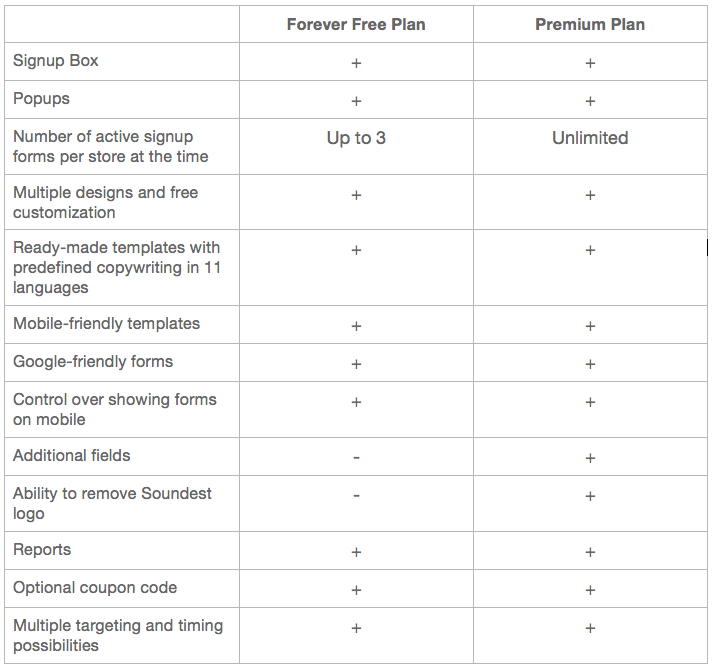 10 Ideas for Using Popups Wisely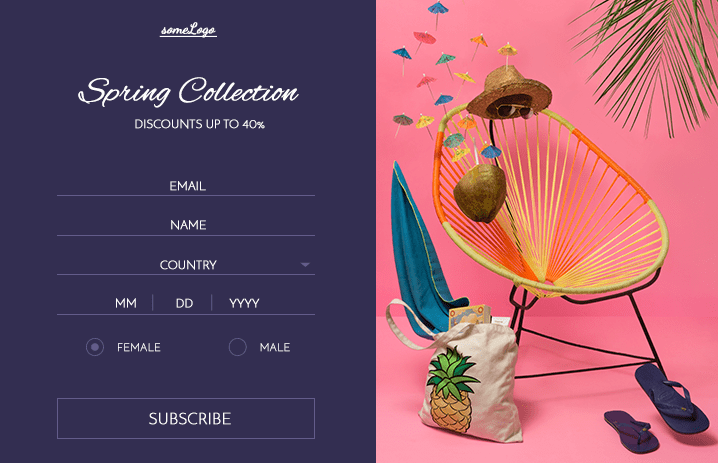 Once you invest your resources into bringing the traffic to your store, make sure they won't leave without taking action.
Only a very small percentage of newcomers make a purchase, so it's not realistic to count on a first-time sale.
However, capturing their emails is another thing altogether. Leaving an email address is a smaller commitment and first-time visitors tend to be willing to do that.
This most recent Omnisend update provides you a lot of new list-building opportunities. To help you with your first experiments with new signup forms, here are some tips on how to use them.

For email marketing beginners:
If you badly need subscribers, you can always use an immediate popup with a discount for the first purchase. The signup rate of such popups

is the highest, but be aware that the conversion rate to a purchase is not so large. Still, this is a great way to build your list for further email communication faster. Next to this popup, use a Signup Box. If visitors ignore the popup, they will continue to see the Signup Box widget.

You may also successfully combine Signup Box with Exit Popup. One of the reasons visitors abandon online stores without purchasing is that they think items are too expensive. Address this issue by offering a discount in the Exit Popup.

Don't use immediate popups and exit popups in combination with other kinds of popups to avoid displaying two pop-ups at a time.

For some popups, you may also add a delay and show popups 7–15 seconds after a visitor lands on your site. Giving your visitors time to browse is important if you want them to make a purchase.

Create additional fields for your popups, in particular, name and date of birth. By collecting this kind of data you can enable automated birthday emails and start earning revenue from this workflow.
Advanced solutions:
Create popups with different offers using the targeting by page or part of the URL. For example, in "www.mystore.com/women/" you can use your sales copy and an offer targeting women, and in "www.mystore.com/men/" use wording for men.

Running an ad campaign on social media? Create a special popup for visitors who come from sources with a specific UTM parameter. For example, the page URL might contain "source=instagram".

Test to see which offer works better – new arrivals or sales. On equally popular product pages, insert the same popups but with different offerings and then monitor the signup rate.

If you use multiple popups with different discounts, include the codes in the success messages. A welcome email is common to all your forms, so it shouldn't contain any of the codes. On the other hand, if you only have one popup, you can put the code into your welcome email.

Avoid enabling too many popups with different offers at a time, if they can appear on the same page. Your visitors will get lost among the choices.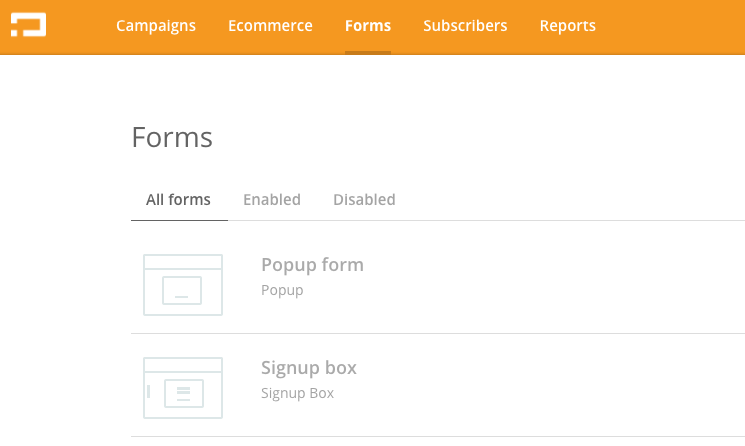 Try all these ideas yourself with new Omnisend signup forms! You will find them in the separate Forms tab on our platform.
If you had Omnisend forms activated before this launch, don't worry – no migration is needed. Your forms are working just as they did before. But we're sure you're eager to try out our brand-new forms, so go ahead and change them to new ones.
We hope you will like this system update. This is just the beginning of our ambitious plan for this year.
Some examples with Omnisend forms:
Il Cane Pet Supplies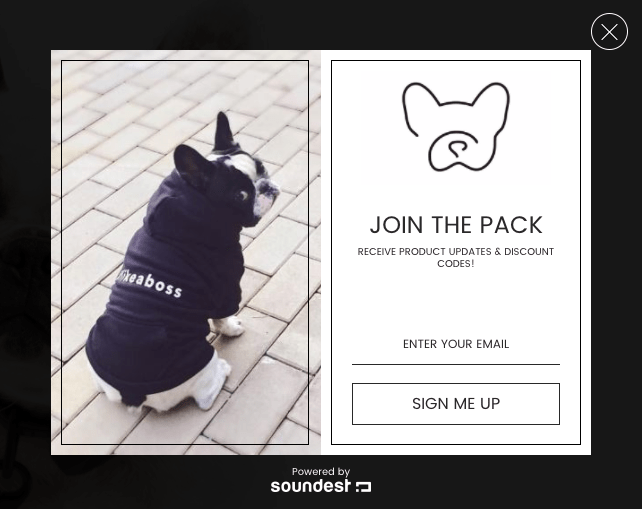 DARMAKI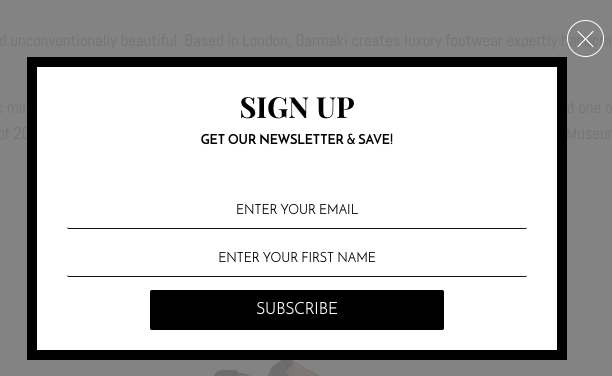 Shop Hereford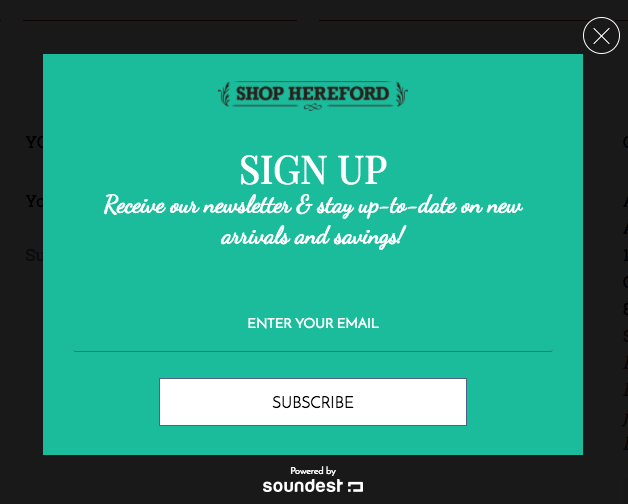 Roderer Store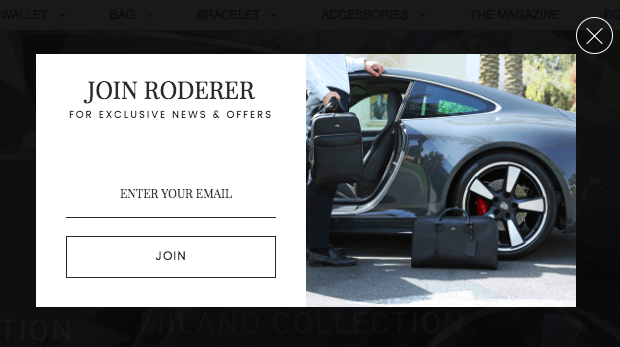 Chameleon Fab Boutique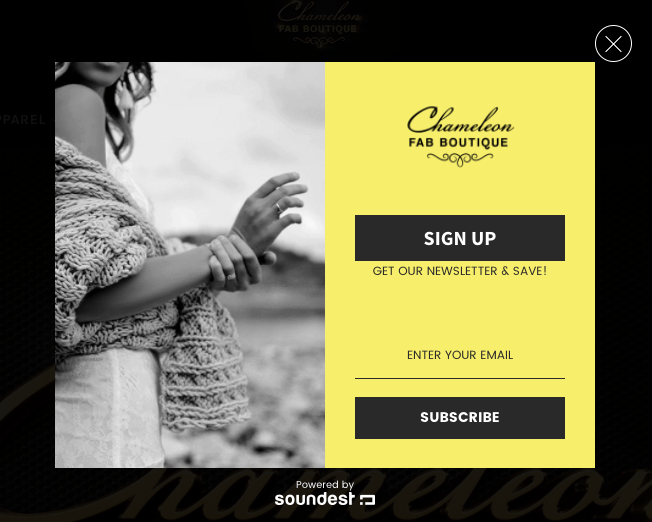 Zo Zo Tings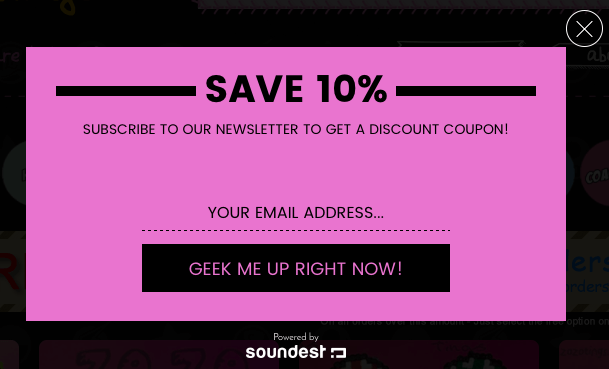 A Sneak-Peek for This May!
In addition to popups and Signup Box, Omnisend is going to introduce a new type of interactive signup form. Gamification and innovative approach will boost your email list significantly!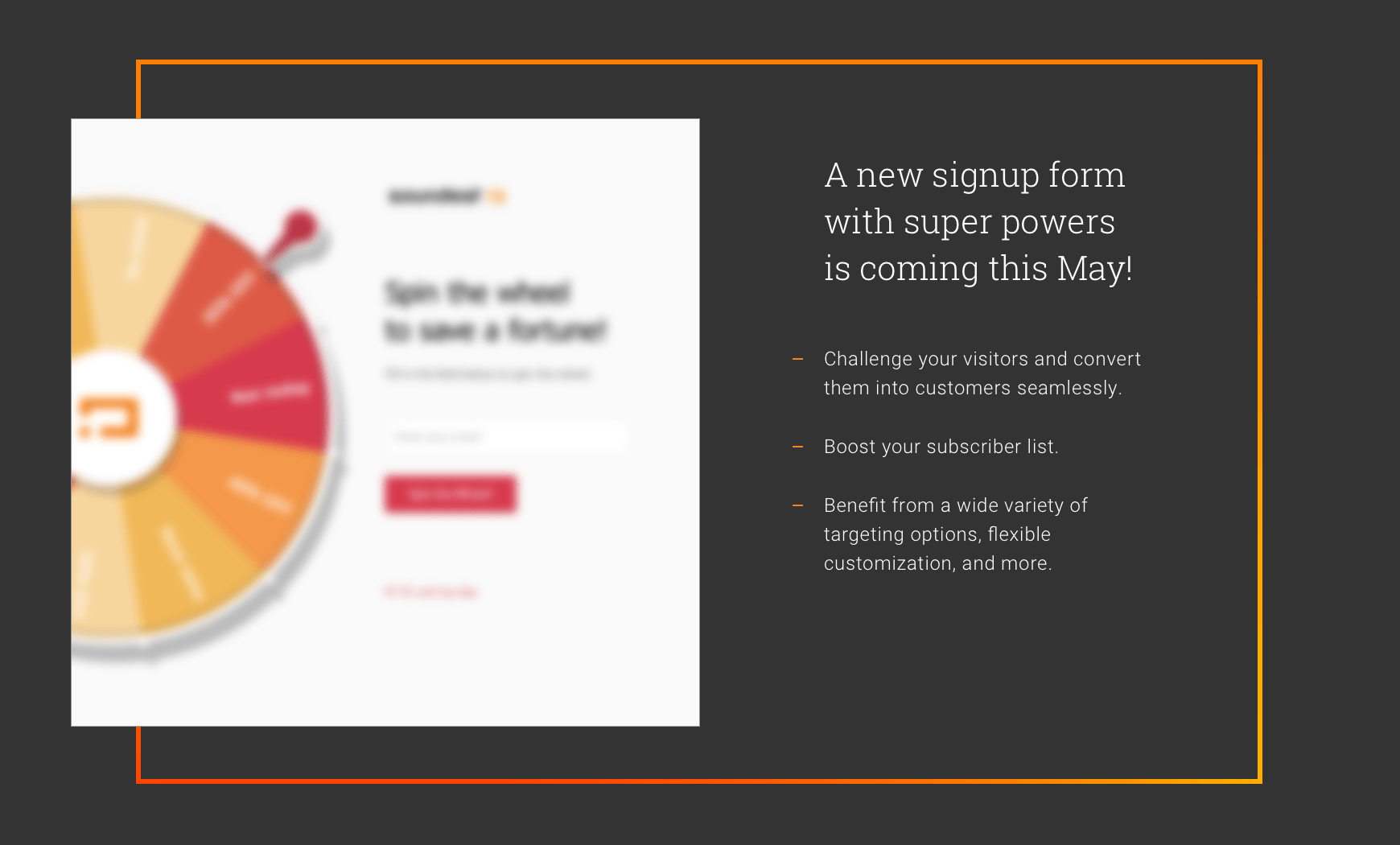 It will be live in the upcoming weeks. Subscribe to our newsletter and stay tuned!
Get started with Omnisend today & drive sales on autopilot with pre-built automation workflows
Start Free Today