Drive sales on autopilot with ecommerce-focused features
See Features
Reading Time:
5
minutes
For the past months, we've been hard at work on bringing you new features that give you more freedom to create, design, and experiment.
And that's why we're so excited to introduce our brand new Form Builder. We redesigned it from the ground up to give you everything you need to take your sales to new heights.
With this massive update, we aim to offer you the best way to create high-converting signup forms that allow you to grow your email & SMS lists faster and easier than ever.
Watch the video below for all the exciting new features and quality-of-life updates you'll find in the new Form Builder:
What's new?
Let's take a closer look at how the new Form Builder gives you more freedom to experiment and create better, sleeker, and more powerful forms.
Wheel of Fortune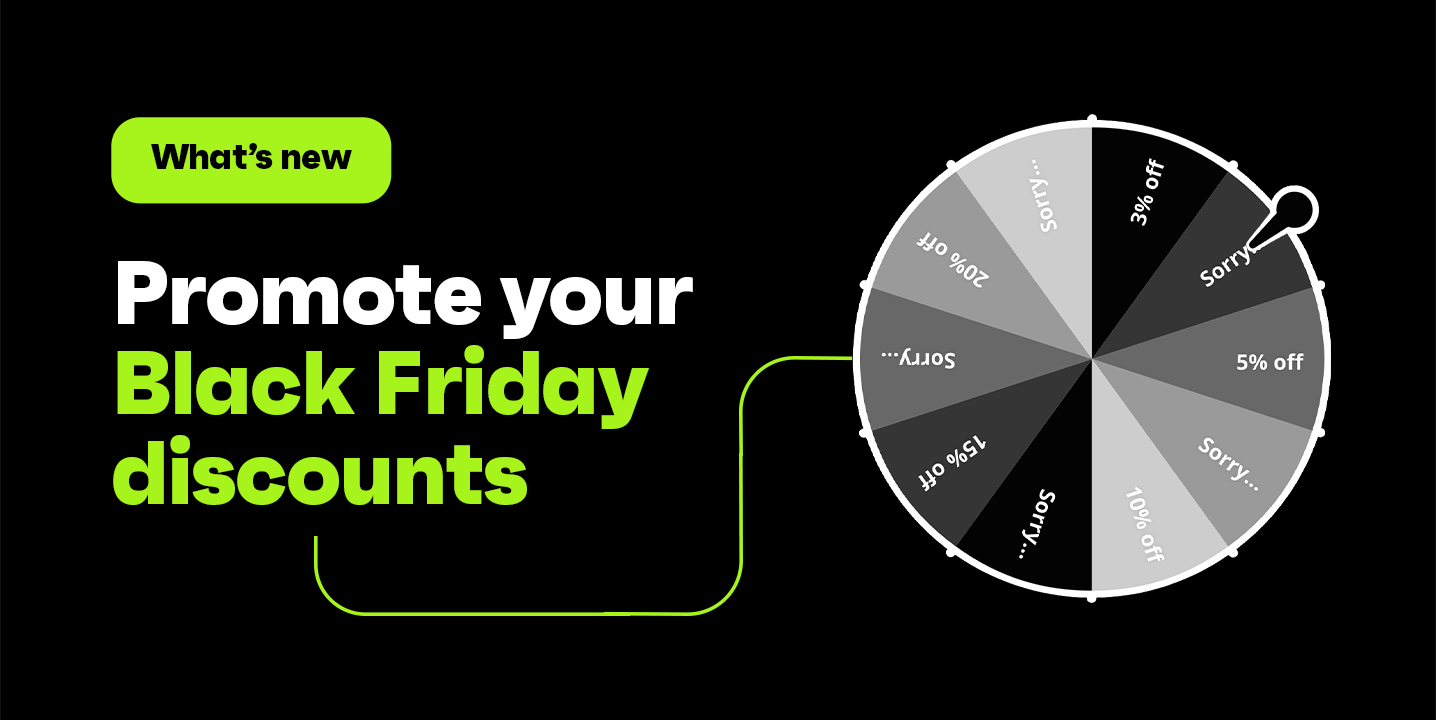 Use the Wheel of Fortune to gamify your popups and surprise your store visitors with a spin-to-win block that lets them win exciting prizes, such as:
Discounts
Free shipping
…Anything else you'd like to exchange for their signup
To use the Wheel of Fortune, simply drag and drop the new & improved Wheel of Fortune block into your popup. Then, customize as needed:
Create different discounts and probabilities to win.
Paint wheel slices with different colors to make the popup more eye-catching.
Explore pre-made Wheel of Fortune templates for inspiration.
Add an instant reward in the success message using a discount code.
You can move your existing Wheel of Fortune form to the New builder using the "Open in New builder" option.
Landing Pages
Want to promote a new product, run a special event, or pre-sale campaign? Landing Pages let you do just that.
Use our all-new Landing Pages to reach a broader audience and run limited-time campaigns outside of your online store.
With our new Form Builder, you can create eye-catching landing pages that let you:
Promote new product arrivals or promotions on your store
Collect more information about existing subscribers
Run a special event or pre-sale campaign
Have a gamified contest with Wheel of Fortune
Need some inspiration for your next landing page? No worries, we made some beautiful pre-designed page templates just for you.
Brand Assets
Ever wanted to create popups faster? Now you can.
With Brand Assets, you can automatically apply your brand colors and fonts to your Email Capture and Welcome Discount form templates, so you no longer need to try and manually match them with your brand design.
This allows you to create your first signup form 23% faster and makes it easier to create brand consistency while saving your valuable time.
Drag-and-drop UI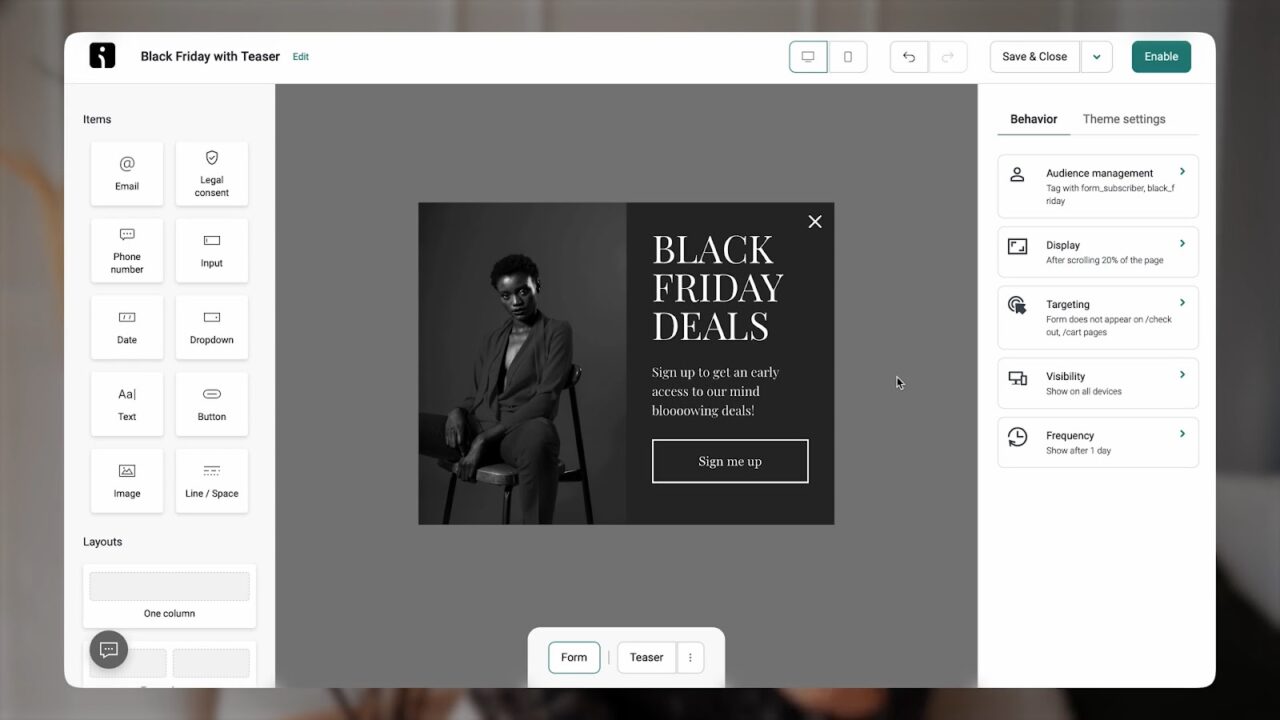 Similar to our new Email Builder, the new Form Builder is drag-and-drop. This makes creating and designing stunning forms just as easy as building emails.
Now, you can create high-converting forms even faster and much more stress-free:
Quickly add items like email, phone number, date, legal consent, images, buttons, and line spaces.
Include fields like first name, last name, city, and custom properties with the Input block.
Add profile fields like gender, country, and custom properties with the Dropdown block.
Choose layout blocks with up to four columns and mixed layouts.
Customize buttons, layout and fields, in-line editing, and popular Google fonts in your Theme settings.
Our new Form Builder builder has everything you need to quickly create a great form, whether it's a popup, landing page, or anything else.
Expanded library of pre-made and mobile-only templates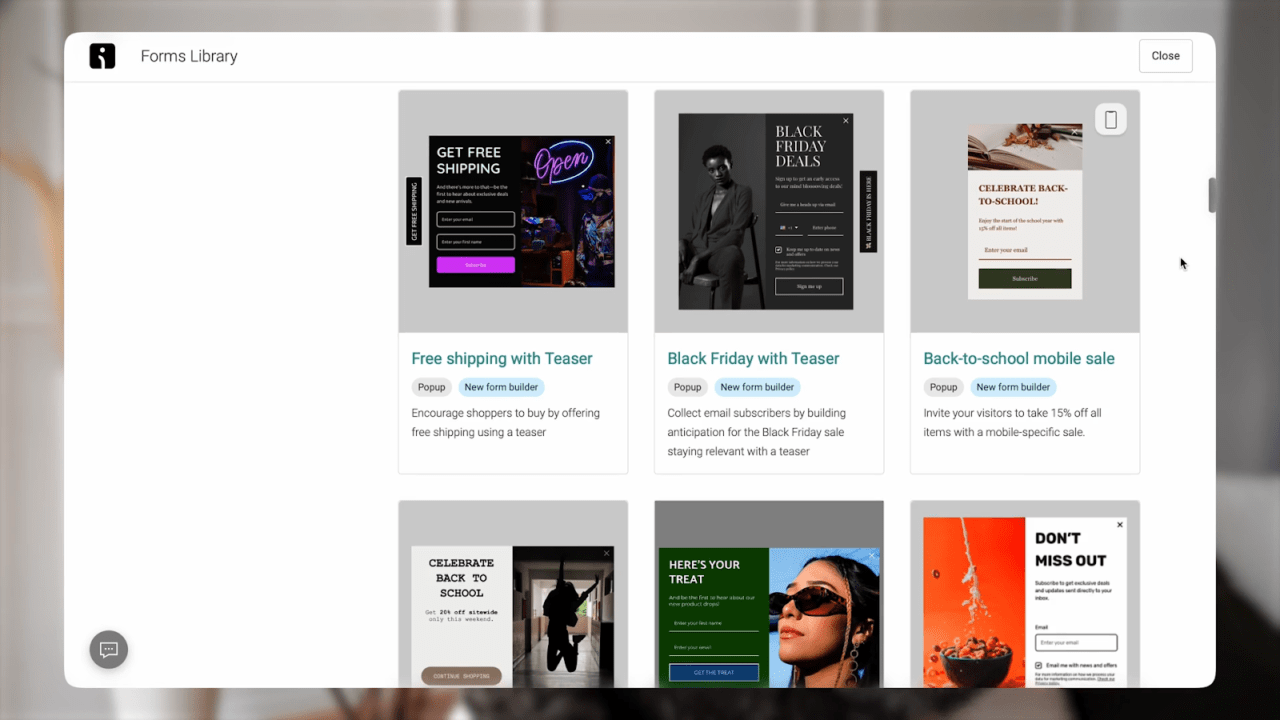 We've expanded our template library with a variety of new inspirational templates and event-themed forms, including brand new mobile-only templates and popups.
Now, it's even easier to find the best ways to grow your subscribers on any device and build personalized relationships with them by choosing templates for a particular goal, such as:
Collecting subscribers
Stopping product abandonment
Promoting special offers or holiday celebrations
And much more
Easily accessible form behaviors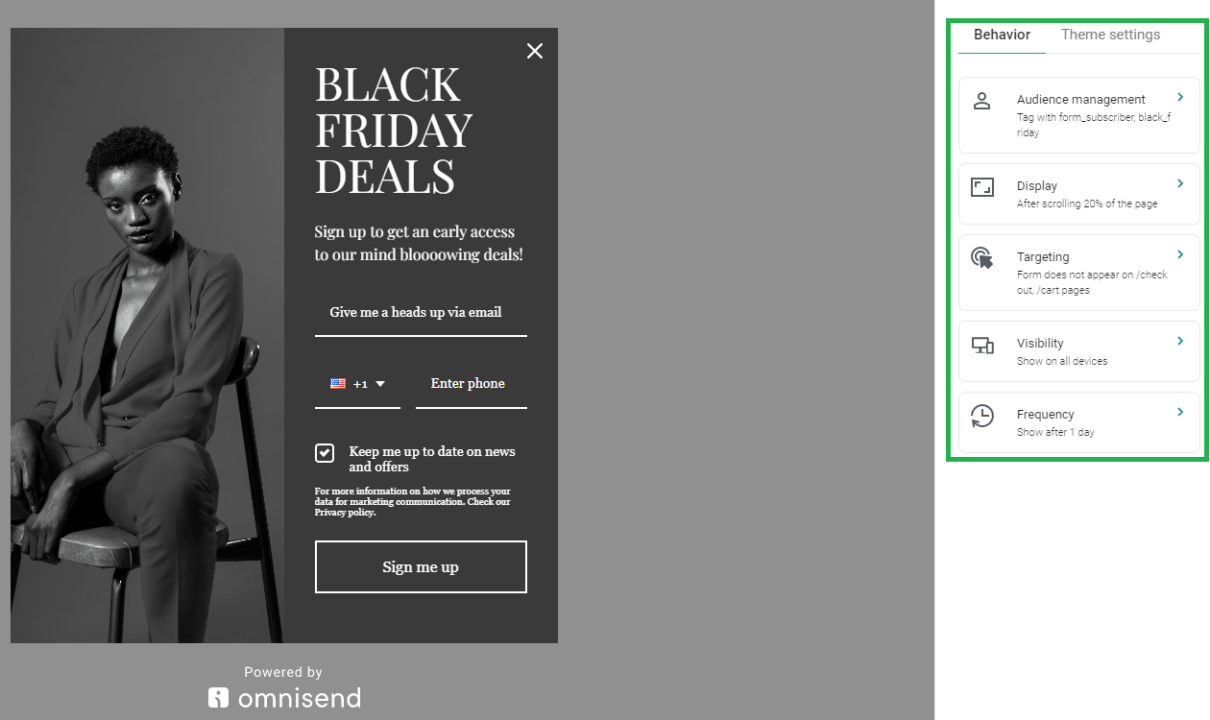 The new Form Builder also includes form behavior options, which allow you to easily personalize your forms by controlling when they appear on your website, who can see them, and more:
Audience management allows you to set up a tag to determine what form your subscribers came from in order to send them tailored messages.
Display settings let you decide when you want to show forms to your website visitors, including the number of pages they visit, the amount of time they spend on a page, or their exit intent.
Targeting settings allow you to get even more granular by targeting specific pages of your site.
Visibility options let you show popups on your preferred types of devices–desktop, mobile, or both.
Frequency settings allow you to choose when the form will appear again if the visitor didn't subscribe.
Non-intrusive teaser popups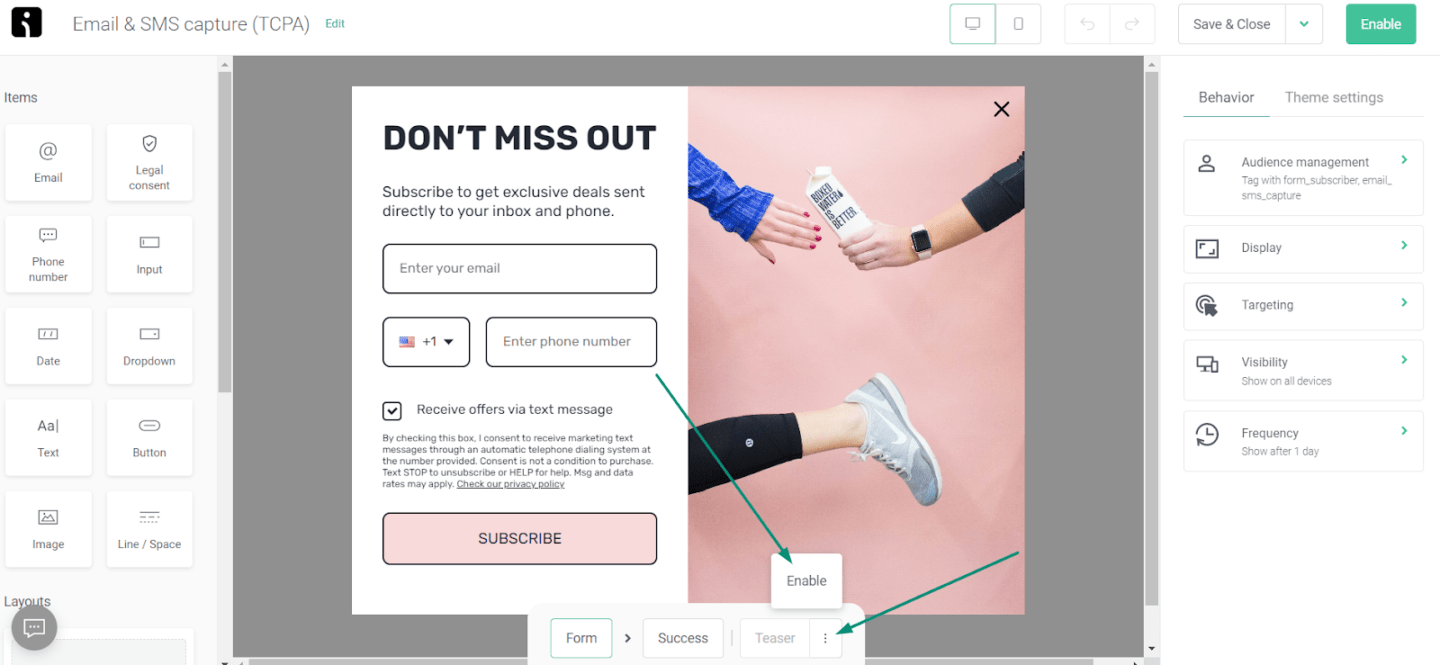 Want your popups to be less intrusive, but still stand out? Use the Teaser–a popup form type now available in the new Form builder.
Instead of showing up in the middle of a page, teasers appear around its edges, allowing your visitors to continue browsing without interacting with or closing the form. Similar to buttons, teasers can come in different shapes, such as sharp, rounded, or pill.
We also added new ways the teaser can appear/disappear on the site.
Before: The teaser will be shown before the form appears as visitors enter your website.
After: Visitors will see your form first, and the teaser will appear after they close it.
Before and After: The teaser will be shown both before and after visitors encounter your form.
There's more freedom to come
Each of these new features is designed to give you the freedom to be your best. But this is only the beginning.
We will continue to update our new Form Builder and bring you even more features so that you can create even better forms that bring you even more customers.
If you're on Omnisend, now's the best time to start exploring the new Form Builder and see how much more freedom you have to create better experiences for your customers.
And if you haven't joined us here at Omnisend yet, you can easily create a free account with Omnisend. You'll get access to all of our features so you can see how we can help your business grow.
related features
Want more sales?
Omnisend has everything you need to succeed.
Start free now
No Credit Card needed.