Drive sales on autopilot with ecommerce-focused features
See Features
Reading Time:
8
minutes
There are tons of apps available at BigCommerce, but you don't need to download all of these to have a successful ecommerce business. What you need to do is to choose the right apps that will meet your business needs.
What happens if you're not sure of what you need? Most of us might be downloading too many apps but end up using only a few of them. The truth is that you don't need a ton of apps to be more efficient. You only need to get the apps that you need.
What apps should you download? We're here to provide 12 apps found in BigCommerce that will be helpful in your daily operations.
1. QuickBooks Online
Category: Accounting
Have you ever felt that managing your ledgers takes too much of your time? Hiring a full-time accountant can be costly, but you can have accessible solutions for your bookkeeping problems. QuickBooks Online helps you integrate and sync all the purchases, shipping fees, and refunds made by your customers. Your taxes, discounts, and other expenses are also automatically tracked by the app.
QuickBooks also accurately reconciles payments within a few minutes. There's no need to spend hours finding where missing balances go because the app memorizes and analyzes your data. With this app, you'll have minimal errors in your entries to worry about.
The only downside to this free app would be the automatic syncing that may perform slowly at times. Beyond that minor issue, this app certainly proves that it is a tool that fits any businessperson's toolkit.
2. Omnisend
Category: Marketing & Email Marketing
Did you ever fancy trying omnichannel marketing but felt a little bit intimidated by how technical it seems? Don't worry because Omnisend is the perfect app to guide you on how to become a top-tier omnichannel marketer. This app provides you with a user-friendly interface that makes marketing automation look simple, but there's more to learn about this app.
Omnisend allows you to automate and customize workflows, which makes marketing easy for both first-time users and experts alike. Tedious tasks such as welcome emails and sequenced campaigns are automatically performed once a user subscribes or registers.
It may be intimidating at first, but Omnisend is a useful tool once you've learned how to use its features. Learning how to automate marketing campaigns takes time, and the best way to implement them properly is through actual practice.
3. Printful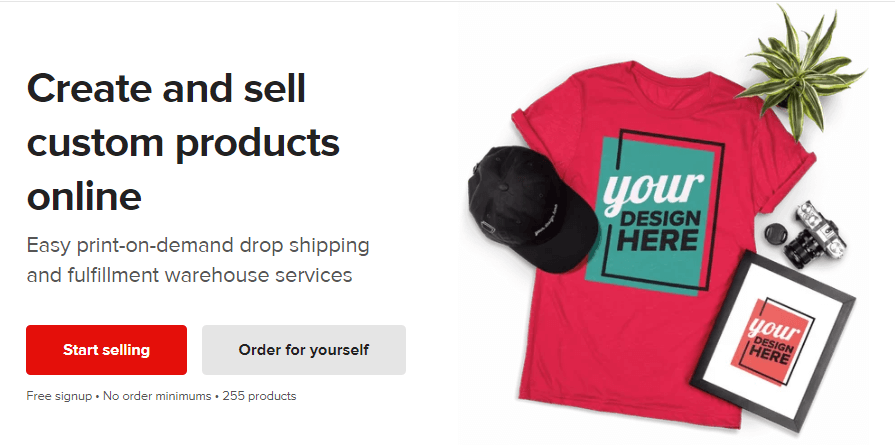 Category: Print-on-demand drop shipping
Printful is an online drop shipping and custom printing fulfillment service. With Printful, you can create your own custom designs, place them on products from Printful's catalog, and sell on your online store.
Printful handles inventory, order fulfillment, quality control, and shipping, so you can focus on the fun part of building and running an ecommerce business, like marketing and creating new designs. Besides, since everything is printed on demand with no order minimums, you don't ever have to worry about overproduction and unsold inventory.
Here's how it works: connect your BigCommerce store with Printful, and whenever someone buys a product from you, the order is automatically imported to Printful, fulfilled, and shipped to your customer under your brand.The Printful app is free to set up and doesn't come with monthly fees. You can manage your store from your Android or Apple device. The app allows you to confirm incoming orders, place and remove order holds, track orders, talk to the support and report problems.
4. Yotpo Reviews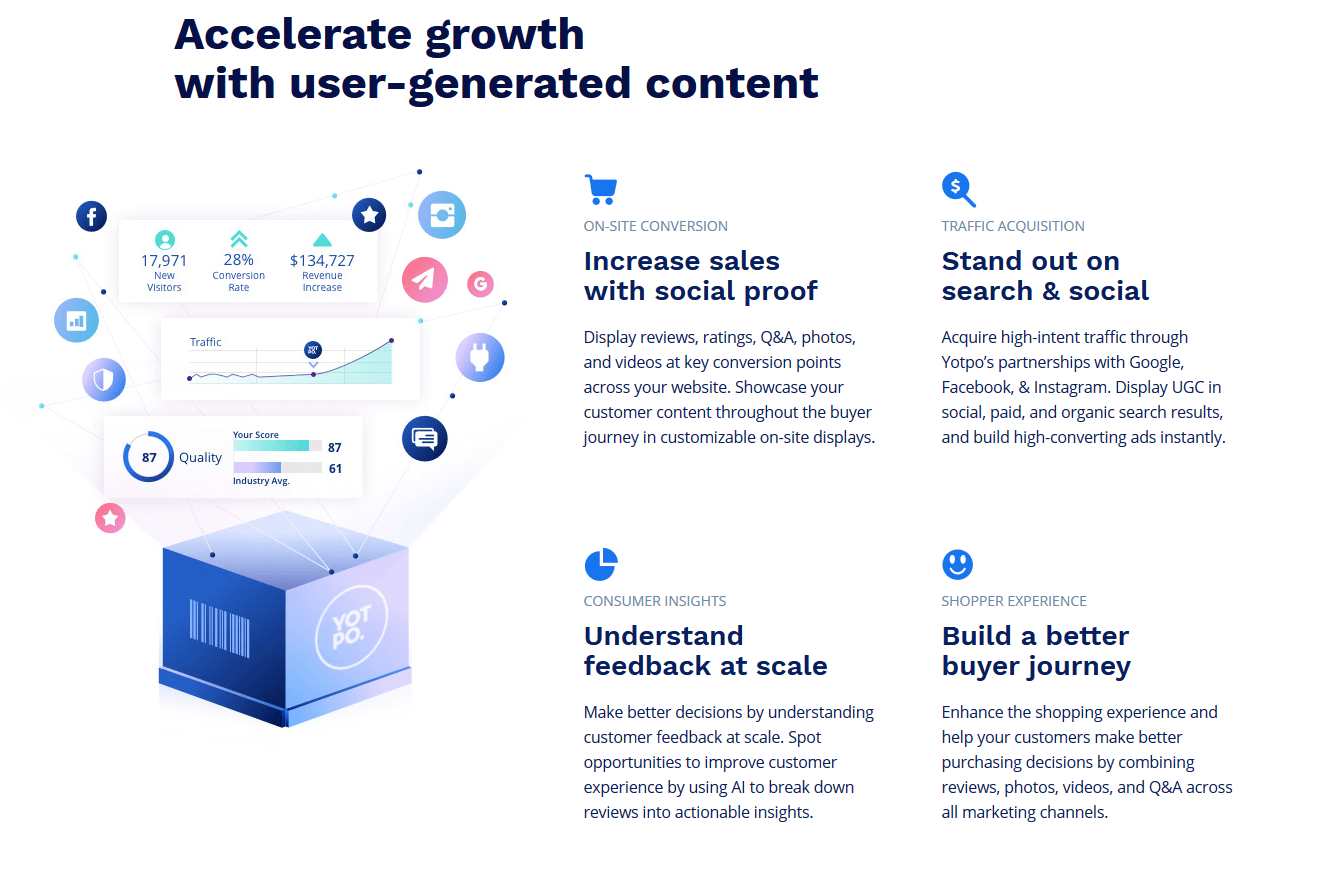 Category: Merchandising
Reviews are important in building trust and reputation among customers.
Most customers use reviews as an opportunity to learn more about your products. Having no reviews are treated as a sign that the product is not popular or is even untrustworthy. Luckily, there's Yotpo Reviews to help you integrate these reviews to your ecommerce site.
Yotpo Reviews provides you with an easy way to generate reviews from your frequent buyers. Review forms and incentives are easily customizable, and they are also automatically sent to your buyer's email. Customers can also easily add their rating, reviews, and answers to common questions in just a few clicks.
The only problem with this app is that premium features come at a cost, but it is well worth the money spent. Those who prefer to use the free app still get some of the best features available.
5. ShipStation
Category: Shipping & Label Printing
We often dream of an app that will do all of the work related to our ecommerce business. ShipStation puts us one step closer to that dream. With this app, managing and shipping your orders becomes a lot easier.
ShipStation syncs any purchases made on your online store and organizes this information into a single dashboard. The app also automates the shipping of any orders made once the payment is completed. ShipStation automatically contacts your trusted delivery services and even keeps track of any negotiated rates and deals with them.
In some cases, the app will have delayed syncing of purchases. Other than that, there aren't many problems when using ShipStation.
6. Signifyd
Category: Security
Chargebacks are among the most infuriating issues you'll have with your online store. Handling all of these complaints and requests will easily eat up your time. With the help of Signifyd, you can have the app do all the tedious work for you.
Signifyd assures that you won't have to worry about needing to manually track and respond to fraudulent purchases. The app is proactive in assessing potential issues and only allows safe purchases to be approved. As a result, you'll spend less time reviewing and declining bad transactions.
While Signifyd takes a proactive approach in reducing fraudulent transactions, it isn't foolproof when claiming payments for chargebacks.
The app works great, but do take note of these limitations when leveling your expectations.
7. Coupon Manager
Category: Marketing, Promotions
Coupons are fun and interactive ways of promoting your products or your ecommerce store in BigCommerce. It gets tedious once you have to handle hundreds of coupons during a sale, but Coupon Manager helps you automate the whole process.
Coupon Manager is a simple yet effective solution for creating and managing coupon deals. The app can generate or import hundreds of coupons at once without requiring you to manually input any data. All you need to do is to customize the coupons before the app integrates these coupons into your store.
No fancy tricks are required to make Coupon Manager work. It may seem limited, but the app does the job pretty well.
8. Brightpearl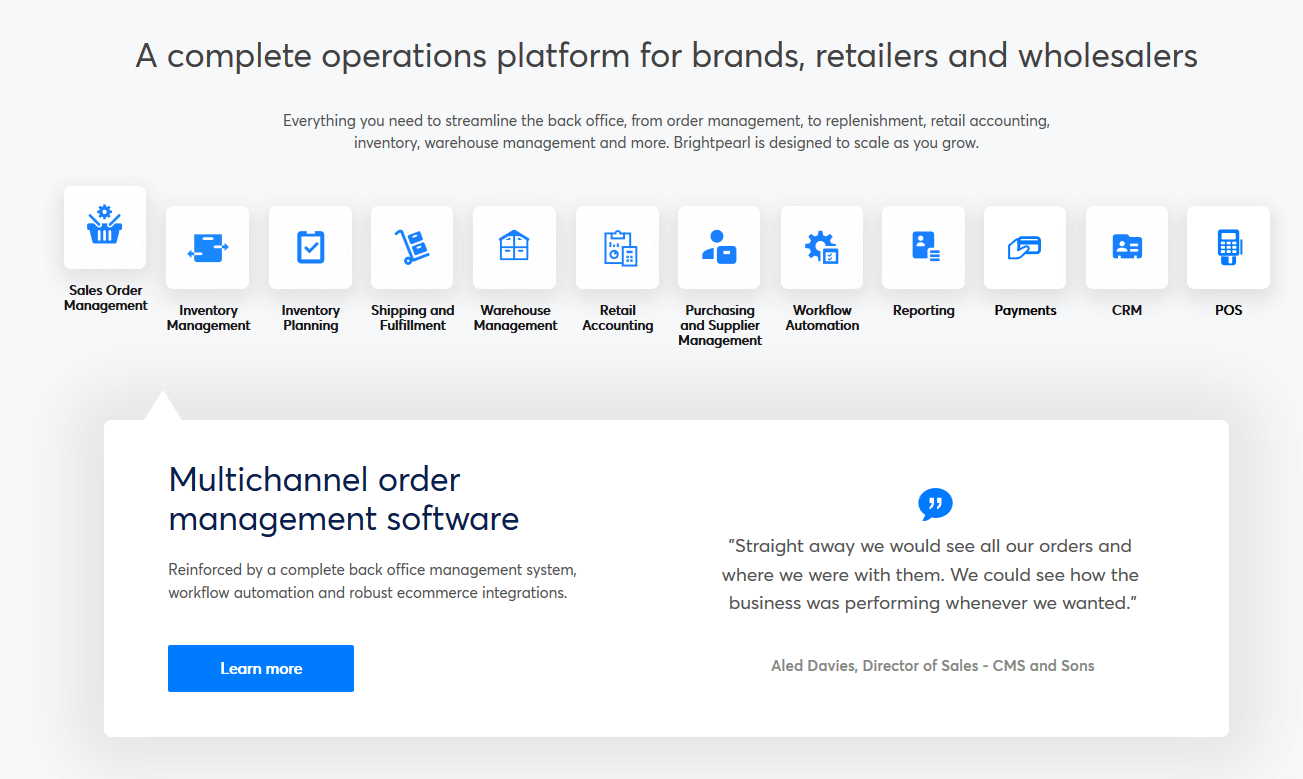 Category: Enterprise Resource Planning (ERP)
Some ecommerce stores in BigCommerce eventually become too popular that they need a helping hand when handling orders. Brightpearl is the perfect solution for these problems as it integrates all of your retail operations from sales orders up to inventory replenishment.
Brightpearl is an all-around app that merges accounting, inventory management, and order routing into a single platform. The best part about Brightpearl is that it allows multichannel management for those who have more than one BigCommerce store.
However, don't expect Brightpearl to solve all of your problems on its own. It's highly recommended to use Brightpearl together with other BigCommerce apps to expand the app's capacity.
9. LiveChat
Customers love to have someone to contact when they're having troubles with their purchase. Sometimes, buyers just have doubts about a product that they need to clarify directly from your store. That's where LiveChat comes in.
LiveChat is an app that allows your BigCommerce store to engage customer queries in an instant. This app also records queries you may have missed so that you can respond to them once you go online. Mobile chat options are also available to help you keep in touch with your customers wherever you may be.
One thing to consider about LiveChat is that its success relies on how you use the platform. Sales will increase based on how you effectively use LiveChat to guide customers around your online store.
10. Shogun Page Builder
Category: Visual Merchandising
Visual content is still relevant in BigCommerce because it draws the attention of customers. Building your ecommerce store doesn't have to be limited to premade templates. With Shogun Page Builder, you'll have more freedom when customizing your site.
Shogun Page Builder is a drag-and-drop page builder that is simple and easy to use. Once you've set up your store, you can easily add elements such as galleries, videos, and blog posts anytime. Analytics such as page views and A/B test results are also made available by this app.
While Shogun Page Builder offers a wide range of customizations, you still need to create an attractive and efficient design. Learning visual hierarchy and web design can help you maximize customizations and earn more conversions over time.
11. Lucky Orange
Category: Analytics
Last but not least on this list is Lucky Orange, an app that provides you with a detailed guide on your sales funnel. Finding out which part of your strategy isn't yielding the desired results is tough. With the help of this app, you'll have a complete overview of your store's performance including issues that you haven't spotted yet.
Lucky Orange tracks customer behavior to provide you with in-depth insights on what actions they take. You're also reported on what optimizations can be made to your BigCommerce store. With this information, it becomes easier to improve sales and conversions because you have reliable data to guide your decisions.
However, you should remember that actionable data isn't the only way to improve your ecommerce store. Lucky Orange points out your mistakes and possible optimizations, but everything else has to come from you.
12. Omnikick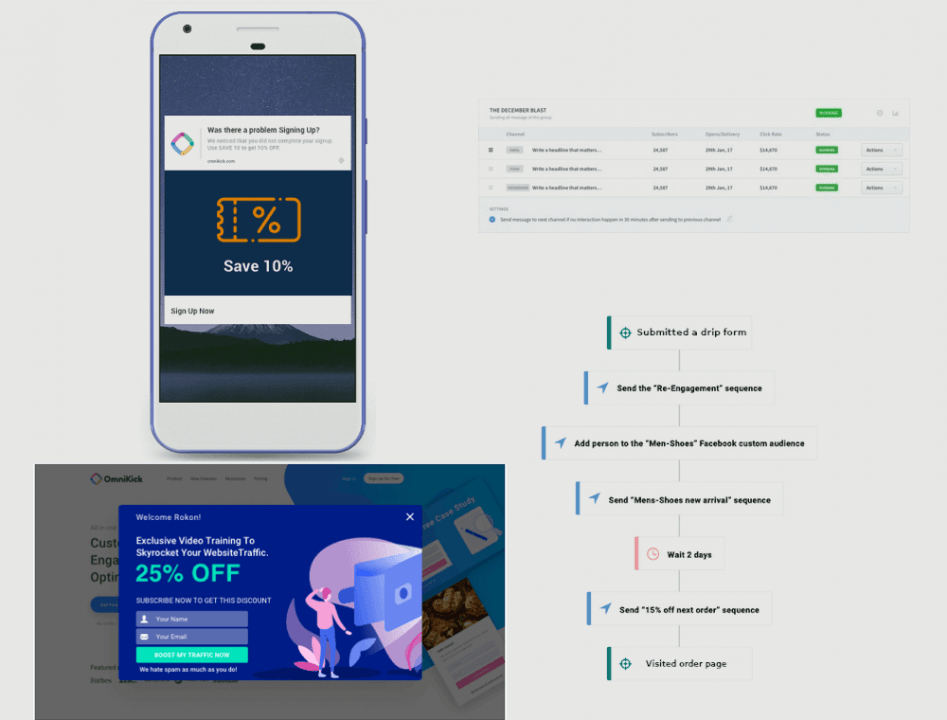 Omnikick that helps you gain lots of new customers through Email marketing, Push notifications, Facebook Messenger marketing, and SMS right in one dashboard

Personalize every customer interaction, maximize your customer lifetime value, and reduce cart abandonment with Unlimited Broadcasts, Sequences Campaign and Automation Workflows with all 4 channels.

Also, it gets better as each channel can listen and talk to each other so that you can use it in a unified way.

We love what we do, We love to make you succeed more. So we are taking most of the marketing burden on our shoulders so that you can do what you know best and make a profit from using the 4 most profitable marketing channels for you and your clients.

Omnikick helps you achieve any marketing goals for your BigCommerce Stores and many more.
Final Thoughts
We've seen some of the best apps available in BigCommerce that are made to help you achieve success. The 12 must-have apps that we've presented today will be a big help in optimizing your store's performance and reducing your daily workload.
However, these powerful tools also have their limitations. In the end, it's always good to remember that you're still the biggest factor that contributes to the success of your ecommerce store.