Drive sales on autopilot with ecommerce-focused features
See Features
Reading Time:
12
minutes
The fact that shoppers went as far as your checkout page doesn't guarantee sales. A lot can happen between the time a customer lands on your ecommerce checkout page and the point they make a purchase.
If the checkout process is not smooth, they may abandon their carts instead of making a purchase.
The global cart abandonment rate sits at 69%. That is a startling number considering that most people get to the checkout stage ready to buy.
That's why it's important to optimize your ecommerce checkout process to reduce your cart abandonment rate.
In this article, you'll learn the proven ways to optimize your checkout process.
Table of Contents
What is an ecommerce checkout?
An ecommerce checkout is the process a customer follows when buying items from an online store. It starts after a customer adds items to their shopping cart and ends when they receive a confirmation for a successful purchase. The best checkout processes have a smooth flow, providing a frictionless user experience.
All ecommerce checkouts typically follow the same steps. With products added to their cart, the shopper initiates checkout and proceeds to enter their billing information.
Next, shoppers have to input their shipping details so they can receive their products. However, this doesn't apply to digital products since the customer simply downloads what they've purchased.
The customer then previews the order and proceeds to pay. After that, they receive a confirmation for their purchase and the company starts to fill their order.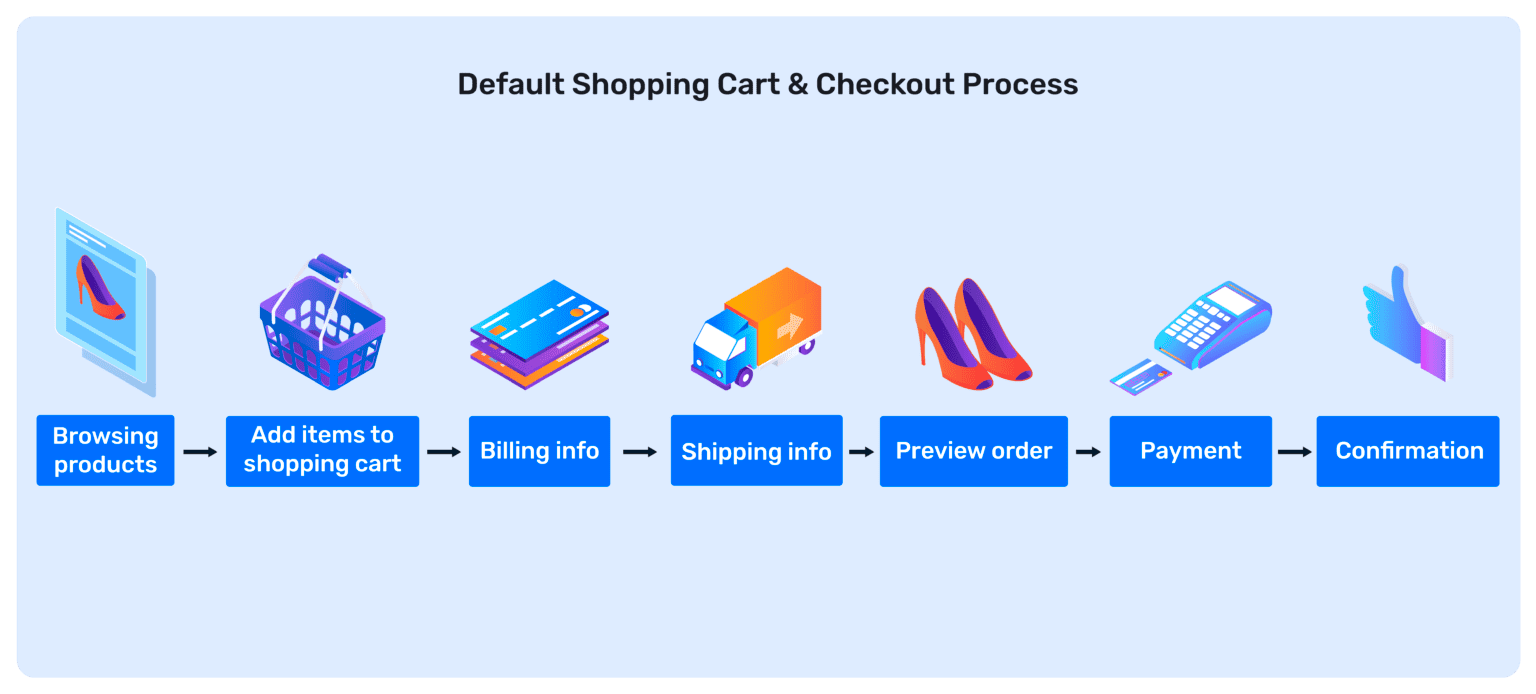 Why shoppers leave the checkout page
The checkout phase is the most crucial part of the buying process, as the leads who end up here are ready to make a purchase.
However, cart abandonment rates are still very high across the globe. A study by Fresh Relevance found the cart abandonment rates to be 68.7%, 57.9%, and 55.9% in the US, UK, and Europe respectively.
To have your hard-earned leads exit at this stage would be no less than tragic.
If you have a high checkout abandonment rate, here are some of the reasons why customers are walking away from your site:
Unexpected changes – Additional costs such as shipping costs, taxes, or other hidden charges that appear at the checkout stage make users second guess the value of the product they're buying.
Forced account creation – Visitors are put off by the extra steps required to create an account and may wander off your site without making a purchase.
Long complex checkout process – Customers are put off by a long and tedious checkout process. They just want to be in and out of your site without much hassle.
Website crashes and other errors – When a website crashes or shows some other error, it can stop a person from making the purchase even when they are ready. Website errors also lead to distrust in the company website
Performance and load times – If your site is slow or performs poorly, it can send your customers away in a flash.
Lack of payment options – Most people prefer multiple payment options for their convenience, and not providing them can turn them away.
Ecommerce checkout best practices [+examples]
The best way to deal with an issue is to get at its roots. Let's see what you can do to better your checkout process.
1. List all costs upfront
When a shopper is about to check out after buying products from your online store, ensure that you list all the applicable costs when processing their order. Shoppers want to know the total cost of a product ahead of time, and any surprises later on could make them abandon their cart.
Additional costs such as taxes and shipping fees could make the customer second guess the value of the product they are about to buy. If they are not ready or willing to pay the extra costs, they will abandon their cart and log out of your ecommerce site.
To lower your cart abandonment rate, list all costs upfront. In the example below, Rebecca Minkoff lists all the relevant costs including:
Cost of the item
Shipping cost
Applicable taxes
Total amount chargeable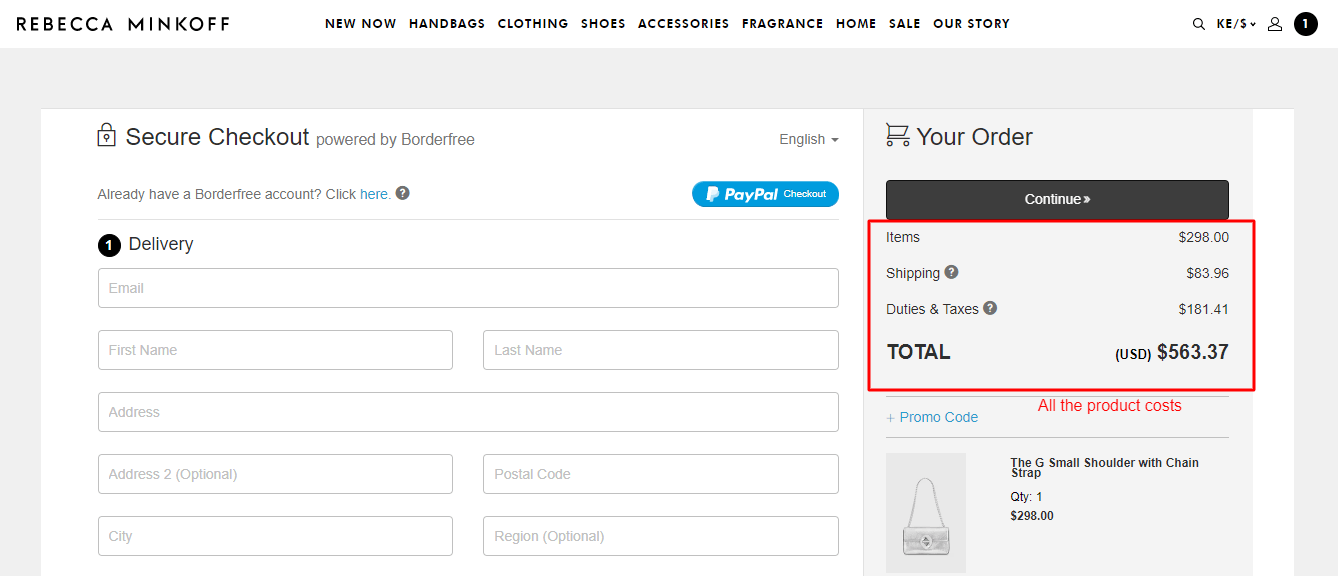 2. Show progress
One of the most effective cart abandonment solutions is to add a progress indicator that allows shoppers to keep track of where they are in the checkout process. A progress indicator serves the following functions:
It allows shoppers to see how many steps they've covered
It lets them know which checkout steps lie ahead
Overall, a progress indicator enhances the user experience by giving shoppers an idea of how long it will take them to complete the checkout process.
It also acts as a guide that tells shoppers what to expect during checkout, thus making the process easier to complete.
In the example below, Gymshark uses a progress bar with numbered steps to let shoppers know where they are in the checkout process.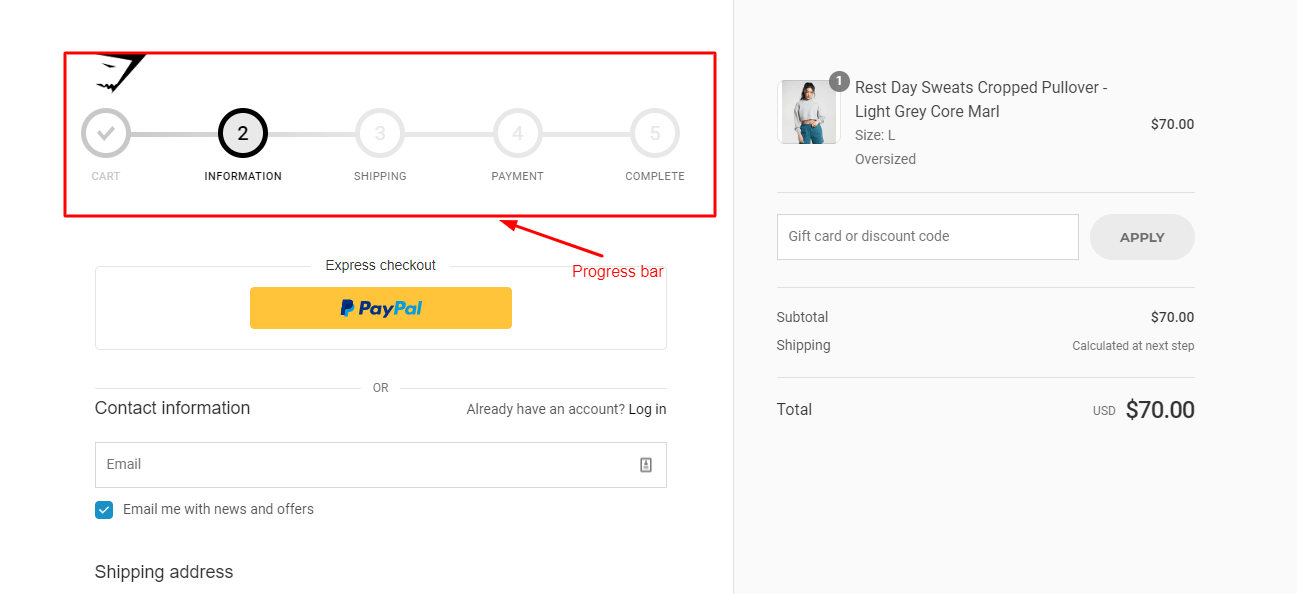 3. Make applying discounts easy
Discount codes are a common strategy used by retailers to attract customers. If you have promo codes or discounts for your shoppers, then you want to make it as simple as possible to apply these on your checkout page.
Add a coupon code box on your checkout page so that anyone with a promo code can add them to redeem their discount.
However, you should be careful about how you deal with discounts since you don't want to make it obvious to shoppers without a promo code.
Shoppers without a code may see the coupon code box and leave the checkout page to go search for one. If they don't find one, they may not return to your site to complete the purchase and this will increase your cart abandonment rate.
In the example below, you can see that Gymshark has a coupon code box that allows shoppers to redeem their discount codes.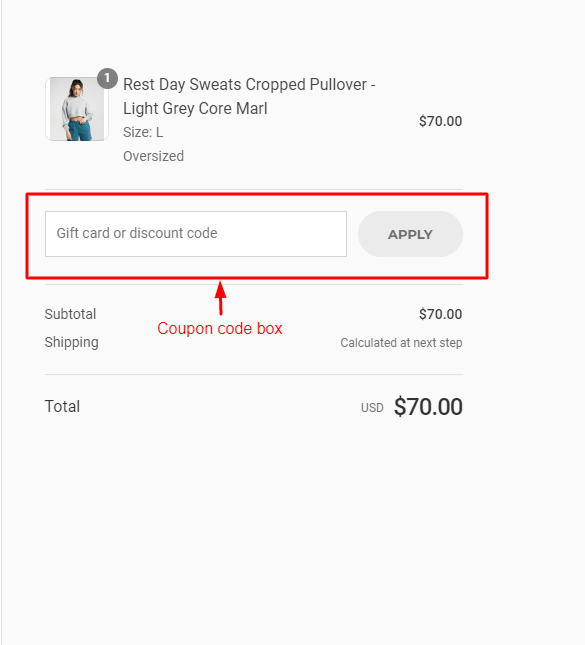 4. Offer guest or express checkout
Guest checkout allows your customers to purchase without signing in to your website or creating an account. Since none of the customer's information is stored in your company's database, the process is quick.
Take King Authur Bakery's checkout page, for example, allows shoppers to checkout as a guest without completing the signup process.
For your returning users, provide an express checkout option to make the checkout process quicker for them.
Designed specifically for returning users, express checkout provides a one-click checkout experience by automatically filling out the billing, shipping, and payment details of return customers.
Express checkout reduces the form fields during checkout to make the process quick and easy for the customer.
Besides ensuring a seamless user experience, having an express checkout also translates to a high conversion rate since shoppers can complete the checkout process quickly.
Bomas provides an express checkout option for its returning customers as you can see in the image below.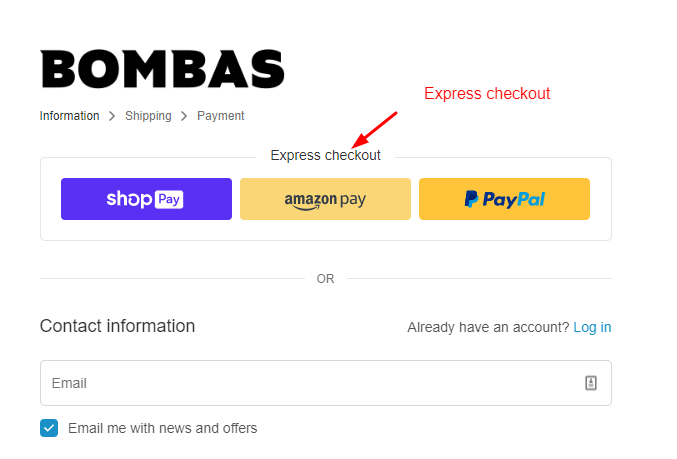 5. Create a sense of urgency
There's nothing that drives up cart abandonment rates more than customer hesitation. Anytime a customer hesitates during checkout, they move a step closer to exiting your site and taking their business elsewhere.
That's why it's important to add a sense of urgency to motivate users into action. You can achieve this with time-limited offers where customers enjoy certain benefits when they complete the checkout process quickly.
For example, you can promise to deliver the product by a certain date and time like 5.11 tactical does in the image below.
Make sure to display such offers prominently on the checkout page to ensure shoppers know what they'll receive if they confirm their order quickly.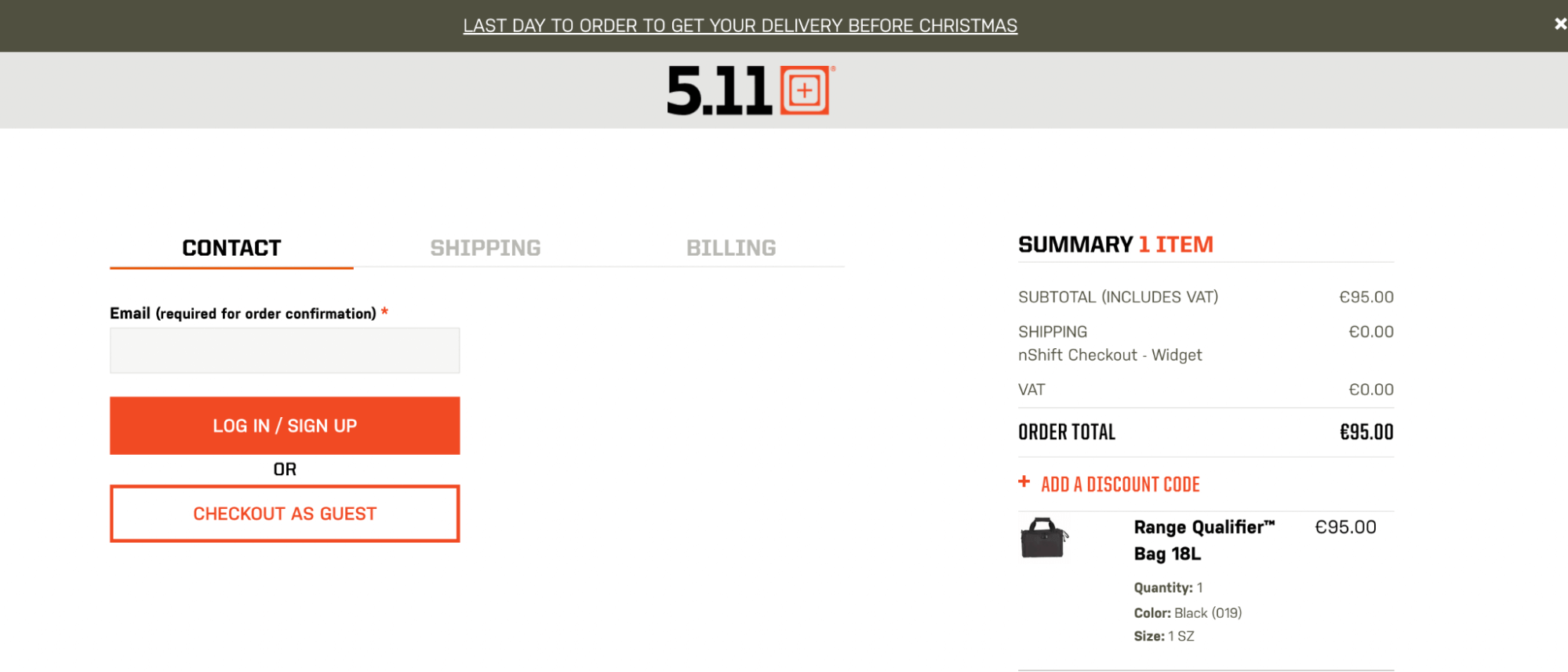 6. Provide accessibility options
Designing your ecommerce site to be fully accessible to all shoppers, regardless of their ability, is key to providing the best user experience.
Not only does your site need to be fully accessible but your ecommerce checkout process also needs to be optimized for accessibility.
Many specially-abled online users depend on accessibility tools to navigate a website and buy products online.
By keeping such users in mind when designing your checkout process, you can enhance the shopping experience for all users and boost conversion rates.
To make your checkout process accessible; implement the following:
Properly tag elements on the page to support readability with screen readers
Use high-contrast colors to make elements like CTA's stand out on the page
Ensure that your CTA text is clearly visible and explains the intent of the CTA
Check out the accessibility options provided by Wandering Bear Coffee on its website.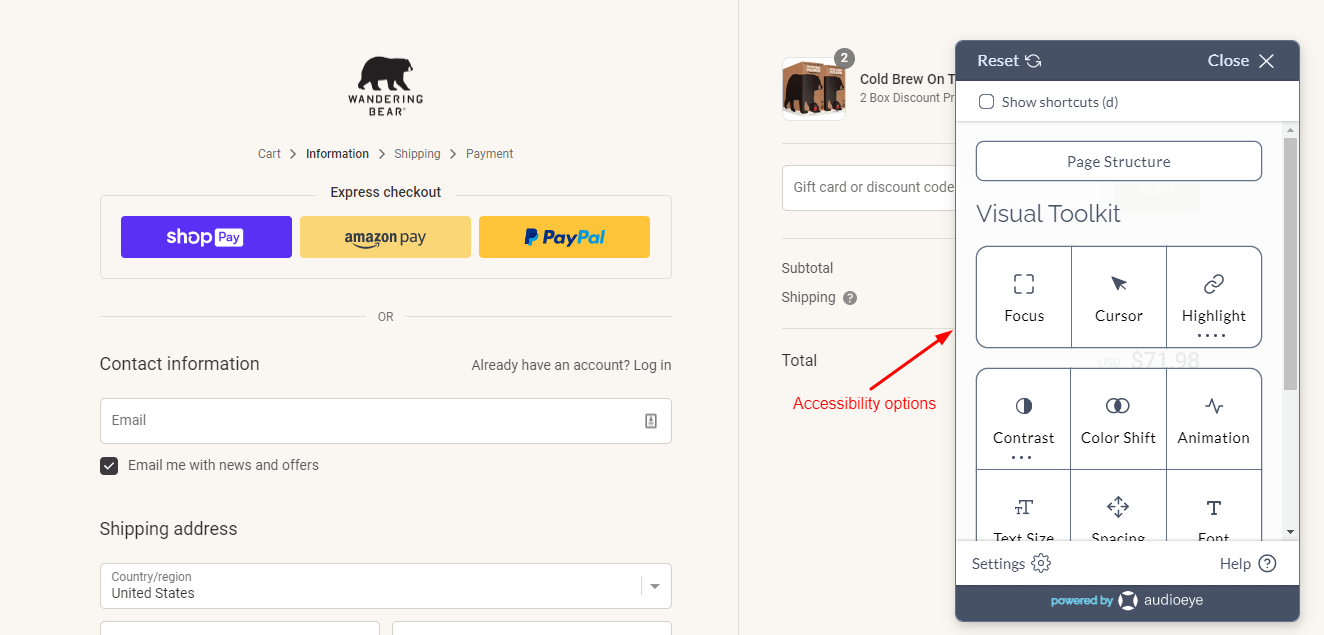 7. Allow language change options
The beauty of online shopping is that you can sell to customers from all over the world.
With the right marketing strategies, you will drive international customers to your ecommerce store, process their orders, and ship the products they've bought to their homes.
Sounds easy, right?
Well, many international shoppers don't progress all the way to the end because most ecommerce stores are not personalized to them. People prefer shopping in their own language and would exit an ecommerce store in search of another that allows them to do so.
To appeal to international shoppers, you need to enable location change to allow shoppers to choose their preferred language. This will help you retain more international users on the site and reduce your cart abandonment rate.
To serve all her customers well, Rebecca Minkoff gives users the option to choose their preferred language from a dropdown menu.
8. Offer loyalty program signup
A loyalty program is a customer retention strategy geared towards retaining and engaging existing customers. When customers signup for an ecommerce loyalty program, they earn points they can redeem for rewards and discounts.
Loyalty programs provide the following three benefits to ecommerce stores:
Easier customer acquisition
Stronger brand allegiance
More profits
With all these benefits, adding a loyalty program signup on your checkout page could help lower your churn rate and increase your profits.
Those who sign up for the program would be excited to start saving and this could push them to complete a purchase to earn their first points.
When designing a loyalty program for your ecommerce store, make it easy to understand by explaining what customers gain when they sign up for the program.
In the example below, shoppers earn points they can redeem later on when they sign up for their loyalty program.
9. Make checkout mobile-friendly
80% of customers have used a mobile phone to look up reviews of a particular product, compare prices, or search for alternatives. 79% of mobile phone owners have made an online purchase using their phones in the last six months.
Pay attention to your customers' mobile experience because that is where they usually shop online. Not optimizing your checkout process for smartphones and tablets would mean leaving money on the table since mobile users would find it hard to complete the checkout process.
To prevent this from happening, make sure your design is responsive as you develop your layout and integrate your CTAs. Test the CTA buttons on a mobile device for effectiveness and functionality before launching your ecommerce store.
The image below shows the checkout page of Blume. The skincare retailer has a mobile-friendly checkout page that displays all the important details clearly on a mobile screen.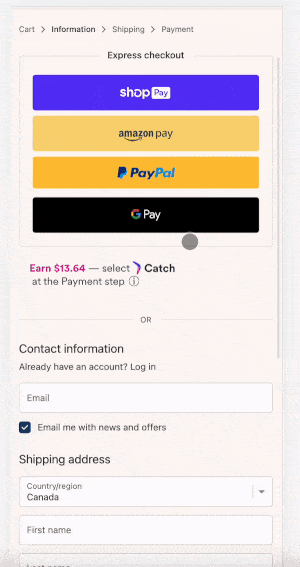 10. Offer deals in popups
Do you have a sale going on? Then you can use a popup to let customers know about your ongoing offers.
Customers in the checkout stage already have a purchase intent and wouldn't mind hearing about the sale you have on at the moment. However, bear in mind that customers will have to abandon their carts to check out your offers.
If your sale isn't any good, the customer may abandon your site without completing their previous order. Don't choose this option if you don't have some incredible deals for your customers.
In the example below, there's a popup for a holiday sale on the checkout page. The popup has a button that takes users to the deals page and a button to close the popup for those not interested in the deals.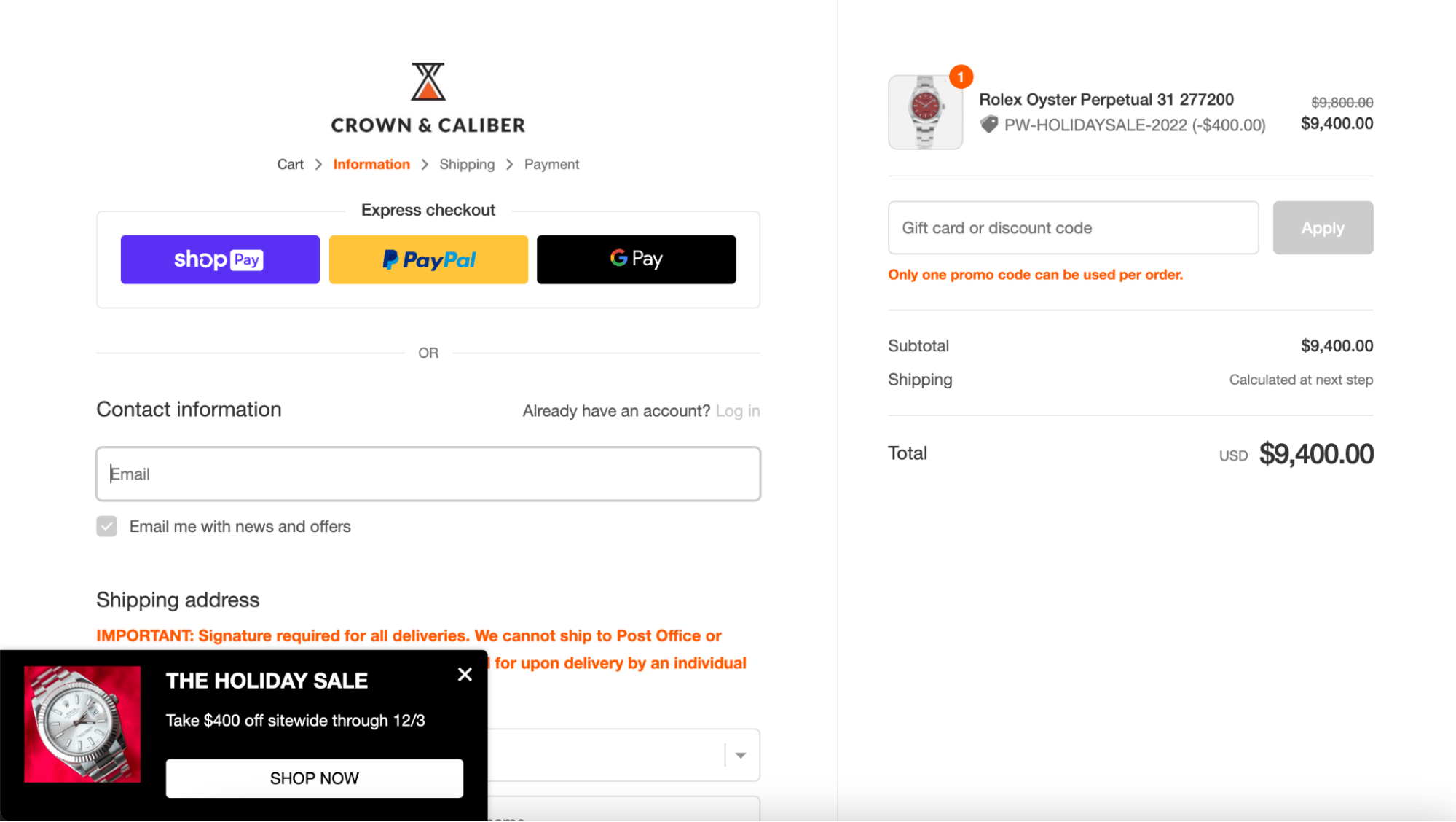 11. Display trust signals
Customers in doubt may need reassurance about your product or the support they will receive after purchase. The risky nature of online shopping means shoppers are fearful of losing their money or receiving poor-quality products.
Trust signals are elements of an ecommerce site that reassure customers about their online shopping experience. They demonstrate to shoppers that your online store is a legitimate site and reduces the perceived risks of buying from the store.
You can incorporate trust signals in your ecommerce checkout in the following ways:
Add customer reviews
Buy an SSL certificate
Add trust badges
Display contact information
Trust signals such as these will help you earn your customers' trust and motivate them to continue with the checkout process.
Take a look at how Taylor Stitch uses trust signals on the checkout page. They have a "Why Choose Us" section on their checkout page where they explain the benefits customers can enjoy when they make a purchase.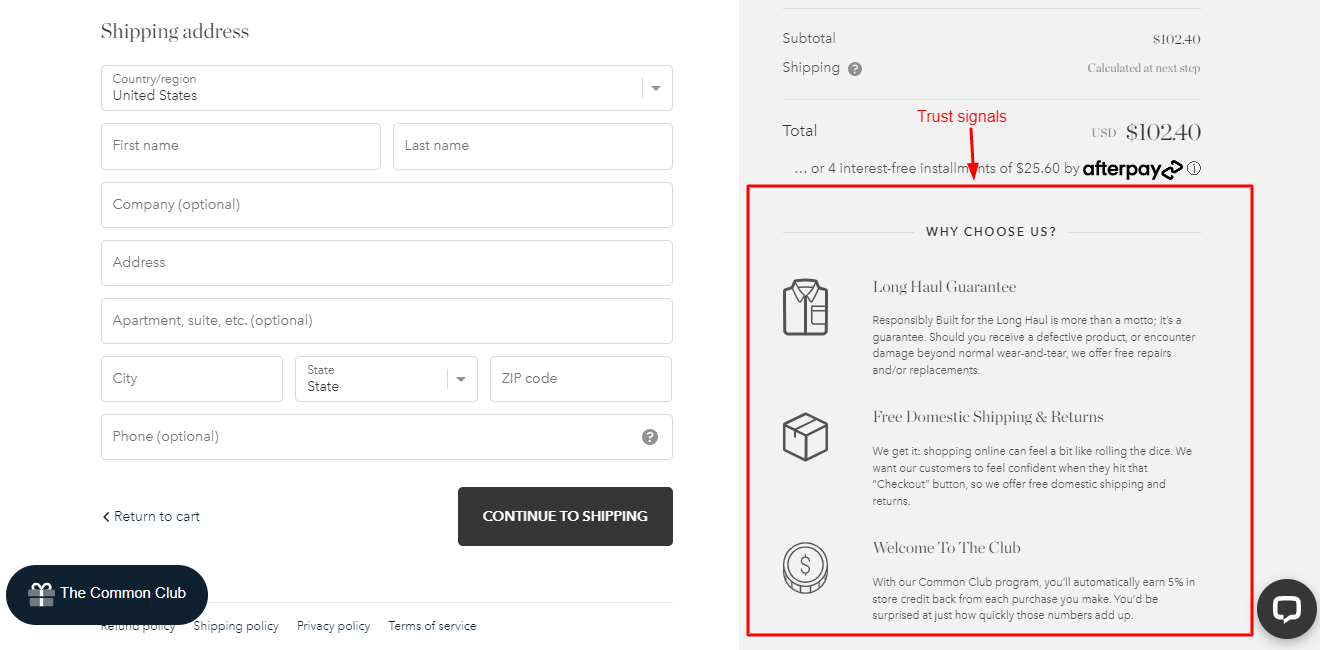 12. Have support readily available
Another common reason why customers abandon ecommerce checkout is that they were not able to get in touch with the company immediately. Incorporating workforce optimization tools can be beneficial in identifying the busiest times of the day or week and effectively managing staff resources, guaranteeing customer assistance during the checkout phase. Delivering customer support at the right time can be the difference between a completed purchase and an abandoned cart.
Sometimes customers are looking for some extra information about a product or have an inquiry. Encourage customers to use live chat and email support to help them resolve their queries quickly.
Study the reasons customer abandon their carts and offer relevant support to get them to complete the checkout process.
In the example below, Allbirds has a chat button customers can use when they need help with their order.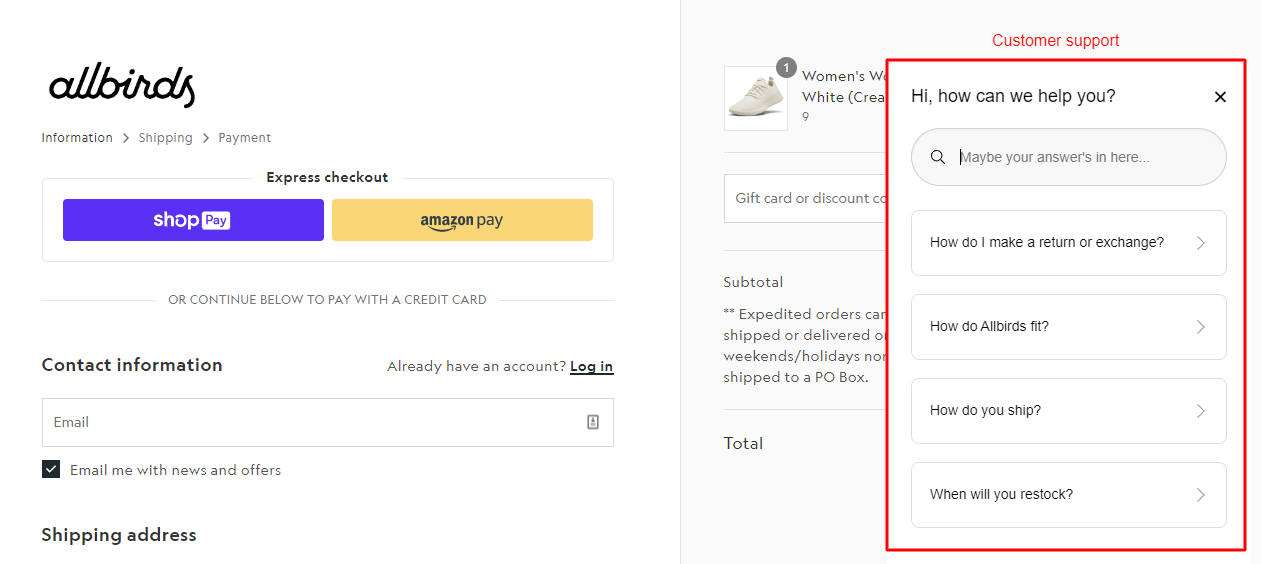 Even if you have a perfect checkout flow, customers will still abandon their carts. When that happens, a great automation workflow can help you recover those potentially lost sales.
13. Include explanations for important conditions
Microcopy refers to the words that you place on text placeholders in form fields, call-to-action buttons, etc. Such small pieces of valuable information can help make your ecommerce checkout process easier to complete and prevent shoppers from making errors.
You can use microcopy to guide users on how to fill in the form fields on the checkout page or tell them about extra charges, shipping policies, and other such information.
Providing customers with all the information they need makes it easy for them to follow the checkout process and eliminates any frustrations that can cause them to leave your ecommerce site.
Queen Garnet explains its shipping policy in great detail to help users understand how they will receive their products after purchase.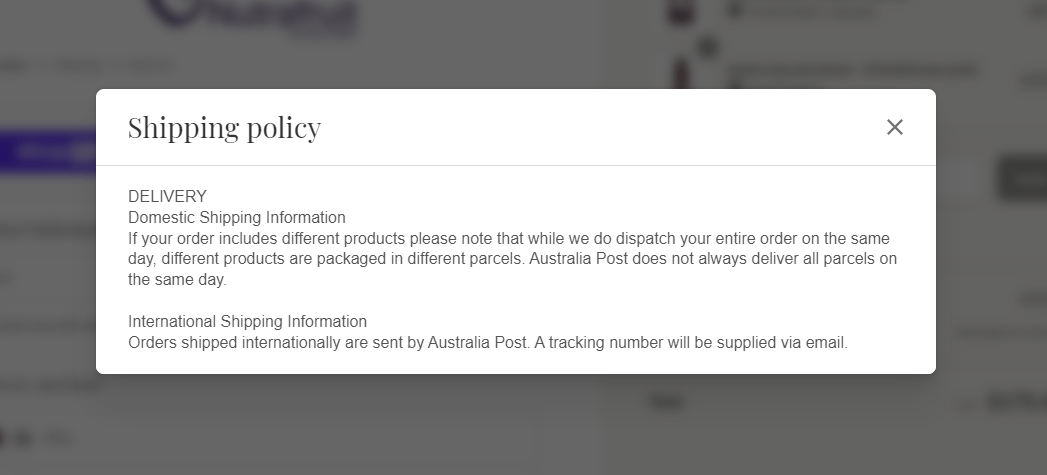 14. Offer extra products (in a non-pushy way)
When a customer makes it to your ecommerce checkout page, they have their heart set on buying the items they've added to their cart. However, some strategic product suggestions at this stage can encourage last-minute additions to their carts.
The key to successfully selling to customers at this point is not to be intrusive and only make recommendations that are relevant to the shopper. Any other marketing at this point is unnecessary and could act as a distraction that draws customers away from the checkout process.
For example, if a customer visits a certain product in your store but proceeds to add a different item to their cart, you can recommend the first product to them during checkout.
In the image below, Taylor Stitch recommends a wallet to a shopper who had bought a robe and was about to checkout.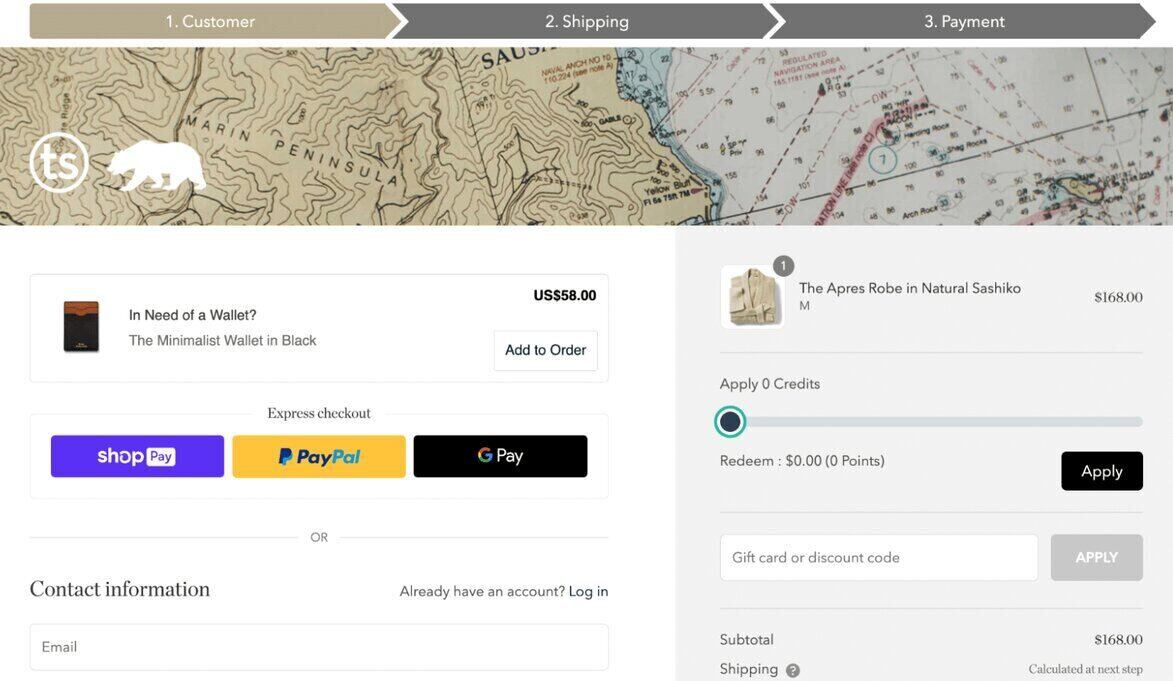 15. Add a background
Sometimes, your cart abandonment rates could be high because your checkout page is boring.
If you're not providing customers with a branded user experience throughout the checkout process, you increase the chances they will drop off without completing a purchase.
Most ecommerce stores provide a simple way to customize your checkout page. Take advantage of this and add a background image to personalize your ecommerce checkout.
Adding a background image to your checkout page is very simple. First, decide on the image you want to use. You can choose an image that represents your brand or a design that captures your store's aesthetic.
From the admin panel, upload the image to your checkout page and save it. Finally, load the page on a browser to ensure important details have not been cropped out. Adjust accordingly if need be.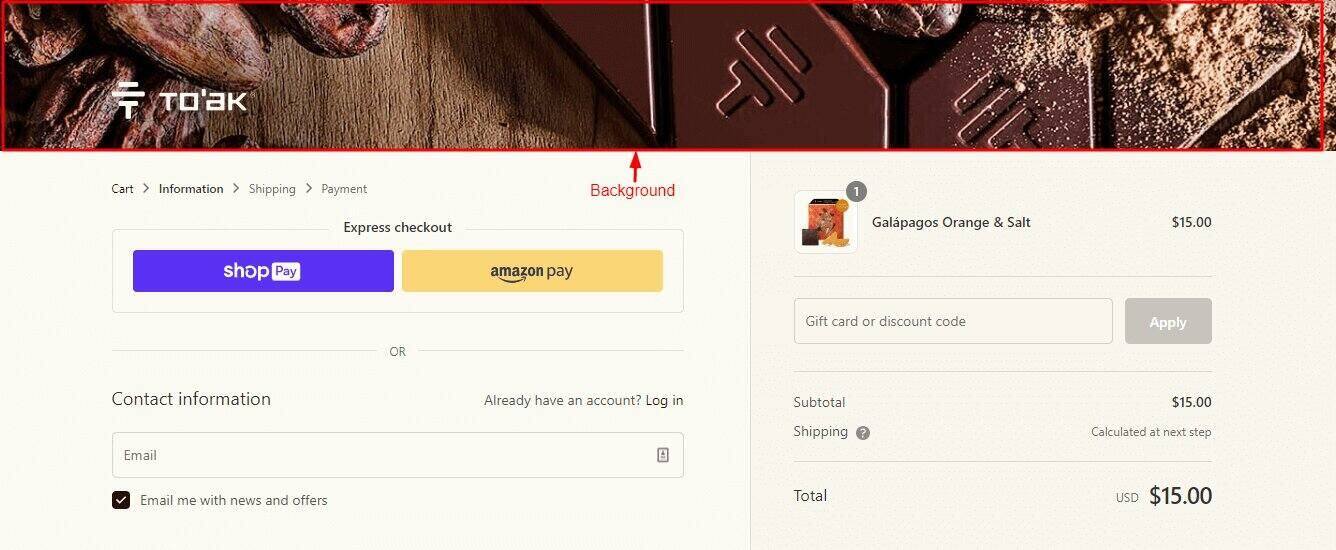 16. Allow extra perks
Lastly, consider allowing customers to personalize their orders during checkout to optimize your ecommerce checkout process. Any strategy that provides additional customization is highly encouraged since it makes shoppers feel special.
For example, you can allow customers to add a gift message when they purchase a gift box from your store like in the image below.
This act may appear simple but can it boost your conversion rate since it allows your shoppers to spread love and joy through the items they buy from your store.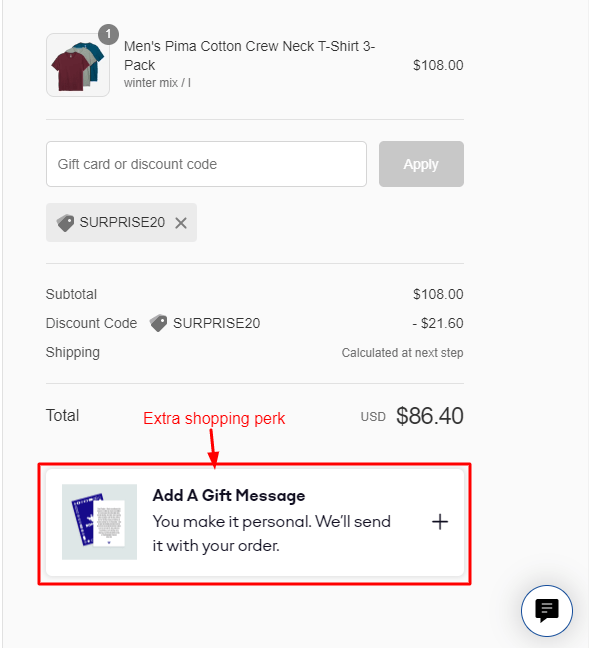 Ecommerce checkout: summary
Ecommerce checkout is the process customers go through when buying products from an online store. It's arguably the most important part of the buying process since it determines how many visitors you can convert into actual buyers.
But there seems to be one problem—cart abandonment. Many customers abandon their carts when the checkout process is not smooth. The factors responsible for cart abandonment include hidden costs, forced account creation, and insufficient payment options.
Continually optimizing your ecommerce checkout is important if you want to make more sales. The strategies shared above will make your checkout experience smooth for shoppers.
Get started with Omnisend today & drive sales on autopilot with pre-built automation workflows
Start Free Today
related features
Want more sales?
Omnisend has everything you need to succeed.
Start free now
No Credit Card needed.