Drive sales on autopilot with ecommerce-focused features
See Features
Reading Time:
3
minutes
We're excited to announce that Omnisend has added the optional Double Opt-In feature to all our forms.
That's right—from now on you can choose to add the double opt-in feature on your signup forms to increase the quality and integrity of your contacts.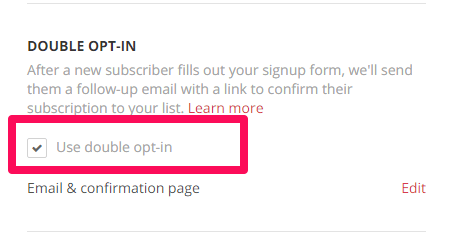 Still working on building your email list? Read here how to build an email list from scratch.
What is Double Opt-In?
While double opt-in is an increasingly common feature in growing subscriber lists, many people may still have doubts about what exactly it is.
Double opt-in describes the process by which your visitors will subscribe to your list. In double opt-in, they're asked to confirm twice.
Alternatively, there is also single opt-in, which only requires visitors to enter their email addresses and then they're signed up to your list.
The graphic below describes the differences: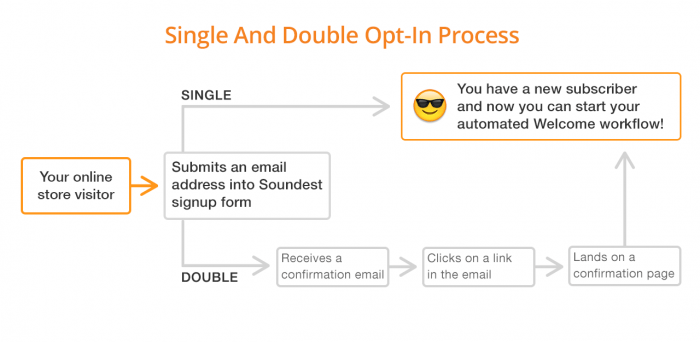 As you can see, with single opt-in, the visitor will simply enter their email address on your popup or other form.
Once they've done so, they are subscribed on your list.
With double opt-in, the user enters their email address as normal. A confirmation email with a link is then sent to that email address.
The visitor needs to click on the link in order to subscribe and lands on a confirmation page.
In that way, the visitor has to perform two actions (entering their email address and then confirming by clicking on the link).
What are the benefits of double opt-in?
There are generally two reasons why more and more services are moving towards double opt-in.
1. It improves list quality
The first and most important reason is that it can help to improve the quality and responsiveness of your subscriber list.
This may seem strange to many, especially considering that the more steps there are to users signing up, the less willing they will be to actually finish signing up.
But having a large list is not necessarily a good thing. Having a large, engaged list is a great thing.
Using double opt-in can help with that.
This is because when you ask your visitors to confirm by clicking on an email link, the ones who will finish that step will be the ones who really want to get your emails.
Many people sign up for hundreds of newsletters and services but end up ignoring those emails. With double opt-in, you can have a cleaner, more engaged list with great open and click rates.
2. It can avoid deliverability issues
One of the biggest threats to your email success is that your subscribers could mark your emails as spam or unsubscribe en masse.
Why would they do that?
Well, for one it could be that they didn't really want to sign up for your newsletters in the first place.
They may have simply wanted a freebie or to be entered in a giveaway. If they aren't really interested in getting your emails, they'll simply hit the subscribe button.
This could impact your deliverability later on, meaning fewer of your real subscribers will get to see your emails.
3. It limits spam
Your list could also be populated by spam email addresses that were entered by malicious spambots.
This is why Omnisend created the Spambot Hunter app, to help Shopify store owners eliminate spam contacts from their subscriber list.
If you sent emails to spam addresses or people who aren't really interested in your brand, you could suffer from deliverability issues or even spam complaints.
Double opt-in helps avoid that by creating that extra confirmation step. That will help to filter out the people who don't want to be on your list.
Using double opt-in with Omnisend
While we recommend that you use double opt-in for all your forms, by default it s not turned on.
Therefore, you'll have to turn it on manually for each appropriate form.
To find out how to do so for your forms, you can head to our Knowledge Base.
Start using Omnisend and supercharge your next email campaign!
Start Free
related features
Want more sales?
Omnisend has everything you need to succeed.
Start free now
No Credit Card needed.