Drive sales on autopilot with ecommerce-focused features
See Features
9 best Father's Day email examples to help you sell your products
Reading Time:
7
minutes
Father's Day is a great opportunity to get the dad in your life that special gift to thank them for being such a great father.
There's a popular and funny — albeit outdated — myth that the perfect Father's Day gift is either socks or a tie. Luckily, it's 2023, and there's a wide range of different gifts you can get that special dad.
These range from gardening, barbecuing, home improvement, to electronics, clothing, board games, hobbies and so much more. In fact, there's really no limit to what people can buy for Father's Day.
Omnisend is making it even easier to send out high-converting Father's Day email campaigns. Be sure to check out our Father's Day email subject lines article here.
And if you're looking to build your Father's Day email campaigns in literally minutes, be sure to check out our email template library: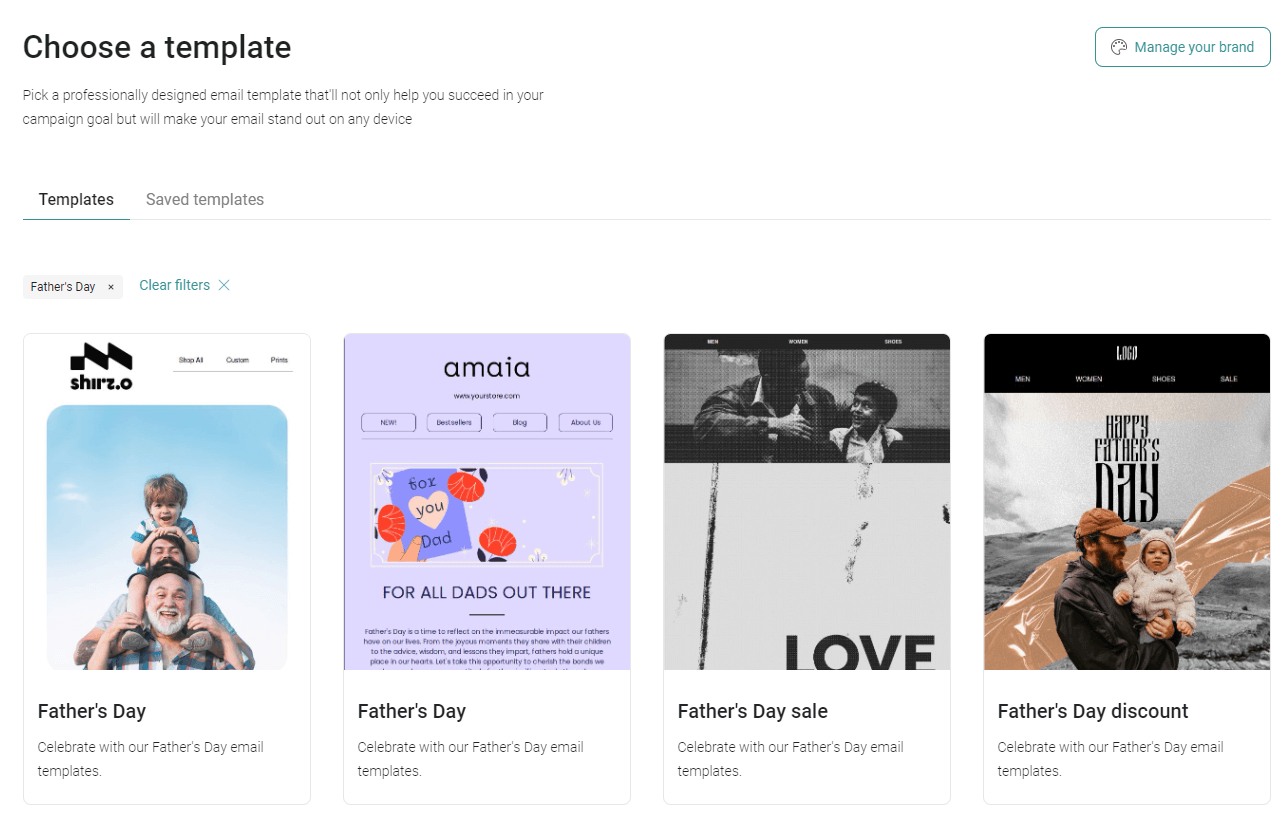 Build your Father's Day email campaigns in literally minutes with Omnisend
Start Free Today
To opt out or not?
First, however, let's talk about something a bit more seriously.
You see, there are some people who may not want to hear about any Father's Day celebrations. They still want to hear from your store, but they don't want to receive Father's Day communications.
We discussed this previously in light of Mother's Day sensitive opt outs, and the same reasoning stands:
Due to possible trauma — think of the parents lost due to the pandemic — or a variety of other reasons, there could be a portion of your subscribers that would prefer not to get Father's Day communications.
For that reason, we've created a step-by-step guide about how you can make the holiday opt-out process easier and update your preference management.
You can watch the quick video below to get more information:
Different promotion ideas for Father's Day
There are lots of ways you can promote your Father's Day offerings.
Let's go over some of the most effective:
Limited-time offers: Create a sense of urgency by including limited-time offers or promotions in your emails. Highlight that the deals are available for a limited period or offer exclusive discounts for early bird shoppers. This can incentivize recipients to take immediate action.
Gift guides: Curate a selection of gift ideas in the form of a gift guide. Feature a range of products suitable for different types of fathers, such as tech gadgets, grooming products, outdoor gear, or personalized items. Provide descriptions, pricing details, and direct links to the products on your website.
Exclusive discounts: Offer special discounts or promotions exclusively to your email subscribers. This creates a sense of exclusivity and encourages recipients to stay subscribed to your newsletter for future offers.
Whichever type of promotion — or combination of types — you choose, make sure that you have a plan in place. Father's Day is June 18 this year, and you shouldn't be sending out your first campaigns on June 17.
While Father's Day isn't a major holiday, it's still a good idea to start no less than two weeks before Father's Day. In fact, the beginning of June might be the best time to send out your first campaign.
And here, "first campaign" implies that you're sending multiple emails — and 3-5 emails might work best. Of course, you should test and see which works for your particular brand.
9 best Father's Day email examples
Let's look at some great Father's Day emails from ecommerce brands using Omnisend to help inspire you.
#1 Hallmark UK: "Father's Day Cards for Every Dad 💙"
The first great example comes from Omnisend customer Hallmark, who — let's be honest — really knows how to talk about special occasions.

Here, they're leading with a strong dad image that communicates love and trust. Besides offering a standard Hallmark card, they're going with some special editions just for dad. The images lead the way here, with minimal copy.
#2 Snap Supplements: "Last chance for Dad's day deals!"
Next up is an offer that's great for health-oriented dads. Snap Supplements maintains the supplement-style email structure that works well for their industry:

They've categorized their products in terms of benefits for dads, and, similar to Hallmark, leading with a dad-oriented image.
#3 Feel22: "What Dad Wants, Dad Gets 💙"
A classic gift for Father's Day — a grooming set that shoppers simply can't go wrong with.

Compared to others on this list so far, Feel22 doesn't lead with a dad-oriented image. In fact, they don't have any images of people at all. Instead, they've focused entirely on their products, with a cool color palette that's maintained throughout the images and copy.
Still, it would be interesting to see how the email would look if they'd incorporated a dad image.
#4 Simply Seattle: "🚚 📦 Get Your Father's Day Orders In!"
Simply Seattle keeps it sports-related with athletic and casual apparel. They open with a call to attention for the limited-time offer that's set to expire soon (this email was sent out last year).

While they don't lead with any dad-related images, they do have images of men sporting their apparel. And they've done similar to Snap Supplements, by categorizing their clothing for dads.
#5 Aussie Gardener: "Happy Fathers Day"
Summer is a great time for the entire family—dad included—to spend time in the garden, and Aussie Gardener really capitalizes on this. Wonderful that they're leading with a dad-related header image:

What's really great here is that they give a heartfelt first few paragraphs to a personal dad-related story, which really helps build up the brand, before going into their products.
#6 Casinetto: "This Father's Day, cook a meal for dad"
Casinetto leads in with a nice, summer-related image of food prepared on a table. This is really great for setting the mood of barbecues and summer parties.

They go with minimal copy here, instead giving only details of the products. Again, I'm sure the email would be improved with one or a few dad-related images.
#7 Jackson Vaughn: "Celebrate Dad, Even if he has the worst jokes!"
Jackson Vaughn opens their email with the best — or worst — dad joke out there, helping to set the light mood of the email campaign:

Besides the joke opener, they focus squarely on their raison d'etre: candles for every occasion (and mood), helping recipients choose the best candle that fits the dad in their lives.
#8 Smartwatch for Less: "Happy Father's Day 👨 Ends Tonight"
The last one proves that sometimes keeping it simple really pays off: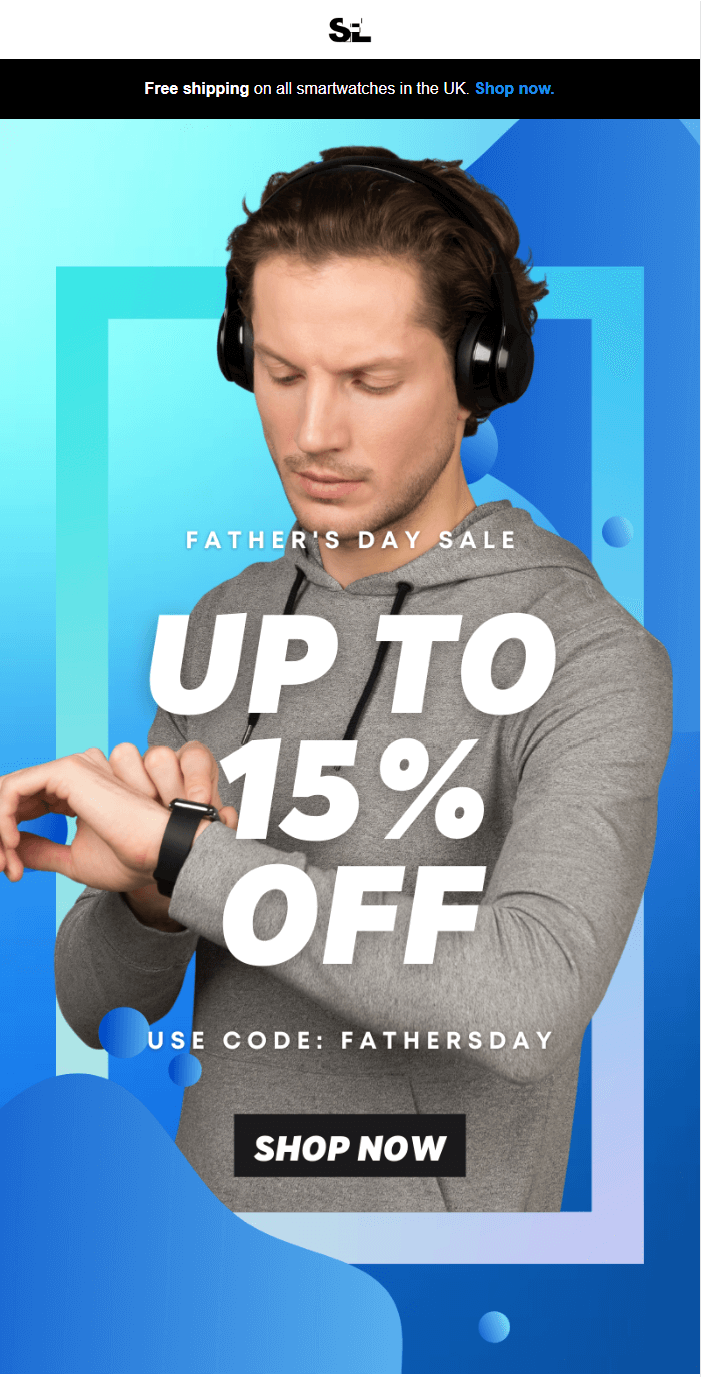 Here, Smartwatch for Less are relying on a big image (not necessarily a dad, but at least an adult male) and a big bold offer and a simple CTA to "shop now."
Simple, straightforward.
#9 SmartMouth: "Happy Father's Day 🌟 Last Day to Save 20% Sitewide 🌟"
We mentioned earlier that you can get literally any gift for Father's Day and we certainly weren't joking. SmartMouth proves that with their great-looking email: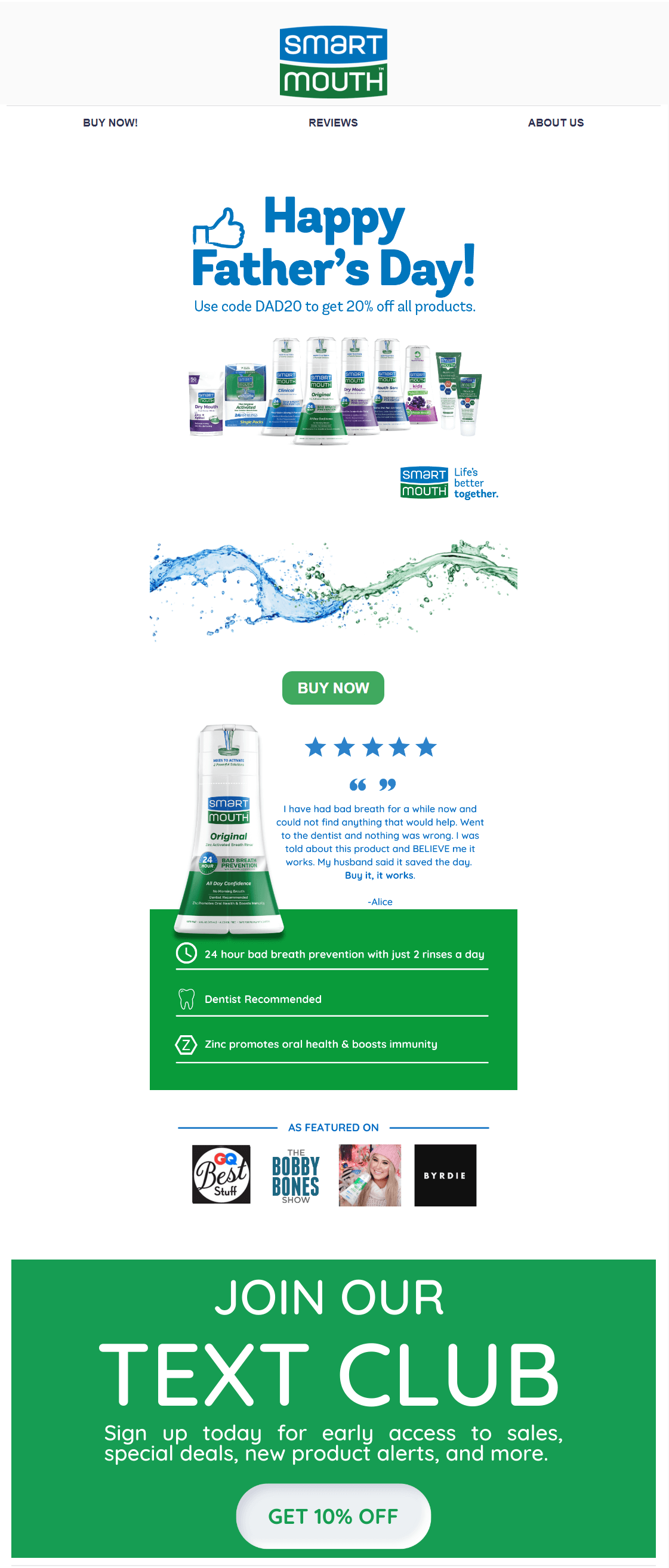 The brand has really strong colors, and the email flows extremely well. While they don't have any dad (or human-related) images throughout most of the email, instead focusing on their products, the email still works really well for Father's Day.
How to segment contacts for Father's Day campaigns
You can certainly send out Father's Day campaigns to all your subscribers but — if you've got a list of about a thousand or more — we recommend you segment so that you can send more personalized communications.
For example, Omnisend's omnichannel research showed that when you compare segmented with non-segmented campaigns, segmentation helped get:
62% higher order rates
52% more click-throughs
110% more opens
And that's largely because people respond better when emails discuss their needs or wants. More relevant content equals more engagement and more sales
For Father's Day, you can segment your contact list based on their:
gender
location (city, country or region)
profession
industry
relevant data for your products
It makes sense to send these emails to people who are going to give gifts to dads, rather than send them to the dads themselves. Think of sons/daughters, wives, colleagues, friends and other people, who would most likely want to celebrate the fathers in their lives.
Wrap up
When planning your Father's Day email campaigns, you should make sure that you select a responsive and mobile-friendly email template to guarantee optimal viewing for your subscribers.
All of Omnisend's email templates are optimized for mobile, giving your readers the best experience no matter what device they're reading on.
You should also remember:
Personalization is crucial. Leverage relevant customer data to tailor your emails, promoting products or enhancing your Father's Day campaigns based on individual preferences and interests.
Consider sending multiple Father's Day emails. Don't just send a single email and expect all the sales — give your recipients a few emails to be made aware then reminded of your great deals.
Segment your audience into relevant groups for Father's Day. This enables you to deliver targeted messages that resonate with specific demographics or interests.
Maintain your brand identity throughout your Father's Day campaigns. Whether it's showcasing the significance of fatherhood, offering exclusive deals for dads, or sharing heartwarming stories, aligning with your brand values strengthens customer loyalty.
By following these guidelines, you can create amazing and profitable Father's Day email campaigns that engage your audience, drive conversions, and honor the special dads in your customers' lives.
Get a jumpstart on your Father's Day campaigns now with ready-made templates
Start Free Today
related features
Want more sales?
Omnisend has everything you need to succeed.
Start free now
No Credit Card needed.