Drive sales on autopilot with ecommerce-focused features
See Features
Reading Time:
6
minutes
The holiday season is the most competitive yet potentially most lucrative time of the year for ecommerce. However, you'll need to work with iOS 15 with your holiday planning.
With this in mind, now is the time to launch your best, most compelling campaigns that hopefully cut through the noise and enable you to stand out.
However, changes have come with the iOS 15 release. You need to consider the iOS 15 impact as you develop your holiday marketing strategies.
In a move to enhance privacy protection for its users, Apple has included several updates to the iOS 15 that impact email marketers severely. Among the most significant changes is the inability to track email opens on the iPhone's Mail App.
This practically renders the open rate metric useless. Marketers must adapt to the change quickly or they risk missing out on holiday sales.
Omnisend gives you the data you need to evaluate your promo campaigns beyond open rates.
With it comes a powerful email builder and customizable automated workflows. Essentially, it's a single platform on which to manage all your marketing channels.
To see how Omnisend helps with iOS 15 holiday planning, let's explore the update further.
iOS 15 Holiday planning: How to approach Holiday promo planning post iOS 15
The iOS 15 impact on holiday advertising and marketing is undeniably significant. The redundancy of open metrics is difficult enough, but it brings more challenges to the table.
Nevertheless, it presents an excellent opportunity to outshine your competitors. Become more nimble and quickly adapt to the changes.
You'll need to overhaul your promotions campaigns in this post-iOS 15 world of digital marketing. When doing so, here are the most significant things to consider:
Forget about remailing
'Remailing' has always been a useful tactic for increasing views for an email. It involves resending an email to subscribers that ignored the first send out.
Typically, marketers change the subject line in hopes of getting the recipient more interested. If successful, it's a simple way to increase the mileage of an email campaign and gain additional revenue.
With the iOS release making open rates an unreliable metric for campaign performance, there's little point in chasing after it.
Therefore, rather than remailing, you're better off tracking non-engagers and reaching out to them in completely different ways.
For example, you can track all email recipients that didn't click through and reach them via SMS. Text messaging gives you another channel on which to connect with your audience.
It's an excellent way to get their attention because their smartphones are always within reach.
However, this closeness also means you need to use holiday SMS promotions only in the most personalized, clever, and strategic ways.
Craft clever subject lines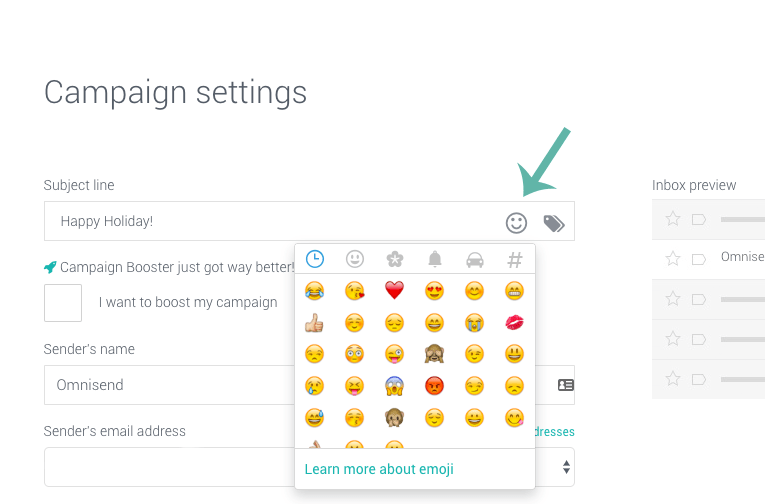 Measuring open rates will no longer be useful in tracking your holiday marketing performance. However, you still need to make sure your recipients open your emails.
Otherwise, your campaign will be completely useless no matter how awesome your layout and how engaging your content might be.
Exert extra effort on crafting your subject lines and optimize your preheaders for maximum engagement. Pay especially close attention to how your subject lines appear on mobile phones where they will be truncated.
In the context of holiday marketing, consider how many of your competitors will be sending promotional emails at this time of the year.
Then, add to that the other retailers you might not be in direct competition with but are also competing for attention on your subscribers' inboxes.
Your email subject line needs to be much more compelling than theirs to stand out.
There are plenty of so-called rules in crafting email subject lines. Among the most debatable ones involve the use of emojis and all-caps text.
These undoubtedly help in making your emails stand out. If it suits your audience, don't be afraid to use them.
If you're unsure, a simple A/B test should point you in the right direction.
Make your purpose clear
You can develop holiday marketing ideas—translating them into high-performing email campaigns is the challenge. This requires more strategic thinking.
You can come up with the most visually stimulating design and provide the most relevant content. But without a clear intention, your campaign won't produce the engagement you need to impact sales.
If you want your recipient to answer a survey, focus your email on giving them a compelling reason to do so as well as providing an easy way to participate.
If you want your subscribers to avail of a promo, give them a clear call to action. If you're sending out post-purchase emails to prompt re-orders, make sure your intention is obvious.
Identify a clear objective for every email in your campaign and make sure every element of the design and content serves that purpose. No matter what your objective is, use clever design to move your recipient along the path you want them to take.
Provide value-adds in all messages
The iOS 15 update means that there are now fewer metrics to show how well your campaigns are performing.
It helps to put your best foot forward and go beyond designing for a purpose to incentivizing your desired action through value-adds.
No one is more easily swayed by incentives than holiday shoppers, so try to be as generous as possible with your promo campaigns. Competition is fiercer than any other time of the year.
However, the holidays are the time to step up your game and make a compelling case for why your subscribers should stick to your brand.
Include incentives in your emails—this differentiates you from your competitors. These offer additional value on top of your products and services.
Value-adds can make all the difference. Think free shipping, free gift-wrapping, and hassle-free returns policies. Bring in more holiday shoppers and, consequently, better holiday sales.
Ensure all emails are mobile-friendly
Anyone who sees a broken email on their mobile device is likely to delete it without a second thought. Some might even unsubscribe.
Very few will remember to revisit it when they get to their desktop—fewer will make an effort to decipher the message anyway.
More people access their email accounts through their smartphones and tablets by the day. This makes it especially important for you to optimize your campaigns for mobile viewing.
Make your email templates responsive. Ensure they automatically adjust to display properly—no matter what device your subscriber is using.
Effective mobile-friendly design aims to keep everything simple. Priority calls to action should be accessible without having to scroll too far down. Plus, you should design for touch as well as clicks.
Don't have interactive elements, like links and CTA buttons too close to each other. Remember to always design for interactivity while keeping the thumb zone in mind.
Use click-based retargeting
The iOS 15 impact on email marketing means opens are dead, but clicks are still very much relevant and trackable.
This means you can rely on clicks to measure your performance. They also help to create hyper-personalized holiday email content that converts.
For this purpose, click-based retargeting would be incredibly useful.
Retargeting involves segmenting subscribers based on their interactions with your business. You use this customer data to refine your messages to ensure that they're relevant to and compelling for every recipient.
Click rates are easy to track, so you can use clicks (or lack of clicks) to target and connect with your audience segments.
During holiday promotions, target upsells to your customers. See who has previously clicked through to specific products or product categories.
You can also target those that didn't click and hopefully engage them with a better subject line and, perhaps, a better offer.
You can even send re-purchase incentives to those who clicked through and completed a purchase. Clicks are still a relevant metric—so consider click-based retargeting for your holiday marketing.
Make the most of automated workflows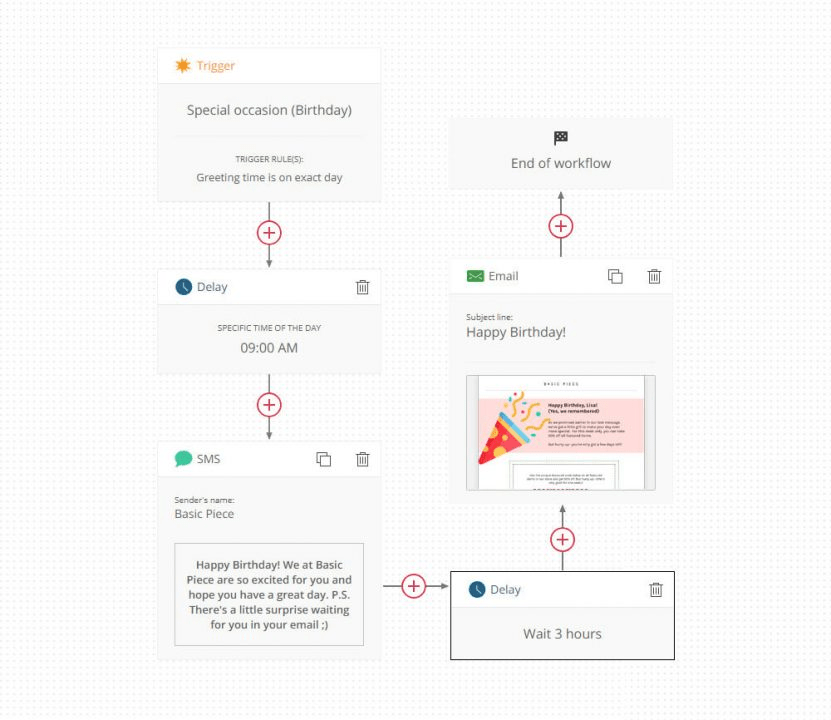 When you're uncertain about tracking performance, anchor your campaigns on what you know for sure works. In email marketing, nothing can beat the effectiveness as well as the efficiency of automated workflows.
Automated workflows send targeted messages to specific segments. These include subscribers that trigger them with a specific action.
For example, a new subscriber can trigger a welcome series while a new purchase can trigger an order confirmation.
Essentially, these workflows enable you to reach customers and drive sales on autopilot.
There are many ways you can use such a powerful email marketing feature. For holiday promotions, use for post-purchase confirmations, cart abandonment, and browse abandonment.
Wrap up
The significant changes brought on by the latest iOS release might be overwhelming. But, ultimately, the success of your holiday campaigns all boils down to engagement.
Now's the time to overhaul your strategy, forget about opens, and focus on metrics that matter: clicks, conversions, and revenue.
Omnisend enables ecommerce stores to quickly acclimatize to the new digital marketing environment spurred by the latest iOS release.
Get on it before you move forward with your holiday promotional planning. Start with Omnisend for free today.
related features
Want more sales?
Omnisend has everything you need to succeed.
Start free now
No Credit Card needed.