Drive sales on autopilot with ecommerce-focused features
See Features
Reading Time:
8
minutes
On September 14, Apple held its annual event showcasing its new upcoming products, including the updated iPhones, iPads, and Apple Watch. Along with that, it also announced the release date of its new operating system—iOS 15, which is coming Monday, September 20th.
If you're a marketer, you should've heard of this by now. Apple's iOS 15 announcement in June caused quite a stir, with its most important update centering on the fact that open rate tracking will be skewed for iOS contacts using the Mail Privacy Protection feature.
At Omnisend, we've been working hard to make sure that our customers will have minimal impact on their email marketing activities in the post-iOS 15 world.
Our new features will allow Omnisend users to:
create reports based on email client
A/B test the email content
use a pre-built segment for Inactive Email Subscribers
use web browsing data in segmentations
aggregate link click data using the Link Activity feature
schedule messages with timezone optimization and automation scheduling for specific week days
adjust your email attribution from "opens" to "clicks"
While the most recent Litmus data shows that Apple Mail commands around 50% of the email client market share, our own data shows that for our customers it's closer to 40%.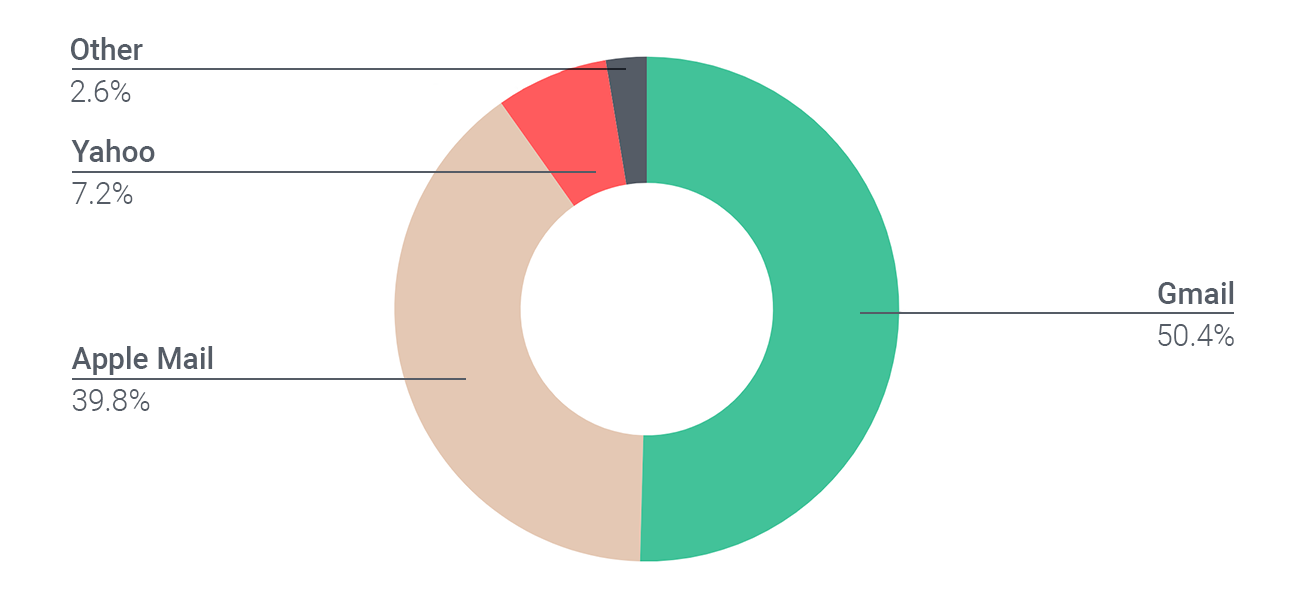 In either case, the bottom line is that iOS 15 is going to have a considerable impact on open rate tracking.
Omnisend customers are already feeling the impact, with 0.32% of contacts having already switched to Mail Privacy Protection.
We can estimate that the overall adoption rate for iOS 15, and more specifically the adoption of Mail Privacy Protection, will be similar to Apple users' adoption of 14.5, which stands at around 96%. This will most likely be a gradual adoption, as more people update their OS in the upcoming days, weeks and even months.
Nonetheless, we should take the Apple Event as the hard deadline for shifting our marketing focus towards other engagement metrics, the most important of which is sales and conversions.
Now, let's look at what you can do with Omnisend to navigate the post-iOS 15 world.
Analyze your current contact makeup
Primarily, you'll want to take a look at what kind of impact the iOS 15 update will have on your current reporting and segmentation.
Omnisend is making this easier by introducing our first new feature: the ability to create reports based on your contact's email client.
This will allow our customers to easily track and break down email opens by client and get a full and accurate view of what portion of your contacts use Apple Mail. You'll soon see this information in the campaigns report: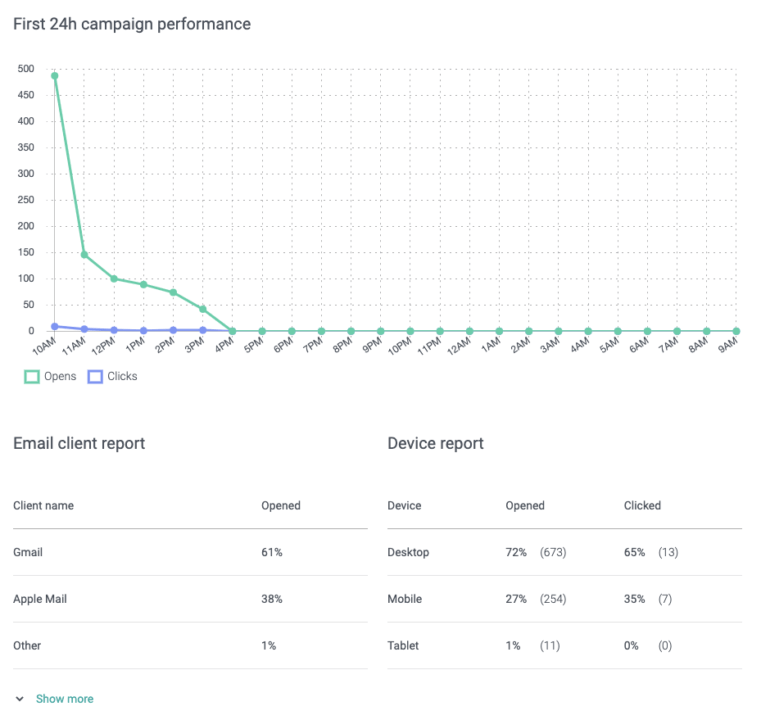 A/B test your content
A/B testing is one of the best ways to refine your messages and gradually improve the performance of your email campaigns.
However, A/B testing has relied heavily on open rate data. Normally, marketers would be able to A/B test subject lines, with one portion of their test group being sent subject line A, while another gets subject line B. The subject line with the highest open rate would be the winning version, and that would be sent to the remaining contacts in the list.
So, with the new iOS 15 release, you can see how that will negatively affect marketers. That's why we're pretty excited to announce the release of a new type of A/B testing that will allow marketers to test the content of their emails.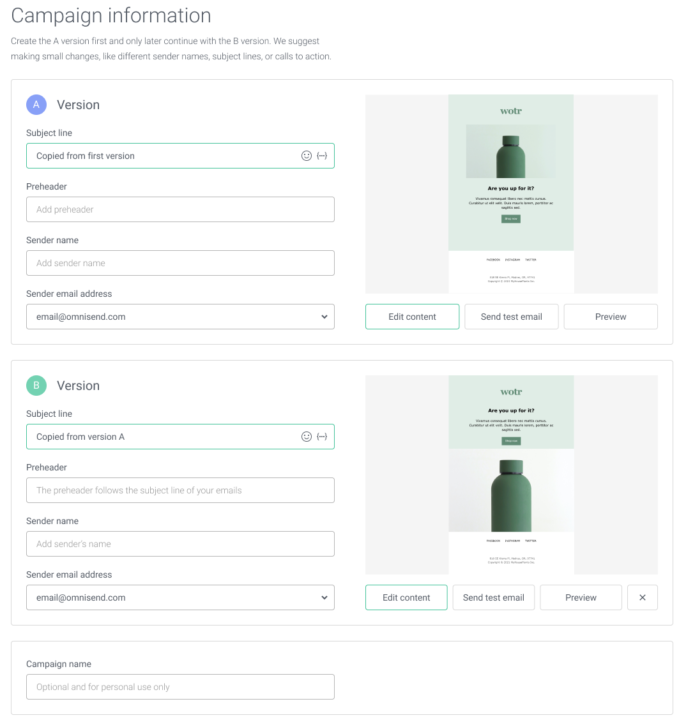 That way, you can gain two huge advantages:
Test more elements: now you get to see which content in general is better, not just which subject line is better
Get more meaningful results: the A/B testing results will see which email content performs better in terms of conversions, so that you don't just get better opens, you get better sales
Clean up your list
While we always recommend our customers regularly clean up their email lists in order to remove unengaged or spam email addresses, it's going to be more important than ever to do that now.
Using the engagement data that you still have, you should look towards identifying your inactive contacts and sunsetting them. Alternatively, you can send a "final" reengagement email that has a CTA asking them to click if they still want to receive emails from your brand.
Omnisend customers can use the pre-built segments for Inactive Email Subscribers that are already built based on list engagement.

You can also clean up your list by segmenting users who have not visited your store in a certain amount of time by using web browsing-based segmentation. This engagement metric does not rely on opens or clicks, but instead on a user's actual interest and visit to your store:

This information will be crucial after iOS 15, when open rate data is hidden or skewed. At that time, web activity-based segmentation will become one of the most effective ways to measure if a contact is still engaged with a brand.
Adjust your segmentations
If you haven't done so already, make sure to save the segment of your engaged email recipients that have recently opened your emails. You can do this using Omnisend's pre-built Active email subscribers segment.
This list will still be useful post-iOS 15 as you test new segmentation options to replace engagement by opens.
Beyond that, Omnisend is soon rolling out a new feature that will allow you to use web browsing data in your segmentations. The correlation here is pretty clear: those customers that have browsed your pages are more likely to be engaged and interested in your brand than those who haven't visited your pages in a certain time period.
The new web browsing segmentation will allow you to target your contacts using first-party data. You can get granular with this data to suit your needs, such as segmenting contacts that have visited X amount of pages, or who have visited the same pages X amount of times.
For example, if you're selling pet food, you can create separate segments for those contacts who have visited cat pages or dog food categories. This segment can be for contacts that have visited a particular page at least three times in the last month, for example, and you can identify that as "engaged" or "active" behavior.
Another option is to use the on-site activity metrics such as store visit frequency over the last 30 days as a proxy for a contact's engagement with your brand. This type of segmentation can not only replace the standard open-based engagement metric, but also improves upon it.
Omnisend users can also segment their audience based on email clients to better plan their campaigns. For example, users will be able to grab the portion of their contacts who opened campaign emails using Gmail or Outlook and section off those on Apple Mail.

Lastly, you can use Omnisend's Customer Lifecycle Stages feature to identify your customers in the range from least active to most active.
This feature is based on RFM analysis, which stands for Recency (how recently a customer purchases from your brand), Frequency (how often a customer purchases from your brand), and Monetary (how much a customer spends on their orders).
RFM analysis holds a "next order date" prediction, so it can be used to time a likely next purchase, or engage customers who should've purchased again but have not yet done so.

Change engagement from opens to clicks
We've mentioned multiple times in the run-up to the iOS 15 release that marketers should stop focusing on opens and instead shift their focus to clicks.
After all, it's one of the clearest metrics for engagement (next to the ultimate conversion, sales). Moving to true engagement metrics such as clicks and down-the-funnel conversions will help you understand what your customers find most valuable so that you can further improve your email and SMS content.
In order to help facilitate this shift, we've recently added Link Activity information in our campaign reports.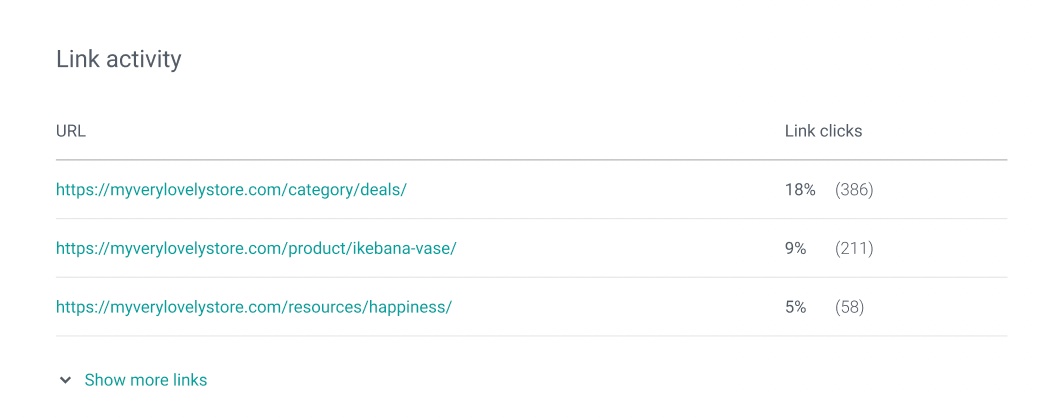 While our campaign click maps help you visualize the performance of each clickable email element, the new Link Activity report aggregates this information for each unique link so that you can understand not only what links work best in a particular email, but also what type of information has the highest engagement in total.
These can be CTAs to your product pages, your About Us, your social media channels, a resource, or other types.
This will help you to shape your messages to include better-performing elements, based on the aggregated information from the Link Activity report.
New ways to optimize your sending time
With the decreased accuracy of open rate tracking, it will be much more difficult for marketers to test and identify the best time to send out or schedule their campaigns.
This is understandably one of the more difficult parts of email marketing campaigns. To help navigate this issue and hit your contacts' inboxes at the right time, Omnisend is introducing new options to schedule your messages with timezone optimization and automation scheduling for specific week days.
In automations, you can now select specific weekdays that you want to send out your messages, such as wanting to avoid sending certain messages on weekends.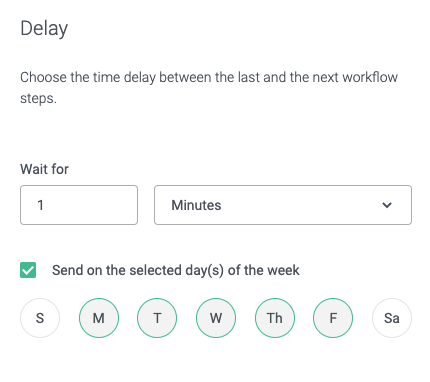 In promotional campaigns, Omnisend users can now use timezone scheduling to make sure your morning-specific messages are actually sent out in the morning, no matter where your contacts are.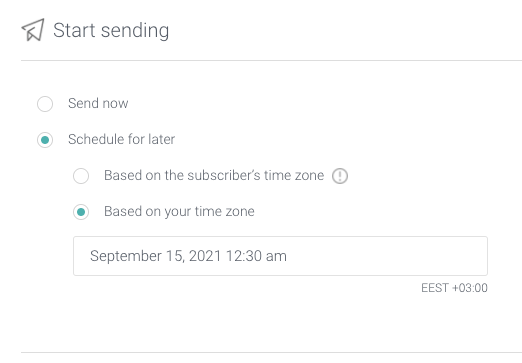 Adjust your email attribution
If you have a lot of customers that have switched to iOS 15 and are using Mail Privacy Protection, you will have inflated open rate data.
For that reason, you may feel that using open rates as an order attribution event is no longer valid, which is why you can now choose to use either opens or clicks as the defining event in Omnisend: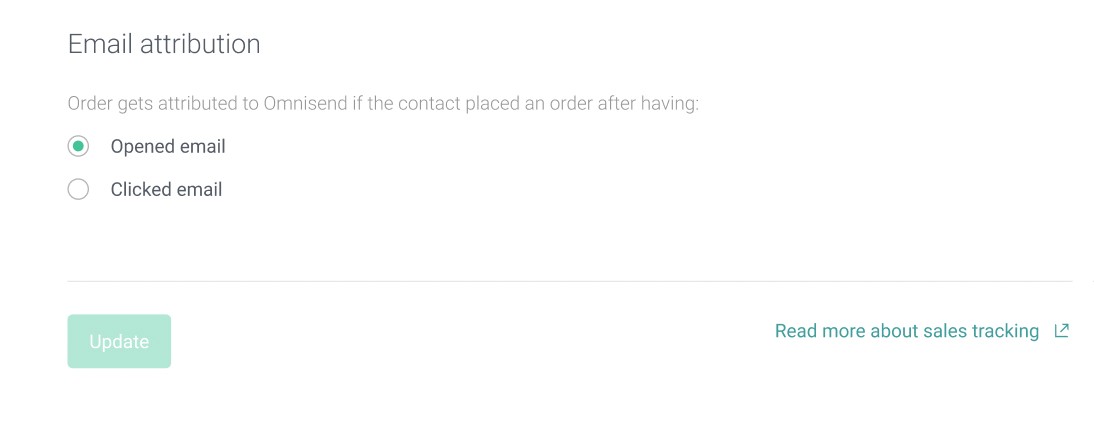 You can make the switch at any time, but we'd recommend doing so only in the event that you notice your order attribution becoming unusually high.
It's also worth noting that this change in attribution won't apply retroactively, so it will only go into effect after you've made the change.
Bottom line
As you can see, Omnisend is doing a lot of work to make sure that our customers are ready to not only survive or maintain their business in the wake of the iOS 15 update, but also to thrive in it.
This is certainly a good change for the marketing world, as it brings about the end to a 20-year old email best practice that has often turned into a crutch. Frankly, open rates have sometimes acted as vanity metrics and even replacements for true engagement and conversion metrics, which it was always only supposed to assist in.
While the change is coming hard, and with very little choice, the best way forward is to adapt effectively, which requires proper assessment, preparation and new tactics.
As always, here at Omnisend we're working to bring nimble marketers best-in-class capabilities to pivot as the landscape pivots. This means finding new ways to understand their customers better and target them with more personalized messages—all while keeping Omnisend's signature ease-of-use.
If you haven't started using Omnisend yet, see how easy it is to grow your business in any conditions.
related features
Want more sales?
Omnisend has everything you need to succeed.
Start free now
No Credit Card needed.