Drive sales on autopilot with ecommerce-focused features
See Features
Reading Time:
7
minutes
Klaviyo is one of the most popular email marketing platforms for ecommerce brands. More than 100,000 companies rely on their services to draft emails, automate campaigns, and delight customers with personalized messages.
But with recent price changes taking effect in 2022, Klaviyo may no longer be a sustainable option for larger brands. Unlimited emails are no longer provided— even on the highest tier. Additionally, SMS and MMS sends are now based on credits rather than the number of people who opted into your campaigns.
In terms of monthly cost, Klaviyo's Free plan is still $0 per month. Their Email and Email and SMS plans rose to $20 per month and $35 per month for lists between 251 and 500 active profiles.
Existing customers will see these prices take effect on September 1, although new clients are already presented with this new price scale:

With so many price changes taking effect, it can be hard to know which of Klaviyo's plans offer the best bang for your buck. Which plan should you choose for your ecommerce brand — and why?
Let's dive in.
Which Klaviyo pricing plan should you choose?
Like Omnisend, Klaviyo offers three tiers for email marketing:
Free plan
Email plan
Email & SMS plan
The enterprise option, Klaviyo One, won't be discussed here, but keep in mind that its price is 20% of your total monthly spend. If you spend more than $10,000 per month on your monthly plan, it will be mandatory to join Klaviyo One.
Here's a quick breakdown of each plan's features and prices:
And here's what you'll pay as your contact list gets bigger:
Klaviyo's prices get progressively larger as you add new profiles to your contact list. If you have less than 250 contacts, you can't upgrade to non-free tiers. And if you have more than 250 contacts at once time, you'll be forced to upgrade to a paid plan.
What's more confusing is that Klaviyo's SMS pricing is no longer dependent on active contacts. It's an add-on subscription that attaches to base platform packages. Credits don't roll over month to month, so if you don't use them, you lose them. And keep in mind that these credits cost more depending on the country you're trying to reach.
As you can see, there's a lot to know about Klaviyo's updated pricing plans.
Let's see which of them might be the best for your business.
1. Free Klaviyo pricing plan: Best for upstart brands
As a newer brand on the email scene, there's virtually no downside to Klaviyo's free plan. But keep in mind you won't have access to all available features. If you have a contact list greater than 250 active profiles, you'll need to upgrade.
Free plan features
Create an account
Import and sync your data
150 free SMS and MMS credits
Customize templates and emails
Access to 500 emails per month isn't all that bad for a relatively new brand. But if you hit the limit too early, you'll be barred from sending emails for the rest of the month.
Keep in mind that the 150 SMS credits can add up fast. It might take just one credit to reach a contact in the US, but it will take five credits to reach contacts in the UK. Some countries don't support MMS sends either, which means you need to be strategic about how and when you use your freebies.
Who should use the Free plan?
Startups and young companies find a lot to love in Klaviyo's Free plan. But if you want access to more advanced features like web push notifications and custom audiences, you're better off choosing a provider like Omnisend.
Start free today without spending a dime.
2. Klaviyo's Email pricing plan: Best for SMBs
This pricing tier works well for mid-sized brands that already have their feet on the ground. The features are robust and relatively accessible, but it's still more expensive than other comparable plans on the market.
Email plan features
Up to 150,000 contacts supported
5,000 monthly email sends
150 free monthly SMS/MMS credits (at a max of 500 contacts)
Live email and chat support
Access to company benchmarks
Klaviyo's Email plan lets your brand effortlessly scale with a contact list that grows alongside you. You can send 10 different campaigns per month, which is far better than the two you get from the Free tier.
The Email plan also lets you investigate campaign results alongside industry benchmarks. This helps you evaluate your campaign's performance alongside other brands in your niche, which can be very insightful as you hunt for a competitive advantage.
There are still some limitations to consider. Remember that additional SMS use requires an add-on. Your 150 free credits are a decent start, but they won't cover larger contact lists. Plus, you probably won't have access to a customer success manager (CSM) since you'll need to spend more than $2,000 per month.
If you need better customer support, SMS flexibility, and enterprise-level email marketing tools, it's best to upgrade to Klaviyo's third tier.
Who should use the Email plan?
If you're comfortable with email marketing tools without any of the bells and whistles, Klaviyo's Email plan is a decent place to start. Just be prepared to pay up.
3. Klaviyo's Email and SMS pricing plan: Decent for pre-enterprise brands
If your company is in an awkward transition phase between SMB and enterprise, the Email and SMS plan may be what you're looking for. But be warned: you won't have access to unlimited emails, so you'll still pay in full for all your active profiles.
Email and SMS plan features
Monthly SMS credits that scale with your brand (up to 450,000 per month)
Access to Onboarding Specialists and Customer Success Managers
Up to 150,000 contacts supported
10 email campaigns to every active profile
Priority customer support
This is the most robust plan offered by Klaviyo. You can access all of their features at once — including customer success managers and onboarding specialists.
But that doesn't mean this plan is free from restrictions. You won't be able to get unlimited email sends as in previous years, so your brand might be inadvertently punished for growing too quickly.
This plan also has the potential to get expensive fast. SMS credits are priced separately from email costs, which means your final price depends on the number of texts you send per month.
For clarity, here's a quick chart of Klaviyo's SMS credit prices:
Keep in mind that this list doesn't include the actual price of your plan. If you're reaching a max of 10,000 contacts per month, you'll pay $150 on top of the $90 required by your SMS plan.
If you don't factor these prices out in advance, your monthly bill can get expensive fast.
Who should use the Email and SMS plan?
This is a solid option for brands in the middle ground between big business and early enterprise. However, it still doesn't outshine tools like Omnisend, which offers email and SMS together at the same price. You can access unlimited email sends without paying extra per contact, and pay an average of 44% less per month.
And if you're migrating an existing account from Klaviyo, you'll save even more.
How Klaviyo pricing compares to Omnisend pricing
Klaviyo and Omnisend share many of the same features. Both offer no-code email builders with a gigantic library of templates. Both platforms support automations within email and SMS campaigns. Best of all, they both support a variety of third party integrations.
But when it comes to pricing, Omnisend reigns supreme.
With Omnisend, you have three pricing plans to choose from:
Free: $0 per month for access to all basic features — the only limits are your contact list and email sends.
Standard: $16 per month for live chat support, even more monthly emails, and a customer success manager starting at 60,000 contacts.
Pro: $59 per month for unlimited emails, priority support, and advanced reporting features for any campaign.
Omnisend is less expensive than Klaviyo in virtually every plan. Just check out the chart below: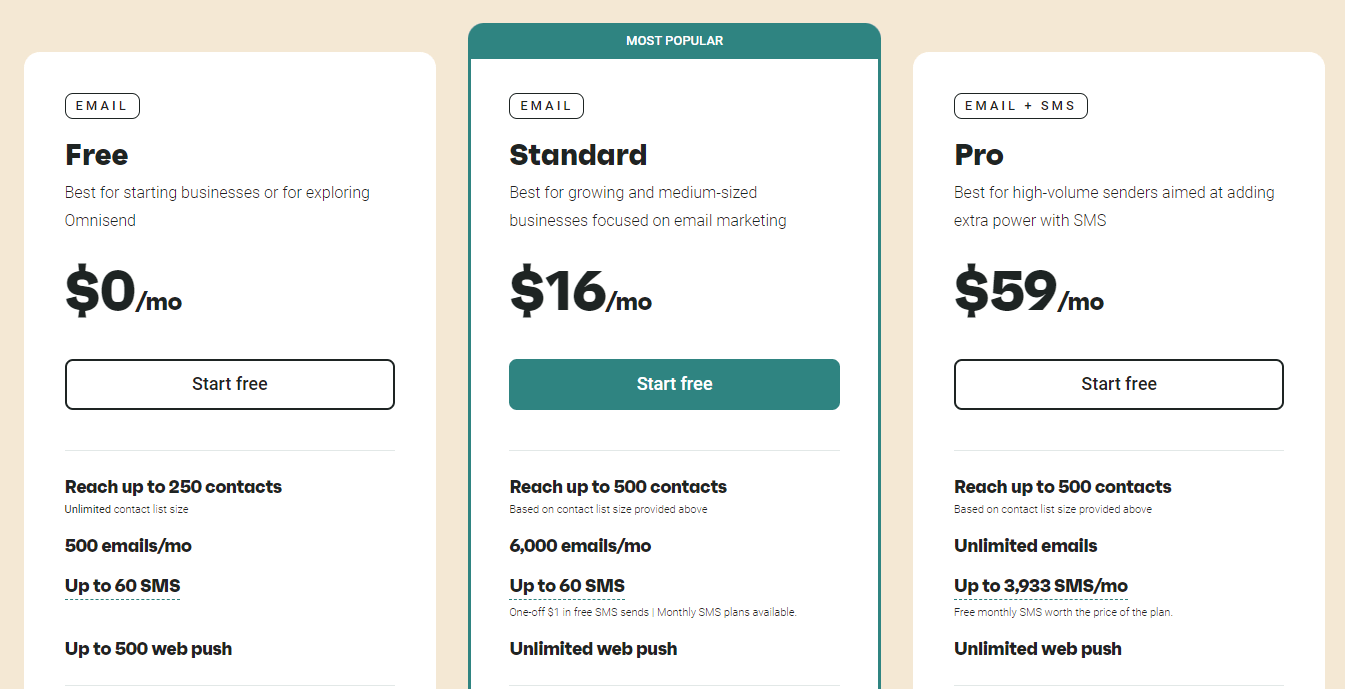 For the average brand, Omnisend is a whopping 44% less expensive than Klaviyo. And not only can you pick and choose the perfect fit for your brand, but we make it easy to save more on your next migration.
Current Klaviyo users can migrate to Omnisend for free — regardless of their monthly spend. And by reproducing your key segments, automations, and signup forms, we'll have you up and running in just three days.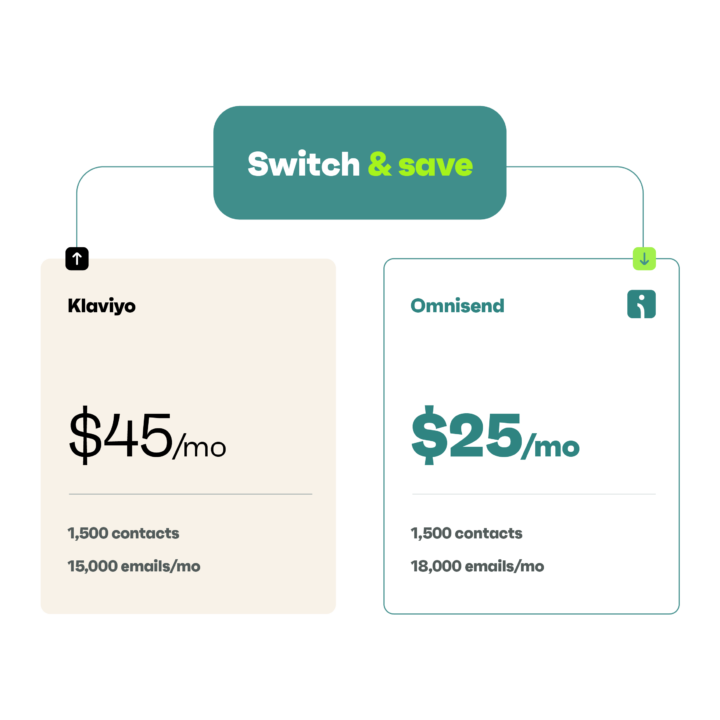 Apart from the dollar signs, Omnisend offers many of the things Klaviyo removed in its most recent pricing update.
We offer access to dedicated customer success managers when your bill reaches $400 per month. At Klaviyo, you have to spend $2,000+ to get the same benefit.
You can access unlimited emails using Omnisend's Pro plan. Unlike Klaviyo, your brand can scale worry-free once it finds its stride.
We provide IP and contact list warm-ups to avoid deliverability issues, which accounts for bottlenecks that Klaviyo doesn't address.
If you're a larger brand or agency, you can set up a multistore account with Omnisend. On Klaviyo, you'd have to create separate accounts for each store you're running—and all the hassle that comes with running separate accounts.
With Omnisend's multistore account capabilities, you can do it all from one account and easily toggle between stores.
If you're using Klaviyo for email marketing and unhappy about the pricing changes, you could turn to Omnisend to drop your monthly bill in a matter of minutes. And with a full 30% discount for the first 3 months, you can start on whatever plan works best for you.
Ready to give us a try for your email marketing campaigns? Make the switch today — or try us for free.
Ready to switch? Use discount code READY4BETTER and get 30% off your first 3 months
Start Free Today
related features
Want more sales?
Omnisend has everything you need to succeed.
Start free now
No Credit Card needed.