Drive sales on autopilot with ecommerce-focused features
See Features
Klaviyo SMS vs. Omnisend SMS: Functionality and Pricing Comparison for 2022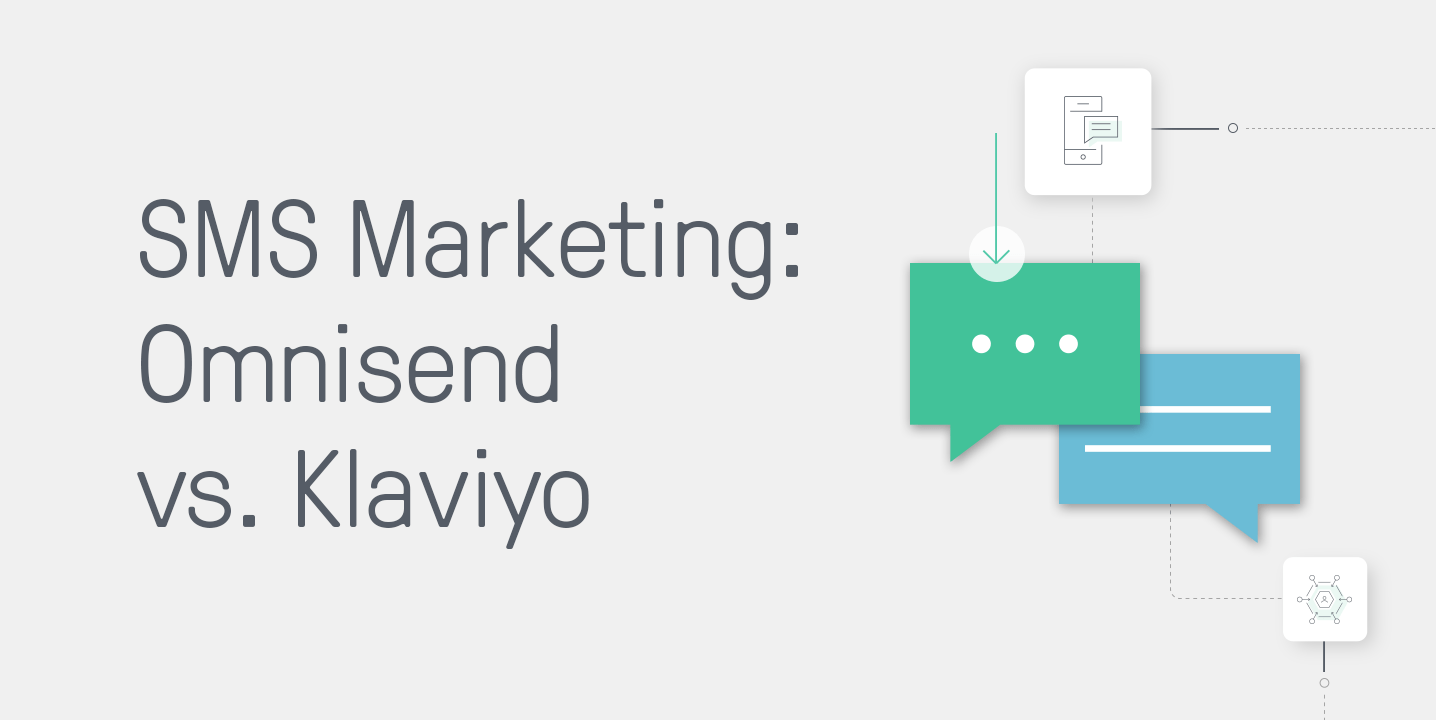 Reading Time:
5
minutes
SMS has joined email as a must-have marketing channel. Omnisend research shows that in 2021 SMS recorded an 11% click-through rate (CTR) and a 2.4% conversion rate. Omnisend customers are on pace to send more than three times the number of SMS than they did in 2020.
SMS marketing reveals its versatile opportunities: merchants send bulk SMS campaigns, segment, automate them, and combine them with other marketing channels to create a smooth and seamless omnichannel experience for their customers.
So it seems that the new SMS trend justifies itself and with that, you might be considering an omnichannel marketing platform that empowers SMS marketing.
On the market, there are two strong omnichannel marketing providers: Klaviyo and Omnisend. Today, we'll compare what they have to offer in terms of SMS integration in automated marketing flows, as well as digital marketing in general.
Migrate to Omnisend for better deliverability, clear pricing and unrivaled customer support. Get 30% off your first 3 months, plus a full migration package on us.
Use code READYFORBETTER to get started!

Check the offer here!
According to the Omnisend yearly report, omnichannel campaigns that involved SMS at some point in the process were 47.7% more likely to end in conversion.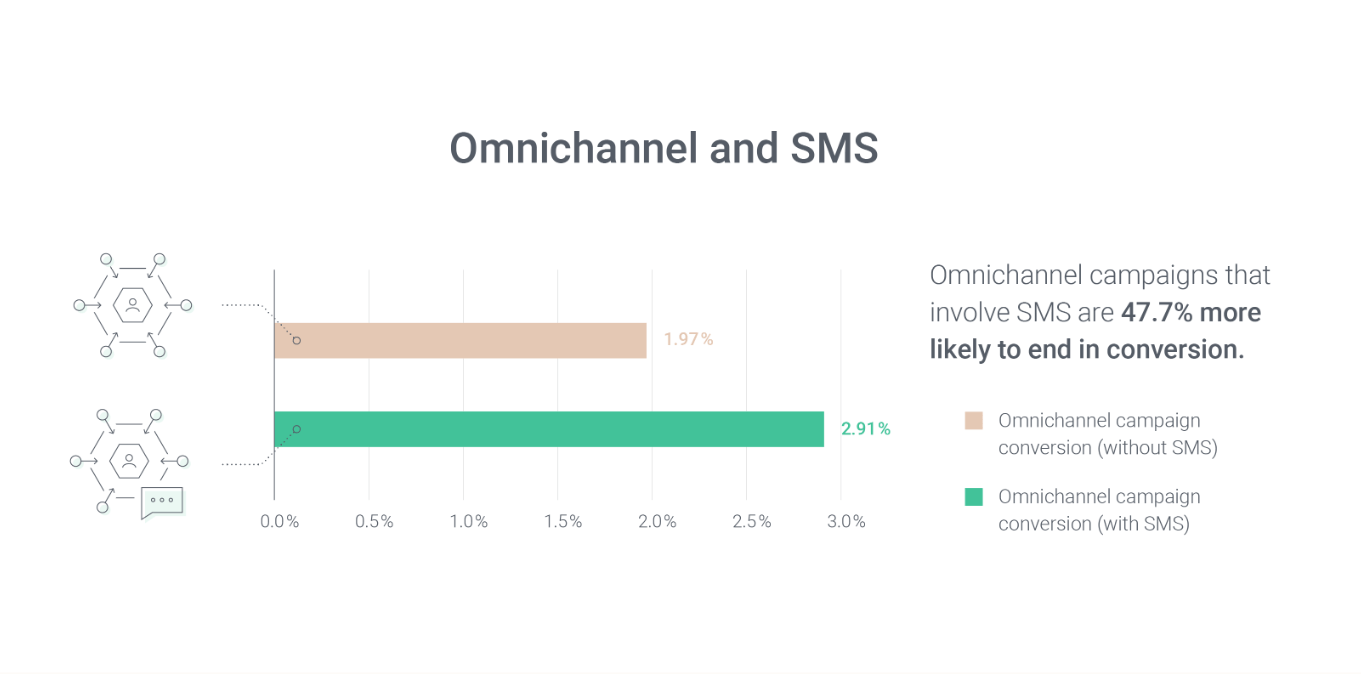 Klaviyo SMS Marketing
Klaviyo is an omnichannel platform with a comprehensive feature set. The trump card of this tool is advanced segmentation and extended marketing automation opportunities.
A few months ago Klaviyo added an SMS marketing channel to its offer. It is a big achievement and enriches the overall omnichannel experience offered by Klaviyo.
Currently, merchants can add text messages to automated workflows, send them triggered alone or combine with email, app and web push notifications. (Update 17/04/2020) SMS campaigns and MMS messages became available in April, 2020.
Klaviyo SMSes are easy to set up and make them personal. New product announcements, cart abandonment, all kinds of confirmation, some custom approaches – they all are there.
In addition, this platform has well-thought-out customer consent management. A lot of elements are made automatically.
Customer consent is stored and tracked on the customer profile so merchants always know when and how a customer subscribed.
However, there are a few downsides of Klaviyo's SMS marketing:
Klaviyo SMS and MMS work only in the U.S. If your business works internationally, limitations for international messaging might become an issue if you're trying to reach your customers.
Klaviyo has a quite low default throughput (<1mps), so it can take longer to deliver your SMS campaign to multiple recipients (or you pay extra for the higher speed).
Although Klaviyo pricing looks affordable, it contains hidden costs. For more about pricing, please read below.
Klaviyo SMS Pricing
As mentioned earlier, Klaviyo sends text messages to the U.S. numbers only.
First 50 text messages are free of charge.
Here is what merchants have to pay for text messages at Klaviyo:
10 000 text messages: $100.00 ($0.01/SMS)
50 000 text messages: $500.00 ($0.01/SMS)
150 000 text messages: $1500.00 ($0.01/SMS)
Hidden costs include $1 per long virtual number (you will need an extra number per every 200 SMS subscribers), or $2/mo per toll free number + $300/mo for higher speed (25mps)
If you want to use email marketing in combination with text messages which is the most beneficial way of using text messages, the pricing is on top of what you currently pay for email credits. It will be the following:
10 000 text messages + email credits: $250
50 000 text messages + email credits: $1200
150 000 text messages + email credits: $3200
Now let's look at what Omnisend has to offer as an alternative to Klaviyo SMS marketing.
Omnisend SMS Marketing
While Klaviyo is a new player in providing SMS marketing, Omnisend has already had this channel in the basket for a while. Starting from March 2018, Omnisend has expanded and developed SMS functionality significantly.
First of all, Omnisend is an omnichannel marketing platform that combines email, SMS, push notifications, Facebook, and Google ads. Merchants can maintain their marketing communication through all these channels using a single marketing platform – Omnisend.
What distinguishes Omnisend from Klaviyo, at Omnisend you won't find hidden extra costs, and there is no hassle for buying multiple numbers to improve deliverability and sending speed (that you might want to upgrade at Klaviyo).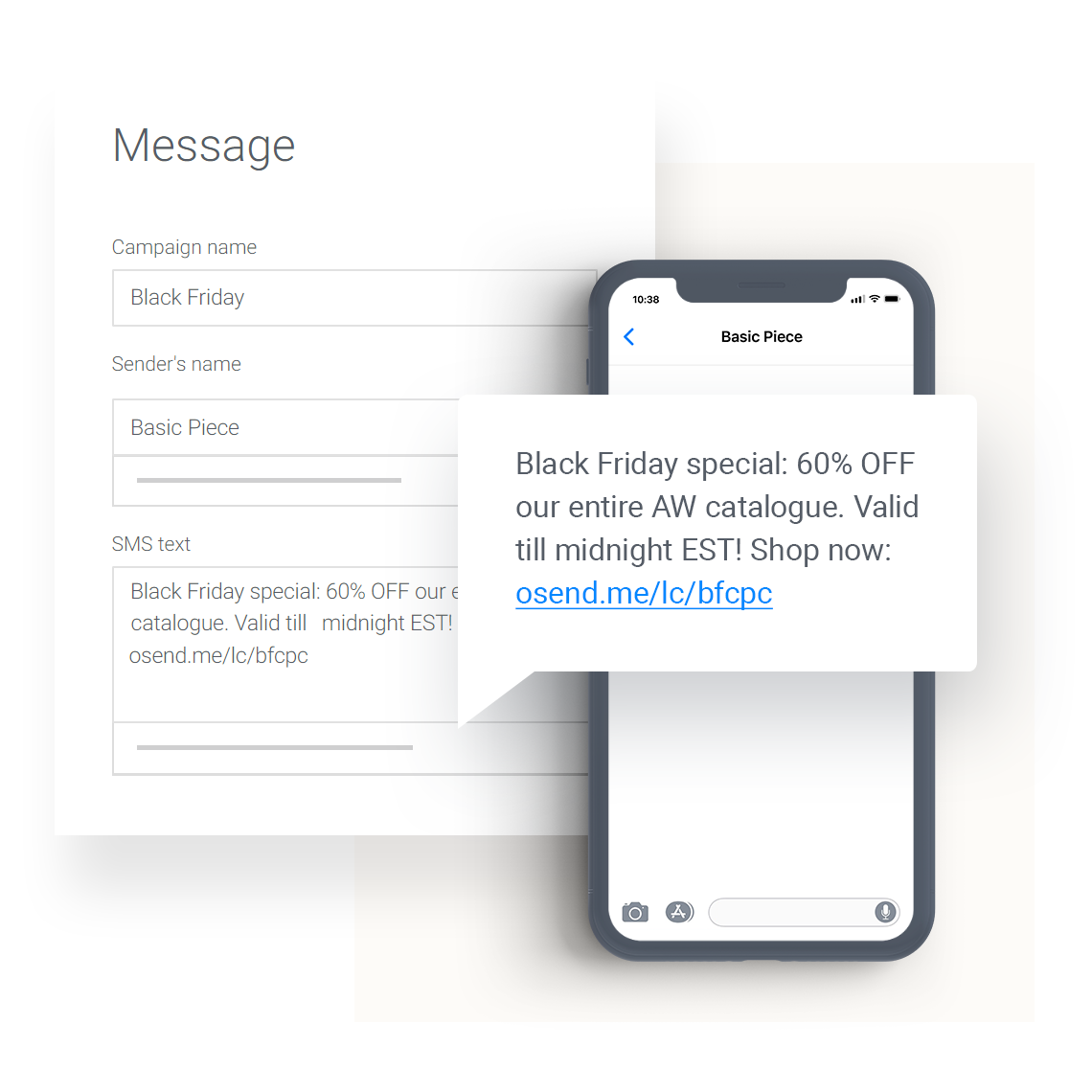 Speaking of automation, this platform includes pre-built sequences with SMS in cart abandonment, birthday, order & shipping confirmation sequences, etc. So merchants can get these up and running with only a few clicks.
In terms of collecting phone numbers, Omnisend doesn't leave behind its competition. Forms like pop-ups, signup boxes, and landing pages allow merchants to build their list without leaving the platform, using TCPA-compliant templates to collect phone numbers – and emails too if they choose.
Last but not least, Omnisend supports all country codes for SMS sending so that merchants can reach their international customers and drive conversions from anywhere in the world.
In October 2020, Omnisend launched significant SMS and MMS functionality updates that made this channel even more powerful. See the video below:
Omnisend SMS Pricing
For a more accurate observation, we can compare prices of text messages in the U.S.
At Omnisend, marketers on Pro & Enterprise plans enjoy free SMS credits equal to the price they pay for those plans.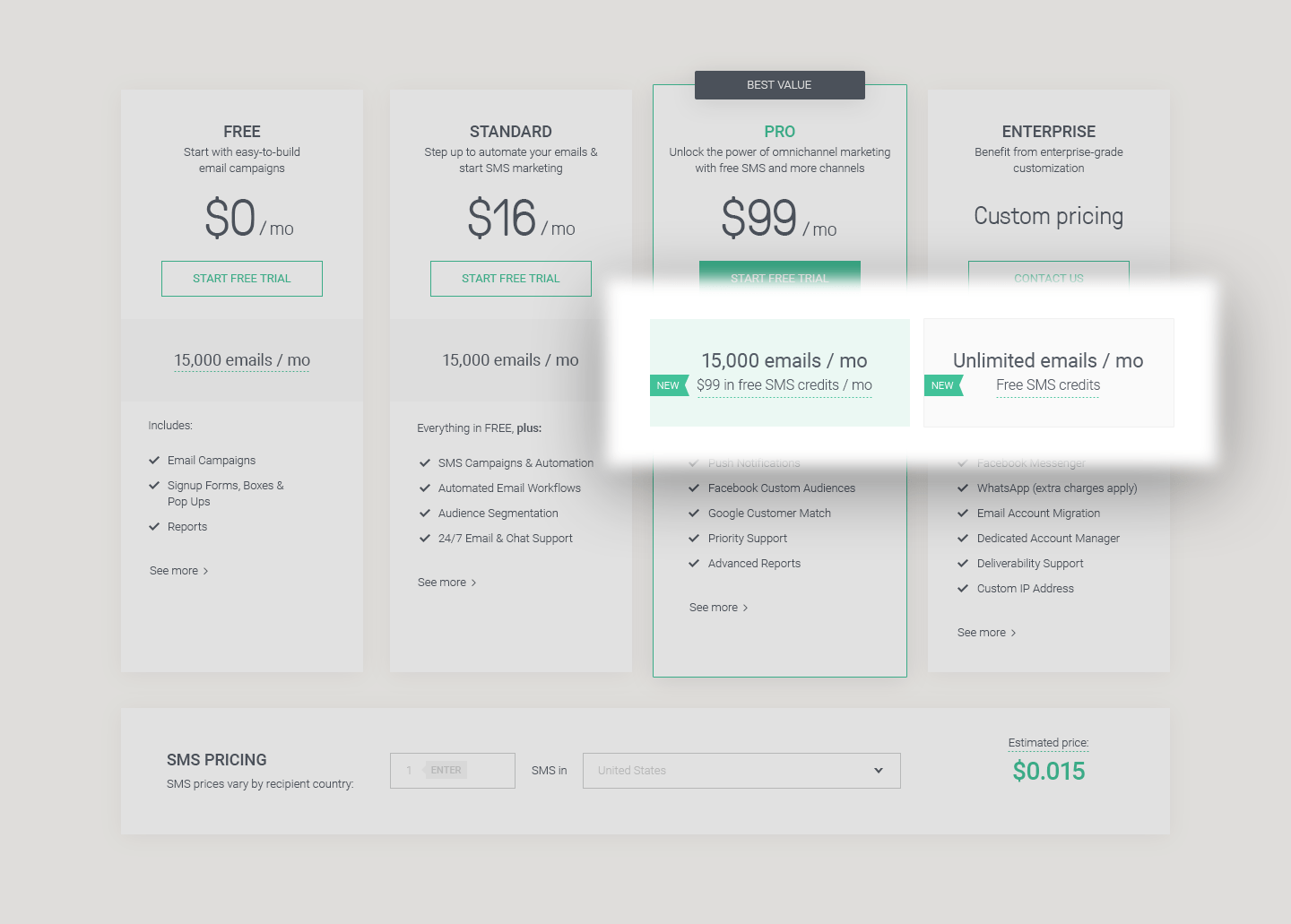 On Pro or Enterprise plans the pricing looks like the following:
10 000 contacts: emails + text messages: $210
50 000 contacts: emails + text messages: $680
150 000 contacts: emails + text messages: $1690
On Standard plan, marketers have to buy SMS credits for $50 to start sending the initial SMS campaign.
Table of Comparison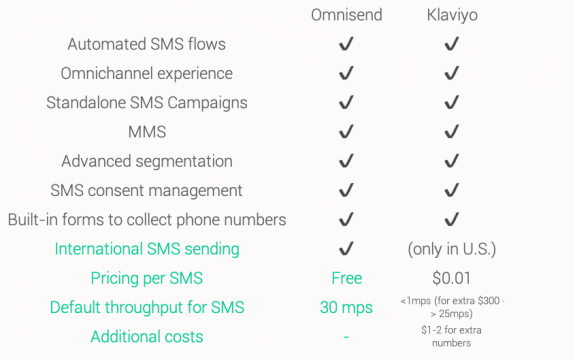 _____
Both these platforms have a major advantage against other SMS providers- they are all-in-one platforms built to provide a top-notch omnichannel experience for ecommerce customers. So by choosing either of them, you will already be heading in the right direction.
However, these tools slightly differ in feature-set and significantly in price. Your decision on which one to choose depends on your specific business needs and financial possibilities.
Get started with Omnisend today & drive sales on autopilot with pre-built automation workflows
Start Free Today