Drive sales on autopilot with ecommerce-focused features
See Features
Klaviyo SMS vs. Omnisend SMS: Functionality & pricing comparison for 2023
Reading Time:
6
minutes
A common misconception is that SMS marketing is outdated or annoying to customers.
But the truth is that SMS is a powerful tool that can grow your sales and engagement.
In fact, campaigns that involved SMS at some point in the process were 429% more likely to end in conversion than campaigns using email alone: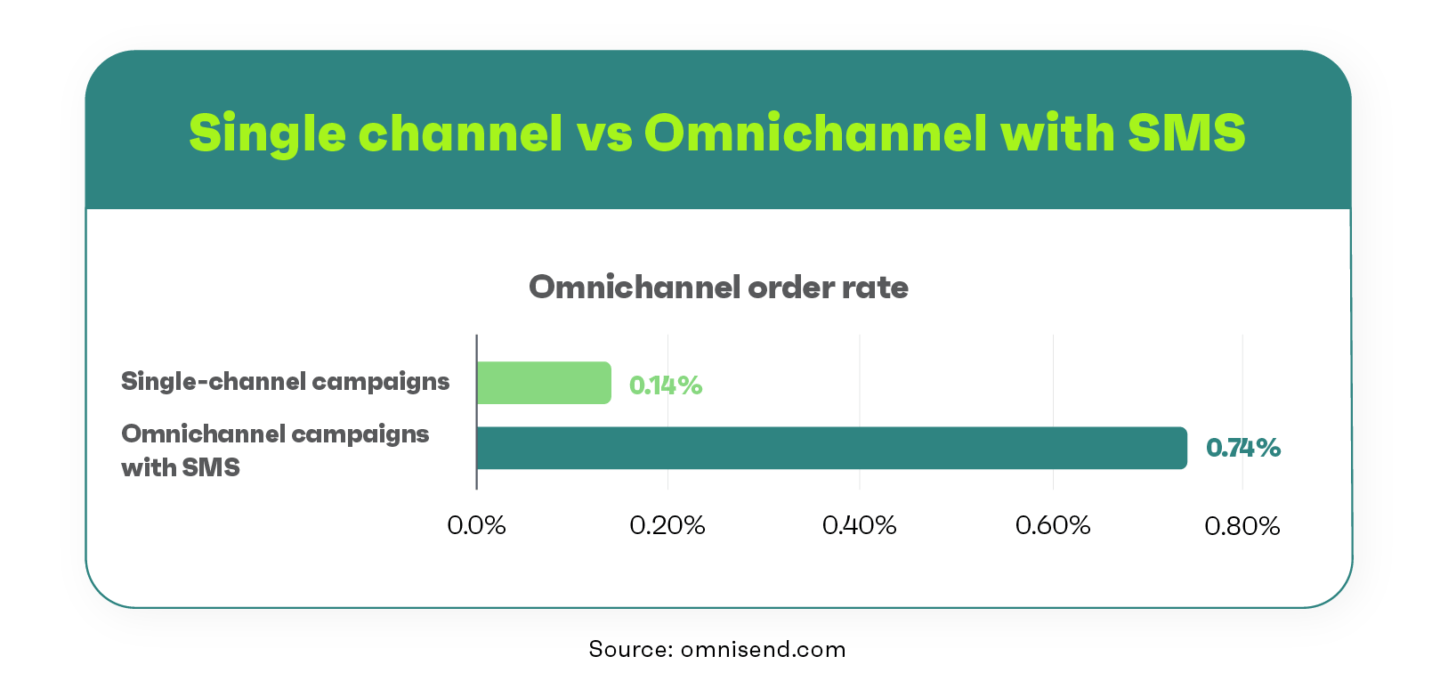 With SMS marketing, you can send bulk messages, target specific segments, and automate campaigns to engage your potential customers effectively. But to do that, you need a good omnichannel marketing platform.
Two of the most popular choices are Klaviyo and Omnisend. In this article, we'll compare Klaviyo SMS pricing and marketing vs Omnisend's. We'll also help you decide which one is right for your business.
Migrate to Omnisend for better deliverability, clear pricing, and unrivaled customer support. Get 30% off your first 3 months by using the code READY4BETTER to get started!

Sign up with Shopify or your email today!
Klaviyo SMS marketing
Klaviyo is an omnichannel platform with a comprehensive feature set.
Its key strengths include its advanced segmentation and automation capabilities. These allow you to target audiences based on behavior, preferences, and lifecycle stage.
With Klaviyo, you can also leverage SMS marketing to reach customers in real-time and drive more conversions.
You can create and send Klaviyo SMS campaigns and automations as standalone messages. Or, you could do it in combination with other channels like email, app, and web push notifications.
You can also use MMS messages to add images or GIFs to your texts and make them more eye-catching.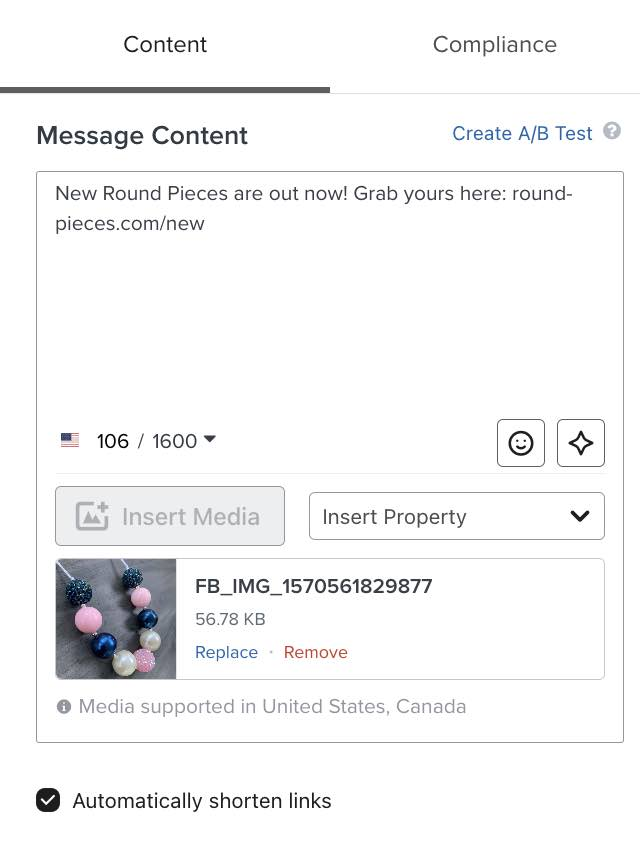 Klaviyo text messaging is easy to set up and customize. Dynamic variables insert relevant information such as product names, prices, or discounts. Also, various templates and triggers help send timely and relevant messages, including:
New product announcements
Cart abandonment reminders
Order confirmations
Moreover, Klaviyo takes care of customer consent management for you. It tracks and stores the consent status of each customer on their profile. You always know when and how they opted in to receive your messages.
You can even use Klaviyo's built-in tools to collect consent from your website visitors or email subscribers.
However, there are a few downsides of Klaviyo SMS marketing:
Klaviyo SMS works only in the US, UK, Canada, New Zealand, and Australia (and MMS only in the US and Canada). If your business works internationally, limitations for international messaging might become an issue if you're trying to reach your customers.
Klaviyo has quite a low default throughput (<1mps), so it can take longer to deliver your SMS campaign to multiple recipients (or you pay extra for the higher speed).
Klaviyo has hiked prices of their plans, which can see some customers paying 60% more than they used to. Please read below for more info.
Klaviyo SMS pricing
As mentioned earlier, Klaviyo sends text messages to only five countries: the US, UK, Canada, New Zealand, and Australia. It's important to take this into consideration when looking at the Klaviyo SMS cost.
The first 150 SMS/MMS credits are free of charge.
SMS and MMS messages cost a different number of credits based on the recipient's location. For instance, one text message costs 1 credit in the US, while an MMS message costs 3 credits. See how different countries compare below.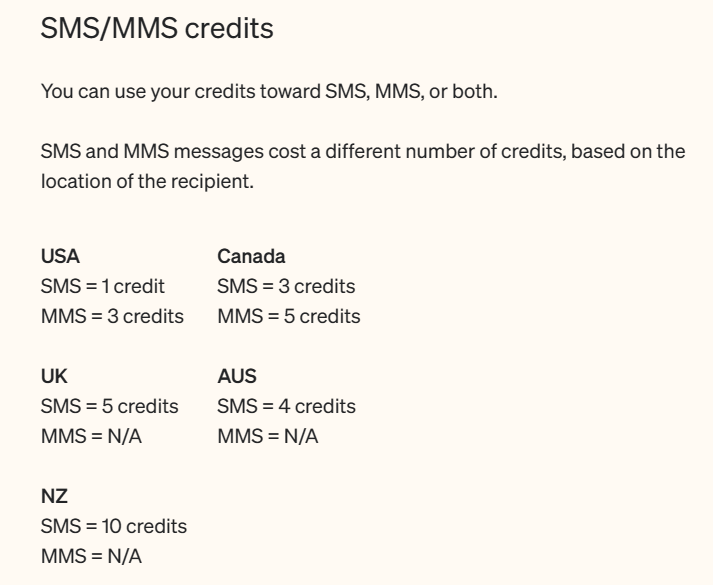 Here is what merchants have to pay for Klaviyo text marketing.
FYI: because Klaviyo now folds its SMS pricing inside its plan pricing, we'll calculate the cost for these amounts of SMS credits with the Email and SMS plan:
10,000 SMS/MMS credits (& up to 10,000 email contacts): $170
30,000 SMS/MMS credits (& up to 30,000 email contacts): $670
65,000 SMS/MMS credits (& up to 100,000 email contacts): $1,375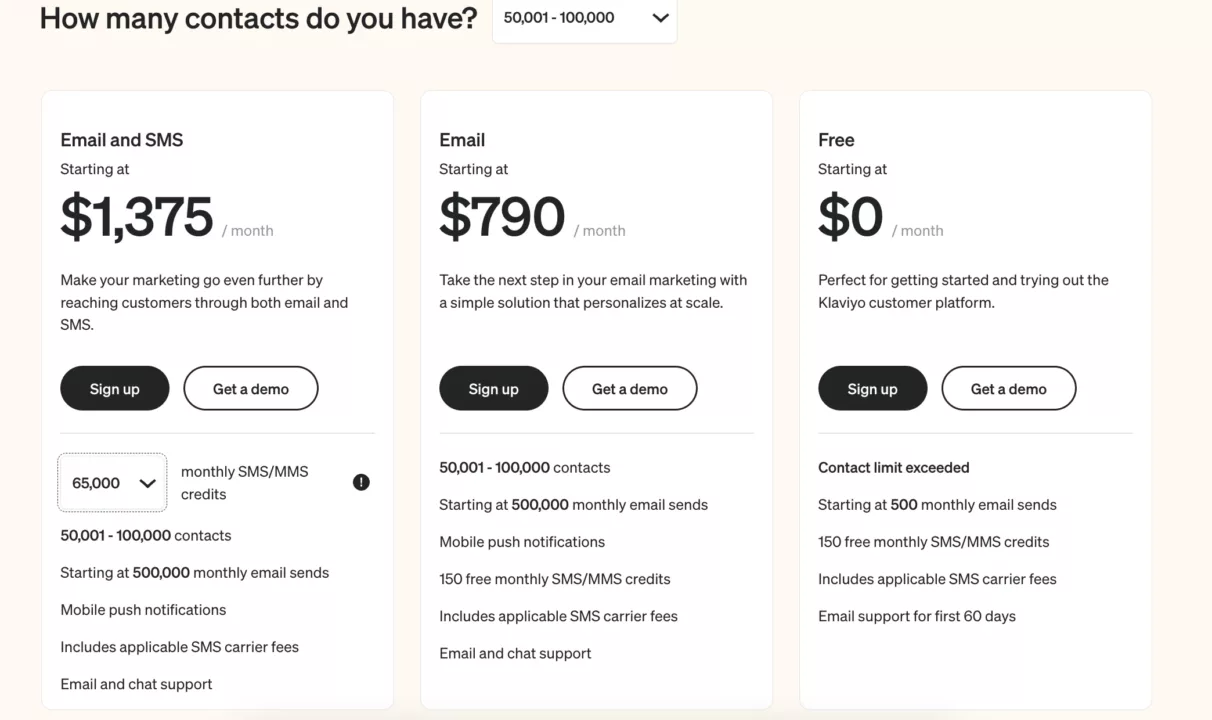 Now let's look at what Omnisend has to offer as an alternative to Klaviyo SMS marketing.
Omnisend SMS marketing
First of all, Omnisend is an email and SMS marketing platform that also offers push notifications, as well as Facebook and Google Ads sync. Merchants can maintain their marketing communication through all these channels using this single marketing platform.
What distinguishes Omnisend from Klaviyo is that at Omnisend you won't find hidden extra costs, and there is no hassle for buying multiple numbers to improve deliverability and sending speed.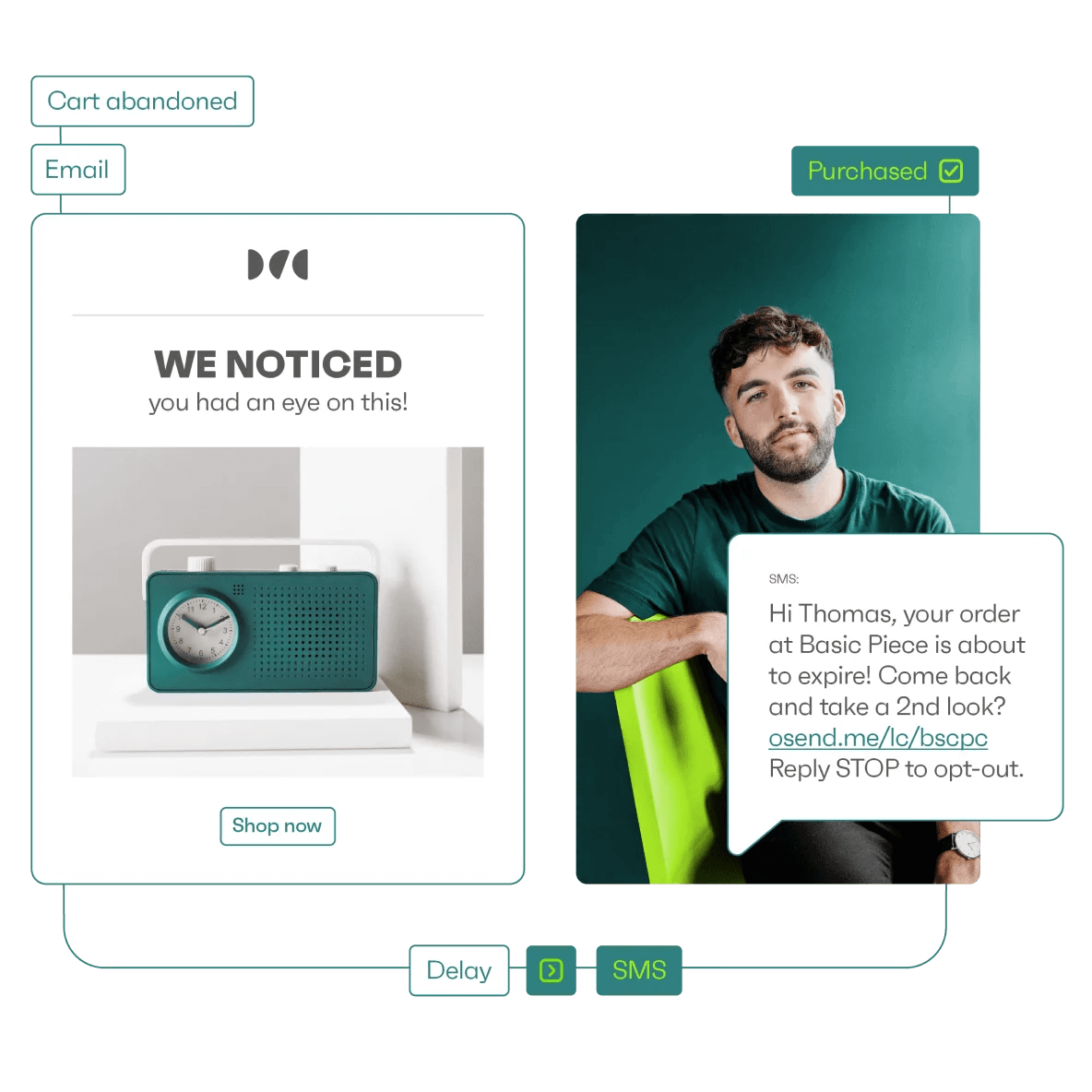 In terms of automation, this platform includes pre-built sequences including welcome messages, SMS in cart abandonment, birthday, order and shipping confirmation, and more. As they're pre-built, merchants can be up and running with only a few clicks.
Collecting phone numbers is also easy. Forms like popups, signup boxes, and landing pages allow merchants to build their list without leaving the platform, using TCPA-compliant templates to collect phone numbers (and emails too if they choose).
Last but not least, Omnisend supports all country codes for SMS, so merchants can reach their international customers and drive conversions from anywhere in the world.
Omnisend SMS pricing
For a more accurate observation, we can compare the prices of text messages in the U.S.
At Omnisend, marketers on the Pro plan enjoy free SMS credits equal to the price they pay for those plans.
On Free and Standard plans, marketers have to subscribe to SMS credits starting at $20 to start sending the initial SMS campaign.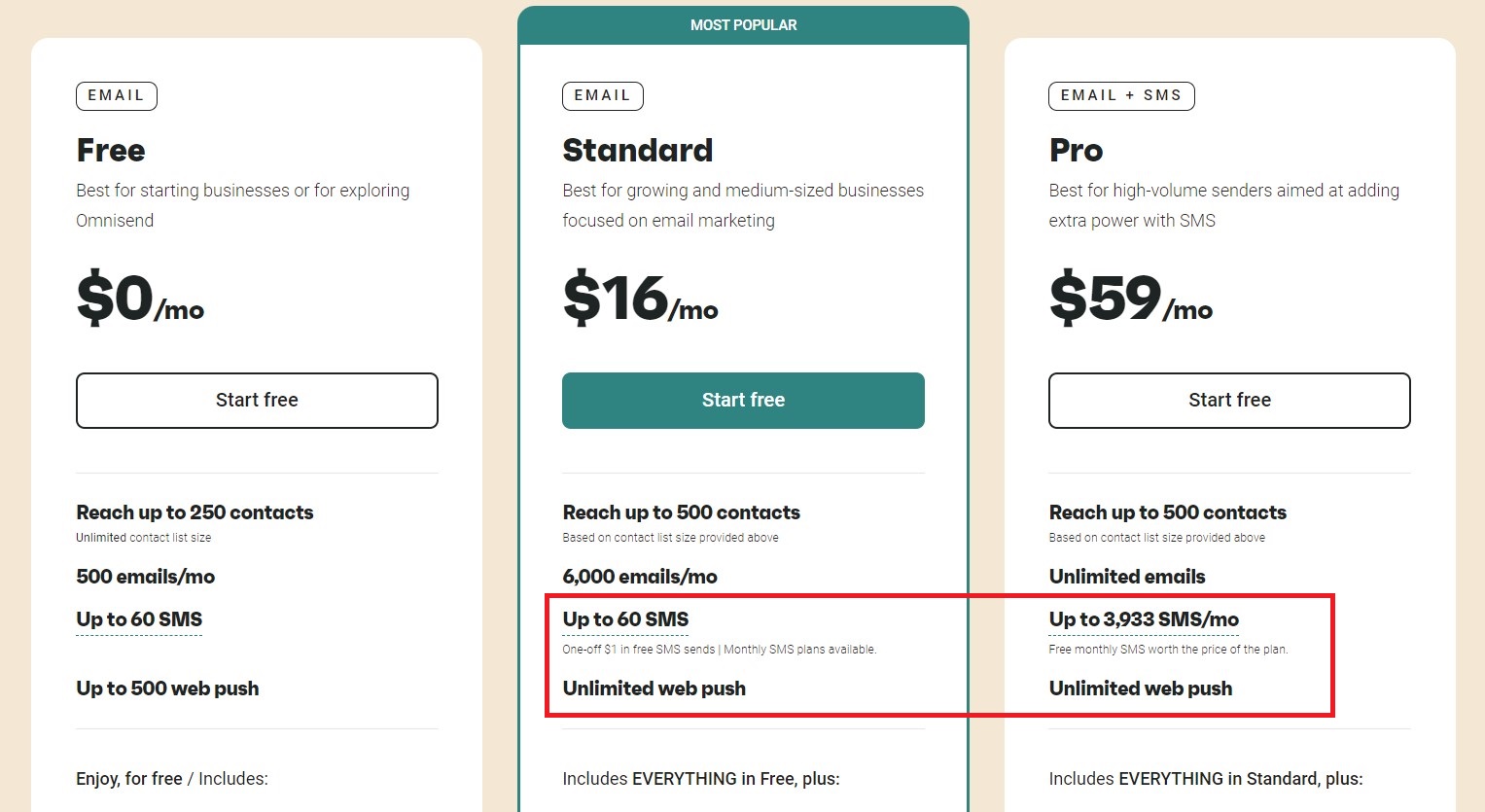 Here's how much it costs to buy SMS credits regardless of your plan. (Remember, Pro plan users also get free SMS credits equal to the price of their plan):
10,000 SMS/MMS credits (& up to 10,000 email contacts): $150
30,000 SMS/MMS credits (& up to 30,000 email contacts): $497
65,000 SMS/MMS credits (& up to 75,000 email contacts): $1,044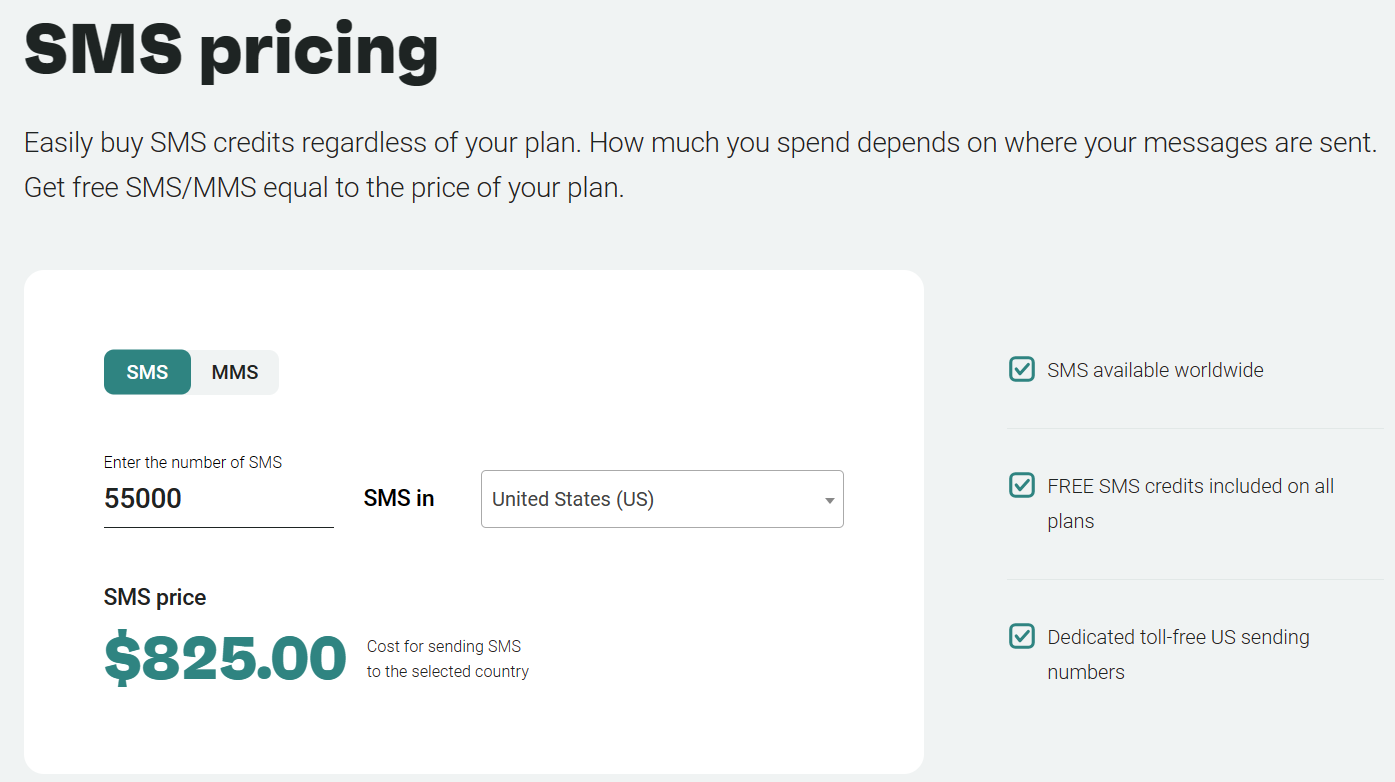 More than just SMS
Deciding between Klaviyo SMS and Omnisend SMS isn't just about the SMS features and pricing. That's because there's an entire company behind it, offering a wide feature set of not just email marketing and popups and the like, but also the support, deliverability, and dependability.
That's where Omnisend really pulls ahead of Klaviyo:
Deliverability: Omnisend offers a wide suite of features, such as reputation warm up, list cleaning, and more, to ensure your messages get delivered to the inbox instead of the spam folder
Support: Klaviyo support is available 24 hours during workdays, but is only available from 9 to 5 during weekends. Omnisend's award-winning support is 24/7, every single day of the year, with a median first response time of under three minutes—even to customers on the free plan
International reach: Omnisend provides global SMS capabilities, while Klaviyo is limited to five countries. Omnisend also supports multiple languages and translations for your campaigns and automation, making it a better fit for global audiences
Make sure you look at the entire suite of offerings before making your decision between choosing Klaviyo SMS or Omnisend SMS.
Comparison table
Let's quickly look at a summary of the Klaviyo SMS pricing compared to Omnisend SMS in their monthly plans:
Let's also look at a comparison of Omnisend's and Klaviyo's SMS-related features:
Wrap up
Klaviyo and Omnisend offer SMS marketing capabilities that complement email and other channels.
They both provide automated SMS workflows and standalone campaign sending. They even have built-in tools to collect consent.
Yet, Omnisend differentiates itself through superior deliverability and transparent pricing. It also offers excellent 24/7 customer support.
Additionally, Omnisend enables true global reach. Klaviyo SMS is currently limited to five countries.
Naturally, the decision on the right tool for you will depend on your budget and needs.
But we're confident you'll find Omnisend wonderfully feature-rich and optimized for SMS success.
Get free SMS with every plan and reach customers in every country with Omnisend's email & SMS marketing platform
Start Free Today
related features
Want more sales?
Omnisend has everything you need to succeed.
Start free now
No Credit Card needed.